Johnson City is teeming with things to do, including PLENTY of outdoor activities!
With many popular hiking trails to beautiful waterfalls, mountain biking, white-water rafting, as well as plenty of places to go camping — you won't get bored of things to do in Johnson City!
It is also one of the most popular places to live in Tennessee with many people moving here from all over the country. Once you visit, you may want to move here too!
Of course, there are also plenty of things to do indoors as well from brewery hopping to eating at one of the many scrumptious restaurants, spending a rainy day at one of the many coffee shops, or playing games at an arcade.
Also, it's in a prime location in the Tri-Cities surrounded by other popular towns such as Kingsport and Bristol. It's only an hour's drive to one of our favorite beer destinations — Asheville, NC. As well as just a few hours to popular tourist destinations such as Gatlinburg, Pigeon Forge, and Knoxville!
So without further ado, here are the best things to do in Johnson City (an epic bucket-list)!
🍁 Planning your Tennessee fall vacation? These are some of our favorite hotels and places to visit: The Carnegie in Johnson City, The Oliver in Knoxville, and The Bristol in Bristol TN-VA!
50 Awesome Things to Do in & Around Johnson City, Tennessee
1. Brewery Hop Across Downtown Johnson City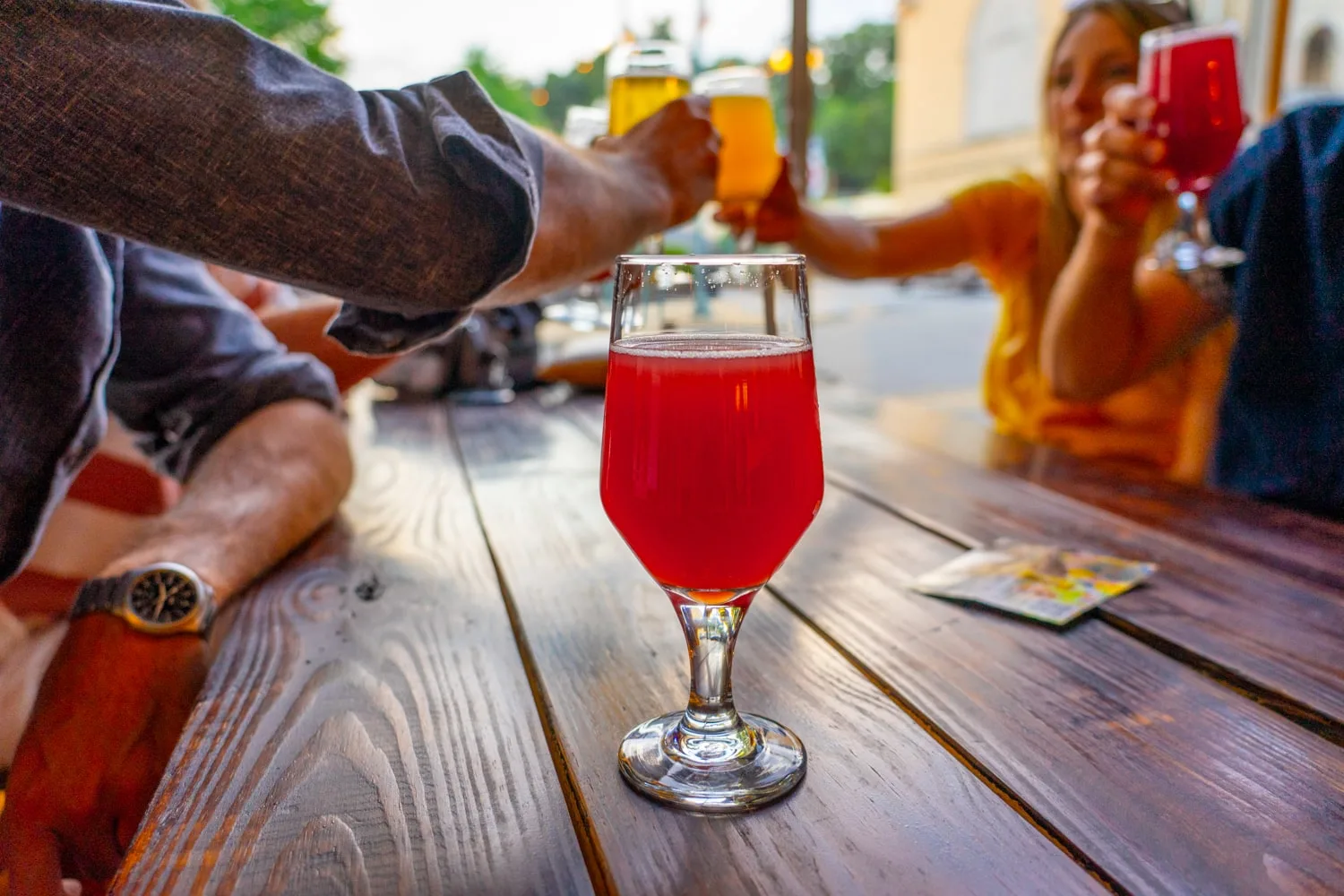 Brewery hopping through downtown is one of the best things to do in Johnson City as most of the breweries are within walking distance of one another.
Begin at one of our favorites, Johnson City Brewing Company, where there is "a story behind every beer" and enjoy one of their signature brews, such as the Blue & Gold Ale or the Hopollo 13 IPA.
From here, walk to Little Animals Brewery, a brewery in the heart of downtown that specializes in funky sour beers.
There are over 6 breweries & taprooms located in the downtown area of Johnson City — all are worth visiting if you have time (or the tolerance!).
Looking for More? >> 8 Best Breweries in Johnson City 🍻
2. Hike to Laurel Falls
Laurel Falls is one of the most scenic and rewarding waterfall hikes near Johnson City!
While getting to the falls can be challenging, the shady forest, cool creeks, and rhododendron blooms along the trail make up for it.
They say Laurel Falls is one of the most popular in Northeast Tennessee, and most gorgeous, too, with its 55-foot cascading, gushing falls.
In other words, Laurel Falls makes for the perfect outdoorsy day trip from Johnson City.
It's located just 30 minutes away by car in the Cherokee National Forest and Pond Mountain Wilderness.
Just note that you'll not likely be alone on the trail — there is a section that merges with the Appalachian Trail as well and is popular among backpackers and campers!
3. Enjoy a Comedy Show at the Wallace Theatre
Hours: Saturday 7 pm – 10 pm
Location: 215 E Main St, Johnson City, TN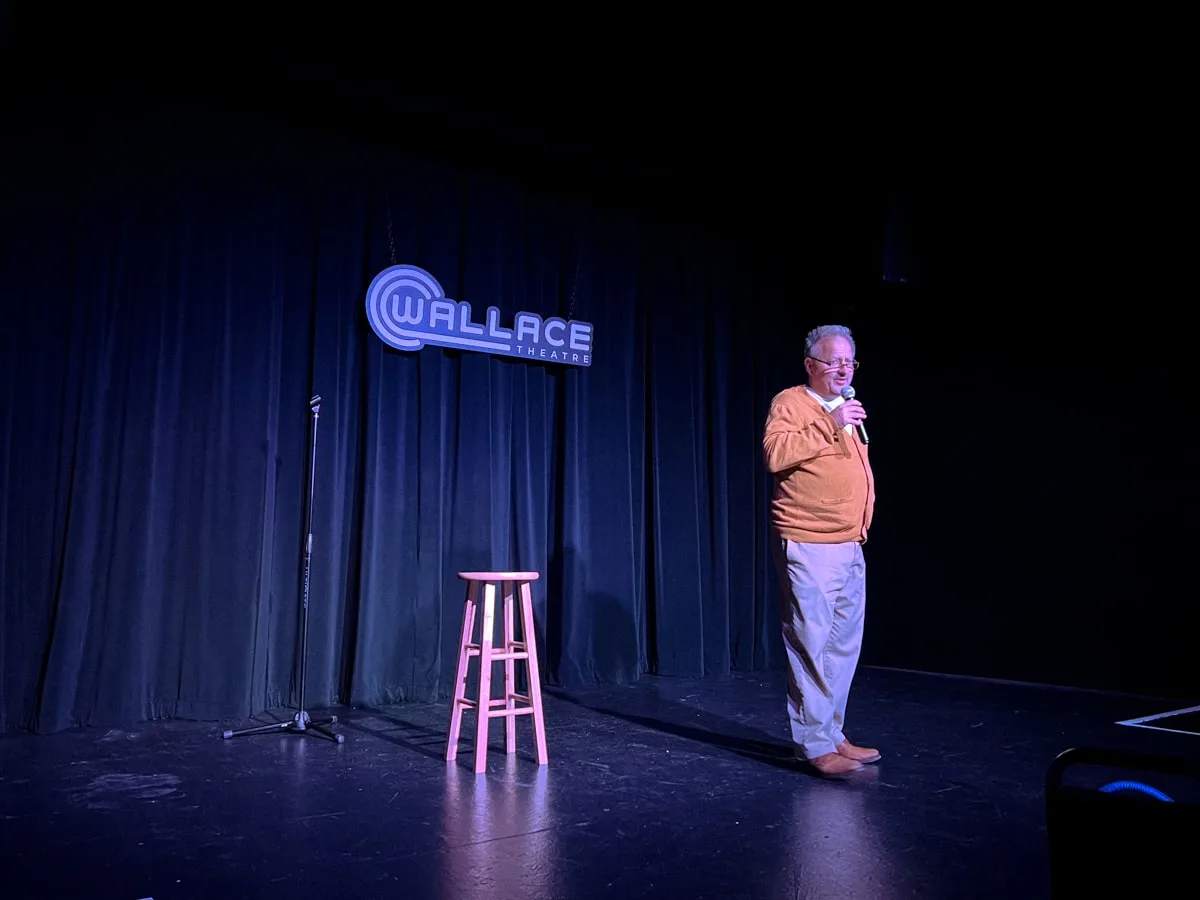 Enjoy a night at the Wallace Theatre featuring a variety of shows such as improv, open mic, stand-up comedy, musical acts, and more!
Attend an improv show, where the show is fast-paced in the style of 'Whose Line Is It Anyway' and the characters have no set script and are forced to adapt to one another as well as the audience.
One of our favorite shows was the Local Comedy Showcase — where there was a mixture of acts such as stand-up comedy, music acts, storytelling, sketch, and more.
Wallace Theatre allows you to BYOB (Bring Your Own Beverage) but please do not bring outside food. They do have a snack bar offering popcorn, soda, and candy.
4. Sip Creative Cocktails at The Windsor Speakeasy
Hours: Wed & Thursday 5-11 pm / Fri & Saturday 5 pm-midnight / Closed Sun-Tuesday
Location: 220 W Market St, Johnson City, TN
Step back in time as you enter this prohibition-era themed bar with a rotating menu of creative and classic cocktails.
The Windsor Speakeasy is located downtown in an unmarked building.
Once you enter, you'll believe that you're in a small convenience store ready to buy a soda until the host takes you behind the secret door disguised as a cigarette vending machine.
The bar menu occasionally rotates with creative cocktails that will knock your socks off – they're that good!
It is first-come, first-serve as they do not take reservations, so be prepared to wait depending on your party size.
5. Bike the Historic Tweetsie Rail Trail
The Tweetsie Trail is an old converted rail-trail that once served communities across Eastern Tennessee and Western North Carolina.
Now, you can hike, walk, or bike the 10-mile stretch of trail from downtown Johnson City to and through the quaint town of Elizabethton, passing scenic mountain vistas, countryside homes, and pastures along the way.
Exploring the Tweetsie Trail is a must-do activity while in Johnson City. You can bring your own bikes, or rent some for the day from the Local Motion Cyclery across from the parking lot.
Staying in Johnson City? Stay at one of these cozy cabins!
6. Watch the Sunset at the Skybar Rooftop Bar
Hours: Visit Watauga Brewing's website for hours
Location: 142 W Market St, Johnson City, TN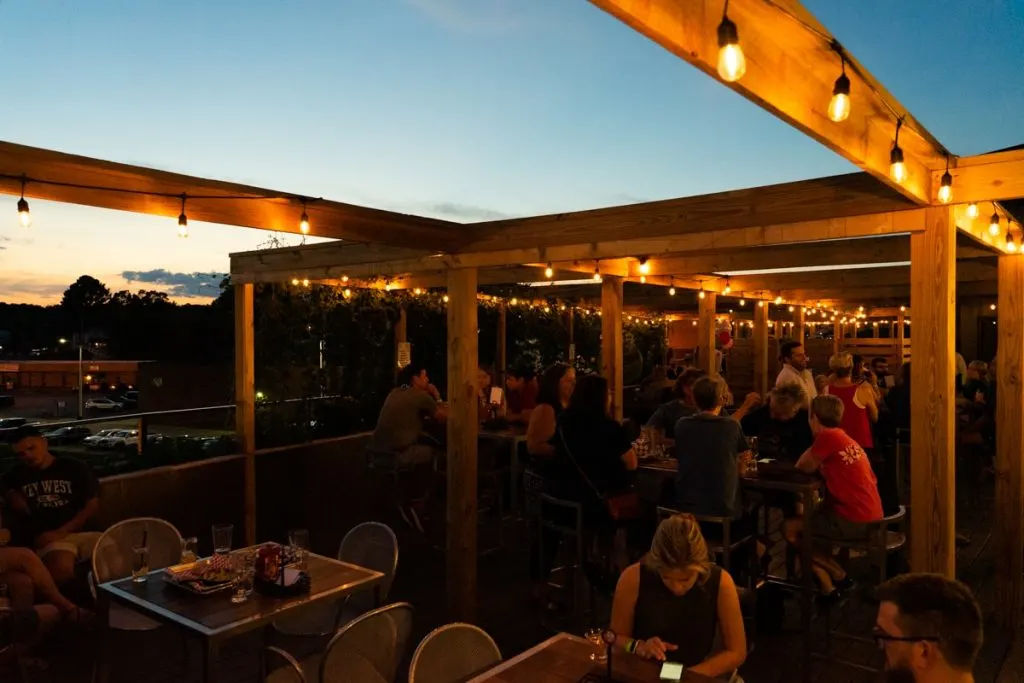 Located on the top floor of the Watauga Brewing Company, the Skybar Rooftop Bar is the perfect spot in downtown to grab drinks as the sunset fires up the sky.
Enjoy views of King Commons Park and downtown Johnson City while enjoying one of their many crafted beers or delicious food.
Watauga Brewing Company has 3 levels; the first level is the brewery, the second level is a full-service restaurant, and finally, the 3rd level is the Skybar. All 3 levels can enjoy food from the restaurant or eat from the 'small bites' bar menu.
The Skybar is a great place to hang out with some friends or to go for a date night. Sit by one of the outdoor firepits and enjoy a cocktail or beer!
7. Watch a Local Johnson City Doughboys Baseball Game
Enjoy a true American pastime by cheering on the Johnson City Doughboys in a classic baseball game.
Previously known as the Johnson City Cardinals, the Johnson City Doughboys were established in 2021.
There are food stands serving pizzas, hot dogs, nachos, and all your favorite baseball grub. You can also grab a brew from one of the beer stands serving local beer. You can check their 2022 schedule here.
Don't forget to "root, root, root for the home team." Let's play some ball!
8. Stroll the Quaint Founders Park in Downtown
Founders Park is a 5-acre greenspace located in Downtown Johnson City.
This park was created in 2014 to mitigate stormwater flooding and is a great place to go for a stroll or take your dog for a walk.
There is an amphitheater which is often the location for live bands to play during certain festivals, a walking path, a creek, and a variety of public art and sculptures.
Founder's Park is located on the doorstep of Yee-Haw Brewing and Wild Wings Cafe, making it easy to stop for some food or craft beer afterward!
If you're looking for more parks in Johnson City, then check out Willow Springs Park, Carver Park, Rotary Park, and Jacob's Nature Park.
9. Hit the Trails at Tannery Knobs Mountain Bike Park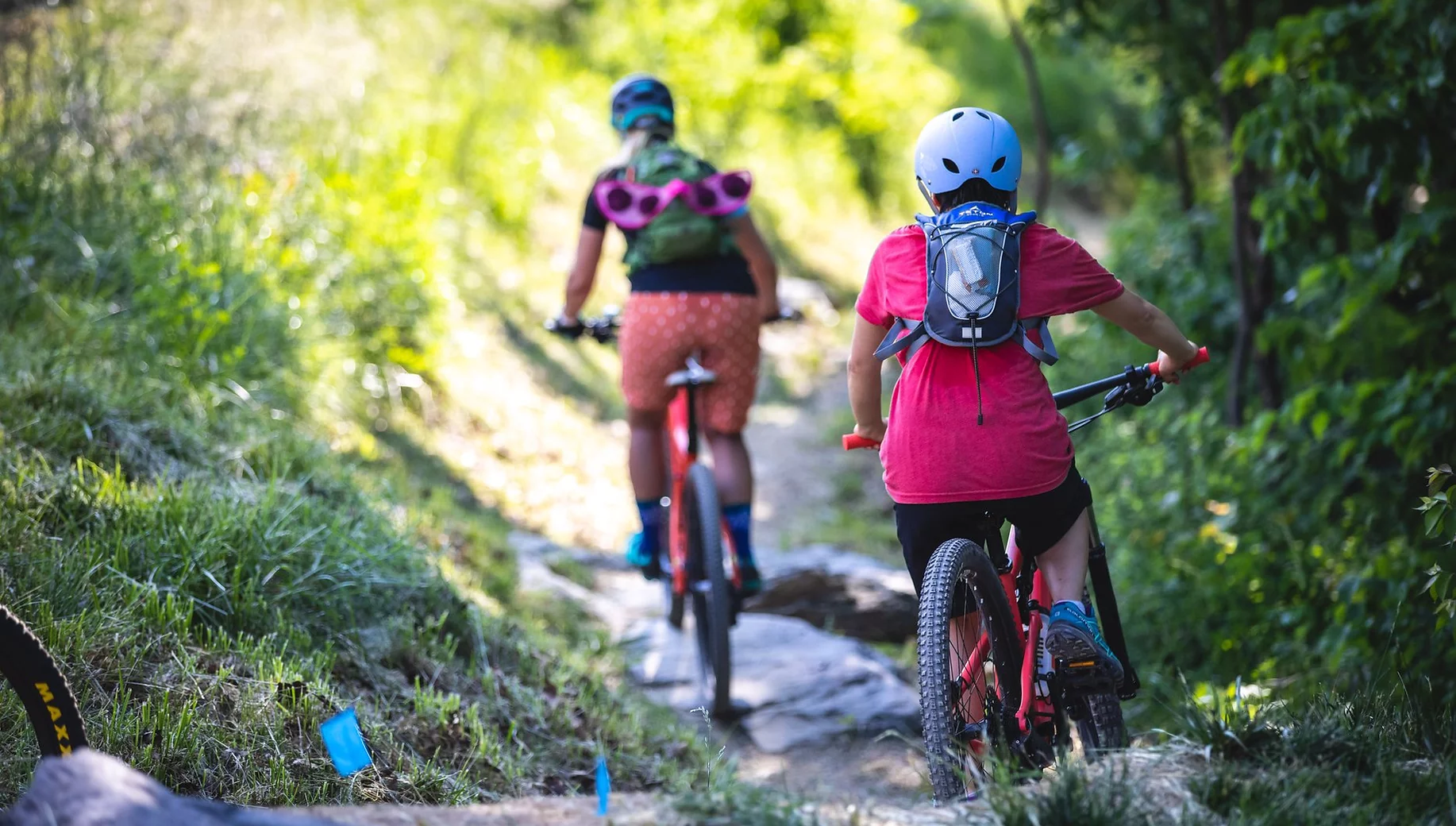 Tannery Knobs Bike Park covers over 40 acres of heavily wooded terrain within riding distance from Downtown Johnson City's shops, breweries, and restaurants!
This mountain bike trail is designed for all ages where riders can experience well-maintained paths with amazing views. If you aren't feeling up for biking, you can also go hiking or for a trail run.
This park is open throughout the summer from 7 AM to 9 PM. They are also open throughout the winter if you're one for the cold, from 8 AM to 7 PM.
Don't miss out on this fun outdoorsy thing to do in Johnson City!
10. Sample Craft Beer & Cider at the Thirsty Orange Festival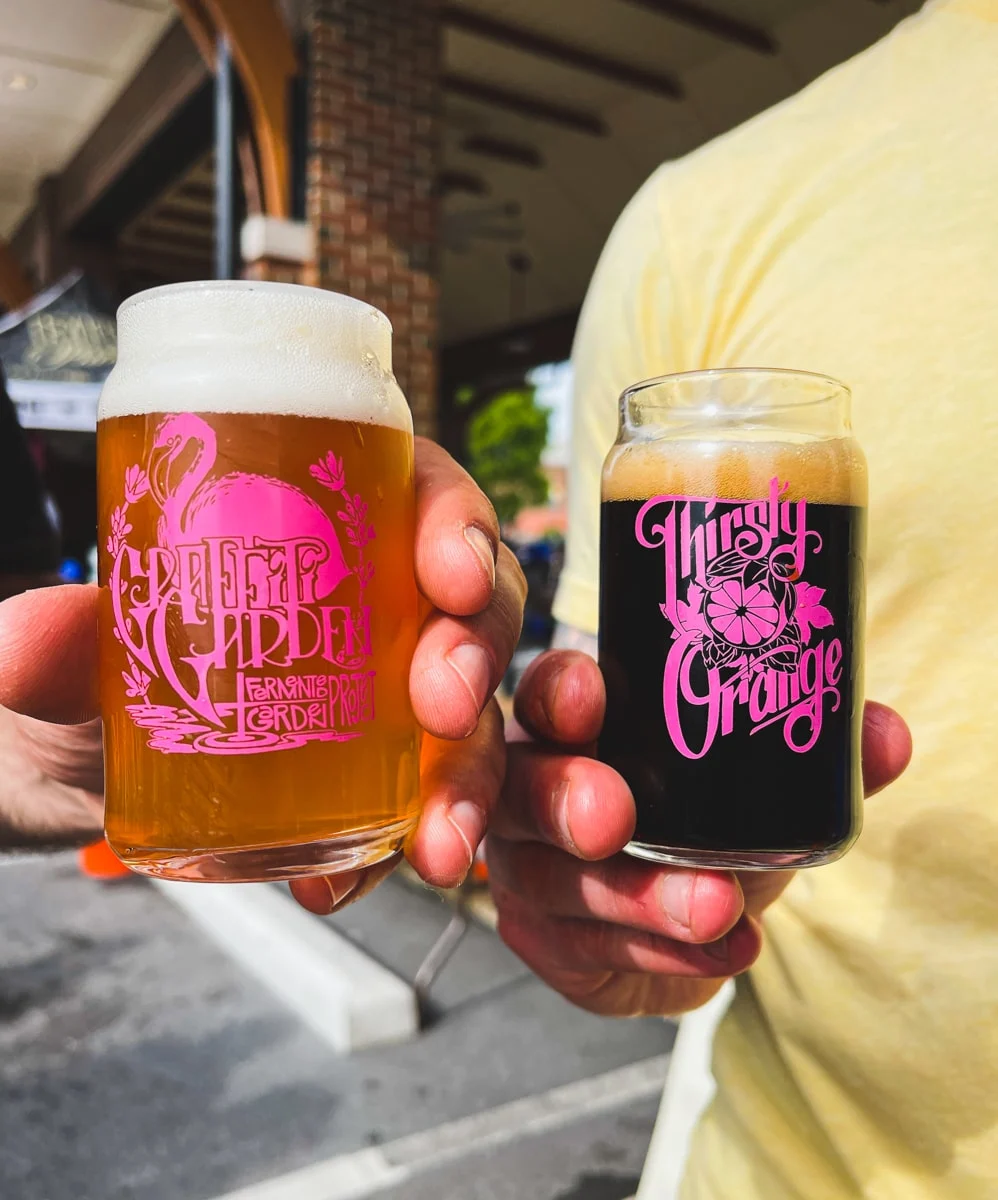 The Thirsty Orange Beer Festival is a giant beer festival located in Founders Parks of Johnson City.
You'll have the option of choosing from over 150 beers and ciders to sample from different breweries located around the region.
It was voted as the "Top 5 Festival in the US" by Beer Yeti and "Top 50 Festival" by Blue Ridge Outdoor Magazine.
You'll also find food trucks and live music at this event. The festival is typically held in April or May, but you can check out their website to find out the exact dates.
11. Tube Down the Nolichucky River Rapids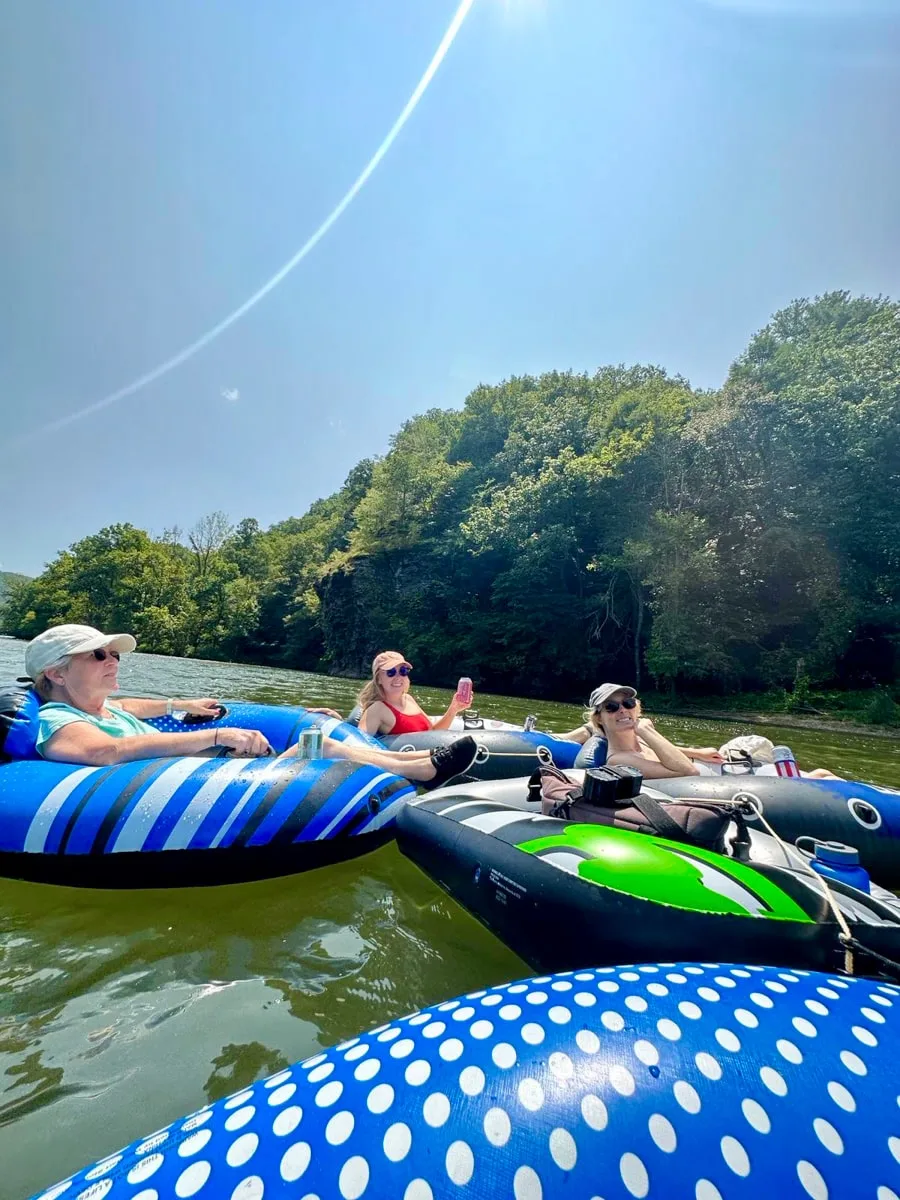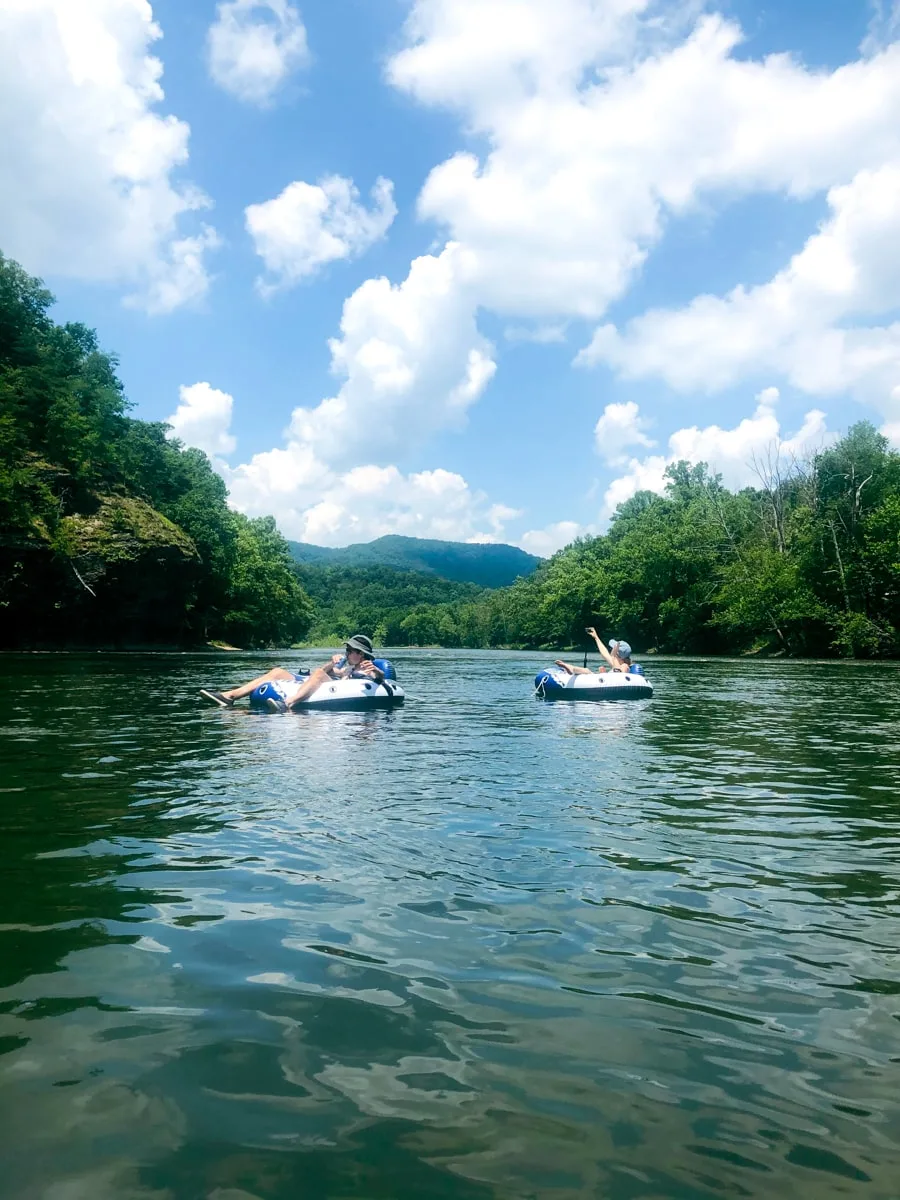 Enjoy a day floating down the Nolichucky River on those hot summer days.
The Nolichucky River has earned its reputation as one of the most beautiful rivers in the United States and offers some of the best whitewater rafting in the Southeast.
There are a few places that offer guided rafting, tubing, kayaking, etc, such as USA Raft Tours or NOC Nolichucky Outpost.
If you are looking for more information or are wanting to brave a self-guided tubing tour, check out our recommendations here.
12. Paint Your Own Piece of Pottery
Hours: Tues-Thurs 12-6pm / Fri & Sat 12-7pm / Sun 1-5pm / Closed Monday
Location: 109 Cherry Street Ste. 30 Johnson City, TN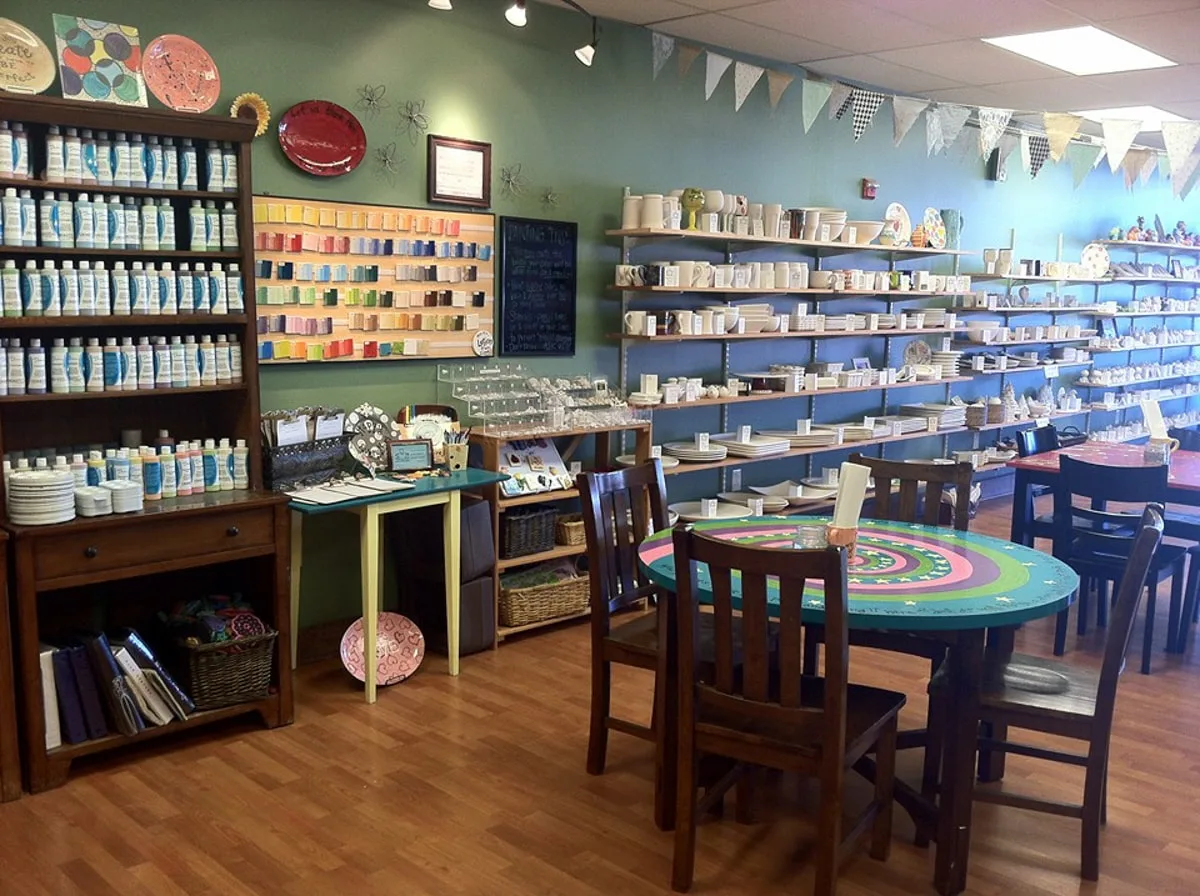 Into the Fire is a fun place to go with your family, friends, or on date night, where you can paint your own pottery.
The studio will provide all the materials where you can just focus on painting your masterpiece. Once you are finished, they will glaze and fire your piece so it will be ready to take home to be placed on display for everyone to see.
Walk-ins are welcome and no reservations are needed. They are open every day except for Mondays. Check out their website for hours and pricing.
13. Go Wine Tasting at Villa Nove Vineyards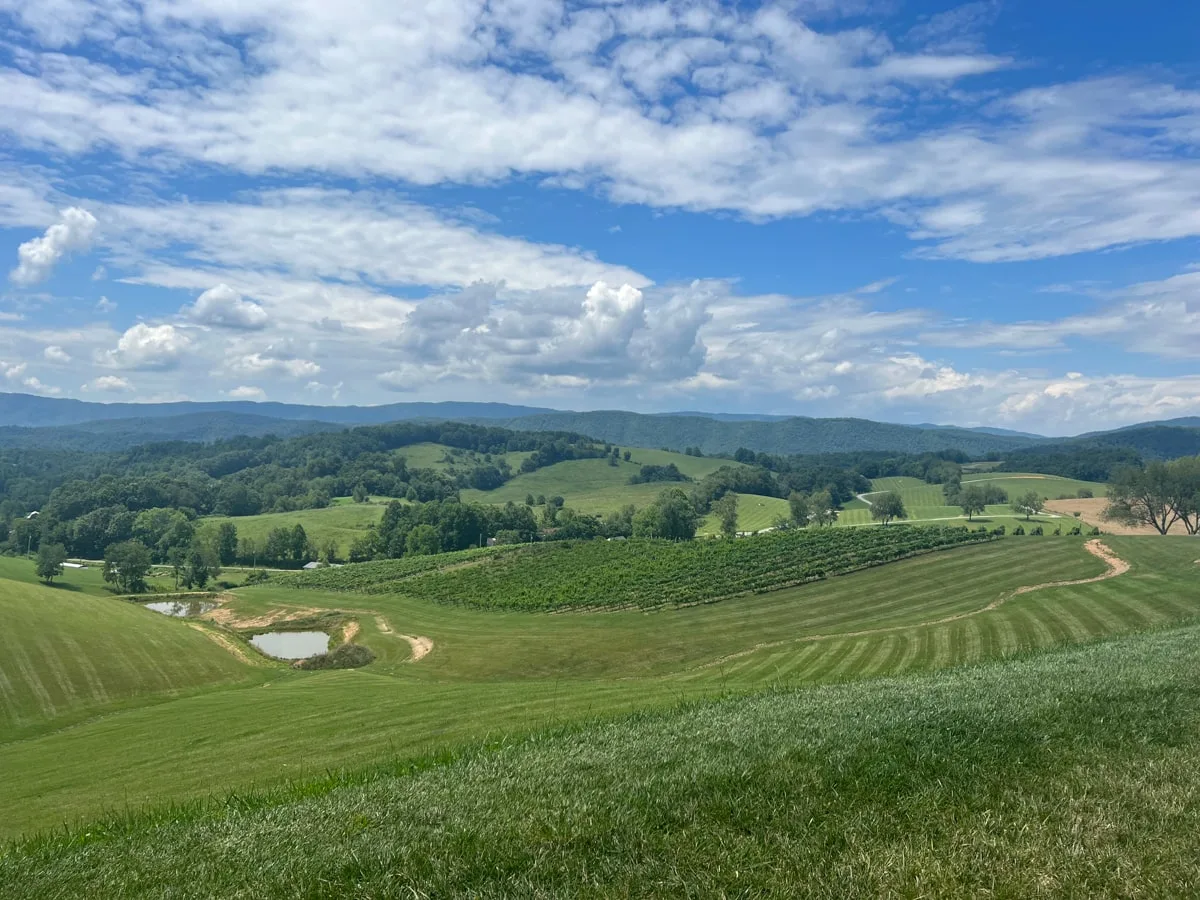 Hours: Thur: 12-6 pm / Fri & Saturday: 12-9 pm / Sunday: 12-9 pm / Closed Mon-Wed
Location: 1877 Dry Hill Rd, Butler TN
Villa Nove Vineyards is located in Butler, TN near Watauga Lake, and is a beautiful place to enjoy some local wine!
This vineyard serves French-style hybrids imported from California. While their sister property, Watauga Lake Winery, serves sweet wines from the grapes grown at Villa Nove Farms!
Watauga Lake Winery also serves homemade pizzas and charcuterie boards which pair perfectly with their white wines.
However, we loved Villa Nove wines the best as they were more on the dry side. The views are also phenomenal and definitely worth a visit.
Also, kids and pets are welcome.
14. Play Mini Golf at Paradise Acres
Hours: Mon 11-10pm / Tues-Thurs 11-9:30pm / Fri & Sat 11-11pm / Sun 2-9:30 pm
Location: 4946 N Roan St, Johnson City, TN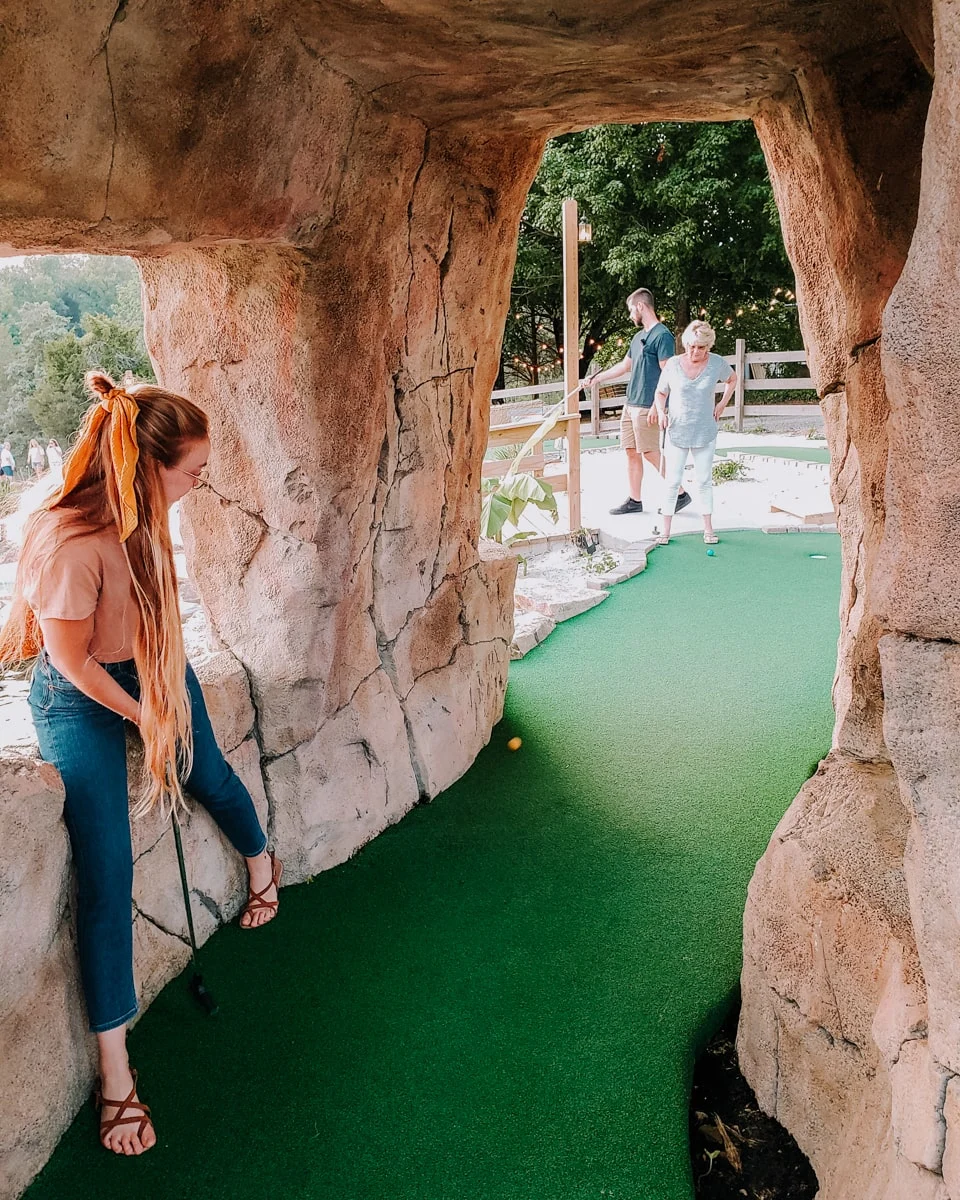 Paradise Acres is a family farm park offering outdoor activities such as mini-golf, laser tag, a drive-in theatre, walking paths, and more!
Our favorite activity here is playing the glow-in-the-dark mini-golf! Choose your colored glow ball and get competitive with family or friends on this 18-hole course.
This would be a great activity with the family or even date night. Paradise Acres also offers packages great for birthday parties.
15. Hike to White Rock in Buffalo Mountain Park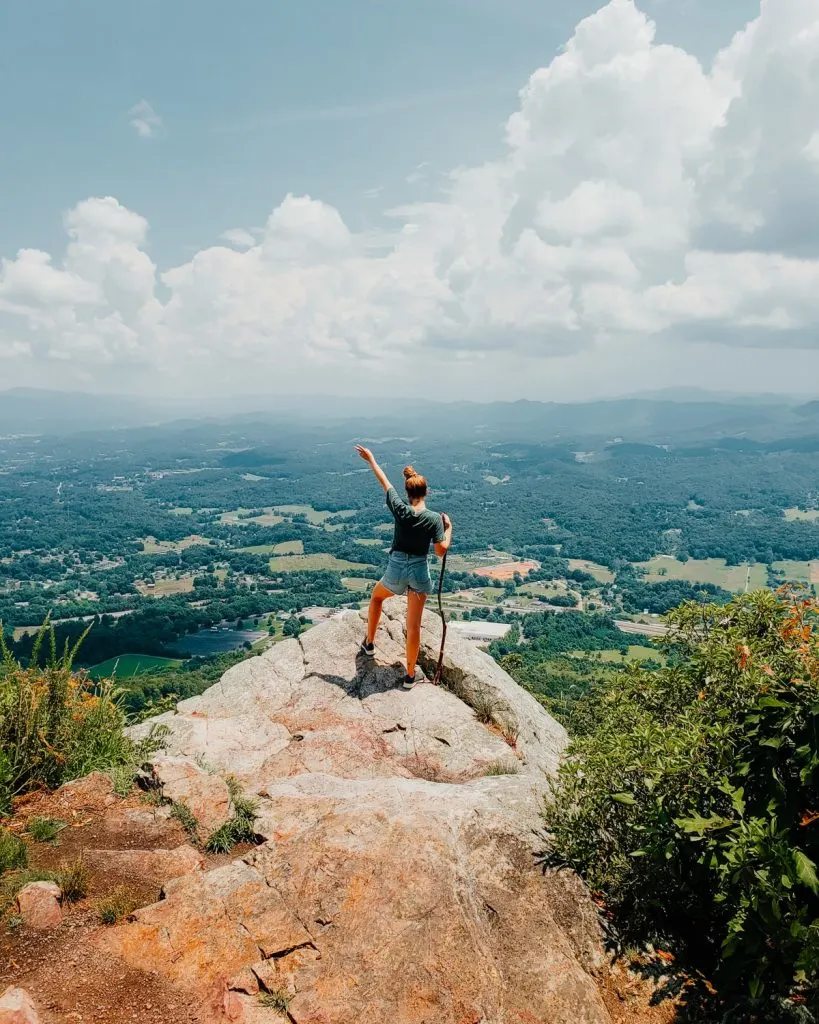 Buffalo Mountain Park is only a five-minute drive outside of downtown JC. Meaning, that it's one of the best places to seek out nature, go on a hike, and take in panoramic views of Unicoi Valley and the Tennessee Highlands.
White Rock is one of the most popular (and challenging) trails bottom-up, but one of the most scenic, too, as you meander up and around the forested Buffalo Mountain.
Pack a picnic and bring your on-leash pup along to one of the prettiest nature preserves in the area!
Other parks around Johnson City to visit:
Sycamore Shoals State Park (Elizabethton)
Davy Crockett State Park (Limestone)
Roan Mountain State Park
Lamar Alexander Rocky Fork State Park (Flag Pond)
Unaka Mountain Recreation Area
Rocky Mount State Historic Park (Piney Flats)
Tipton Haynes Historic Site
Also Read: 27 Best Hiking Trails Near Johnson City 🥾
16. Play the Night Away at the Retro Arcade
Hours: Mon – Thurs 2-10 pm / Fri 12-12am / Sat 11-12 am / Sun 12-10 pm
Location: 805 N Roan St Suite G9, Johnson City, TN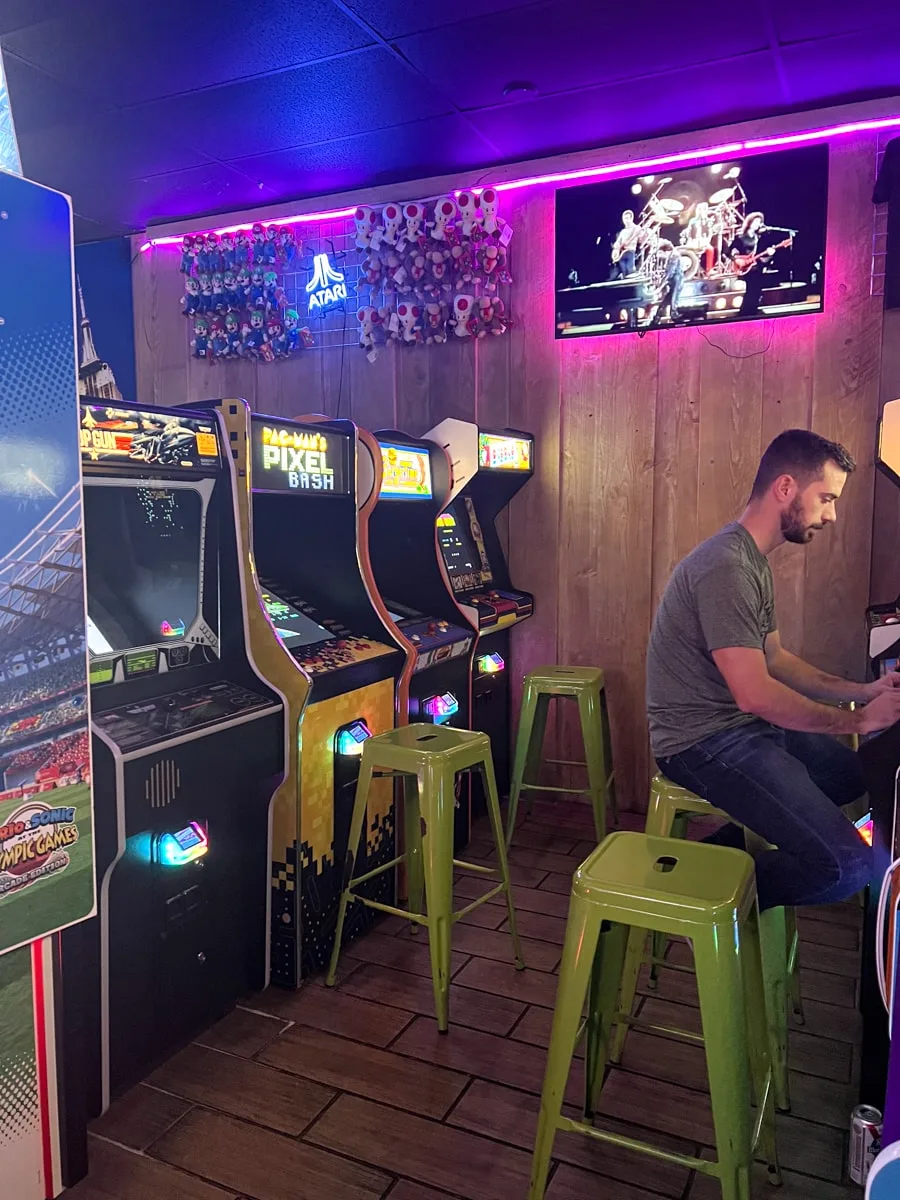 Get ready as you'll be hit with a sense of nostalgia once you walk through the doors at Play it Again Retro Arcade.
Here, you'll find all your favorite arcade games dated from the 80s and 90s.
Featuring games such as Dig Dug, Pac-Man, Galaga, and more! They also serve alcoholic beverages such as beer and seltzers, as well as sodas and snacks.
This place will bring out the kid in you and would also be a great place to go for date night in Johnson City.
You also may spot Tiebreakers right next door, which is another great arcade to visit that has axe throwing, bowling, virtual reality, a full restaurant and bar, and plenty of arcade games!
17. Grab Dinner at Café Lola
Hours: Sunday 10-3pm / Mon – Saturday 10-3pm & 5-9:30 pm
Location: 1805 N Roan St B-1, Johnson City, TN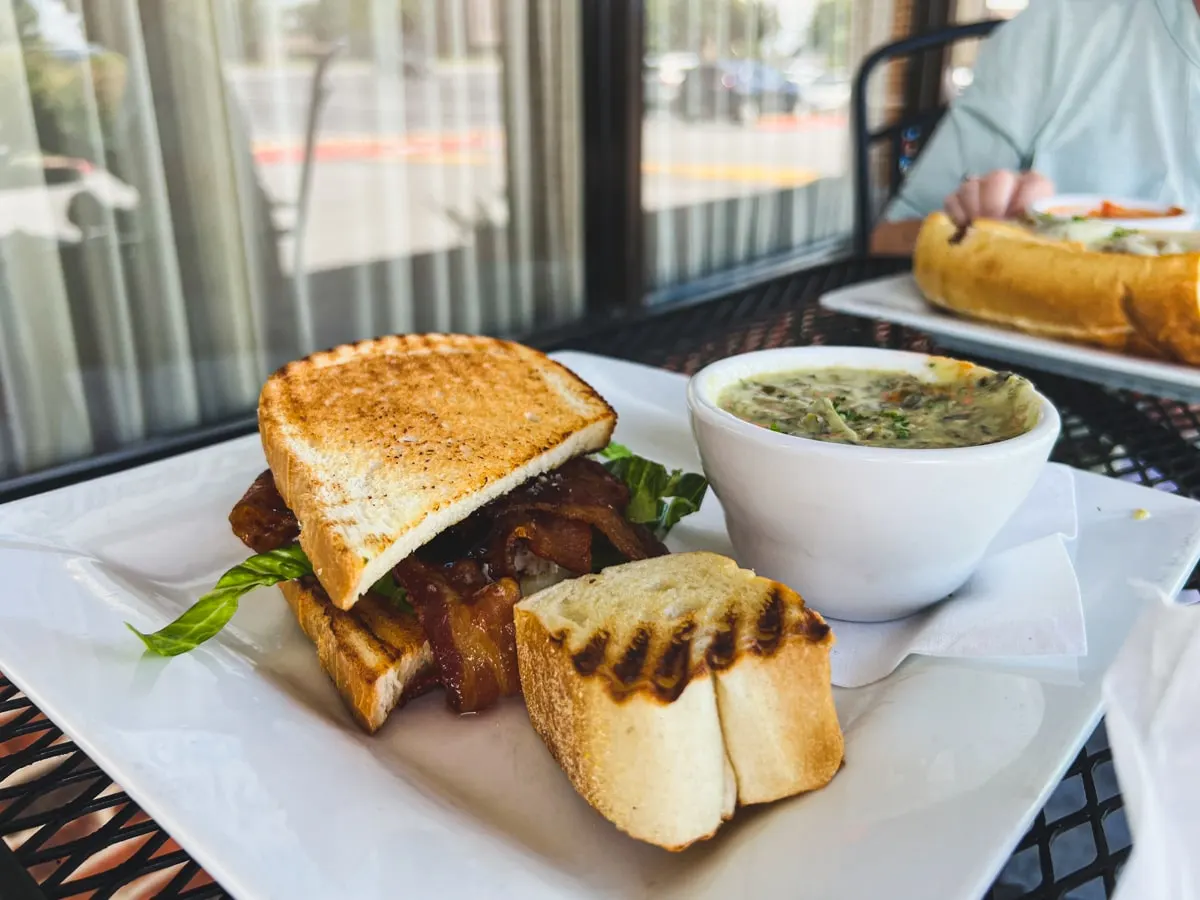 Café Lola is easily one of the best restaurants in Johnson City.
From brunch to dinner, they offer food that will please your palate and will have you cleaning your plate.
They are also highly known for their Wine and Martini bar — sip on wines from California to Tuscany and nibble on a delicious Charcuterie board. End the night with one of their desserts or after-dinner drinks.
Café Lola is also a popular brunch spot in Johnson City on Saturdays and Sundays when they feature affordable food specialties as well as $3 Mimosas or $5 Bloody Marys!
18. Enjoy Live Music, Food, & Poetry Slams at Down Home
Hours: View the Schedule Here
Location: 300 W Main St, Johnson City, TN
The Down Home is a great location for a night of listening to good music within an intimate setting.
Established in 1976, The Down Home hosts a wide range of artists as well as hosting theater plays, political rallies, writers' series, poetry slams, and all-night parties.
Come and listen to the music and don't worry about dinner as they serve food and drinks such as beer and seltzers. However, we suggest arriving early before the performance starts to get food!
Menu items include enchiladas, quesadillas, soup beans & cornbread, taco salads, and nachos — all pretty good!
Also Read: 9 Best Places to Listen to Live Music in Johnson City 🎶
19. Solve a Fantastical Escape Room Game
Hours: Mon 2-9pm / Tues-Thur 2-8pm / Fri & Sat 12:30-9:30 pm / Closed Monday
Location: 132 Chapel St, Johnson City, TN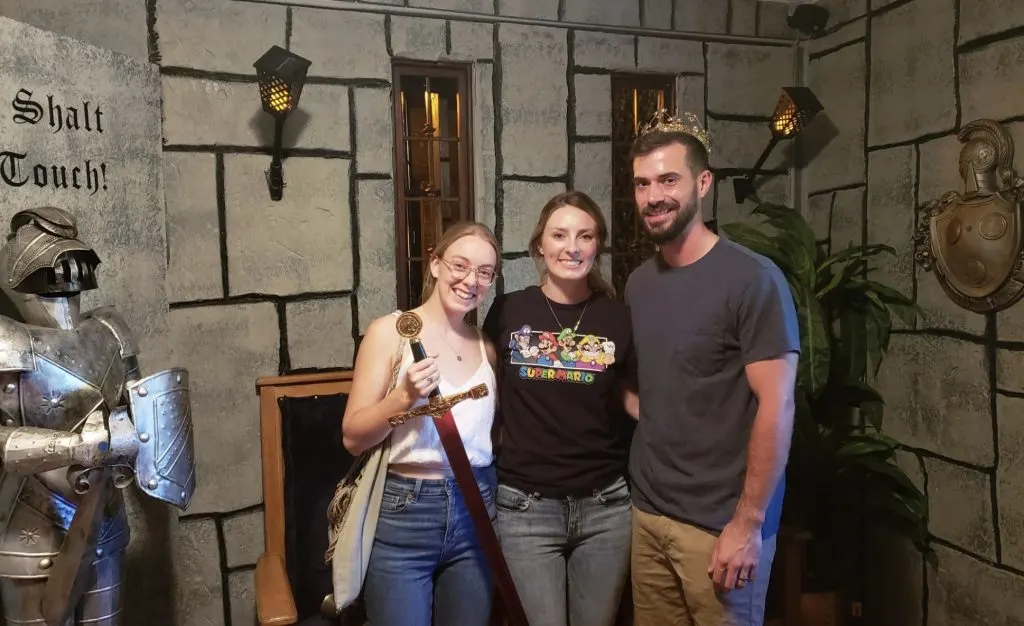 Escape rooms are so much fun for the whole family! Solve puzzles, think critically, and race against the clock as you try to escape in time and triumph!
At Perplexodous, located over in Gray, you can choose from four different escape rooms/themes:
Quest for Excalibur
Dr. Jekyll's Laboratory
Baby Come Back
You can also challenge the most competitive of your friends/family to do a Split Competition Game, where you split into two groups and race against each other in an identical twin room.
While there's just one escape room center in Johnson City, you'll find even more fun escape rooms in the Tri-Cities.
20. Visit Tennessee's Oldest Town of Jonesborough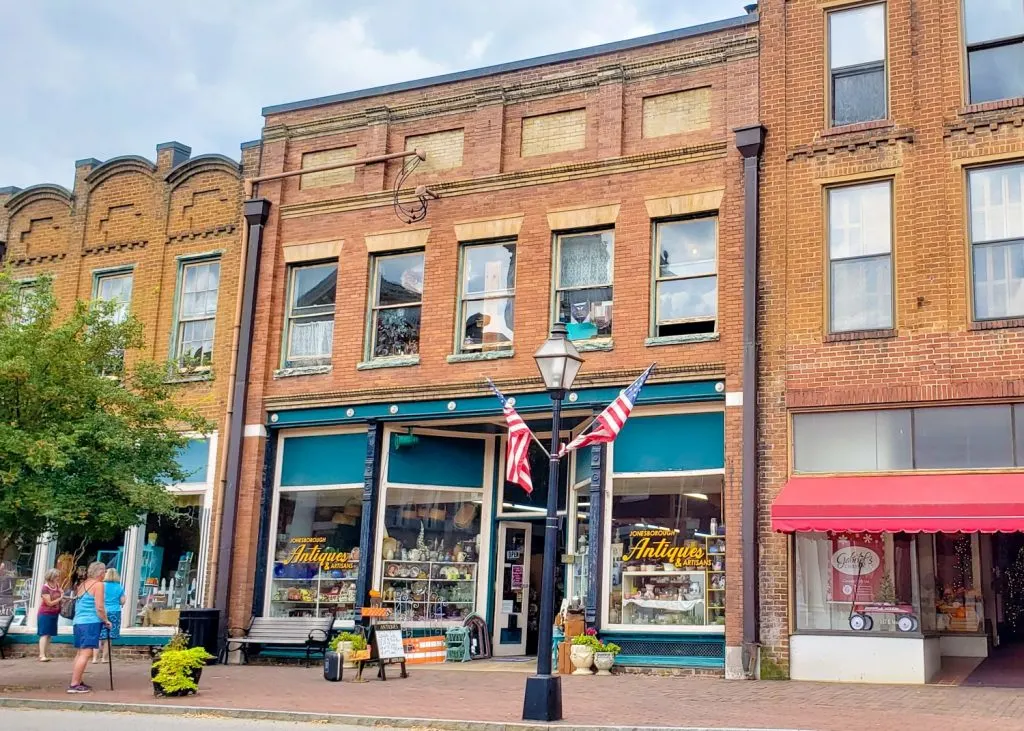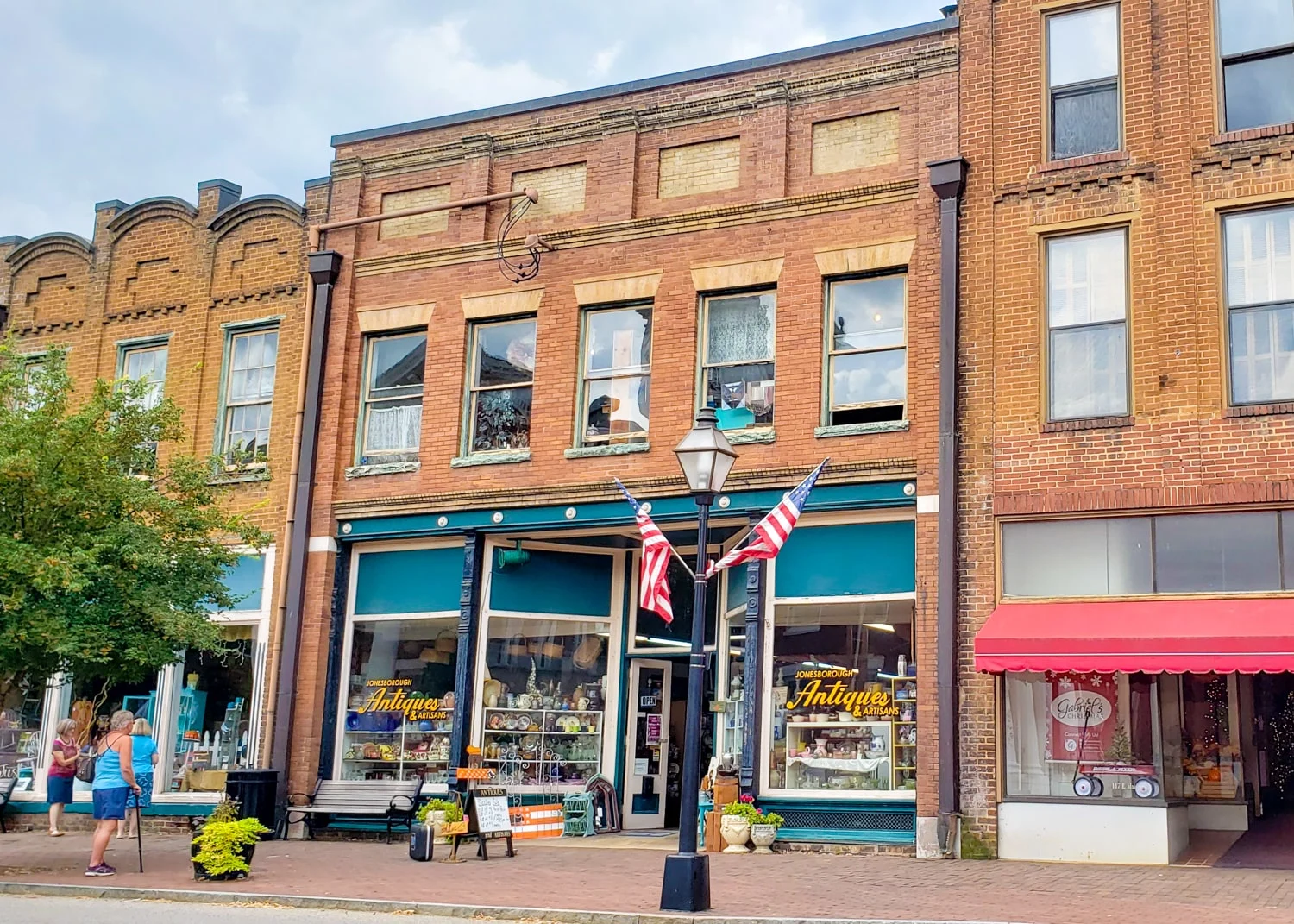 Known as Tennessee's Oldest Town, Jonesborough was incorporated in the 18th century in the year 1779.
Stroll through Main Street, envisioning the charm and history of how this town used to look over 200 years ago.
Jonesborough is famous for being the home to the annual Storytelling Festival which arrives every October and is known as the Storytelling Capital of the World.
You'll find antique shops, quaint restaurants, historical buildings and homes, the Internationally Storytelling Center, Tennesee Hills Distillery, and more!
Jonesborough is located just a 10-15 minute drive from Johnson City.
21. Bike Downtown JC (& Taco 'Bout It) for Taco Trek!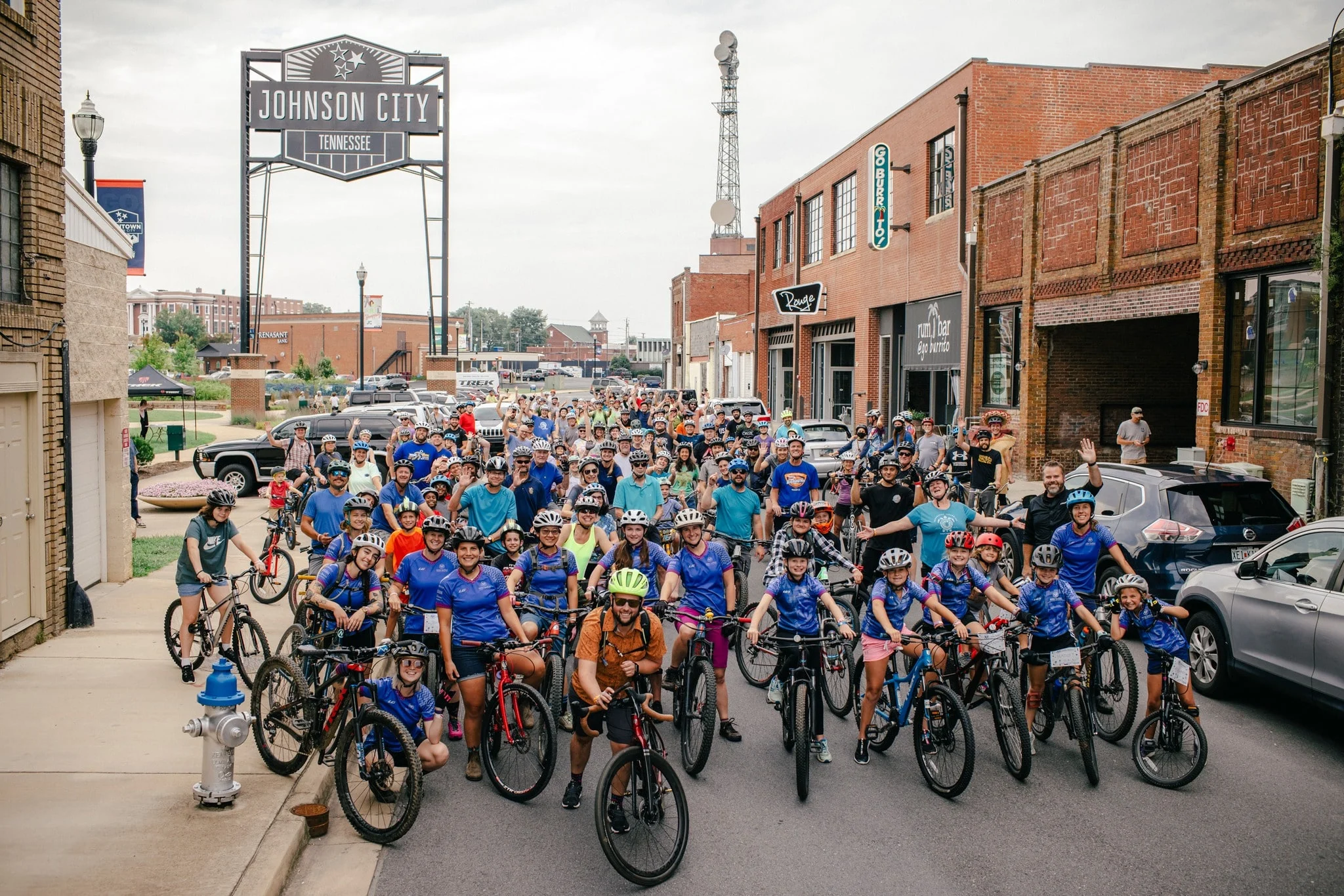 Never heard of the Taco Trek Ride? If not, you're in for a treat! Taco Trek was born amongst friends, but has grown into a city-wide monthly event. To join, you need to have three things:
A positive attitude
A love for tacos
A bike
This fun and family-friendly bike ride begins at The Trek Store and ends at Holy Taco for some post-ride grub. Show up in front of The Trek Store at 6:30 PM sharp on every first Tuesday of the month to join in on the fun!
22. Explore the Appalachian Caverns (Blountville)
Hours: Mon – Saturday 9-6 pm / Sunday 1-5 pm
Location: 420 Cave Hill Rd, Blountville, TN
Looking for something unique? Visit the Appalachian Caverns & Campground located in Blountville, TN.
The Appalachian Caverns would make a great day trip as they are located only a 30-minute drive from Johnson City.
Archeological evidence has revealed that these caverns were used by Early Woodland Native Americans over 1300 years ago. Items such as burnt firewood dated from 675 A.D. were found preserved in an ancient firepit, as well as arrowheads and pottery.
Schedule one of 4 tours offered and see what this cavern is all about.
If you're brave enough, try the 'Wild Tour' where you will be required to wear long sleeves, pants, and a helmet as you will be crawling more than you will be walking. There is even an area they call the "rib crusher."
P.S. Keep the fun going with an Appalachian GhostWalks tour in Johnson City!
23. Grab a Coffee at The Moon Coffee & Tea House
Hours: Open Daily 8 am – 5 pm
Location: 325 E Main St, Johnson City, TN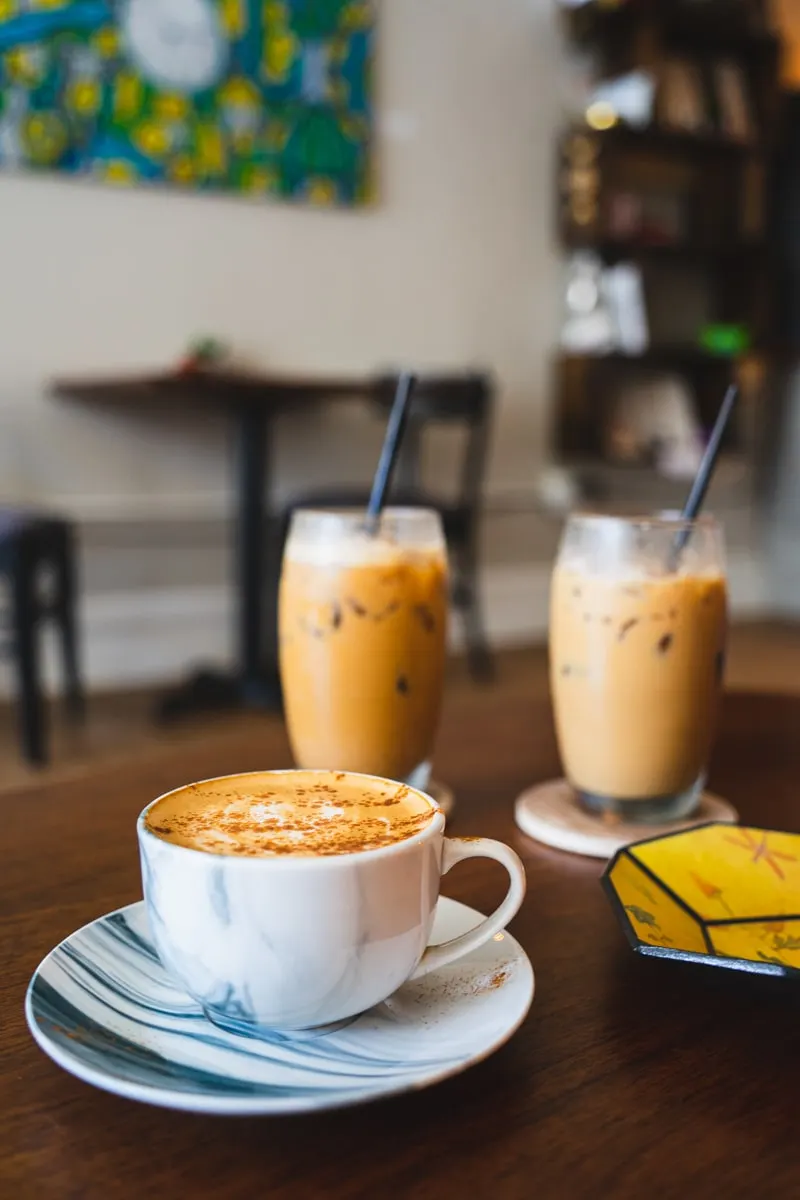 The Moon Coffee & Tea House is one of the best coffee shops in Johnson City.
They offer an extensive menu full of coffee drinks as well as seasonal favorites, as well as a variety of teas.
Some of our favorite coffee drinks here include the Vietnamese coffee and the hazelnut oat latte!
The space is warm and inviting with plants and comfortable seating, so bring your laptop or a book and enjoy your time!
24. Lace-Up Your Skates at the Roller Rink
Hours: Visit website for more hours
Location: 930 W Watauga Ave, Johnson City, TN
If you love a fun blast from the past, then you'll have a rock & roll'er skating time at the local Johnson City Family Skate Center.
Stop by for Open Skate times during the day or reserve for session parties (10 guests) or a private party up to 50 guests. Nightly rates are $10/pp or $7 if you go during daytime hours.
They also host themed "Retro Nights" for just $7 bucks! Check their website for upcoming events and schedules.
25. Shop Local Produce at the Farmer's Market
Hours: Saturdays 8 am – 1 pm / April – October
Location: 105 W Main St, Johnson City, TN
The Johnson City Farmer's Market has been a yearly occasion since 1976 and is open every Saturday at the Pavilion in downtown Johnson City from 8am-1pm April-October.
We love any Farmer's Market as you'll find all kinds of handmade goods to fresh local produce, canned goods, baked goods, arts and crafts, and much more!
Food trucks frequent here such as Auntie Ruth's Donuts & Pretzels – which serves homemade giant donuts and pretzels that will melt in your mouth!
Also Read: 15 Finger-Licking Food Trucks Around Johnson City 🍗
26. Camp Among Rhododendron Blooms on Roan Mountain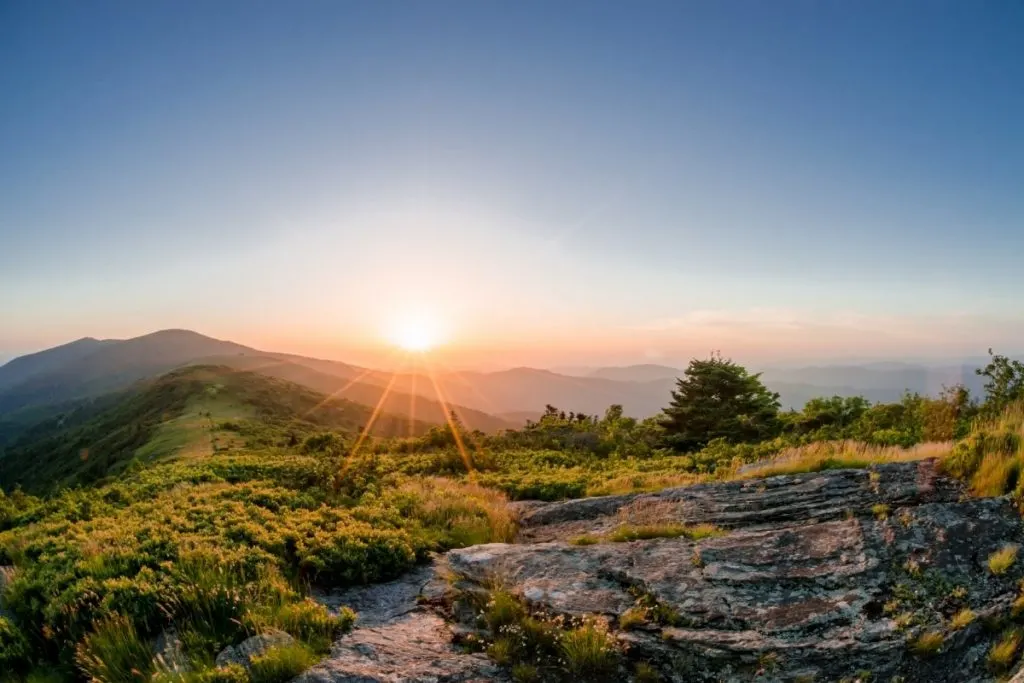 In need of a night under the stars? Whether you have a van, RV, or tent, there are plenty of options around Johnson City to go camping.
One of the most beautiful spots to camp, though, is at Roan Mountain—specifically in the months of May and June when the rhododendron blossoms are in full bloom.
Roan Mountain features ample hiking trails and outdoor recreational activities that the whole family can enjoy.
If Roan Mountain is booked full (which it might be), then you can check out these other places to go camping near Johnson City.
27. Attend the Blue Plum Music & Art Festival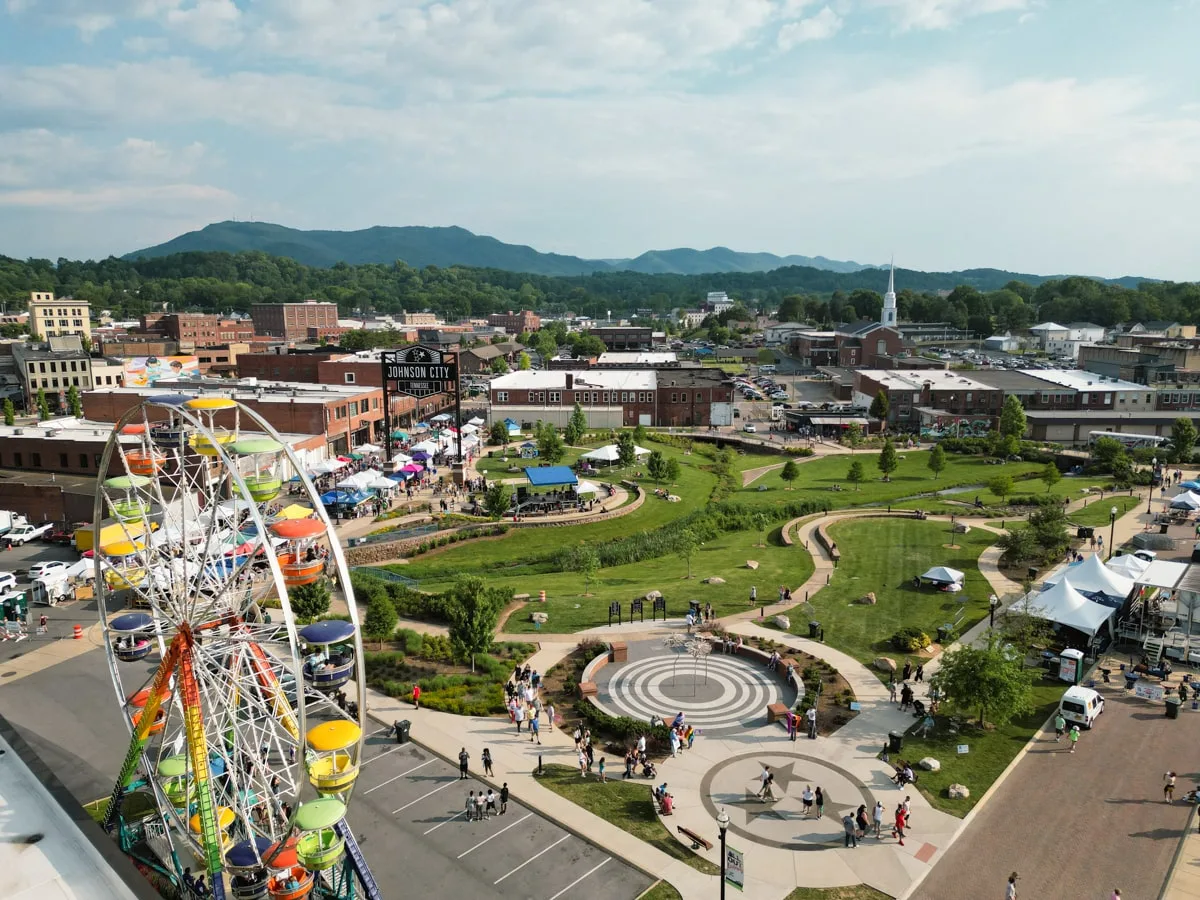 The Blue Plum Festival is one of the largest music and art festivals in the Southeast!
You can trace its beginnings back to 1999 when the festival was born with the idea to bring awareness to Downtown Johnson City.
Per their website, the Blue Plum aims to "invest in Downtown Johnson City through cultural experiences that create lifelong memories for today and tomorrow."
Should you attend, you'll have the chance to partake in myriad activities; wellness events, arts and crafts vendors, live music, food stalls, and more. The festival is free for all!
Learn more about the next Blue Plum Festival here.
28. Play Billiards at Numan's Bar
Hours: Mon – Saturday 11 am – 3 am / Sunday 12 pm – 3 am
Location: 225 E Main St, Johnson City, TN
Numan's is a popular local sports bar in downtown Johnson City featuring karaoke nights, billiards, live music, and TV screens.
There are 2 floors with 2 bars providing over 24 pool tables.
The vibe is part rock 'n roll, part grungy, but overall laid back and a fun place to visit!
Warning: Not a great place for non-smokers.
Also Read: Best Bars & Clubs in Johnson City: A Nightlife Guide 🕺
29. Learn About the Pliocene Era at the Gray Fossil Site
The Gray Fossil Site is a learning center where visitors can learn about the Pliocene-era fossil dig site.
This site was believed to have been created by a large limestone cave that collapsed and created a sinkhole.
Fossils that have been discovered at this site date back to over 5 million years ago and includes animals such as saber-tooth cats, alligators, rhinoceros, mastodons, and many other plants and animals.
The Gray Fossil site is also home to the Hands On! Discovery Center — a non-profit science center offering interactive programs and experiences for all ages.
30. Swim at Blue Hole Falls
Blue Hole Falls is a popular swimming spot outside of Johnson City for cooling off on those hot summer days!
Unlike most other waterfalls near Johnson City, Blue Hole Falls doesn't take much hiking to get to as it's just 10 minutes by foot from the parking lot.
There is also a great swimming hole at the bottom. However, the water is pretty cold!
If you are looking for more things to do in the area, check out our guide to Elizabethton.
31. Try Your Hand at Axe Throwing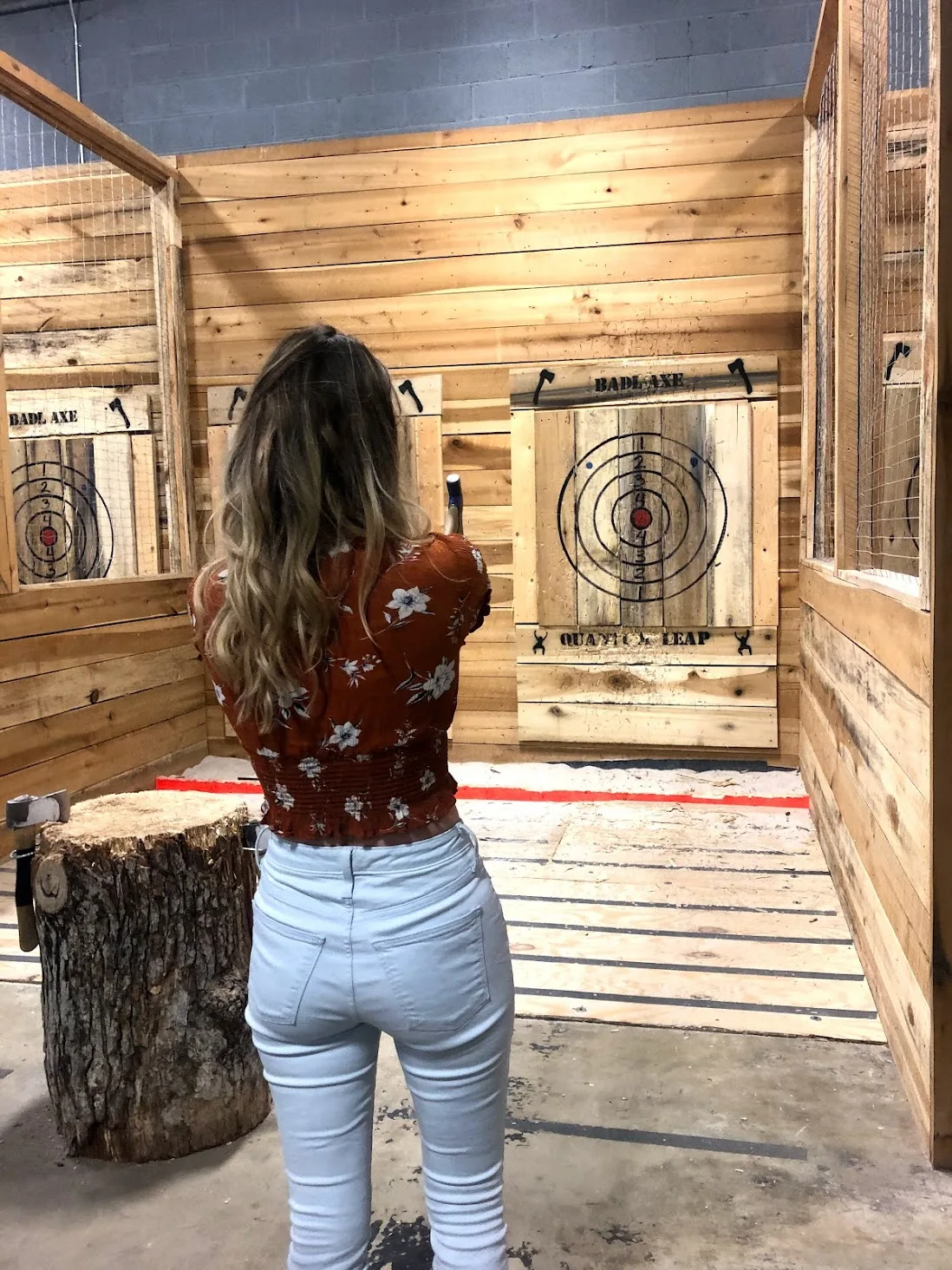 Get competitive in a game of axe throwing at Badl Axe located at the Quantum Leap Sports Arena. Axe throwing is a fun activity for friends and family to enjoy together. It would also make for a great date night idea!
Quantum Leap is also a great place to take your kids as they have a large trampoline park, laser tag, and an arcade!
For the adults, they serve alcoholic beverages such as beer and seltzers.
32. Solve a Murder Mystery at a Live Dinner Show
Have you ever been to a live dinner show in which you are the suspect of a murder?
I'd hope not, but just in case that tickles your fancy, then head over to the Perplexodous Mystery Manor for a full mean and performance all in one!
(Note: This is the same location as the escape rooms in Gray, TN.)
33. Go to a Vintage Drive-In Outdoor Movie Theater
Do you love all things vintage? What about movies?
A fun thing to do near Johnson City is roll up in your vehicle and watch a movie outdoors on the big screen.
The Stateline Drive-In theater is located just 20 minutes from downtown Johnson City and makes for a fun trip for the family. (It also makes for a great date night, too!)
Best of all, tickets are cheap and you don't have to worry about piling up on too much popcorn and snacks. While you can BYO candy and soda, there is a concession stand with all the classics ready to go.
34. Hit a Hole-in-One at Pine Oaks Golf Course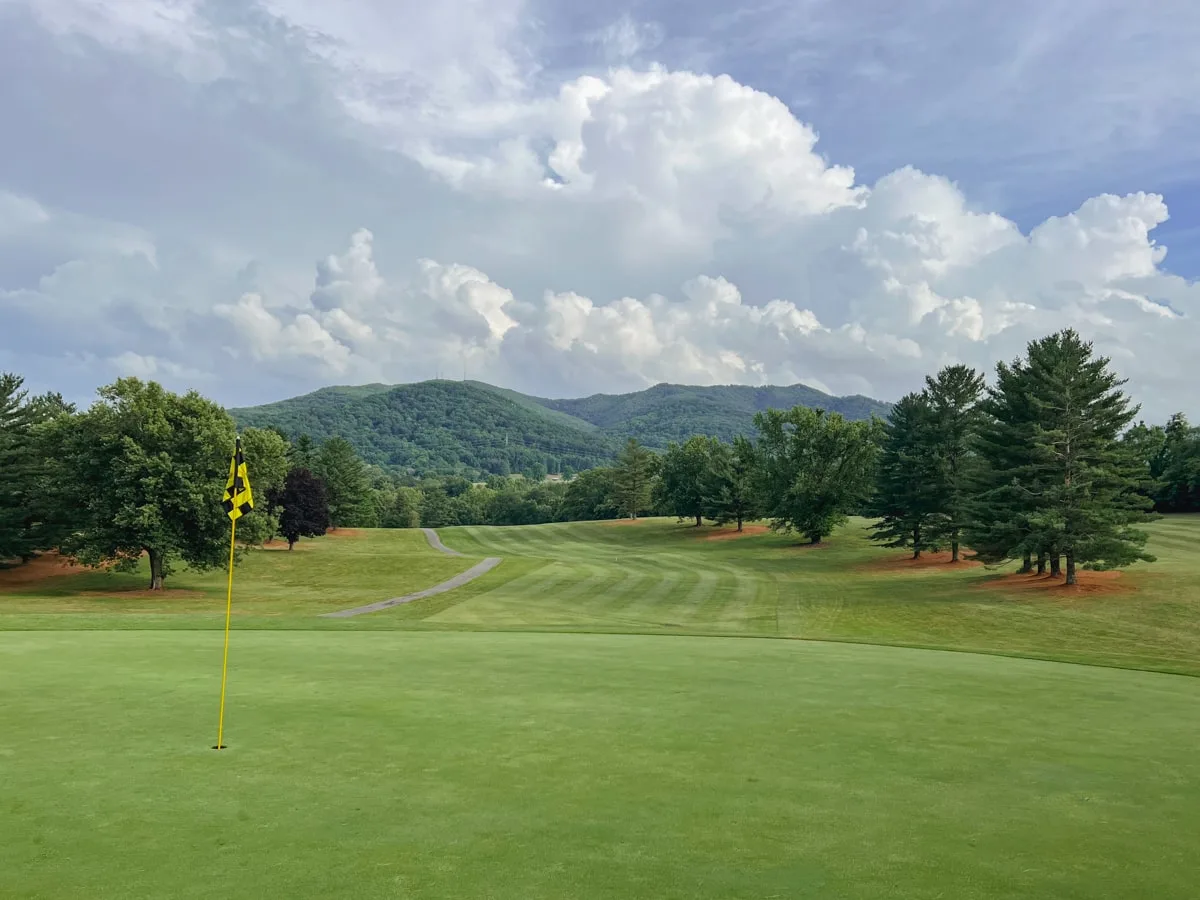 Pine Oaks Golf Course is a well-maintained golf course, great for anyone looking to play a round while visiting Johnson City.
They offer quality conditioned greens, low rates, as well as beautiful scenic mountain views. All skill levels are encouraged to play at this course.
They also offer a driving range for those looking to practice their swing. Schedule your tee time here.
35. Enjoy a Night of Glam & Glitter at New Beginnings
New Beginnings is a premier gay club and bar located in the northern part of Johnson City and has been open for over 30 years. Enjoy a night of comedy and a showcase of glam and glitter featuring Drag Queen performances — YAS QUEEN.
Recently voted as the "Best Night Spots" in Johnson City from the Readers Choice Awards, you'll have a great night dancing to the music and watching performances while sipping on your favorite beverage.
36. Try a Buttery Lobster Roll at Lobster Dogs Food Truck
Lobster Dogs food truck of Tennessee serves (you guessed it) Lobster Rolls! Enjoy buttery lobster on top of a buttery split-top bun, with mayonnaise, and seasonings. Along with lobster rolls, they also serve shrimp and crab rolls.
If you aren't feeling up for bread, they also serve stuffed avocados. Get your avocado stuffed with lobster, crab, shrimp, chicken, tuna, or black bean salsa.
Lobster Dogs food truck frequents many locations from Knoxville, Maryville, Johnson City, and more. Check their Facebook page for the full schedule.
37. Shop 'Til You Drop at the Johnson City Mall
The Mall at Johnson City is great for a rainy day in Johnson City as it's full of department stores, retail shops, a food court, and restaurants.
Consider going to the mall for some shopping if you are killing time before a movie or maybe the weather is calling for rain. Stores here include JC-Penny, Aerie/American Eagle, Bath & Body Works, Hollister, Home Goods, and Belk, to name a few.
There is also a virtual reality arcade, called Vision Quest VR, where you can go get lost in virtual reality – great for kids!
38. Have Fun at Meet the Mountains Outdoor Recreation Festival
Next Event: August 9th and 10th, 2024
Meet the Mountains is one of the most fun festivals that come to Downtown Johnson City.
During this event, numerous outdoor brands and organizations set up booths for you to learn more—and get inspired—to take on the outdoors.
The festival typically features games, shows, and activities with three zones/themes:
Water Zone (i.e. featuring air dogs and water sports like kayaking, SUP, rafting)
Air Zone (i.e. ziplining and rock wall climbing)
Earth Zone (i.e. biking, hiking, and treading dirt!)
39. Party the Night Away at The Vault & Capones
Hours: Friday and Saturday 10 pm – 3 am
Location: 227 E Main St, Johnson City, TN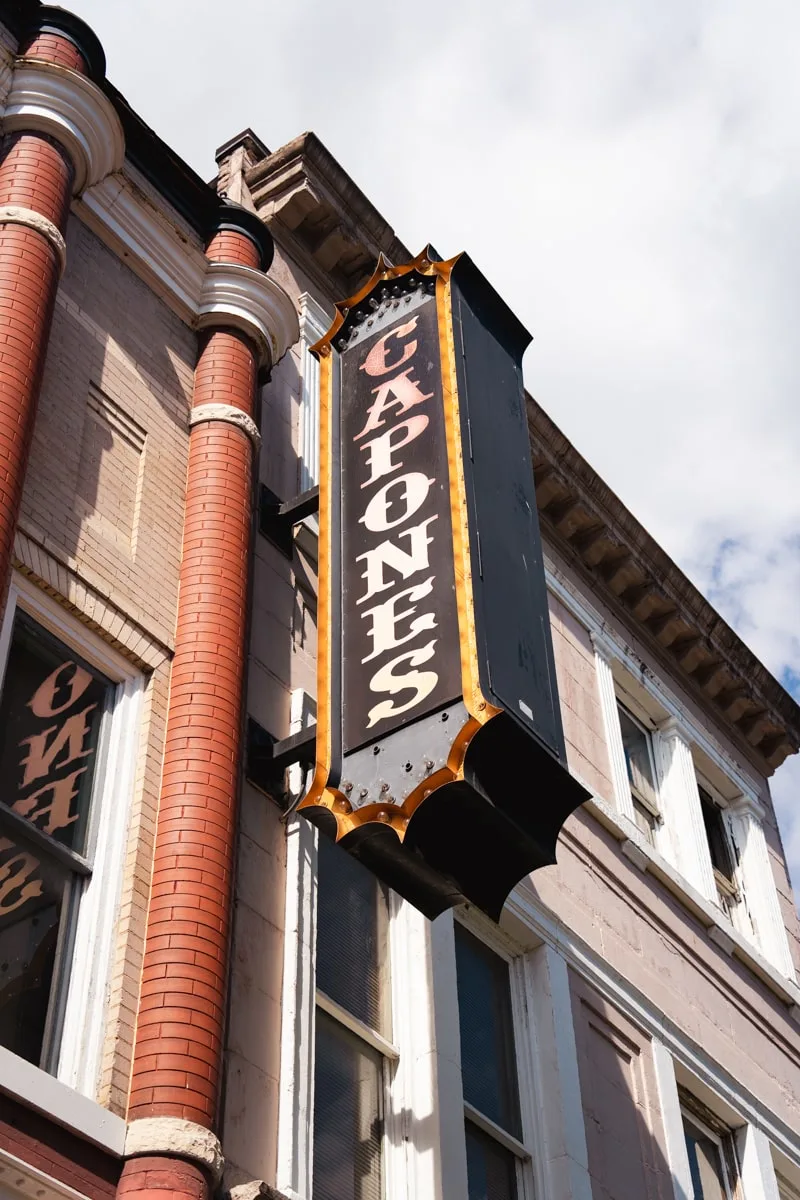 The Vault is a dancing nightclub located on the bottom level of Capones — a bar featuring live music, food, and drinks.
Go see a band at Capone's while enjoying some drinks with your friends and then afterward make your way to the Vault to dance the night away!
This nightclub is open from Thursday-Saturday from 10 P.M.- 3 A.M.
40. Grab Sunday Brunch at First Watch Daytime Cafe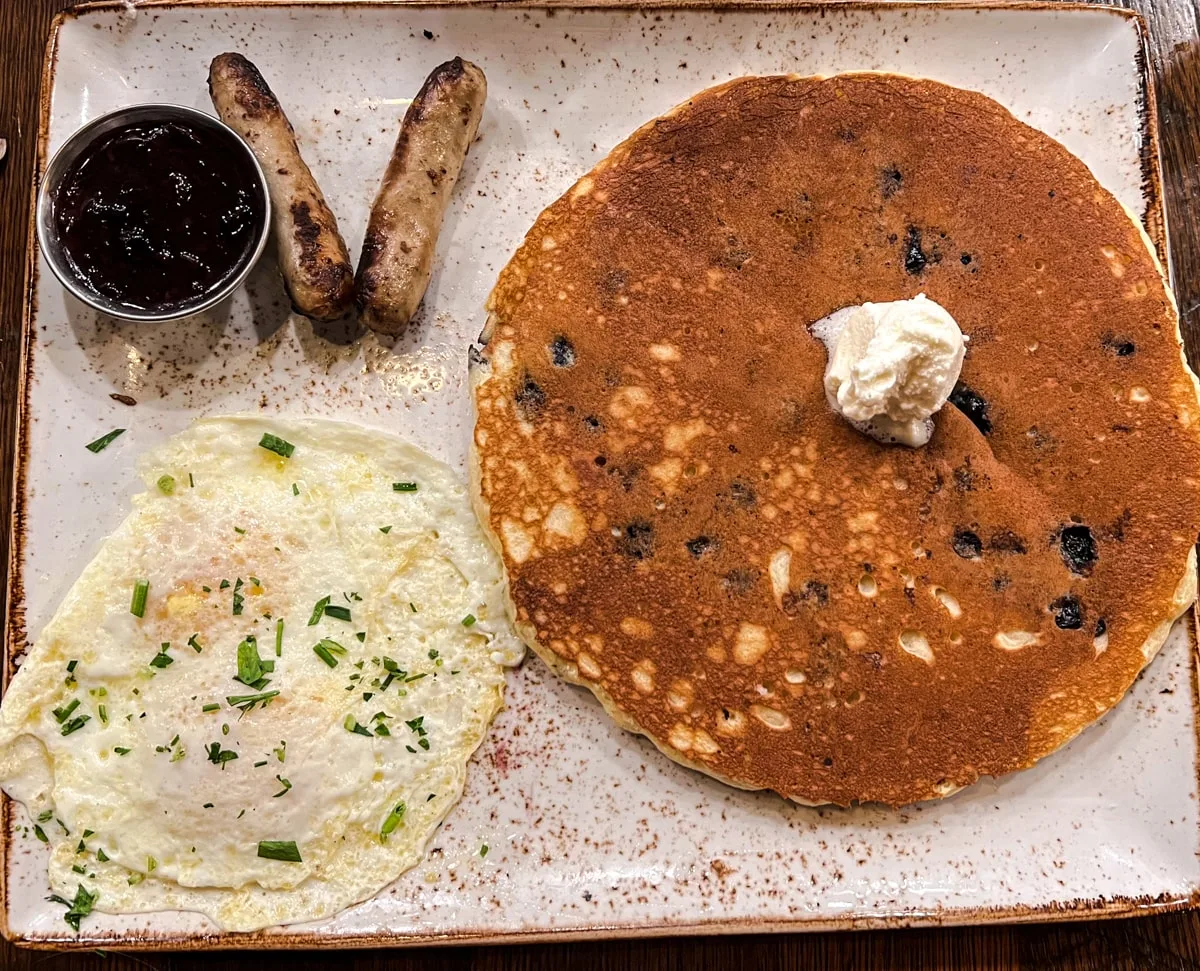 The First Watch Daytime Cafe is one of our favorite breakfast and brunch spots in Johnson City!
This place is perfect for slow weekend mornings when you want to wake up slowly and fill up on energizing delicious food and drinks.
The only downside? Unless you get there early (say, before 11 am), you'll likely be waiting 25–50 minutes for a table.
If you want more recommendations for where to grab your first meal of the day, check out our guide linked above. Maple St Biscuit Company and The Label are other good options for brunch.
41. Hike and Swim at Twisting Falls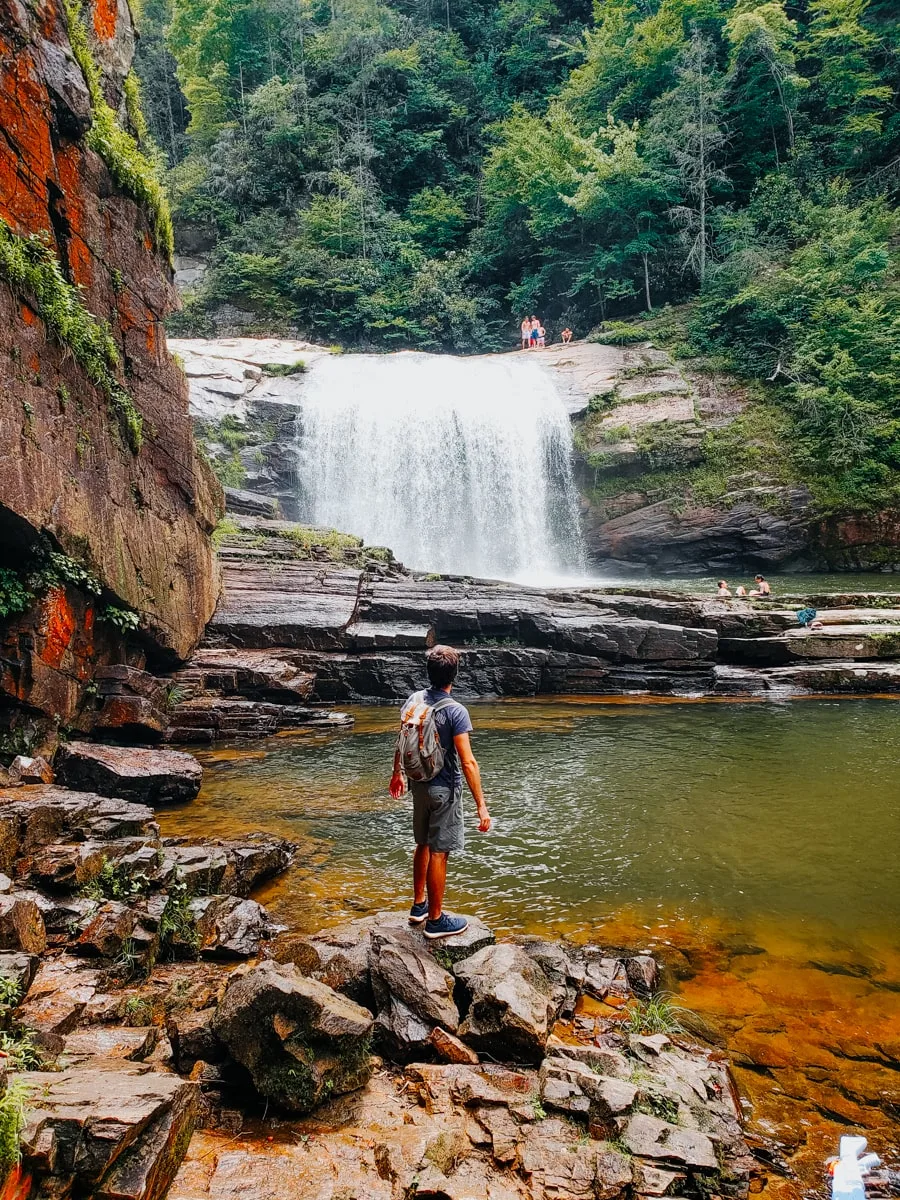 Twisting Falls (also known as Compression Falls) is a gorgeous waterfall located an hour outside of Johnson City, but we include it here as a must-do activity because it's one of our favorites in Northeast Tennessee.
The drive to Twisting Falls from Johnson City is scenic, skirting Watauga Lake, but also a little curvy.
But once you reach the parking lot and trailhead though, you'll have the opportunity to stretch your legs and breathe in the cool, fresh air as you carefully descend down the steep slope to the river and falls below.
Why not pack up the car, kids, pups, and make a day trip out of it? You won't regret it!
42. Explore Winged Deer Park
Winged Deer Park is a beautiful multi-use lakefront park right outside of downtown Johnson City that features an 18-hole disc golf course, mountain biking and hiking trails, batting cages, picnic shelters, two beach volleyball courts, five softball fields, three soccer fields, a playground, and more!
It's also a great place to walk your four-legged friend!
(Click here for the map.)
The 200-acre park once belonged to the Arney family—a local family of farmers who used the land to primarily grow hay. Johnson City purchased the land in 1985 and has since converted it into a district park for all to enjoy.
If you are looking for fun and free things to do in Johnson City, Winged Deer Park is just the place to be.
43. Watch an ETSU Football Game
For those of you who don't know, Johnson City is a college town, home to the Buccanneers at East Tennessee State University.
Founded in 1911, ETSU is known for its great academic colleges such as its College of Nursing and James H. Quillen College of Medicine.
Attend an ETSU Football game and feel the nostalgia rushing back to you from your college days. You'll see the stadium full of blue and gold colors, all fans representing their team.
You can purchase your tickets for any ETSU sporting event here. Don't forget to wear your blue & gold. Go Bucs!
(And if football's not your thing, right nearby ETSU is the Austin Springs Spa inside the gorgeous Carnegie Hotel, in case you want to go get a massage or treatment!)
44. Go Kayaking on Boone Lake
Boone Lake is a popular location near Johnson City and Bluff City for fishing, boating, kayaking, and swimming throughout the summer months.
Boone Lake is a perfect outdoor activity for those hot summer days!
Fishermen take note that this lake supports bluegill, crappie, as well as a few types of bass – striped, white, hybrid, smallmouth, and largemouth.
Many marinas on this lake offer boat rentals such as Boone Lake Marina. Rent a boat and enjoy the day on the lake floating, swimming, wakeboarding, etc.
Check out other lakes in and around Johnson City!
45. Thrift for Clothes at Owl's Nest Consignment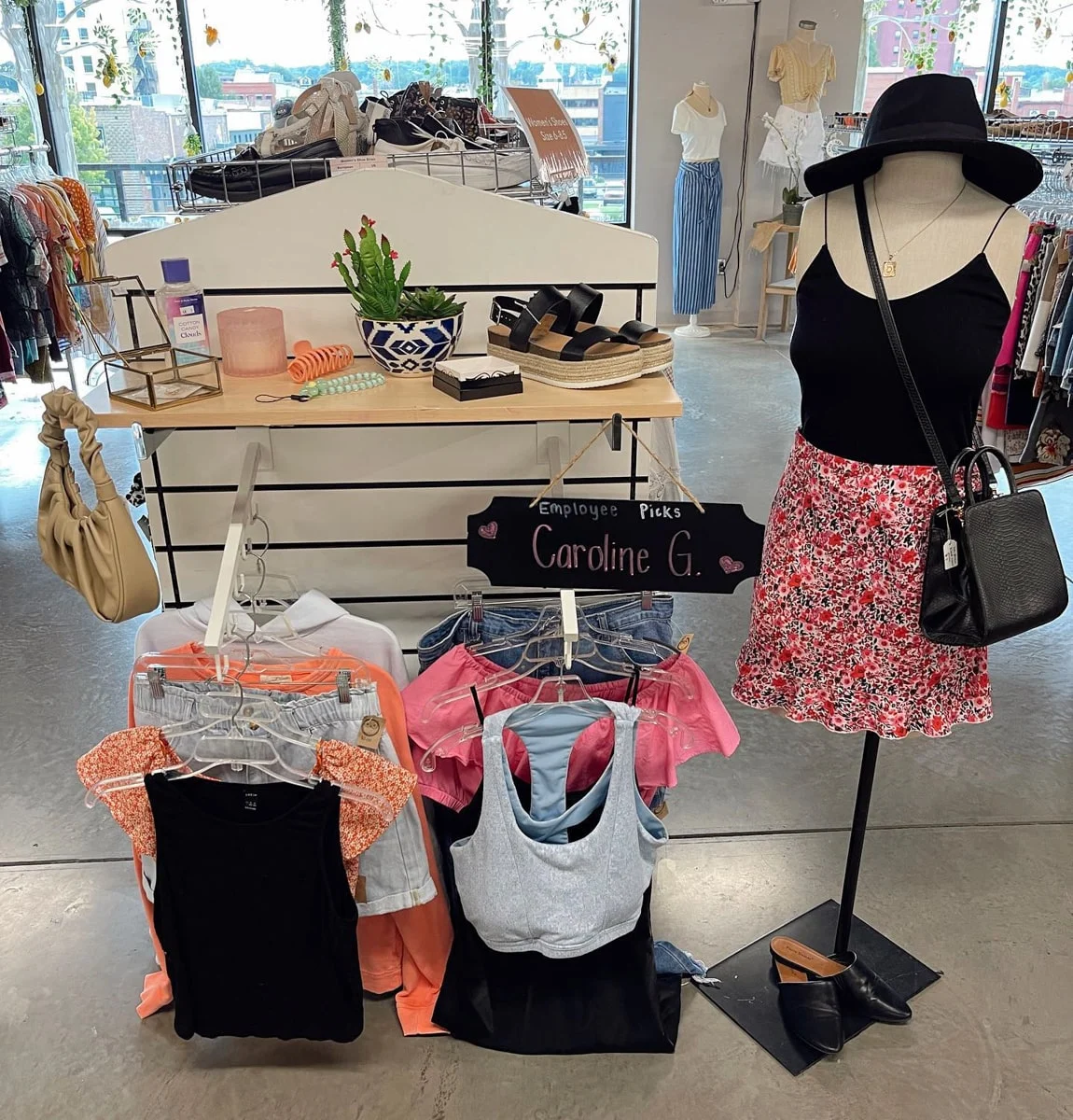 The Owl's Nest is a consignment store located in Downtown Johnson City selling gently used clothes, home decor, furniture, baby items, and more.
They were voted as the Best Consignment & Thrift Store by Readers Choice of Johnson City Press.
If you have anything to sell, take it by the Owl's Nest where they will buy your items or donate them for you.
46. Catch a Race at Bristol Motor Speedway (Day Trip)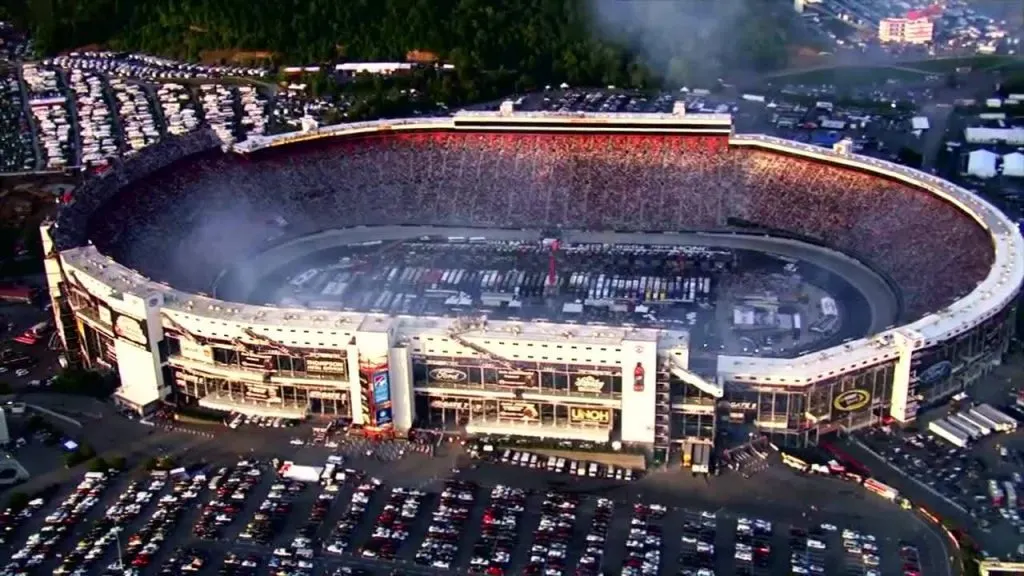 It's Bristol Baby! Bristol Motor Speedway is a NASCAR short track located just 30 minutes from Johnson City in the charming town of Bristol, TN-VA.
Thousands of people travel from all 50 states and over a dozen countries to watch NASCAR races which are held from the months of April through September.
Camping is very popular as people arrive days to even weeks in advance to camp until race day.
You can also find drag racing, also known as Street Fights, which is held on certain Saturdays from April through August. All street-legal cars are welcome to join in on Street Fights so bring your car, minivan, bike, etc.!
47. Chill Out at the Appalachian Hookah Lounge
The Appalachian Hookah Lounge is Johnson City's latest establishment on Tipton St in downtown.
Here you can smoke flavorful tobacco while enjoying the company of your friends, food, and drinks.
They serve a variety of drinks from Blue Moon to White Claw to Angry Orchard. If you are looking for a "place to chill" in Johnson City, then check out Appalachian Hookah.
48. Grab Popcorn & a Movie at AMC 14 Theater
AMC Johnson City 14 is a great movie theatre for a fun date night or to do when the weather isn't ideal for outdoor activities.
This theatre is one of our favorites as they offer heated reclining seats and a bar where you can purchase beer, cocktails, wine, and seltzers.
If you would like to see an early movie, they offer 30% off all movies before 4PM everyday.
49. Watch the Game at Wild Wings Cafe & Bar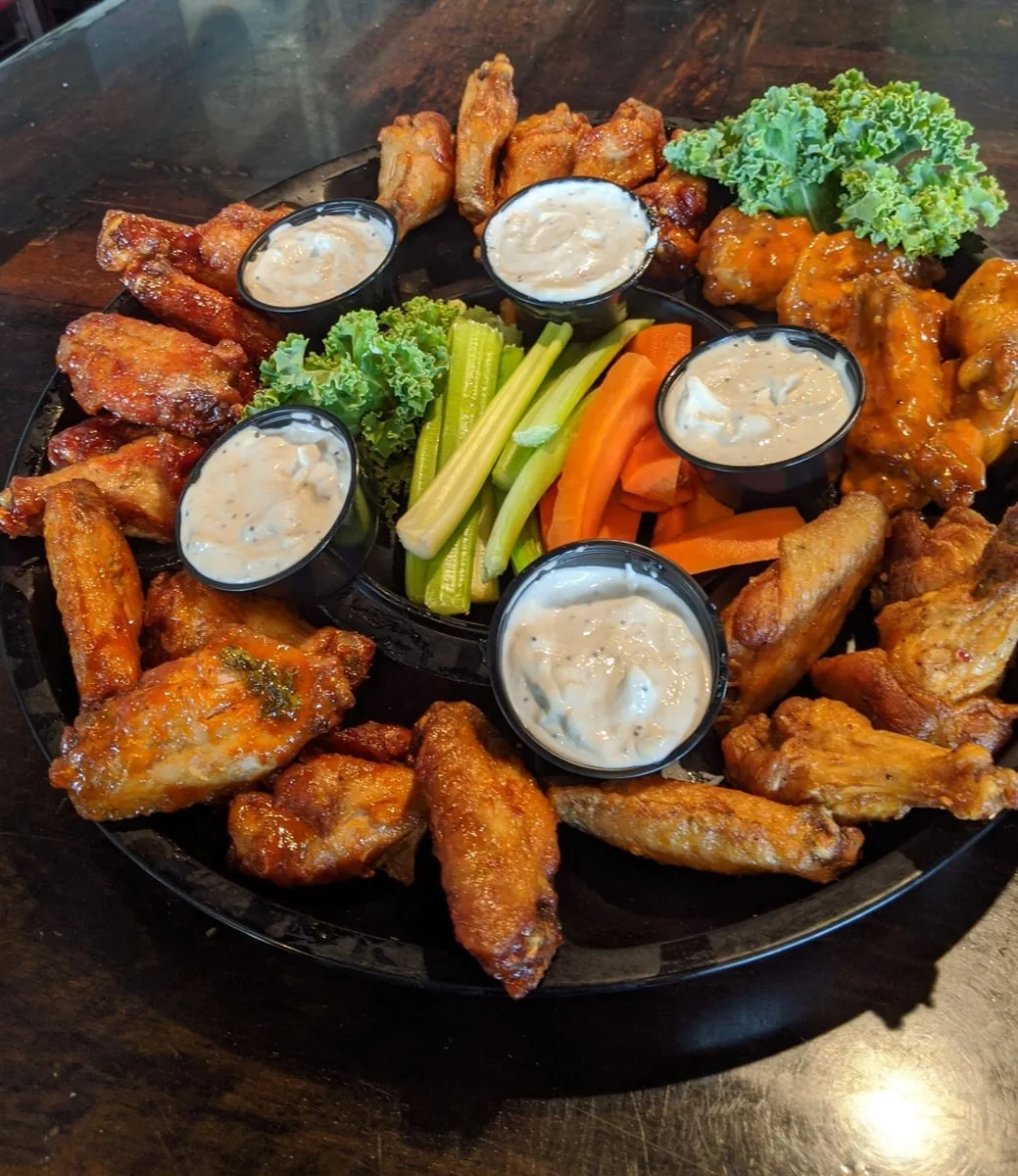 Wild Wing Cafe is a go-to classic American bar and restaurant for sucking on juicy chicken wings while watching the game with a cold beer in hand.
On weekends, you'll likely catch live music, trivia night, and a full house of Johnson City locals and travelers enjoying good company and good food here.
Wild Wings is idyllically located in downtown, right beside Founders Park. There is free parking right out in front.
50. Road Trip Around Northeast Tennessee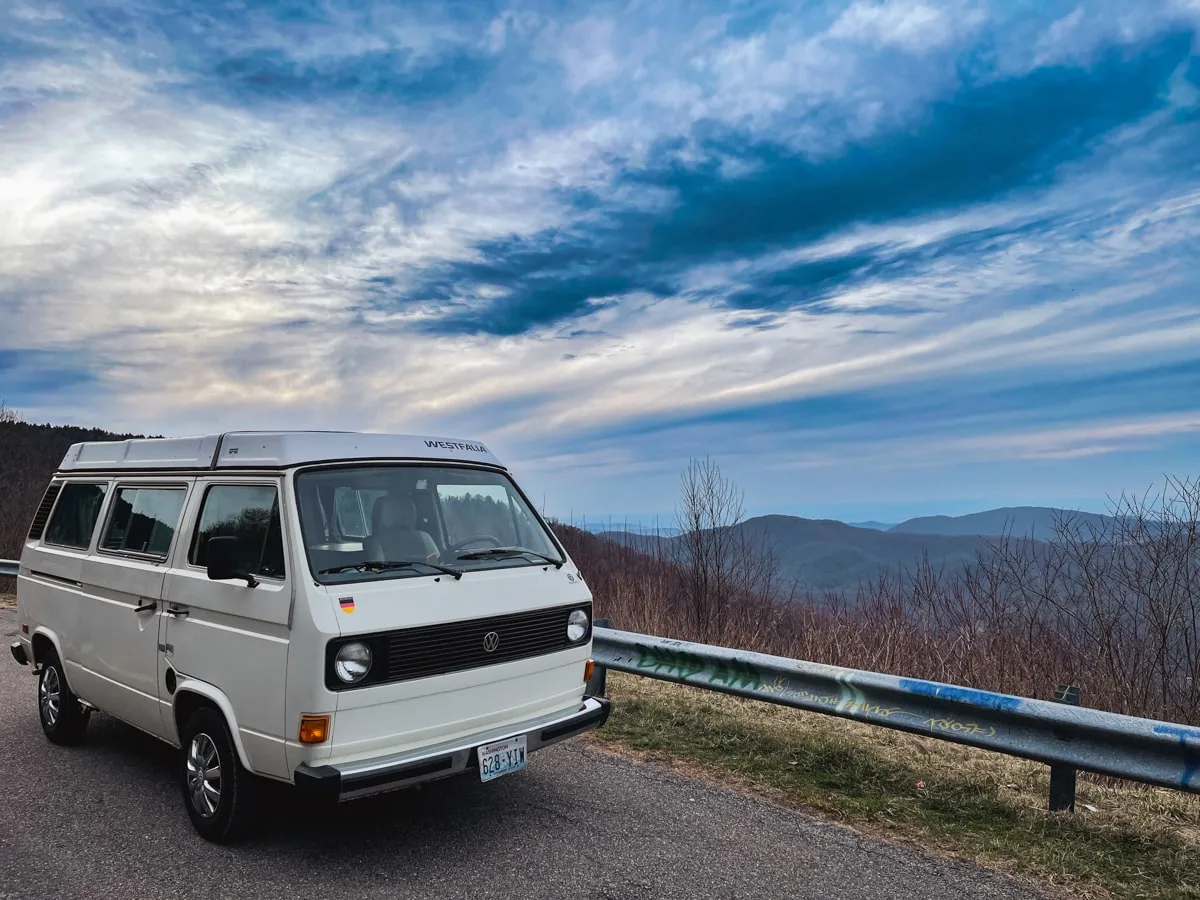 Last, but not least, if you are looking for more things to do beyond Johnson City, then why not take a scenic road trip around Northeast Tennessee?
On a road trip in NE TN, you can visit not only the Tri-Cities, but you can also escape out in nature, drive down country roads across the Blue Ridge Mountains, visit historic monuments and towns, ride roller coasters at Dollywood, play games in Pigeon Forge, explore the Great Smoky Mountains National Park, sample specialties across the Tennessee Highlands, shop at roadside fruit and artisanal markets, and MORE!
There is so much beauty to be discovered and explored in this part of the state! So once you've had your fill of activities in Johnson City, hit the road and let us know what you find.
We hope this ultimate bucket list for things to do in Johnson City helps plan your trip to this up-and-coming city! If you have any recommendations, please drop them in the comments below.
📌 BOOKMARK, SHARE, & PIN IT FOR LATER