You may find yourself overwhelmed with all the breakfast restaurants in and around Gatlinburg, TN.
Where should you go? Who is worth the wait? And who truly has the best pancakes in Gatlinburg? 🥞
We've got you covered like syrup on pancakes and have come up with a list of some of the best places to eat breakfast in Gatlinburg.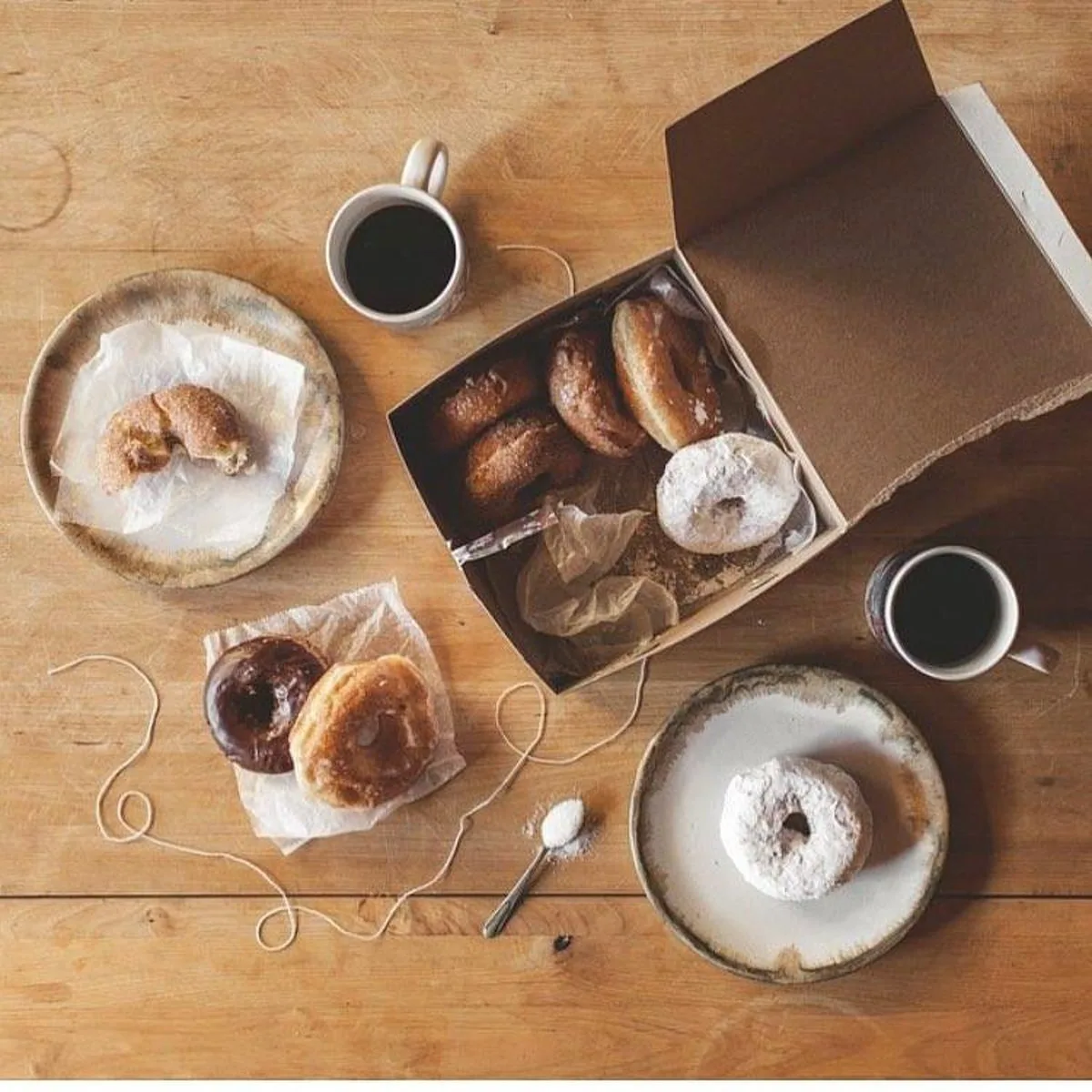 From perfectly poached eggs to a steamy stack of blueberry pancakes to melt-in-your-mouth donuts — here is a list of some of the best Gatlinburg breakfast restaurants. 👇
9 Best Breakfast Restaurants in Gatlinburg, TN
1. Crockett's Breakfast Camp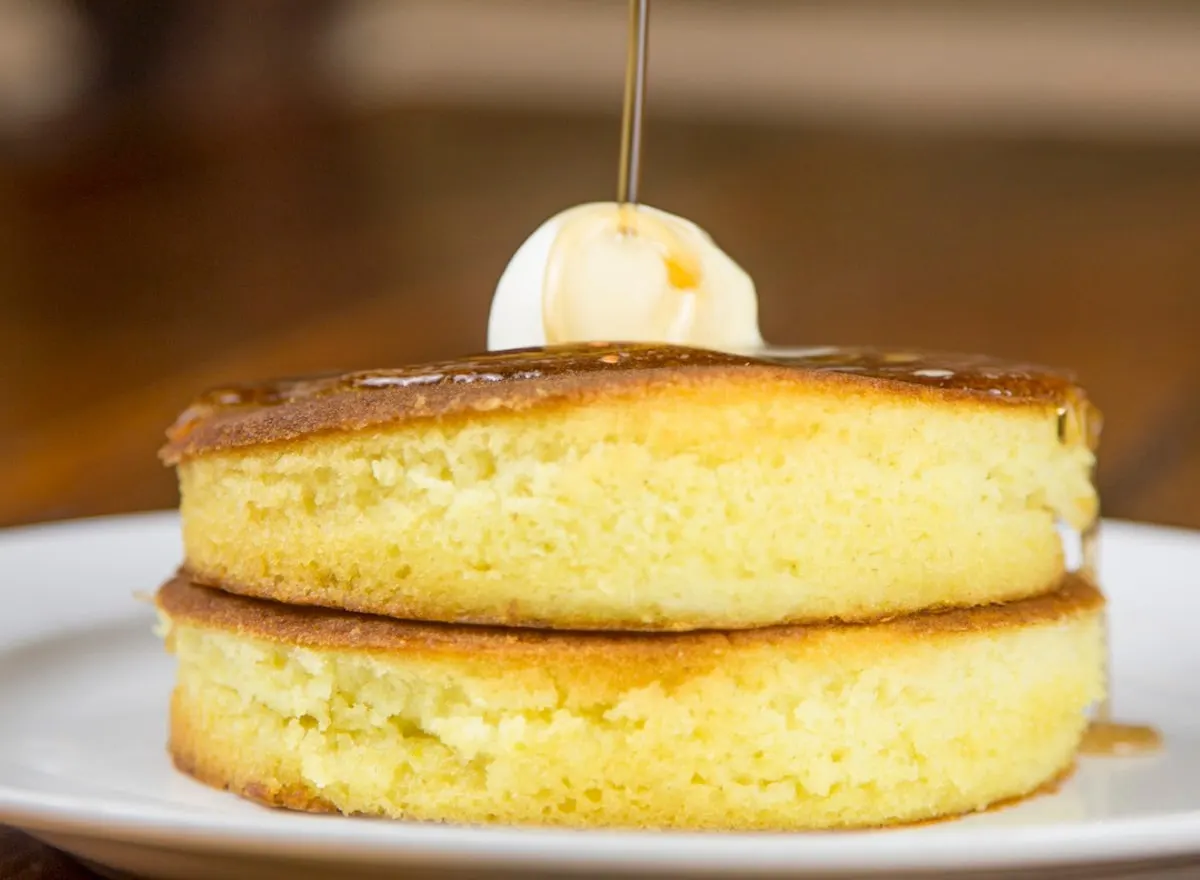 Address: 1103 Parkway, Gatlinburg
From 1-inch thick pancakes to fried cinnamon rolls, Crockett's Breakfast Camp has one of the best breakfasts in Gatlinburg.
Guest reviews mention "the best pancakes in Gatlinburg" as their pancakes are so thick, fluffy, and sweet that you may not even need syrup.
Other breakfast menu items include Southern favorites including eggs your way, omelets, french toast, a corn beef hash benedict, and breakfast skillets.
Inspired by the life and legacy of the famous David Crockett, the restaurant has a cozy atmosphere with a large fireplace and wood features.
Join the waitlist if you're interested in eating breakfast at Crockett's, as the wait times can exceed 2 hours or more.
Bookmark this bucket list for later!
>> 13+ Best Things to Do in Gatlinburg: Activities in the Smokies <<
2. Log Cabin Pancake House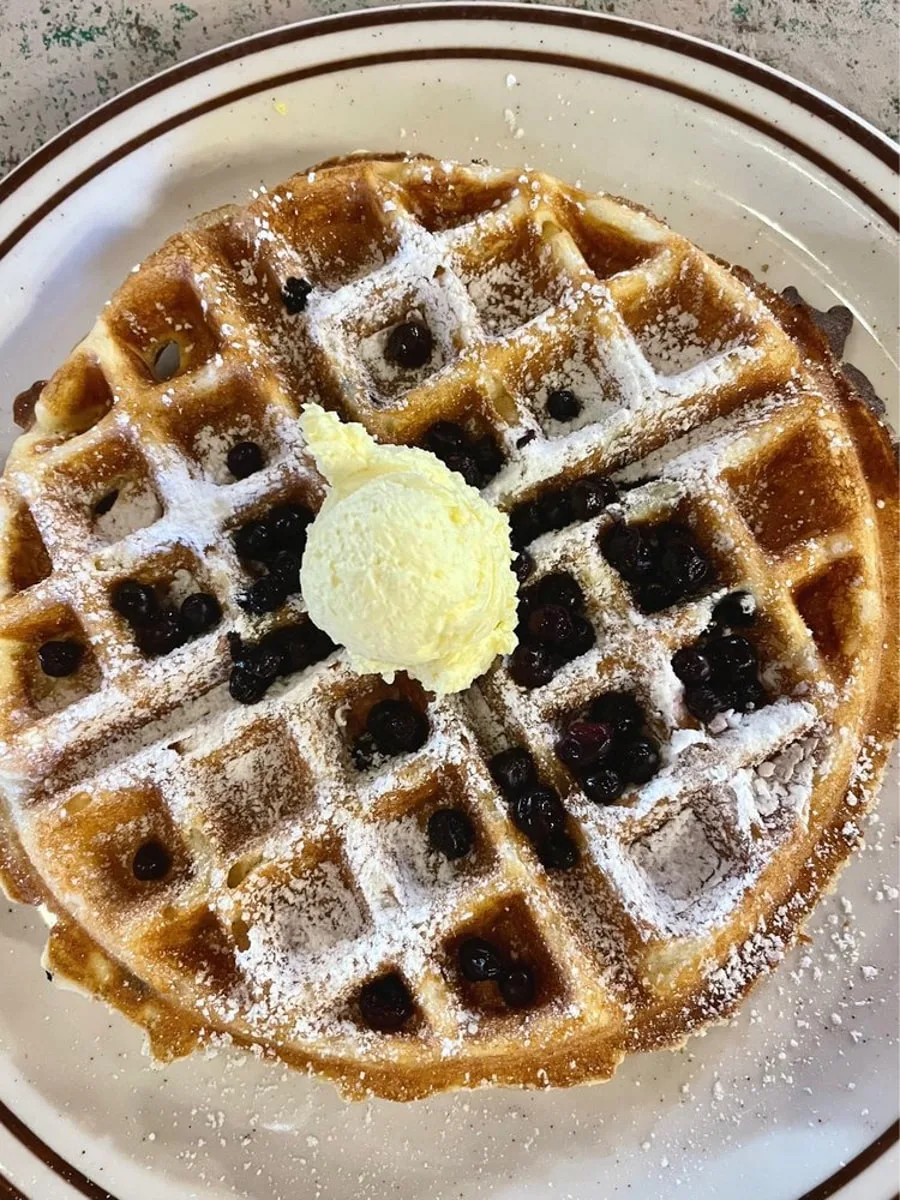 Address: 327 Airport Road, Gatlinburg
The Log Cabin Pancake House is another great place to find delicious breakfast in Gatlinburg.
Breakfast is served all day with a menu full of variety including french crepes, waffles, pancakes, all-you-can-eat biscuits & gravy, sandwiches, and more.
The atmosphere is cozy and rustic as the restaurant is inside a log cabin with wood features and a large fireplace.
The Log Cabin Pancake House does not take reservations, however, the line does move pretty quickly, so don't let the long line outside scare you away from a great breakfast!
3. Smoky Mountains Creperie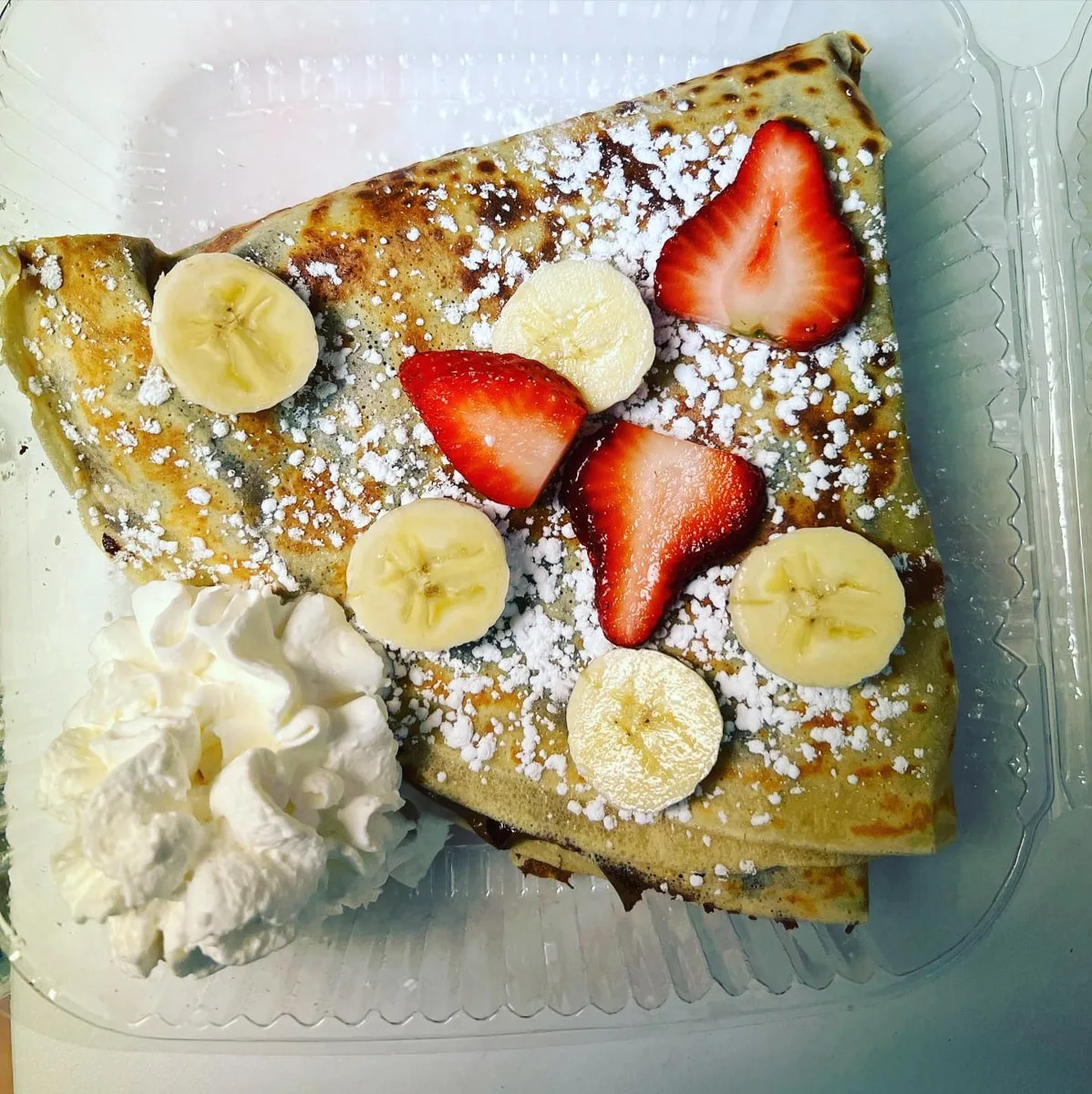 Address: 812 Parkway, Gatlinburg
Sweet and savory crepes are all you need for breakfast at Smoky Mountains Creperie.
If you're looking for a savory breakfast, try the Monte Cristo or the California chicken. Or if you like your morning sugar, try one of the sweet crepe options such as the Nutella & Oreo or Nutella & strawberry. 🍓
Pair your crepes with a hot coffee, frappuccino, or espresso drink.
Many people often visit Smoky Mountains Creperie for breakfast and often the next day because they can't get enough of these delicious crepes — try them for yourself!
4. Little House of Pancakes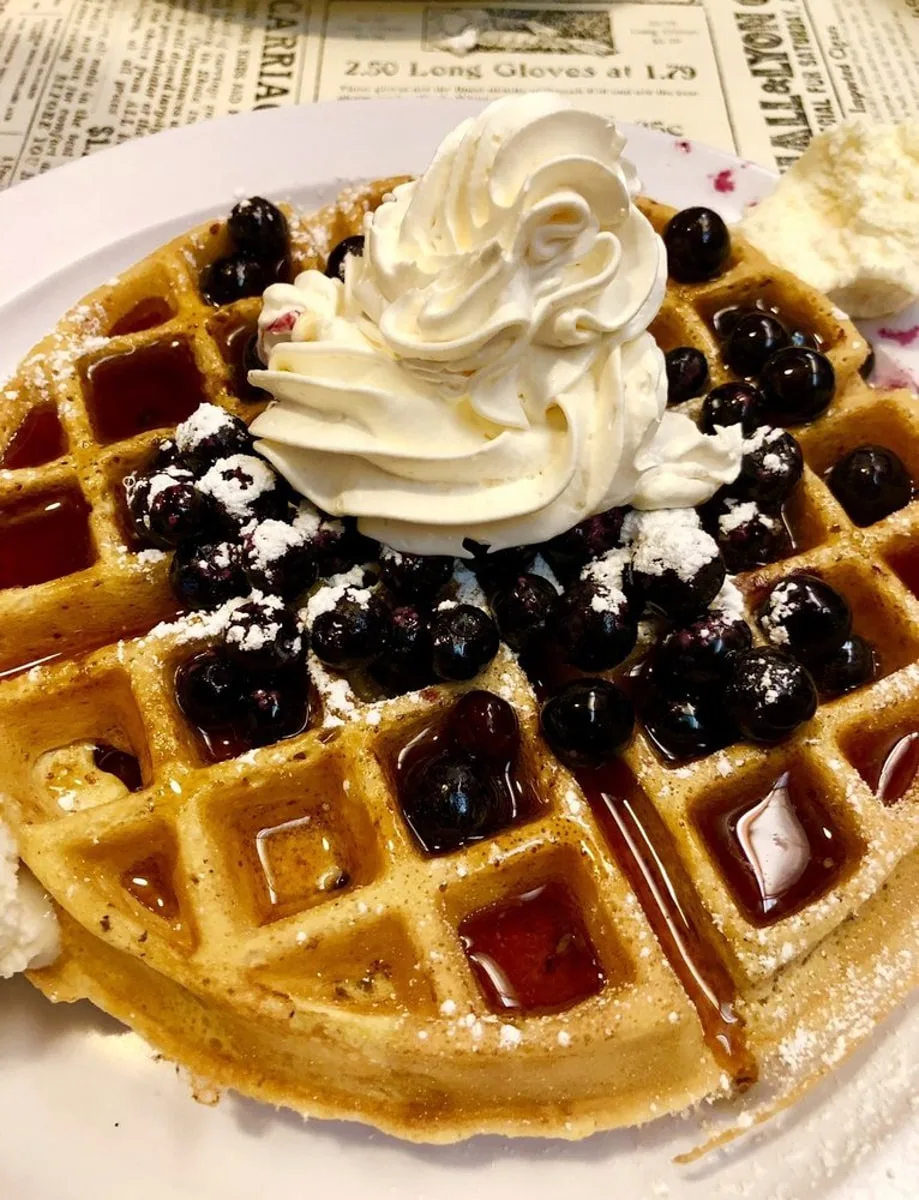 Address: 807 East Parkway, Gatlinburg
Pancakes, pancakes, and more pancakes! The Little House of Pancakes serves American-style breakfast and lunch classics.
From blueberry pancakes to apple, cherry, peach, and more — you'll find a pancake to satisfy your hunger. And if you're extra hungry, they have an 'All You Can Eat Pancakes' option on the menu for under $9 per person.
Other breakfast options include omelets, steak & eggs, country-fried ham, and country-fried steak & eggs, to name a few.
5. Donut Friar
Address: 634 Parkway, Gatlinburg (Located inside The Village)
For a quick grab-and-go breakfast, try out the Donut Friar for some delicious donuts and coffee.
Especially for those early rise-and-shiners, the Donut Friar opens at 5 am every day.
As well as donuts, try the delicious cinnamon bread or one of the pastries available such as the chocolate eclair.
Coffee choices include chai lattes, mochas, macchiatos, cappuccinos, lattes, and espressos.
The Donut Friar makes a great quick breakfast option in Gatlinburg. Let us know what you think of these fabulous donuts in the comments below! 👇
6. Trish's Mountain Diner
Address: 3614 East Parkway, Gatlinburg
Another great breakfast spot in Gatlinburg can be found approximately 15 minutes outside of downtown Gatlinburg at Trish's Mountain Diner.
This restaurant serves a country-style breakfast from 7-11 am daily with favorites such as the country steak & gravy or one of their classic breakfast sandwiches.
If you're looking for a cheap breakfast in Gatlinburg then this may be it, with most items pricing from $4-$10.
The wait will also not be as long as other breakfast restaurants located in downtown Gatlinburg, so it would be a great choice as a last-minute breakfast option.
7. The Atrium Gatlinburg
Address: 432 Parkway, Gatlinburg
Breakfast is served hot all day (until 2 pm) at The Atrium restaurant in Gatlinburg.
Come hungry with a big appetite as they serve large portions and options such as The Hungry Bear — 4 eggs, 4 pancakes, home fries, and your choice of meat.
Try the famous apple pancake — a large pancake baked with apples and brown sugar and served with apple syrup (pictured above).
The Atrium offers a budget-friendly breakfast in Gatlinburg, with prices ranging from $8-$16 a person.
They also serve lunch if you find yourself craving a burger or sandwich instead.
8. Pancake Pantry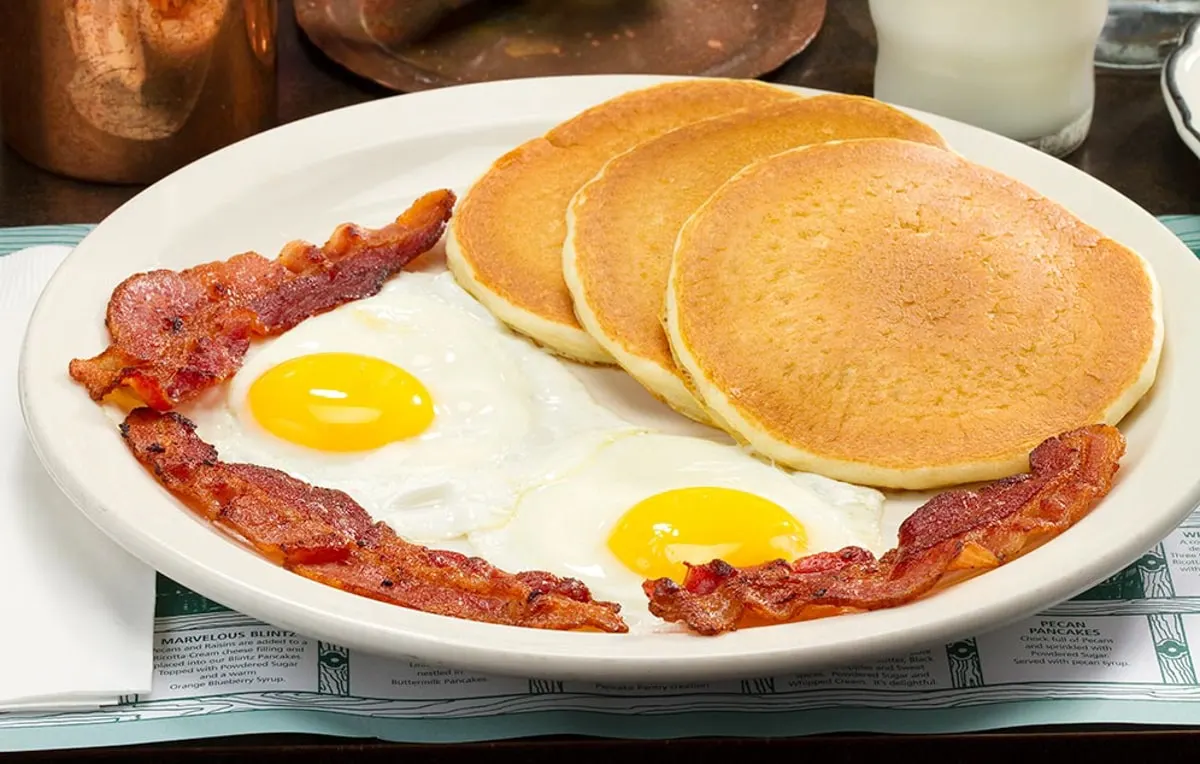 Address: 628 Parkway (Located inside The Village)
Pancake Pantry has been serving the city of Gatlinburg breakfast for over 60 years with deliciously made pancakes and breakfast items.
You can choose from over 24 different pancake flavors topped with homemade compote or syrups made from fresh ingredients.
They also serve a variety of waffles including a smoked ham waffle or crisp bacon waffle for those who like that sweet & salty combination.
Their breakfast menu is served all day from 7 am – 3 pm and they do not take reservations so expect to wait for a table.
9. Timbers Log Cabin Restaurant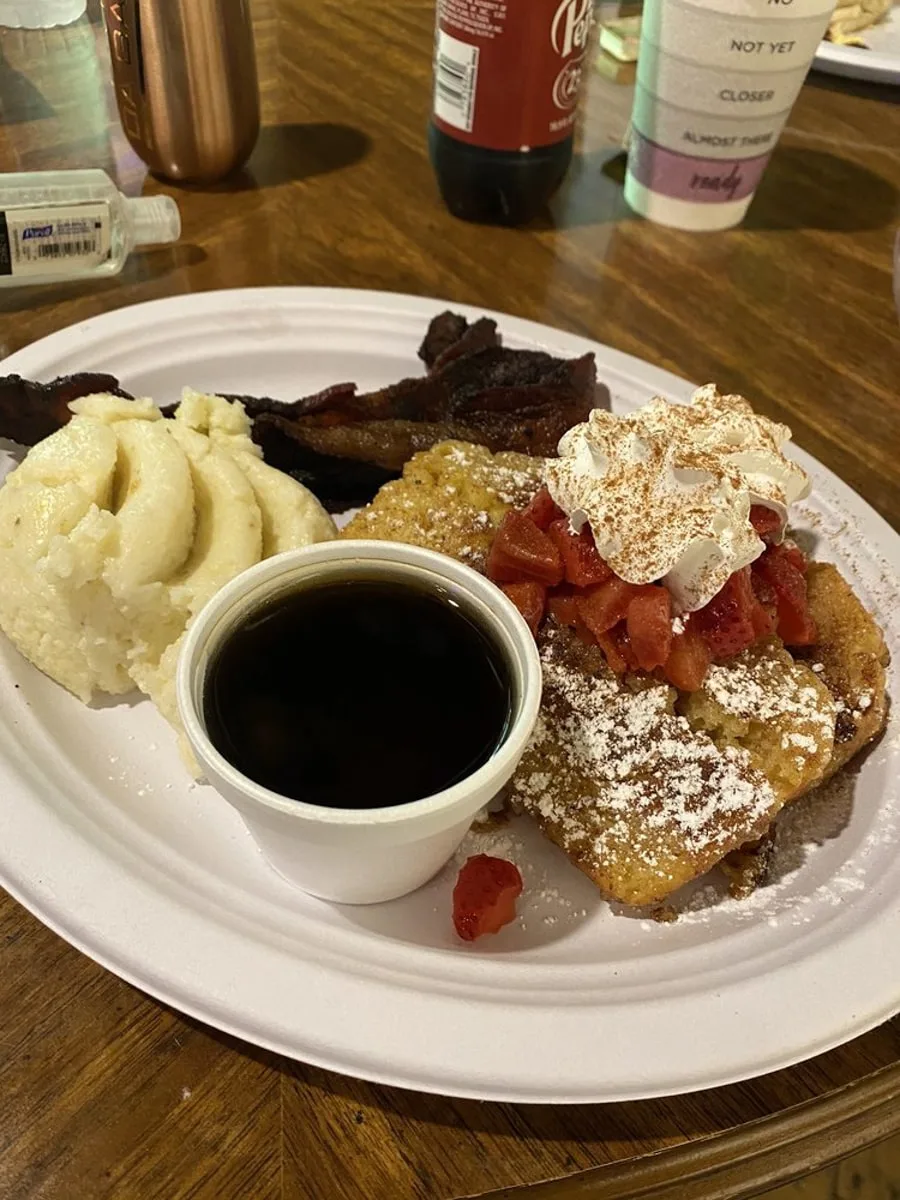 Timbers Log Cabin Restaurant is located off the beaten path and is approximately an 8-minute drive from downtown Gatlinburg.
This would be a great alternative to downtown breakfast restaurants during peak hours when the lines are extremely long.
The menu is smaller than other breakfast options but that doesn't mean it's any less tasty. Some breakfast items on the menu include biscuits & gravy, an egg sandwich, flapjacks, and an omelet.
You'll feel like you're eating at Grandma's house with these home-cooked southern meals.
Have you tried any of these breakfast restaurants in Gatlinburg? Do you have any recommendations that didn't make the list? Leave a comment and let us know!
You may also like:
Featured Image Credit: Crockett's Breakfast Camp