Gatlinburg is a scenic mountainous town in East Tennessee and is officially known as the gateway into the Great Smoky Mountains National Park (the most visited national park in the United States).
The town of Gatlinburg is full of both adult and family-friendly activities such as wine and moonshine tastings, shopping and dining, mountain coasters, and popular hiking trails.
And, with it being adjacent to Pigeon Forge, even more family-friendly things to do such as visiting the #1-rated theme park in the United States (Dollywood) are just around the corner.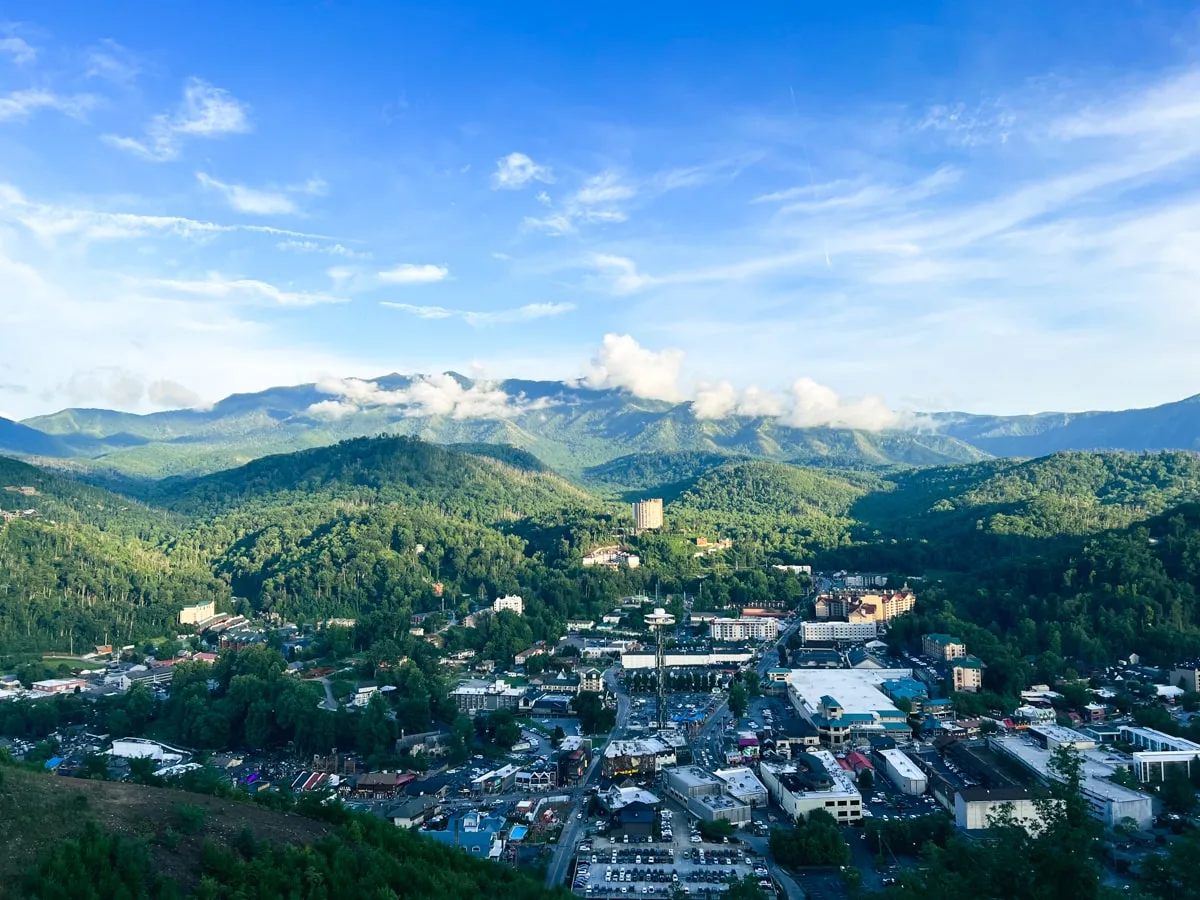 Gatlinburg is especially popular during peak seasons, such as the months throughout summer and October.
Fall in Gatlinburg attracts visitors wishing to witness the beautiful fall foliage that the Smoky Mountains display each year.
From beautiful Smoky Mountain views to whitewater rafting, helicopter tours, horseback riding, waterfall hikes, and more — we have broken down some of the best things to do in Gatlinburg for your next vacation or weekend getaway in Gatlinburg!
Fun Fact: Did you know that Gatlinburg is the second most popular place in the United States to get married (with Las Vegas being the first)?
Looking for a romantic destination with that special someone? Also Read: Romantic Getaways in Tennessee: 8 Best Destinations for Couples
Best Things to Do in Gatlinburg, Tennessee
1. View Gatlinburg from Above
Gatlinburg is nestled within a valley surrounded by mountains and hills — making it easy to view this mountainous town from above.
The scenic views of the Smoky Mountains will surround you once you reach the top.
Here are a few options of how you can view Gatlinburg from above:
1a. Ober Gatlinburg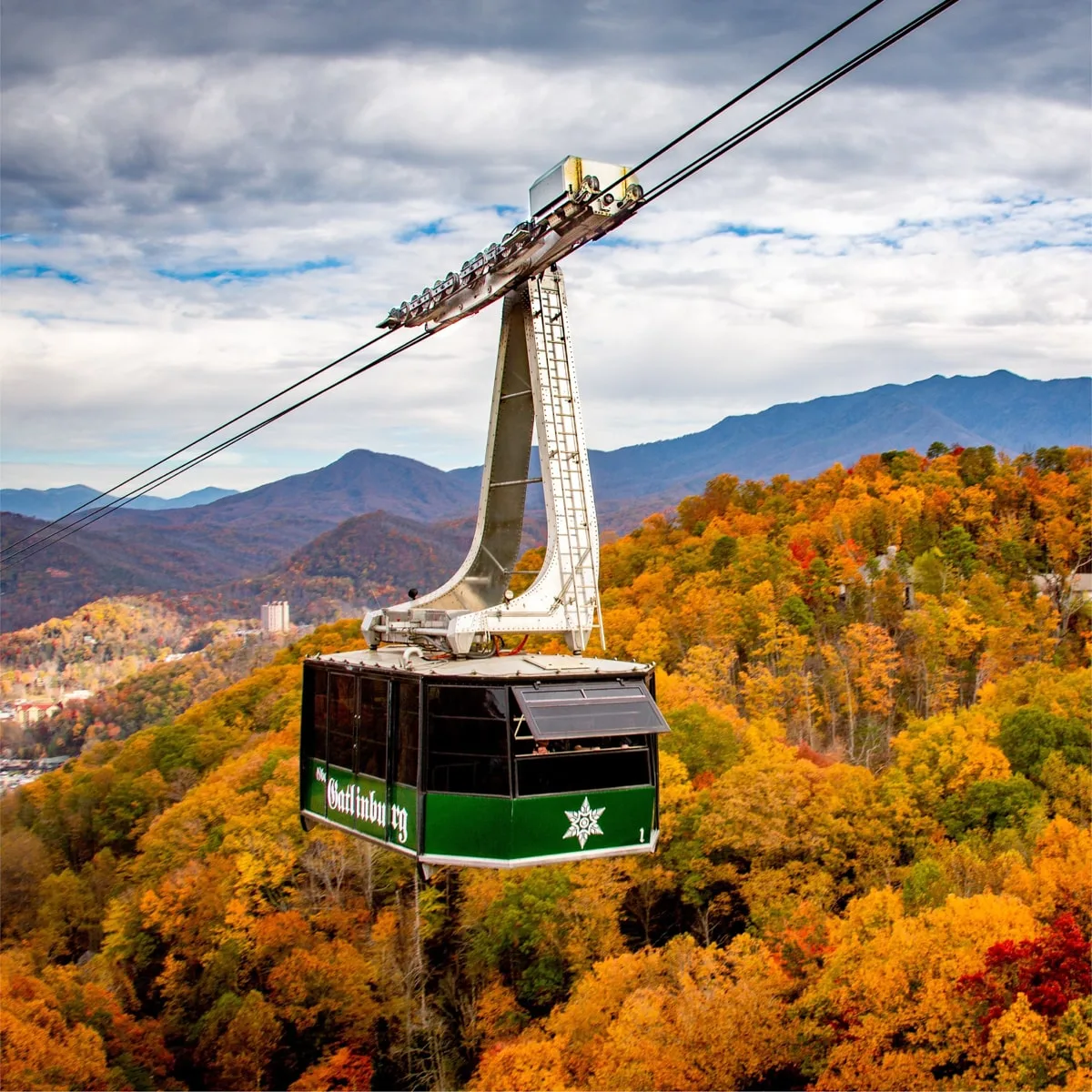 Ober Gatlinburg is both an adventure park and ski area, providing plenty of fun activities and things to do while visiting Gatlinburg.
From Spring to Summer, Fall, and Winter — Ober Mountain Adventure Park is one of the best places to go in Gatlinburg.
Riding the Aerial Tramway to the top is definitely one of the highlights as you'll have 360-degree views of Gatlinburg and the Smoky Mountains.
Once you reach the top, you'll have a number of fun activities to choose from. Say hello to some animals at the wildlife encounter such as black bears and bobcats. Play mini golf, ride a mountain coaster, go summer tubing, and much more.
Ober Gatlinburg is especially popular throughout the winter months for fun winter activities, including skiing, snowboarding, ice skating, and snow tubing.
*Aerial Tramway departs every 20 minutes.
1b. Gatlinburg Skybridge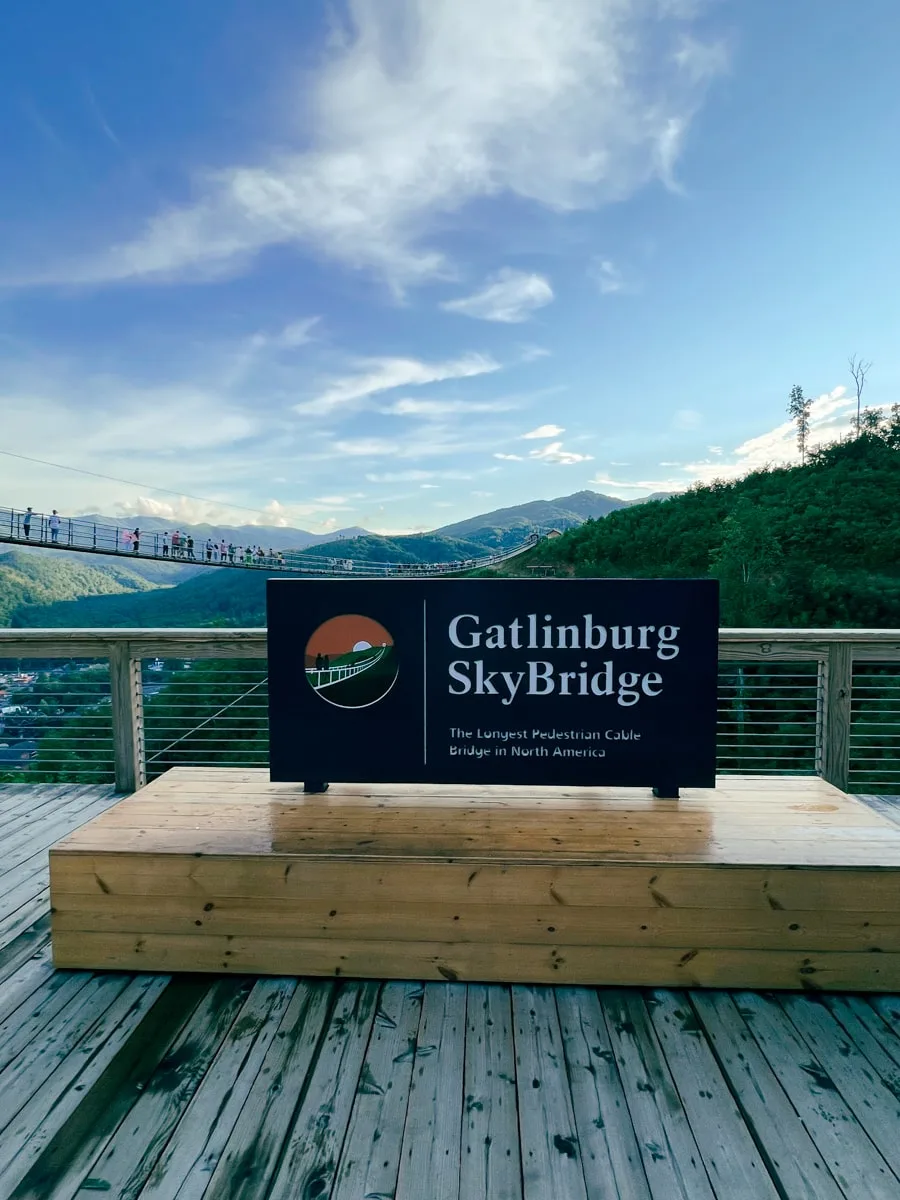 The Gatlinburg SkyBridge is the longest pedestrian bridge in North America and provides some of the best views in Gatlinburg.
To get to the top, you'll have to ride the SkyLift which was the first four-season scenic chairlift in the South and has been operating since 1954. Don't worry, it was updated in 2017 and is a smooth ride all the way to the top.
The popular Skybridge is approximately 700 feet and stretched over a deep valley. A section of the bridge has a see-through glass bottom — are you brave enough to walk across?
Sit around a fireplace at the SkyDeck amphitheater while watching the sunset over the Smoky Mountains. If you get hungry (or thirsty) while visiting, food and beer are available for purchase at the SkyCenter.
Walk along the SkyTrail and climb the 70-foot Tulip Tower for even more scenic views.
1c. Anakeesta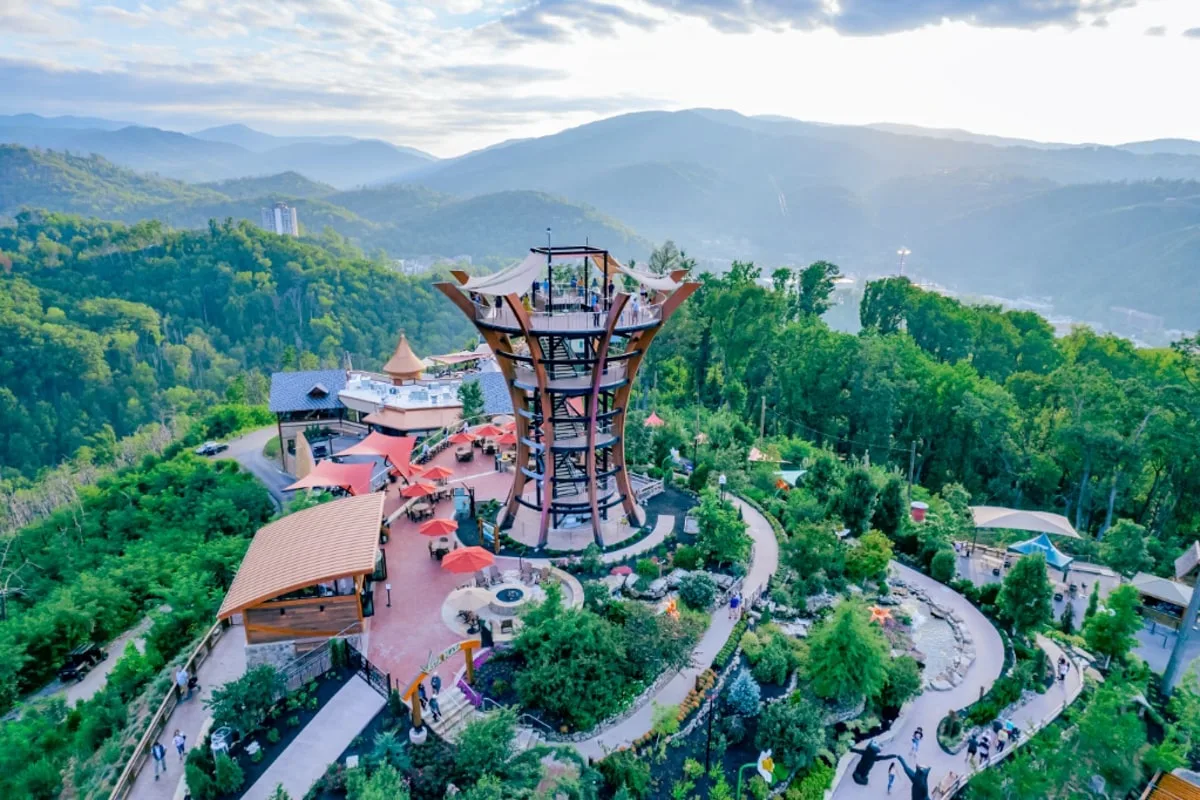 Anakeesta is another great place to go to see the views of Gatlinburg below. This award-winning theme park provides activities for the whole family.
Ride the 4-person Chondola to the top of Anakeesta with opportunities to see the city of Gatlinburg beneath you.
Or if you're not a fan of heights, ride the Ridge Rambler to the top instead.
The Ridge Rambler is a passenger truck that will drive you through the forest to the summit of Anakeesta.
For those seeking more adventure, walk along the 16-bridge Treetop SkyWalk and climb Anavista Tour for 360-degree views of Gatlinburg.
Try the Dueling Zipline Adventure, ride the Rail Runner mountain coaster, or stroll through the Vista Botanical Gardens.
If you're hungry, eat at one of the restaurants found at the top while enjoying the views of Mt. Leconte and the Smokies. There is also a tap house and a bar, a dessert shop, and a few retail shops.
The best time to visit Anakeesta is near sunset and then staying after it's dark.
Anakeesta lights up at night and has the country's first Astra Lumina — the 15th experience in the Lumina Enchanted Nightwalk Series, where the stars descend from the night sky.
1d. Gatlinburg Space Needle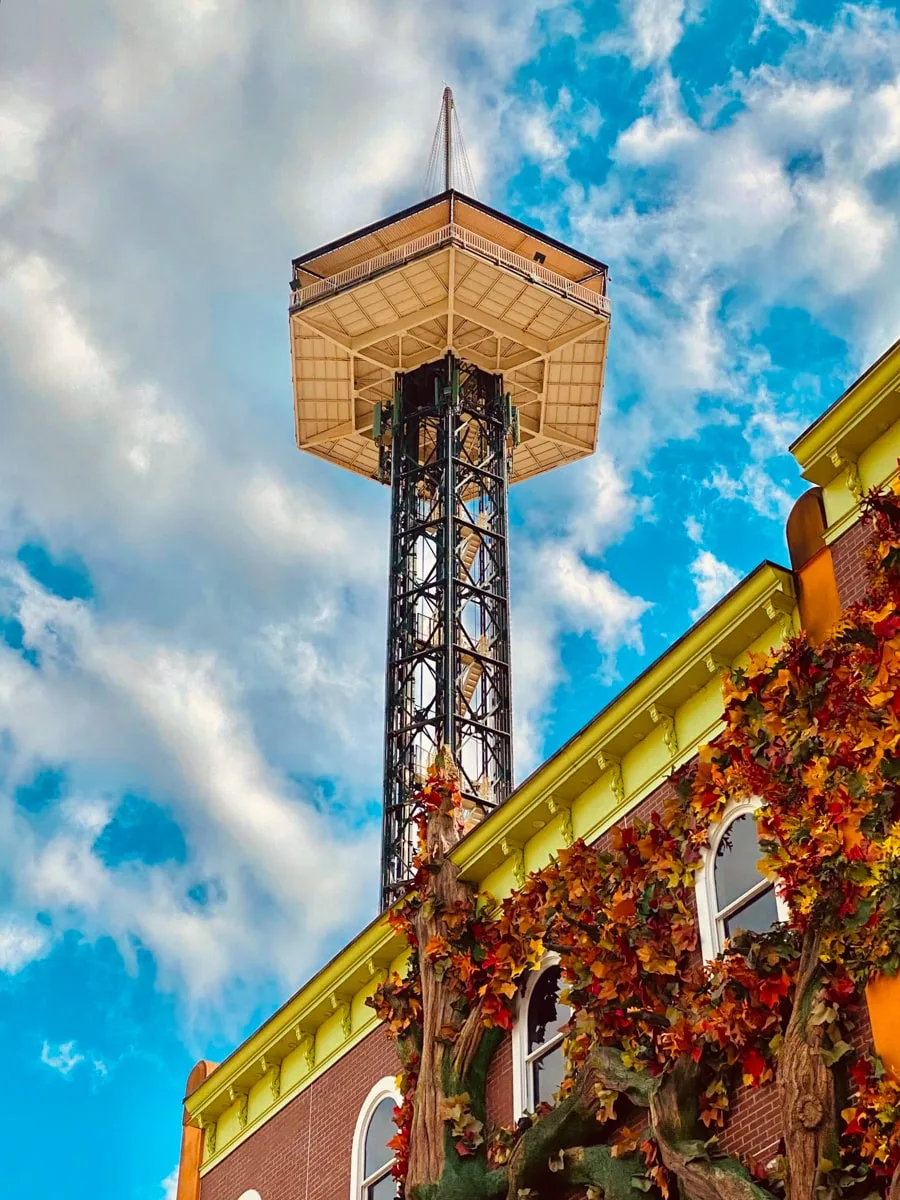 The Gatlinburg Space Needle is found near the center of downtown Gatlinburg where you can ride a glass elevator 400ft up to the observation deck.
Although the Space Needle isn't going to give you views of the Smoky Mountains like Ober, Anakeesta, or the SkyBridge provides, you'll still have great views of downtown Gatlinburg!
It's also an information-packed experience with facts and history about Gatlinburg and the Smoky Mountains.
Not only does the Space Needle provide a great view of Gatlinburg, but it also contains a 30,000-square-foot amusement center full of fun arcade games. Or watch this Impossibilities Magic Show at the Iris Theater.
1e. Helicopter Tour
What better way to see the Great Smoky Mountains and Gatlinburg than on a guided helicopter tour.
There are many different helicopter tours found throughout Gatlinburg and Pigeon Forge.
Experience the Smokies like no other by flying high above the mountains. See the ridges of the Great Smoky Mountains, the French Broad river flowing through the valleys, the sun reflecting off Douglas Lake, and more!
🏡 Looking for Places to Stay in Gatlinburg?
15 Cozy Cabin Rentals in Gatlinburg for Your Smoky Mountain Getaway
2. Visit Ripley's Aquarium of the Smokies
Another fun thing to do in Gatlinburg is to view all the species at Ripley's Aquarium of the Smokies.
Visit the Shark Lagoon where you'll come face to face with many species of sharks, sea turtles, sawfish, and more.
Or visit the Tropical Rainforest — bringing the animals of South America right to the Smokies. Get an up-and-close view of poisonous dart frogs, piranhas, and anableps.
Ripley's Aquarium also offers many fun group activities such as Sleeping with the Sharks, Pints & Penguins Sleepover (21 and over), a Mermaid Slumber Party, and more.
For more group events, click here.
3. Sample Wine & Moonshine in Gatlinburg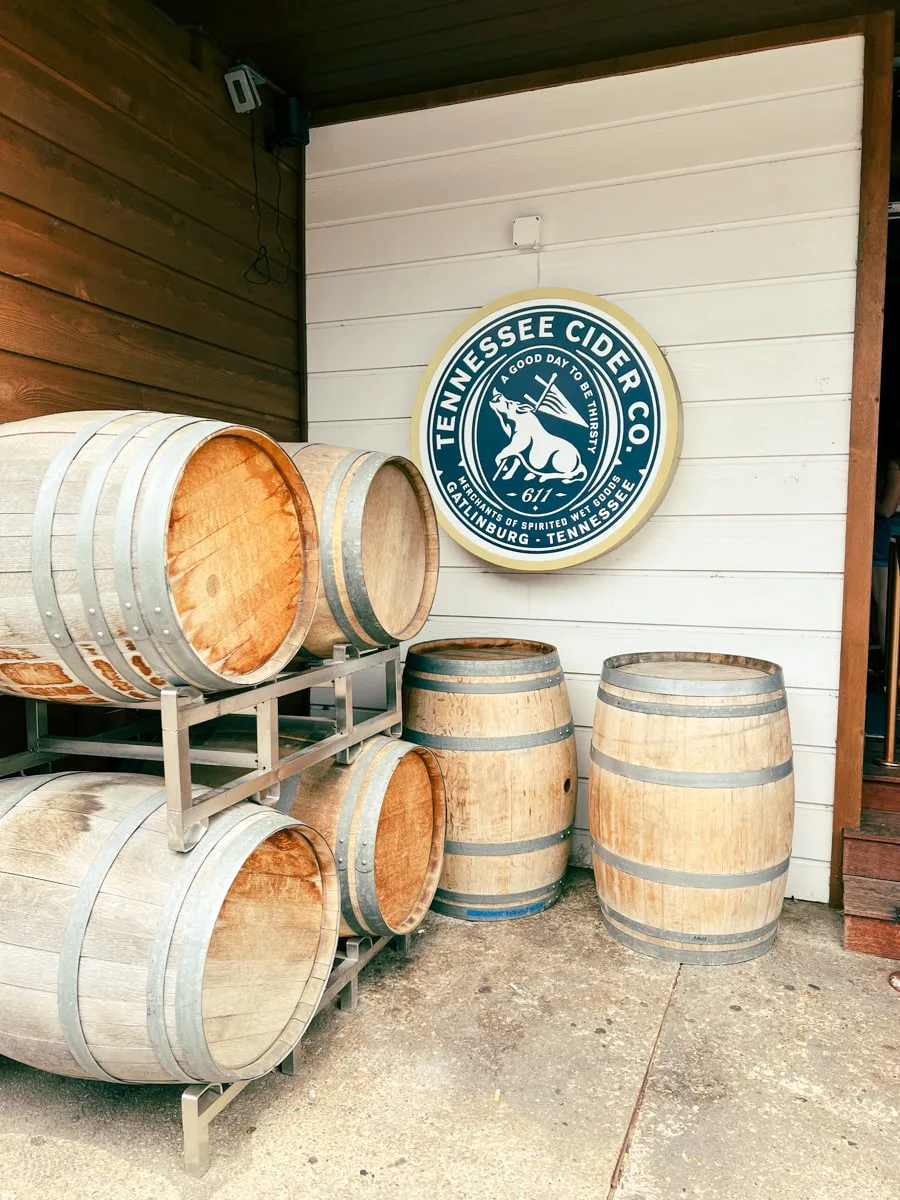 Lining the streets, from corner to corner, you'll find plenty of places to sample wine, ciders, and moonshine.
Some of the wine and cider tastings are free and the moonshine tastings usually cost $5 per person — making this a cheap thing to do in Gatlinburg and one of the best activities in Gatlinburg for adults.
We suggest just stopping for a sample whenever you feel like it, and in no particular order, as there are so many places to choose from.
There are 4 moonshine distiller locations in Gatlinburg:
Ole Smoky Distillery
Ole Smoky Whiskey Distillery
Tennessee Shine Company
Sugarlands Distilling Company
You may not want to sample all 4 as you could be waiting in line for most of the day. We suggest that you choose one or two and get in line.
Here are a few wineries & cideries we suggest checking out:
Smoky Mountain Winery
Gatlinburg Wine Cellar
Sugarland Cellars
Tennessee Homemade Wines
Goodwater Vineyards
Little Bear Winery
Tennessee Cider Company
Elkmont Winery
Book a Guided Wine and Moonshine Tour 🍷
4. Go Whitewater Rafting in the Smokies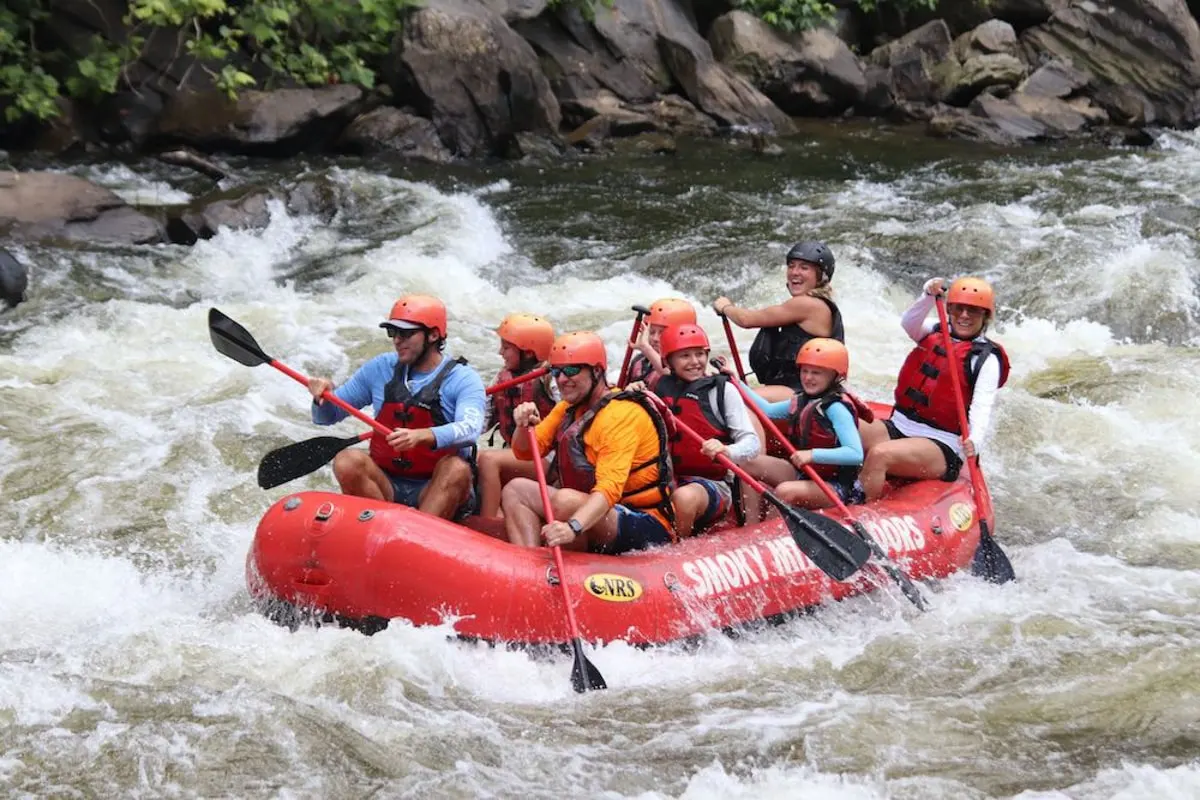 For those adventure seekers, how would you like to go whitewater rafting down class III-IV rapids right through the Smoky Mountains?
Whitewater rafting is always a fun thing to do in Gatlinburg during those hot summer months.
Here are a few places that provide great whitewater rafting tours:
Rafting in the Smokies

$42-$49 per person
Upper Pigeon River Rafting — Class III-IV rapids
Lower Pigeon River Family Float — Class I & II rapids

Smoky Mountain Outdoors

$30-$100 per person
Extreme Upper Pigeon River — Class III-IV rapids (previous rafting experience recommended)
Upper Pigeon River Rafting — Class III-IV rapids
Lower Pigeon River Rafting — Class I-II rapids

Nantahala Outdoor Center

$40-$45 per person
Upper Pigeon River Gorge — Class III-IV rapids
Lower Pigeon River Gorge — Class I-II rapids
If you're rafting with small children (ages 3+) then you may want to choose one of the Lower Pigeon River options.
However, if you're looking for more thrill and excitement, opt for one of the Upper Pigeon River tours or the Extreme Upper Rafting tour with Smoky Mountain Outdoors.
5. Bike through Cade's Cove
Cade's Cove is one of the most popular destinations in the Great Smoky Mountains.
This valley is surrounded by mountains and an abundance of wildlife from white-tailed deer to black bears, coyotes, turkeys, and more.
Cade's Cove loop can be toured by vehicle, walking, hiking, or our favorite — biking! It will take you approximately 1-4 hours to bike or drive through the 11-mile loop (depending on traffic).
Expect traffic to be high during the summer and fall months in Gatlinburg, especially over the weekends.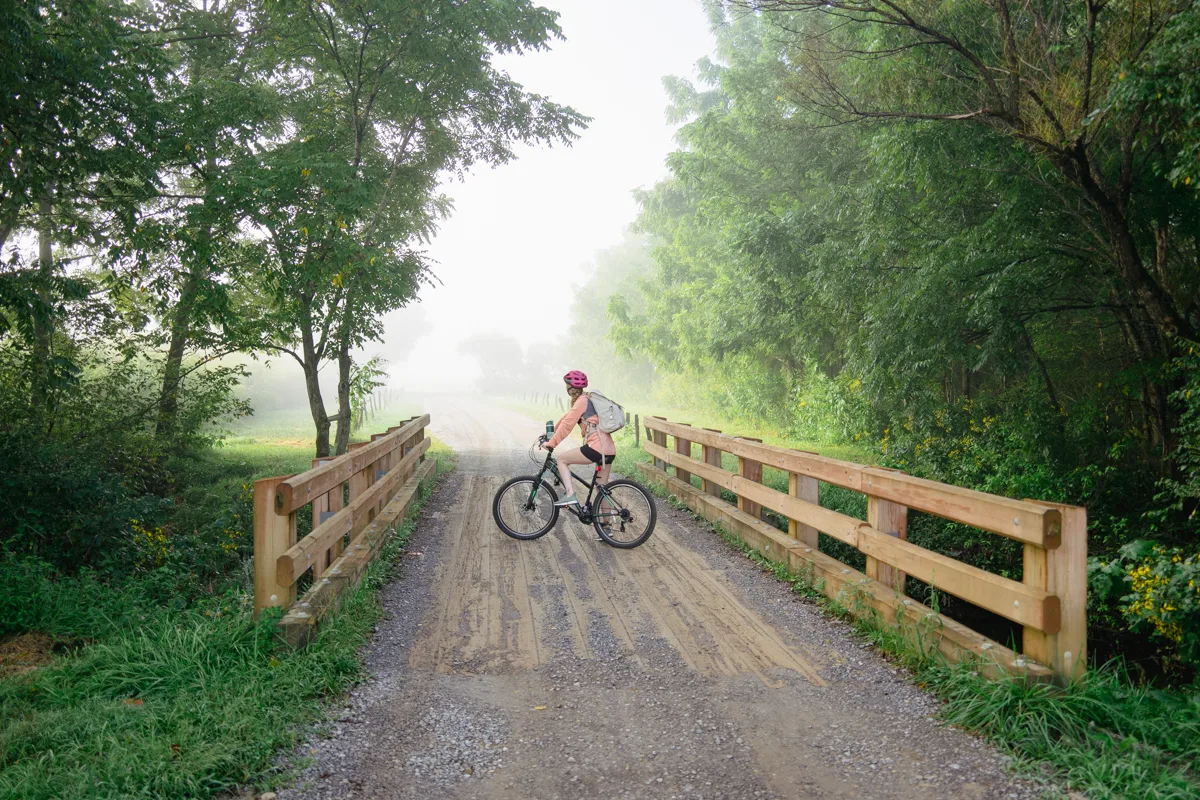 Cade's Cove closes to traffic on Wednesdays from May to September, making it the best day to bike. Or head out early around 7:00 a.m. to avoid most of the traffic – we didn't see many cars at this time!
Bike rentals begin at 8:00 a.m. and are first come, first serve. However, we recommend bringing your own bike, as you'll be able to start biking the trail whenever you'd like without having to wait in line!
Also, Abrams Falls is located between stops 10 & 11 on Cades Cove Loop Road — a great waterfall hike in the Smoky Mountains!
See more information about bike rentals in Cade's Cove here.
6. Go to a Brewery in Gatlinburg
There are a few breweries in Gatlinburg that are worth visiting to enjoy a cold pint.
One of the best breweries in Gatlinburg is Gatlinburg Brewing Company. Here you'll find craft beers from hoppy IPAs to juicy Saisons, tart sours, robust stouts, and more.
Pair your beer with one of their brick-oven pizzas and listen to live music on certain days of the week. Check out Gatlinburg Brewing Company's Facebook page for more information.
Smoky Mountain Brewery is another great brewery located right in downtown Gatlinburg. Here you can enjoy craft beer, wines, and spirits, as well as a full-service restaurant.
🍺 Read more about Breweries in Gatlinburg 🍺
7. Ride Thrilling Rollercoasters at Dollywood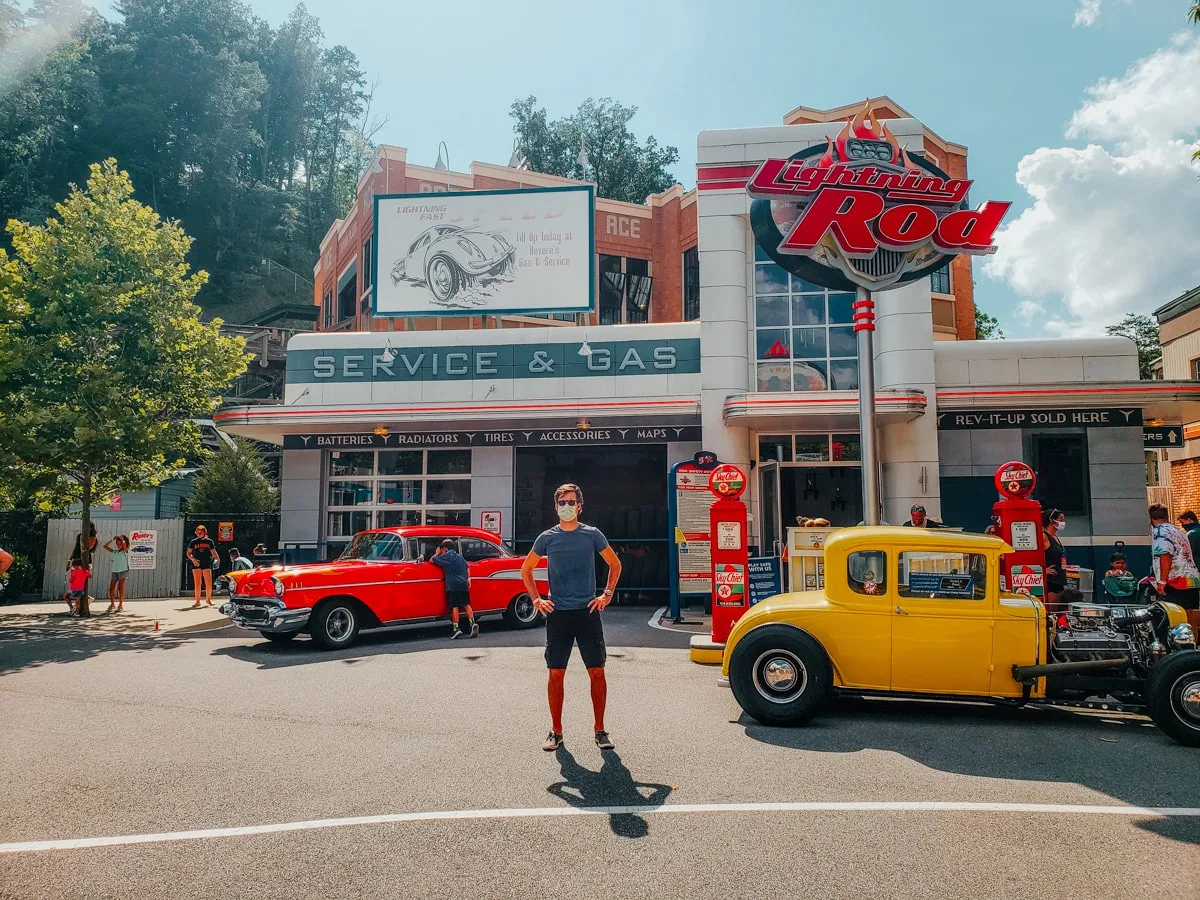 Dollywood is one of the best theme parks around and was rated as the #1 Theme Park in the United States by TripAdvisor in 2022.
This fun theme park is located in Pigeon Forge, just a short drive from downtown Gatlinburg (approximately 20 minutes), and is one of the best things to do in the Smoky Mountains.
You'll find something new during each season at this award-winning park.
Dollywood in spring brings colorful flowers and blooming sculptures with the Flower and Food Festival.
Summer is fun as Splash Country Waterpark opens and is the best way to stay cool throughout the hot summer days.
Fall in Dollywood is full of glowing pumpkins during the Harvest Festival, and Winter brings a Smoky Mountain Christmas with over 6 million twinkling lights and Christmas cheer.
Our favorite time to visit Dollywood is during both spring and fall!
When is your favorite time to visit Dollywood? 🎢
8. Go Hiking in the Smoky Mountains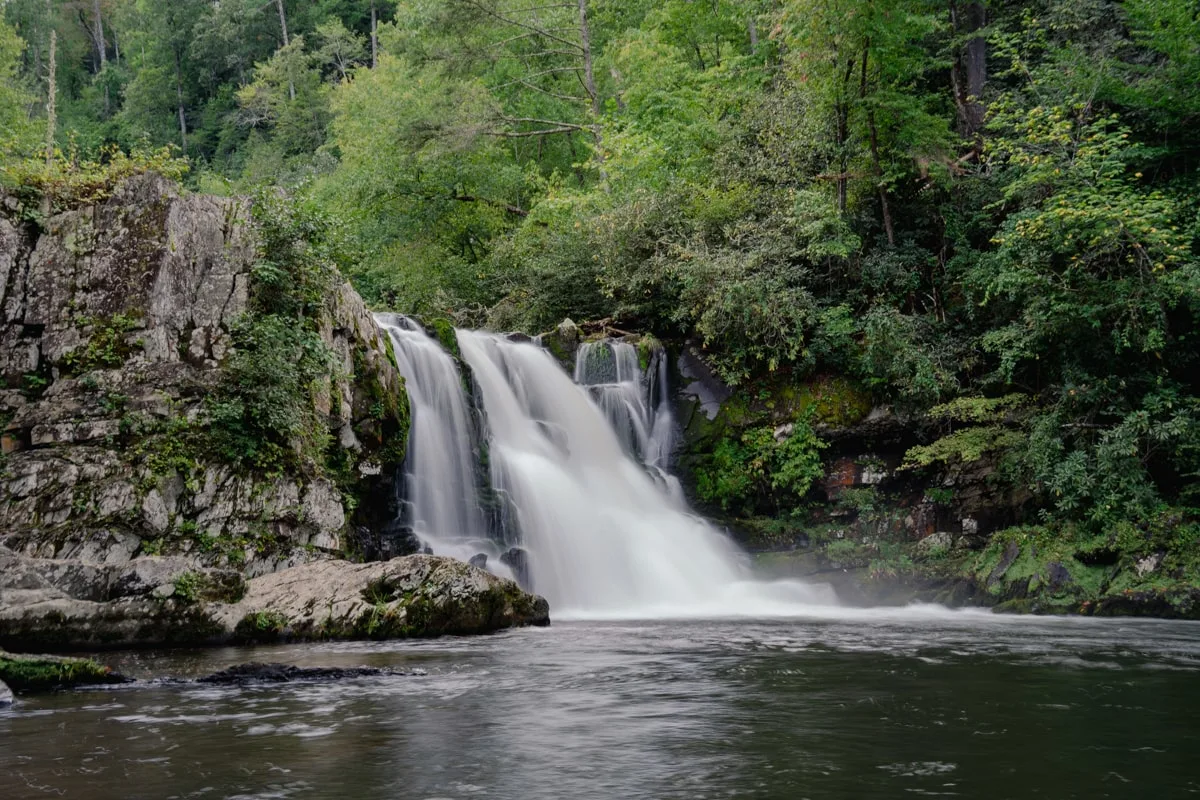 There are many hiking trails found throughout Gatlinburg and the Smoky Mountains National Park.
A few we recommend are:
Gatlinburg Trail — 3.9 miles roundtrip along the river. Difficulty: Easy
Grotto Falls — 2.6 miles roundtrip through a wooded forest and ending at the 25-foot waterfall that you can walk behind. Difficulty: Easy
Alum Cave — 4.4 miles roundtrip with views of the Smoky Mountains. Difficulty: Moderate
Baskins Creek Falls — 3.0 miles roundtrip with mountain views and ending at a 40-foot waterfall. Difficulty: Easy to Moderate
Mt. Leconte — Multiple trails available and one of the best places to view the sunrise or sunset in the smokies.
Abrams Falls — 5.5 mile roundtrip hike to a beautiful 24-foot waterfall in Cades Cove.
Try this Old Growth Forest Cascade Guided Tour 🥾
9. Visit Pigeon Forge
Pigeon Forge is just a few miles down the road from Gatlinburg, and most visitors actually drive through Pigeon Forge to get to Gatlinburg.
If you saw an endless amount of go-cart tracks, museums, Ripley's believe it or not houses, dinner shows, etc., then you probably drove right through the middle of Pigeon Forge.
Pigeon Forge is a year-round family-friendly destination with tons of fun attractions, shows, dining, and shopping for the whole family to enjoy.
You can visit The Island in Pigeon Forge for great dining options, lodging opportunities, shopping, and rides or watch a popular dinner show such as Hatfield and McCoy or Dolly Parton's Stampede.
10. View the Smoky Mountains from Clingman's Dome
One of the best things to do in Gatlinburg is to visit the most popular national park in the United States — The Great Smoky Mountains National Park.
There are many hikes and trails that are worth visiting in the Smoky Mountains, but one of the best views is at Clingman's Dome.
At 6,643 feet, Clingman's Dome is the highest point in the Great Smoky Mountains National Park, the highest point in the entire state of Tennessee, and the 3rd highest point east of the Mississippi.
You'll experience a 360-degree view of the Smoky Mountains, and on clear days, the visibility can expand over 100 miles.
View the current conditions and view at Clingman's Dome here.
Clingmans Dome Road: Open April 1 – November 30, 2023, weather permitting.
11. Ride a Mountain Coaster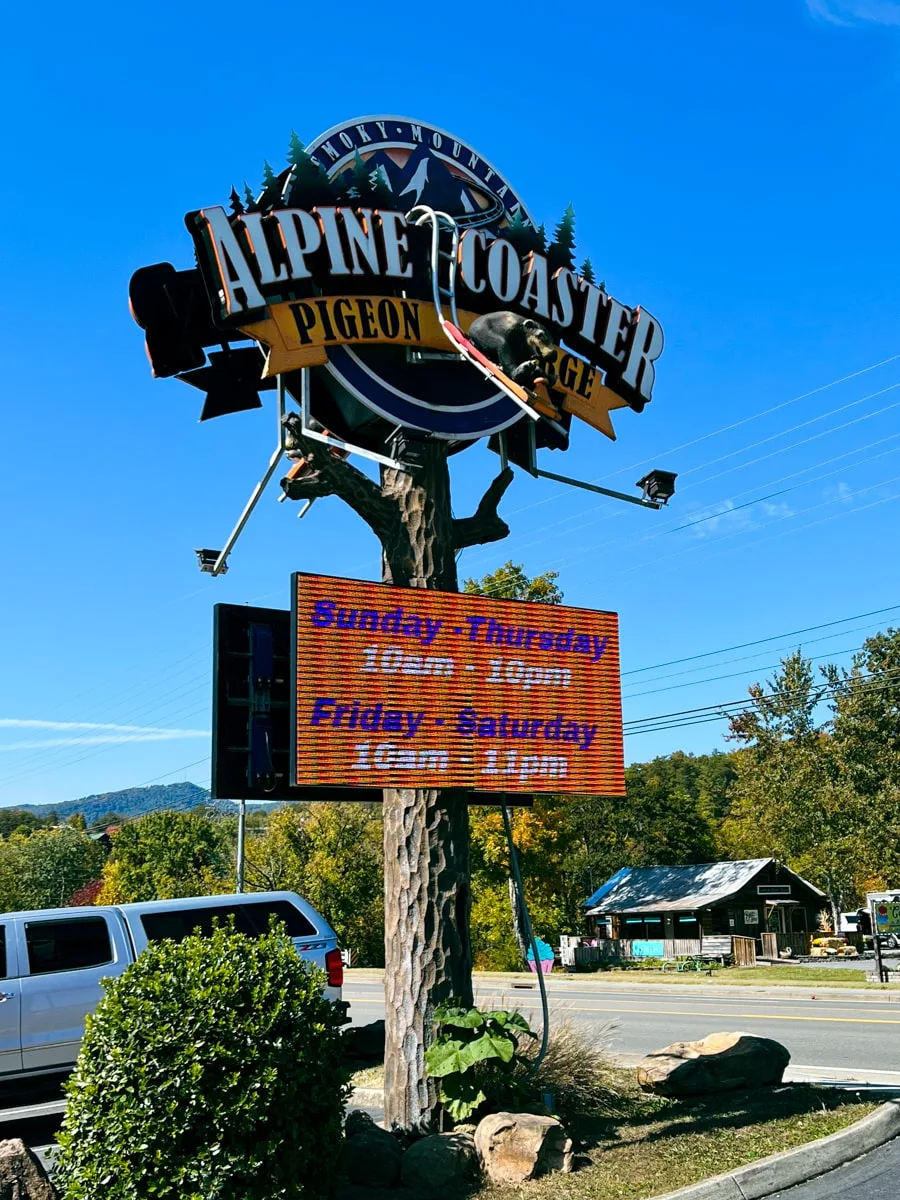 Riding mountain coasters is one of the most popular activities in Gatlinburg and Pigeon Forge.
Zip down the side of a mountain and control your own speed. Go as fast or as slow as you want, taking in the sights and sounds of the Smokies.
12. Go Horseback Riding in Gatlinburg
Experience the sights and sounds of the Smoky Mountains on horseback.
Sugarlands Riding Stables provides some of the best horseback riding in the Smoky Mountains. You'll be with an experienced guide that will lead you along the trail. This tour is great for both experienced and inexperienced riders.

Required Age: 5+ years old
Maximum Weight: 225 pounds
Riding Times: 1 hour, 1 1/2 hours, or 2 hours
Price: $50 per person, per hour

Big Rock Dude Ranch

Required Age: 3+ years old
Maximum Weight: 270 pounds (dry conditions)
Riding Times: 1 hour
Price: $ 55 per person

Five Oaks Riding Stables

Required Age: No Age Requirement Noted
Maximum Weight: 250 pounds (contact for more information)
Riding Times: 1 hour
Price: $53-$76 per person
13. Visit the Attractions in Downtown Gatlinburg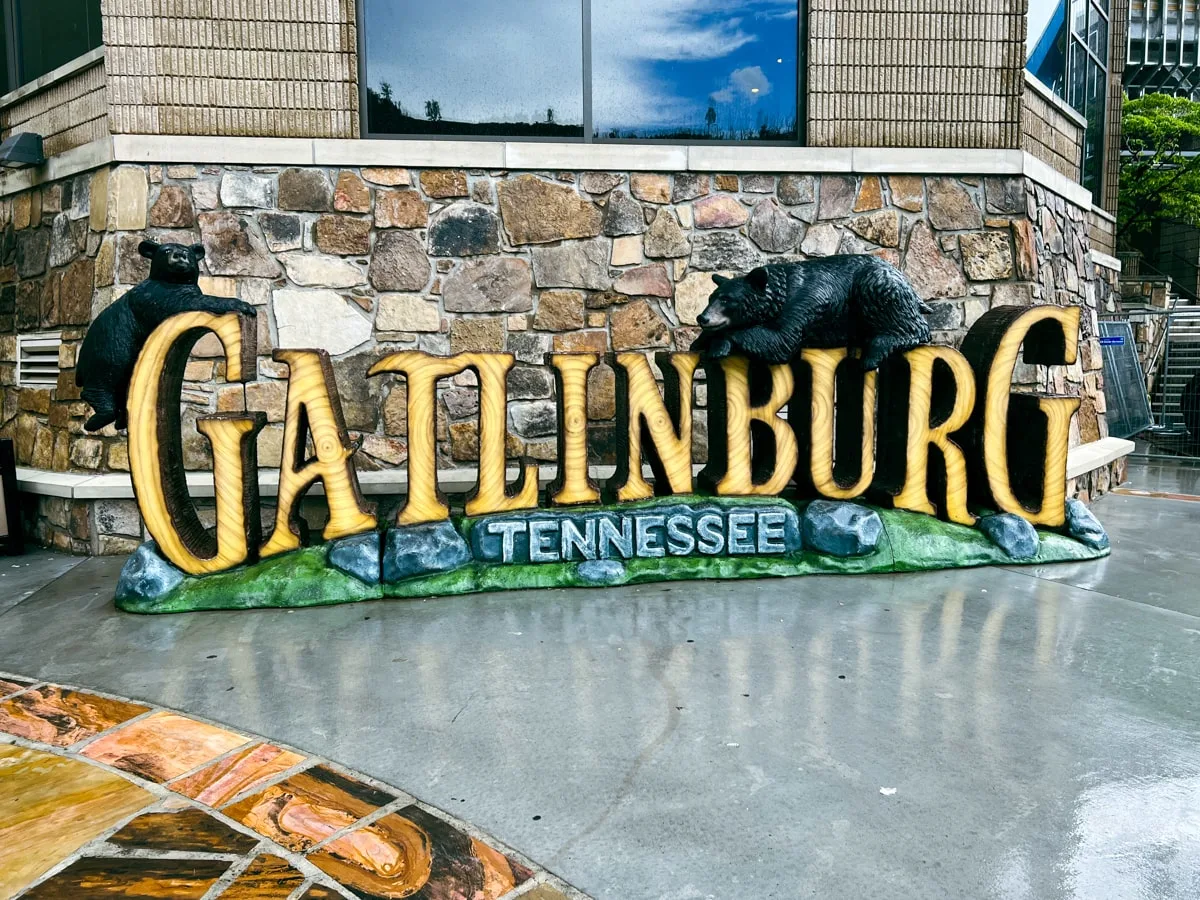 Finally, Downtown Gatlinburg offers plenty more fun things to do for couples or families with kids.
From Ripley's haunted houses, and mirror mazes, to mini golf, laser tag, escape rooms, arcades, and much more!
If you're hungry, grab some food from one of the snack shacks or restaurants that line the strip.
For breakfast, swing by one of the pancake houses that are in abundance throughout Gatlinburg. One of the most popular is the Log Cabin Pancake House. Get there early, wait times can be as long as 2 hours (or longer) at times!
A last must-do is stop at one of the many stores or nine shopping malls that line the parkway which sell some of the most unique and unusual goods such as pottery, paintings, wood-crafting, jewelry, handcrafted beauty products, jams, sauces, etc.
We hope you have the best time exploring Gatlinburg's top things to do and off-beat activities!
Which one of these attractions in Gatlinburg will you visit first?
Drop us your comments below!