Watauga Lake is one of our favorite lakes near Johnson City for camping. Its vivid green waters are nestled between the Appalachian Mountains and the Cherokee National Forest, providing beautiful lake and mountain views.
If you aren't familiar with Watauga Lake, then you might be interested to know that it's not a natural lake — it's a man-made reservoir measuring approximately 6,400 acres in size with a near 110-mile shoreline. It is fed by the flowing Elk River and Watauga River, and was dammed by the TVA in the year of 1948 for "flood prevention, creation of aquatic habitat, and hydropower generation."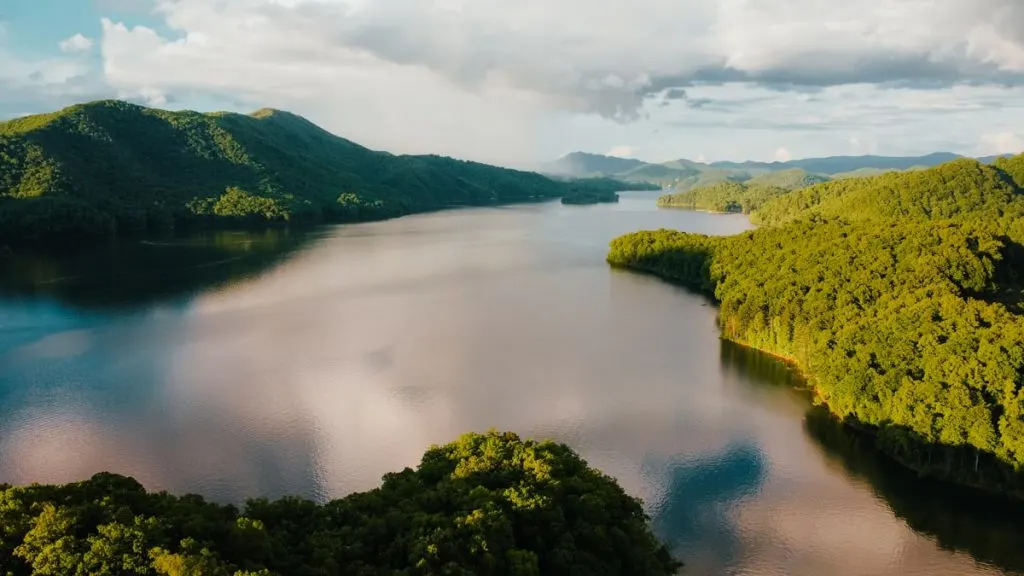 The decision to flood the lake also meant that the residents of the town Butler — now known as "Old Butler" — needed to relocate. Indeed, there is an underwater town at the bottom of Watauga Lake, and you can visit the Butler Museum located in the "New" town of Butler during your visit (yes, above water!).
Camping, hiking, and boating are prime outdoor activities at Watauga Lake, as well as water sports and fishing. Fish at this lake include crappie, bluegill, brown trout, rainbow trout, smallmouth & largemouth bass, and walleye — plenty to keep your hook busy!
Vacationing and camping at Watauga Lake will have you refreshed and replenished. Read more below to discover the different types of campgrounds and amenities available around Watauga Lake.
Guide to Camping at Watauga Lake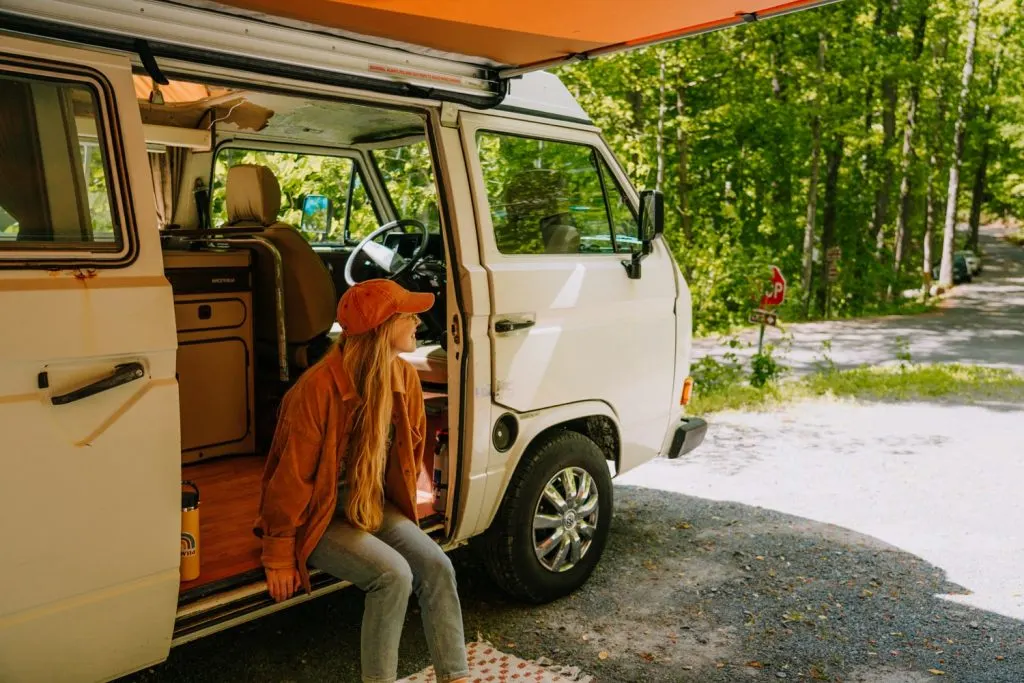 What to Know Before You Go: Camping Etiquette
🪵 Bring and burn approved firewood
🚯 Keep your campsite clean of food and garbage
🐻 Respect wildlife and report sightings
🐕 Keep your dogs on-leash and pick up after them
🥾 Follow the Leave No Trace principles
⛺️ Reserve your campsite online in advance; many sites are first-come, first serve
🤫 Respect others and be courteous of quiet hours
🎣 A Tennessee State Fishing License is required to fish
There are several places you can go tent camping or RV camping around Watauga Lake.
Our Top Choices:
Cardens Bluff Campground – This campground is part of the Cherokee National Forest and is on a peninsula, offering awesome views of the Watauga Lake. This campground has 43 sites and is primarily for tent camping, however, there are a few spots that allow RVs or camper vans.
Watauga Dam Campground – Located on the Watauga River, this campground offers 29 full-serviced sites for RV camping only.
Boots Off Hostel & Campground – A fun and eco-friendly campground offering "glamping-style" tiny cabins, canvas tents, bunkhouses, and a shaded campground for tent camping. No RVs. Call for car and camper vans.
Below, we share details about each campground.
Cardens Bluff Campground
| | |
| --- | --- |
| Fees: | $12/night, payable at the fee station |
| Open Season: | April 24th – October 9th |
Cardens Bluff Campground is where we chose to stay during our camping weekend at Watauga. Cardens Bluff is on a bluff or peninsula overlooking Watauga Lake. Many of the tent sites are perched just above the shoreline with some offering direct access.
This campground has 43 sites and is primarily for tent camping, with a few spots that can accommodate RVs or camper vans (site #2, for example —this is where we camped in our Westie!). However, note that there are no electrical hook-ups.
No alcohol
Must use bear-proof containers
Sites #16, #28 and #29 can accommodate up to a 30-foot RV or trailer
Additionally, most sites are not reservable and are on a first-come, first-serve basis. You can browse available sites online here.
Sites feature even gravel lots, small tent pads, firepits, firewood shelters to keep wood dry, and a picnic table. There is a main washroom with flush toilets, sinks, and hot showers.
The Rat Branch Boat Ramp is conveniently located just down the road from Cardens Bluff.
Watauga Dam Campground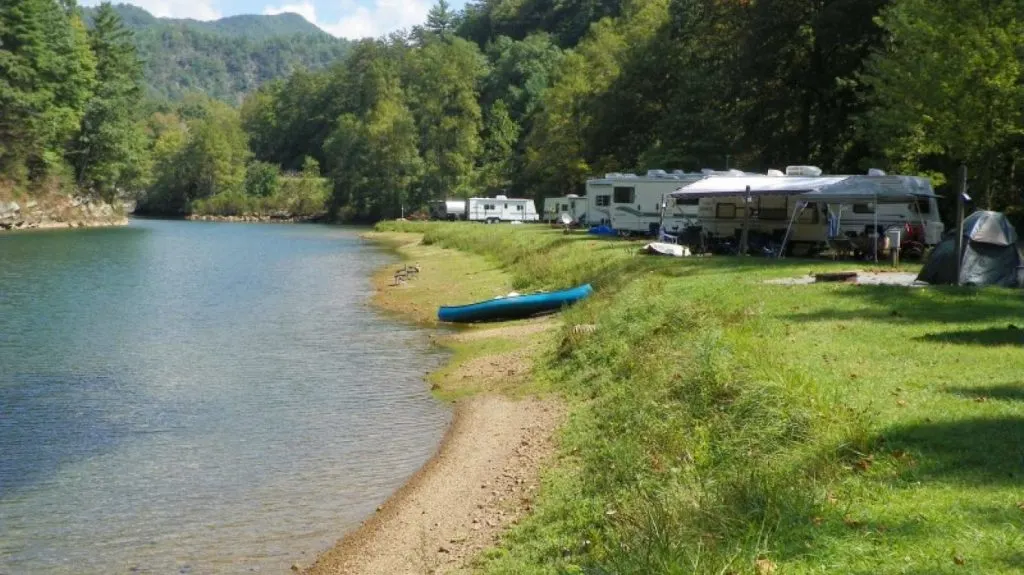 | | |
| --- | --- |
| Fees: | $16/night base rate, 2-night minimum (rate sheet) |
| Open Season: | March 15th to November 15th |
If you are traveling in a large RV and need services, then the Watauga Dam Campground is just the place for you. It features 29 full-serviced sites with electric and water. There is sewer available at only three sites, and two sites are ADA-accessible.
While this campground is not directly on the lake, it is located on the Watauga River just north of the lake within easy reach. You'll be parked right next to the flowing river with wade-in access shore access — perfect for tubing, swimming, kayaking, or fishing — and a boat ramp on the way to the Watauga Lake overlook.
Place all trash in dumpsters
No fish debris
Pick up after your pets
Maximum stay of 21 consecutive days (May 1–Sept 30) and 30 days (Oct 1–April 30)
The Watauga Dam Campground is pet-friendly, but only two pets per campsite are allowed.
There are large picnic tables, plus a couple of hiking trails like the TVA Overlook Trail which leads to scenic vistas overlooking the Cherokee National Forest and Watauga Lake. Should you continue on this trail, it will connect you to the famous Appalachian Trail.
Boots Off Hostel & Campground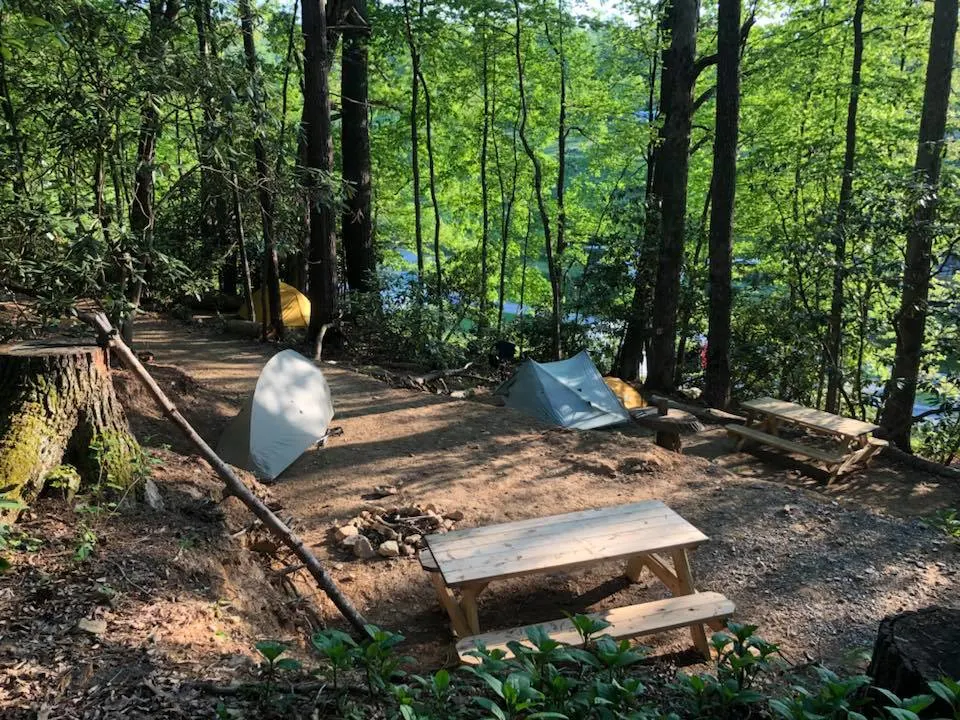 | | |
| --- | --- |
| Fees: | $15/person tent camping; check lodging |
| Open Season: | Unavailable |
Boots Off is a locally-owned hostel and campground offering tons of services, lodging, and fun vibes! If you are an active individual or couple, this is just the place for you.
There are three types of lodging options offered here: Glamping, Camping, and Bunkhouses! Cars and camper vans must call to inquire — no RVs allowed. There are 21 primitive camping sites available on the Boots Off property, many of which include fire rings and picnic tables.
Kayak, SUP, & Canoe Rentals
Free Shuttles for Section Hiking, Night Hikers, Slackpacking
Mail-Drop Service
Full-Service Laundry ($5)
Free Wi-Fi
Boot & Gear Dryer
Fire Pit, Communal Area
And more!
Whether you're a hiker passing through, a family heading out on the lake, or backpackers conquering the Appalachian Trail, Boots Off Hostel & Campground will have everything you need for a restful stay.
Bayview Family Campground & Marina
| | |
| --- | --- |
| Fees: | Call +1 423 768 0434 for rates |
| Open Season: | April 1 to November 1 |
The Bayview Family Campground & Marina sits just south of the new town of Butler. Tent camping is not available, but small and large RVs and camper vans are welcome.
If you're the type of camper that likes to bring along your boat to spend your days out floating on the lake, then the Bayview Campground will have just what you need!
42 campsites
35 boat slips
10 jet ski slips
In addition to town and lake access, Bayview features a gazebo, kids playground, covered picnic shelter for outings, and well water. Make sure to reserve in advance if you're planning a visit for July 4th weekend, as they tend to fill up fast!
Little Pond Mountain Campground
The Little Pond Mountain Campground features seven fully-serviced sites for RV campers, including water, sewer, and electric. The lots are leveled with gravel. Firewood and bagged ice are available for purchase. Steps away from the campground is Shirley's Home Cooking Family Restaurant (4.5 stars, 500+ reviews).
Little Stoney Creek Campground
The Little Stoney Creek Campground is just further up the road from Cardens Bluff, still skirting the southern shoreline of Watauga Lake.
This dispersed campsite is for primitive/tent camping and is free. Do not camp within 100 feet of water.
There have been reports of left-behind trash from irresponsible campers. Please be courteous of the planet and people — pick up and properly dispose of your garbage.
🌿 Please Leave No Trace. Remember to pack out all trash, stay on marked trails, store food in bear-proof containers, and be respectful of wildlife and other campers. 🌿
PIN & SHARE THIS WATAUGA LAKE CAMPING GUIDE