Hungry and looking for the best breakfast or brunch spots in Kingsport, TN? Look no further as we've compiled a list of the best restaurants in Kingsport that serve breakfast or brunch to start your day.
Kingsport has some great restaurants that serve breakfast if you know where to look.
We always suggest finding a local restaurant for any food, ditching those bland chain restaurants. You can get an Egg McMuffin in almost every city in the country, but you can't eat at The Bagel Exchange every day.
Whether you're looking for that classic breakfast with bacon and eggs or on the hunt for something a little sweeter such as french toast or fluffy pancakes — you'll find your cup of tea at one of these breakfast restaurants in Kingsport.
See who made the list of the best breakfast restaurants in Kingsport, TN! ⬇️
Best Places to Find Breakfast or Brunch in Kingsport
1. The Bagel Exchange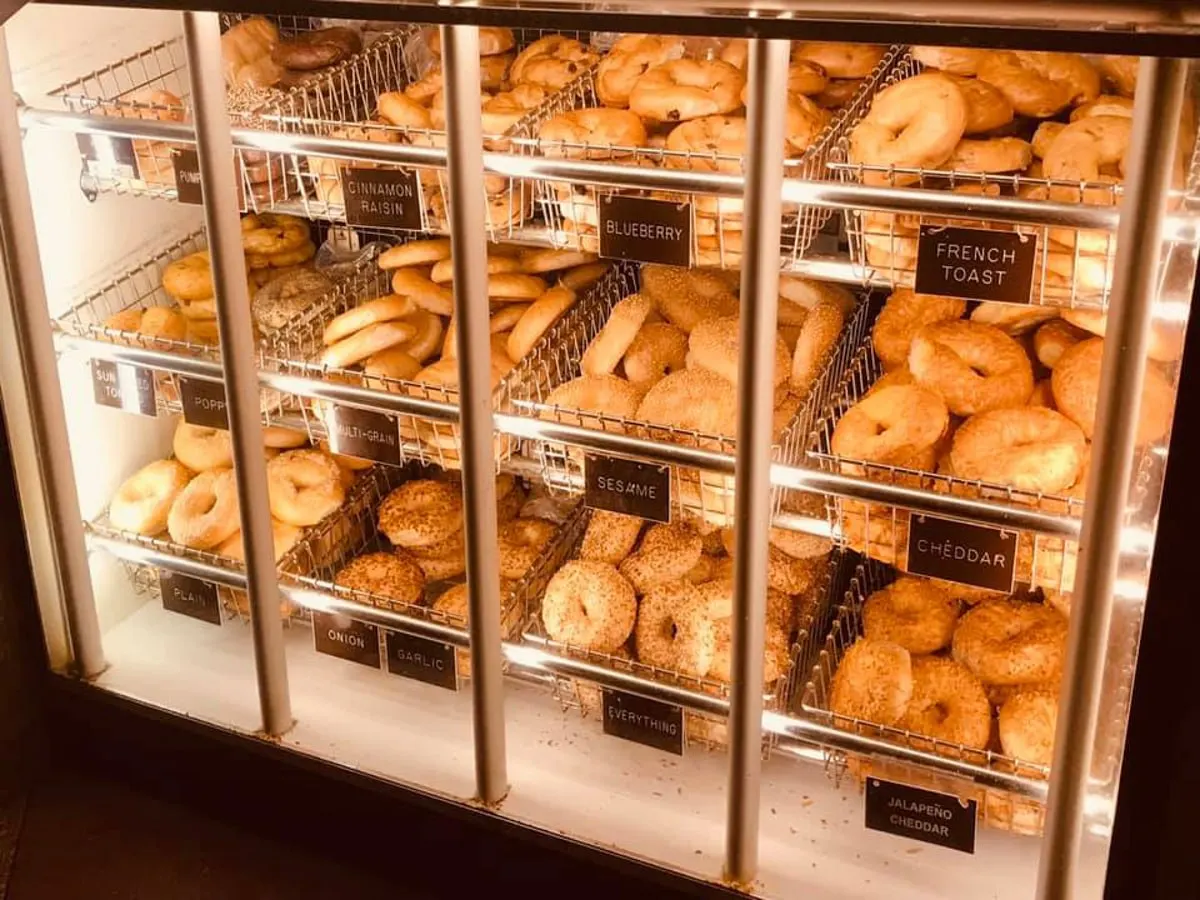 Style: Breakfast
Breakfast Hours: Wed-Friday 7am-2:30pm, Saturday 7:30am-2:30pm, Closed Sun, Mon, Tues
From New York straight to Kingsport, The Bagel Exchange is where you can find authentic New York-style bagels.
Bagel flavors range from popular flavors such as plain, blueberry, and poppy seed to unique flavors such as jalapeño cheddar, french toast, and sun-dried tomato.
These delicious bagels are baked fresh every day. Top them with a variety of freshly mixed cream cheeses including vegetable, apple cinnamon, maple walnut, scallion, and more. Or if you'd prefer, get an egg sandwich topped with your favorite cheese and choice of meat.
Go back for lunch and get a bagel sandwich such as the NYPD Blue — Thin Sliced Chicken with ham and melted Swiss cheese topped with lettuce, tomato, and mayo & served on a Multi-Grain Bagel.
2. Evelyn's Kitchen Table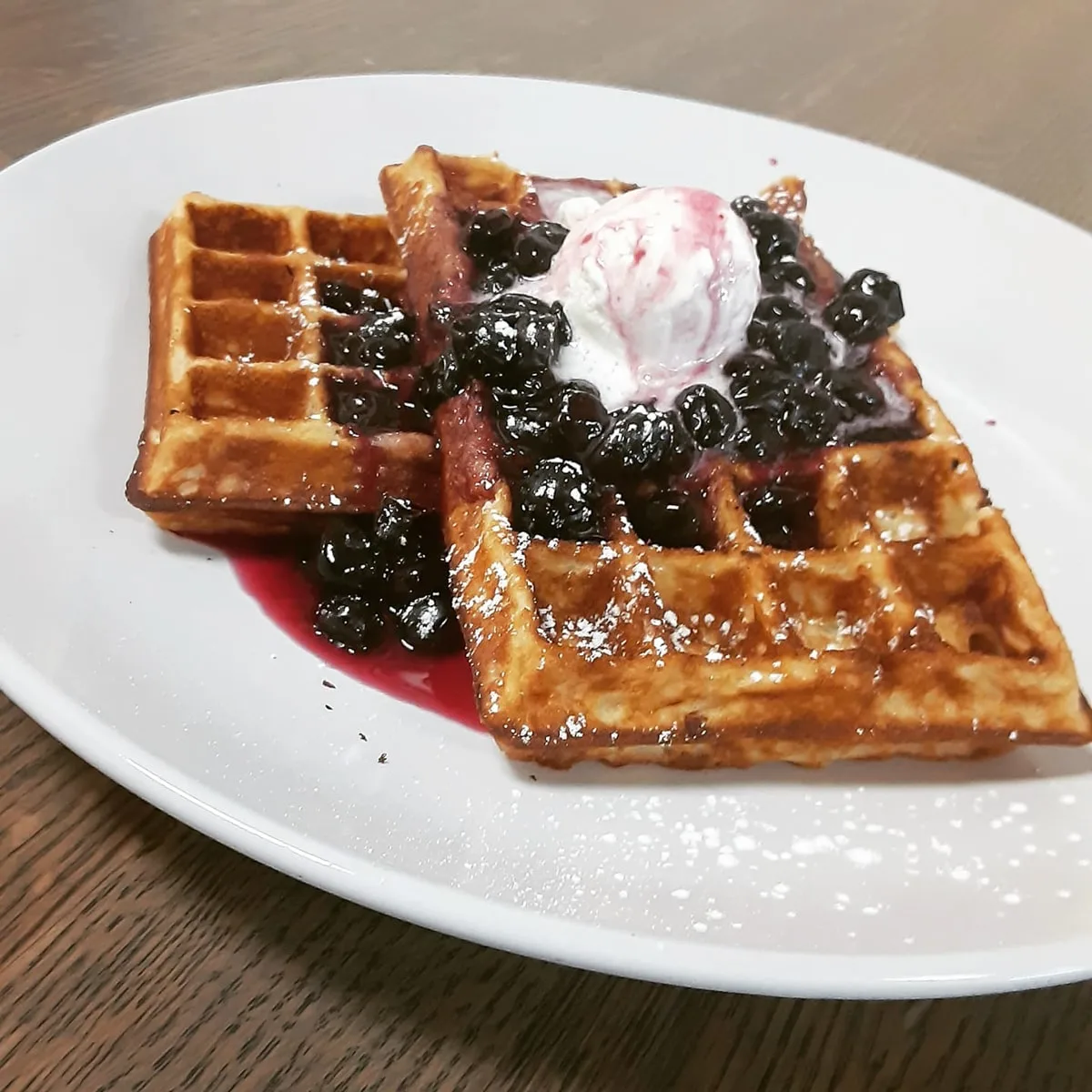 Style: Breakfast & Brunch
Breakfast Hours: Wed-Sunday 7:30am-3pm / Closed Mon & Tues
With farm-fresh local ingredients and menu items made fresh daily, Evelyn's Kitchen Table is a great place to go for breakfast in Kingsport.
As they serve breakfast (and lunch) all day, you won't have to worry about rushing out the door in time for breakfast. You'll find lots of unique breakfast options on the menu from biscuit sandwiches to sweet and savory waffles, grit bowls, and make-your-own breakfast sandwiches.
Evelyn's Kitchen Table also serves brunch on Saturdays — visit their Facebook page for menu updates. They do not sell alcohol for purchase, but they do allow you to BYOB (bring your own bottle) so you can make your own mimosas.
3. Stir Fry Cafe
Style: Brunch
Brunch Hours: Sunday 11am-2pm
Who doesn't love a classic brunch on Sunday morning? Stir Fry Cafe serves a delicious brunch in downtown Kingsport, TN every Sunday.
Although the brunch menu isn't large, they do offer some great brunch options including biscuits & gravy, Nutella french toast, and steak & eggs to name a few.
And don't forget the best part of any brunch, as they have $3 mimosas and $5 bloody marys.
If you like the Stir Fry Cafe for brunch, also try them any day of the week for lunch or dinner in Kingsport.
4. Pop's Restaurant
Style: Breakfast
Breakfast Hours: Mon-Fri 7am-11:30am, Saturday 6am-1pm
If you're looking for a good southern-cooked breakfast in Kingsport, check out Pop's Restaurant.
From a country benedict to fluffy pancakes, omelets, biscuits & gravy, and more – you'll find your favorite breakfast items at this mom-and-pop restaurant. They'll also make sure your coffee is always full.
Guests rave about the biscuits and gravy, as they are "similar to what Grandma used to make." Or if you're really hungry, try the Country Benedict — "Two eggs, cooked to order, on a grilled biscuit with sausage patties and melted cheese smothered with sausage gravy, served with hashbrowns."
5. Betty's Stockyard Cafe
Style: Breakfast
Breakfast Hours: Tues-Friday 6am-2pm / Saturday 7am-2pm / Closed Sun & Mon
Kingsport isn't short of mom-and-pop restaurants and Betty's Stockyard Cafe is another great location to find a good country-cooked meal. Betty herself has been cooking and serving Kingsport breakfast for over 30 years.
As we said before, you'll feel like you're sitting at Grandma's house about to indulge in scratch-made biscuits and country gravy.
Betty's Stockyard Cafe is also a cheap breakfast option in Kingsport as most menu items are under $10.
6. Pal's Sudden Service
Style: Breakfast
Breakfast Hours: Mon-Saturday 6am-10:30am / Sun 7am-11am
You may have been driving down the road a noticed a bright blue building with a gigantic hamburger, hot dog, and fountain soda on the side. You may have been thinking, what is this strange restaurant?
Well, let us tell you that Pal's Sudden Service is a must-try fast food restaurant in Kingsport as this restaurant is only found in the Appalachian Highlands. The original Pal's Sudden Service started in Kingsport, TN and now Kingsport has a total of 7 Pal's locations.
Breakfast at Pal's is unique as they do not serve eggs, but you can order a variety of biscuits as well as their most popular item — cheddar rounds. These gooey and cheesy potato balls are a favorite item for breakfast. Get there before 10:30 so you can try them for yourself. And don't forget to order a famous Pal's tea, specifically a peachie or razzie tea.
More Places to Find Breakfast in Kingsport:
You may also like: 13 Best Things to Do in Kingsport
Do you have any recommendations for places to eat breakfast in Kingsport, TN? Let us know in the comments below! 👇
Featured Image Credit: Evelyn's Kitchen Table