Recently opened in July 2022, the Bristol Casino has brought newfound entertainment to the Bristol area of East Tennessee and Southwest Virginia.
Whether you're a seasoned gambler or have never stepped foot inside a casino before, The Bristol Casino offers entertainment for everyone (21 and over of course 😉).
This casino currently has over 800 slot machines, 21 game tables, 3 restaurants, sports betting, and a retail shop.
People gamble for a variety of reasons — the most obvious reason is for the chance to win big and take home lots of money! 🤑
Others enjoy it as it is a fun & exciting thing to do during all hours of the day as well as being a great social factor with the opportunity to meet new people.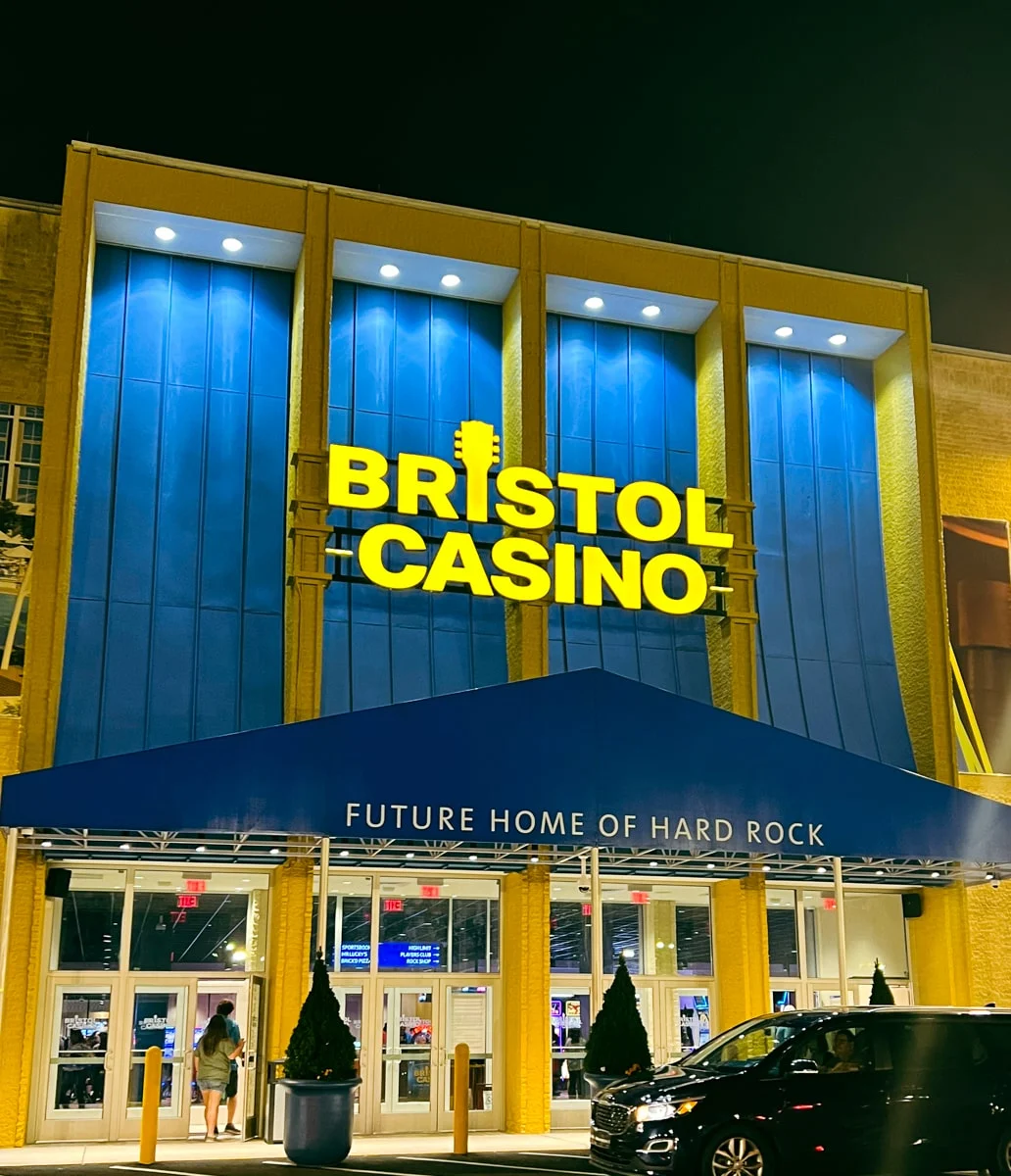 Read our ultimate guide on visiting the Bristol Casino and learn valuable information to help you make the most of your gambling experience.
Below we've developed an extensive guide to everything you need to know when visiting The Bristol Casino, including:
A Beginner's Guide
Casino Layout
Games
Casino Etiquette
Once you've read this guide, you'll be ready to hit the slots or sit at one of the tables and place your bet. Good luck! 💰
The Bristol Casino will soon become the Hard Rock Hotel & Casino Bristol, coming in the summer of 2024.
Your Guide on Visiting the Bristol Casino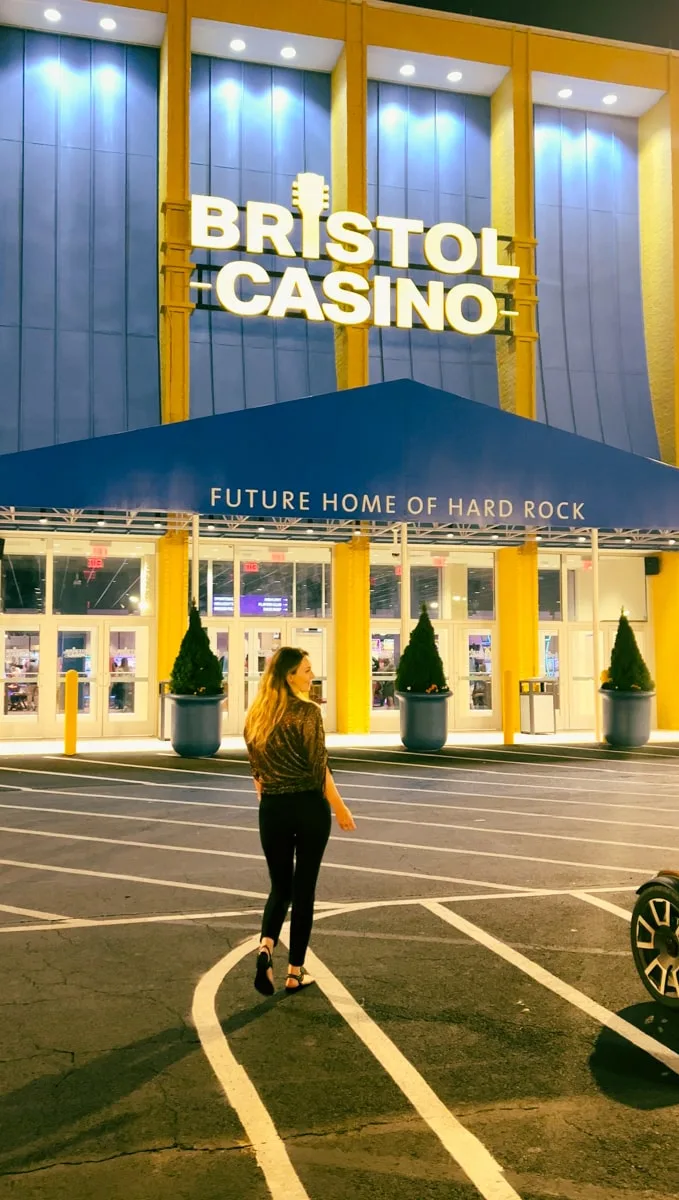 The Future of the Hard Rock Hotel & Casino
The Bristol Casino became the first casino to open in the state of Virginia. This 30,000 square-foot casino will soon triple in size when it opens as the Hard Rock Hotel & Casino in 2024.
The Future Hard Rock Hotel & Casino will contain the following:
Casino
2,700 slot machines
100 table games
25,000 square foot sports betting area (Sportsbook)
5 restaurants
4 bars
Entertainment
Indoor Entertainment Center
Large Outdoor Venue (20,000 seats)
Hotel
700+ rooms and suites
Spa
Indoor & Outdoor Swimming Pools
Fitness Center
Large Convention Center
Retail
Rock Shop Retail Store
Additional 30,000 square foot area for additional retail stores and restaurants
A Beginner's Guide
There are a few things everyone should know and remember before visiting and gambling at the Bristol Casino.
Know your budget — Before heading to the casino, take out an allotted amount of cash that you plan on spending at the casino, and NO MORE. Once you have spent this allotted amount, it's time to cut your losses and leave. Keep in mind that casino ATMs charge a higher fee for withdrawing cash (because they can and people will pay it!).
Play for entertainment — Go to the casino for fun and EXPECT to lose money. If you end up winning some cash, that's great! Or even the JACKPOT, that's even better! But do not go and expect to come home with lots of money, you will more than likely leave highly disappointed.
Do not gamble on borrowed money — It's not a good idea.
Know what you're betting — Always pay attention to what you are betting, slot machines can be deceiving!
Learn before playing — Learn the rules BEFORE you start playing. It will save you from making mistakes that will cost you money.
You must be 21 and over to enter The Bristol Casino
Alcoholic beverages are not free
Casino Layout
The casino consists of a few different major areas such as the non-smoking section, high limit area, sportsbook, bar area, shop, and restaurants.
Main Casino — The main area of the casino is where you'll find the majority of slots and table games. Smoking is allowed throughout the majority of the casino.
Non-Smoking Area — For those who prefer to play without smoking, there is a small non-smoking section. Here you'll find a couple of Blackjack tables, a Texas Holdem table, a small section of slot machines, and a cashier.
High Limit — The high limit area is towards the back of the casino offering increased stakes and higher rewards for the high-rollers.
SportsBook – Located between the casino and the restaurant & bar area.
The Bristol Bar — A full-service lounge with a variety of spirits and alcoholic beverages along with large TV screens and bar menu.
Brick'd — Open Daily from 11AM-2AM, this quick-service restaurant offers Italian-style food including a grab-and-go menu.
Mr. Lucky's — Open from 11AM-10PM on weekdays, and 11AM-Midnight on the weekends. A full-service restaurant with contemporary regional cuisines such as steak, burgers, chicken, and more.
Rock Shop — Retail store selling Hard Rock merchandise.
Games
The most important thing to remember when gambling is that gambling is a game of chance. Although you can play certain games that require skill to help increase your odds, you're still playing with the odds favoring the house.
The Bristol Casino has a variety of games to play, with more coming with the expansion in 2024.
As of now, there are 870 slot machines, 21 table games, and the Hard Rock Sportsbook.
Slot Machines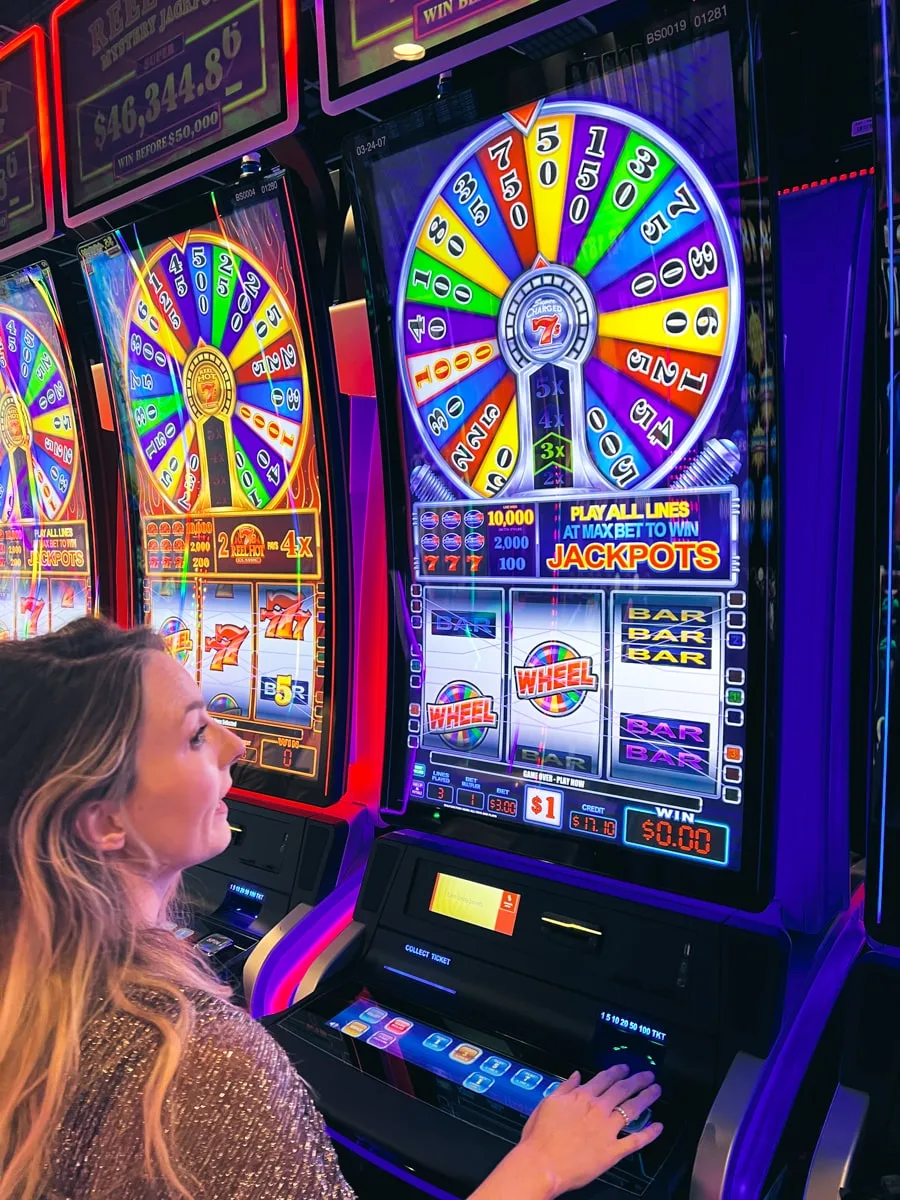 The best place to start playing in the casino is at the slot machines! Slots are the most popular game to play in any casino.
Slot machines are 100% a game of luck and great for beginners as they require no skill.
Slots are available in multiple themes and features — attracting gamblers for different reasons. You will notice slot machines with cool graphics and characters, large machines with lots of bells and whistles, simple "vintage" style machines, etc.
As the saying goes, the more bells and whistles the machine has, the lower the payback it offers.
Pay attention to the slot machine denomination, credits, AND minimum bet. You can easily find a penny slot machine and think you'll be playing all night when in reality you're placing a $5 minimum bet. The minimum bet is usually written in small font underneath the denomination. Always know what you are betting!
Another important thing to remember when playing slots is to know what prize you are playing for. Two machines that look identical can pay out very differently.
Slot machines can be very exciting as they make lots of noise making you believe that you are winning a lot of money. This can be misleading as a lot of times you earn back fewer credits than you spent on a spin. Again, pay attention!
Table Games
Some table games require some skill to increase the odds of you winning a bet. Examples of table games include Blackjack, Texas Holdem, Roulette, Craps, Baccarat, and more.
Table games at the Bristol Casino vary with buy-in costs depending on the time of day. Minimum bets range from $15-$25, with $25 being during peak hours (Friday & Saturday evenings).
The following are some table games you can find within The Bristol Casino.
Blackjack
Blackjack is by far the most popular table game in casinos. It also has simple rules and is easy to learn.
The objective of Blackjack is to get your total card value as close as possible to 21 without going over (or busting).
All players at the table are playing against the dealer. Although you aren't on teams, you're all betting against the dealer.
Blackjack also has side bets. Different casinos have different side bets that can be played during a bet.
If you've never played Blackjack before, learn the rules and watch a few games. If you're wanting to play, try a low minimum bet table first to get yourself comfortable!
Roulette
Roulette is another popular table game as it's extremely easy to learn and is fun to play!
The object of Roulette is predicting where the ball will land on the table wheel. Whether you bet on red or black, odd or even numbers, individual numbers, number groups, etc.
After each bet, the game starts over with a new round of betting. Will you go for red or black this time?
Some believe that Roulette is a 50/50 chance of winning against the house but this is not true. The house ALWAYS has an advantage. In American Roulette, the table is not 50/50 red and black. There is a green 0 and a green 00 number.
One of the most important rules in Roulette is don't bet against yourself. Allow your bets to work together.
For example, betting on black and betting on 4 work together, if you hit on 4, you'll also hit on black as 4 is a black number. However, if you bet on the color red AND the number 4, you cannot win both at the same time — this is you betting against yourself. Play smart and increase your odds.
Craps
Craps is arguably one of the most exciting games to play in the casino. Gather around a craps table and you will begin to see why — people are cheering and screaming with excitement.
This game is fast-paced and will have you standing on your tippy toes waiting for the dice to reveal their number.
Craps is more complex than other casino games due to the fact that there are many different bets that can be played.
Playing craps is all about the shooter (person throwing the dice). The shooter throws the dice to establish a point number and then continues throwing the dice to get that point number again and again, with most players winning. Whenever a number 7 is rolled, players lose and the game resets and starts over.
As said before, Craps is very complex as there are multiple bets that can be played. We highly suggest reading more on how to play craps before trying it for yourself, or you may find yourself overwhelmed and confused.
Other table games available at the Bristol Casino:
Texas Holdem
Baccarat
Mississippi Stud
Pai-Gow
Three Card Poker
Sportsbook
Hard Rock Sportsbook offers wagering on sports from major sports such as football and baseball to other sports like golf, auto racing, tennis, and more.
There are currently 5 betting windows and 19 kiosks available at the Hard Rock Sportsbook.
Also Read: 20+ Best Things to Do in Bristol, TN-VA: The Birthplace of Country Music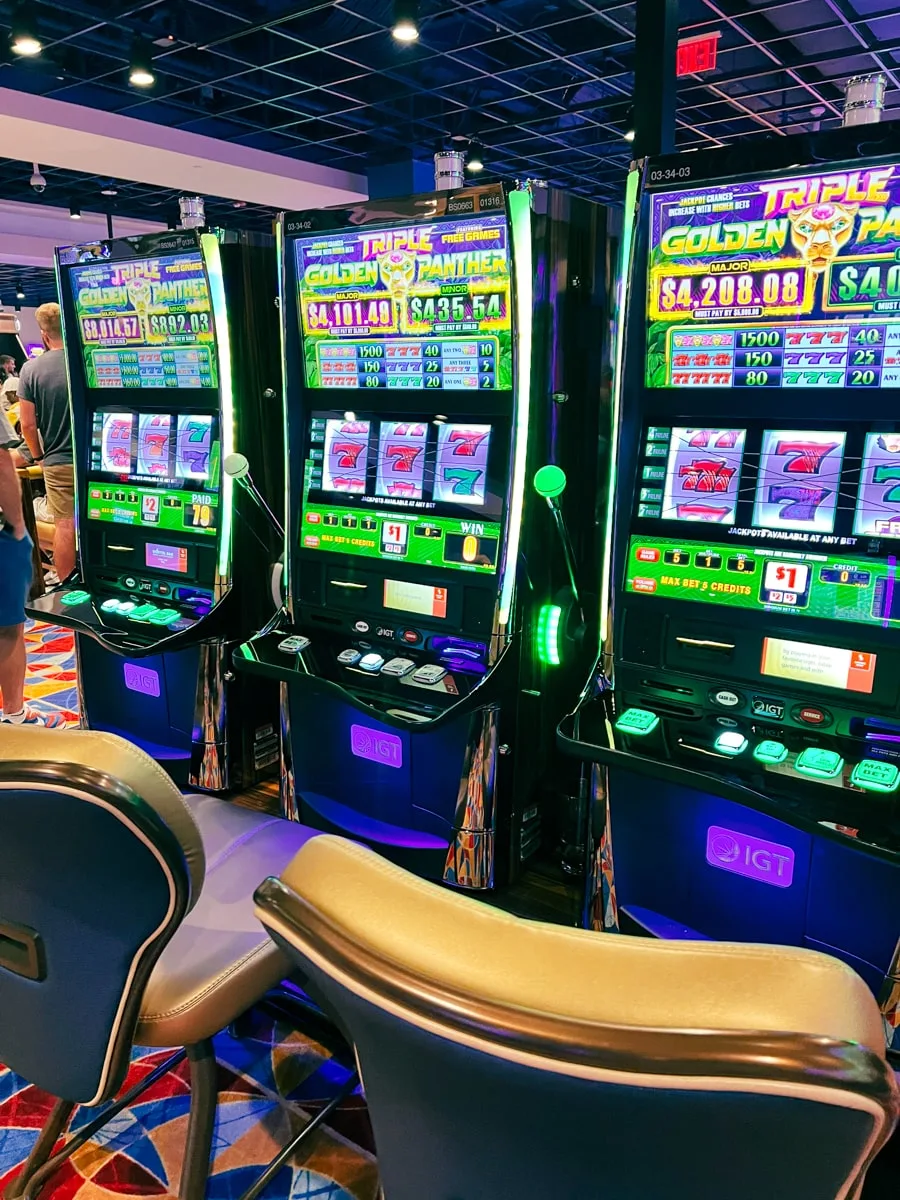 Casino Etiquette
There are rules that should be followed while visiting any casino to create a more enjoyable experience for you and other players, as well as for the staff and the dealers. Here is a list of Dos and Donts that should be followed at the Bristol Casino and any other casino you may visit in the future.
Do's
Dress Appropriately — It's always a good idea to dress up rather than down. Depending on the casino, a dress code may be required. The Bristol Casino's dress code is casual.
Tip your Dealer — It is proper casino etiquette to tip your dealer as you would tip your server at a restaurant. Tipping $1 on small wins is acceptable, with higher tips being accepted for higher winnings.
Buying Chips — When buying chips at a table game, always place your cash in front of you on the table; never hand cash directly to the dealer.
Respect the Dealer and other players
Know Hand Signals — Hand signals are important for playing table games and can speed up the game. If you are unsure, it is acceptable to verbally say what you would like to do. The following is an example of hand gestures for playing a game where cards are dealt face up (BlackJack):

Hit: Tap the Table
Stand: Wave your hand over your cards, palm open
Double: Point with one finger
Split: Point with 2 fingers in a V shape
Donts
Don't Play with Your Phone — It is proper casino etiquette to not play with your phone at a casino, especially at table games. The staff may ask you to put your phone away if they see you out with it near a table.
Don't Drink too Much — Drinking too much can alter your decision-making skills, thus increasing the probability that you'll lose money.
Don't Sit at a Table when You Aren't Betting — Seats are reserved for players who are gambling.
Don't ask the Dealer for Betting Advice — It can cause an awkward scenario, especially if you lose the bet.
Don't Touch Your Chips After Placing a Bet
Don't Forget Card Etiquette — It is important to remember the following card etiquette when playing table games:

Cards being dealt face down can be touched with one hand only
Cards being dealt face-up should never be touched
Final Thoughts
Visiting the Bristol Casino is a must when visiting East Tennessee or Southwest Virginia!
If you plan on visiting, remember the important information and tips & tricks that were provided above.
If you plan on returning to the Bristol Casino, there is a rewards program called Unity by Hard Rock that provides rewards for playing. You can earn Unity points when playing slots and table games, as well as qualifying purchases on dining and at the Rock Shop. Redeem these points for meals and merchandise at any Hard Rock outlet.
The Bristol Casino is great now, but it's soon to be even bigger and better when the Hard Rock Hotel & Casino opens in 2024!
You may also like: 50 Best Things to Do in Johnson City (The Ultimate Bucket List!)
If you or someone you know has a gambling problem and needs help, call 1-800-GAMBLER.
🎰 SAVE FOR LATER!