There are several reasons why Chattanooga earns its reputation as the "Scenic City."
It could be due to the famous "Rock City" viewpoint at Lookout Mountain, where you can see up to seven states on a clear day, or the hilltop views overlooking the Chattanooga Valley, or maybe the picturesque views of the Chattanooga River through the valley's woodlands!
No matter the reason, the best way to experience it all is out in nature. Cabin rentals in Chattanooga offer the best chance at these unmatched views.
Wake up to views of nature, escape to quiet mountainside getaways, or plan an outing for family and friends at these popular cabin rentals in Chattanooga.
15 Cozy Cabins to Rent in Chattanooga
1. Timberroot Rustic Retreat
Price: $172 avg/night
Sleeps: 6
Pet Policy: Pets allowed w/$35 fee per pet
Rating: 5 ⭐️ (9 reviews)
Perks: Luxury cabin, Great for groups
Whether planning a family retreat or corporate getaway in the Chattanooga woodlands, the Timberroot Rustic Retreat is spacious enough to accommodate everyone. The quiet cabin sits at the foot of Lookout Mountain in the Wauhatchie Woodlands, surrounded by nature and forest trails.
The Timberroot Rustic Retreat treats its guests with a luxury cabin experience hidden behind the privacy of the forest. The two-bedroom space provides everyone with a place to lay their head—even bunk beds for the kids.
Guests staying at the Timberroot Rustic Retreat get access to the amenities of the Wauhatchie Woodlands Community, which includes a kid's playground. You'll also be just a few minutes' drive to Downtown Chattanooga. Book here.
2. Tennessee River Cabin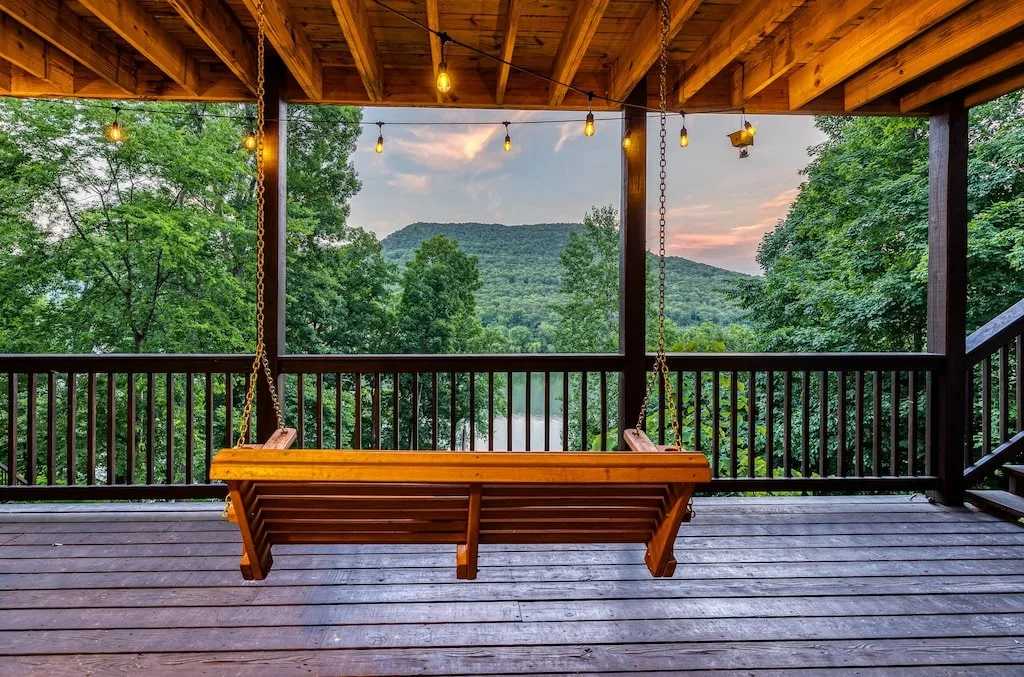 Price: $250 avg/night
Sleeps: 7
Pet Policy: No pets allowed
Rating: 5 ⭐️ (8 reviews)
Perks: Great views, Two decks, Recently renovated
Imagine relaxing to the soothing sounds of the Tennessee River rushing by just steps from your front door. The Tennessee River Cabin invites you to this tranquil paradise to experience the serenity of Marion County.
Walk through the property, and you'll see everything updated, from its modern kitchen to the newly designed lounge. However, once you get a glance at the view from the deck, it's where you'll spend most of your time.
The two-story cabin home has decks on each level. Take in sights of the Tennessee River and Raccoon Mountain from the deck swing, hot tub, or warming up around the mini fire pit!
3. Tiny Cabin Village
Price: $159 avg/night
Sleeps: 4
Pet Policy: Pets allowed w/$35 fee/pet
Rating: 5 ⭐️ (44 reviews)
Perks: Private hot tub, Furnished deck
They say don't judge a book by its cover. Because the small cabin appearance on the outside reveals an exceptional use of space for modern living on the inside. Experience why tiny homes have been the latest architectural trend.
Tiny Cabin Village is a community of small cabins designed for comfort. Surprisingly, the cabin fits a well-equipped kitchen, living room, and two furnished bedrooms in the intimate space. It's also one of the best pet-friendly cabin rentals in Chattanooga.
The dense Wauhatchie Woodlands hide your cabin from your neighbors. However, spend an evening sharing Tennessee travel stories around the shared fire pit if you're feeling social.
4. The Cabin at Wayside
Price: $158 avg/night
Sleeps: 5
Pet Policy: No pets allowed
Rating: 5 ⭐️ (28 reviews)
Perks: New Cabin, Near forest trails
Shh, do you hear that? Nothing except the sounds of the rusting forest surrounding you and a hot cup of joe bubbling in the kitchen to kick start your day the right way! The Cabin at Wayside is your country getaway with home comforts and outdoor adventures.
This two-bedroom cabin was newly built and fully furnished from the interior to the outside deck. Prepare dinner on the outdoor grill before soaking up the day's last rays of sunshine during the colorful sunsets.
The hosts at The Cabin at Wayside are accommodating for kids. Mention your young guests, and the host will provide toys.
5. Zubi Branch
Price: $762 avg/night
Sleeps: 26
Pet Policy: No pets allowed
Rating: 4.9 ⭐️ (17 reviews)
Perks: For large groups, Premier Host
The beautiful Tudor-style house ranks among the top Chattanooga cabins for large families. Zubi Branch the ideal country setting with indoor and outdoor areas accommodating for more than 25 guests.
No need for crashing on the couch because there's a bed for everyone—ranging from king-sized to singles. The large kitchen gives plenty of counter space for dishes you'll be serving in the long dining hall.
There will be plenty of entertainment for you this weekend, with sports and movies screened across seven flat-screen TVs and a garage converted into a game room equipped for friendly ping-pong and foosball competitions!
6. Sophie's Roost Treehouse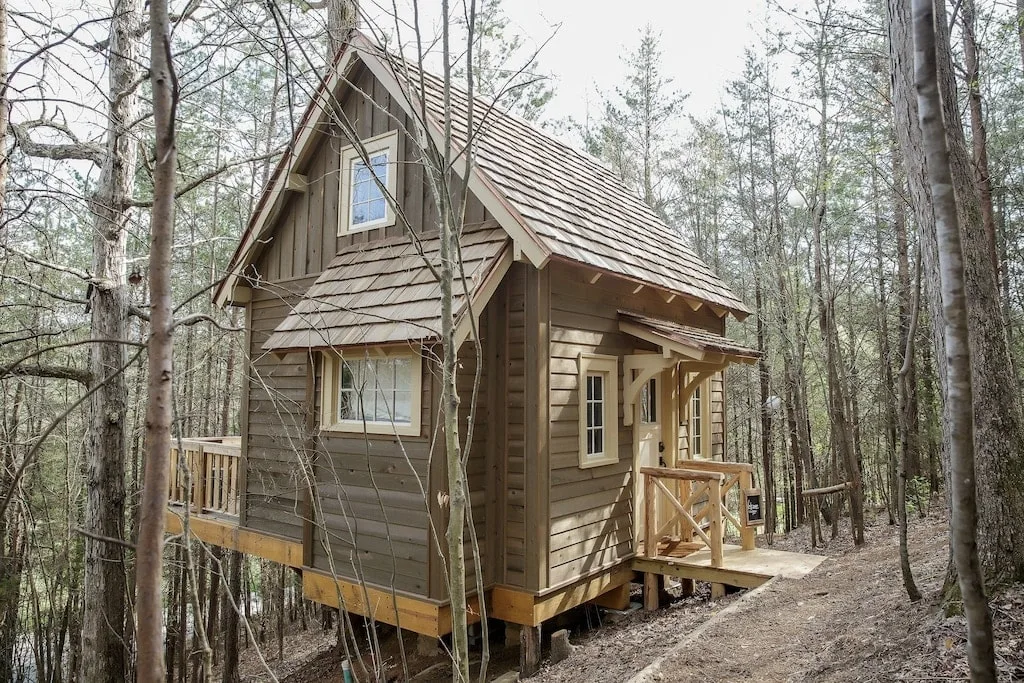 Price: $250 avg/night
Sleeps: 6
Pet Policy: No pets allowed
Rating: 4.9 ⭐️ (16 reviews)
Perks: Premier Host, Drive to Chattanooga in minutes, Trademarked design features
Drive through the Chattanooga Valley into the Candlelight Forest to find the enchanting Sophie's Roost Treehouse. Tucked within the trees of the Candlelight Forest, you'll be in a secluded cabin to live out your own forest fairy tale.
Sophie's Roost Treehouse was custom-designed by the owners of Sophie's home décor shop in the North Shore District. Enter the magical cabin on the main level with an indoor lounge space and scenic outdoor deck furnished for an intimate dinner.
After a fun day out enjoying Chattanooga's activities, retreat back to your treehouse and climb the ladder to the lofted beds and intimate living space for a true treetop sleeping experience.
7. Wooded Cabin on Private Lot
Price: $260 avg/night
Sleeps: 7
Pet Policy: No pets allowed
Rating: 4.9 ⭐️ (15 reviews)
Perks: Newly Built, Private lot, Deck
This wooden cabin will change your idea of a rustic vacation. It's a newly built property sitting on the summit of Lookout Mountain that elevates your cabin experience with luxury features.
From elegant details like a chandelier hanging above the dining table to claw-foot bathtubs in the bedrooms, it's a space that defines glamping. Each of the three bedrooms is furnished with comfortable bedding and has an outdoor deck for relaxing.
Take in the panoramic views atop Lookout Mountain just a few steps from your cabin's front door. It's located on a private lot less than a mile from attractions on the mountain and only a 20-minute drive to Chattanooga.
8. Buzzard's Roost Cabin
Price: $200 avg/night
Sleeps: 4
Pet Policy: Pets allowed
Rating: 4.9 ⭐️ (353 reviews)
Perks: Host provides complimentary state park tickets, Hot tub
Breathe in the fresh mountain air from your private deck every morning you stay at Buzzard's Roost. This space immerses you in nature, with windows on either side offering spectacular mountain views.
Buzzard's Roost has two bedrooms and two bathrooms. Rest your head on comfy beds crafted by local artisans. You'll be well-rested for nearby activities like hiking trailheads nearby and Cloudland Canyon State Park, which is just a short drive away.
Views from the bluffs are minutes away from your cabin. So, you won't have to venture far to experience the best parts about staying on Lookout Mountain.
Also Read:
9. Peaceful Log Cabin Getaway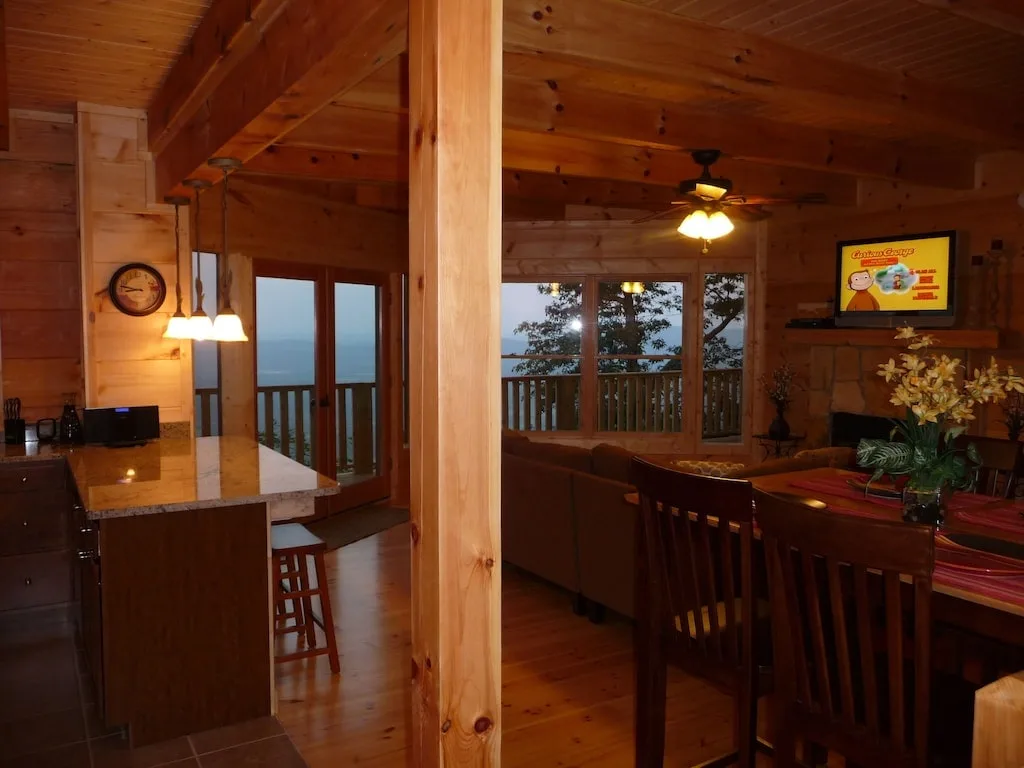 Price: $200 avg/night
Sleeps: 6
Pet Policy: No pets allowed
Rating: 4.9 ⭐️ (219 reviews)
Perks: Newly built, Premier Host,
The Peaceful Log Cabin Getaway is a rustic masterpiece designed to amplify the stunning views from the property. Perched on the bluffs of Lookout Mountain, it's one of the top-rated Chattanooga cabin rentals for a weekend getaway.
The two-bedroom cabin has lots of sleeping and seating space. It has five beds and a wrap-around couch for lounging in front of the views. Step onto your private deck overlooking the Chattanooga Valley. It has a large table for scenic dinners.
The cabin has everything you need, from a laundry room to a movie room to a game room.
10. Spacious Five BR Cabin Near Everything
Price: $530 avg/night
Sleeps: 22
Pet Policy: No pets allowed
Rating: 4.8 ⭐️ (50 reviews)
Perks: Great for large groups, Premier Host, Modern Tech
You'll benefit from a modern accommodation with a convenient location when you stay at this family-sized cabin. Treat yourself to the best of both worlds—whether you want to relax at your cabin or explore nearby local attractions.
Three acres of private land hold the five-bedroom cabin. It's one of the best Chattanooga Cabins for large families since it has multiple king-sized beds and singles. The premier hosts even own nearby homes if you need additional rental space.
The spacious cabin is just a short drive to Lookout Mountain, Downtown Chattanooga, Rock City, and Ruby Falls.
11. Cabin in the Woods
Price: $265 avg/night
Sleeps: 12
Pet Policy: Pets allowed
Rating: 4.8 ⭐️ (99 reviews)
Perks: 10 minute drive to Downtown Chattanooga, Game room, Access to a private pond
Chattanooga is a booming urban area that still needs its escape. Book a getaway to the Cabin in the Woods, where your only neighbor will be untouched nature. It's a storied cabin that lets you become part of its timeline.
Cabin in the Woods is a year-round accommodation exhibiting the beautiful colors of nature. The forested pathways around the house display lush green shades in the spring and colorful foliage in the fall. Stand on your wrap-around porch for the views, or take the trails to your private pond.
The cabin is custom-built with four bedrooms and a large den for entertainment.
12. Ooltewah Cabin
Price: $185 avg/night
Sleeps: 6
Pet Policy: Pets allowed
Rating: 4.7 ⭐️ (42 reviews)
Perks: Backyard space, Game and movie room, Covered porch, located right outside Chattanooga
Some of your best memories at Ooltewah Cabin will come from the back porch—from enjoying breakfast on the porch dining table to relaxing during the evenings to catch the sunset. It's one of the many simple pleasures that staying at thing cabin rental offers you.
Feel the homely vibes of the three-bedroom cabin. It sits on eight acres, visible from the cabin's wall-to-wall windows showcasing the grassy lawns. So, don't forget to bring a ball and frisbee to toss around. Also, keep an eye out for the friendly wildlife passing by to greet you.
The popular Wolftever Creek Greenway is easily accessible from Ooltewah Cabin. It has trails for hiking, biking, and horseback riding.
13. Lookout Valley Log Cabin
Price: $49 avg/night
Sleeps: 7
Pet Policy: Pets allowed
Rating: 4.1 ⭐️ (49 reviews)
Perks: Near attractions in Chattanooga
You'll have deja vu to those nostalgic days playing with Lincoln Logs when arriving at the Lookout Valley Log Cabin. It's a two-bedroom cabin that turns playtime into a cozy getaway at this cheap cabin rental near Chattanooga.
Skillfully carved logs fit together to shield you from the elements. A stone fireplace is a centerpiece to warm the large living room. Call first dibs on the ground floor master bedroom or head upstairs to the loft roof.
Dine in with your meal cooked in the full kitchen or drive minutes to experience the local dining scene in Downtown Chattanooga. You'll also be near the Lookout Mountain Incline Railway or hanging out at the Chattanooga Riverfront.
14. A Frame of Mine Cabin
Price: $330 avg/night
Sleeps: 2
Pet Policy: No pets allowed
Rating: New—Unrated
Perks: New property, Riverfront views
Nothing is more relaxing than lounging in your home away from home to views of the gentle Chattanooga River. It's a view awaiting you every morning and evening when you return to your cabin.
A Frame of Mine Cabin is one of the newest honeymoon cabins in Chattanooga that's ready to send sparks flying for couples staying here.
Take your significant other on a boat cruise down the river from your own dock. Return for a romantic dinner at the river view table. Time your meal to finish with a cheers to a romantic vacation in Chattanooga just as the sunsets over the patio.
15. Angels Cabin
Price: $49 avg/night
Sleeps: 14
Pet Policy: No pets allowed
Rating: New – Unrated
Perks: New property, Nearby attractions, Two-acre property
Angels Cabin is rustic camping meets modern living. The traditional wood cabin features upgrades with a fully updated kitchen, Flat screen TV, and high ceilings making the living room feel larger than life.
Guests have two master suites to choose from, amongst the other bedrooms providing sleeping space for more than a dozen guests. You'll finally achieve work-life balance with a dedicated workspace for peeking at emails and a pool table when it's time to wind down.
Although Angels Cabin is located just over the border in Georgia, it's still only a 15-minute drive to Chattanooga. Lookout Mountain, Ruby Falls, and other natural landmarks are also nearby.
Do you have any favorites among these cozy cabins in Chattanooga? Let us know in the comments!