The route from Johnson City, TN to Asheville, NC is relatively short but sweet. In just a little over an hour, you can go from the mountains and valleys of Northeast Tennessee to the artsy heart of the Blue Ridge Mountains in Western North Carolina.
While you could make a bee-line across the border between these two mountainous towns and get there in no time, we think you'll find it worthwhile to slow your travels down and take in the scenic overlooks and short hikes peppered along the way.
Keep reading to discover the best road trips stops and hidden treasures that lie in the forested hills from Johnson City to Asheville!
☀️ Planning your summer vacation? Check out these great hotels: The Carnegie in Johnson City, The Oliver in Knoxville, and The Bristol in Bristol TN-VA!
Road Trip Guide: Johnson City to Asheville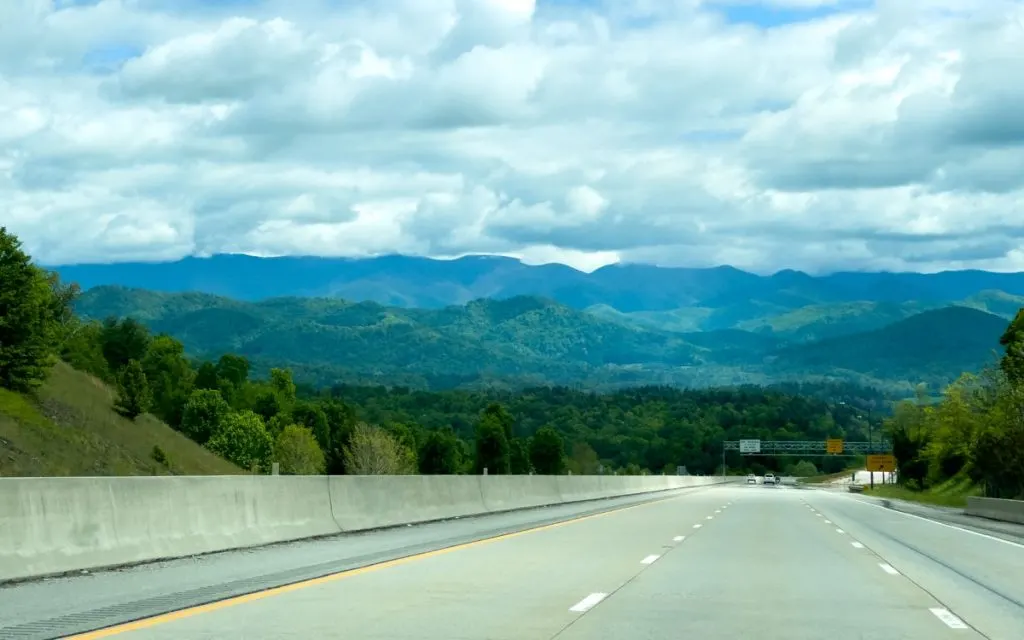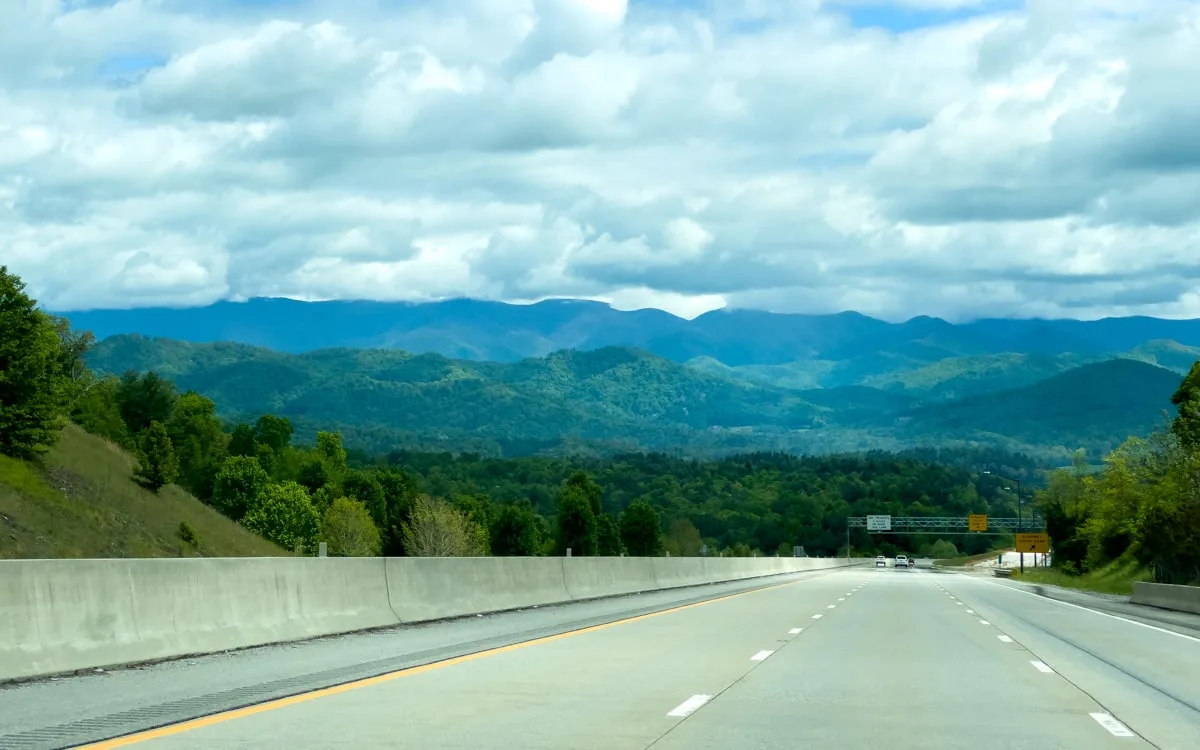 The Drive
Asheville sits about 60 miles south of Johnson City. The fastest way to get there is by car on I-26 E which passes by small towns like Jonesborough and ski towns and resorts like Wolf Laurel.
The hazy Blue Ridge Mountains will be your faithful background along this road trip, so this drive is particularly beautiful at sunrise or sunset.
If you are arriving at the Tri-Cities Regional Airport (TRI) in Blountville just outside of Johnson City, then you can rent a car and take Highway 75 before joining I-26 E to Asheville. While other rental car agencies are in town, you'll get the best rates at the airport.
Must-Stop Overlooks
Thanks to the endless mountain views between Johnson City and Asheville, there are many road-side stops where you can get out and enjoy a panoramic overlook. Here are some of our favorites!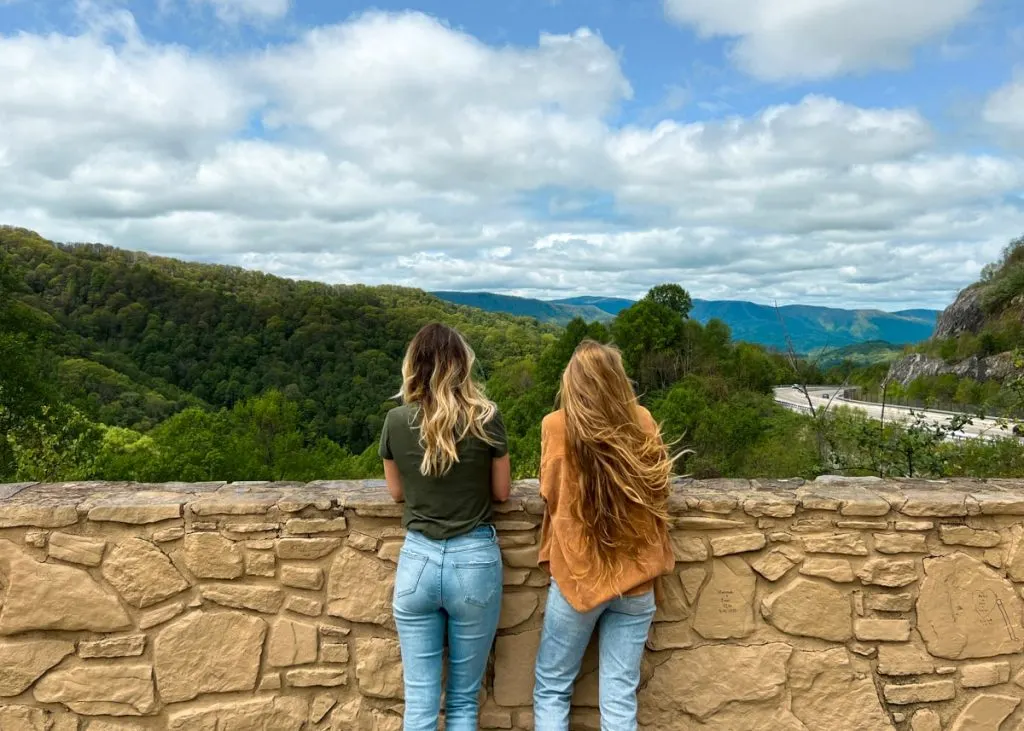 Sam's Gap is a beautiful overlook and rest stop located on the right side of the interstate you can't miss! Even though it's the second overlook featured in order along the route, it'll be your first easy pitstop when traveling from Johnson City to Asheville.
There are no bathrooms at Sam's Gap, but there is another rest stop just 7 miles ahead where you can go. Here, there is spacious parking, concrete benches, and a paved, wheelchair-accessible path for getting some air.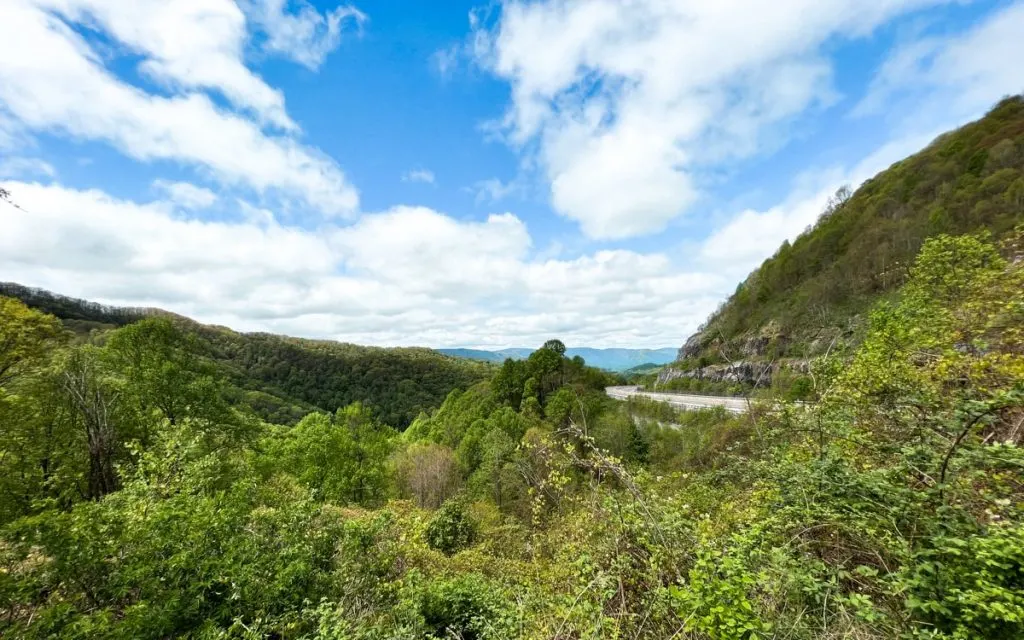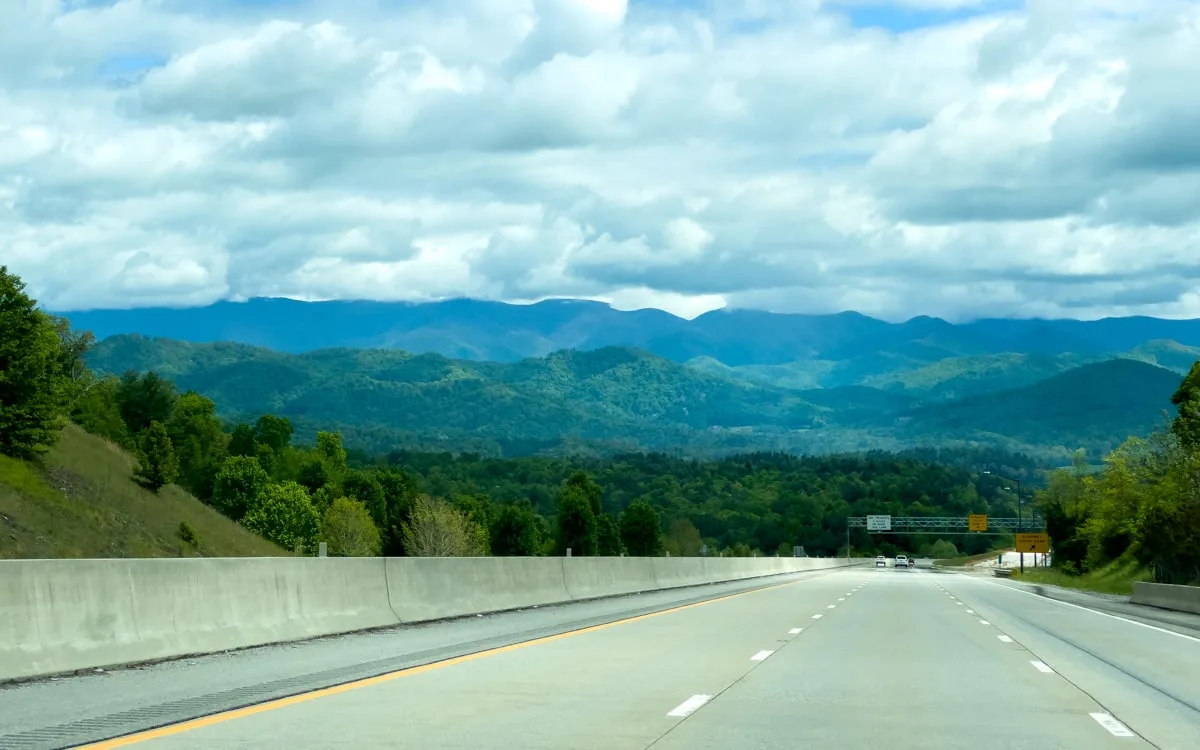 As you close in on Asheville, you will pass by several communities and a few more overlooks. Don't miss out on the Scenic Outlook close to Mars Hill as this rest stop has one of the best overlooks on the route from Johnson City to Asheville.
Tanbark Ridge will take you on a small detour down the Blue Ridge Parkway, but the views will be worth it! This overlook is located right before you arrive in Asheville.
When driving from Johnson City, this overlook will be the first that you'll pass. However, the parking lot and trail will be on your left as you climb the interstate, so you will have to get off at the next exit and then make a short detour back to reach this overlook.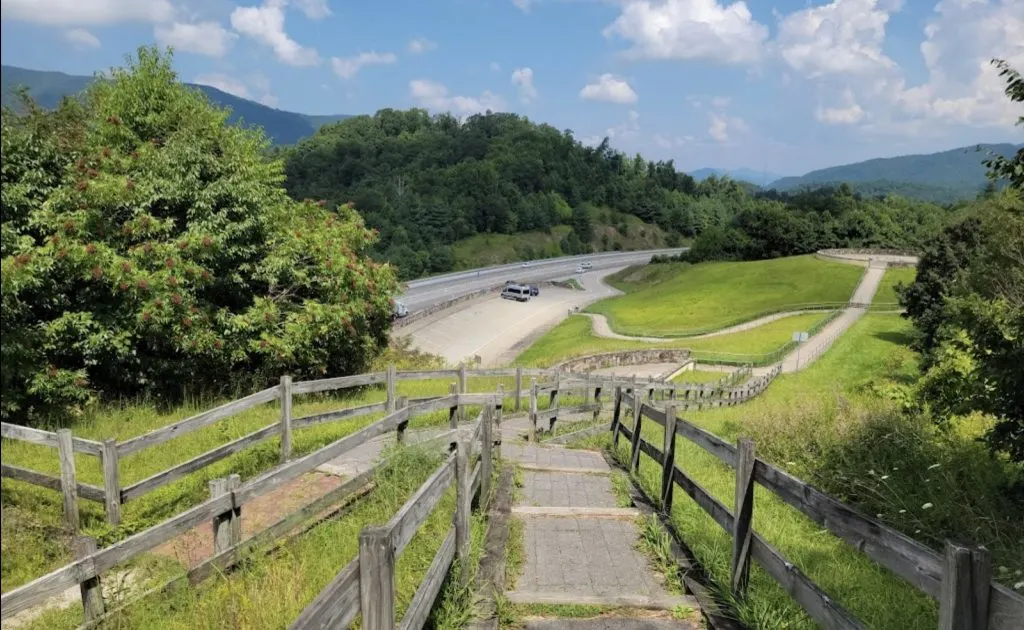 It's much easier to access when driving from Asheville to Johnson City, so you may consider saving this one for the trip back from Asheville to Johnson City.
In any case, there is a short but intense little hike that goes to the top of the hill where you can get even more scenic vistas.
Rest Stops Between Johnson City & Asheville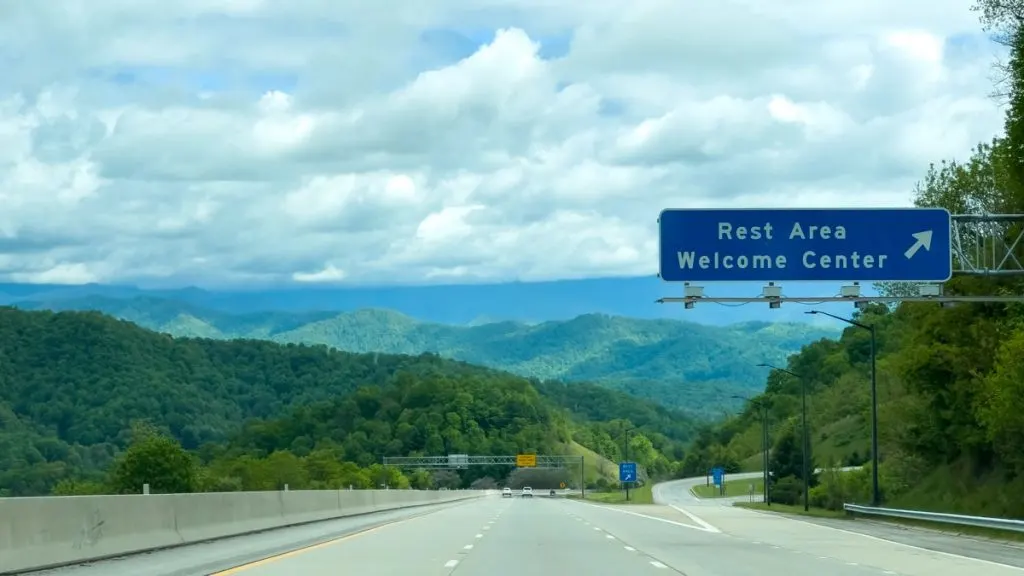 As you continue toward the NC border, you will pass by the Soundtrack of America Made in Tennessee Welcome Center, located just off exit 46. It's located on the opposite side of the highway for visitors driving from Asheville to Johnson City, but exit 46 will take you right there via an underpass. Turn left at the stop sign.
Inside this welcome center, you'll find clean bathrooms, a gift shop, and a history corner where you can read about the Civil War trail in Tennessee. The grounds are beautiful and well-kept with benches, spacious parking, and ample green space for walking your pets or stretching your legs.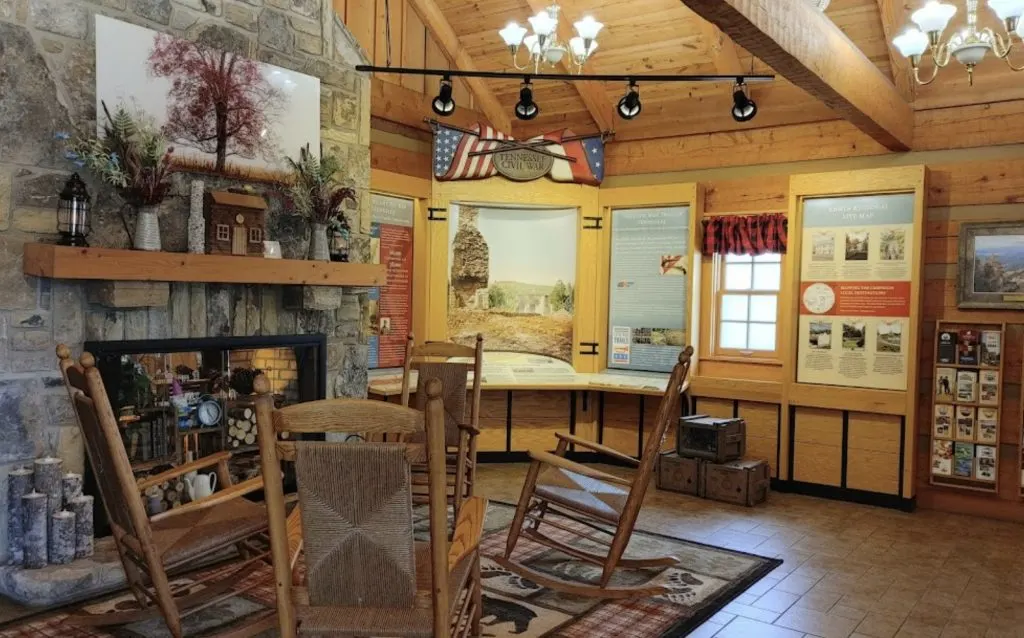 The next rest stop with bathrooms will be several miles further across the border into North Carolina.
Stop here for refreshments, restrooms, and to take in the scenic views of the Blue Ridge Mountains from the overlook, which can be identified by the "Landmarks visible from this location" board sign at the top of a small walking path.
Step inside the North Carolinian-inspired farmstead welcome center to learn more about the Blue Ridge Mountain Heritage Area and get a glimpse at the sense of hospitality and arts and crafts of the region.
Things to Do Between Johnson City & Asheville
Sill Branch Falls – Sill Branch is a beautiful, wispy waterfall located outside of Erwin, TN. It is a short and sweet hike to reach these falls. For more waterfall inspiration, check out our guide to the waterfalls near Johnson City.
Lamar Alexander Rocky Fork State Park – This 2000+ acre state park is teeming with hiking trails, waterfalls, and scenic wilderness.
Appalachian Trail Sams Gap – If you have time to spare, right beyond the Sams Gap overlook is a section of the renowned Appalachian Trail, located inside the Pisgah National Forest.
Wolf Ridge Ski Resort – Traveling between Johnson City and Asheville in the wintertime? If so, take a half-day to ski, snowboard, or snow tube down the slopes at the Wolf Ridge Ski Resort in Wolf Laurel.
Mount Mitchell State Park – Although it would be a bit of a detour for a day trip, you could consider making the drive (+ hike) up to Mt. Mitchell—the highest peak east of the Mississippi (6,684 ft).
Upon Arrival in Asheville, NC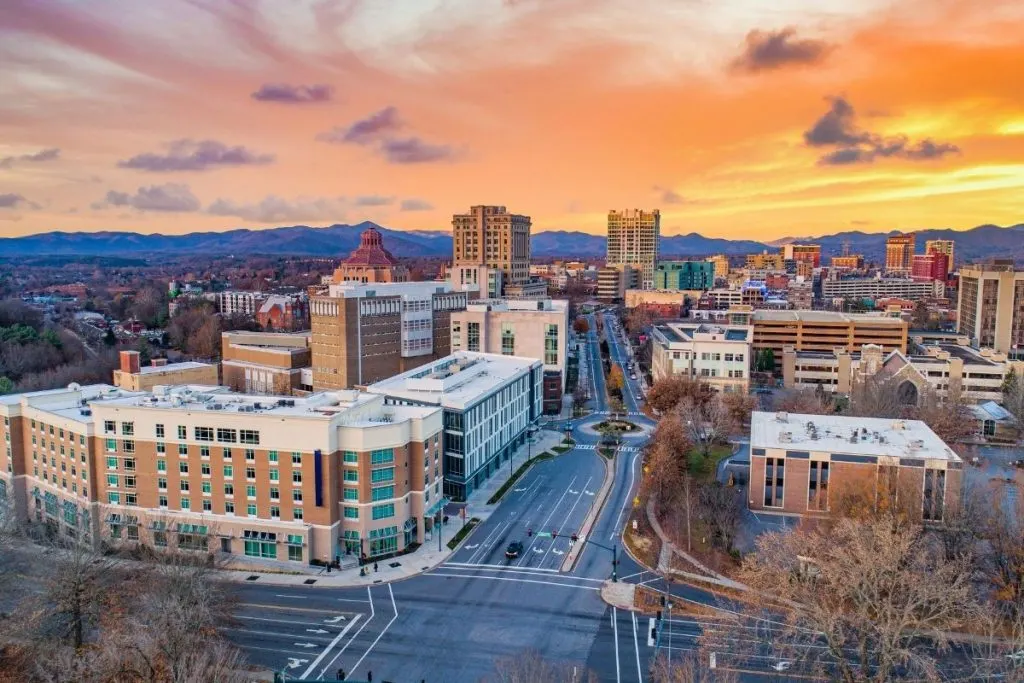 Where to Stay
The Omni Grove Park Inn – Luxury meets mountain living at the quaint and historic Omni Grove Park Inn. Pamper yourself with fine dining, a luxury spa, cozy fireplace, and indoor/outdoor pools!
Grand Bohemian Asheville – Full of character, this hotel is set in the heart of the regal Biltmore Village placing you in the center of shopping, restaurants, activities, and breweries.
Aloft Asheville Downtown – Vibrancy is Aloft Asheville's motto it seems, with colorful murals, decor, and an energizing atmosphere right in the middle of the sprawling downtown area.
Things to Do
Visit the Biltmore Estate – Tour America's largest private home (read: mansion) built by George Vanderbuilt. Shop, stay, dine, explore, and sip on this 8000-acre estate.
Brewery Hop Downtown – From sours to IPAs to lagers and beyond… Asheville has a beer for every tastebud and a brewery for every budget.
Drive the Blue Ridge Parkway – Miles of mountains await you along this scenic 469-mile parkway.
Ready to hit the road? Make sure to rent your car in advance for the best rates.
Don't forget to bookmark this route guide from Johnson City to Asheville for offline mode! If you have any questions, feel free to drop a comment below.
📌 PIN IT FOR LATER