Johnson City is just a stone's throw away from some of East Tennessee's best waterfalls!
Whether you want to chase falls all weekend or simply get outside on a fun day trip with your family or friends, this guide will clue you in on the best waterfalls to see near Johnson City.
Most of these falls require hiking to reach, but don't worry—most are labeled easy or moderate and are ideal for all skill levels (with the exception of one or two strenuous trails that snuck in!).
On the map below, you'll see where the waterfalls in East TN like to gather.
Most concentrate around Erwin or throughout the Cherokee National Forest, both just a 25–35 minute drive away from Johnson City.
If that sounds like your kind of adventure, then lace up your hiking boots and get ready to hit the road!
Here are the best waterfalls around Johnson City, Tennessee.
Please recreate responsibly and Leave No Trace 🥾 🌿
9 Awesome Waterfalls Near Johnson City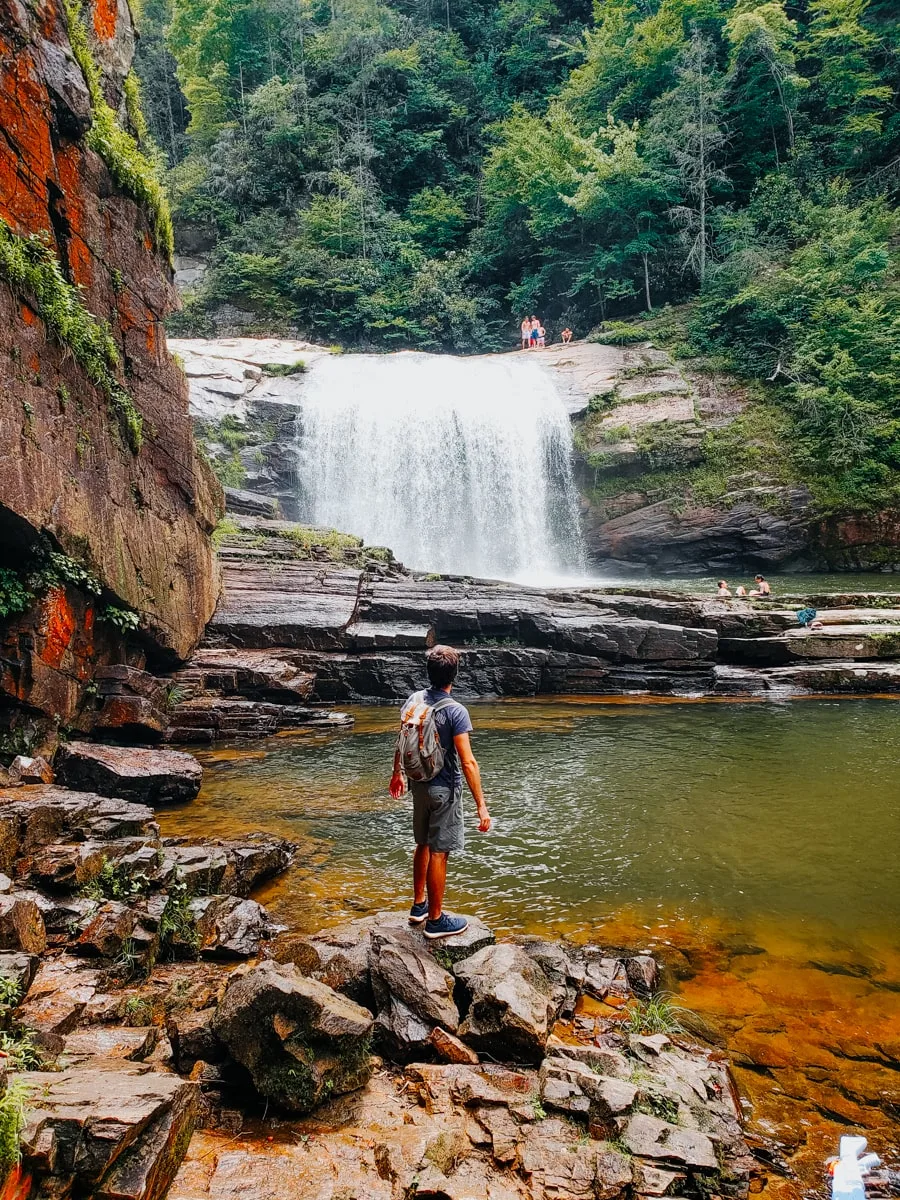 Map of Waterfalls Around Johnson City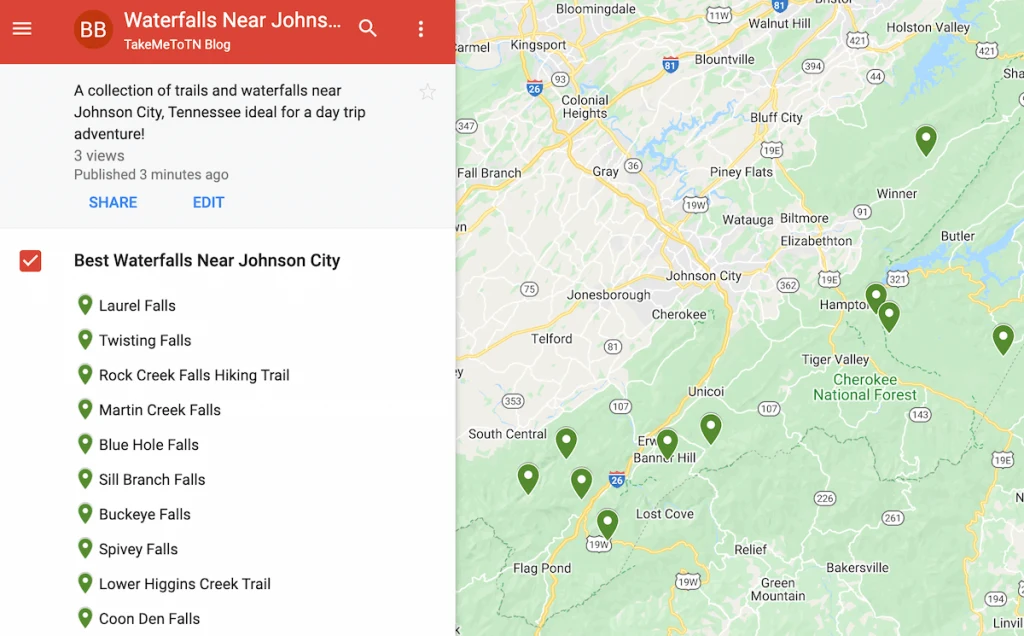 1. Laurel Falls
Not too far away from Johnson City is the Laurel Falls Trail, a section of which merges with the Appalachian Trail inside the Pond Mountain Wilderness.
The Laurels Fall hike itself is scenic and easy-going, until about 0.3 mi before the end when you need to scramble over rocks to reach the falls up the river.
In total, it takes around 2.5–3 hours, so pack plenty of water and go at an easy pace.
Our family did this trail (including my partner's 75-year-old French grandmother) not realizing the rugged section at the end—it was tough!
The effort will be worth it, though, as Laurel Falls is said to be one of the most popular waterfalls in Northeast Tennessee which is why we've included it in our ultimate bucket list for things to do in Johnson City, TN.
That said, on summer weekends, try to arrive early because crowds will pile in mid-morning.
P.S. Make sure to pack your trekking poles to make this hike easier on your knees!
2. Compression Falls / Twisting Falls
Compression Falls (better known as Twisting Falls) is a gorgeous, roaring waterfall on the Elk River located an hour outside of Johnson City (just before the border into North Carolina).
The drive to Twisting Falls from Johnson City is scenic, skirting Watauga Lake, but also a little curvy.
But once you reach the parking lot and trailhead though, you'll have the opportunity to stretch your legs (probably more than you'd hoped for) and breathe in the cool, fresh air as you carefully descend down the steep slope to the river and falls below.
When you arrive, you'll wade the riverside to reach Compression Falls; the wide, 30-ft gushing waterfall that plunges into a deep swimming hole.
Up the river from here is another fall, Twisting Falls, and even another one above that.
Just remember when you're climbing down, that you'll also have to climb back up!
That being said, this out-and-back waterfall hike is quite the challenge; you basically descend/ascend over 400 ft within 0.25 miles.
I was practically using both hands all the way back up — get ready to work up a sweat! 💦
While this waterfall is one of the furthest from Johnson City, it's also one of the best.
I'd even argue it's the most challenging, too! But it'll be worth it. And once you make it back to town, you can head to one of Johnson City's breweries to celebrate.
3. Rock Creek Falls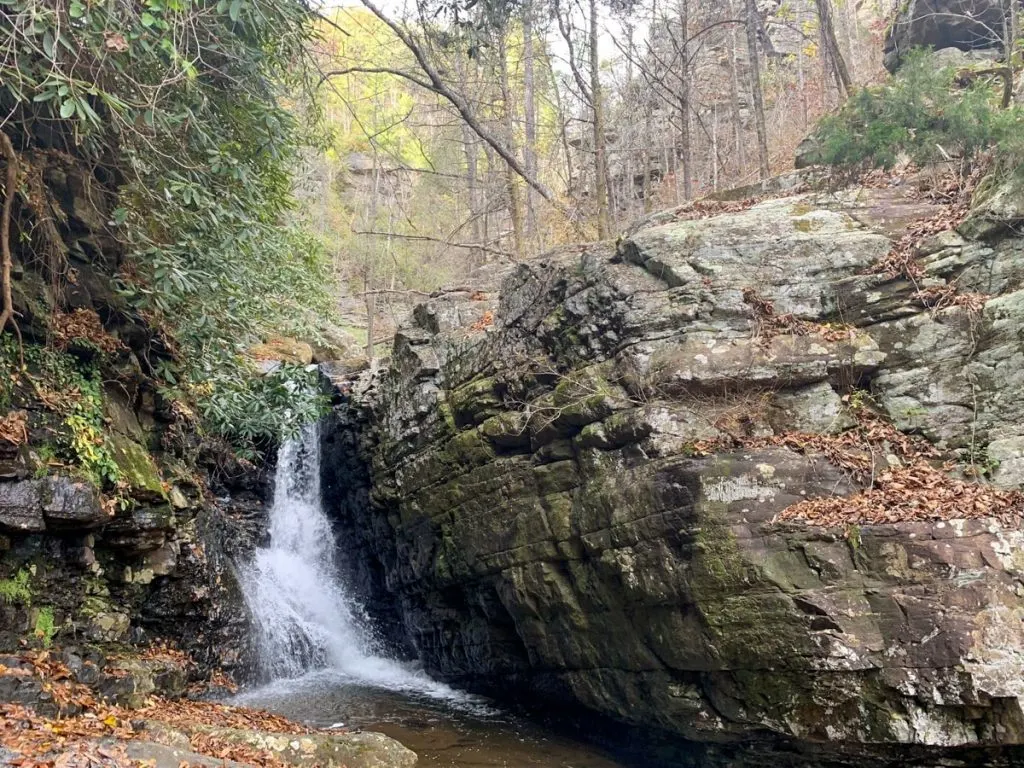 For a challenging yet scenic hike and the reward of a small but beautiful waterfall, head to Rock Creek Falls.
In our opinion, it's one of the best waterfall hikes near Johnson City with frequent creek crossings, nice elevating gain, and rocks and roots to keep things exciting.
Since your feet will get wet, wear waterproof hiking shoes in spring/fall/winter or hiking sandals (we love Teva) for summer exploring.
Trekking poles for navigating the rocks and roots might be a good idea too.
You can easily find the trailhead located at the Rock Creek Campground just outside of Erwin. Parking costs $2 and relies on an honor system.
4. Martin's Creek Falls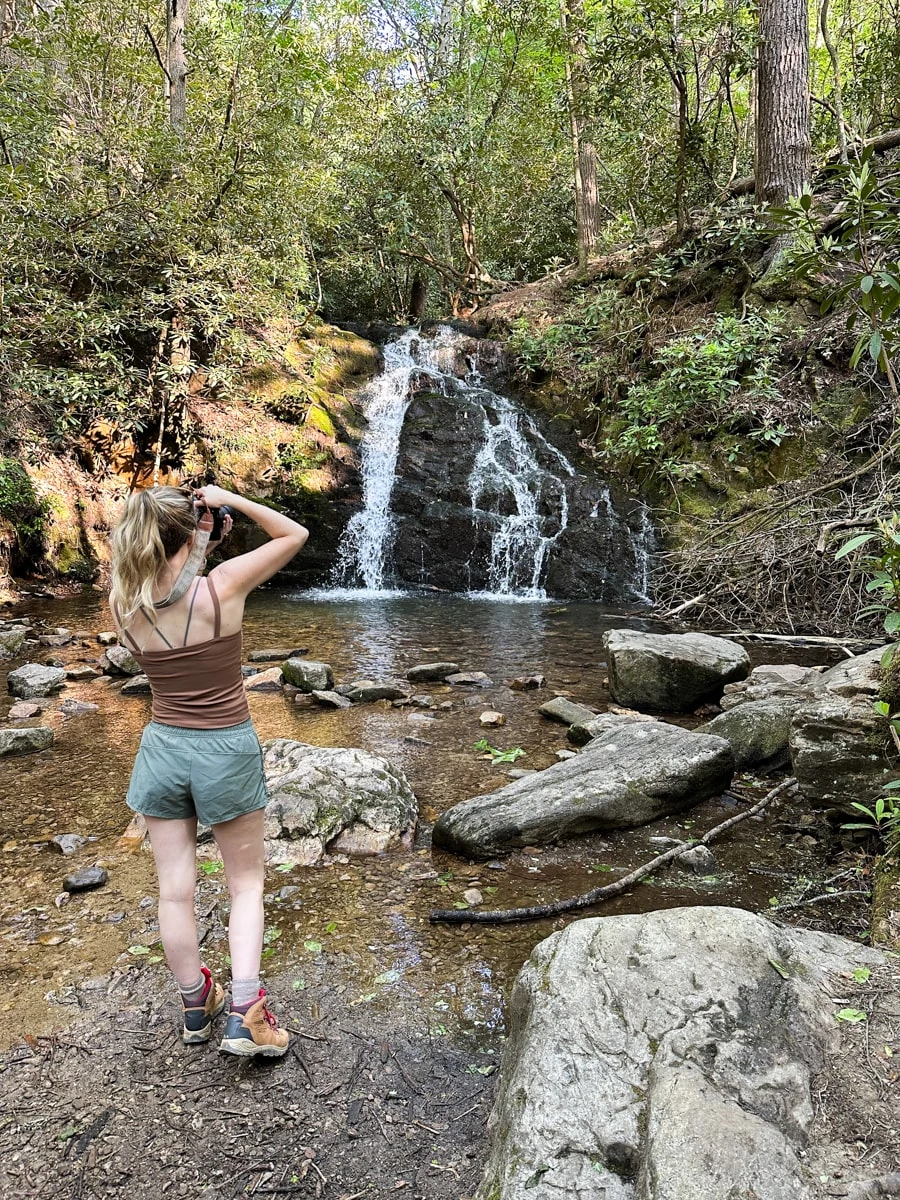 Martin's Creek Falls is one of several waterfalls in Erwin, located just 25 minutes south of Johnson City toward the TN/NC border.
The trail to reach Martin's Creek isn't anything remarkable; most of the path is a wide, abandoned road in the forest with a slight incline.
A tree marked with a pink/red ribbon and blue arrow (around the 0.7 mi mark) indicates the moment to fork left down the trail.
From here, Martin's Creek Falls is another 5 minutes away.
There is a fun but tricky descent down to the falls and stream; a rope is there to assist hikers, but you can hang onto roots as well!
5. Blue Hole Falls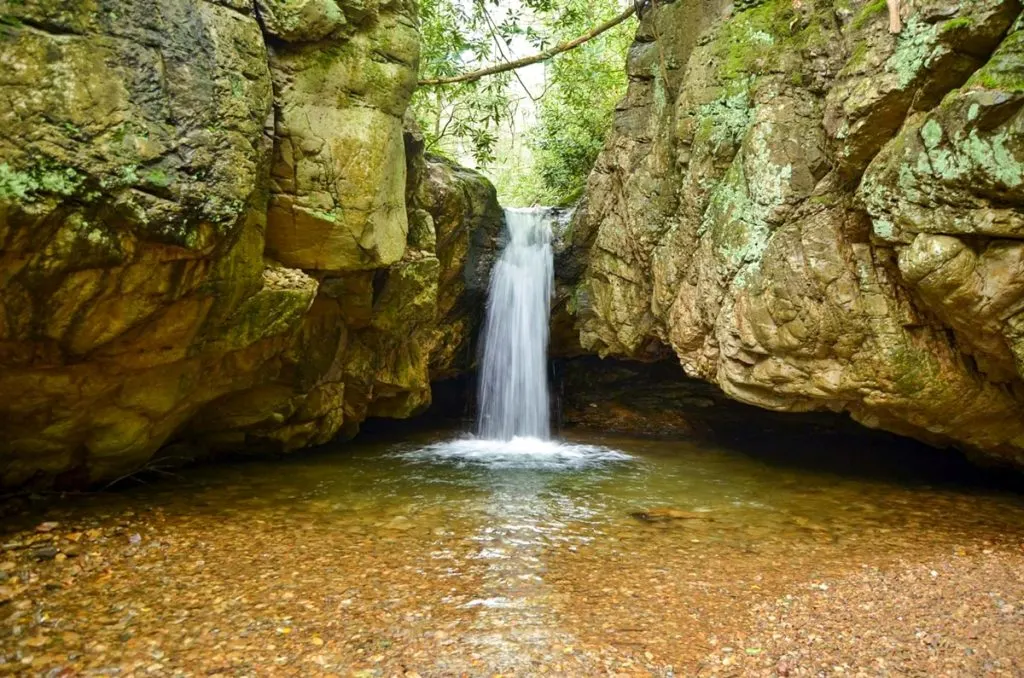 Blue Hole Falls is exactly what it sounds like — a little watering hole with a small waterfall ideal for swimming and hikers of all levels and ages.
This waterfall near Johnson City is nice to visit if you're passing through Elizabethton.
However, it's a bit far of a drive for only a 10-minute hike.
Nonetheless, it's a pleasant waterfall to hike to year-round, but be sure to watch your footing as the roots and leaves can become slippery after rainfall or snow melts.
Overall, if you're looking for a no-fuss day trip from Johnson City to go on with your family, friends, or pups (on leash), Blue Falls is a good choice.
6. Sill Branch Falls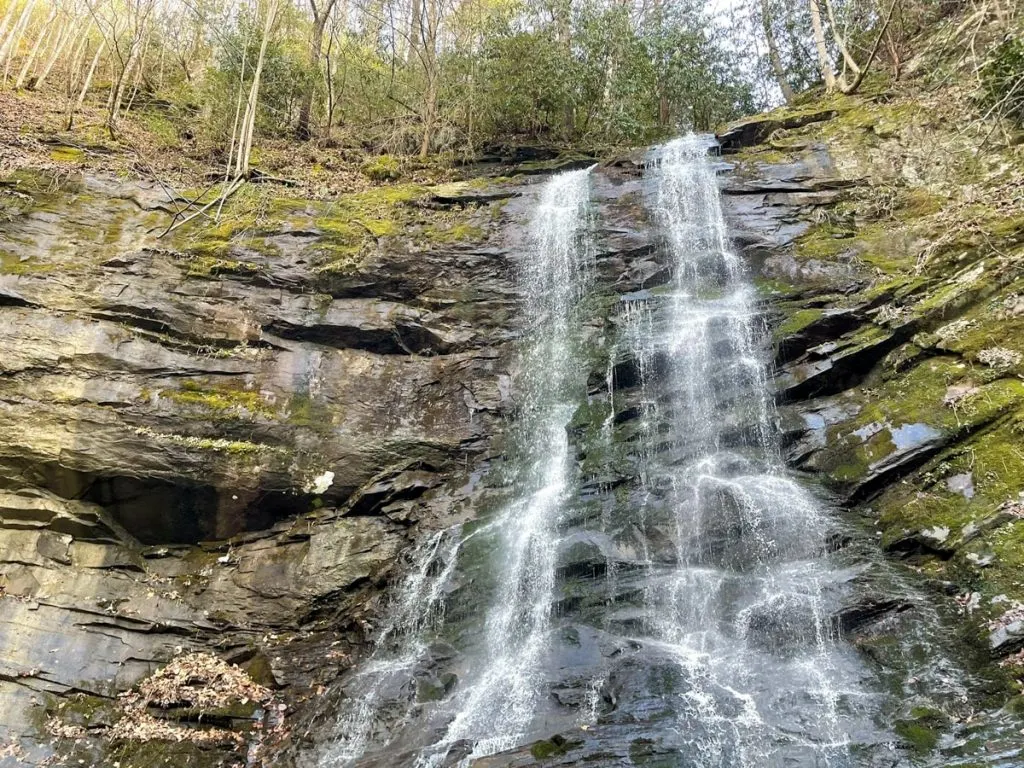 Sill Branch Falls is a great little waterfall hike that's not too far from Johnson City.
It's conveniently located only 35 minutes away in Erwin, out in the Clarks Creek area of Cherokee National Forest.
To reach the 20-ft cascading falls, follow the short and sweet 1-mile forested trail with a small creek crossing.
Sill Branch Falls has a gradual slope but remains easily accessible for all skill levels, including families with children and seniors.
Leashed dogs are welcome, too! Parking for Sill Branch Falls is just opposite the trailhead.
In this area are two more nice waterfalls you may want to explore: Upper Sill Branch Falls and Pine Ridge Falls.
Note that Buckeye Falls—reportedly the Southeast's longest waterfall (475 ft)—lies upstream of Clarks Creek but is not a suitable adventure unless you are a veteran trekker.
7. Spivey Falls
Spivey Falls is one of the rare waterfalls you can see near Johnson City that doesn't require you to hike much to get there.
Instead, this fall can be seen from the road (but is better up close if you can do a bit of bouldering to get there).
These falls are located in Unicoi County (Erwin), but trail directions aren't very clear. According to Visit Johnson City:
To get there, take I-26 to Erwin, and take Exit 43 to Temple Hill Road. Head south on U.S. 19W for 1.1 miles, turn left, and stay on 19W for 3 miles until you come to an unmarked paved road on the right.

Visit JC
Spivey Falls is a scenic waterfall, but without having to hike to get here, it doesn't feel as rewarding!
For that reason, we'd recommend the nearby Lower Higgins Creek Falls which offers a scenic hiking trail.
8. Lower Higgins Creek Falls
Lower Higgins Creek Falls is a beautiful cascading waterfall located just a 25-minute drive outside of Johnson City in the Rocky Fork area of Cherokee National Park.
These falls are especially appreciated by photographers seeking to capture that buttery-smooth long-exposure shot!
For now, Lower Higgins Creek Falls remains one of the lesser-known waterfalls in the area—a local's secret!
The best time to visit is after rainfall when the volume of the falls is much more significant.
The second half of the trail gets a bit more rugged and slick, so make sure to take it slow!
Play the video above to see and hear this beautiful waterfall gush down the creek.
9. Coon Den Falls
Last but not least, Coon Den Falls is a gorgeous 50-ft waterfall near Johnson City that offers up an adventure!
If you follow the Coon Den Falls trail via the AT, you'll complete a decent 3.6-mile loop. However, if you're strapped for time, you can now take a shortcut to the falls from the Dennis Cove Rec Area.
On the other hand, if you want to get in even more steps, then you can also hike from Dennis Cove to Watauga Lake (8 miles point-to-point).
You can also reach Laurel Falls (#1 featured waterfall) via the Laurel Fork Trail from Dennis Cove. There are plenty of waterfalls and trail sections in this area!
For overnighters doing sections of the Appalachian Trail, nearby is the Black Bear Resort and the Laurel Falls Lodge & Campground.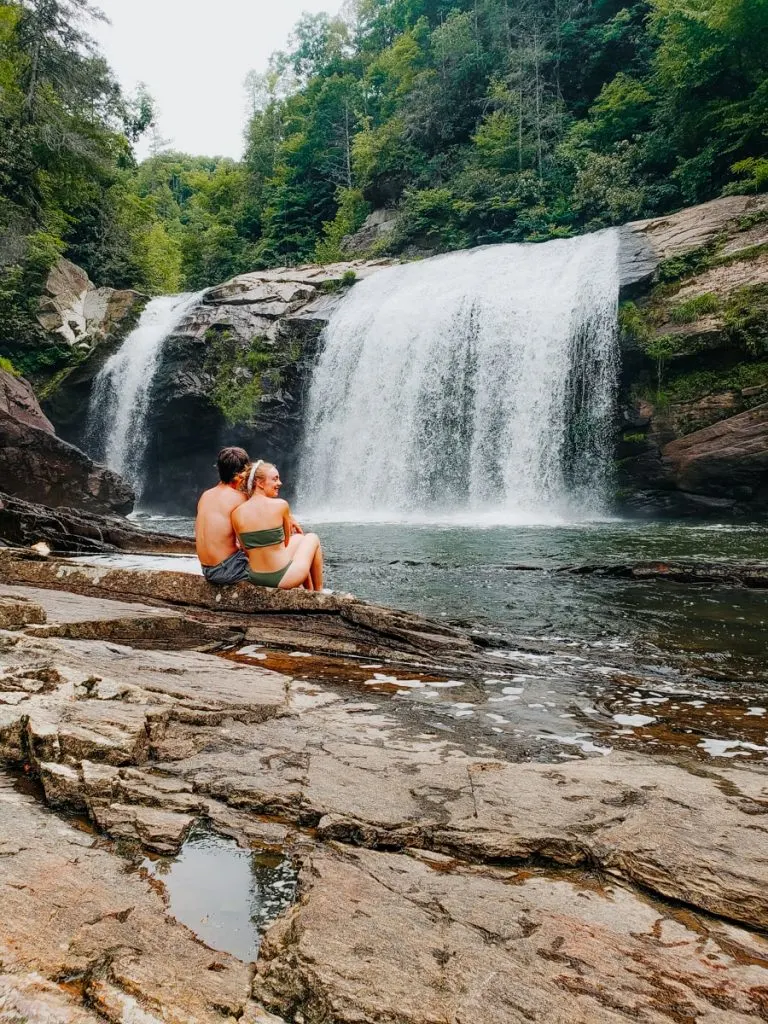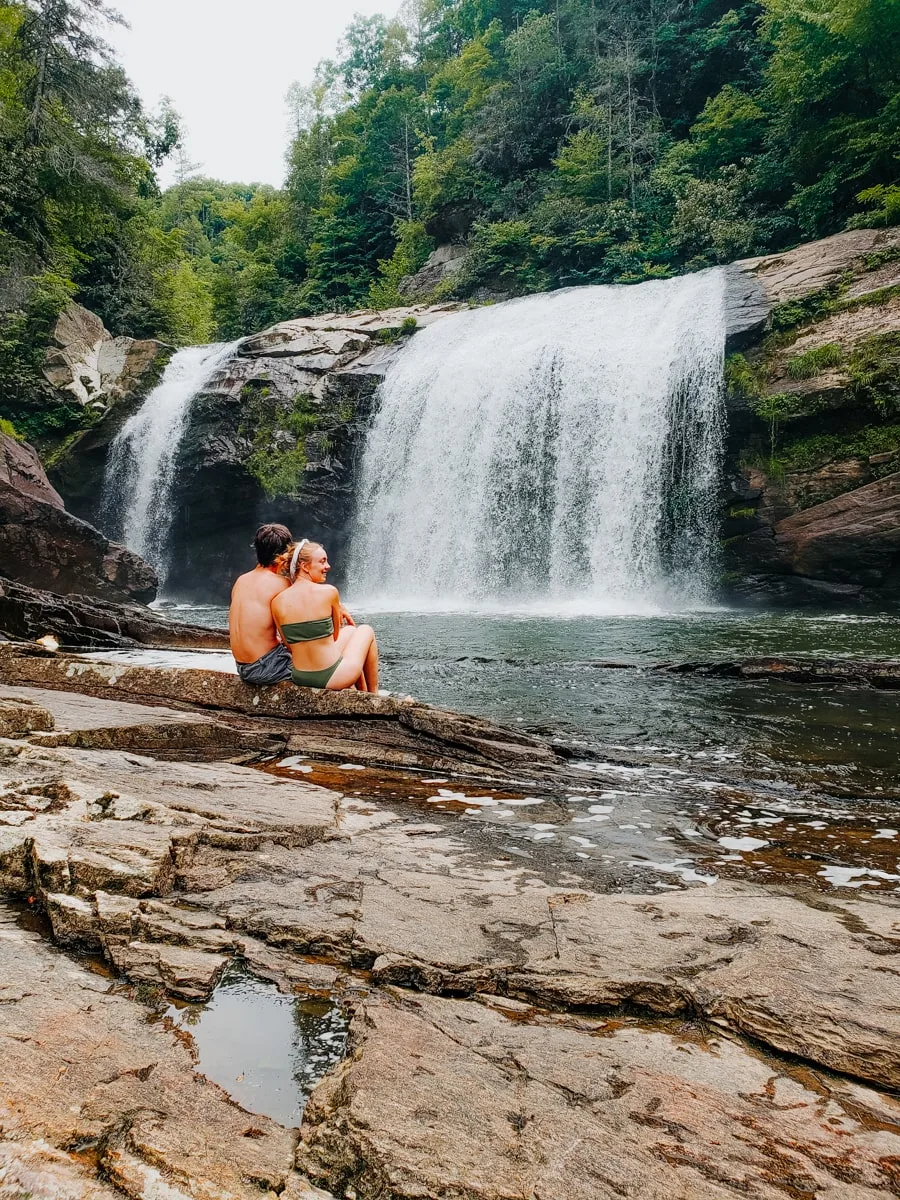 There are even more waterfalls scattered and hidden throughout East Tennessee, but these are just some of the most popular and rewarding for hikers and outdoor enthusiasts.
As always, pack out all trash you pack in and follow the Leave No Trace principles. Let's protect our outdoors and keep it wild and safe for everyone to enjoy. 🌿
Finally, we are always adding to this waterfall bucket list, so if you have one you'd like to share then please do so in the comments below.
Happy adventuring! 👣
📍 PIN THIS JOHNSON CITY WATERFALL GUIDE