Brunch in Knoxville is practically a way of life.
Being a major college town, having a rich, fascinating history, and located at the base of the renowned Appalachian Mountains, it's no surprise. After all, there are dozens of diverse and vibrant places to eat in Knoxville from breakfast/brunch joints to food trucks and more!
The Knoxville brunch scene, in particular, features a dizzying amount of great options!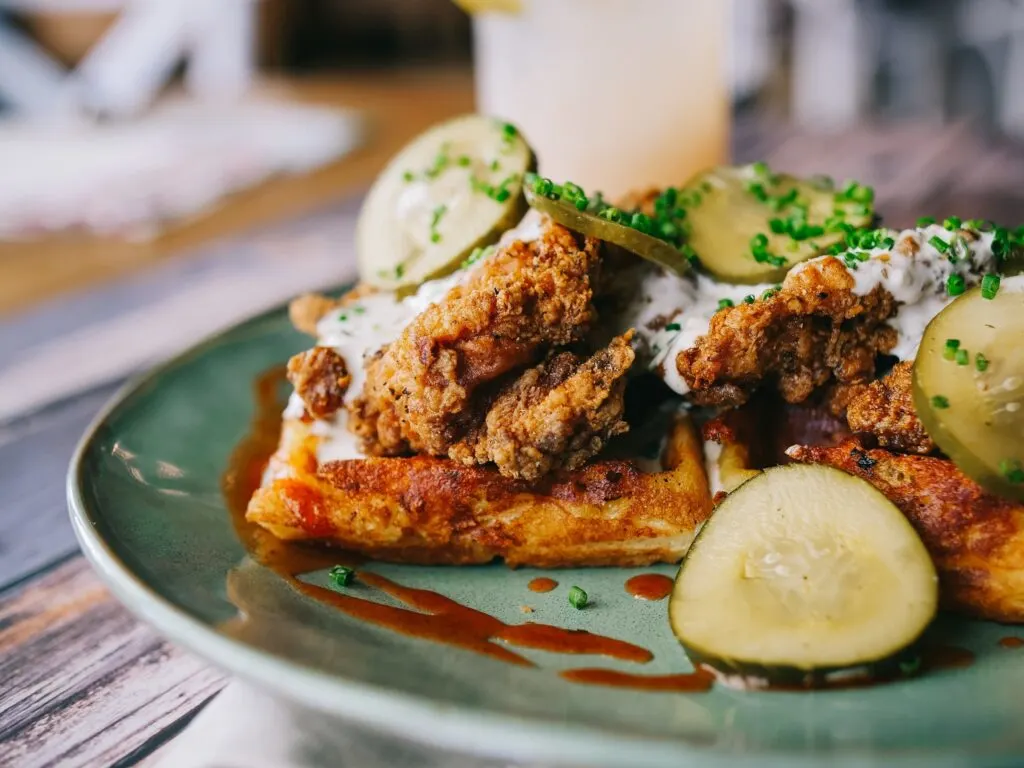 So many that it can actually be a little overwhelming trying to decide where to eat and what to order.
Luckily, we did some of the hard work for you and rounded up 10 of the best places to enjoy brunch in Knoxville.
Whether you like classic breakfast platters or prefer something unique (mac-n-cheese stuffed waffles, anyone?), Knoxville's got it.
Let's dig in!
Where to Find the Best Brunch in Knoxville
From boozy brunch centered around craft cocktails to homestyle Southern classics, these Scruffy City brunch restaurants have something for everyone!
Note: Only the brunch opening hours are displayed and those may change without our knowing. Please let us know in the comments if there has been an update.
1. The Plaid Apron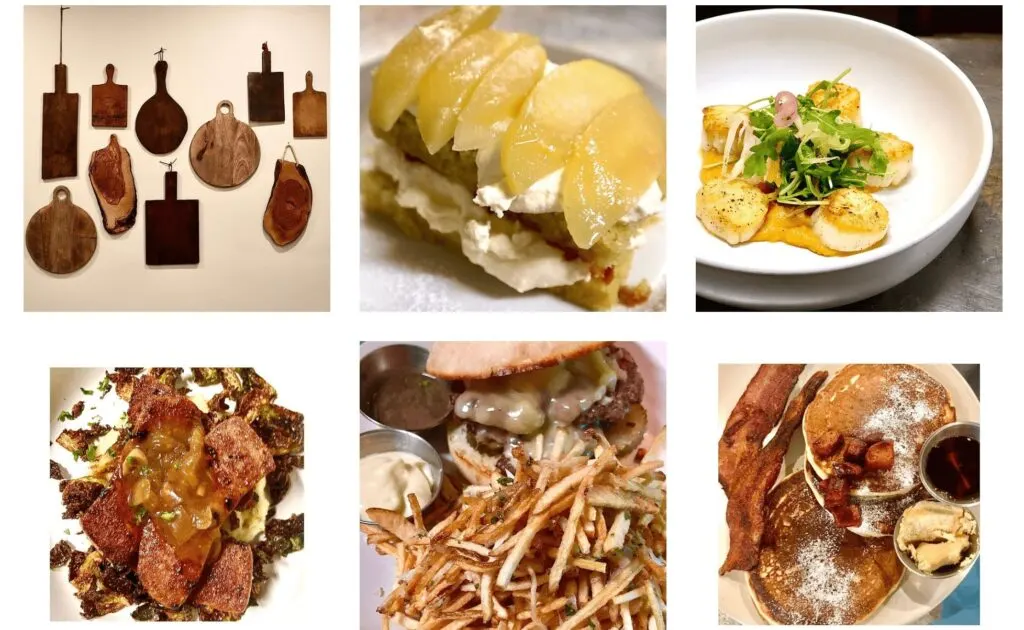 📍 1210 Kenesaw Avenue
🍴 9AM-2PM, closed Mon-Tues
The Plaid Apron embodies the term "small but mighty."
This popular fast-casual restaurant is physically on the small side and has a small menu, but delivers in a big way.
Interestingly, and unique among Knoxville brunch restaurants, there are actually two separate brunch menus: one for weekdays and one served only on weekends.
A few of the wildly popular favorites only served on weekends include house-made cinnamon rolls with cream cheese icing and pistachios, Steak and Eggs, and Olive Oil Bread, which comes with fruit, caramel, and whipped cream, are only served on the weekends.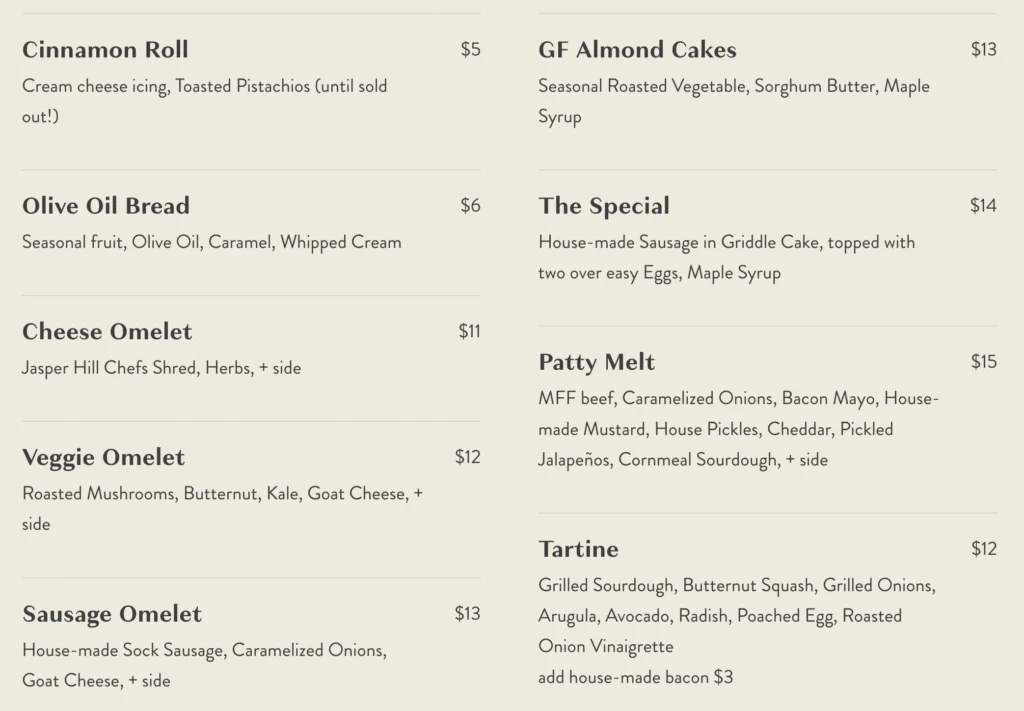 The cinnamon rolls are only available until sold out, so get there early if that's what your heart is set on!
Available every day, the GF Almond Cakes are also popular. These gluten-free pancakes are served with seasonal fruit and sorghum butter, which is a southern classic.
In addition to its delectable brunch dishes, The Plaid Apron has a reputation for top-notch service. Customers rave about the genuine Southern hospitality here!
2. Balter Beerworks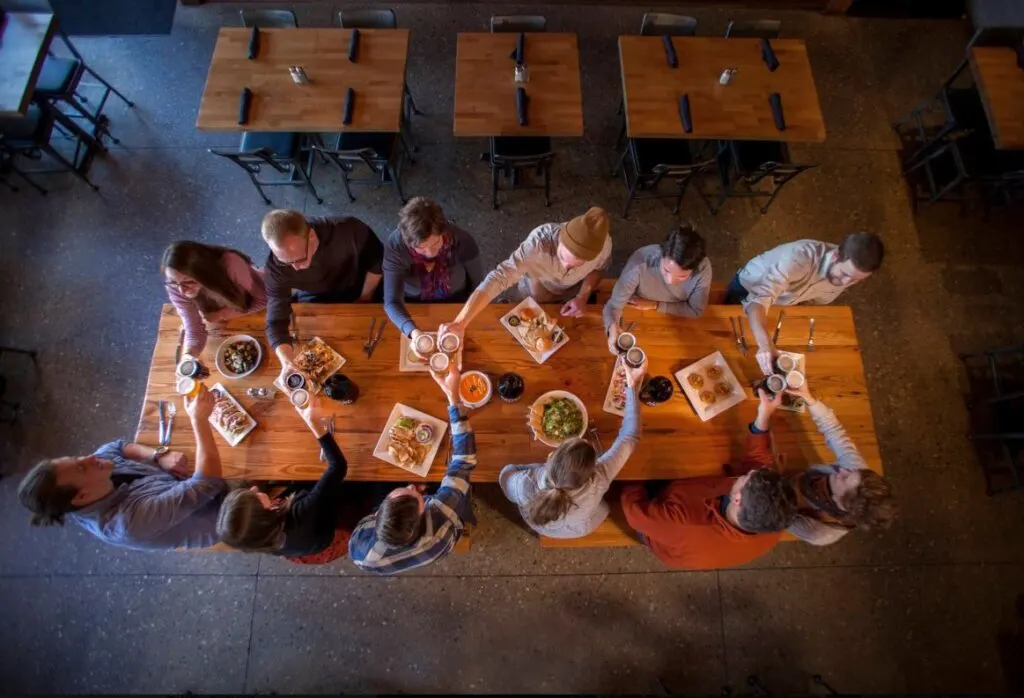 📍 100 S Broadway Street
🍴 Weekends, 10AM-3PM
People don't typically think of breweries when trying to find the best brunch in Knoxville, but trust us on this one!
Insider consider Balter Beerworks a local secret for having one of the city's most delicious weekend brunches.
The restaurant makes everything on the menu from scratch (brunch or otherwise), and it's all truly delicious.
The Fried Green Tomato Benedict and Chicken & Waffles are two of the most popular brunch items, and for good reason. Extras like house-made pimento cheese and whipped honey butter send these dishes over the top!
You'll also find classic brunch cocktails, but the ones here have pleasant surprises. For example, the Baltering Mary is made with Balter's coffee oatmeal porter beer instead of vodka and the mimosas are just $1.00!
For the beer drinkers out there, of course you can also order a brew. This is one of the best breweries in Knoxville, after all!
3. The French Market Crêperie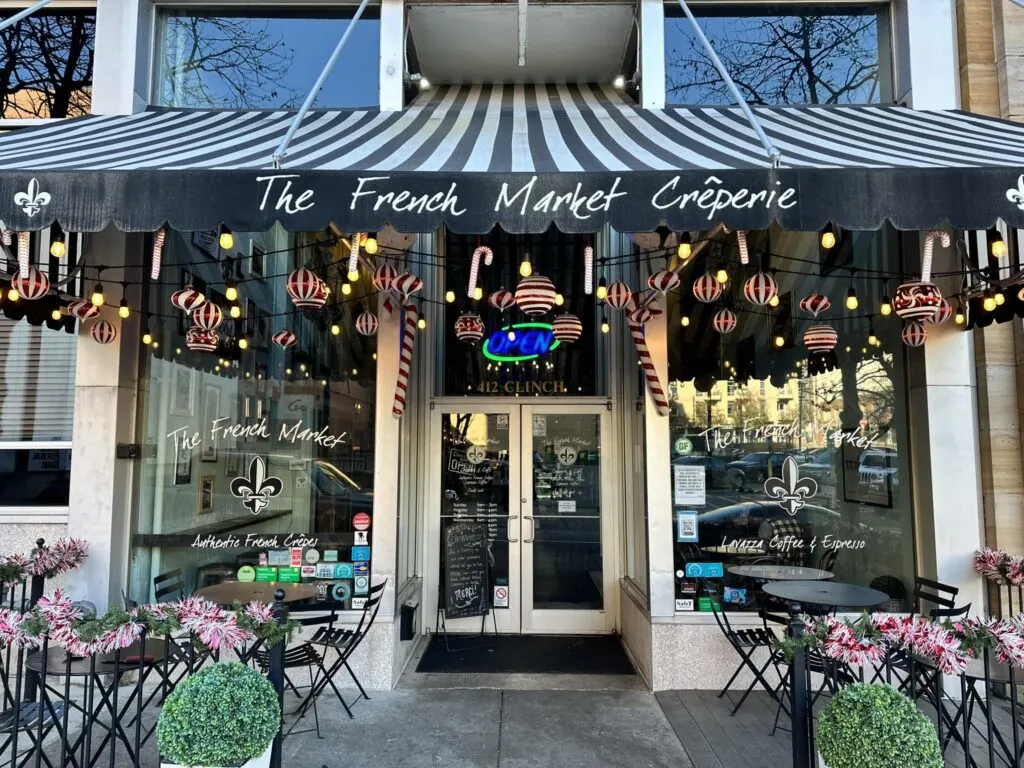 📍 412 Clinch Avenue (Downtown) / 161 Brooklawn Street (West Knox)
🍴 9AM-4PM, weekends until 3PM
If you love crepes and French pastries (and let's be honest, who doesn't?!), head to The French Market Creperie.
Easily one of the more unique options for brunch in Knoxville, The French Market serves nearly 40 varieties of crepes! That includes both savory and sweet crepes, plus eight Breakfast Crepes that all lean savory.
The smoked salmon and ham and cheese varieties are local favorites in the breakfast department, while on the sweet section of the menu, don't leave without trying the blueberries and lemon curd.
If you're a fan of French classics, get the Crepes Suzette, made with caramel and Grand Marnier.
Not in the mood for crepes? No worries, this cozy Knoxville brunch spot also has a nice selection of omelets, salads, soups, and sandwiches, served on your choice of baguette or (what else?) croissant.
On your way out, be sure to grab some freshly baked pastries. The French Market's specialties include gourmet petit fours and macarons in a rainbow of flavors.
4. The Tomato Head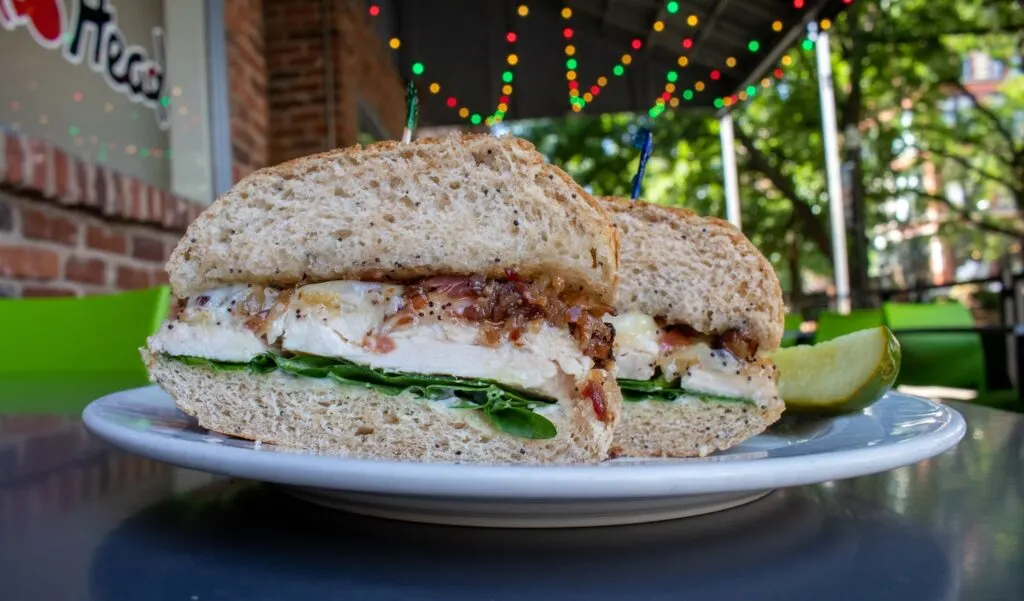 📌 12 Market Square / 7240 Kingston Pike, #172 (The Gallery)
🍴 Daily from 11AM, closed Mondays
Whether you want a breakfast classic or you're in the mood for something a bit different, The Tomato Head has some of the best brunch in Knoxville.
Breakfast sandwiches, biscuits and gravy, and a customizable waffle round out the staples.
For out-of-the-box options, try the breakfast pizza, warmed monkey bread, or five varieties of huevos rancheros, all served over house-made mole.
Art is another thing that makes The Tomato Head a fantastic Knoxville brunch option.
Plus, customers can purchase all art on the walls, and the options rotate each month!
At the beginning of the month, the restaurant also hosts a mini "gallery" opening for a new artist (separate from the art on the walls).
Keeping with that theme, there are also sometimes live music performances or poetry readings.
Even better, The Tomato Head focuses heavily on sustainability. The restaurant recycles everything possible and takes twice-weekly trips to the recycling center, plus buys green power "blocks" to offset its carbon footprint!
5. Tupelo Honey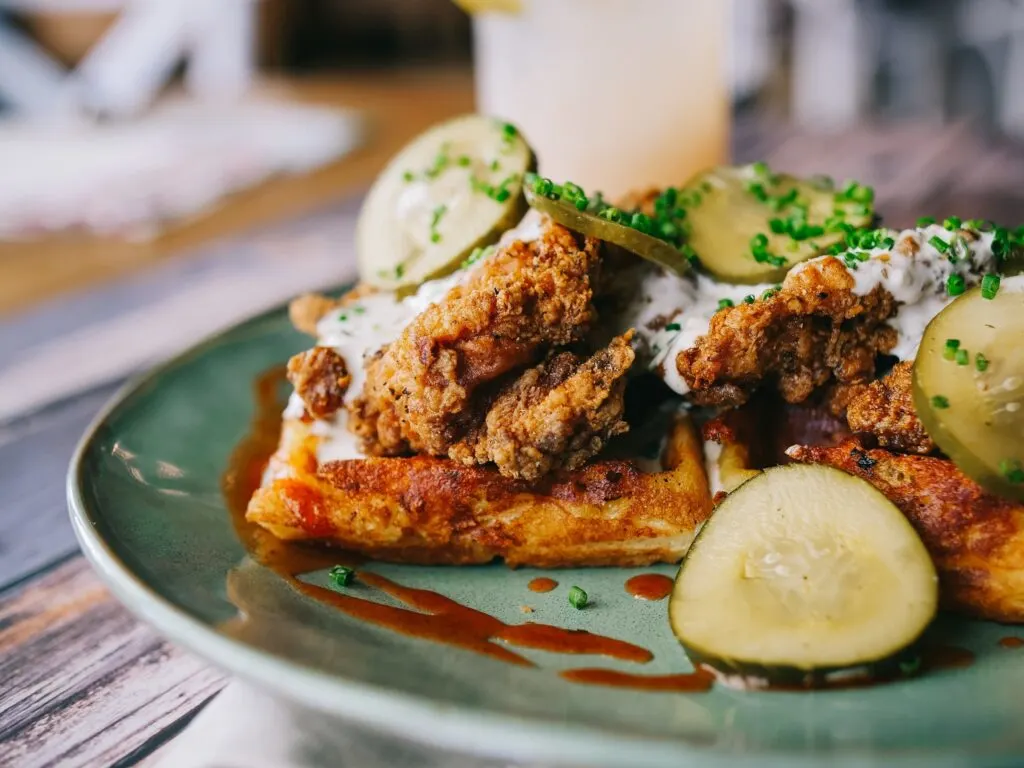 📍 1 Market Square
🍴 Brunch Sat-Sun until 4PM
The Knoxville outpost of this extremely popular chain restaurant serves elevated versions of Southern-style comfort dishes for brunch.
Staples like cathead biscuits (order the 'Biscuits for a Cause' to add a touch of philanthropy to your brunch in Knoxville!), fried chicken, and cast iron scrambles are standouts, perfectly seasoned and cooked.
Speaking of chicken, you can't go wrong with one of the Tupelo Honey famous hot fried chicken and waffle combos stuffed with mac and cheese (yes, really).
Choose from classic, country-style with gravy, Sriracha honey, or Asheville Hot with Mac n' Cheese Waffles—an ode to the restaurant's home state of North Carolina.
Note that when we say Tupelo Honey is extremely popular, we mean it. Reservations are strongly recommended on weekends, as wait times frequently exceed two hours.
6. OliBea
📍 211 S Central Street
🍴 7/8AM – 2PM, closed Mon-Tues
We recommend OliBea often to our friends who visit Knoxville—it's one of our personal favorites!
It's even listed as a "must" on our Knoxville weekend itinerary, and if you stop in, you'll understand why.
The farm-to-table restaurant is well-known for its fresh, made-from-scratch creative takes on Southern dishes. The Tennessee Benedict with spicy hollandaise and cheddar-herb biscuit "problem" with jalapeno jam are perfect examples.
OliBea's menu changes seasonally, and there are also fantastic chef's specials that change daily. The restaurant's cocktails change just as frequently, so be sure to order one to complement your meal!
There are several vegetarian options on the menu, and good alternatives to make dishes vegan or gluten-free.
Best of all, almost all ingredients are sourced from local farmers and producers.
As an added bonus, OliBea is in a part of town known as The Old City, a really cool neighborhood with an eclectic artsy vibe.
This area has several great breweries, galleries, and antique and thrift stores, all wonderful things to do in Knoxville!
7. Cafe 4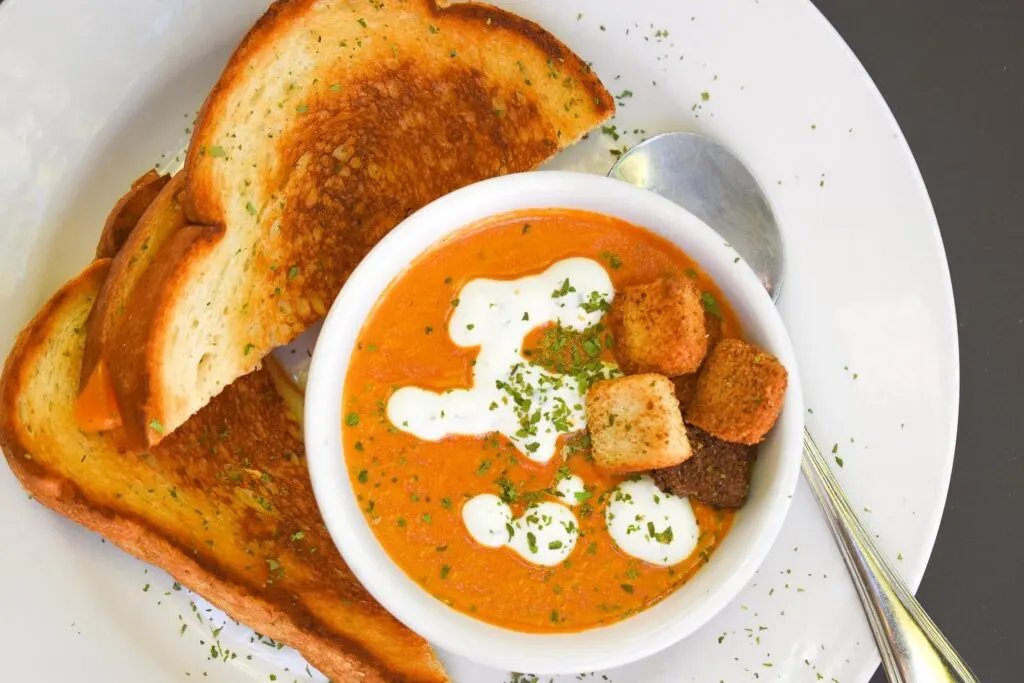 📍 4 Market Square
🍴 Weekends, 9AM-3PM
In the heart of Market Square right near Tupelo Honey, Cafe 4 is another great option for brunch in Knoxville.
The restaurant has an extensive menu featuring both southern classics (think shrimp and grits and pimento cheese dip) and contemporary surprises. The Lobster BLT Flatbread and Smoked Salmon Hash & Chive are shining examples.
You'll notice Cafe 4 has an equally extensive cocktails menu. It's especially well-known for the punchbowl cocktails, which serve up to 8!
Whether you're enjoying a full meal or just sipping on cocktails, be sure to snag a seat on the outdoor patio. It sits right on Market Square and there are often live music street performances, so you'll have a literal front row seat!
8. Ruby Sunshine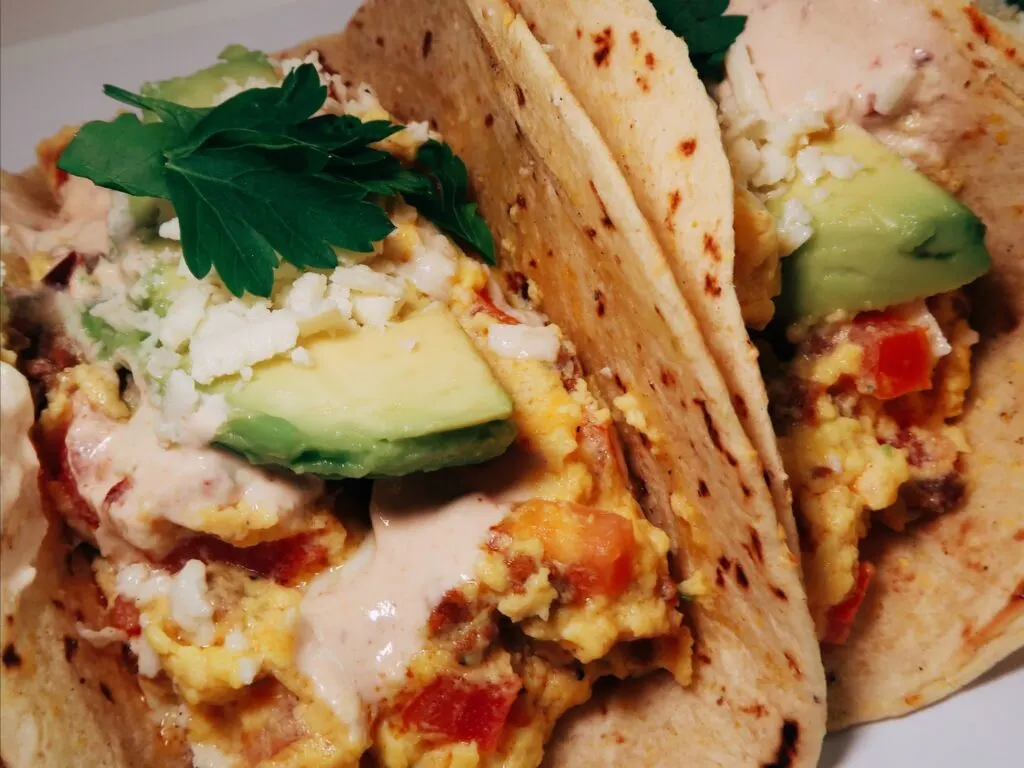 📍 37 Market Square
🍴 Daily from 7AM to 2/3PM
An extension of the renowned Ruby Slipper Cafe franchise in New Orleans, Ruby Sunshine quickly made a name for itself as one of the best brunch spots in Knoxville.
Keeping true to its NOLA roots, the restaurant is well-known for its punchy cocktails and warm hospitality.
The all-day brunch menu focuses on a variety of pancakes and "Bennies," the Ruby brand's take on eggs benedicts. And these aren't just any pancakes; the renditions on the menu at Ruby Sunshine include innovative twists like Bacon Praline and White Chocolate Bread Pudding.
Of course, you'll also find plenty of Southern classics and a sprinkling of Cajun-inspired dishes, like beignets, the Crawfish & Grits Cake, and Bayou Shrimp Benny. Best of all, everything is made from scratch, in-house.
Insider tip: On weekends, join the waitlist online before you head to brunch!
9. Scrambled Jake's Breakfast Co.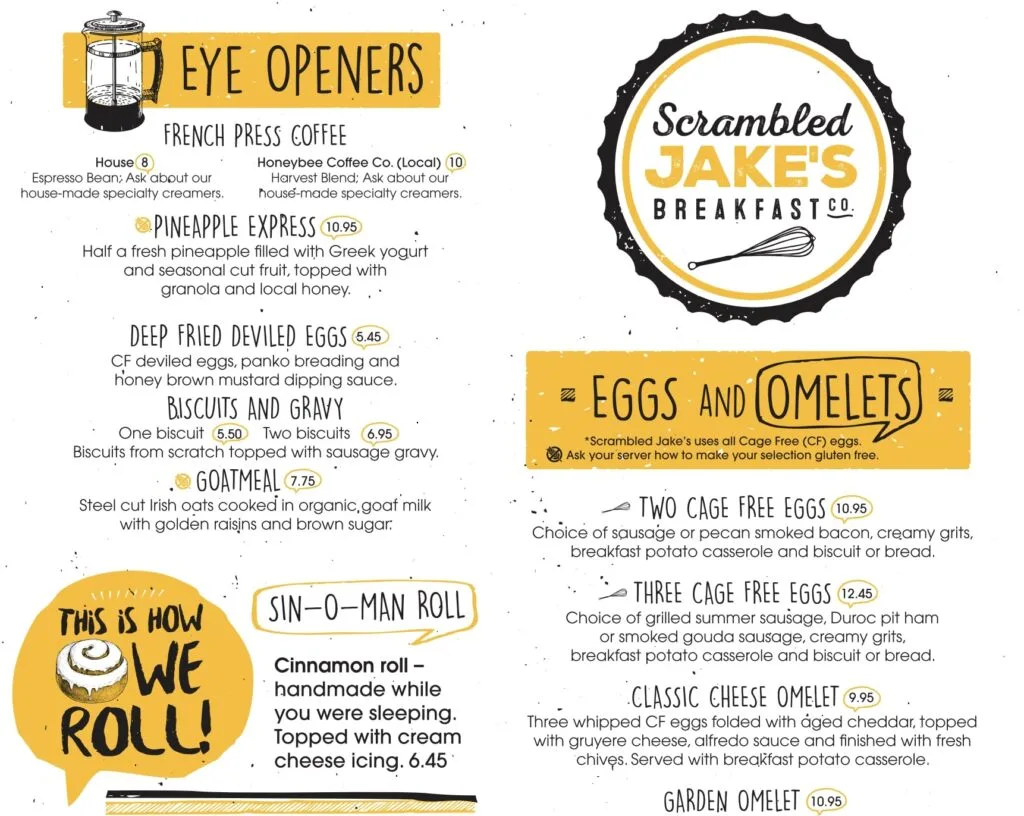 📍 7428 S Northshore Drive
🍴 Daily 7AM-2PM
Far from the hustle and bustle of downtown nestled in the quiet Rocky Hill neighborhood, Scrambled Jake's serves the type of breakfast and brunch everyone loves.
The menu has several standouts from sweet to savory, and you truly can't go wrong with anything!
Local favorites include several varieties of Eggs Benedict, Toasts (stick with the classic Avocado or branch out and try the 'Here Figgy Figgy,' with fig-infused goat cheese, honeycrisp apple, and prosciutto), and of course, scramblers.
Many locals agree that the real star is the Sin-o-Man Roll, which is handmade in-house every single morning. Although, the Pineapple Express is memorable, too: half a fresh pineapple filled with Greek yogurt, fruit, and honey.
The restaurant also features a full bar, which puts out a delicious seasonal cocktail menu. Year-round, don't miss the Mega Mary, available on weekends. The 37-ounce cocktail is practically a meal, featuring a variety of snacks and famous candied bacon.
Have other favorite breakfast or brunch spots in Knoxville we need to know about?? Drop your recommendations in the comments!