The Scruffy City is an excellent foodie destination, and one great way to experience a literal taste of it is to check out some of the best food trucks in Knoxville!
One of the best cities in the Southeast for food trucks, Knoxville has nearly 100 registered across the city.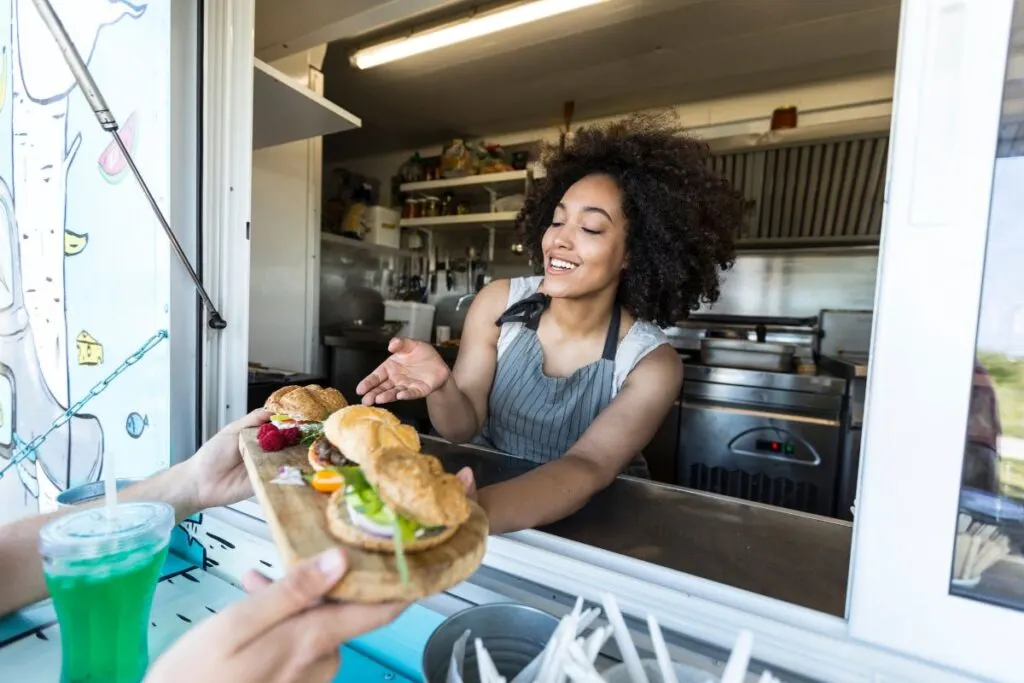 Knoxville food trucks cover a variety of cuisines from different cultures, and some have specialties like açai bowls or brunch.
In Knoxville, you can always find something that hits the spot and leaves you with a full belly.
There are so many options to choose from, so bring your appetite and let's jump in to take a closer look at some of the best food trucks in Knoxville!
The 9 Best Food Trucks in Knoxville
Many trucks make frequent appearances at Knoxville's wildly popular food truck parks, and some have brick-and-mortar locations or can be reserved for private events.
1. CJ's Tacos
🍴 Known for: Street tacos with a large variety of unique sauces
📍 Constantly changing locations; check the website for an updated calendar
One of the most popular Knoxville food trucks is CJ's Tacos — and for good reason. While taco trucks are certainly nothing new or groundbreaking, the specific way CJ's Tacos does things sets them apart from the crowd.
First, their tortillas are lightly fried, which creates a crispy bite that somehow doesn't crack or crumble. It's the perfect combination of both crispy and soft.
CJ's also sources local meats and fresh (not frozen!) vegetables for a level of freshness that you can truly taste.
They also put their own unique spin on the traditional taco preparations that we all know and love. CJ's isn't afraid to push the boundaries and serve tacos that cross into other food styles. Think Asian fusion, buffalo chicken, and Korean BBQ.
To help make sure Knoxville residents get their taco fix, CJ's operates two food trucks. This allows them to do pop-up service across the city at places like the UT campus or city parks, plus handle a decent amount of private and corporate events.
2. Forks on the Road
🍴 Known for: Handheld classics like burgers and brats
📍 Frequently changes locations; check their Facebook page for updated info
Forks on the Road keeps things simple and delivers a fantastic product.
They focus on sliders, burgers, brats, grilled cheese, and a variety of other classic sandwiches. There's even a delicious black bean burger for vegetarians or those who simply love veggies!
People also love the classic homestyle sides, including Forks on the Road's signature freshly-cut sweet potato fries, baked beans, and mac and cheese.
One of the specific things that makes this one of the best food trucks in Knoxville is its mission to create high-quality, convenient-to-eat dishes at an affordable price point.
You won't be disappointed Whether you order traditional burger sliders, a prosciutto grilled cheese, or a brat from Forks on the Road, you won't be disappointed!
3. Kazoku Hibachi Express
🍴 Known for: Fast Hibachi-style Japanese dishes
📍 Constantly rotates locations; check the website for the schedule
Everyone loves the spectacle of traditional hibachi restaurants, with food being flung into the air and quick-fired with flair. Kazoku Hibachi Express brings a little taste of that to Knoxville's streets, with flavorful Japanese dishes served fast.
No matter what you order, whether it's Yakisoba noodles or a combo plate, you'll get a heavy plate of freshly made hibachi food featuring fried rice, fresh meats of your choosing, and vegetables cooked to perfection on the grill.
The food truck also has some killer dumplings and spring rolls to accompany its hibachi dishes, so come extra hungry!
Kazoku means "family" in Japanese, and you'll be treated like part of the family when you visit (starting with that loaded plate!). They really put their heart and soul into every dish, not to mention a bit of hibachi flair!
4. Oakwood BBQ
🍴 Known for: BBQ, mac & cheese
📍 Frequently changes locations; check their Facebook page for updated info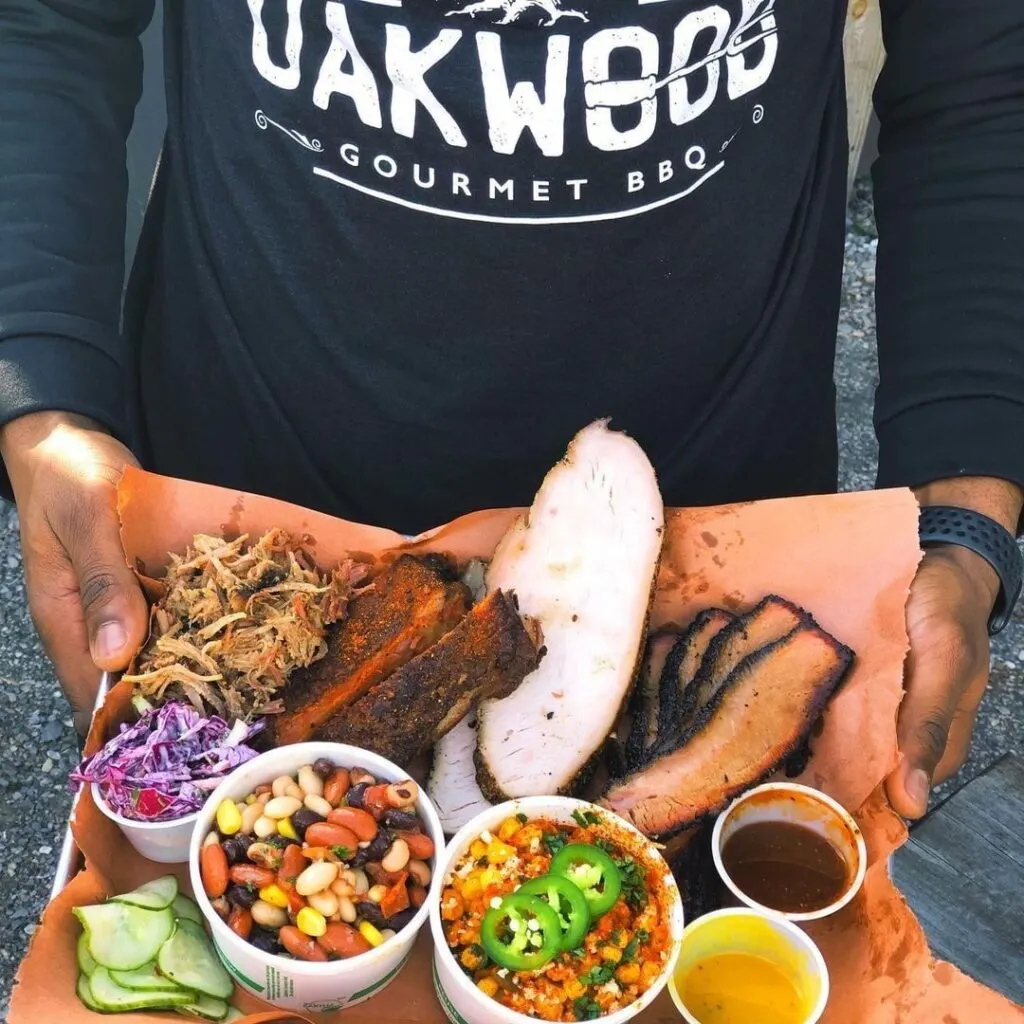 You can't even mention Southern food without discussing BBQ.
A regular at the Southside Garage Food Truck Park, Oakwood BBQ has become a bit of a local legend when it comes to BBQ food trucks in Knoxville.
Oakwood features a savory menu centered around Texas-style beef. Specifically what makes it ones of the best food trucks in Knoxville is the delectable beef brisket, which slow cooks for a cool 14 hours and comes out of the smoker with a perfect thick crust and plenty of juice.
Another fan favorite is Oakwood's Meaty Mac, which entails hearty smoked mac and cheese topped with plenty of cheese, sauce, shredded meat, and other garnishes.
They also do a fantastic smoked turkey breast, plus spare ribs, pulled pork, and all of the classic sides you'd expect from a BBQ joint. That includes some surprising twists like loaded BBQ fries, a BBQ quesadilla, and a loaded baked potato salad.
Occasionally, you'll also find seasonal specials like smoked buffalo chicken dip or build-your-own BBQ nachos.
5. Penne For Your Thoughts
🍴 Known for: Elevated Italian street food
📍 University of Tennessee campus – Hess Hall 11AM-2PM Wednesdays and Science and Engineering Research Facility (SERF) 11AM-2PM Thursdays
Most people would probably say that Italian street food is pretty much limited to pizza, calzones, and coffee.
But Penne For Your Thoughts pushes the envelope and delivers a surprisingly robust mobile menu including pasta, salads, and sandwiches.
The creative dishes are all made from scratch, made to order, and are endlessly customizable!
Everything Penne For Your Thoughts offers will change your perceptions about Italian street food.
The Mac Daddy is a twist on mac and cheese featuring alfredo sauce, Italian sausage, bruschetta, and extra cheese for good measure. Pastalavista, Baby! is essentially a pizza-pasta mashup in a bowl, and the Mind Grinder is a quintessential Italian sub with all the fixin's.
Even if you're not hungry enough for a full meal, it's worth seeking this Knoxville food truck out for the garlic-parmesan waffle fries.
6. Kindberry Acai
🍴 Known for: Fresh açai bowls and smoothies
📍 Rotates locations 2-3 days a week; check their Facebook page or website for the schedule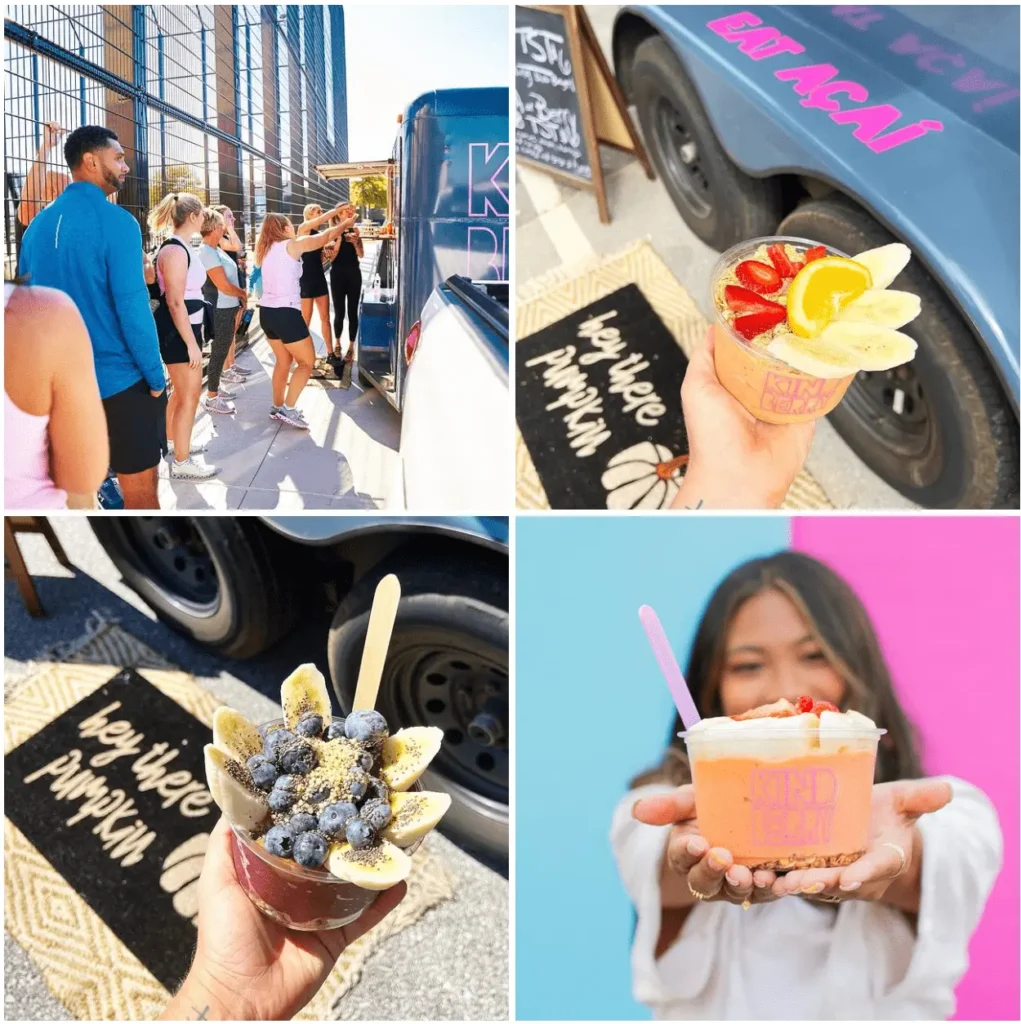 Those who want to keep things a bit lighter or healthier will love Kindberry Acai.
Formerly known as Island Girl Acai, this "traveling acai cafe" keeps it simple, fresh, and healthy.
The entire menu is also completely gluten-free, and there are several vegan/beegan-friendly (they do use honey) options.
Kindberry offers several variations of acai bowls and smoothies, which are all made with fresh, organic ingredients like berries, honey, and granola.
The truck also has a few organic coffee creations, such as its keto-friendly bullet coffee with MCT oil and grass-fed butter.
7. EnjoyLatinFood
🍴 Known for: Authentic, uncommon-in-the-South Latin American dishes
📍 Frequently changes location; check the Facebook page for updated schedule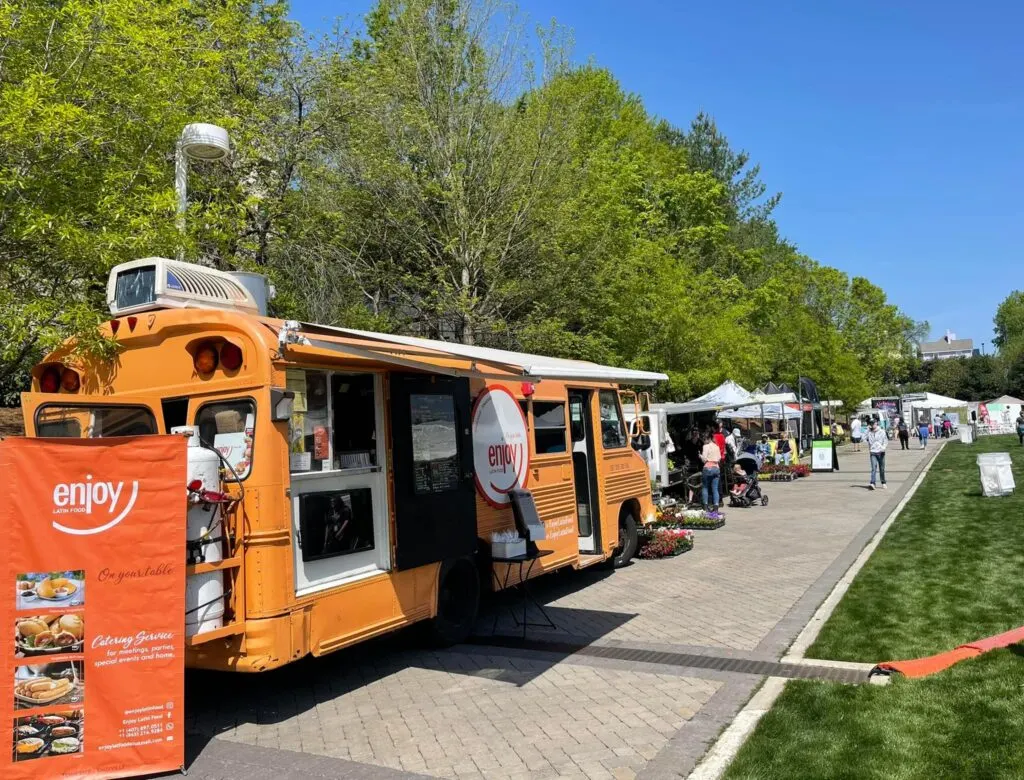 If authentic Latin American food is on your mind, EnjoyLatinFood has you covered. The food truck features a fantastic marriage of foods from different Latin countries, with a base in Venezuelan and Bolivian cuisine.
Many people think of tacos and burritos when they hear "Latin food," but there's so much more! EnjoyLatinFood brings some of Latin America's lesser-known dishes right to Knoxville!
Try a Venezuelan arepa, a pupusa from El Salvador, a Bolivian-style empanada, or a Mexican burrito. Yum!
They also offer several popular sides, like fried plantains, rice, and beans. The empanada sampler is a tasty way to try the cornmeal-based Venezuelan and flour-based Bolivian styles side-by-side.
8. The Sugar Queen
🍴 Known for: Scratch-made doughnuts in both classic and innovative flavors
📍 Regular spot at Dollywood; keep your eyes on their social media for other locations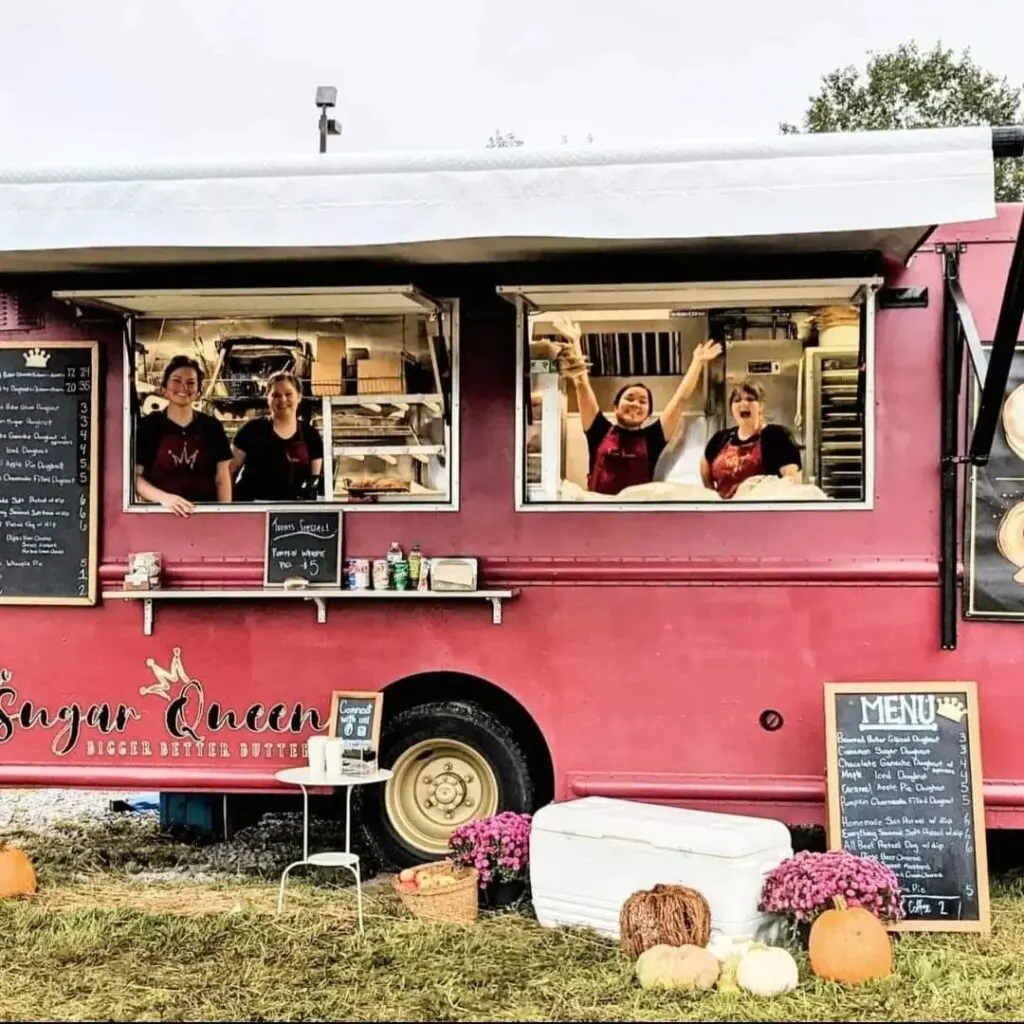 Satisfy your sweet tooth with a visit to The Sugar Queen, one of the best food trucks in Knoxville! It offers a fantastic variety of sweet treats and baked goods, such as, of course, doughnuts.
You'll find six different varieties of homemade doughnuts at the truck each week, out of the 20 total available. There's always something new to try! Check out The Sugar Queen's social media channels to see what's available.
Need more sweets in your life? Head to The Sugar Queen has another side of the business, The Creamery, offering nearly 30 flavors of ice cream, sundaes, pretzels, and shakes. You can also custom order cakes and other goodies for advance pickup.
9. Knox Dough
🍴 Known for: Edible cookie dough and rolled ice cream
📍 10605 Kingston Pike, Knoxville, TN 37922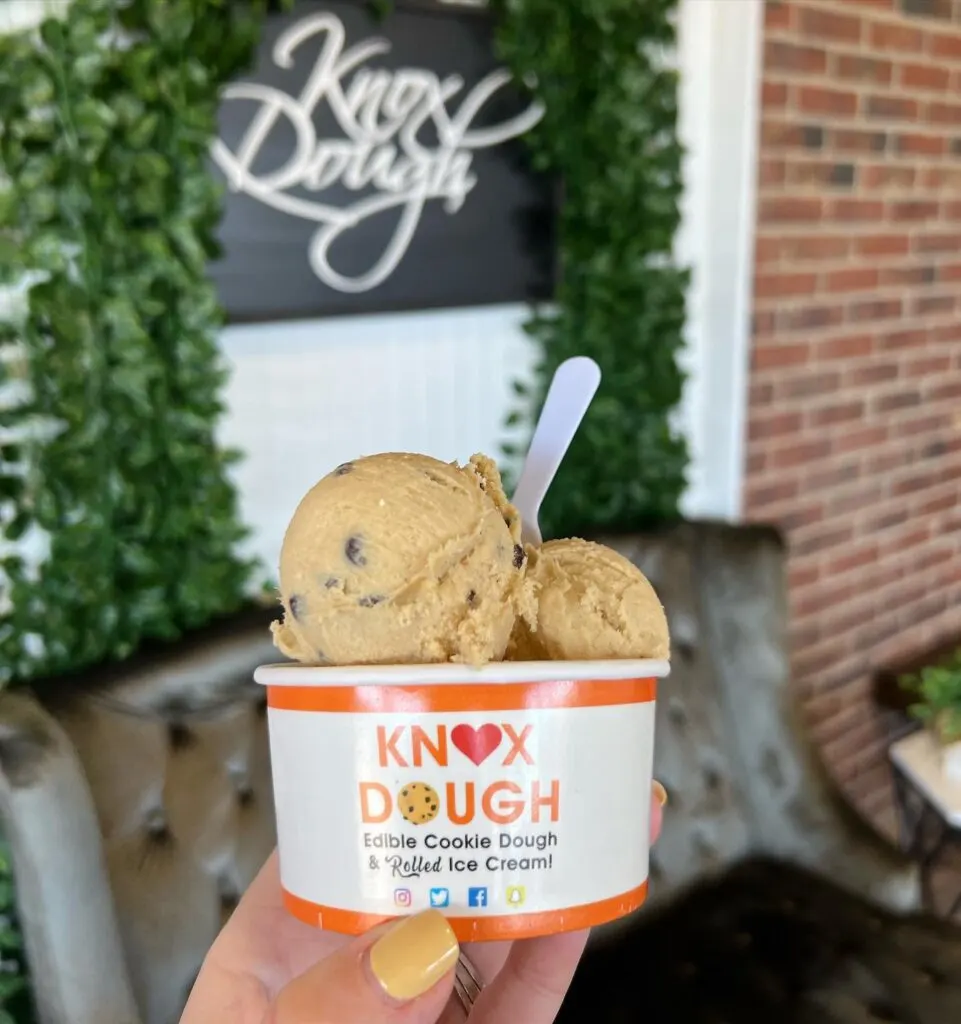 Who doesn't love eating a little (or a lot) of cookie dough? Knox Dough specializes in delicious, safe-to-eat cookie dough.
They spent quite awhile creating a recipe that doesn't use eggs and has heat-treated flour, making it safe to consume. All that hard work paid off. Today, Knox Dough is not only one of the best food trucks in Knoxville, but also a brick-and-mortar store.
They rotate the food truck's flavors among the more than 30 available, bringing plenty of variety so customers can always try something new.
If the cookie dough isn't enough, Knox Dough also offers rolled ice cream, shaved ice, and milkshakes!
Knoxville Food Truck Parks
You can always find at least a few Knoxville food trucks on the streets around town, but there are also a few food truck parks to check out.
Most have a rotating schedule of trucks, but some have established regulars.
For anyone unfamiliar, a food truck park is exactly what it sounds like!
It's essentially an outdoor food court.
You can sit down, have a beer, and enjoy your meal in a friendly, vibrant (and usually dog-friendly!) atmosphere. Several of the parks also host fun events, like live music.
Most Knoxville food trucks visit different parks throughout the week, so there's a good chance you'll be find your favorites somewhere!
This also means you get a slightly different rotation even if you go frequently, making a fun, fresh date night!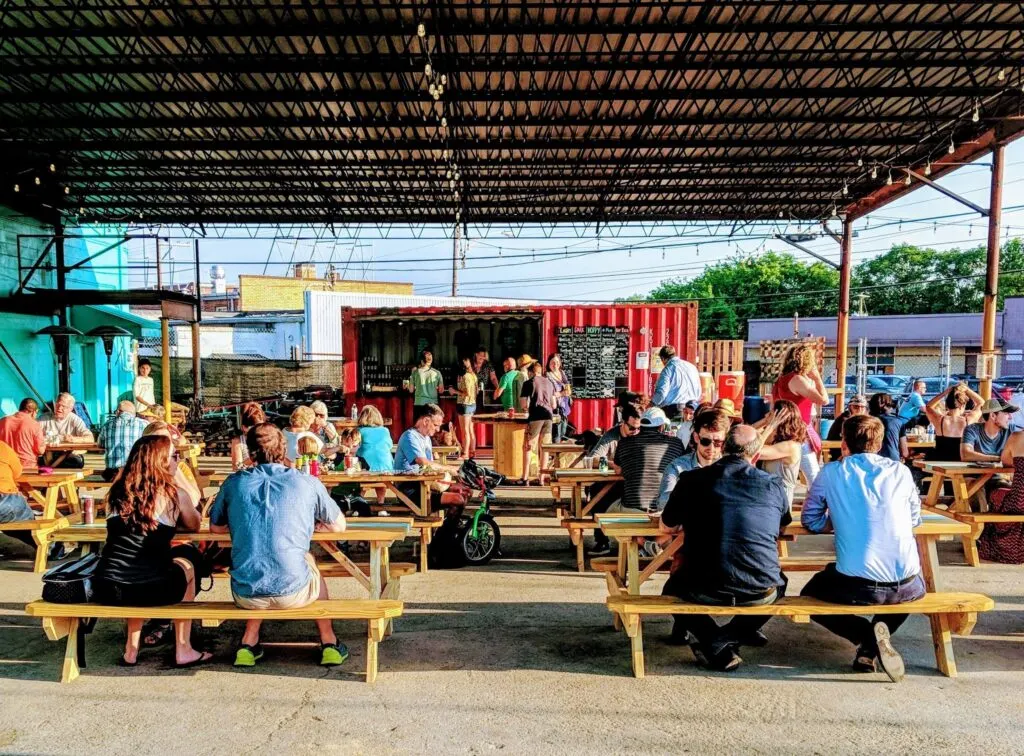 Central Filling Station
One of Knoxville's most popular food truck parks is Central Filling Station. There are usually 3-5 trucks here at a time, and there's a rotation of nearly 50!
Check the online calendar to see when your favorite food trucks will be there, or wing it and try something new!
The park has an onsite bar that serves a rotating selection of craft beers, seltzers, ciders, wine, and non-alcoholic drinks. Grab a meal from a truck (or try a little of everything!), then sit down and enjoy your own custom beverage pairing.
As a bonus, Central Filling Station is located near some of the best breweries in Knoxville. Make a whole outing of it and brewery-hope after your meal!
SouthSide Garage
SouthSide Garage is another fantastic food truck park in Knoxville. It has a full bar, as well as a rotating schedule of food trucks.
This park also hosts the South Knox Bocce League, for those who want to get together and play bocce.
A fun concept at Southside Garage is "food truck mashup," where different food trucks come together and collaborate on special dishes that are only available for one day! The regular food trucks and menus are still available alongside the specials, so you can go with your old standbys also.
The patio here is especially family-friendly, with lots of picnic tables and yard games. You can also rent the entire space for private events.
The Cave Food Truck Park
Hosted at Hey Bear Cafe, The Cave features another impressive rotation of Knoxville food trucks and events. The schedule has a good mix of regular trucks, like Gus & Son Greek Grill and Dragon, as well as others who pop in intermittently. You'll find 2-3 trucks at any given time.
The event schedule at The Cave also changes frequently. You'll find a wide variety of activities, events, pop-up vendors, and live music, all of which are great for the whole family.
Hey Bear Cafe itself has a great selection of boba teas. There's a playground near the food trucks setup, plus a covered pavilion and even heaters.
Creekside Food Truck Park
Lastly, Creekside Food Truck Park has a little bit of everything, for everyone.
There's a full bar and big screen TVs for adults, a kiddo play area, and frequent live music and other events.
It's open seven days a week from 11AM-9PM, and there's almost always something fun going on!
There's even a permanent restaurant onsite, The Back Alley, open daily. The food truck lineup ranges from 1-5 trucks, but The Back Alley is ideal when you just want a classic, like a juicy burger.
Creekside also hosts fun (and wildly popular!) community events like trivia nights, karaoke under the stars, and moms' night off.
Do you have any favorite food trucks in Knoxville to add to this list??
Let us know down below! 🚌 🌮