If you're looking for a great place to grab a pint, Knoxville is the place to be. With dozens of breweries in this college town, there's sure to be one that suits your taste.
Whether you're a fan of hoppy IPAs, experimental sours, traditional lagers, or smooth stouts, Knoxville has something for you. So grab your friends and head out for a night of beer-tasting fun!
Here are our picks for the 10 best breweries in Knoxville in no particular order. Cheers!
The Best Breweries in Knoxville, Tennessee
1. Crafty Bastard Brewery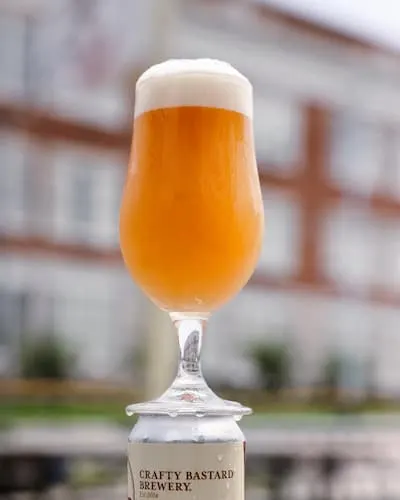 Downtown Hours: Mon: 5-10pm, Tues-Thur: 4-10pm, Fri: 4-12am, Sat: 2-11pm, Sun: 2-9pm
West Hours: Mon: closed, Tues-Thur: 4-10pm, Fri: 4-11pm, Sat: 2-10pm, Sun: 1-7pm
Locations: 6 Emory Place (Downtown) and 9937 Kingston Pike (West)
Food: Food Trucks
Pet Friendly: Yes
Crafty Bastard Brewery was founded in 2015 by Aaron McClain and is known for quirky, innovative, well-crafted brews.
Crafty Bastard appears on just about every "best breweries" list, and once you have a drink here, you'll understand why. The service is excellent and the atmosphere is fun, but it's the beer that will keep you there.
What to Drink: Crafty Bastard releases something new and unique every week and they have a couple of dozen different brews on tap and ready to go at any time, so no matter what your beer taste, you'll find something you like here.
If you're in the mood for something experimental and truly southern, try the Picklebier Sour, that's not unlike drinking a hoppy dill pickle! 🥒
They have also mastered a good spicy beer, so try any of the flavors with pepper, like the popular Mayan Chocolate Chili Porter.
As mentioned, there are rotating Knoxville food trucks. Check their Facebook to stay up to date!
2. Last Days of Autumn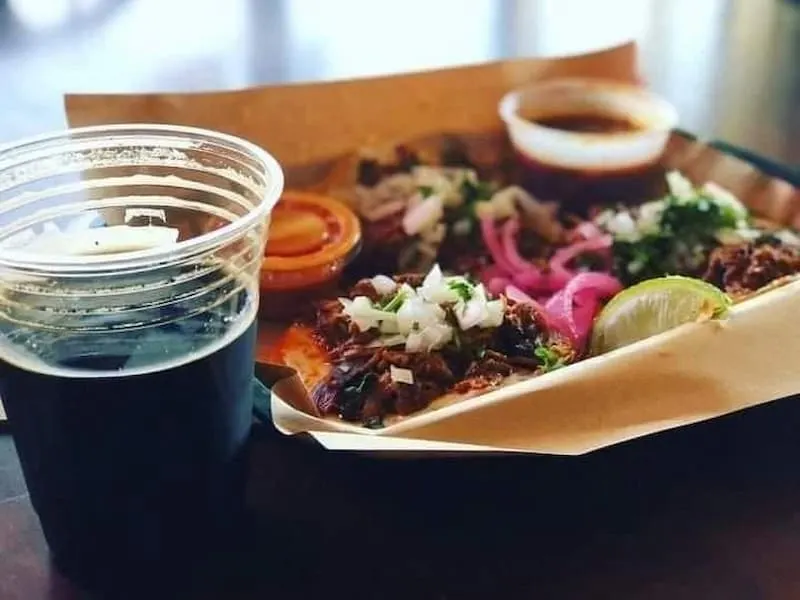 Hours: Mon: closed, Tues-Thur: 4-10pm, Fri: 4-11pm, Sat: 1-11pm, Sun: 1-8pm
Location: 808 E Magnolia Avenue
Food: Yes
Pet Friendly: Yes
Last Days of Autumn is the brainchild of Mike Frede who has been brewing since he was given a home brewing kit as a Christmas gift in 1994 and he's been hooked ever since.
Besides fantastic beer, they have a full kitchen, with amazing pub-grub and food specials like Taco Tuesday (try the Birria Tacos!) and a Shrimp Boil every Friday at 4pm. Plus, there's always live music starting at 7pm.
Fan favorites include Pardon My Garden, their flagship IPA; 9 Pound Pete, a creme brûlée milk stout with flavors of vanilla, caramel, and coffee; and OG Biff's, an American IPA with flavors of citrus, tangerine, and pine.
Also Read: Hungry? Here Are The 15 Best Restaurants in Knoxville
3. Printshop Beer Co.
Hours: Mon: closed, Tues-Thur: 4-9pm, Fri-Sat: 12-11pm, Sun: 12-8pm
Location: 1532 Island Home Avenue
Food: Yes
Pet Friendly: Yes
As a relative newcomer to the Knoxville craft brewery scene, Printshop Beer Co. in South Knox quickly earned a reputation for great American-style craft beer and a cool, low-key atmosphere, with friendly bartenders and views overlooking the Tennessee River. The name of the brewery is a nod to its location — literally housed in a former print shop.
As is the case with most of the craft breweries on our list, the menu is constantly changing, so you never know what you're going to find. That said, there's always a good mix, with something for everyone. A fan favorite is their flagship Southie Cream Ale.
Or, if you're a fan of sours, try the Imperial Pineapple Upside Down Cake, a fruited sour with tons of pineapple, hints of cherry and caramelized sugar, and enough acidity to cut through all that sweetness at the end.
4. Next Level Brewing Company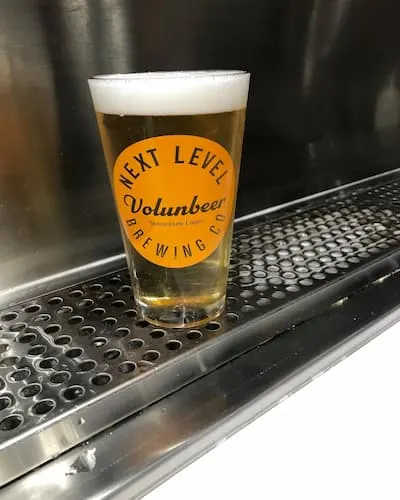 Hours: Mon-Thur: 4-10pm, Fri: 2-11pm, Sat: 11am-11pm, Sun: 1-8pm
Location: 700 North Broadway
Food: Food trucks
Pet Friendly: Yes
Founded by Nathaniel Sears, Andrew Armstrong, and Rick Cox in 2019, Next Level Brewing Company near the Old City has become one of Knoxville's most popular breweries for good reason — they make great beer.
Next Level offers a wide variety of brews, from blondes and lagers to barrel-aged stouts to IPAs and fruit sours. If you like hard seltzer, they have those, too. Plus, they have live music on the patio, which just makes great beer taste even better.
If you like hoppy beers, you'll love the Clinched Fist, Next Level's American IPA that packs a punch with Simcoe, Chinook and Mosaic hops. Or, if you're in the mood for something a little different, try Collusion, the Russian Imperial Stout.
5. Pretentious Beer Company
Hours: Mon-Wed: 3-10pm, Thu: 3-11pm, Fri: 3pm-12am, Sat: 12pm-12am, Sun: 12-10pm
Location: 131 S. Central Street
Food: Occasionally
Pet Friendly: Yes
Pretentious Beer Company is the beer side of Pretentious Glass Co. They offer a carefully curated selection of house-made craft beer served in hand-made glassware (that's made on the glass side of the building).
While the focus is on the eccentric beer, Matthew Cummings (owner/brewer) and Will Brady (brewer) have created a space where customers can enjoy themselves, hosting concerts and other fun events throughout the year.
What to Drink: The selection changes frequently, but you can always find a good mix of IPAs, stouts, sours, and even frozen beer smoothies. Try their flagship hazy and juicy IPA, Diamond Grillz, brewed with cryopop and Citra hops with flavors of coconut, freshly cut pineapple, grapefruit, ripe melon, and lychee. Tastes like summer! Another favorite is Chug Life, a clean and crisp German-style pilsner.
6. Schulz Bräu Brewing Company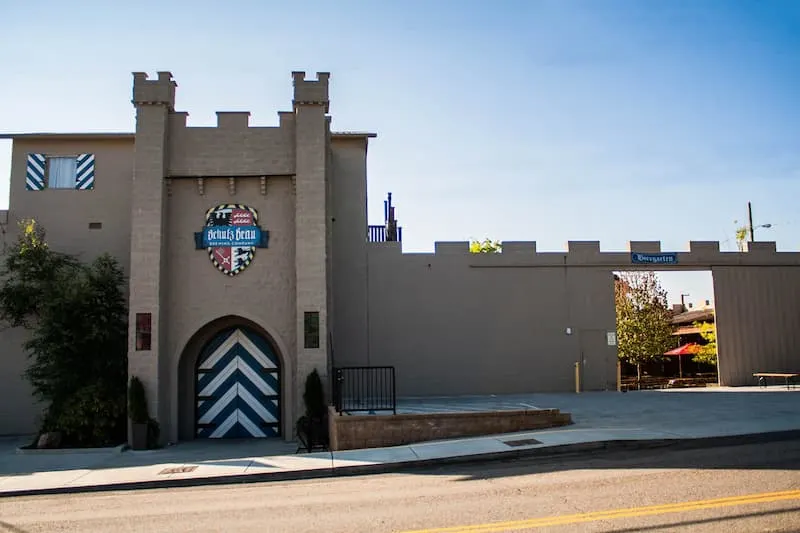 Hours: Mon: closed, Tues-Thur: 3pm-12am, Fri: 12pm-1am, Sat-Sun: 12pm-12am
Location: 126 Bernard Avenue
Food: Yes
Pet Friendly: Yes
Schulz Bräu Brewing Company is a German family-owned brewery that specializes in authentic German lagers and ales.
In fact, in order to provide customers with an authentic experience, they adhere to the Reinheitsgebot (purity law) from 1516 and only use malt, water, hops, and yeast to produce their beer.
Schulz Bräu is one of the largest German Beer Gardens in the U.S. at 6,000 square feet with another 3,500 square foot taproom that overlooks the brewery production area. This is obviously THE place to go for Oktoberfest in Knoxville, but they also have live music and other fun events throughout the year.
As a bonus, you can also get scrumptious authentic German food (like bratwurst, schnitzel, and strudel) to go with your beer!
What to Drink: With over 30 taps throughout the Taproom and Biergarten, you'll have no trouble finding something to suit your taste. Favorites include the Schulz Bräu Hefeweizen with notes of banana and clove, Schulz Bräu Munich Dunkel that has hints of caramel, nuts, and candied fruit, and Schulz Bräu Doppelbock, another sweet and balanced Bavarian specialty with a taste of chocolate, plum, and toast.
7. Xül Beer Co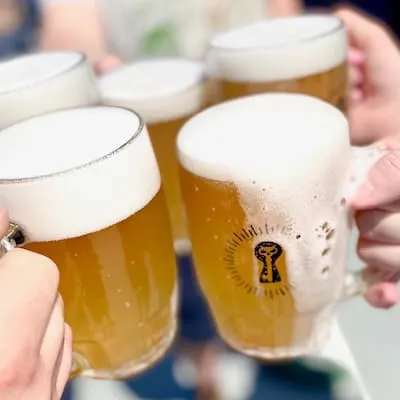 Hours: Mon-Thur: 4-10pm, Fri-Sat: 12pm-11pm, Sun: 12-8pm
Location: 213 E 5th Avenue
Food: Yes, plus food trucks
Pet Friendly: No
Xül Beer Co's taproom was built in a former 1960s Volkswagen auto showroom. Fans of mid-century modern architecture and design will appreciate the 180-degree glass facade and true-to-history decor.
This brewery has a plush, sexy, eclectic vibe that's not as laid back as some of the others on our list. But, more importantly, it's their beer that landed them here.
What to Drink: You can get anything you want here, but decadent pastry stouts are kind of their thing. So if you want to try what they do best, check out whichever one they have on tap when you visit — you won't go wrong. They also always have a great selection of creative sours and fun smoothies.
8. Abridged Beer Company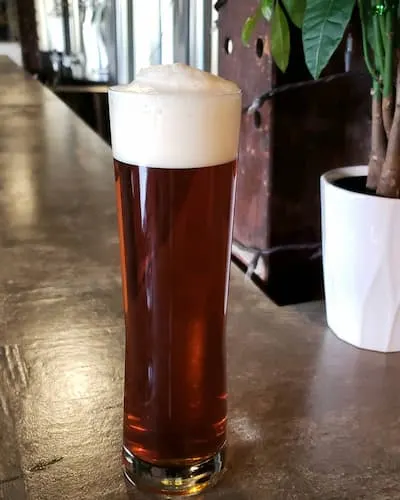 Hours: Mon: Closed, Tue-Thur: 4-10pm, Fri-Sat: 12pm-10pm, Sun: Closed
Location: 100 Lockett Road
Food: Yes
Pet Friendly: Yes
Abridged Beer Company is a brewpub that was built on sharing a love of beer, food, and spending time with friends and family. How does it get any better than that? The brewery is housed in an old 1950s-era auto garage, creating a timeless backdrop for this friendly neighborhood hangout spot.
Abridged serves traditional American-style brews, Euro ales, ciders, and kombucha alongside yummy pub-grub, like juicy burgers that you'll need both hands to eat. Come hungry and bring your friends!
What to Drink: If you're looking for something pale, the Abridged Version Light Lager is one of the crispiest all-barley light lagers around. Or, check out the fan favorite Toppy Rock IPA, available on tap or in cans to go.
9. Fanatic Brewing Company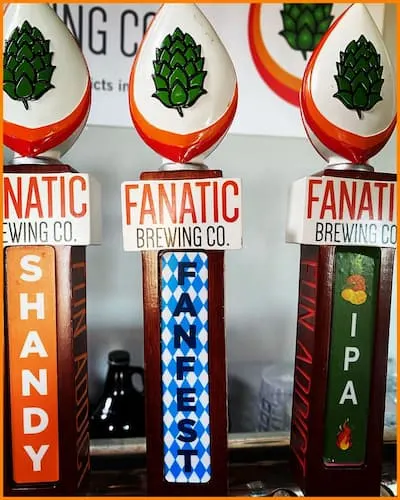 Hours: Mon: 11:30am-5:15pm, Tue-Thur: 11:30am-8pm, Fri: 11:30am-11pm, Sat: 2-11pm, Sun: 2-8pm
Location: 2735 N Central Street
Food: Yes
Pet Friendly: Yes
Marty Velas is a world-class brewer who has been playing with flavors for over 40 years. He fell in love with brewing after a trip to Czechoslovakia and now runs Fanatic Brewing Company. He opened the brewery with a mission to create the most "Drinkable Beer."
You'll have to visit Fanatic Brewing and decide for yourself if he's accomplished his goal! If you're hungry, there's a limited menu of simple bar food like burgers, hot dogs, and chips.
What do Drink: Anything, really. You can tell this brewmaster knows his stuff. But the Pineapple Wheat and Tennessee Blonde Ale are both great examples of Marty's "drinkable beer."
Tennessee Red won a gold medal in the Tennessee Championship of Beer in 2016. Or, if you're looking for something a little different, try Lost Love, a chocolate-covered strawberry-infused doppelbock.
10. Alliance Brewing Co.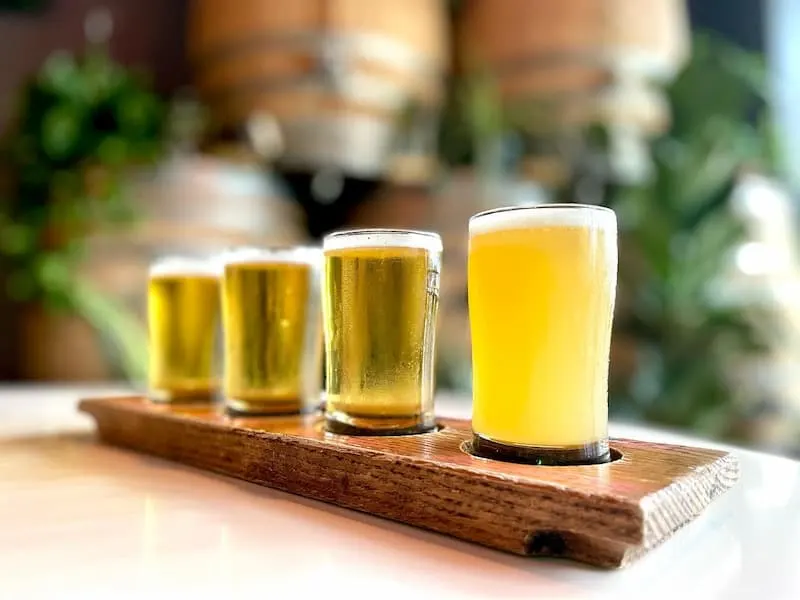 Hours: Mon: 12-9pm, Tue-Thur: 3-11pm, Fri-Sat: 12pm-12am, Sun: 12pm-10pm
Location: 1130 Sevier Avenue
Food: Food trucks
Pet Friendly: Yes
Alliance Brewing Company is a great place to come with a group of friends.
The large outdoor patio is perfect for enjoying a sunny day and the indoor taproom has a fun, high-energy vibe. If you're looking for something to do before or after your visit, the South Knoxville Urban Wilderness is nearby — perfect for working off those liquid calories.
In fact, when you show up to the Alliance taproom via biking, walking, running, roller skating, skateboarding, or dancing… Basically any form of transportation other than a motorized vehicle, they'll give you $1 off pints and $0.50 off half pints.
Alliance has coined this "Active Beer Culture" and they're huge supporters of it, offering yoga in the taproom every Monday and group running events, too.
What to Drink: But back to the brews… the Kölsch is extremely popular here. Or, try the new Safety Meeting, the latest creation from the Alliance Joint Subcommittee is an HERBaceous hazy refresher with a hint of POTpourri and the dankest of aromas.
Sticky tropical fruit flavors and notes of candied citrus slices will have you wondering how you got here, what dogs dream about, and why Taco Bell canceled Verde sauce. Tasty. Hoppy. Crushable. This bud's for you… (need we say more?)
So, Which Knoxville Brewery Will You Try First?
If you're looking for a fun day out with friends, head to one of Knoxville's dozens of breweries. You can't go wrong with any of them, but we do have a few favorites!
Another of our favorite is Balter Beerworks (adding soon!). These guys offer an awesome brunch spot in Knoxville on weekends.
More Tennessee beer guides:
Alliance Brewing Company has an "Active Beer Culture" that supports healthy living, while Fanatic Brewing Company is known for its drinkable beers.
If you're looking for something upscale and unique, try Abridged Beer Company which is housed in an old 1950s-era auto garage.
And no Knoxville itinerary would be complete without a stop at the Schulz Bräu Brewing Company for some authentic German food and beer.
Whether you're in the mood for something light and crispy or something chocolate-covered and strawberry-infused, these Knoxville breweries have got you covered. And be sure to bring your appetite — bar grub is the order of the day!
⚠️ Whatever brew you choose, remember to be safe, arrive alive, and hire an Uber to take you home if you don't have a designated driver.
Finally, we would appreciate your feedback, recommendations, and thoughts on these breweries in Knoxville! Which brewery are you most looking forward to visiting?
More Knoxville travel at your fingertips…
PIN & SHARE THIS KNOXVILLE BREWERY GUIDE!