Gatlinburg, Tennessee is known as one of the best places to view fall foliage in the United States. This mountainous town is found on the border of the Great Smoky Mountains National Park and is America's most visited national park.
The town of Gatlinburg is full of both adult and family-friendly activities from wine and moonshine tastings to shopping and dining, plus mountain coasters, mini golf, haunted houses—you name the autumn activity and Gatlinburg probably has it.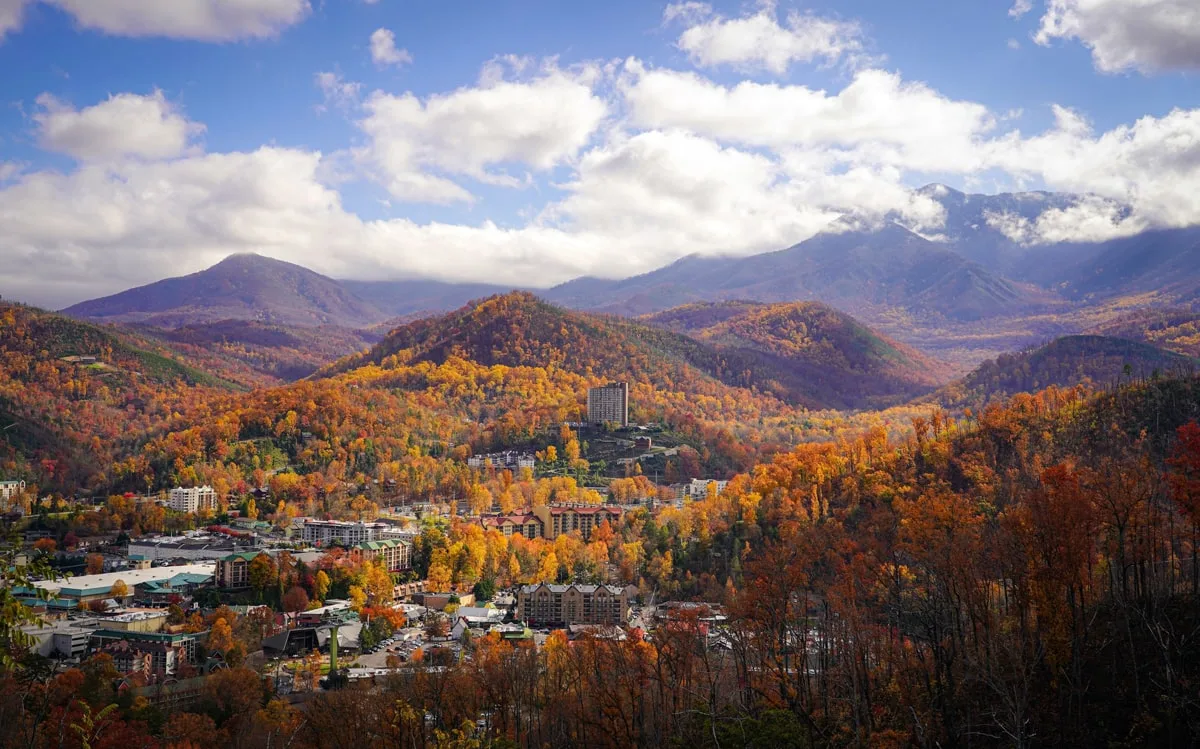 One of the best times to visit Gatlinburg is during the fall when the surrounding mountains wave to the town below with a blend of colorful leaves.
The town is decked out with pumpkins and scarecrows, while shops along the street compete for the best fall decor.
Gatlinburg is also one of the best places to find a cozy cabin stay as there is an abundance of cabins providing beautiful fall foliage views of the Smoky Mountains.
So, are you planning on visiting Gatlinburg to see the colorful leaves and beautiful mountain views?
Below we will list out a few of the best things to do while visiting Gatlinburg in the fall — from places to stay, things to do, and more! 🍂
Visiting Gatlinburg in the Fall
Places to Stay in Gatlinburg
Staying in a cozy cabin in Gatlinburg will provide you with some of the most exceptional fall foliage views of the beautiful Smoky Mountains within a private setting.
Enjoy a cup of hot coffee as you watch the sunrise over Gatlinburg or relax in a hot tub on a crisp evening while viewing the sunset.
Whether you're looking for a romantic getaway, a large cabin for a family gathering, or perhaps a fun cabin for a bachelorette party — Gatlinburg has them all!
1. Stairway to Heaven
Stairway to Heaven is a perfect cozy cabin for a romantic getaway in Gatlinburg. You won't have to worry about privacy with this cabin as it's within a private setting with no other cabins in sight.
Guests who stay here rave about the fantastic views — add the fall foliage to that and you're guaranteed to have a cozy romantic stay! Amenities include a hot tub, a king-size bed, and mountain views.
2. Bear in Mind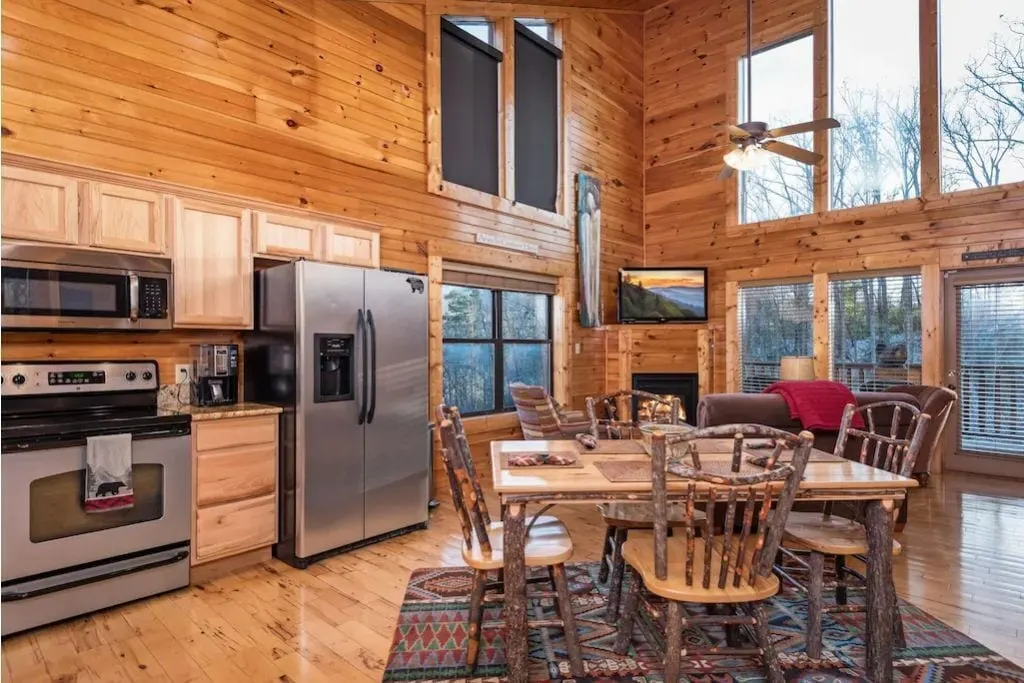 Bear in Mind Cabin sleeps up to 6 people which would be great for a family or staying with a few friends.
This cabin is in a convenient location and within close proximity to a grocery store and dining options and is just a few minutes from downtown Gatlinburg.
Amenities include a game room, hot tub, and a convenient location.
3. Pawnderosa Cabin
Pawnderosa Cabin is a perfect cabin for large groups of people staying in Gatlinburg as it can sleep up to 20 people.
This cabin provides an abundance of amenities including an indoor heated pool, mini golf, giant chess, sauna, hot tub, and more!
More Cabin Stays: >> 15 Cozy Cabin Rentals in Gatlinburg for Your Smoky Mountain Getaway <<
Fall Things to Do in Gatlinburg
1. Ride the Aerial Tramway to Ober Gatlinburg 🚡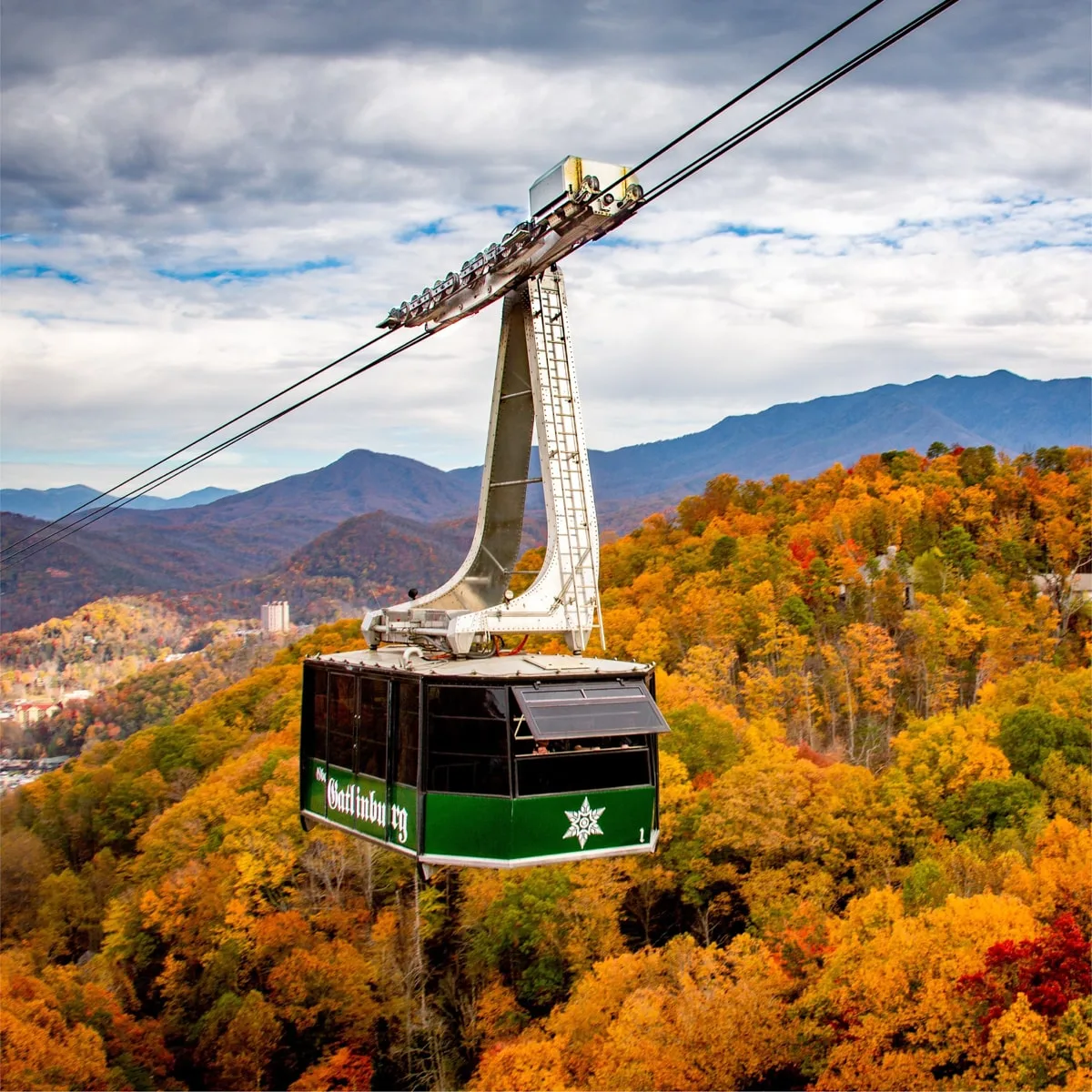 Ober Gatlinburg is both an Amusement Park and Ski area, providing loads of entertainment for the entire family.
There are two ways to get to Ober Gatlinburg — one way is to drive 17 miles up the mountain or you could take the scenic route and ride the Aerial Tramway (pick me, pick me!).
The Aerial Tramway is approximately a 2.1-mile ride from downtown. This scenic ride will have you in awe as you'll have a 360-degree view of the Smokies and Gatlinburg's fall foliage.
Once you reach the top, Ober Gatlinburg provides visitors with multiple fun activities, dining, and shopping. Daily activities include ice skating, ice bumper cars, a wildlife exhibit, rock climbing, mini golf, and more!
However, during the fall season, you can experience Ober Gatlinburg's OctOBERfest. The annual OctOBERfest is held from the end of September through the end of October. Experience some of Munich, Germany's traditions right here in Gatlinburg!
Taste Bavarian foods from schnitzels to strudels and indulge in German-inspired beer at the outdoor Bier Garten. Live music is also performed by the Smoky Mountain Oompah Band, performing Bavarian folk dances, yodels, etc, while wearing the iconic lederhosen apparel.
*Aerial Tramway departs every 20 minutes.
2. Walk Along the Gatlinburg SkyBridge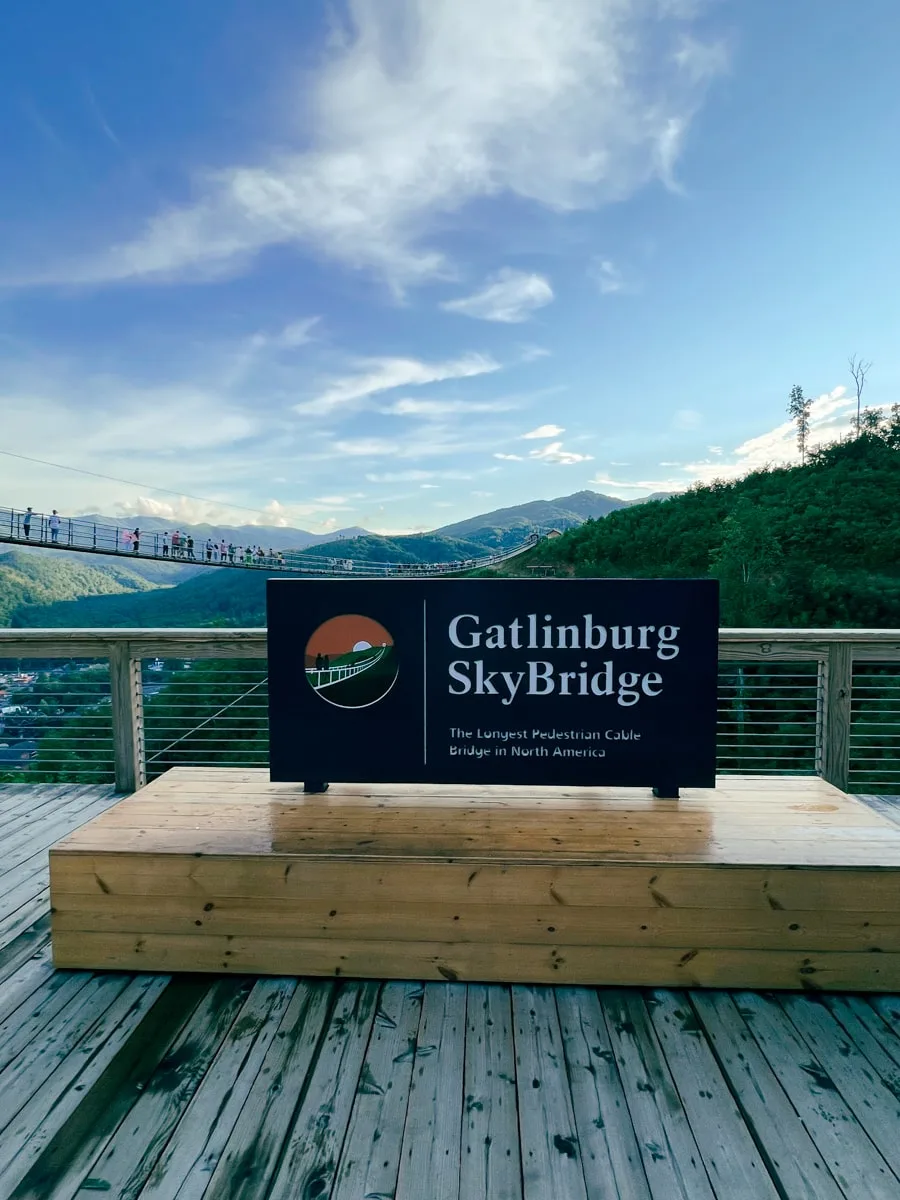 The Gatlinburg SkyBridge is the longest pedestrian bridge in North America and provides some of the best views for those fall photos.
The SkyBridge spans approximately 700 feet across a deep valley and even has a section with a see-through glass bottom. Are you brave enough to walk across it?
To get to the Gatlinburg Skylift Park you'll have to take the Gatlinburg Skylift — the first scenic chairlift in the south when it opened in 1954. The Skylift was forced to be redone in 2017 after the Gatlinburg fires destroyed most of it.
Once you reach the top you'll find the Skydeck amphitheater which allows guests to relax and take in the sweeping fall mountain views of Gatlinburg while enjoying some food or daft beer from the SkyCenter.
Fall events include the Smoky Mountain Sunrise, where you can experience the sunrise over the autumn-covered mountains while listening to live music and enjoying complimentary breakfast and coffee. Smoky Mountain Sunrise occurs every Wednesday from September through October.
During the month of October, you can find the Halloween Boo Bash. Walk along the SkyTrail and see animated spooky ghosts, witches, and spiders. If you stay after dark, expect it to be spooky! 👻 Halloween movies are also played on the SkyDeck on certain dates.
3. Visit Dollywood's Harvest Festival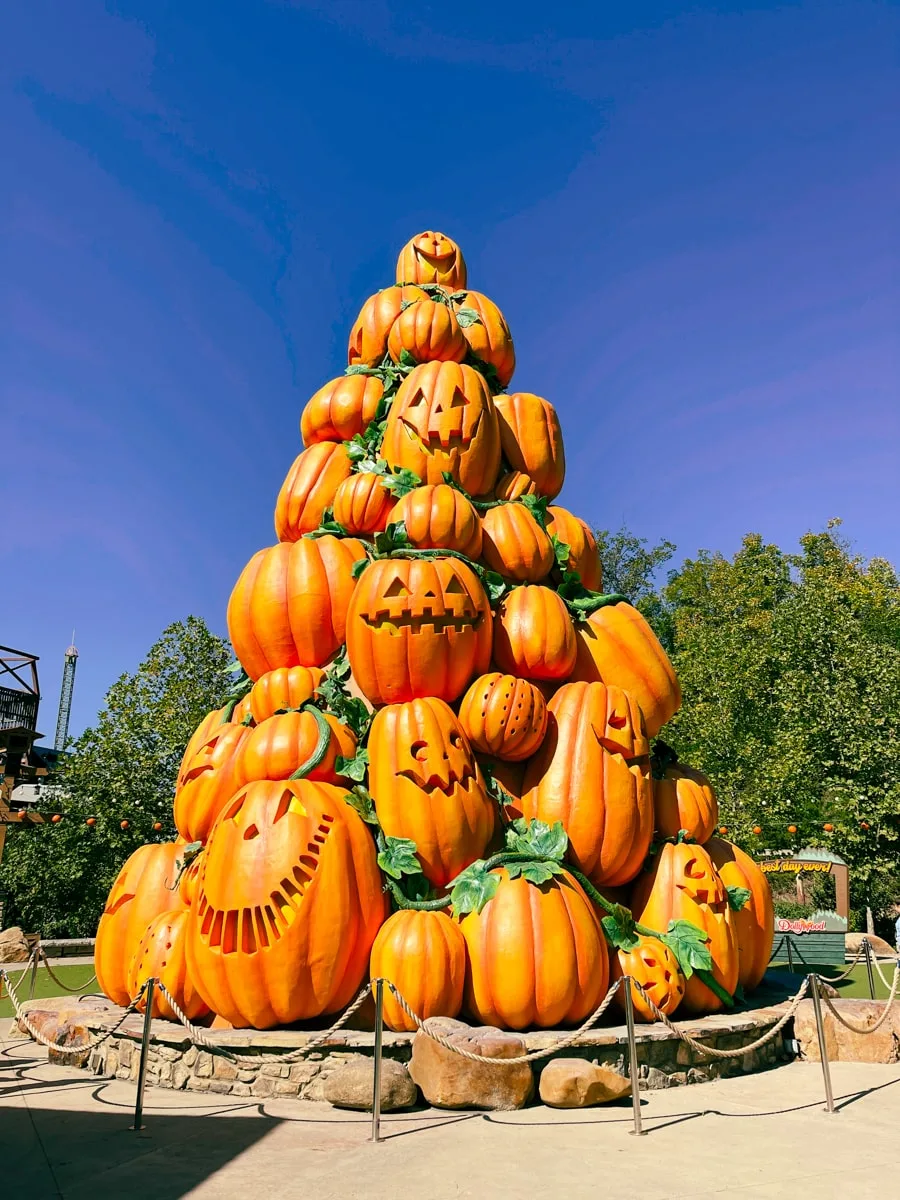 If you plan on visiting Gatlinburg, then you more than likely will drive through the heart of Pigeon Forge. Dollywood is found in Pigeon Forge, just a short drive from downtown Gatlinburg (approximately 20 minutes).
We highly suggest visiting Dollywood's Harvest Festival considering you'll be so close.
Dollywood was voted as the #1 Theme Park in the United States by TripAdvisor.
The park is beautiful and the lines are not as long as you'll find at other theme parks.
Dollywood's Harvest Festival is one of the best times to visit Dollywood! You'll find fall-inspired foods, a giant colossal pumpkin display, artisan crafts, top-rated rides, and the Great Pumpkin Luminights show after dark — featuring over 12,000 pumpkins! 🎃
Read more about it here: Visiting Dollywood's Harvest Festival: A Fall Favorite Activity
4. Stroll the Streets of Gatlinburg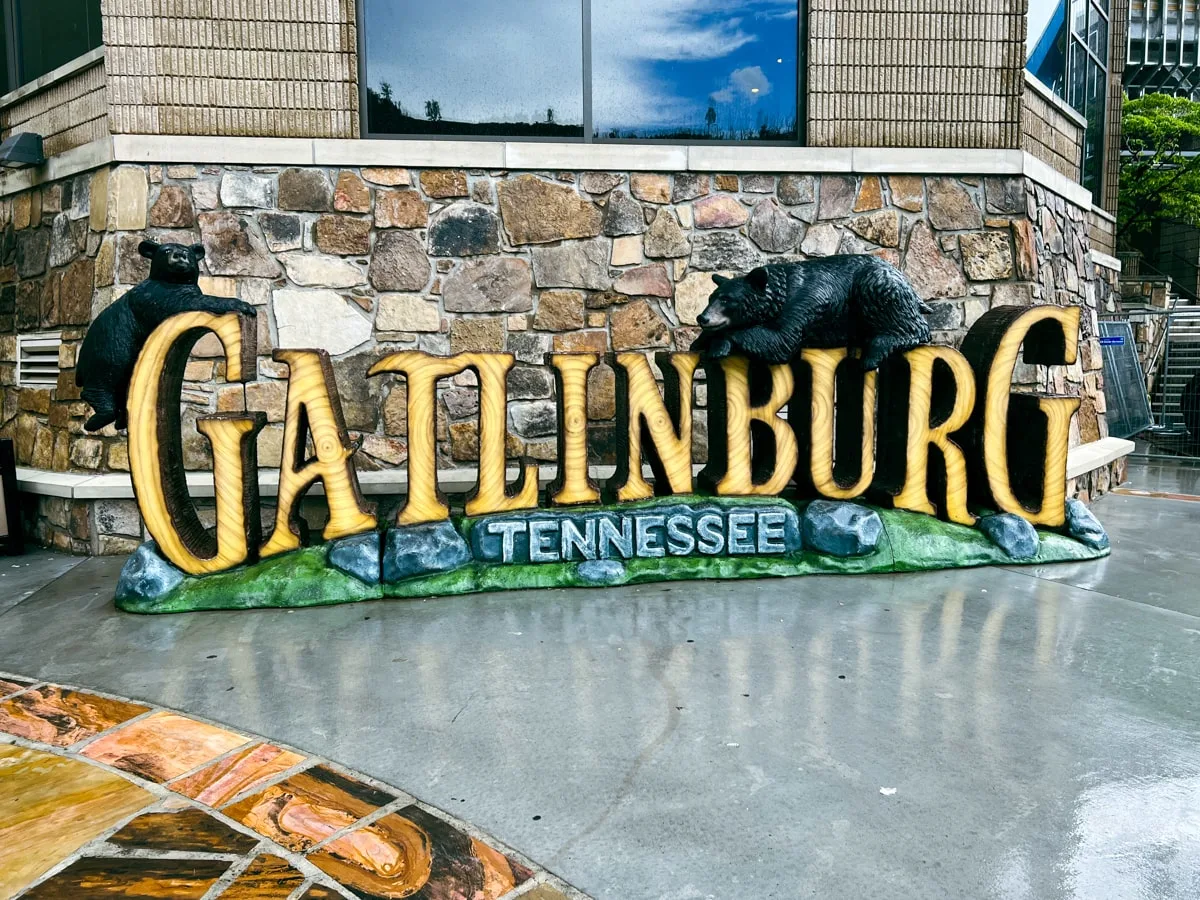 Throughout the fall season from September to November, Gatlinburg hosts its annual Smoky Mountain Harvest Festival.
Shops and businesses lined up and down the street will be all decked out with their favorite fall decor. These businesses compete against one another in the "People's Choice Award" where you can vote for your favorite.
Downtown Gatlinburg will immerse you in the fall experience with large scarecrow displays, pumpkins, and gourds — all with the vivid colorful backdrop of the Smoky Mountains.
Many shops, dining options, and fun activities are found downtown where you could spend all day exploring. Play mini golf, tackle an escape room, play laser tag, brave a haunted house, and more.
If you're looking for adult activities, spend all day sampling free wine, moonshine, and ciders. If you love sweet wine, then you're guaranteed to enjoy this.
You can find moonshine tastings at both Sugarlands Distilling Company and Ole Smoky Distillery. Both are great — but Sugarlands always appears to have a longer wait.
5. Visit Ripley's Aquarium of The Smokies 🐠
Ripley's Aquarium of the Smokies is fun year-round regardless of the season and is one of the best things to do in Gatlinburg in the Fall.
It also makes for a great rainy-day activity to do in Gatlinburg or something fun for those chilly evenings.
View the shark lagoon, touch the stingrays, watch the playful penguins, and see over 10,000 exotic sea creatures.
Ripley's Aquarium also hosts weekly events such as the Sleep with the Sharks — a family activity where you can sleep underneath the shark lagoon. Or Pints & Penguins which is an adult-only sleepover featuring a bar, appetizers, a hot breakfast, and a penguin encounter.
As a fun Halloween activity, Trick or Treat Kickock Karnival is hosted in the plaza of Ripley's Aquarium on October 31st from 11-3 PM. There will be a costume contest, games, candy, prizes, and more. Proceeds are donated to a local charity.
6. Autumn at Anakeesta
Anakeesta is an award-winning theme park located above downtown Gatlinburg. To reach the top, you'll need to ride the scenic Chondola ride 600 ft above Gatlinburg.
Year-round, Anakeesta provides fun activities for the entire family. You can find shopping, dining, a botanical garden, a mountain coaster, ziplining, and more.
During the fall season in Gatlinburg, Anakeesta launches its Hallow Mountain Event (Mid September – October 31st). The mountain top will be decorated with Halloween-themed and fall-inspired decor with spooky lights, pumpkins, etc.
Black Bear Village provides guests with Bavarian foods, live music, pumpkin-spiced foods, and more.
7. Gatlinburg Craftman's Fair
If you're looking for something a little more crafty, we suggest adding the Gatlinburg Craftsmen's Fair to your list of things to do in the fall in Gatlinburg.
The Craftsman's Fair offers unique arts and crafts and hosts over 200 craftsmen from all over the United States.
Find unique crafts such as glass blowing, pottery pieces, paintings, metal works, and more.
8. Hike to Laurel Falls
Length: 2.6 miles out & back
Hiking Time: 1.5-2 hours
Difficulty: Moderate
Pet-Friendly: No
Parking: Permit required after 15-minutes
Being one of the most popular waterfalls in Gatlinburg, Laurel Falls is a great place to visit during the fall season in Gatlinburg.
A majority of the trail is paved, making this an easier waterfall hike near Gatlinburg, but there are still some steeper sections so strollers and wheelchairs are not recommended.
The views of the waterfall against the colorful leaves on the trees make for a beautiful hike.
Other waterfalls to visit in the fall in Gatlinburg include Ramsey Cascades and Grotto Falls.
For more waterfall hikes near Gatlinburg, Also Read: >> 13 Best Waterfalls in the Smoky Mountains You Must Visit <<
9. Ride a Mountain Coaster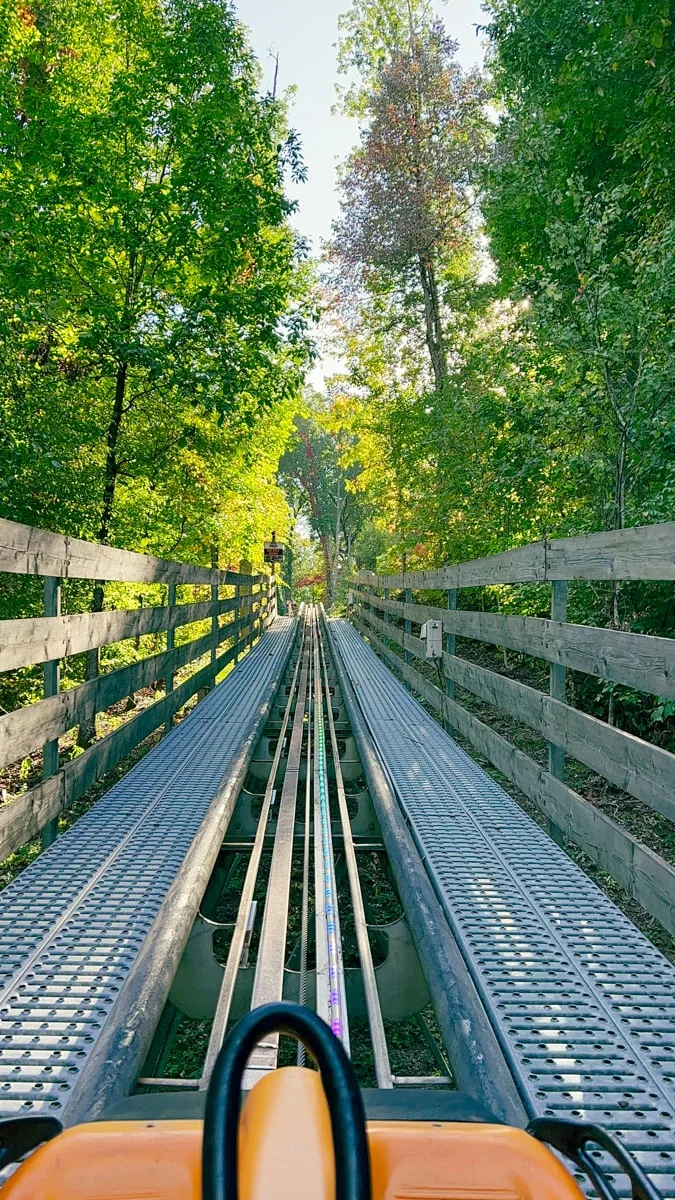 Riding a mountain coaster is a fun activity in Gatlinburg, especially during the fall when the leaves are golden and the weather is cool.
While these mountain coasters are fun during the day, some even offer haunted coasters at night, making this a fun Halloween activity near Gatlinburg.
Rocky Top Mountain Coaster hosts the Coasts & Goblins during the month of October, with Halloween-themed lights, ghosts, ghouls, and goblins.
If you plan on visiting Anakeesta (#6), they also have a haunted mountain coaster.
Other Mountain Coasters Near Gatlinburg:
10. Drive through Cades Cove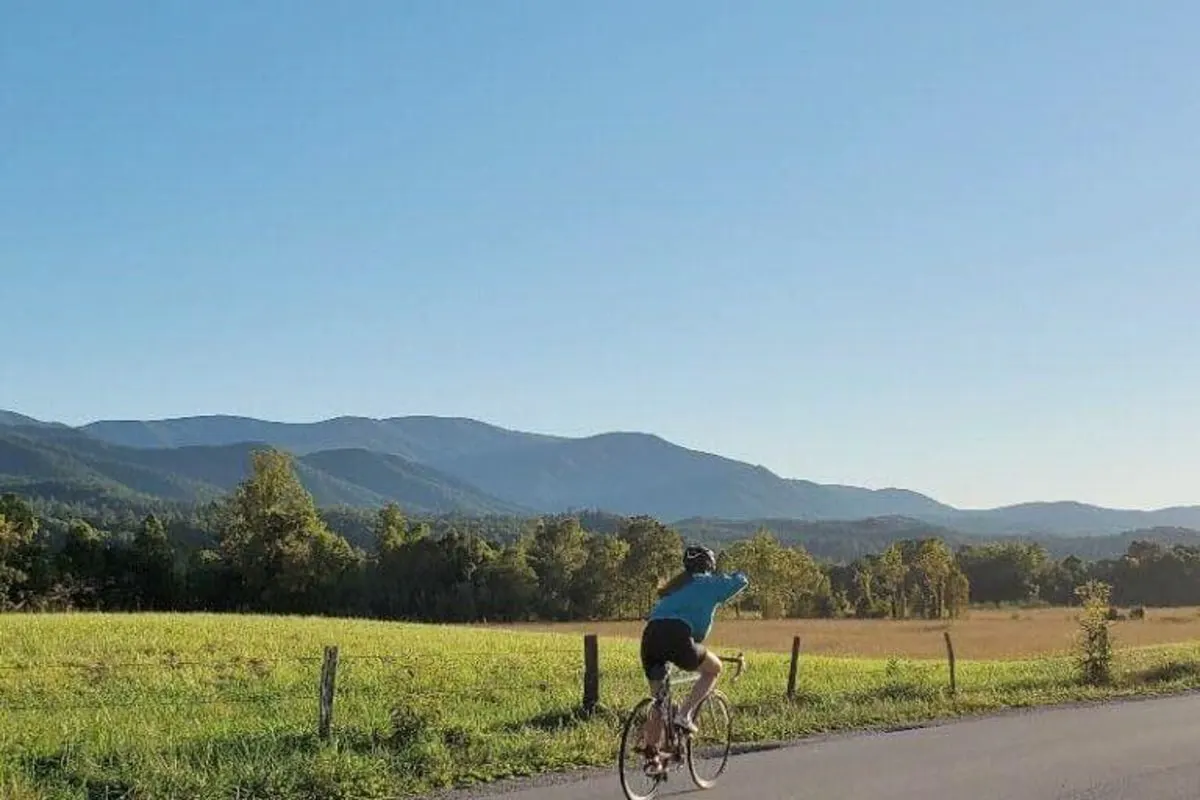 Cades Cove is one of the most popular destinations near Gatlinburg, great for viewing wildlife, among plenty of outdoor activities including camping and biking.
During the fall, Cades Cove is even more popular among tourists for viewing the fall foliage and spotting various wildlife such as black bears, coyotes, white-tailed deer, turkey, and more.
Cade's Cove loop can be toured by vehicle, walking, hiking, or our favorite — biking!
It will take you approximately 2-4 hours to drive through the 11-mile loop. Cades Cove Road is closed to traffic on Wednesdays until the middle of September, making it the best day to bike through Cade's Cove.
11. Go Horseback Riding
We love horseback riding! Especially when it's not too hot, which is why horseback riding is one of the best things to do in Gatlinburg in the fall.
A couple of places that offer horseback riding near Gatlinburg are:
12. Visit a Haunted House
If you love Halloween, then you're probably one who loves haunted houses and ghost tours.
Communicate with the ghosts and ghouls of Gatlinburg on a haunted walking tour. Choose one of the tours below! 👻
If you're looking for something a little scarier, try out Mysterious Mansion.
Cautiously walk through this 3-story haunted house with secret passageways, winding staircases, and dark hallways. Watch out, as someone may be lurking around the corner or coming up behind you!
This fun haunted house is open 7 days a week, so you can enjoy it anytime you visit Gatlinburg in the fall.
13. Go to a Brewery
We love a good brewery any time of the year, however, the fall season means that delicious Oktoberfest is on tap.
There are a few breweries in Gatlinburg worth visiting.
Gatlinburg Brewing Company is a great brewery to visit as they have a great variety of craft beer on tap as well as a good pizza menu.
Another good option is Smoky Mountain Brewery which doubles as a full-service restaurant.
14. View the Fall Foliage at Clingmans Dome
At 6,643 feet, Clingmans Dome is the highest point in the Great Smoky Mountains National Park, the highest point in the entire state of Tennessee, and the 3rd highest point east of the Mississippi.
With those high elevations, you'll be able to see beautiful fall foliage views for miles — with the visibility expanding over 100 miles on clear days.
🥾 Hike to Clingmans Dome on this Guided Tour
Clingmans Dome Road: Open April 1 – November 30, 2023, weather permitting.
15. Play 18-Holes at the Golf Course
Gatlinburg Golf Course is an 18-Hole course with some of the best mountain views a golf course can offer.
PRICING – IN SEASON (April 15 – November 30) including holidays
$75 – 18 Holes
$50 – Twilight Rate (starting time is dependent on time of year)
$40 – 9 holes (after 12 PM Only)
16. Go Ziplining through the Fall Leaves
Mix adventure with beautiful 360-degree fall foliage views of the Smoky Mountains on a Ziplining tour.
Climb works offers some of the best ziplining found near Gatlinburg. With this tandem zipline, you can race a friend or family member down the mountain while taking in views of the Smoky Mountains.
Duration: 2-hour tour (water provided along the way)
Restrictions: Ages 7+; Weight max of 250-270 lbs depending on height
Level of Difficulty: Easy – Moderate
Also Read: Fall in the Smoky Mountains: A Fall Activity Guide 🍁
Do you have any recommendations on what to do in Gatlinburg during the fall season? Let us know in the comments!
LIKE IT? PIN IT!
*Featured Image Credit: Visit Gatlinburg