If you are looking to visit the Smoky Mountains during the fall season then you are in for a treat! The mountains will encompass you with a vivid wave of colors — from reds to yellows, oranges, and browns.
Whether you love the fall season because of the cool crisp temperatures, the pumpkin-spice lattes, cozy nights cuddled under a blanket, or a cup of creamy hot chocolate — fall is indeed one of the best times of the year!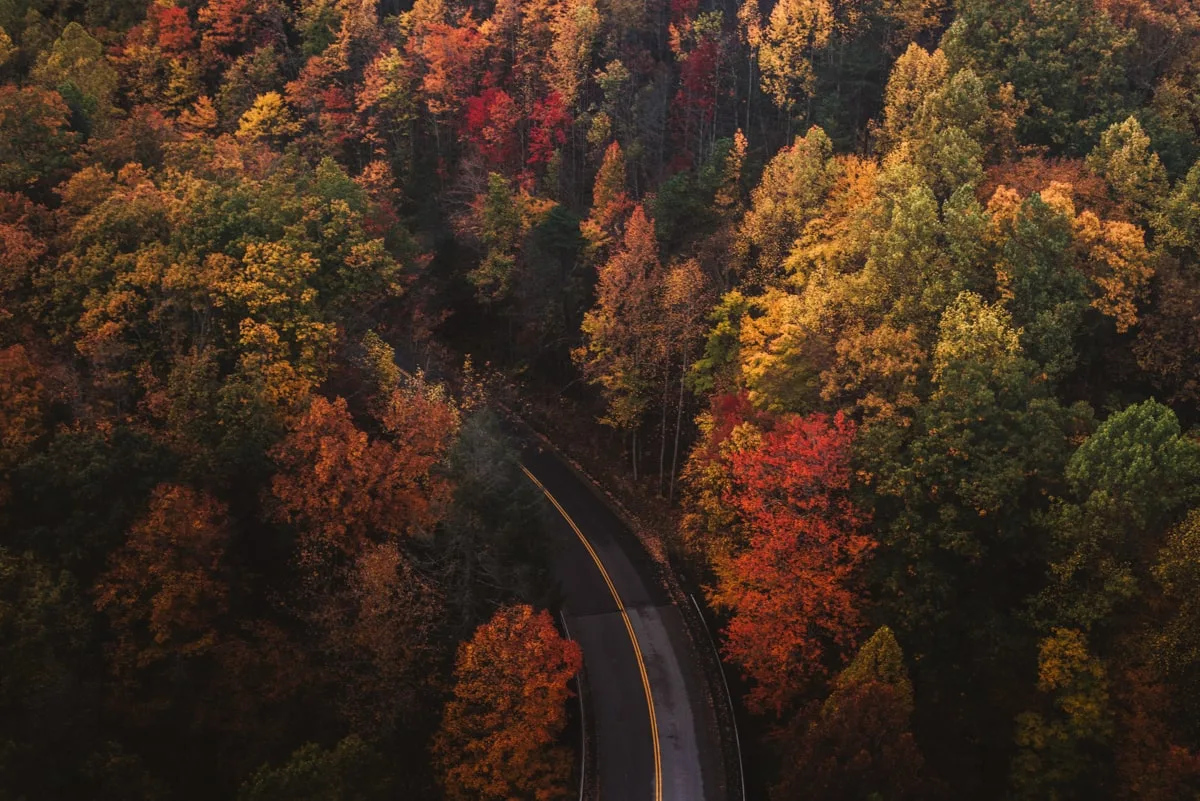 Fall in the Great Smoky Mountains will definitely leave a lasting impression as all your senses will be absorbed with everything fall-related.
From seeing the beautiful scenery to smelling the autumn leaves, feeling the cool crisp air upon your skin, and listening to the rustling leaves in the breeze. 🍁
"It's the first day of autumn! A time of hot chocolatey mornings, and toasty marshmallow evenings, and, best of all, leaping into leaves!"

— Winnie the Pooh
Read this guide for Fall in the Smoky Mountains to learn about fall activities, the best towns to visit, cozy places to stay, the best hiking spots, pumpkin patches, Halloween activities, and more!
Your Guide to Fall in the Smoky Mountains
More About the Smoky Mountains in the Fall
The Great Smoky Mountains National Park is split between North Carolina and Tennessee and is known for its beauty and diversity of plant and animal life — and is America's most visited National Park!
The best time to visit the Smoky Mountains is in the fall season (in our opinion) to view that jaw-dropping fall foliage.
Fall foliage begins from mid-September to early November, with mid-October being the peak time. This varies year to year as the temperature and moisture levels drastically affect the colors of the leaves.
If you are planning a visit, check out this Fall Foliage Prediction Map from the Smoky Mountains.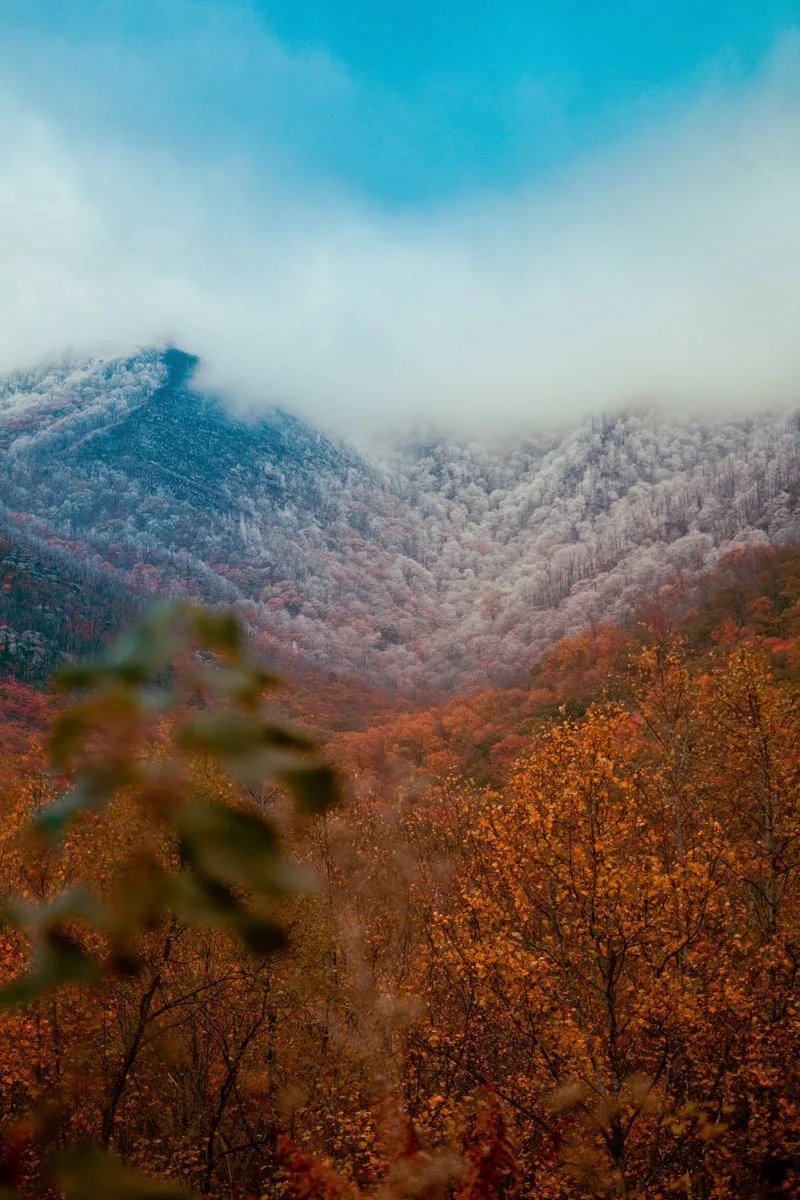 The elevation of the mountains varies from 800 feet to the highest point at 6,643 feet (Clingman's Dome), where the elevation is also a factor for the leaves colors.
The Smoky Mountain National Park has over 100 different native species of trees — from common oaks, pines, and maples to scarce tree species such as the pecan or weeping willow — displaying their leaves of various shapes and colors throughout the fall season.
People from all over the world visit the Smoky Mountains to see the beauty that it entails for themselves.
The Smoky Mountains consist of many different towns and cities. Below are some of the best towns & cities to visit during the fall season, fall festivals, pumpkin patches, and more!
Best Towns in the Smoky Mountains to Visit in Autumn
1. Gatlinburg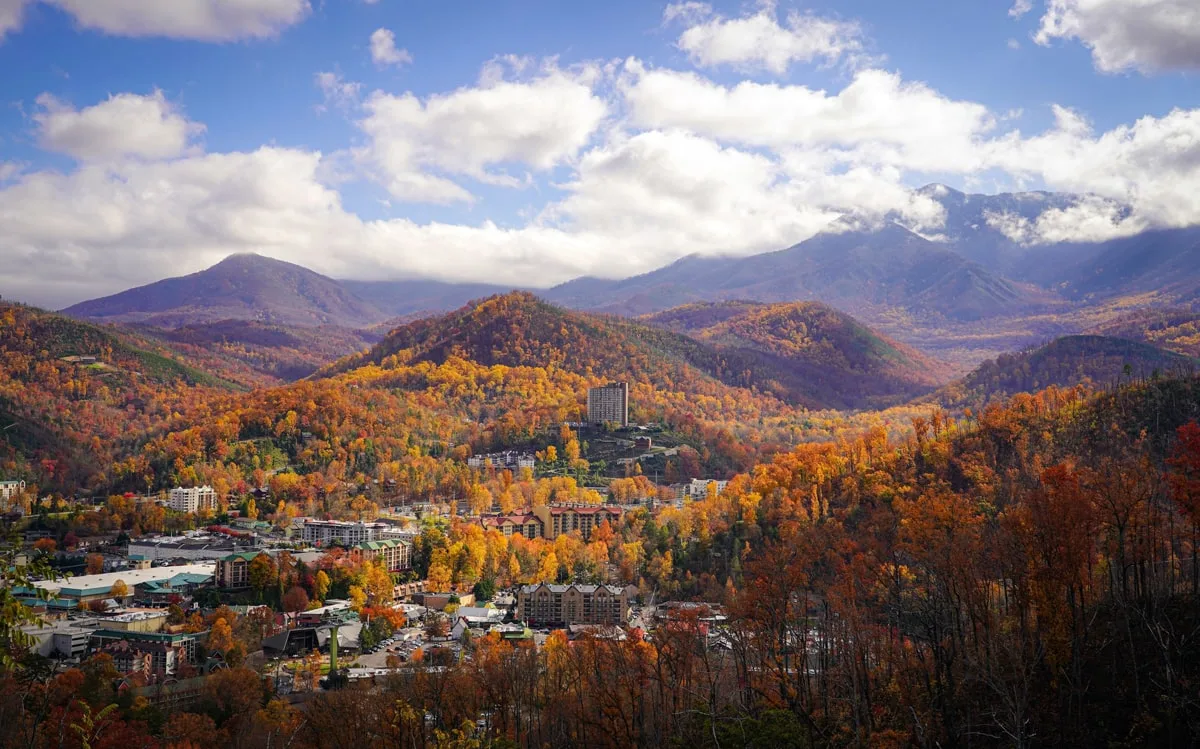 Why You Should Visit Gatlinburg in the Fall
Gatlinburg has consistently been recognized as one of the best places to see fall foliage in the United States. The town itself is nestled in between mountains and offers plenty of fun things to do and attractions with spectacular views.
This mountainous town is a popular tourist attraction year-round, as you can find plenty of attractions, dining options, cozy cabin stays, shopping, crafts, moonshine tastings, and plenty of outdoor activities including miles of hiking trails!
Add fall to that equation and you'll have a great time including those exceptional autumn views!
The city of Gatlinburg goes all out with fall decorations during the harvest season and hosts the annual Smoky Mountain Harvest Festival. You'll find decorations from pumpkins and scarecrows, to pumpkin spice funnel cakes and apple cider, and everything in between.
If you are planning a visit to Gatlinburg, try out these amazing cozy cabin stays!
Things to Do in Gatlinburg in the Fall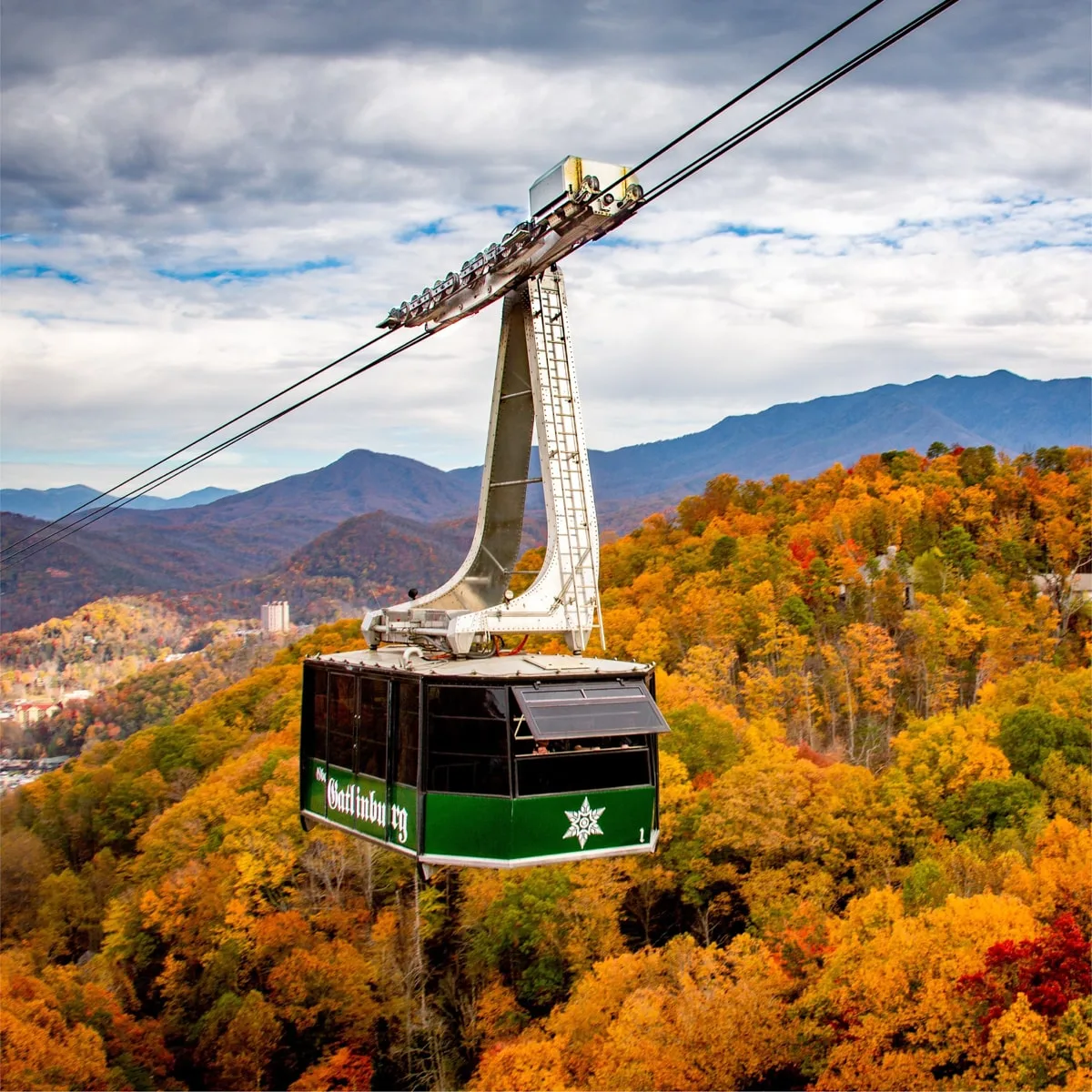 Cozy Places to Stay in Gatlinburg
1. Mountain Comfort Cabin
Mountain Comfort Cabins provides a cozy cabin stay for couples (sleeps 2). Features include a heart-shaped hot tub, Smoky Mountain views, and complimentary tickets to local attractions.
2. Star Dancer Cabin
Great for large groups (sleeps 14), the Star Dancer Cabin is fantastic for views of the Smoky Mountains. Features include floor-to-ceiling windows, an arcade room, a hot tub, and a movie room!
Other Cozy Gatlinburg Stays: 15 Cozy Cabin Rentals in Gatlinburg for Your Smoky Mountain Getaway
2. Pigeon Forge & Sevierville
Why You Should Visit Pigeon Forge & Sevierville in the Fall
Pigeon Forge & Sevierville are the neighboring towns of Gatlinburg, offering many fun & family-friendly activities all year round. The fall season adds more magic, as you will be surrounded by beautiful fall foliage, fall-themed activities, and spooky Halloween attractions!
Pigeon Forge is home to the famous Dollywood Theme Park, where they host the annual Dollywood Harvest Festival from late September to November.
Visit this award-winning theme park for its fun and thrilling rides, colossal pumpkin contests, and the Pumpkin Luminights show — featuring over 12,000 pumpkins!
Sevierville is where Dolly Parton grew up with her 12 siblings, attended school, and performed her first paying gig. Take a picture of Dolly Parton's statue in downtown Sevierville.
Including many popular and fun activities, Pigeon Forge is also known for great shopping and dining options, including popular dinner theatres such as Dolly Parton's Stampede.
Things to Do in Pigeon Forge & Sevierville in the Fall
Visit Dollywood's Harvest Festival — Late September to November. Features thrilling rides, giant colossal pumpkins, and the Pumpkin LumiNights.
Go on a Helicopter Ride — Explore the beautiful Smoky Mountain views and fall foliage from the air on this popular Helicopter Tour.
Kyker Farms Corn Maze — Ride hayrides, explore corn mazes, and pick a pumpkin from the pumpkin patch at Kyker Farms Corn Maze in Sevierville.
View the fall foliage away from the crowds on this 5-hour walking/driving fall foliage tour (lunch is included).
Go Horseback Riding — Experience fall in the mountains via horseback at Five Oaks Riding Stables.
The Island of Pigeon Forge — Filled with attractions, shops, restaurants, and music — including a 200-foot-tall observation wheel (great for viewing fall foliage).
Play Putt-Putt — Pigeon Forge is full of many putt-putt courses, making it a great outdoor activity on a cool autumn day!
Coasts & Goblins Mountain Coaster — Experience weekends in October at the Rocky Top Mountain Coaster. Ride this coaster at night surrounded by spooky lights, ghosts, and goblins — making this a fun Halloween activity in Pigeon Forge!
Try this self-guided 2-day Jeep Tour through the Great Smoky Mountains National Park — pick up this Jeep from Pigeon Forge and drive through popular areas including Cade's Cove, Cataloochee Valley, Fontana Lake, and more! Open up the doors, feel that cool crisp breeze in your hair, and get a close-up view of the beautiful Smoky Mountains in your very own Jeep (for 2 days). 😉
Cozy Places to Stay in Pigeon Forge & Sevierville
1. Sunset Sensation
Sunset Sensation is a cozy cabin that is great for smaller groups (sleeps 4-6) and provides great sunset views over the Smoky Mountains. Features include a spa bath, hot tub, and proximity to Pigeon Forge.
2. Margaritaville Island Hotel
Located in the heart of Pigeon Forge, Margaritaville Island Hotel is within walking distance to many popular attractions, dining, and restaurants. Features include an outdoor pool, fireplace, and restaurant & bar.
3. Deer Pass Lodge
Deer Pass Lodge is great for larger groups (sleeps 8) with features including a home theater, spa tub, and hot tub with views.
3. Cherokee
Cherokee, North Carolina is one of the best places to visit to see the Smoky Mountain fall foliage.
This town was named after the Cherokee Indians who inhabited the area before being forced to remove and relocate. Now, the Cherokee live on the Cherokee Indian Reservation allowing visitation from the public.
Cherokee offers many outdoor activities from hiking to whitewater rafting to waterfall hikes, shopping, elk viewing, and is home to Harrah's Cherokee Casino. It is also known for its proximity to the Great Smoky Mountain National Park and the Blue Ridge Parkway — both great for scenic drives to view the fall foliage.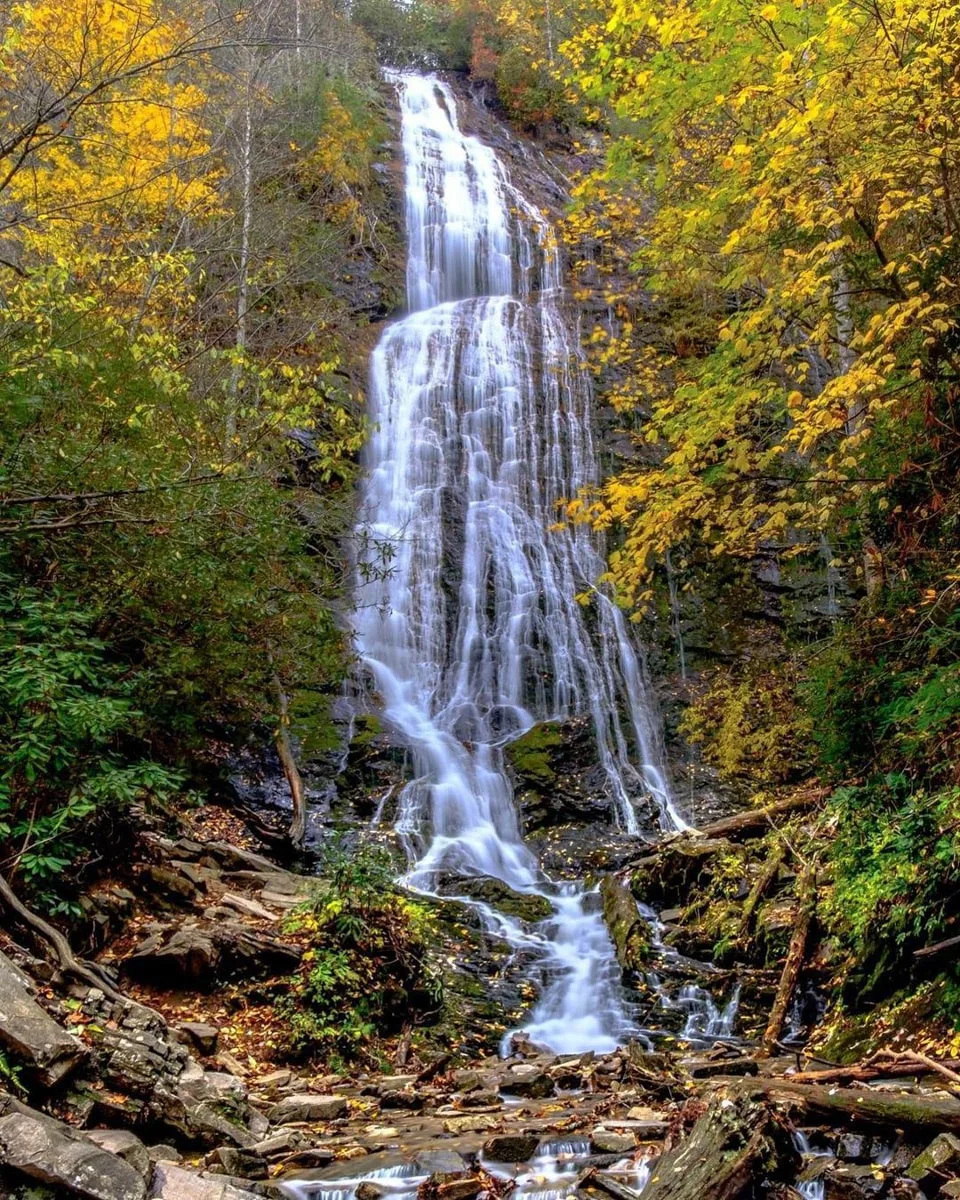 Things to Do in Cherokee in the Fall
Hike to Clingman's Dome — Clingman's Dome is the highest point in the Smoky Mountains at 6,643 feet. Views can expand over 100 miles on clear days, making it a fantastic spot to see that beautiful fall foliage! Fall colors are expected to change at this elevation at the beginning of October.
Visit the Museum of the Cherokee Indian — Learn about the history of the Cherokee Indians from the Paleo period all the way through the Trail of Tears. Purchase your tickets here.
Hike to Mingo Falls — Known as one of the tallest waterfalls in the Southern Appalachian Mountains, Mingo Falls cascades over 120 feet to the rocks below. This is a short hike at just 0.5 miles from the parking lot, however, it is also steep as you will climb over 160 stairs to reach it. But we heard it was a must-visit spot while visiting Cherokee, NC in the fall.
Harrah's Cherokee Casino — Test your luck at one of the most popular casinos in the Southeast. This casino is over 150,000 square feet, providing over 3,000 slot machines and 160 table games. This would be a great activity for those cooler days or things to do at night in Cherokee.
Waterrock Knob — As the second highest point on the Blue Ridge Parkway (5,820 feet), Waterrock Knob is another great place to view the fall foliage. The hike is approximately 1.2 miles and is known as one of the best places to view both a sunrise and sunset with 360-degree views.
Look for Elk — Elk are native to Cherokee and can be spotted grazing in the fields near the Oconaluftee Visitor Center.
Cozy Places to Stay in Cherokee
1. Modern Mountain Retreat
Modern Mountain Retreat is a 3-bedroom vacation home in the privacy of the mountains of Cherokee, NC. This house can sleep up to 6 people and is located just 4.6 miles from Harrah's Casino. Features include mountain views, a fireplace, and an outdoor patio.
2. Lady Luck Getaway
Lady Luck Getaway is a 400-square-foot tiny home that is a great stay for couples. Located just a few miles from the Cherokee Casino and approximately 9 miles from the Great Smoky Mountains National Park.
4. Bryson City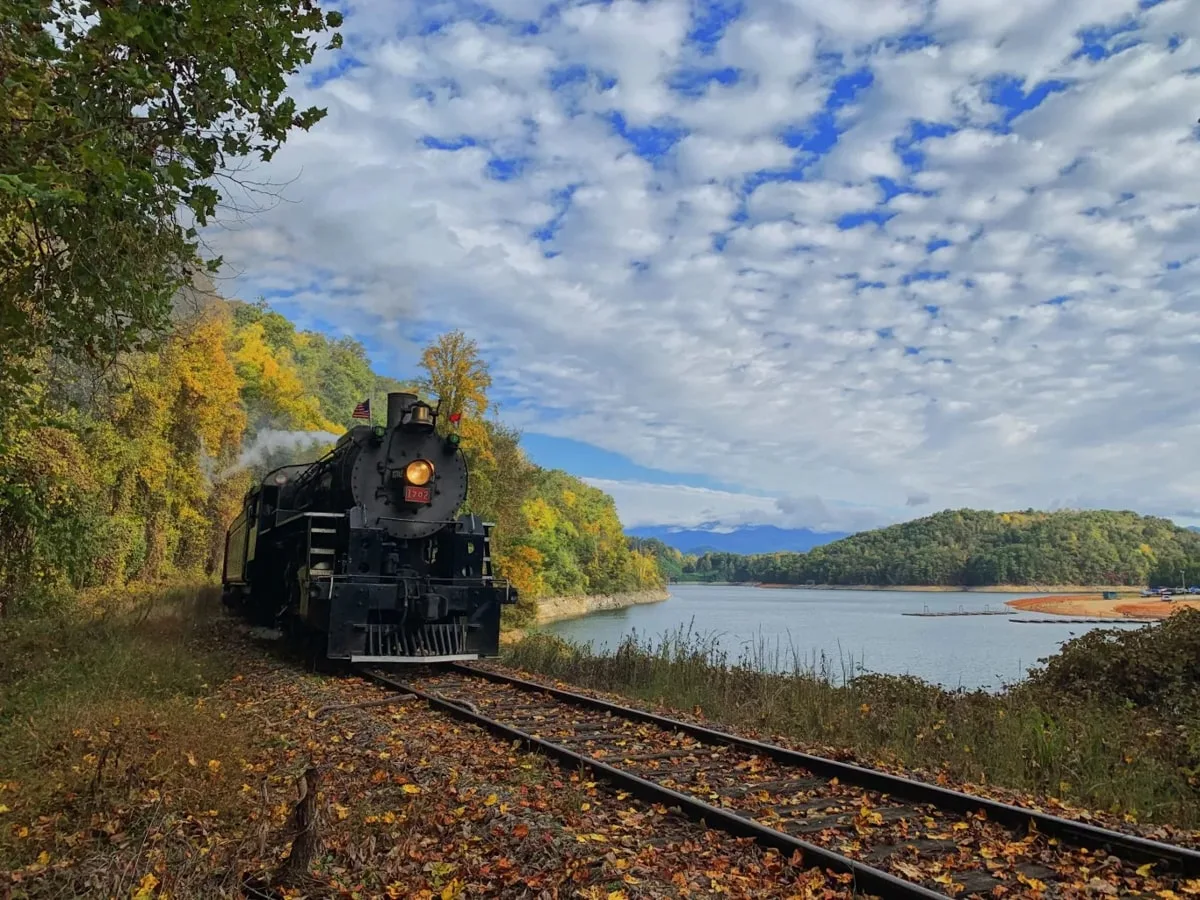 Bryson City is a quaint little mountain town located just an hour from Asheville, NC. This town borders the Great Smoky Mountains National Park and is abundant in outdoor activities.
Throughout the seasons, Bryson City offers many fun activities from rafting on the Nantahala river, floating on Fontana Lake, mountain biking, horseback riding, and more.
Fall in Bryson City is a great travel destination as you'll still have an abundance of outdoor activities including that gorgeous glow from the autumn leaves, harvest festivals, pumpkin patches, and more!
Things to Do in Bryson City in the Fall
View the Fall Foliage from the Great Smoky Mountains Railroad — This historic train depot is a famous & popular attraction in Bryson City. All aboard the train where you'll experience front-row views of the Great Smoky Mountains National Park, Nantahala National Forest, Fontana Lake, and plenty of colorful leaves.
Take a Hay Ride at Darnell Farms — Darnell Farms is a family-owned farm producing 100 acres of a variety of produce. Throughout the fall season, they provide hay rides, a pumpkin patch, and a corn maze.
Take the "Road to Nowhere" — Also known as Lakeview Drive, the "Road to Nowhere" is a scenic highway taking you approximately 6 miles into the Great Smoky Mountain National Park where you'll see beautiful fall foliage before reaching the end of the road — abruptly stopping at the entrance to a tunnel.
Go Mountain Biking on the Tsali Trail System — The Tsali Recreation Area Trail System is a top-rated riding destination in the United States attracting thousands of mountain bikers a year. You'll bike on a variety of terrain enjoying the scenery that the Smoky Mountains offer. Rent a bike from Tsali Cycles.
Hike the Deep Creek Trail to Waterfalls — There are 3 beautiful waterfalls along the Deep Creek Trail:

Juney Whank Falls — A short hike at just 1/4 mile with a 90-foot cascading waterfall.
Tom Branch Falls — A wispy waterfall found near the trailhead.
Indian Creek Falls — Cascading 25 feet, Indian Creek Falls is approximately a one-mile hike.

Go Ziplining through the Trees — View the fall foliage from above the trees on a ziplining tour. A few companies we recommend include Wildwater-Nantahala Gorge Canopy Tours or Nantahala Zipline Tours.
Cozy Places to Stay in Bryson City
1. The Kephart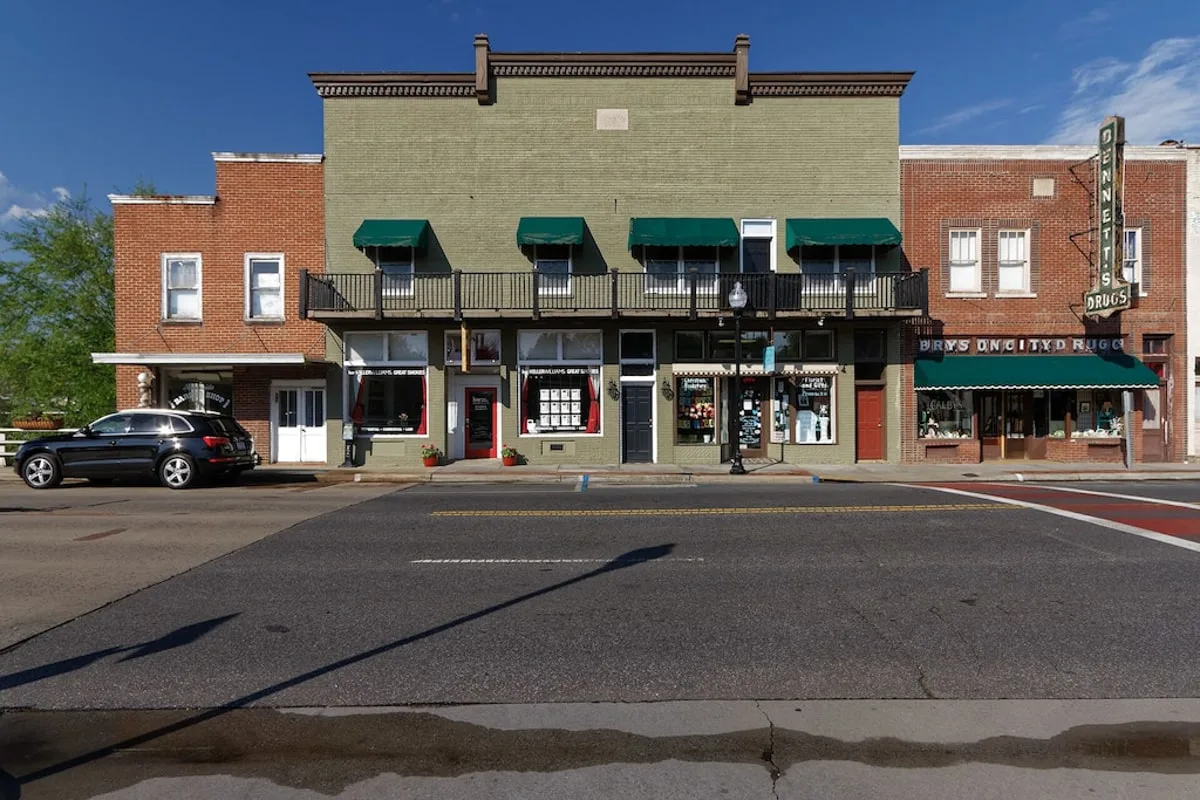 The Kephart is a historic loft centrally located in downtown Bryson City, overlooking Everett Street and the Tuckasegee River. This loft can sleep up to 14 people and is within walking distance of restaurants, shops, and attractions.
2. Nantahala Cabins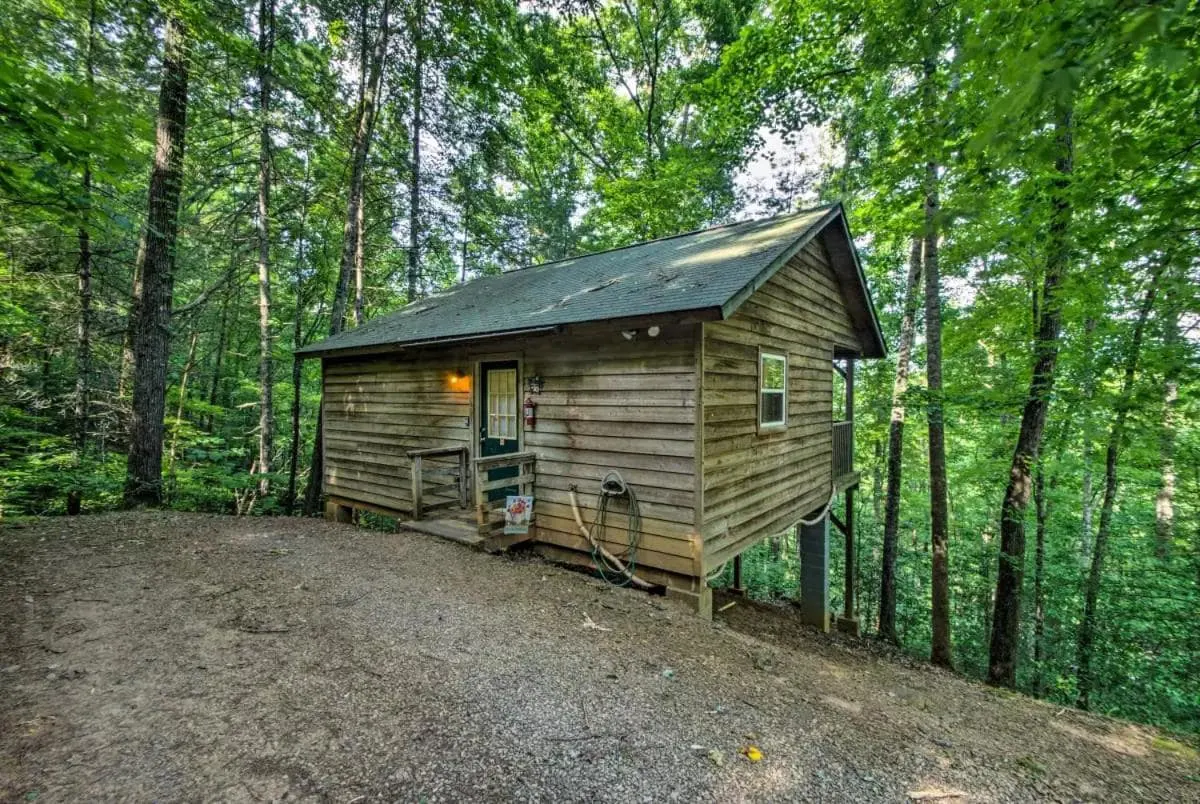 Nantahala Cabins offers a variety of cabins to rent to accommodate you and your family, providing sleeping arrangements for 2-11 people. Features include a full kitchen and a hot tub.
3. McKinley Edwards Inn
McKinley Edwards Inn in Bryson City is just a 15-minute walk to the Great Smoky Mountains Railroad and close proximity to other attractions, shops, and restaurants. Rooms can sleep 2-4 people or you can rent a cottage which sleeps up to 8 people. Features include a garden terrace and continental breakfast.
Scenic Drives & Fall Foliage Views
Cades Cove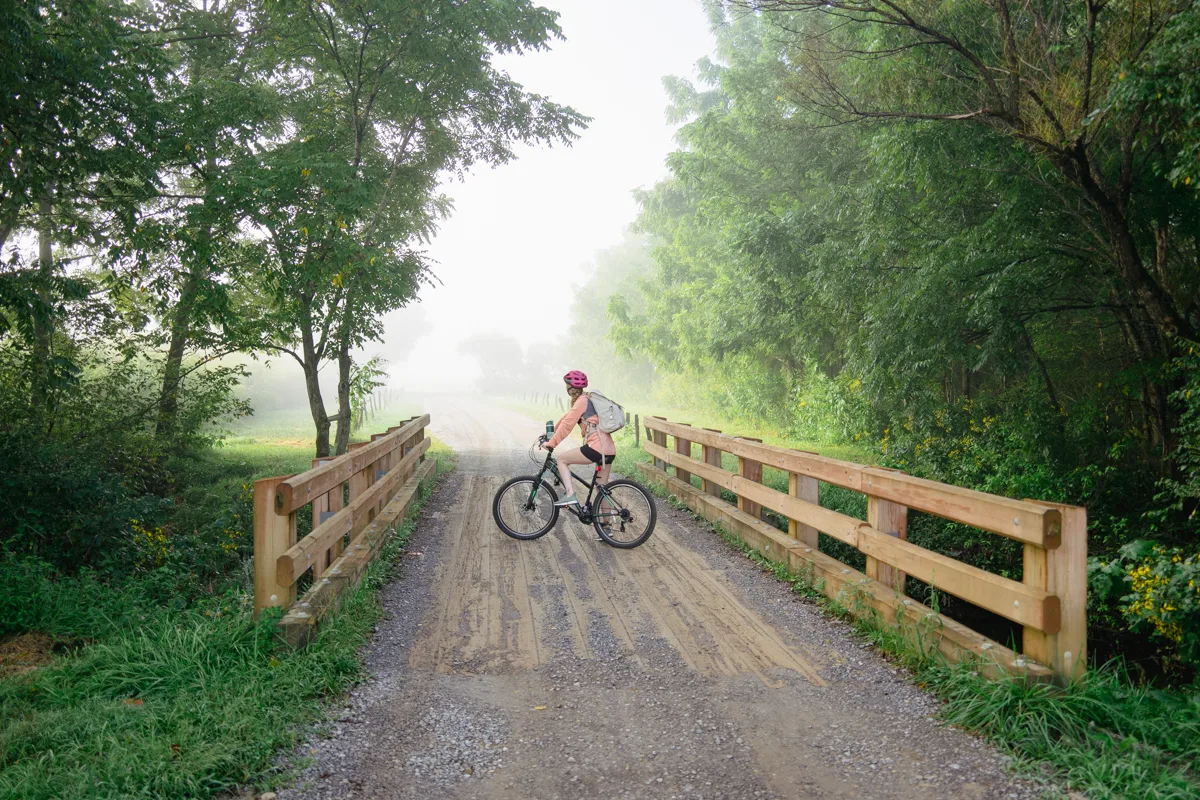 Approximately 1 hour from Gatlinburg & Pigeon Forge or 2 hours from Cherokee & Bryson City. Cade's Cove is one of the most popular scenic drives in the Smoky Mountains, especially in the fall season.
The valley is surrounded by mountains of glowing leaves with opportunities to spot wildlife such as white-tail deer, black bears, turkeys, coyotes, and other animals.
This 11-mile loop takes approximately 2-4 hours by car. On Wednesdays, this scenic road can be enjoyed by foot or bicycle as Cades Cove is closed to vehicles up until the beginning of October.
Take a self-driving tour through the Great Smoky Mountains and visit popular fall foliage viewing areas including Cades Cove.
Clingmans Dome
With the highest elevation at 6,643 feet in the Great Smoky Mountains, Clingmans Dome is one of the best places to view the waves of color that fall showcases along the mountains.
The path up to the observation tower is approximately half a mile long. The 360-degree view at the top is spectacular and is fantastic for both sunrise and sunset.
The Appalachian Trail also crosses at Clingmans Dome, making it the highest point of the trail from Georgia all the way to Maine.
Clingmans Dome is approximately a 1-hour drive from some of the best scenic towns in the Smoky Mountains, including Gatlinburg, Pigeon Forge, Bryson City, and Cherokee.
*Clingmans Dome is closed from December to April
Blue Ridge Parkway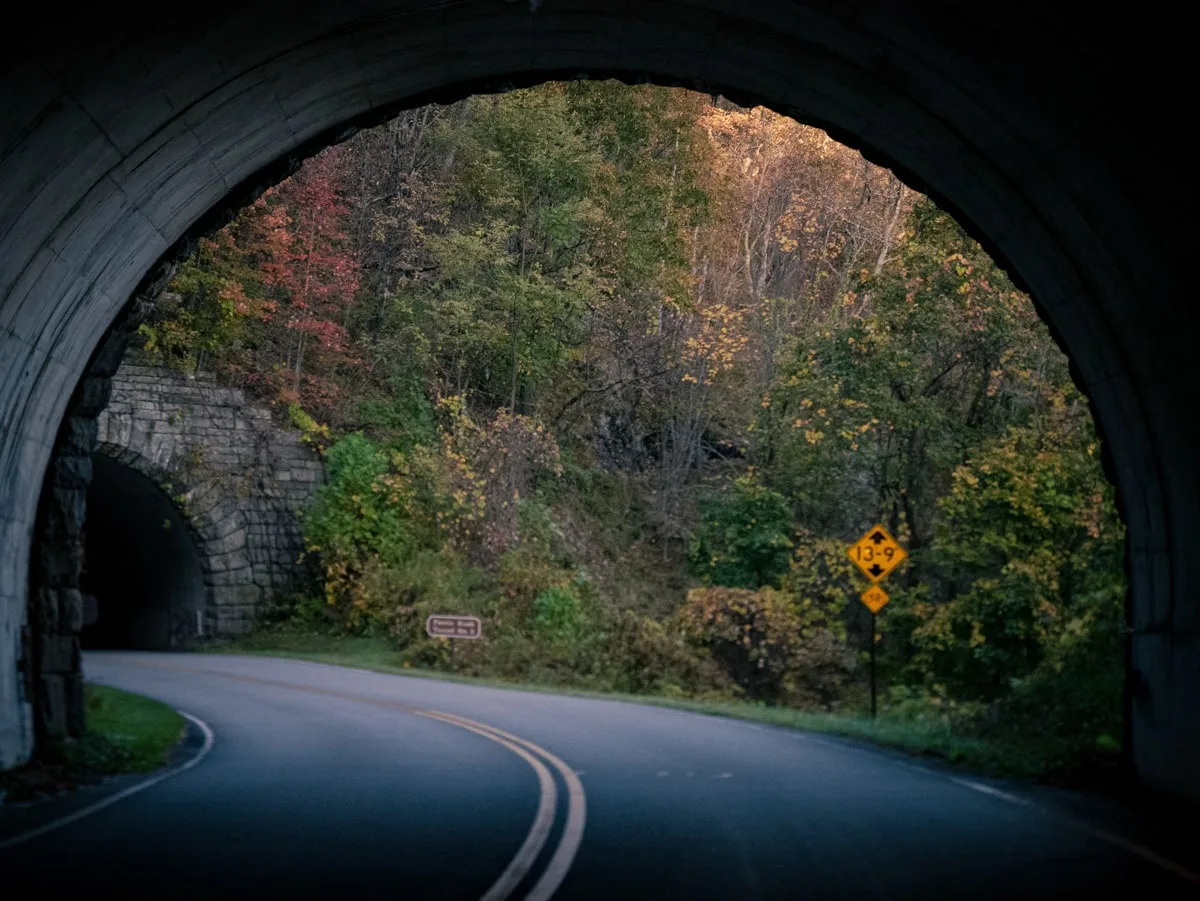 The Blue Ridge Parkway begins just north of Cherokee, NC, and continues for 469 miles all the way to Shenandoah Park in Virginia. This scenic drive provides some of the best fall views in the Smokies and the Blue Ridge Mountains.
Known as "America's Favorite Drive", the Blue Ridge Parkway will not disappoint! Hop in your favorite vehicle and take a leisurely drive as far as the fall colors take you.
There are many places on the parkway for camping, hiking, picnicking, and many overlooks that are great for pictures.
The Tail of the Dragon
Considered "The Destination" for motorcycles and sports cars, you'll quickly see why this is a favorite drive for so many across America. The road has no intersecting roads or driveways, allowing the 11-mile drive and 318 curves to be uninterrupted and enjoyed by many who drive it.
The Tail of the Dragon is found at Deals Gap, NC, and is bordered by the Great Smoky Mountain National Park and the Cherokee National Forest. You'll be sure to find all the fall colors from the top of the mountain all the way down.
Feel that crisp air on your face as you tackle the Tail of the Dragon on your motorcycle or sports car.
Be cautious, as this road can be considered very dangerous, so please drive carefully and enjoy!
Fall Festivals & Pumpkin Patches in the Smoky Mountains
Do you have any recommendations for fall activities in the Smoky Mountains? Let us know in the comments below! ⬇️
You may also like: 25 Fun & Amazing Things to Do in Knoxville, TN
🍁 SAVE FOR YOUR NEXT FALL ADVENTURE 🍁