Tucked away in the picturesque Blue Ridge Mountains of Southwest Virginia, the quaint and charming town of Abingdon is bursting with things to do and see (and eat!).
Abingdon is simply one of those destinations that has it all: heritage sites, outdoor recreation, folk music, regional art, culture, awesome food — you name it! And the best part? It's only a 50-minute, 50-mile drive from Johnson City.
Below, we spill the tea on our best tips for what to do and see in Abingdon. Whether you're there on a day trip or for a weekend getaway, our guide will clue you in on what not to miss during your trip — like riding down the Virginia Creeper Trail or grabbing lunch and fresh juice in the historic town center.
Read more below to discover more things to do in Abingdon!
Best Things to Do in Abingdon, Virginia
1. Bike the Virginia Creeper Trail
Biking the Virginia Creeper Trail is Abingdon's rite of passage. Everyone who visits Abingdon (or Damascus) must ride the Virginia Creeper Trail—otherwise known as Virginia's best rail-trail.
Spanning 34 miles from Abingdon to Damascus, down to the border of Virginia-North Carolina at Whitetop Station, the Virginia Creeper National Recreation Trail offers a fun and family-friendly way to get out and safely enjoy the great outdoors.
Tip: For a fun and easy ride, park your vehicle in Damascus and rent your bikes at a local outfitter (e.g. Adventure Damascus, The Bike Station, Creeper Trail Bike Rental), then take the complimentary shuttle bus to Whitetop Station. The 17-mile ride down from Whitetop to Damascus is postcard-worthy and great for all ages! Note: You can still use the bike shuttle service even if you bring your own bike.
Although many recommend starting your bike ride at the trailhead in Abingdon, we recommend giving it a go in the opposite direction — essentially, reverse the path and ride from Whitetop to Damascus to Abingdon. This way, your ride will be all downhill (wee!).
In fact, there are several trailhead access points along the 34-mile Virginia Creeper Trail, so you can pick between a leisurely ride or a challenging all-day adventure.
2. Catch a Show at the Historic & Artsy Barter Theatre
The Barter Theatre has been a part of Abingdon's history ever since the start. In 1933, the doors of the Barter Theatre opened and offered patrons to pay for theatrical performances with produce — "trading ham for Hamlet" as they say.
Today, the Barter Theatre welcomes over 160,000 visitors per year to experience their award-winning shows, musicals, and book adaptations.
Economy seat tickets cost only $18.00, so this is a fairly accessible and budget-friendly thing to do in Abingdon. Don't miss out on this experience! Check the show calendar.
3. Get a Pint at the Wolf Hills Brewery Co.
Who doesn't love a craft brewery? And an award-winning one at that?
Wolf Hills Brewery Co is an Abingdon staple for beer lovers. Here, you can enjoy hand-crafted brews in a funky atmosphere showcasing local art and live music.
I'm no beer connoisseur like some of you, but Wolf Hills has quite the compelling list of beer on tap — from IPAs (and a special Double IPA, apparently), Lagers, Porters, Goses, Stouts, and beyond. In addition, they have three wine barrels and four whiskey barrels, and often release specialty brews throughout the year.
Of course, no brewery would be authentic without an array of fun events for the community; come by during the week (Wed-Fri: 6-9pm, Sat: 1-9 pm, Sun: 3-6pm) to catch a night of open mic or trivia.
4. Treat Yourself at the Martha Washington Inn & Spa
The Martha Washington Inn & Spa is Abingdon's number-one hotel. But even if you aren't an overnight guest here, you can still visit and enjoy all that The Martha has to offer, especially the spa!
The Spa at The Martha was awarded a spot in the "Top 10 Resort Spas in Virginia." If you're looking to treat yourself or your partner to something special, this is just the place.
Spa services include private, luxurious massages and facials, deluxe soaking tubs, a steam room, a fitness area, salon and manicure/pedicure services, and more.
Book your spa experience from Tuesday through Saturday 9am–6pm by calling (276) 619-5279. If you wish to experience The Martha as a guest, you can click here to reserve your room today.
5. Road Trip "The Crooked Road" — VA's Heritage Music Trail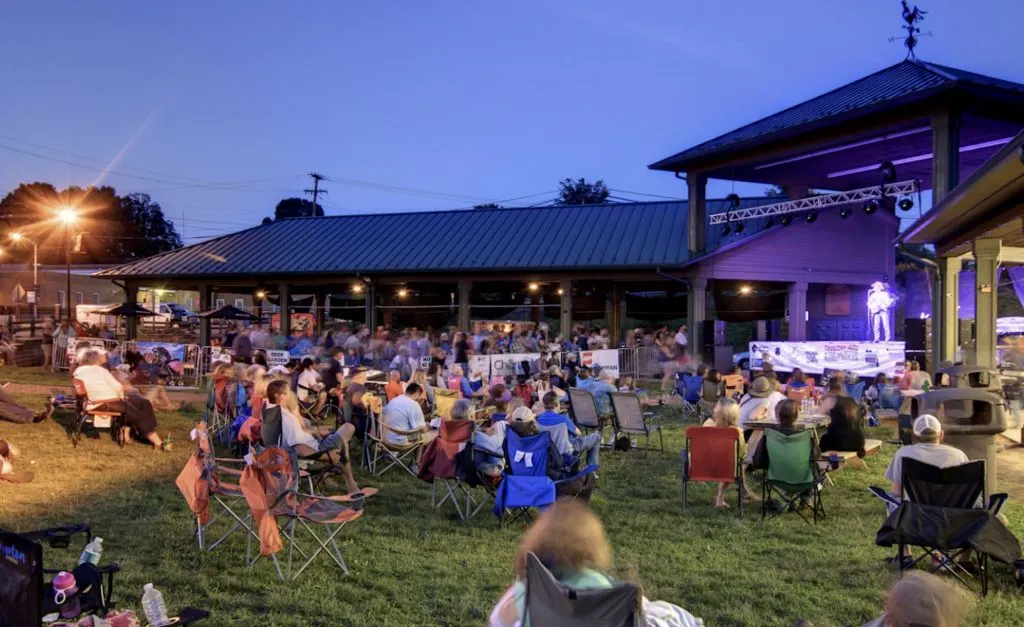 Is The Crooked Road Virginia's ultimate road trip? It just may be, with nearly 330 miles of winding road that traverses scenic landscapes unique to Southwest Virginia.
"The trail connects major heritage music venues in the region such as the Blue Ridge Music Center, Birthplace of Country Music Alliance, and the Carter Family Fold. The traditional gospel, bluegrass, and mountain music heard today was passed down from the generations and lives on through a wealth of musicians and instrument makers along the trail." —Virginia.org
This unforgettable drive will take you across the heart of the Blue Ridge Mountains, a segment of the greater Appalachian Mountains, to quaint towns and attractions where you'll stumble upon a weekly concert or an annual festival, a handcrafted weaving or pottery workshop, or myriad hiking and biking trails.
In short, if you love road trips and music, artisanal crafts, and quaint towns, you'll feel right at home as you drive back in time on The Crooked Road.
6. Grab Lunch/Dinner in the Heart of Downtown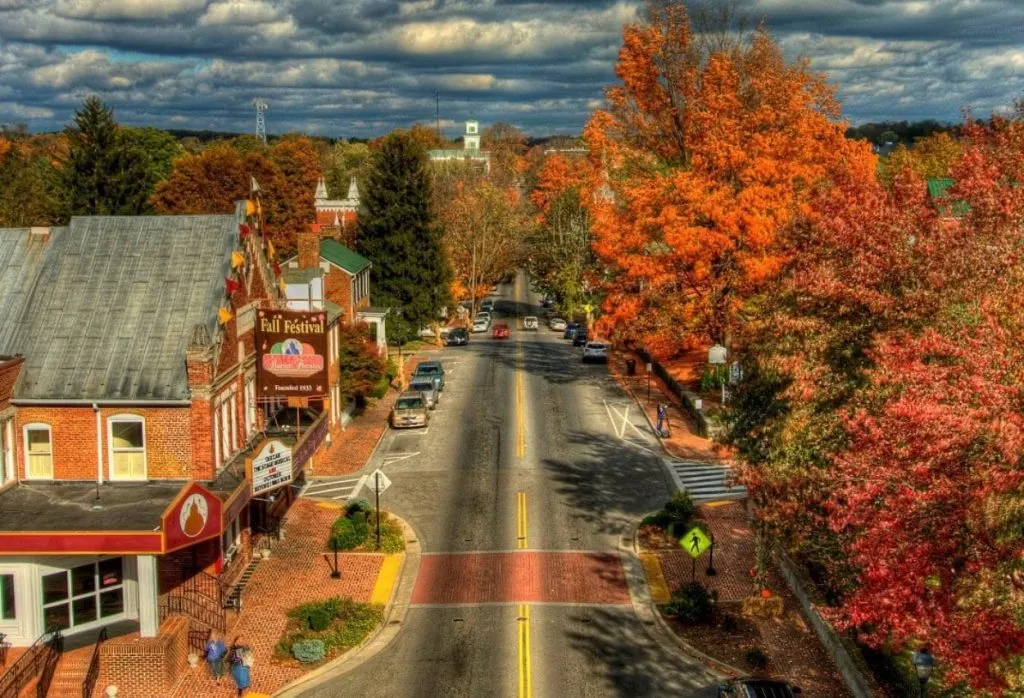 Abingdon was voted "Best Small Town Food Scene in America" three years in a row by USA Today. And with over 30 individually-owned restaurants, Abingdon boasts more eateries per capita than NYC! Now that's a lot of food.
That said, make sure that eating out once or twice is included in your Abingdon itinerary. Below are some of our favorite places to grab some grub!
Let us know what your favorite restaurants in Abingdon are in the comments (and what new flavors you discover during your trip!).
7. Support Local Artists at The Arts Depot
Visiting The Arts Depot is a must-do in Abingdon, especially if you enjoy supporting local and shopping for local art.
There are three galleries, artist studios, and both a classroom and consignment space, all housed inside Abingdon's historic freight station.
Of the galleries, the Spotlight Gallery features exhibitions of juried shows (artwork selected through a competitive process) while the Founders Gallery offers special workshops, classes, and exhibits.
If you've ever been to Asheville, Abingdon's Arts Depot will remind you of the River Arts District!
8. Enjoy Crafts, Music, Food, & More @ The Southwest Virginia Cultural Center & Marketplace
If you're seeking even more arts and crafts, then head to the Cultural Center and Marketplace where you can seep in handmade arts and crafts from over 180 juried artists across Southwest Virginia.
If you're visiting for the day or a weekend, stop by to learn about SWVA's music heritage, traditional food, and outdoor recreation, and how best to enjoy it all. This isn't your ordinary Visitor's Center, so take advantage while you're here!
9. Wine Tasting at Abingdon Vineyards
This next thing to do in Abingdon is all about slowing down and enjoying a glass of fine wine as you sit out by the South Holston River.
That's right — no need to fly out west to Napa Valley; Abingdon has its own excellent vineyard where you can enjoy wine tasting and a riverside picnic.
Abingdon Vineyards offers several red, white, and rosé wines. Purchase a bottle of wine ($25-50) and you can bring your own outside food to enjoy on the lawn. Check more prices below.
Picnic Flight (4 XL tastes) – $16
​Glass of wine – $8/$10 premium
Local hard cider, beer, sodas – $2-18
Cheese, crackers, salami, chips, nuts, cookies – $3-12
Cheese boards – 24 hours notice required
With "world-class wines in the Virginia Highlands", Abingdon Vineyards is the best place to take your date or celebrate an anniversary with loved ones or friends. Plus, it's only 1/2 mile from the Virginia Creeper Trail (Alvarado Station).
Stop by between Wednesdays – Saturdays from 12pm to 8pm. Learn more here.
🍇 Where to stay near Abingdon Vineyards:
10. Tour the William King Museum of Art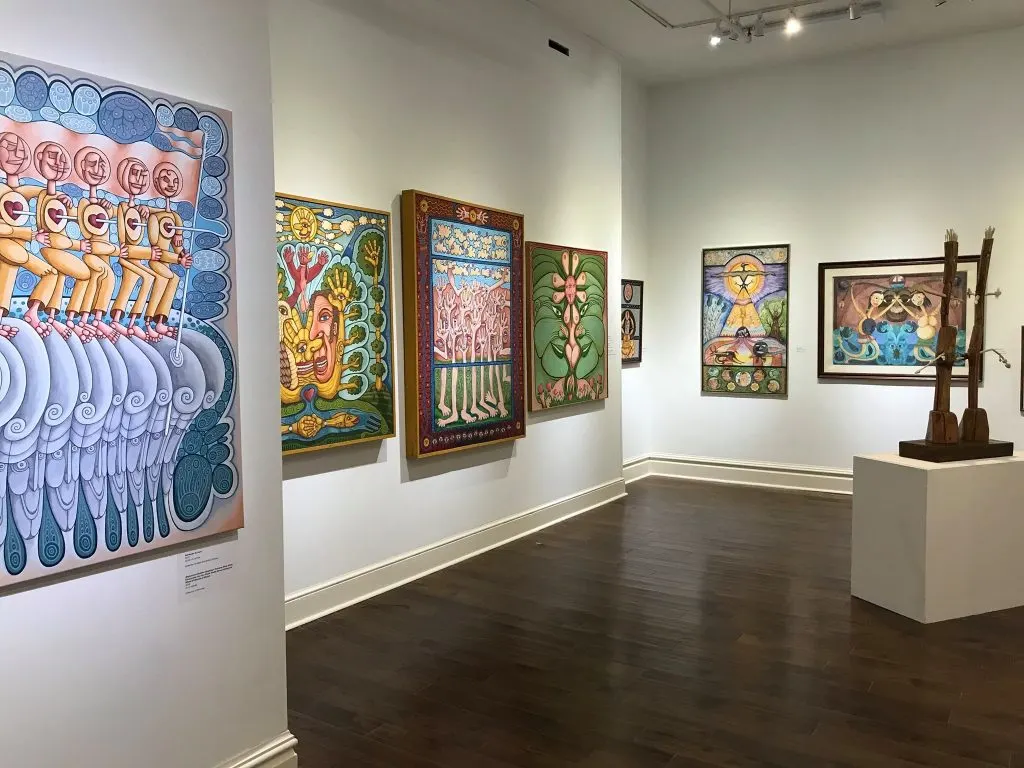 The historic William King Museum of Art (WKMA) is not your ordinary art museum or gathering space. Here, exhibitions are ever-changing and feature a diverse range of art; from regional contemporary art to globally sourced fine art.
What's more, the WKMA is accredited by the American Allegiance of Museums and is a pillar of cultural heritage museums in both Southwest Virginia and Northeast Tennessee.
Currently, there are two on-site tours you can do:
Staff-guided museum-only tour: $15/person
Guided tour + activity (choose between fine arts, crafts, and gallery games): $25/person
The WKMA is the perfect thing to do in Abingdon for history and art lovers!
11. Attend the Artsy Virginia Highlands Festival
If you're in Abingdon in the summer, then you can't miss out on the Virginia Highlands Festival which has been taking place in the city for over 70 years.
This week-long festival features over 200 individual events including an arts and crafts show, guided outdoor excursions, the Antiques & Vintage Market, history walking tours, and live concerts sprawling with food trucks and beer.
The next Virginia Highlands Festival is July 21-July 30, 2023 — don't skip it!
12. Hike the Tolkien-esque Iron Mountain Trail
Ok, so technically the Iron Mountain Trail is closer to Damascus, VA than it is to Abingdon. But, it is such a great hike to do in Southwest Virginia that we couldn't leave it off this Abingdon bucket list!
It's worth noting that both the North and South sections of the Iron Mountain Trail aren't for the faint of heart — both span about 23-24 miles, and were originally part of the Appalachian Trail. However, you can do a shorter 8-mile out-and-back trail or try the 12-mile Appalachian Iron Mountain Loop.
Whichever level of adventure you choose, hiking here will take you back in time to when the first AT hikers conquered the beautiful mountain range.
13. Stroll the Sinking Spring Cemetery
The Sinking Spring Cemetery is one of Virginia's most historic cemeteries, dating back to 1773.
Originally, the graveyard was established for members of the Sinking Spring Presbyterian Church but has come to house tombs for enslaved people owned by these members, as well as unknown soldiers from the Civil War. The log house built by the founders still stands today.
In short, a self-guided stroll through Sinking Spring Cemetery will recount over two hundred years of Abingdon's history. Pick up a brochure at the Visitor's Center before you go so you can read about it during your visit.
14. Shop at the Abingdon Farmer's Market
One of the best things to do in Abingdon is to shop for local and artisanal goods at the weekly farmer's market!
Open year-round, the Abingdon Farmer's Market offers fresh produce, vegetables, meats, artisanal crafts, jewelry, and artsy creations.
Visit the market downtown at the Market Pavilion on Tuesdays from 3pm-6pm and Saturdays from 8am-12pm. Stay updated with events, opening hours, live music days, and more on their Facebook page.
15. Do a Self-Guided Tour of White's Mill
White's Mill is a historic grist mill (stone ground corn meal and grits) located near Abingdon, VA.
At 150 years old, it has earned its place in the Virginia and National Registries of Historic Places (listed in 1974). White's Mill is one of the last remaining (and working) grist mills in SWVA.
You can visit White's Mill on a self-guided tour Wednesdays to Sundays from 10am-3pm.
Make sure to stop by the White Mill Mercantile to purchase a bag of authentic stone ground grits on your way out! The store also sells handmade crafts, jams and jellies, antiques, and other local/regional products.
16. Eat at the Historic Abingdon Tavern
Founded in 1779, The Tavern is Abingdon's oldest restaurant and bar. But despite its age, it's one of the most popular places to eat in Abingdon as it features an award-winning menu coupled with an inviting and convivial ambiance.
On the menu, you'll find upscale American grub mixed with German classics. You can preview the full menu here.
17. Road Trip to Devil's Bathtub Waterfall (1 Hour)
🚙 Drive Time: 1 hour
📍 Location: Dungannon, VA
🥾 Hiking Distance: 7.2 mi round-trip (Difficult)
Devil's Bathtub is one of Southwest Virginia's most scenic waterfalls and swimming holes. To get there from Abingdon will take an hour's drive and a bit of a hike, but it'll be worth it (especially in the hot summer months).
The hike itself is rated as difficult. It's about 3.5 miles one-way, with nearly 15 water crossings. Take a dip at Mill's Pond, and then enter into the Devil's Bathtub — if you dare! They say the water is so cold it'll distinguish the devil himself.
⚠️ Due to its popularity, Devil's Bathtub is at risk of degradation. Please recreate responsibly and Leave No Trace; pack out all trash you pack in, and park in designated areas only.
18. Visit the Abingdon Muster Grounds
Looking for even more historic things to do in Abingdon? If so, head to the Muster Grounds.
The Abingdon Muster Grounds features the Keller Interpretive Center and a certified 0.6-mile section of the Overmountain Victory Trail which makes up the 330-mile National Historic Trail.
Open daily from 9am-5pm, the Interpretive Center showcases exhibits that explore what life was like for men, women, African-Americans, Native Americans, and British Loyalists living in the colonial backcountry and the Overmountain region of SWVA during the Revolutionary War.
19. Go on a Day Trip to Bristol, VA/TN
Abingdon, VA is in a prime location for visiting other underrated destinations across the Appalachian Highlands, including Johnson City and Bristol in Northeast Tennessee in addition to mountain towns in Western North Carolina.
Bristol, in particular, shares a border with both Tennessee and Virginia which makes it a unique place to visit. And best of all, it's only an easy 20-minute drive from Abingdon, making it the perfect day excursion for exploring more of Southwest Virginia and all it has to offer.
While we think there are already plenty of things to do in Abingdon, it's always fun to go on a mini road trip and discover other hidden gems.
Did we miss anything on this Abingdon, VA bucket list? If so, let us know in the comments below!
📌 PIN IT FOR LATER