Looking for the best day trips from Johnson City, TN? Look no further as we will provide you with a local's guide to the best day trips located in the Appalachian Highlands!
Johnson City was born in 1856 when Henry Johnson founded the Johnson's Depot, a railroad center for the Southeast area of the United States. The city is nestled between the mountains and surrounded by rivers and lakes, making it a beautiful area to visit or a great place to live.
Comprised of three cities — Bristol, Johnson City, and Kingsport — the Tri-Cities area has many wonderful towns to explore, all within a short drive, including towns in Virginia and North Carolina. These surrounding areas all make up a larger region known as the Appalachian Highlands.
Whether you are seeking a day trip to explore a nearby river or lake or would prefer a weekend getaway, the area of the Appalachian Highlands provides many great spots with plenty to do.
Below we will provide you with some great locations to visit for your day trip or weekend getaway from Johnson City!
☀️ Planning your summer vacation? Check out these great hotels: The Carnegie in Johnson City, The Oliver in Knoxville, and The Bristol in Bristol TN-VA!
Best Day Trips From Johnson City, Tennessee
1. Take in the Views at Great Smoky Mountains National Park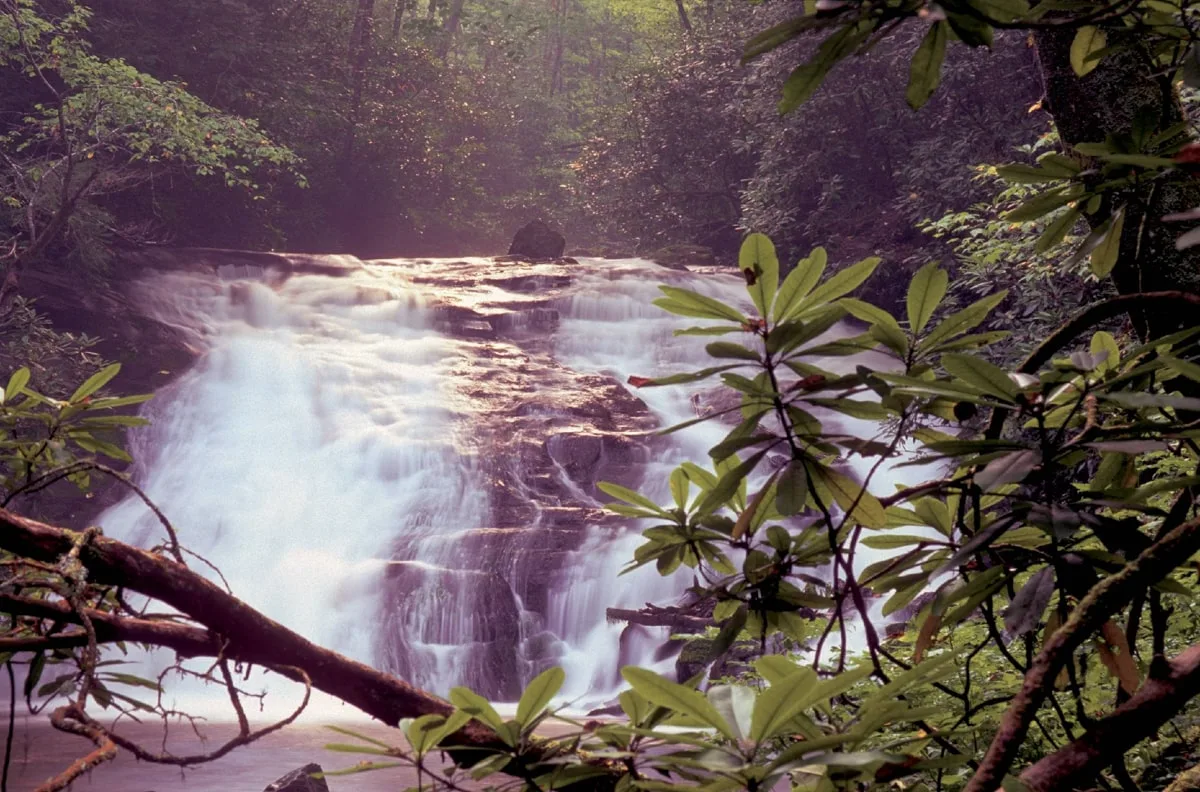 Distance: About 1 hour, 30 minutes
Straddling the border of North Carolina and Tennessee and encompassing over 500,000 acres of land, lies the beautiful Great Smoky Mountains National Park.
Whether you would like to take a strenuous hike to the highest peak and view the misty mountains below or enjoy a picnic while watching the sunset, the Great Smoky Mountains will not disappoint.
The Great Smoky Mountains is America's most visited national park. Peak season ranges from July through October — when the leaves on the trees turn the mountains into a wave of golden amber.
This national park offers a large variety of things to do and see on a day trip from Johnson City, from auto touring to horseback riding, hiking to beautiful waterfalls, and everything in between.
Things to Do:
Auto Touring – Explore the Great Smoky Mountains in your favorite vehicle or motorcycle. Visit the Blue Ridge Parkway or enjoy the scenery at Newfound Gap.
Bicycling – Biking through Cades Cove is a very popular attraction as it offers an 11-mile one-way road with excellent opportunities to view wildlife.
Camping – Experience the outdoors of the Smoky Mountains by none other than camping right in the middle of it! Backcountry, Frontcountry, Group Campgrounds, or Horse Camps are all available in the Great Smokey Mountain National Park.
Fishing – Fishing is a very popular activity in the Smoky Mountains as it offers over 2,900 miles of streams and 20% of those support trout populations. Fishing is permitted year-round.
Hiking – Of course, hiking is a MUST when visiting the Great Smoky Mountains. Hikers can enjoy the national park year-round from Spring to Winter as all four seasons provide a different experience.
Waterfalls – Hike to many different waterfalls located within the National Park as almost 200,000 visitors do each year.
2. Visit the Cherokee National Forest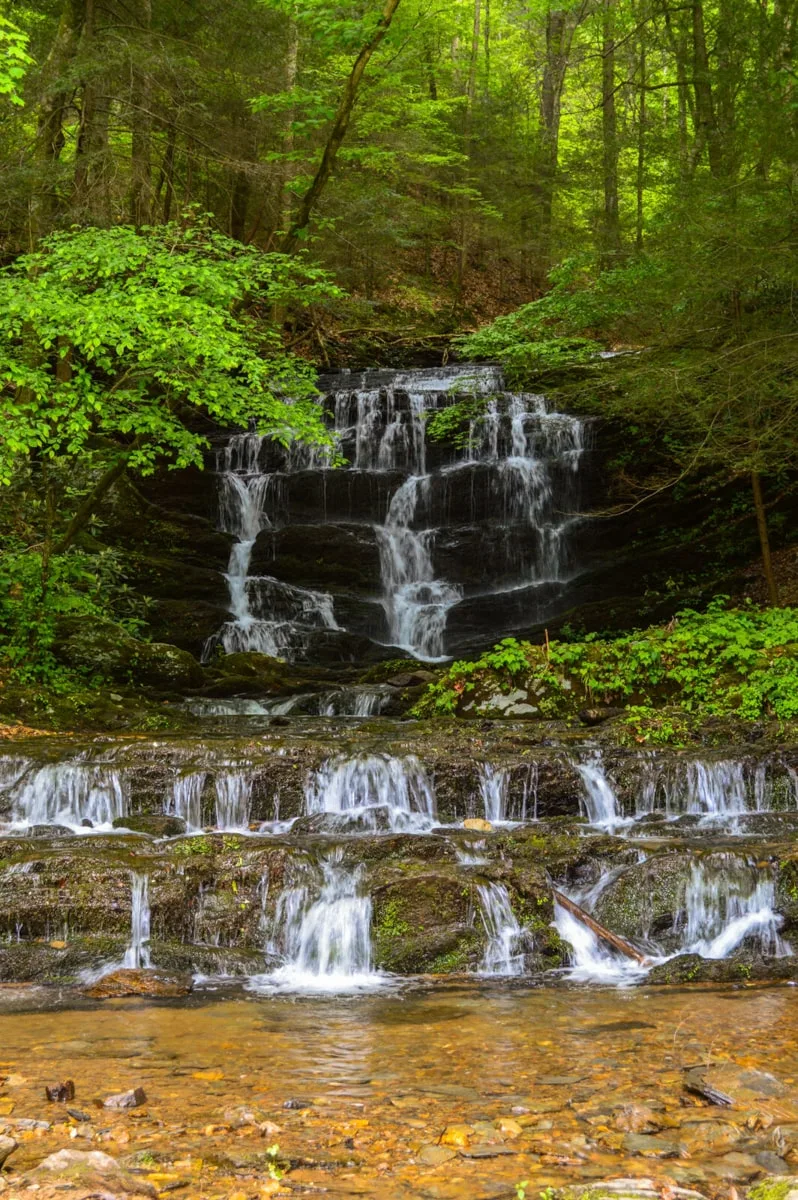 With over 650,000 acres, the Cherokee National Forest is the largest tract of public land in Tennessee.
Here you will find the Appalachian Trail, a few rivers, and the beautiful Watauga Lake nearby the quaint town of Elizabethton, TN. Cherokee National Forest is very popular among tourists for camping, hiking, and whitewater rafting.
Below I will list a few popular areas and what you can do while visiting the Cherokee National Forest.
Popular Areas:
Pigeon River Area – This area is popular among hikers, campers, and those who love to go whitewater rafting as it is located between the French Broad and the Pigeon River. Camp at Round Mountain, known as one of the best tent campgrounds in Tennessee!
Roan Highlands – Once you reach the top of the steep rugged mountainside, you will see bald mountains due to the high elevations and rare plant species. Roan Mountain is most famous for its Rhododendron Bloom from late May to June.
Watauga Lake Area – Here you will find Watauga Lake, many rivers, and several waterfalls. Go fishing, swimming, and boating, and you can hike part of the Appalachian trail which will give you beautiful views of the lake below.
Unaka Mountains – Hike trails through the backcountry, enjoy a scenic drive, or go tubing on the Nolichucky River.
Backbone Rock Recreation Area – Located along Beaverdamn Creek in North Johnson City, here you will find the "Shortest Tunnel in the World" according to US Forest Service.
Holston Mountain Area – South Holston Lake is located here and it is great for fishing, boating, swimming, and even horseback riding. While you're here, visit the Blue Hole Waterfall located off TN Highway 81.
Read about the Blue Hole Waterfall and other waterfalls in the Johnson City area here:
Best Waterfalls Near Johnson City 💦
3. Experience NASCAR at Bristol Motor Speedway
Attracting fans from across all 50 states and over a dozen countries, Bristol Motor Speedway is one of the world's most popular racetracks. Thousands of people travel to Bristol, TN days to even weeks in advance of a NASCAR race and camp! Bring your camper and beverages of choice and join in on the fun.
The NASCAR Sprint Cup is held here in the months of April and August. Click here to purchase tickets.
Bristol, TN/VA also holds the honor of being the Birthplace of Country Music by the U.S. Congress in 1998.
Visit the Birthplace of Country Music Museum, where this 24,000-square-foot facility documents Bristol's story of becoming what it is today. Johnny Cash himself named the 1927 Bristol Sessions as "the single most important event in the history of country music."
4. Explore the Magic of Bays Mountain in Kingsport
Distance: About 30 minutes
Bay's Mountain Park and Planetarium is a 3500-acre park located in Kingsport, TN featuring a 44-acre lake, hiking trails, a Nature Center with a Planetarium, and Animal Habitats — where you can find wolves, bobcats, raptors, and reptiles.
This park is home to a state-of-the-art Planetarium theatre, the only one of its kind located in the Western Hemisphere.
Bay's Mountain explains that "Planetarium theaters are unique in that they accurately reproduce the night sky, or any environment, under a hemispherical projection dome."
Things to Do:
Take a Barge Ride on the Lake
Listen to stories about the Mountain on a Guided History Hike
Go Mountain Biking with over 32 miles of trails
Go Ziplining on an Adventure Course
Visit the Animal Habitats
Go Camping or Fishing
Experience the Planetarium Theatre
Join the Astronomy Club
5. Tour Jonesborough — Tennessee's Oldest Town
Known as Tennessee's Oldest Town, Jonesborough was incorporated in the 18th century in the year 1779. You'll see the charm and history of this old town as you walk down Main Street, viewing the historic buildings and envisioning what this town used to look like over 200 years ago.
Home to the International Storytelling Center and hosting the annual Storytelling Festival every October, Jonesborough is known as the Storytelling Capital of the World. This Storytelling Festival has been popular in Historic Jonesborough for over 50 years, bringing storytellers from all over the United States.
"What New Orleans is to jazz… Jonesborough is to storytelling."

Los Angeles Times
Visit Jonesborough and enjoy the history, storytelling, shopping, locally brewed coffee, and antique shops.
You'll find the Tennessee Hills Distillery where you can try some locally distilled spirits or head over the Depot Street Brewing and try some craft beers near the train tracks.
Also Read:
6. Discover the Historical Charm of Abingdon, Virginia
Located in the Blue Ridge Mountains of Southwest Virginia, you'll find the historic town of Abingdon.
Abingdon is best known for its artsy vibe, historic charm, and outdoor activities. It was also voted as one of the "Coolest Small Towns in America" and hopefully once you visit, you'll think so too!
Things to Do:
Watch a Play at the Barter Theatre – The Barter Theatre is the nation's longest-running professional theatre and has been open since 1933. Tickets sell out fast, so choose a play and enjoy your night!
Bike the Creeper Trail – a rail trail 34 miles long that runs from Abingdon to Whitetop Station and is a perfect trail for bikers. A popular option is renting a bike in Abingdon and being shuttled to Whitetop Station, where you can basically cruise downhill for 17 miles back to Abingdon.
Visit Abingdon Vineyards – "From Napa to Appalachia", the owner of Abingdon Vineyards is from Napa Valley California where he learned to make wine. Located right on the South Holston River, you can bring your own blanket and enjoy some wine and cheese while listening to live music.
Enjoy a Brew at Wolf Hills Brewing Co. – Named after an encounter Daniel Boone experienced while visiting Abingdon, Wolf Hills is a great location to stop for a drink. Try the famous Wolf Hills Honey Cream Ale if you haven't already.
Eat at Rain Restaurant & Bar – Rain Restaurant & Bar is a highly-rated restaurant located in downtown Abingdon, Virginia offering a menu that changes often.
Eat at The Tavern – The Tavern is another popular restaurant among locals and tourists located in downtown Abingdon. Founded in 1779, they offer a historical fine dining experience.
Stay at the Martha Washington Inn & Spa – Originally built in 1832 as a private residence, the Martha Washington Inn & Spa will have you stepping back into the 19th century from the minute you step inside the front door. As it is famously known for its historical charm, it is also known for impeccable service and world-class spa treatments.
7. Visit Dollywood, Pigeon Forge, and Gatlinburg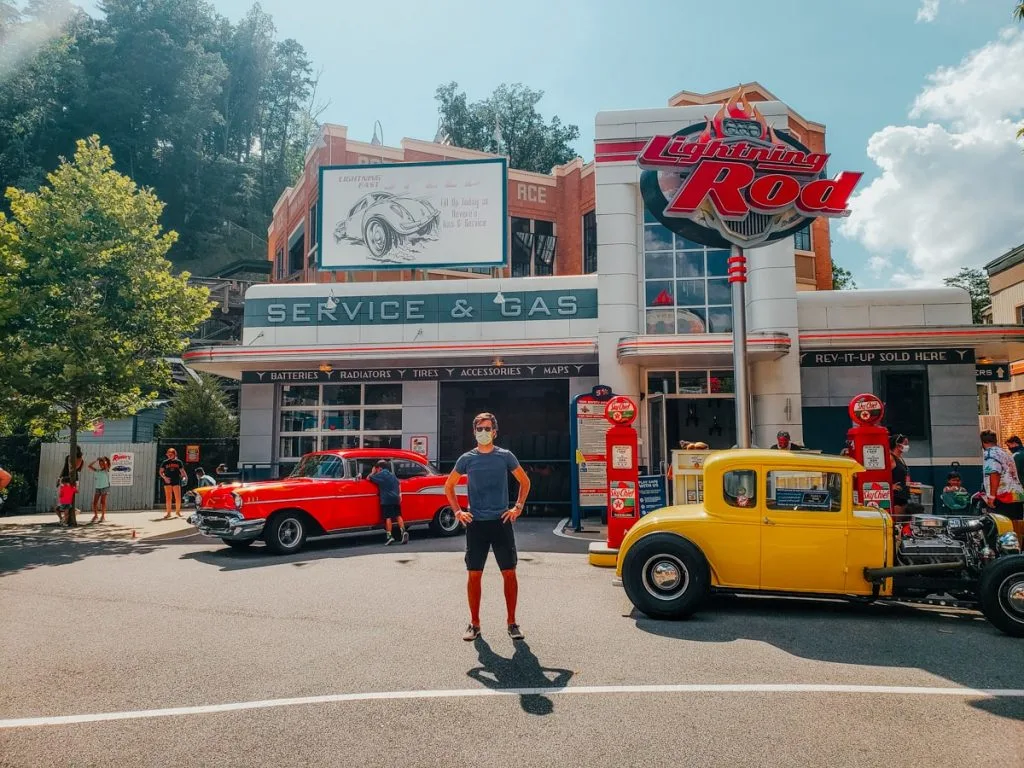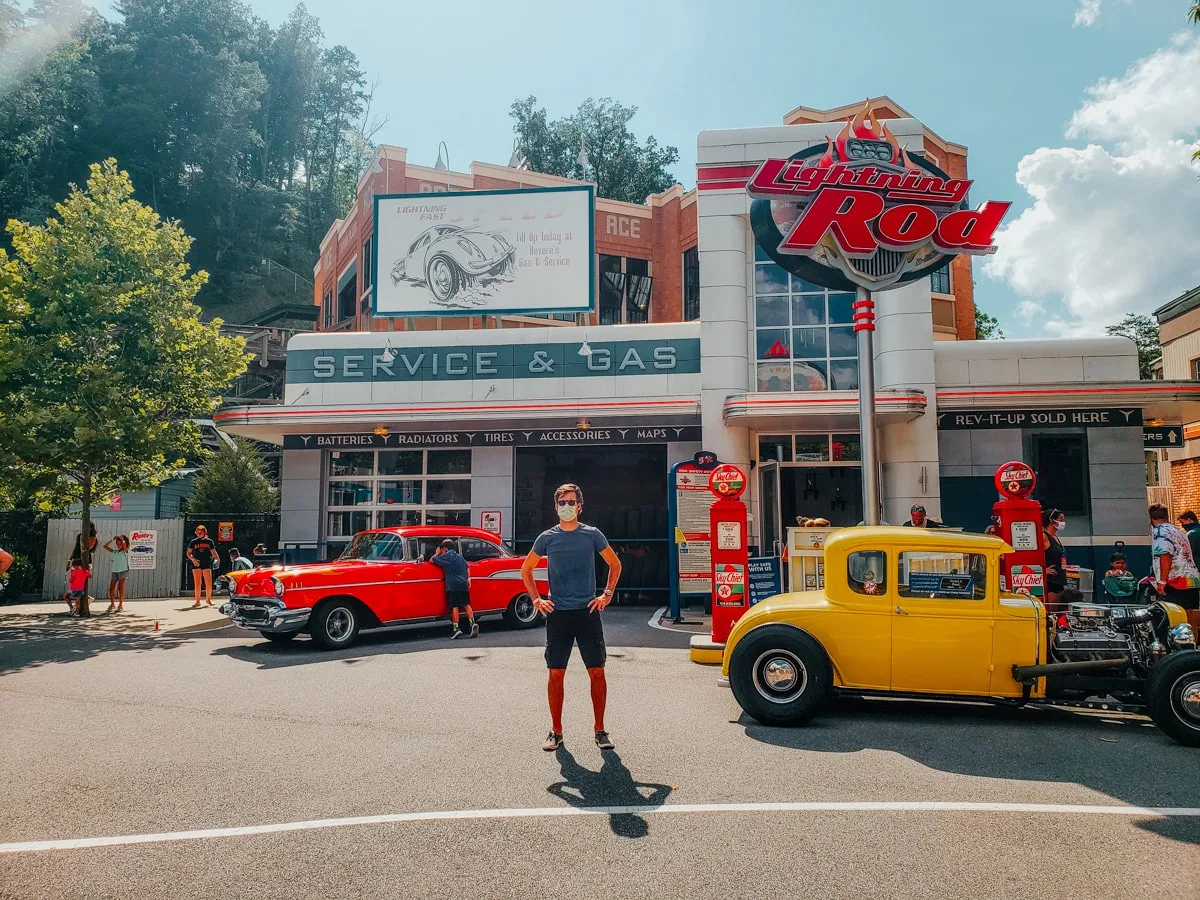 Pigeon Forge and Gatlinburg are both becoming popular tourist destinations in the United States.
Pigeon Forge is home to Dollywood, Dolly Parton's amusement park consisting of roller coasters and rides, a water park, and a museum of her memorabilia.
Considered a year-round family-friendly vacation destination as both of these towns are filled with fun activities, shopping, lodging, shows, and dining. Rent a cabin and enjoy the views of the Smoky Mountains or spend a thrilling weekend at Dollywood.
Things to Do:
Visit Dollywood Amusement Park
Stay at one of these Cozy Cabins
Visit Anakeesta Mountaintop Park – an outdoor adventure hub offering ziplining, gondola rides, and a tree-top play area.
Visit Gatlinburg's Skylift Park – Ride Skylift chairs 1800 feet above sea level to North America's record-breaking Gatlinburg Skybridge – offering views over Gatlinburg.
Try Tastings at the Ole Smokey Whiskey Distillery – For just $5, you can enjoy tastings at the Ole Smokey Whiskey Distillery.
Explore Ripley's Aquarium of the Smokeys – a great family-friendly attraction featuring 10 themed galleries with over 10,000 exotic sea creatures.
Go to a Dinner Show – Pigeon Forge offers many different types of dinner shows from the Hatfields and McCoys to Dolly Parton's Stampede.
Shop at the Tanger Outlets
Visit Parrot Mountain – Parrot Mountain and Gardens is open from March – December, offering beautifully landscaped gardens and hundreds of tropical birds.
8. Check out the Beer City of Asheville, NC
Located just over the Blue Ridge Mountains and through the woods is the Beer City of Asheville, North Carolina.
Known for its vibrant art scenes and historic architecture, it is also known as one of the best cities to drink beer. With more breweries per capita than anywhere else in the U.S., you'll definitely find plenty to drink here.
Many breweries are located within walking distance of one another so it's easy to visit more than one, or you could choose to participate in a pub cycle, where you can bike and drink at the same time.
Things to Do:
Visit Biltmore – Explore America's largest home, located on an 8,000-acre estate and built by George Vanderbilt.
Stay at the Omni Grove Park Inn – Celebrated for its history and southern charm, more than 10 Presidents and countless celebrities have stayed at this hotel.
Drive on the Blue Ridge Parkway – The Blue Ridge Parkway offers over 450 miles of scenic roads overlooking the Great Smoky Mountains.
Visit the River Arts District – The River Arts District is made up of more than 20 historical buildings located on a stretch of the French Broad River. View creative pieces from over 200 artists, from painting to ceramics.
Visit the North Carolina Arboretum – Part of the Pisgah National Forest, the Arboretum is a public garden offering over 400 acres.
Tour the Western North Carolina Nature Center – Connecting people with animals and plants of the Southern Appalachian Mountains by inspiring appreciation, understanding, and conservation efforts.
Explore the Pisgah National Forest – Comprised of over 500,000 acres of mountainous peaks, cascading waterfalls, and miles of trails, Pisgah National Forest is great for those looking to hike, bike, camp, go fishing, etc.
9. Cheer on the Volunteers at a UT Football Game in Knoxville, TN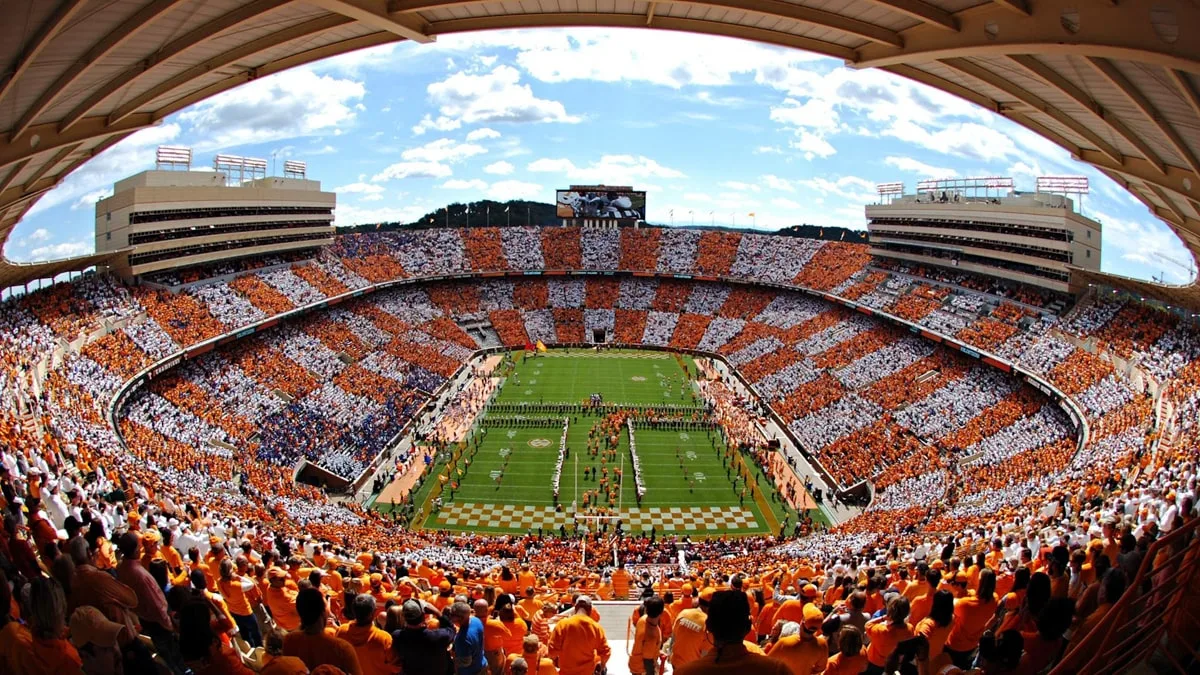 The University of Tennessee is home to the Tennessee Volunteers who have played over 130 seasons of football, dating back to 1891. Neyland Stadium is the 5th largest stadium in the nation and can seat over 100,000 fans. Go Big Orange!
Knoxville offers many fun activities including sports, outdoor attractions, nightlife, and more!
Things to do in Knoxville, TN:
Walk around Market Square – Market Square is a unique area located in downtown Knoxville offering outdoor movies and concerts, shopping, and restaurants.
Experience the history of Gay Street – This street is known for its art galleries, historic theatres, and many registered historic buildings.
Stroll through Historic Old City – Old City intersects at Central and Jackson Avenues, featuring many restaurants, coffee shops, breweries, distilleries, and music venues.
Visit Zoo Knoxville – The Knoxville Zoo is a 53-acre zoo home to over 800 animals and receives over 400,000 visitors each year.
Bike or Kayak through the Ijams Nature Center – Ijams offers over 12 miles of trails great for hiking or biking. Ijams is also famous for Mead's Quarry Lake, great for kayaking, canoeing, or paddleboarding!
More Things to Do in Knoxville, TN
What Are Your Favorite Johnson City Day Trips?
We hope you have a blast on your day trip adventure from Johnson City! All of these destinations are worth checking out, so you've got a tough choice to make. 😉
Let us know where your favorite day trip cities are in the comments! Do you have any suggestions for us?
📌 PIN IT FOR LATER