Looking for the best place in Johnson City to grab a pint? Maybe with a side of food truck grub? If so, read here for the best breweries (and tap houses) in Johnson City, Tennessee!
Growing fast in popularity among craft beer connoisseurs, Johnson City is a must-visit destination to satisfy your thirst.
With over 6 breweries located just in the downtown area, treating yourself with a self-guided brew tour is a great idea since most of them are within walking distance.
Most of the breweries located in Johnson City host food trucks, feature local live music, or even have games including weeknight trivia!
Downtown Johnson City also hosts a few yearly festivals, including the famous Blue Plum Festival which has been a local favorite since 1999, bringing music and arts to the downtown area while supporting the community.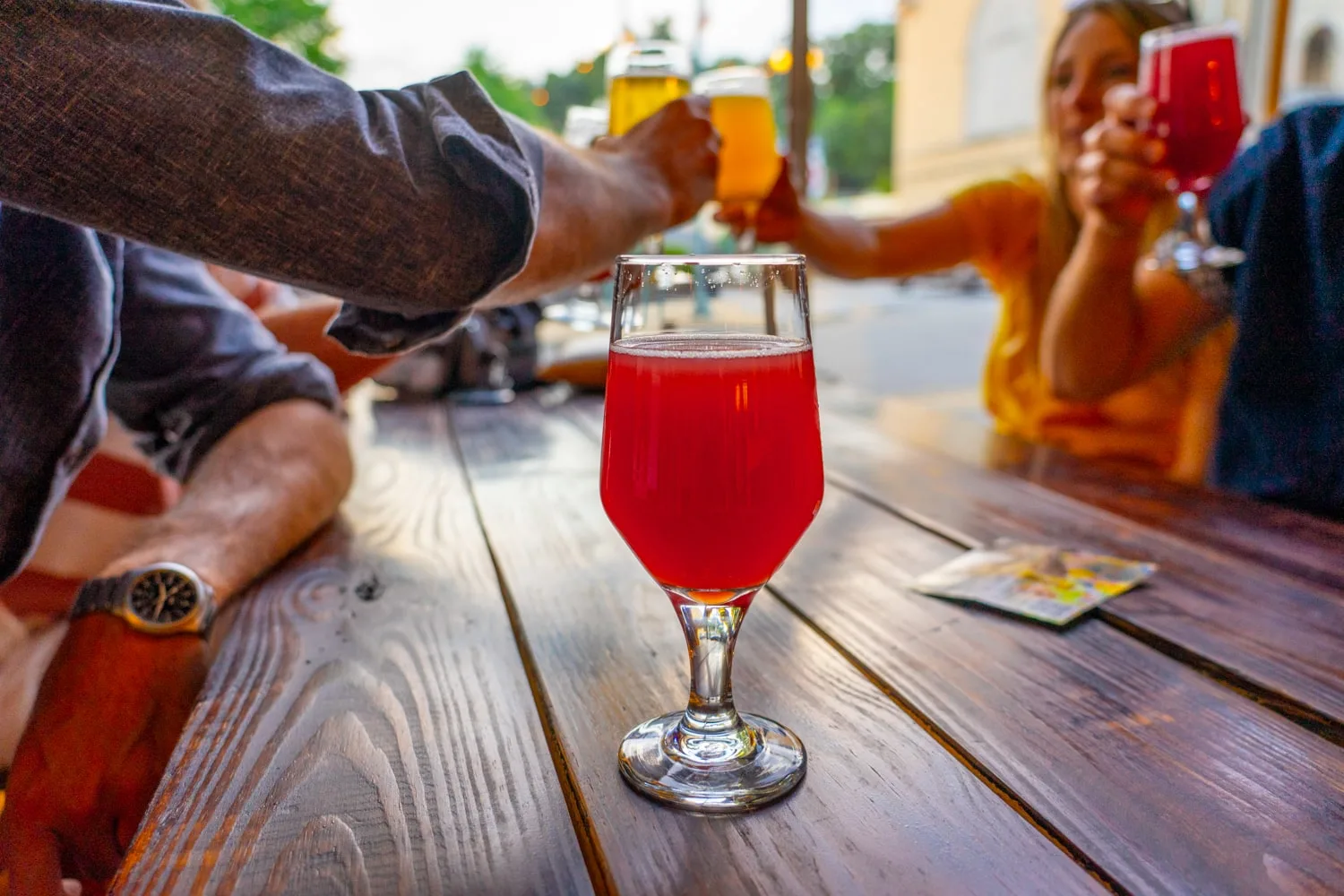 The breweries located in Johnson City offer many types of beer, from IPAs to tart sours, which is why brewery hopping is one of the top things to do in Johnson City.
Having lived in Johnson City for over 10 years now, I have had first-hand experience at every brewery that Johnson City has to offer.
This guide will break down the best breweries located in Johnson City so you can come and enjoy what this city has to offer like a local!
The Best Breweries in Johnson City, TN
1. Johnson City Brewing Company
Hours: Mon: (closed), Tues-Thur: 4-9pm, Fri: 4-10pm, Sat: 1-10pm, Sun: 1-5pm
Locations: 257 E Main Street (Downtown) and 362 Boones Creek RD (Boones Creek Location)
Food: Yes – Rotating Food Trucks (Boones Creek)
Pet Friendly: Yes
A favorite among many locals since opening in 2014, Johnson City Brewing Company is one of the best breweries in the city!
They feature many craft favorites including the Blue and Gold, named after the colors of the local East Tennessee State University, a Golden Ale brewed with blueberry purée (one of my favorites!). Another fan favorite is Peaches, which is an Amber Ale brewed with peaches and coriander.
You may notice that there are many mugs, or steins, hanging up on the back wall as you enter the brewery. These mugs are actually owned by locals who frequent JCBC.
You can become a member of the Lamplighter Beer Club for $125 for the first year and a $20 renewal fee for every year after that. This membership provides you with a free t-shirt, a magnetic bumper sticker, and a handcrafted 20oz stein made by local potters. Also, you will only pay the 16oz price for a beer when you will actually be getting 20oz!
Johnson City Brewing Company also has another location which is located in the Boones Creek area of Johnson City. This brewery is located in an old victorian style house with lots of outdoor space. Come to this location instead if you prefer to sip on brews while enjoying the outdoors or would like some room outside for your kids to enjoy.
Live bands and food trucks are often offered at the Boones Creek location as there is a lot of outdoor space to offer.
The downtown location sits right across from one of our favorite coffee shops in Johnson City and offers fun board games and weekly trivia nights!
2. Little Animals Brewery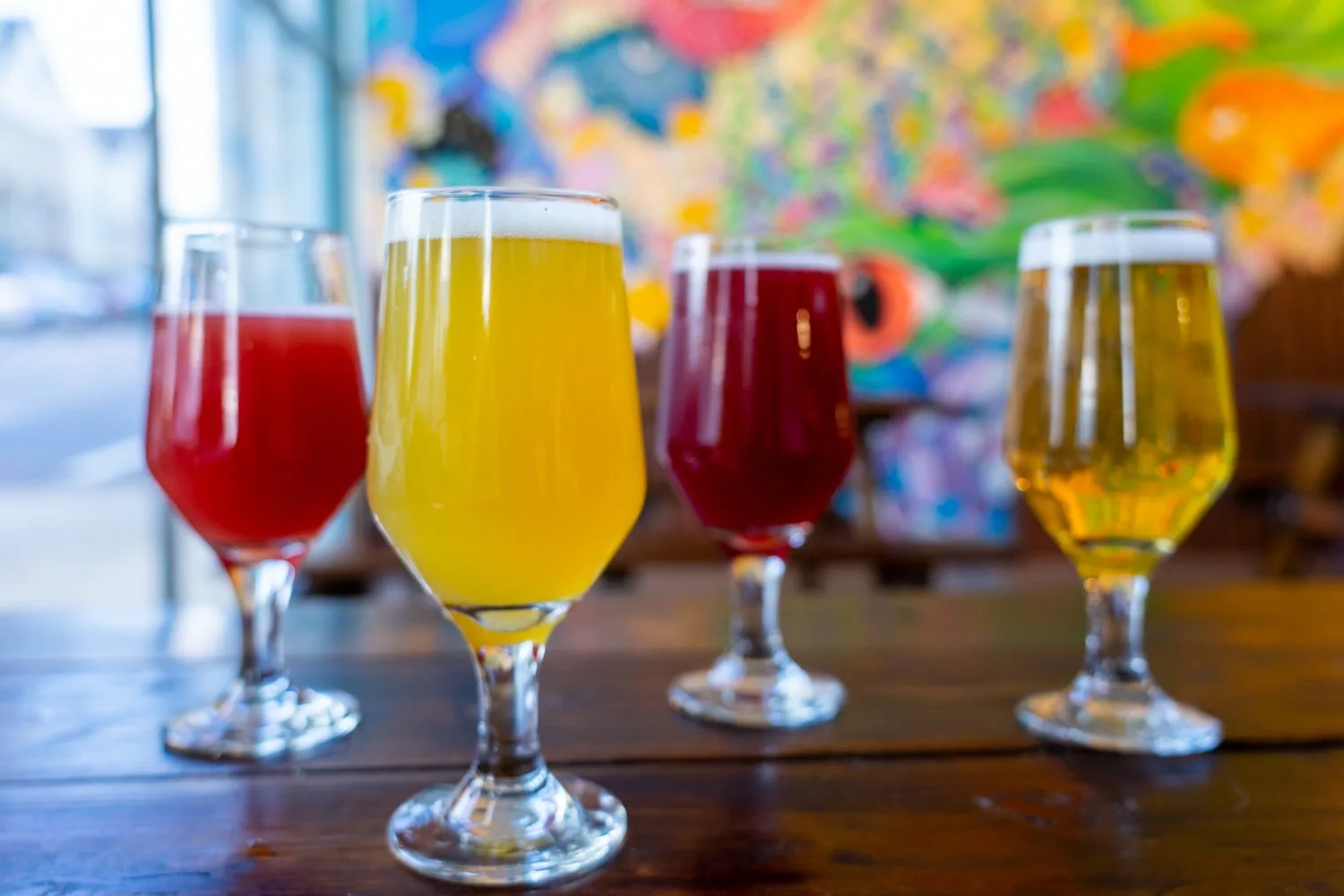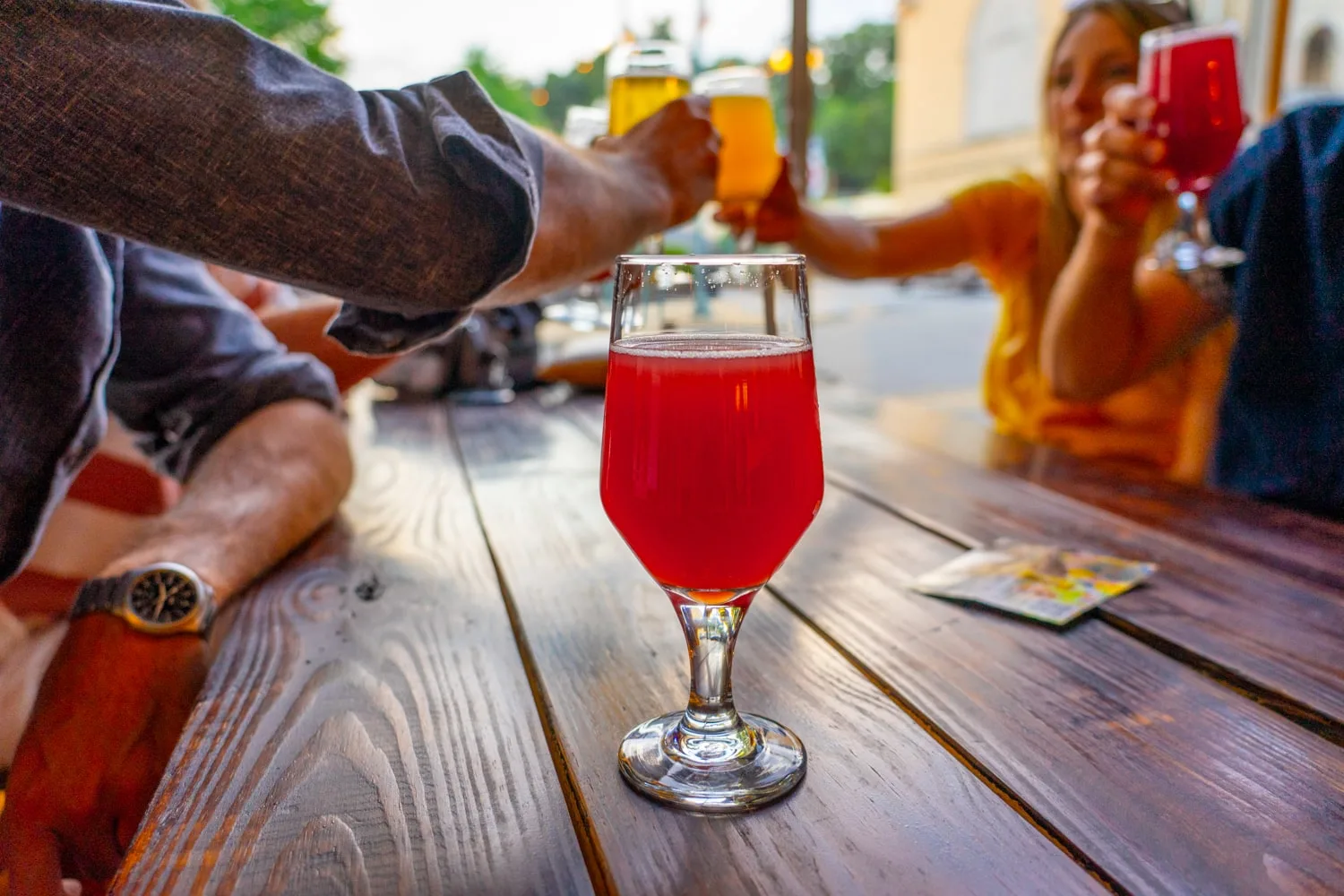 Hours: Mon-Tues: (closed), Wed-Fri: 4-10pm, Sat: 2-10pm, Sun: 2-8pm
Location: 324 E Main St
Food: No
Pet Friendly: Yes
Little Animals is a special type of brewery, as they specialize in funky or sour beers. You won't want to miss out on these beers, as they offer some of the best in the city!
The name, Little Animals, was named after the microorganisms or "animalcules" it takes to create a sour beer.
The first thing you'll notice when entering this brewery is the artwork on the wall making it fun and inviting!
If you take a closer look, you'll notice images of all the microorganisms, yeast, and bacteria that it takes to make the funky craft you are sipping on. Pretty cool, eh?
Sip on a Doxie Blackberry Sour, an Aminacule Plum & Apricot, or even an IPA if you aren't too fond of funky sours.
Stay tuned to see when their next movie or game night is, or visit just to play one of our favorite games, Zelda, on the Nintendo 64! Bring your friends, your dog, and an appetite for a funky sour!
3. Watauga Brewing Company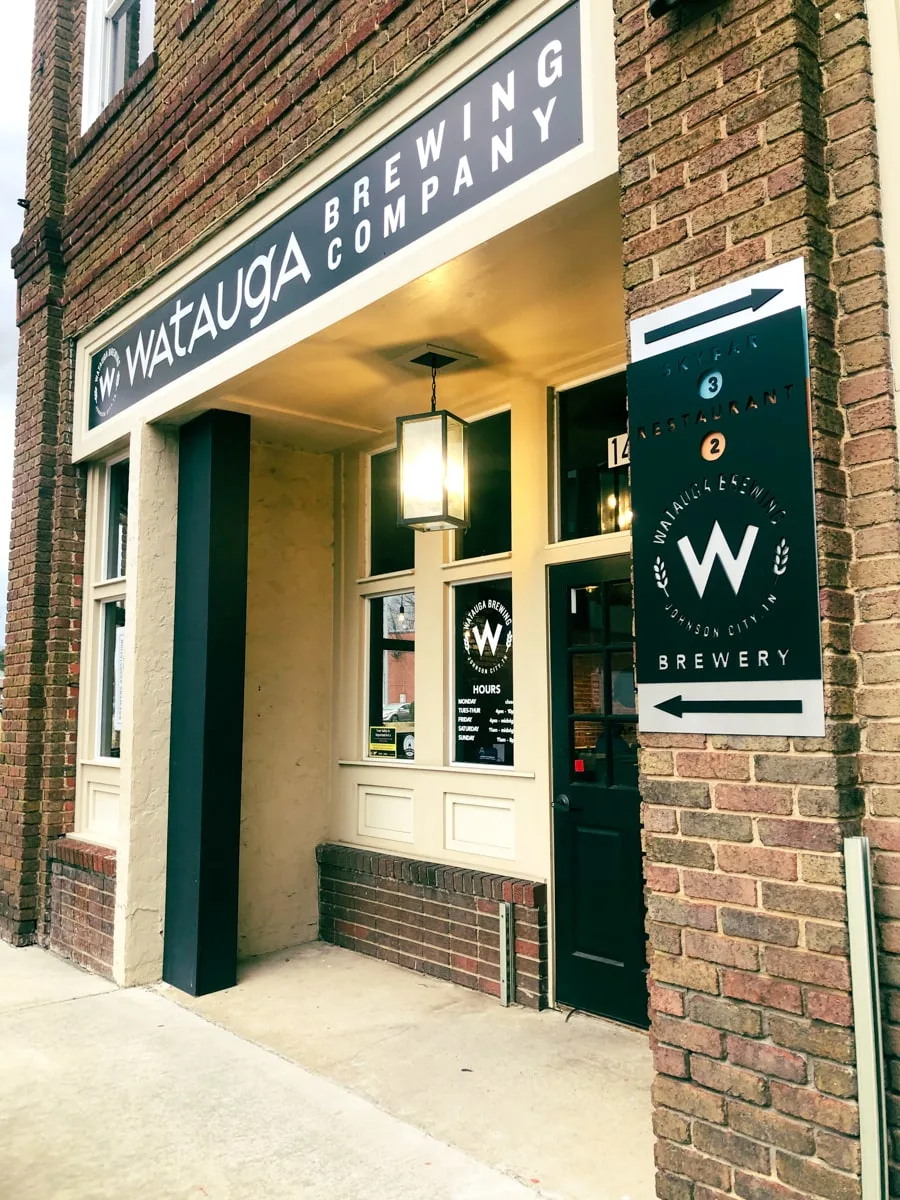 Hours: Tue-Thurs: 4–10pm, Fri: 4pm-Midnight, Sat: 11am-Midnight, Sun: 11am-8pm
Location: 142 W Market St
Food: Yes – Full Restaurant and Brew Bites
Pet Friendly: No
Watauga Brewing Company is more than just a brewery, you'll also find a full restaurant and rooftop bar!
The Brewery located on the ground floor offers a taproom with brew bites, the Restaurant on 2 is a full-menu restaurant, and the 3rd level is the SkyBar on 3 which offers specialty cocktails, brew bites, and a view of King Commons Park (our favorite park in Johnson City) in downtown.
Visit the first-floor brewery to sample one of their 16 taps of signature Ales, IPAs, ESBs, Stouts, and seasonal Seltzers. No reservations are needed to visit the taproom. If you look towards the back of the room, you'll be able to have a glimpse of their brew kettles and the equipment where they make their craft beer. Grab a beer and play a game of Table Shuffleboard with your friends!
Restaurant on 2 is a full-menu restaurant that specializes in unique cuisine and a cozy atmosphere. Walk-ins are accepted but reservations are highly encouraged! The menu features tapas-style food, allowing everyone in your party to share.
Restaurant on 2 also offers Sunday Brunch from 11 am to 3 pm — bring on the mimosas! 🍹
Last, but certainly not least, is the Skybar on 3. Here you can order craft cocktails, signature craft beers, brew bites, and small plates from the kitchen.
This sky bar offers a great view over King Commons Park and the rest of Johnson City. They also provide gas firepits and patio heaters scattered around the deck for those chilly nights!
4. Tennessee Hills Brewstillery
Hours: Mon-Wed: 4-10pm, Thurs: 12-10pm, Fri-Sat: 12-11pm, Sun: 12-8pm
Location: 458 W Walnut Street
Food: Yes – Whiskey Kitchen Food Truck
Pet Friendly: Yes
Tennessee Hills Brewstillery offers the best of both worlds — craft beers brewed in-house and spirits from Tennessee Hills Distillery. This location recently opened in 2021 and has been going strong since opening day! Sit inside at their custom-made copper bar or head outside where you can play a game and relax in the sun.
Here you will be able to sip on a craft beverage while playing a game of cornhole, listen to a live band, or even grab a bite from their very own Food Truck — The Whiskey Kitchen. This food truck offers brew-bite favorites such as hamburger sliders and loaded fries.
Stay tuned as Tennessee Hills is also planning on building another distillery close to this location as well as a gift shop where you can purchase their very own spirits; my favorite is the Lavender Lemon!
5. Atlantic Ale House (Tap House)
Hours: Monday: (closed), Tues-Thurs: 4-10pm, Fri-Sat: 4-11pm, Sun: 3-8pm
Location: 111 McClure St
Food: Yes – Rotating Food Trucks
Pet Friendly: Yes
Although they do not craft their own brews, Atlantic Ale House is a tap house and beer garden that you will not want to miss!
Offering 16 taps of locally crafted brews, usually from the Johnson City and Asheville region, you're certain to find something you will like to drink here!
Enjoy their amazing outdoor area with overhead string lights and a large projector screen for movie nights. Atlantic Ale House usually hosts a variety of events throughout the year from outdoor movie nights, block parties, or even concerts!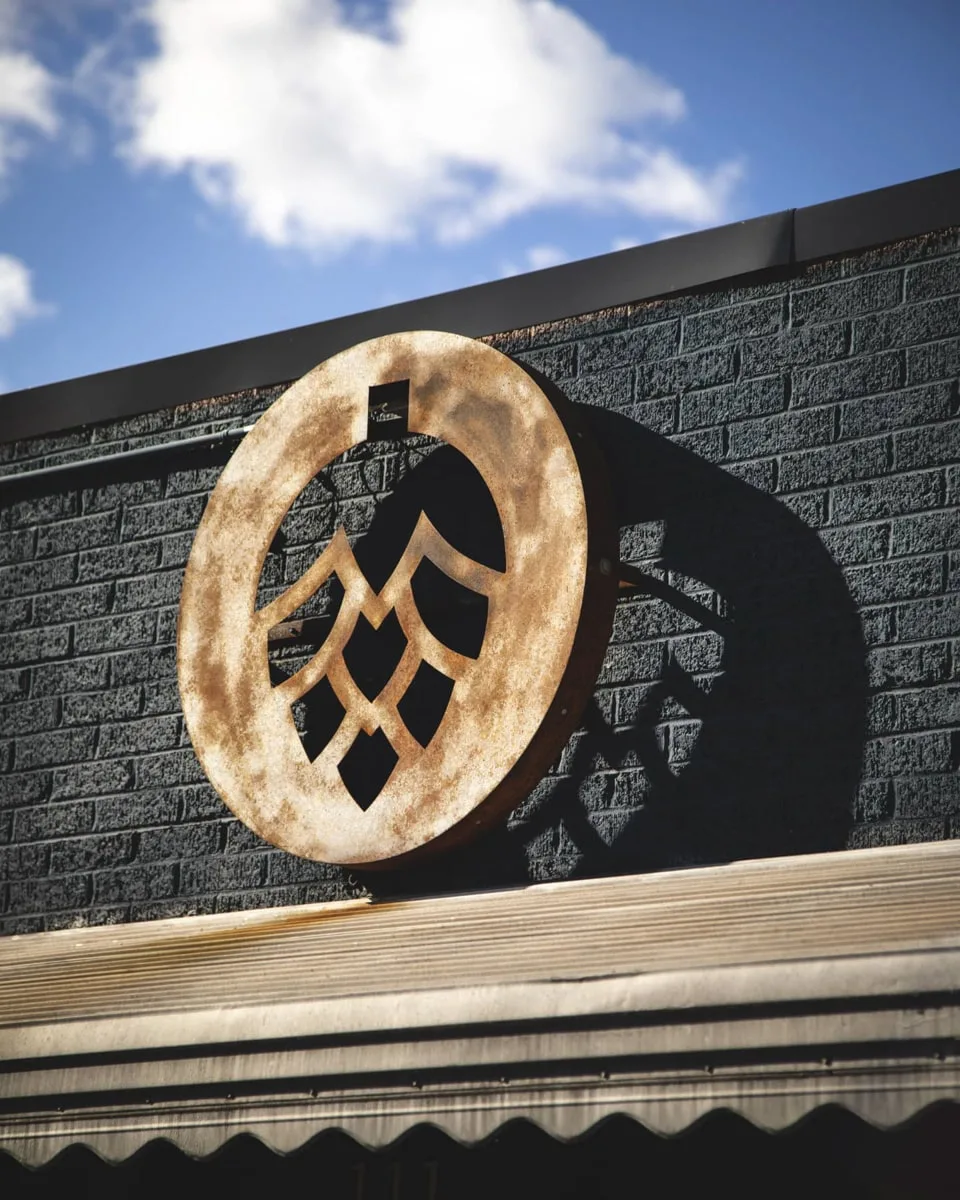 They also have a great ground view of the King Commons Park area; grab a brew and then take your dog for a stroll through the park.
Check their Facebook or Instagram page for their rotating food truck selection.
6. Blue's Brews and Brew Garden (Tap House)
Hours: Mon-Thur: 7am-10pm, Fri & Sat: 7am – 11pm, Sun: 8-5pm
Location: 109 Cherry Street, Suite 40
Food: Snacks
Pet Friendly: No
Originally starting out as a Coffee Shop in Johnson City, Blue's Brews is now also a Brew Garden and taphouse, offering over 14 beers on tap!
Enjoy your coffee and then switch it up with one of the brews they have on tap. The interior is cozy and inviting and is full of plants from floor to ceiling, hence the name Brew Garden. 🪴
Grab whatever you'd like to drink from bean to hop and read one of the books they have for sale.
Or if you'd like, they also serve wine and champagne!
Therefore, Blue's Brews Co. takes the trophy for the variety of beverages offered.
7. Depot Street (Jonesborough)
Hours: Sun-Tues: (closed), Wed-Fri: 5-9pm, Sat: 4-9pm
Location: 904 Depot Street, Jonesborough
Food: Yes – Rotating Food Trucks
Pet Friendly: Yes
Located in the center of historic Jonesborough, and just a short drive from Johnson City is Depot Street Brewing. Depot Street is one of the longest-running breweries in the Tri-Cities area of Tennessee.
Did you know that Jonesborough is Tennessee's oldest town? Stroll through the historic downtown shops and then make a trip to Depot Street Brewing for a craft beer by the railroad tracks!
Try the Loose Caboose Lager, an original craft and favorite, or sample the Farmhouse Ale. Depot Street Brewing offers a variety of craft brews for you to try. They have a great outdoor patio section where you can soak up the sun or play a game of Bocce Ball as you sip on your brew.
Food Trucks usually frequent here, check their Instagram or Facebook page to see who the food truck of the day is.
8. Yee-Haw Brewing
Hours: Sun-Wed: 11:30–9pm, Thurs-Sat: 11:30am – Midnight
Location: 126 Buffalo Street
Food: Yes – White Duck Taco Shop
Pet Friendly: Yes – Outside
Located in a 130-year-old train station, Yee-Haw Brewing of Johnson City has the charm, the brews, and the games to make for a great night. Yee-Haw has many locations, including one in the beer city of Asheville, Knoxville, Greeneville, and Nashville. However, the Johnson City location is where it all started in 2015 for this company.
Also Read: 10 Knoxville Breweries for Craft Beer 🍺
Here you will find many different styles of brews from a Kolch to a Winter Porter. Enjoy your brew while sitting inside to watch the game on TV, or perhaps you want to play a game of arcade basketball. Head outside to enjoy the large fire pit or play a game of cornhole.
Hungry? Yee-Haw also shares the same space with the White Duck Taco Shop. Here you can have the best of both worlds — beer and tacos!
White Duck Taco offers many different styles of tacos: Korean Beef, Banh Mi Tofu, Jerk Chicken, etc. Order one for me too, please! 🌮
9. Great Oak Brewing
Hours: Sun-Tues: 11-9pm, Wed-Thurs: 11-10pm, Fri-Sat: 11-11pm
Location: 601 Spring Suite 101 (Located Inside Southern Craft)
Food: Yes – inside Southern Craft Restaurant
Pets: No
Great Oak Brewing is nestled inside the Southern Craft BBQ restaurant located in downtown Johnson City.
Here you can go just for a craft beer and sit at the bar or enjoy one while you eat an amazing meal. Either way, you should grab a pint while here!
They offer a small variety of their craft favorites from the Thunder Pig IPA to Carpenters Cream Ale. My favorite is the Honey Red Ale, as it has the perfect balance of malt-to-hop ratio.
DIY Johnson City Brewery Hop
As I mentioned before, most of these breweries and tap houses are located within walking distance of one another and it's a great idea to check out a few at a time if you are exploring downtown Johnson City.
🍺 Try this Johnson City brewery self-guided tour!
Kick-off at Watauga Brewing Company, then head to Atlantic Ale House. Next, make your way to Yee-Haw or Johnson City Brewing Company (or both!), try a funky sour at Little Animals, and then finish off at Blue's Brews & Brew Garden. 🍻
Whatever brew you choose, remember to be safe and hire an Uber to take you home!
Finally, we would appreciate your feedback, recommendations, and thoughts on these breweries in Johnson City! Which brewery are you wanting to try?
Also Read:
PIN THIS JOHNSON CITY BREWERY GUIDE!