Feeling an urge to paint the town red, and wondering where to find the best bars in Knoxville?
Nestled into the Appalachian Mountains, it would be reasonable to dismiss this city as mainly a destination for outdoor pursuits. However, Knoxville also has a cosmopolitan charm, with excellent shopping and dining, and plenty of drinking and dancing.
Bolstered by a lively, youthful energy thanks to the University of Tennessee, nightlife in Knoxville is varied and vibrant.
There's so much more than college dives here, so you'll find everything from elegant cocktail bars and speakeasies to a thriving craft beer scene and rowdy live music venues (and so much more!).
With so many hot spots to choose from, planning the perfect night out takes some effort. This guide rounds up the best bars in Knoxville, with options for every style, taste, and budget.
Guide to the Best Bars in Knoxville
Nightlife in Knoxville offers a little something for absolutely everyone! Pick your poison, but be safe out there!
1. Five Thirty Lounge
Location: Downtown
Hours: 4-11PM Monday-Thursday, 4PM-12AM Friday and Saturday, 2-8PM Sunday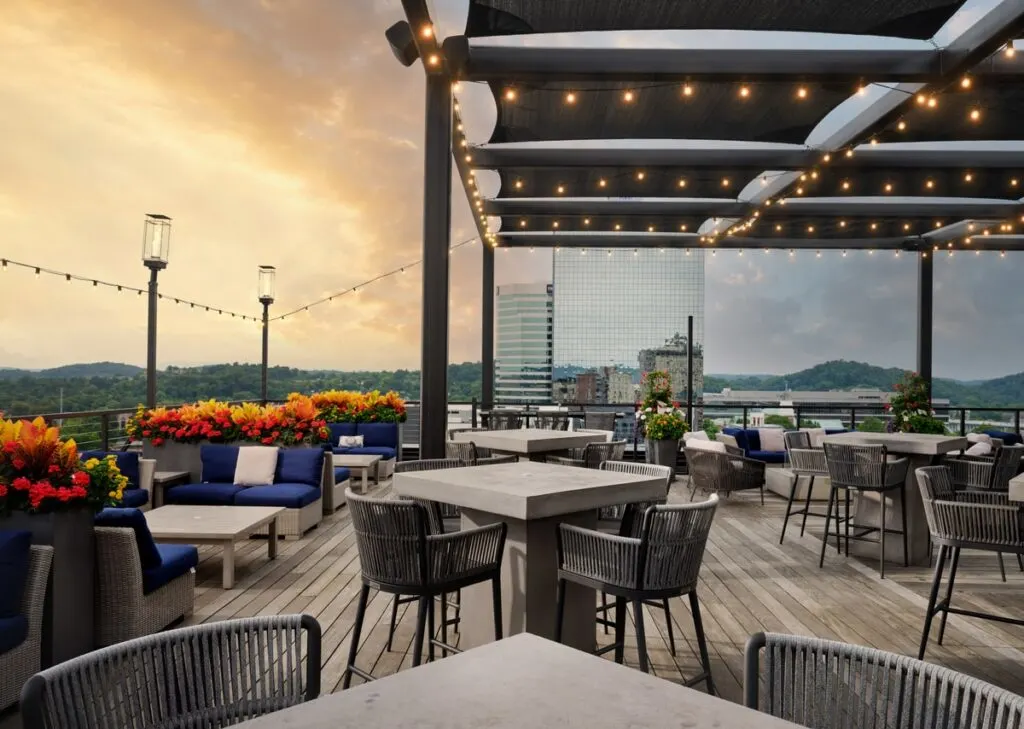 Knoxville has several rooftop bars and patios, but there are none quite like the Five Thirty Lounge., Featuring expansive vistas over the city and out towards the Appalachian Mountains, plus a cozy fire pit, there's just no better vibe to enjoy a drink!
Accompanied by perfectly crafted cocktails, a swoon-worthy whiskey list, and a nice variety of tasty small bites, it's the perfect match of a drink and location.
Set inside the Hyatt hotel in downtown Knoxville (which is a fantastic base for enjoying everything the city has to offer, by the way!), the Five Thirty's interior is elegant but not at all stuffy.
Snack on a poke-style sushi roll while sipping on the bar's unique takes on classics. One standout is the Prickly Pear Margarita made with agave, but you can't go wrong with the Cucumber Collins, and the Farragut Old Fashioned, made with black walnut bitters and vanilla Demerara syrup.
Best of all, there's no need to worry about the weather, since the deck is enclosed with 15-foot glass walls. Make a reservation, because, as one of the best bars in Knoxville, it gets justifiably busy!
2. Knox Whiskey Works
Location: Old City
Hours: 12-7PM Sunday-Wednesday, 12-10PM Thursday-Saturday
Tennessee, and particularly East Tennessee, is infamous for its history of distilling. There's no better place to dive headfirst into the region's "spirited" history than at Knox Whiskey Works, East Tennessee's first legal distillery!
While it's most acclaimed for its whiskey and bourbon, the distillery crafts some incredible infused vodkas, gins, and even a coffee liquor.
And don't be fooled by the small and relatively simple setup in the tasting room — Knox Whiskey Works gets constant praise for its outstanding service and ambiance.
Knox Whiskey Works sources every single ingredient locally. The space also occupies a historic building, so you'll truly get to sip on local culture.
In addition to a variety of liquor flights, the bar also mixes cocktails to order for those who prefer not to drink neat. The vibe is relaxed but very informative, with tours offered a few days a week and a gift shop selling boozy souvenirs.
3. Clancy's Tavern & Whiskey House
Location: Downtown
Hours: 3PM-2PAM Monday-Wednesday, Thursday-Sunday 11AM-3PM
Fun fact: Knoxville has quite a bit of Irish heritage, because many of its earliest settlers and immigrants were from Ireland.
Of course, those particular roots translate to a lively drinking culture, too. To celebrate like only Knoxville can, head to Clancy's Tavern & Whiskey House!
Classics like Guinness and Harp have permanent spots on tap, but this fun Knoxville bar casts a wide net with plenty of wine and classic cocktails on offer.
And in an ode to the perfect pairing of Ireland meets Tennessee, the whiskey selection is one of the best in Knoxville.
Rounding out the experience is a delicious menu with tasty, Irish-focused pub fare like whiskey sauce wings, excellent fish and chips, and a delectable roast beef sandwich. With beer pours starting as low as $4, Clancy's will quickly become one of your favorite bars in Knoxville.
4. Preservation Pub
Location: Old City
Hours: 3PM-3AM Monday-Friday, 12PM-3AM Saturday and Sunday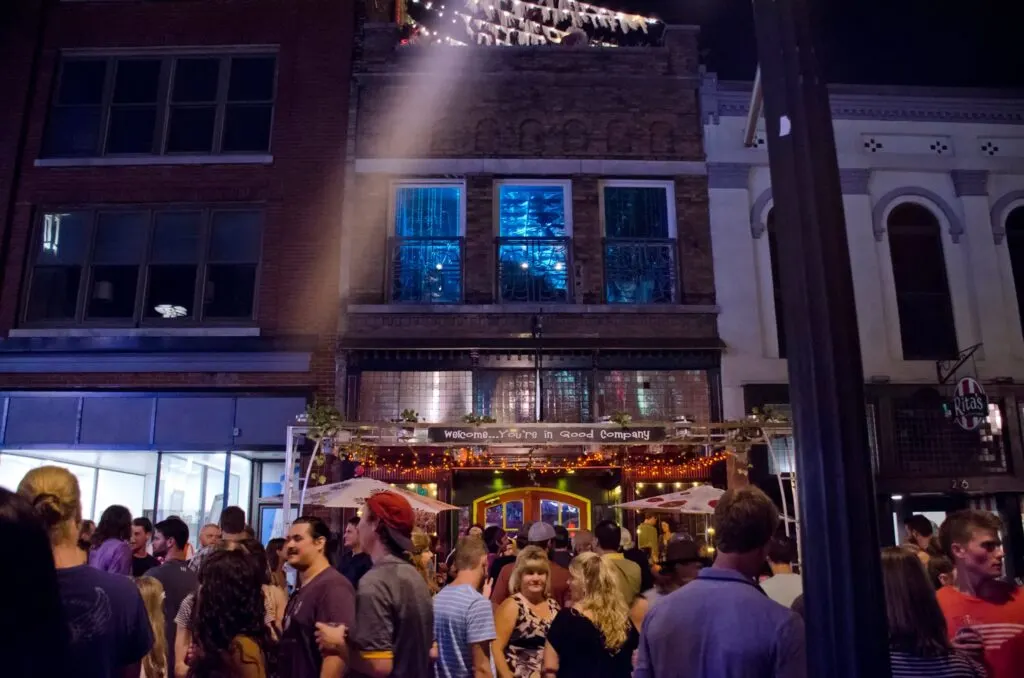 Local institution Preservation Pub offers much more than its name implies. The bar, which is more like several different bars under one roof, has long been a destination for some of the best nightlife in Knoxville.
Preservation Pub is open 365 days a year until 3AM, with live music every night. Talk about a good time!
The vibe is ultra-welcoming, and there's a nook for anyone and everyone in the eclectic three-story, indoor-outdoor building.
Whether it's right by the stage, on the colorful rooftop deck, or snuggled into a cozy booth, drinking in a different spot is almost like visiting a new bar altogether!
Speaking of drinks, Preservation Pub has over 300 beers on offer, plus an extensive selection of liquors.
If you're unsure of what to get, ask for a Pubby Buddy, which is a shot of whiskey with a PBR. Best of all, it's always $5!
After a few rounds, the pub's locally famous pepperoni pizza will hit the spot.
5. Suttree's High Gravity Tavern
Location: Downtown
Hours: 4PM-12AM Daily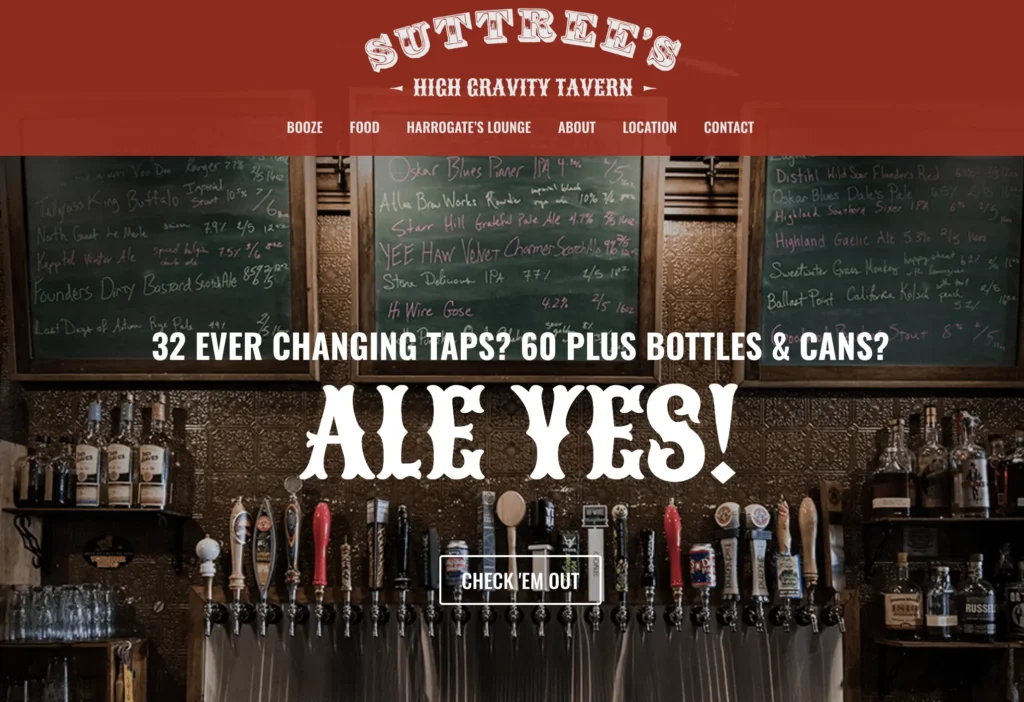 Craft beer, ramen, and an arcade — now that's the perfect recipe for a night out! Suttree's High Gravity Tavern delivers exactly this playful trio, alongside 32 beer taps and a plentiful liquor shelf.
The bar's name stems from its preference for beer: thick, and bursting with flavors. Fans of sours, stouts, and heavy-hitting IPAs, this will probably be one of your favorite bars in Knoxville!
Don't worry, there are also plenty of lighter, easy-drinking cans for any preference.
Connected to Suttree's via a sliding glass door, Harrogate's Lounge is home to a classic arcade (but better, because it has beer!). Enjoy classics like foosball, Pac-Man, pinball, skee ball, and NBA Jam.
After you work up an appetite, dive into a bowl of tasty ramen, a quesadilla, or a Cuban sandwich.
6. Tern Club
Location: Gay Street
Hours: 4PM-12AM Tuesday-Thursday, 4PM-2AM Friday and Saturday, 2PM-12AM Sunday
Sipping tropical cocktails in a cheerful, plant-filled interior is an excellent way to get the buzz going. Head to the beloved Tern Club for a bar that's super serious about its mixology, but easy-breezy with its approach.
Come for the fruity, tiki bar-influenced drinks. The Mai Tai, made with a house-made rum blend, is fantastic, as is the Cobra's Punch containing rum and an elusive tiki syrup called fassionola.
Stay for the vibe and the bartenders who are extremely well-versed in cocktails. The menu notes every drink's historical origins, a nod to just how serious Tern Club is about its drinks.
The adorable, sunny patio is the perfect setting for a date night, or you could sit at the bar and see how the magic happens up-close.
7. Scruffy City Hall
Location: Market Square
Hours: 5PM-1AM Monday-Thursday, 5PM-3AM Friday, 12PM-3AM Saturday, 12PM-1AM Sunday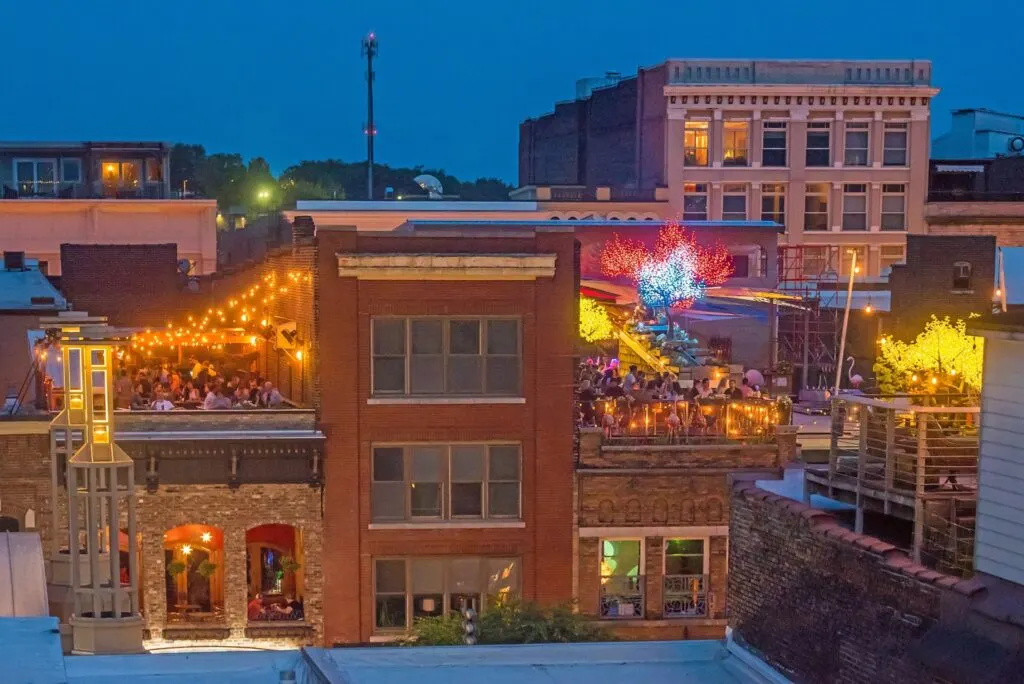 Billing itself as "Knoxville's cathedral of entertainment and libations," Scruffy City Hall hosts comedy nights, energetic concerts, drag shows, and more.
No matter what type of nightlife in Knoxville is your favorite, you'll find something to love at City Hall! It's owned by the same team behind Preservation Pub, and whether it's moshing at a rock show or catching a romantic comedy on the rooftop, there's always something worth checking out.
Check the calendar for an idea of what's happening, but head there anyways if nothing's on — at the very least, they'll likely be live-streaming sports onto the side of the building.
Scruffy City Hall serves fresh-squeezed juices and coffee in addition to beer, cocktails, and a fully-stocked bar, so even if you're not up for drinking, the vibe is welcoming.
8. The Vault
Location: Downtown (Gay Street)
Hours: 5-11PM Monday-Thursday, 4PM-1AM Friday & Saturday, 4-11PM Sunday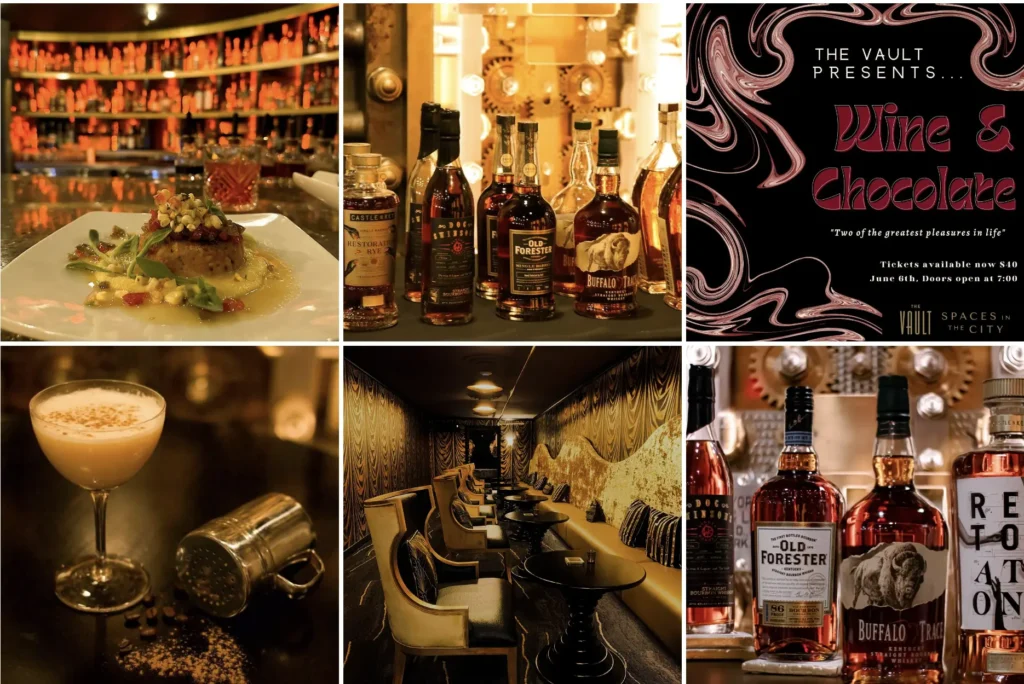 Looking for an elegant, intimate atmosphere to impress a special someone? The Vault, a speakeasy-esque lounge, occupies swanky digs in the vault of the old Holston Bank.
The vibe is both romantic and a bit mysterious, with dim lighting and numerous little alcoves to cozy up in over drinks.
Speaking of drinks, the cocktail menu is extensive, with numerous interpretations of classics like Old Fashioneds, Negronis, Sours, and more. If you're out with a group, go all in and split a fishbowl-style drink like a Japanese-inspired Paloma or Prosecco Pina Colada.
To accompany the thoughtful bar, there's a plethora of elevated dishes. Expect empanadas with housemade dough for a snack, or crab cakes, scallops, or mussels as a seafood entree.
Just make sure to dress accordingly, because The Vault discourages t-shirts, hats, and hoodies.
9. Brother Wolf & Osteria Stella
Location: Downtown
Hours: 4PM-1AM Sunday-Thursday, 4PM-3AM Friday & Saturday
With Italian-themed cocktails, excellent food, and an upbeat vibe, Brother Wolf is hands-down one of the best bars in Knoxville. Perfect for a cosmopolitan fix, walking through to door transports you to a different world. The bar wouldn't be out of place in Brooklyn or LA!
In addition to a large selection of killer spritzes and negronis, Brother Wolf pours just about every amari and vermouth distributed in the US.
In true Italian fashion, there's also excellent espresso, and combining some booze with caffeine is encouraged. Come for a post-dinner digestif or an afternoon aperitif.
Best of all, the food is phenomenal, too! Separated from the bar by a curtain, Osteria Stella has incredible pastas on offer, some antipasta to nibble on, and a truly standout tiramisu.
With an eclectic yet sleek decor, the space always invigorates patrons with a good mood. Plus, there are Christmas decorations hung year-round for some additional cheer!
10. Merchants of Beer
Location: Old City
Hours: 3-10PM Tuesday & Wednesday, 3PM-12AM Thursday & Friday, 12PM-12AM Saturday, 12-10PM Sunday
Looking for the most relaxed watering hole in town? Head to Merchants of Beer, a welcoming dog- and kid-friendly spot in the heart of Old Town.
Featuring a "wall of beer," which is 50 taps at the inside bar, a spacious patio, food trucks, and a retro interior, it has all the components for a fun night (or day!) out.
The beer selection is thoughtful, with loads of local brews, as well as other standouts available on draft. Plus, there's a chilled bottle store in the back that offers even more unique beers, also sold for takeaway. But why leave when there are food trucks set up near the outdoor patio?
Inside, there are foosball tables and other games, all wrapped up in a cozy, refurbished diner interior. If you're uncertain about what to order with so many choices, the friendly staff will help.
11. Back Door Tavern
Location: West Hills
Hours: 3PM-12AM Sunday-Tuesday, 3PM-1AM Wednesday-Saturday
While it's a bit out from the city center, Back Door Tavern delivers that perfect Tennessee dive bar experience.
With live music, fire pits, ring toss, sports streaming, and more, this lively establishment shows off how nightlife in Knoxville should be done! There's enough entertainment to make it your only stop for the night!
Add in some ultra-friendly locals, and it only takes a single visit to feel like a regular yourself. Come during the daytime to soak in a Southern vibe on the back porch, or in the evening to mingle over a game of pool.
The vibe is no-frills around here, so even some flip-flops and a simple lager in hand is totally acceptable!
12. Frog Juice Boocherie (Non-Alcoholic Bar)
Location: Marble City
Hours: 2-9PM Wednesday & Thursday, 2-10PM Friday & Saturday, 12-6PM Sunday
Who says you need alcohol to have a good time, anyway? At quirky Frog Juice Boocherie, which is near the university, it's all about kombucha and sodas on tap.
Despite a fully-sober list of drinks, the vibe is livelier than many traditional bars in Knoxville, with funk music and upbeat staff!
In order to encourage the nightlife atmosphere, the premises are 18+. Frog Juice frequently hosts events, which creates a unique, superb place to mingle. Think karaoke, sound baths, and UV body painting!
Let loose as your authentic self — no judgment over what's in the glass!
In addition to its bubbly fermented bevvies, this "bar" makes mertails, which are mixed drinks with health-boosting elixirs.
No more fear of Sunday scaries here, just new friends to be made and a guaranteed lack of a hangover. 🤗
Do you have any more Knoxville bar and nightlife recommendations for us? Drop a comment below!
Featured image credit: Tern Club