Looking for the best campgrounds to go camping near Knoxville?
Getting outside and immersing yourself in nature is one of the best ways to experience this beautiful city, nestled perfectly in between the Cumberland Mountains and the Great Smokies.
Knoxville's outdoor activities seem to be infinite, with tons of amazing waterfalls, hiking trails, guided tours, and much more.
Plus, not only are are there tons of fun things to do in Knoxville, the city is within easy driving distance of several other amazing destinations and attractions, including Gatlinburg, Dollywood, and water parks galore… we could go on and on!
Camping is the perfect addition to your Knoxville itinerary, whether you have a weekend or a full week!
This guide covers some of the best camping in Knoxville, plus tips and other things you should know.
Quick note: the campgrounds featured here offer a little of everything, and a couple are on the rustic side.

If you're looking specifically for the best camping in Knoxville geared toward RVers, check out our guide to the best RV parks near Knoxville. 🚐

Likewise, save our guide if you're searching for cabin rentals near Knoxville. 🏡
Tips for Camping in Knoxville
Whether you prefer to camp in a tent or an RV with all the bells and whistles, there are some things you should know about camping in Knoxville.
🐻 East Tennessee is bear country, so use extreme caution when it comes to food storage. Don't leave food scraps out, and store food in bear-proof canisters (some campgrounds also provide bear lockers).

☔️ Tennessee weather is generally mild, but it's not unheard of for rain to come out of nowhere, especially close to the mountains. Pack layers, including an extra pair of shoes and a rain jacket.

🪵 Many campgrounds prohibit firewood from being brought in. It's a good idea to call directly and ask about this, so you don't risk purchasing firewood you can't use. Luckily, many campgrounds sell local firewood onsite!

🦟 With so much water throughout the state, bug spray is a Knoxville camping must-have!

🔥 In the summer, fire restrictions or even bans are very common. Be sure to know local restrictions before lighting your campfire (when in doubt, find a park ranger or your camp host)!
9 Places to Go Camping Near Knoxville
We've rounded up nine amazing campgrounds in and around Knoxville, arranged in ascending order of their distance from the city.
1. Knoxville Campground
Location: 10 miles north of Knoxville
Campsite types: Tents, Cabins, RV sites
Nightly rates: $64.75 RVs, $61.50-106.50 cabins, call for tent rates
Less than 20 minutes outside the city in Clinton, this family-owned site offers some of the best camping in Knoxville. For starters, it's open year-round, which is a bit of a rarity!
Knoxville Campground has a pool, playground, gym, volleyball courts, horseshoe pits, a newly-remodeled club house with a pool table and arcade games, dog park, and a well-stocked camp store.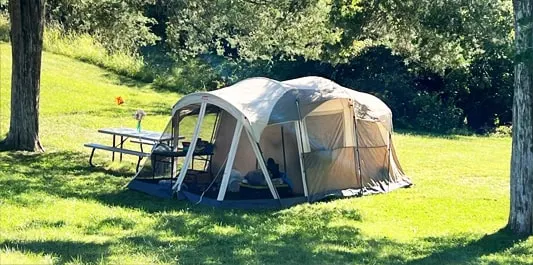 It's also close to endless activities and attractions, including some of the best Knoxville hikes, excellent fishing, off-roading, horseback riding, and more. And of course, downtown Knoxville is just 30 minutes away!
RV sites have full hookups, fire pits, and picnic tables, and tent sites are situated on the edge of camp and have their own parking lot (some even have water and electricity hookups!).
Cabins vary quite a bit, from rustic (no bathroom) to "super deluxe" with tons of amenities. They're also pet-friendly!
2. Volunteer Park Family Campground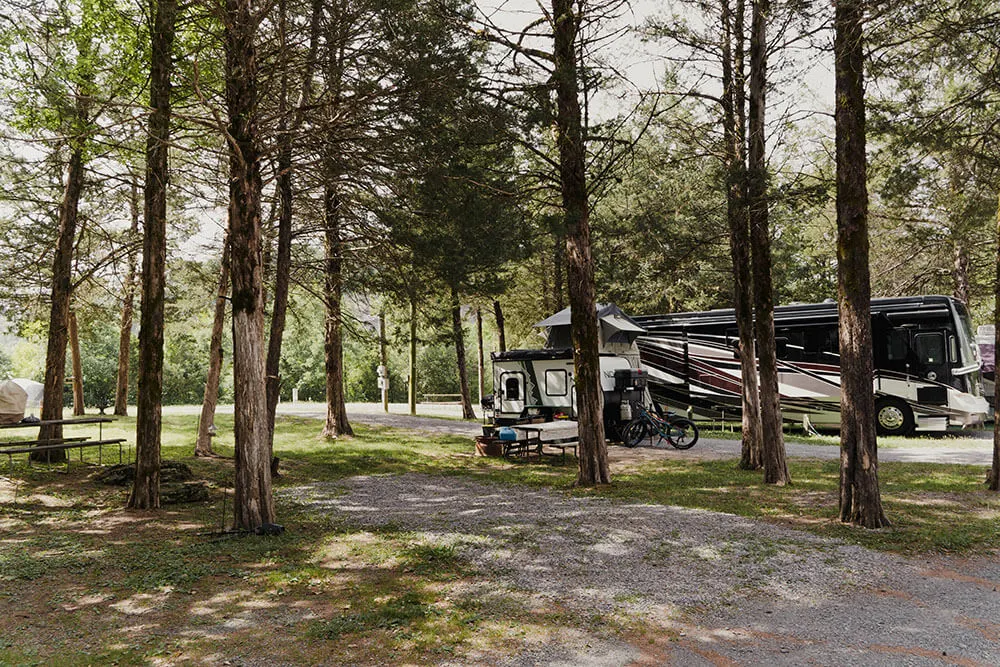 Location: 13.5 miles north of Knoxville
Campsite types: Tents and RVs
Nightly rates: $25 tents, starting at $47.99 for RVs
One of the closest campgrounds to Knoxville proper, Volunteer Park is popular for good reason.
The campground offers amenities including free wi-fi, a swimming pool, playground, laundry facilities, club house that hosts fun events throughout the year (think potlucks and movie nights!).
An onsite shop stocks essentials such as propane, firewood, and ice, plus goodies like snacks.
Tent sites are clustered in a separate area with a private parking lot, and each one has a fire ring and picnic table.
RV sites vary, but have either 30-amp or 30- and 50-amp electricity, a picnic table, fire ring, and a concrete or gravel pad.
Volunteer Park Family Campground can also accommodate particularly large rigs, and offers both back-in and pull-through sites.
3. Poland Creek Campground
Location: 19.7 miles south of Knoxville
Campsite types: Tents and RVs
Nightly rates: $20 tents, $30-40 for RVs
A small campground on the banks of Fort Loudon Lake, Poland Creek Campground is well-loved by locals.
In particular, it has a reputation for being especially tranquil and laid-back.
All sites are either lakefront or have a lake view, which is one of the main things that makes Poland Creek some of the best camping in Knoxville.
24 of the 34 sites have electricity, while the rest are "dry" for those who enjoy roughing it. Shared amenities include restrooms and a boat launch, and the lake offers plenty of opportunities for fishing and swimming.
Note that reservations are required for RV sites, and can ONLY be made via phone: (865) 257-6320.
Tent sites are first-come, first-served, and campers should find the camp host to pay immediately upon arrival.
Poland Creek is open seasonally, April through October, and weekends book out well in advance.
4. Big Ridge State Park
Location: 26.7 miles north of Knoxville
Campsite types: Tents, RVs, rustic cabins, hike-in backcountry campsites
Nightly rates: $28-31 campsites, $78-128 cabins, $5 reservation fee per site
On the shores of Big Ridge Lake, a branch of much larger Norris Lake, this 50-site campground is beautiful and peaceful.
All the sites at Big Ridge Campground have water and electricity hookups, plus a picnic table, fire ring, and grill. Sites accommodate RVs up to 35 feet.
There's one large group site that accommodates up to 150 people in 18 screened bunkhouses.
For those who prefer a truly rustic camping experience, Big Ridge State Park has three hike-in backcountry campsites priced at $8 per night.
And at the opposite end of the spectrum, there are 20 cabins for folks who would rather "glamp."
Of course, the lake is the star attraction. It offers opportunities for swimming and boating between Memorial Day and Labor Day, and bass fishing year-round. Visitors can rent rowboats, kayaks, or stand-up paddleboards.
The park also has 15 miles of hiking trails, a playground, a dump station, and bathhouses. While camping at Big Ridge State Park is available year-round, two of the three bathhouses close between November and April.
5. Melton Hill Dam Campground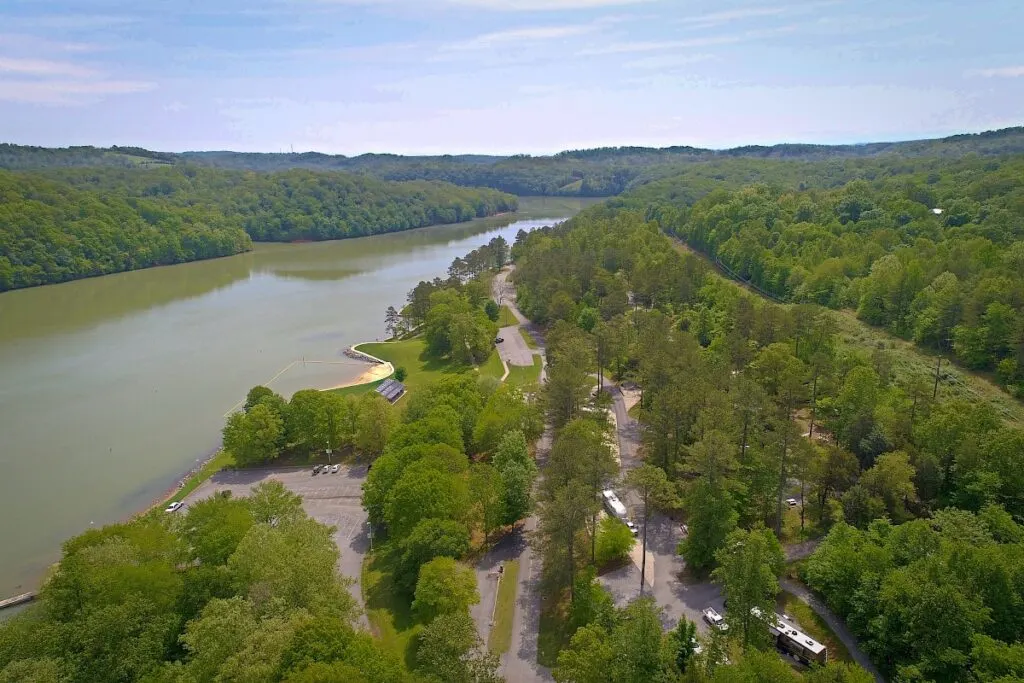 Location: 27 miles west of Knoxville
Campsite types: Tents, RVs
Nightly rates: $18 no hookups, $31-33 with hookups
Scenic, heavily wooded Melton Hill Dam Campground is a great destination, regardless of what type of camping you prefer.
The 55-site campground has nine tent-only sites, five specifically for RVs, and four that are ADA-accessible.
31 sites have electric and water hookups, while all of them have a fire pit, BBQ grill, and picnic table.
The tent area that does not have hookups is right on the water (a great excuse to "rough it" for the weekend!).
The campground itself has covered picnic areas, two bathhouses with hot showers, a beach and designated swimming area, a boat ramp that's available to the public, and a dump station.
Interestingly (and what makes this some of the best camping in Knoxville!), the campground incorporates several types of clean energy, such as solar and wind power.
Note that generally, Melton Hill requires a 2-night minimum stay.
However, campers wishing to stay one night can call the campground at (865) 361-0436 to request an exception.
6. The Crosseyed Cricket
Location: 27 miles west of Knoxville (Lenoir City)
Campsite types: Tents, RVs
Nightly rates: $25-27
Just 10 minutes from Melton Hill Dam Campground, The Crosseyed Cricket is another great option for folks looking for camping sites outside of Knoxville.
47 wooded sites are scattered across 50 acres, many of them alongside a creek.
All sites have water and electric hookups (some even have sewer connections), plus a picnic table and fire pit.
The Crosseyed Cricket has an enormous 100-foot-long swimming pool, and there are also two bathhouses, laundry facilities, and a group picnic shelter.
Best of all, the campground is arranged around multiple small lakes!
There's also a fun catch-and-release fishing pond.
Note that ALL sites are first-come, first-served; reservations are not accepted.
There are also several long-term residents, so it's a good idea to call ahead and ask about availability.
Another important thing to be aware of is that alcohol is not allowed at this campground.
7. Cove Lake State Park
Location: 31.8 miles north of Knoxville (Caryville)
Campsite types: Tents, RVs
Nightly rates: $28-35
100 campsites surround the lake at this beautiful Tennessee state park near Knoxville. Call 1-888-TN-PARKS for reservations.
All have electricity and water hookups, and most have picnic tables and grills. Tents are also welcome in all sites.
Walking and biking trails circle Cove Lake, and the campground has a playground, two heated bathhouses, and a dump station.
In the summer, campers can swim in the pool and rent single or tandem kayaks to paddle around the lake. A camp store also opens seasonally.
The lake also provides excellent fishing, and there's a great BBQ restaurant within walking distance.
The campground is open year-round, but partially closes in the winter months. Generally, just one loop and one bathhouse remain open. Water hookups may also not be available, although campers can still get water in the bathroom.
8. Greenlee of May Springs Campground
Location: 37 miles northeast of Knoxville
Campsite types: Tents, RVs, rental cabins
Nightly rates: $26-28 tents, $35-69 RVs, $120 cabins (note there is a 2-night minimum)
Situated directly on Cherokee Lake near Rutledge, about 45 minutes from Knoxville, Greenlee of May Springs has something for every type of camper.
The campground has everything from primitive tent sites to RV sites with full hookups. It also offers large group sites and long-term seasonal rates.
Due to the campground's location on a peninsula, many of the sites, both tent and RV, are on the water.
Even the ones "inland" are a short walk to the lake's edge, and many have water views.
Its location is awesome, but what really makes Greenlee of May Springs some of the best camping in Knoxville is its amenities.
There's a private sand beach, pool, volleyball and basketball courts, three boat ramps and a full-service dock with covered and uncovered slips available for guests, a dump station, and a camp store with a deli.
9. Lilly Pad Campground
Location: 51.6 miles northwest of Knoxville
Campsite types: Tents and small RV sites suitable for campervans, rooftop tents, teardrop trailers, etc.
Nightly rates: $5 cash only
**CURRENLTY CLOSED. AN ALTERNATIVE IS CLEAR CREEK CAMPGROUND** Lilly Pad Obed is undergoing renovation to add new accommodation. Please check back later.
For a truly unique Knoxville camping experience, look no further than Lilly Pad Campground (also called the Lilly Pad Obed).
The name comes from the adjacent Obed Wild and Scenic River. A haven for rock climbers and rafters, the Lilly Pad is primarily known as a rustic adventurers' camp, but it's extremely welcoming to all. Families and dogs included!
At the campground, you'll find 40 wide-open acres for primitive camping and roughly 70 "sites."
However, you can pitch your tent anywhere, so we use that term loosely! Porta-potties and potable water are available, and campers can purchase firewood bundles.
Aside from being amazingly affordable at just $5 per night, one of the things that makes this some of the best camping in Knoxville is the onsite craft brewery!
The Lilly Pad Hopyard Brewery serves truly home-grown beer, using its own hops, berries, citrus, and honey.
Paths lead from the brewery to the campground, and you can walk to the Obed. Frozen Head State Park and the Catoosa Wildlife Management Area are both within a 30-minute drive.
Camping in Great Smoky Mountains National Park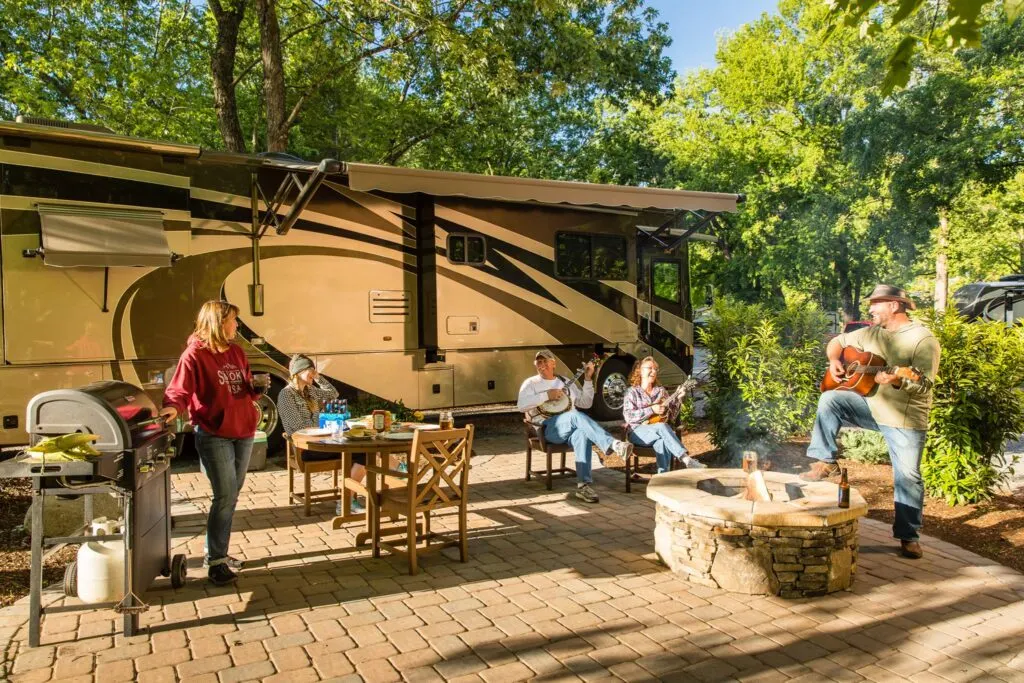 Because campgrounds are so abundant in and around GSMNP, which isn't too far of a drive from Knoxville, we knew we couldn't do them justice by mentioning just one or two here.
The park offers several types of campsites, including frontcountry, backcountry, large group campsites, and even horse camps!
In-park campgrounds are strictly reservation-only, and they book out months in advance. There are also specific rules regarding generator use, where to park, and food storage.
With all these things in mind, we recommend deciding on a few of your favorite campsites (you'll want to have a Plan B!) and then heading to recreation.gov to make reservations.
Have any suggestions to share about where to go camping in Knoxville? Tell us know your Knoxville camping experience in the comments! 🏕️
🏕 Looking for more Camping in TN? Also Read: Camping Near Nashville: 10 Best & Unique Campgrounds