Since introducing futuristic ideas on energy during the 1982 World's Fair, Knoxville has been a city that's been electrifying its tourists ever since.
Known for its lively downtown, eclectic nightlife, rich outdoor recreation, competitive sports, and family-friendly activities — this city is a must-visit when passing through Tennessee!
Feel the 'Big Orange' energy pulsating through the city's sports culture, witness the current of the Tennessee River flowing through town, and a rich history that's sure to shock history buffs.
It's time to join the circuit of tourists exploring the third largest city in Tennessee.
If you plan on visiting Knoxville during the week or on a weekend trip, but are not quite sure where to stay, then this list is for you!
Find out where to stay in Knoxville for that much-needed rest to help you explore what The Marble City has to offer!
Looking for more Knoxville travel inspo?
11 Best Hotels in Knoxville, Tennessee
1. The Oliver Hotel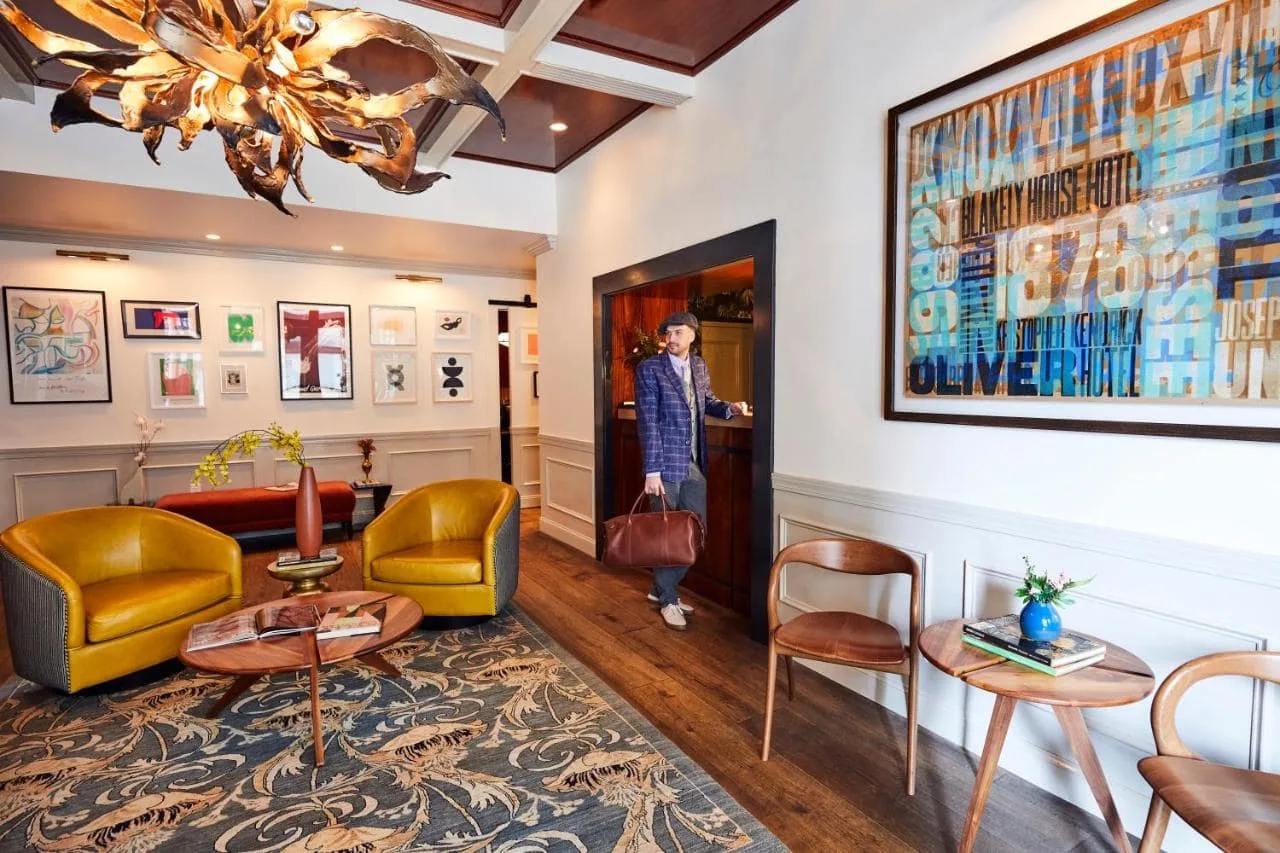 Location: 407 Union Ave, Knoxville, TN 37902
Average Price per Night: $270+
Pet-friendly: No
From the outside, The Oliver Hotel looks like one of Downtown Knoxville's many unassuming historical buildings. But inside, this 1876 building has transformed into the city's 'best boutique hotel' with Market Square sitting at your doorstep.
The Oliver Hotel's major uplift in 2011 has completely redesigned the interior for cosmopolitan travel flair.
It sets the Knoxville standard for style with furniture handmade and decorative artwork that makes walking through its halls more like a museum gallery experience.
Guests staying in the hotel's 28 rooms will have attentive service during their stay. The rooms feature unique designs and cozy beds for sleep fit for a Rockstar—in fact, several music icons and movie stars have stayed here!
The most cherished room of them all is the famous Oliver Suite, spacious accommodation with 17-foot-high ceilings and views of Market Square below.
Dine in at the Oliver Royale to taste seasonal creations by the in-house chef and enjoy the speakeasy vibes of the hotel cocktail bar.
On the weekends, hang out at Market Square's farmer's market or browse the artisan shops, boutiques, and eateries surrounding it.
Click here to book your stay at The Oliver Hotel!
2. The Tennessean
Location: 531 Henley St, Knoxville, TN 37902
Average Price per Night: $200+
Pet-friendly: Yes
Nearly in the shadow of the 266-foot Sunsphere, The Tennessean is one of the premier hotels to stay in Knoxville that brings five-star luxury to the 'Marble City.'
Located downtown, it not only has a convenient location but all the style and amenities to enjoy your Knoxville stay in style.
The Tennessean embodies many elements that give it the local appeal of Tennessee. From the lobby to its 82 guestrooms, the hotel is furnished with artisan-craft décor made locally in the state. And the hotel's onsite restaurant, The Drawing Room, serves up a menu of fresh ingredients of locally-sourced food.
Splurge on yourself with the signature Panoramic King Guestroom. This unique room offers its lucky guest a 360-degree view of Knoxville without even leaving the comfort of your room.
The Tennessean Knoxville is centrally located downtown near the Tennessee River banks.
It's connected to the city's Maker Exchange complex for shopping, dining, events, and more. Explore the local craft brewery scene or get cultured with a visit to the Knoxville Museum of Art.
Click here to book your stay at The Tennessean!
3. Marriott Knoxville Downtown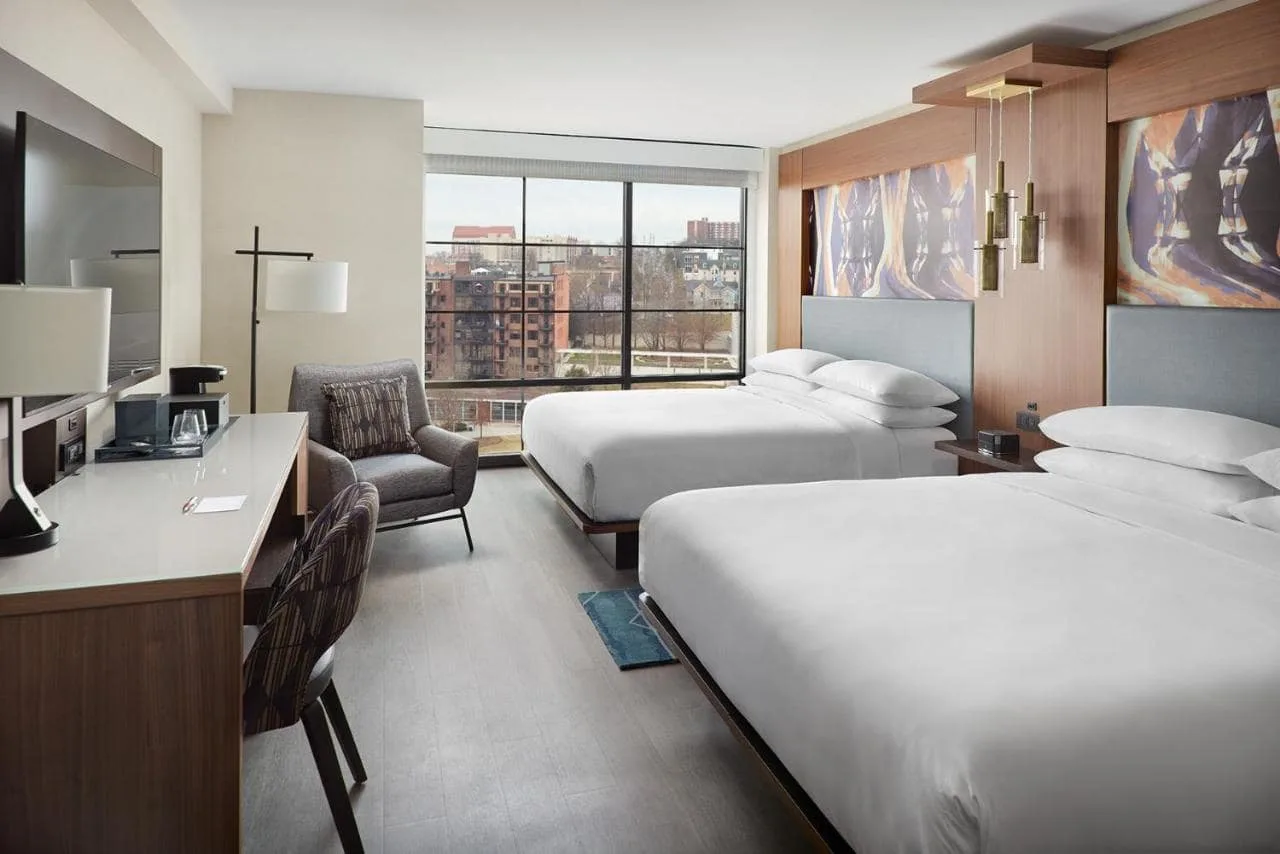 Location: 210 West Church Avenue, Knoxville, TN 37902
Average Price per Night: $120+
Pet-friendly: Yes
As Downtown Knoxville continues to thrive, new hotels continue to open, including the Marriott Knoxville Downtown, a newcomer to the downtown scene. However, it's a hotel that fits right in.
There are always events and festivals happening downtown throughout the year. This Marriott property has more than 300 guestrooms to accommodate visitors who want to be just steps away from the action. The World's Fair Park is nearly in the hotel's backyard, and you'll be within walking distance of the Knoxville Convention Center.
With rooms as comfortable as offered at the Marriott Knoxville Downtown property, you'll need a wake-up call (or two) just to get out of the heavenly beds topped with premium bedding and a personalized pillow menu.
Open the curtains to reveal the large windows stretching the height of the room to flood it with natural light and urban vistas of Knoxville.
Also Read: 25 Fun & Amazing Things to Do in Knoxville, TN
4. Hyatt Place Knoxville Downtown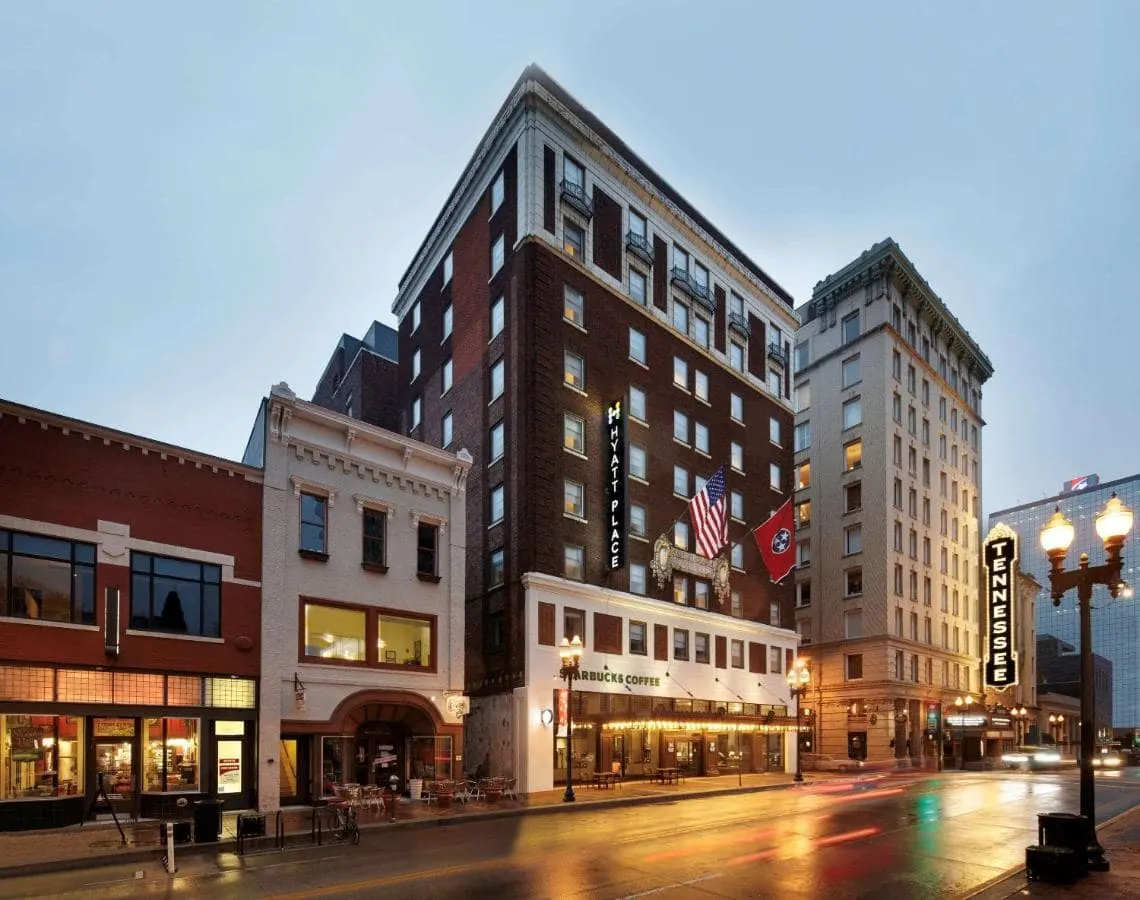 Location: 530 S Gay St, Knoxville, TN 37902
Average Price per Night: $170+
Pet-friendly: Yes
Alternatively, you can enjoy the same great downtown location with a different atmosphere. The Hyatt Place Knoxville Downtown has a family-friendly vibe with spacious rooms designed for comfort when traveling with young ones.
Hyatt Place Knoxville Downtown brings modern comforts to the historical South Gay Street. Cool off from the Tennessee summer heat with 168 air-conditioned rooms designed with an executive feel.
You'll never go hungry (or thirsty) when staying at Hyatt Place Knoxville Downtown. Wake up for the most important meal of the day served at the Breakfast Bar with a hot chai latte from the onsite Starbucks. Satisfy mid-day craving with snacks on the go from the Gallery Market.
For the evening, order a round of bartender-made cocktails at the Five Thirty Lounge on the hotel's rooftop before hanging out at the outdoor terrace to mingle with other guests to golden hour views over Knoxville. 🍹
When you're ready to explore the city, hop on the purple Gay Street Line on Knoxville's free trolley that takes you to places like Knoxville Old Town and Bijou Theater.
5. Tru by Hilton Knoxville West Turkey Creek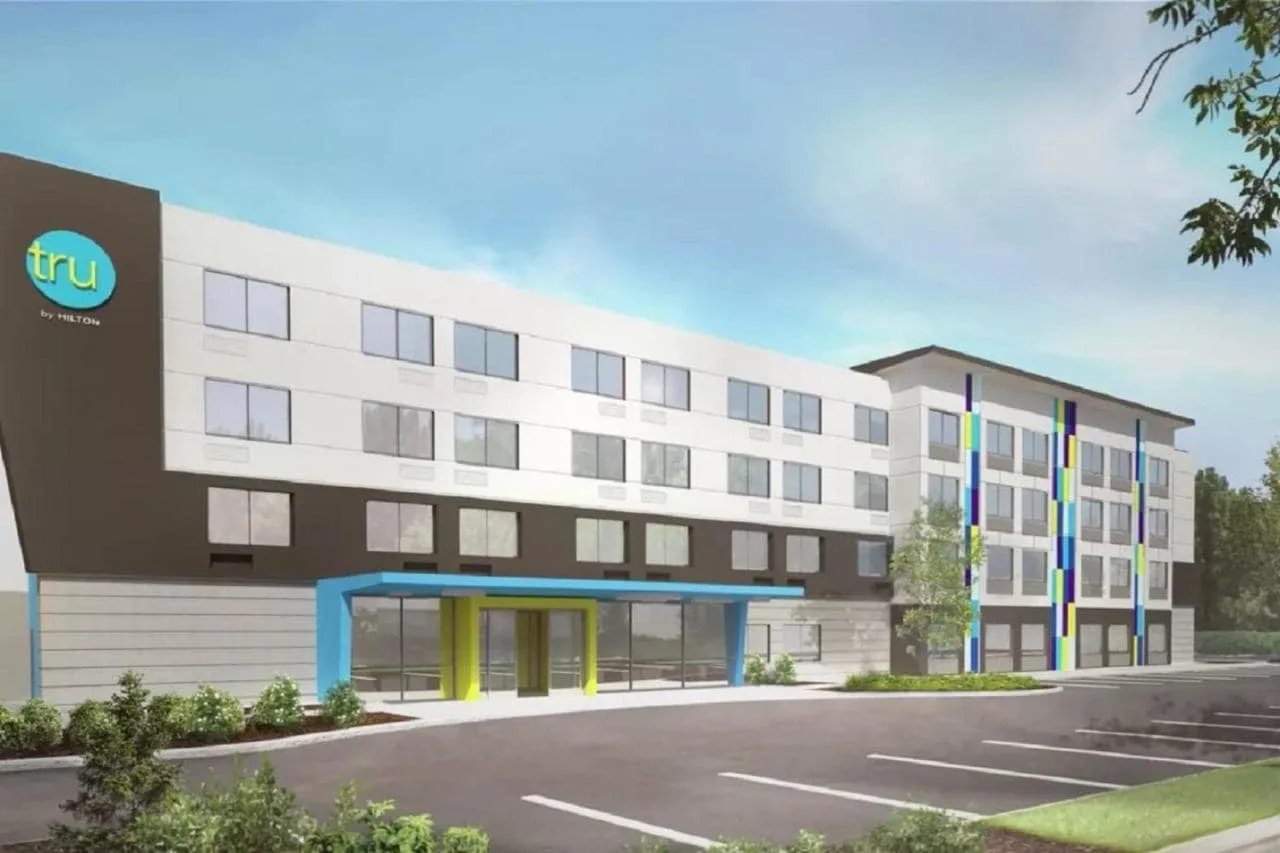 Location: 380 Lovell Road, Knoxville, TN 37934
Average Price per Night: $100-$170
Pet-friendly: Yes
Easily accessible via I-75 for travelers passing through Knoxville, Tru by Hilton Knoxville is for those who need a place to rest their eyes for a night or want the nearby convenience of one of Knoxville's best-located hotels for modest budgets.
Tru by Hilton Knoxville gives you plenty of contemporary comforts. Its 80 guestrooms are equipped with amenities for simple living. It features a splash of color with bright color accents to an otherwise contemporary style room that suits everyone's taste.
The lobby makes waiting for your group to get ready with a game room, and be sure to grab the complimentary American breakfast before heading out to explore Knoxville for the day.
Tru by Hilton Knoxville is in the Turkey Creek district near shops, recreational activities, and more. Practice your swing at the championship Willow Creek Golf Course, plan a day outdoors with a short drive to Concord Park, which has a natural swimming cove and nature walks on the East Trails, or splurge on yourself with shopping in West Town Mall.
6. Ancient Lore Village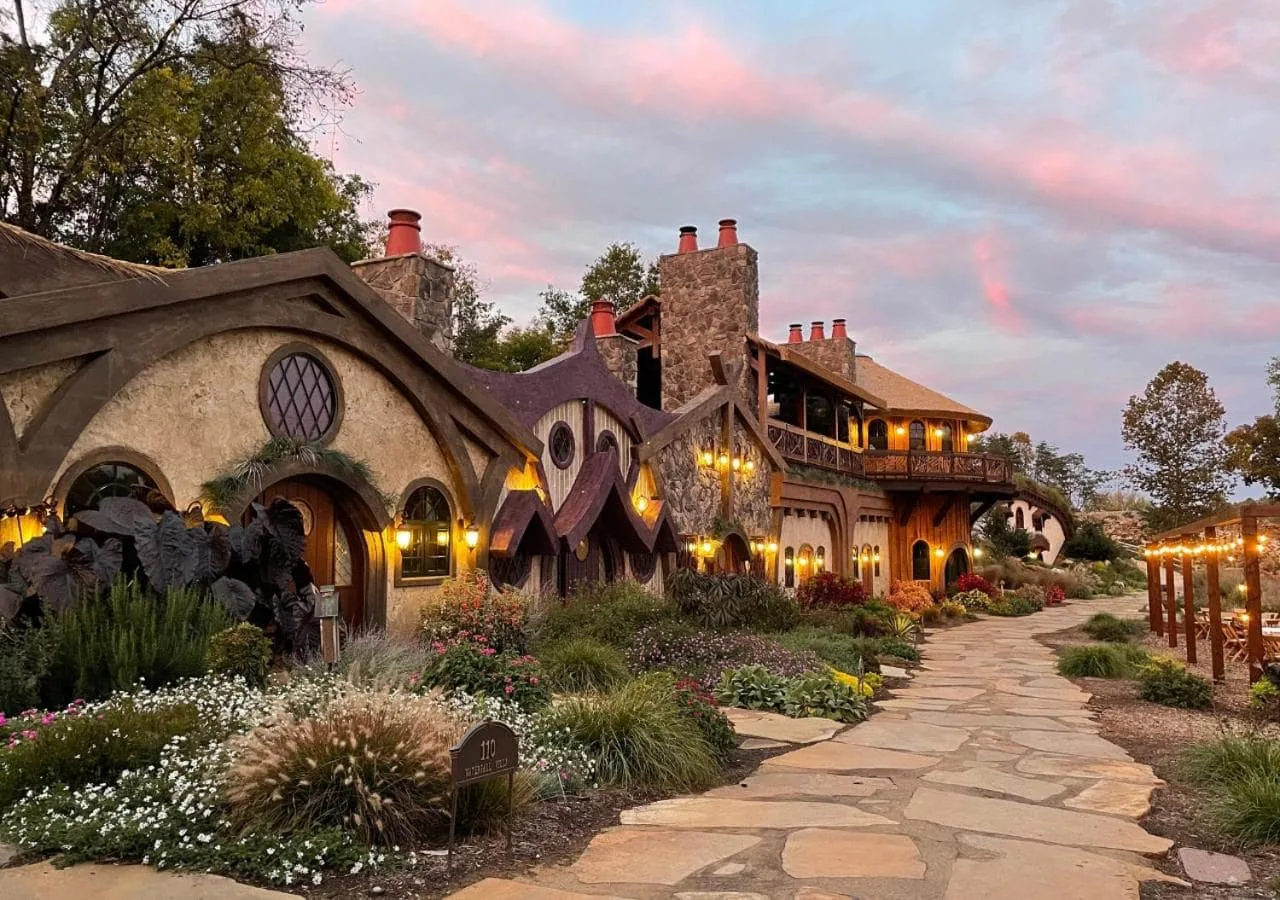 Location: 7107 Sevierville Pike, Knoxville, TN 37920
Average Price per Night: Range
Pet-friendly: No
Let your wildest fairy tales come true with a stay at the Ancient Lore Village. Appearing like a scene from The Shire, you'll be transported to a world of fantasy and imagination the moment you arrive. So, say goodbye to Knoxville and welcome to a world where you're now the star of your own fairy tale story.
You'll have a storybook stay at the Ancient Lore Village that makes your dream escape a reality. The enchanting village spans 67 acres with 150 uniquely-designed huts and treehouse-style accommodations. Walk the stone pathways between neighboring huts and village venues designed for all-inclusive recreational activities. You'll encounter a 40-foot waterfall, and don't be surprised if you spot a magical leprechaun along the way.
Ancient Lore Village immerses you into a new world. Take the story tour to learn about the village's origins. And get a lesson in mythical skills with activities like archery and axe throwing. There is also a wine tasting experience!
The good news is that when you're ready to teleport back to reality, you'll only be a 15-minute drive from Downtown Knoxville.
Click here to reserve your storybook stay at Ancient Lore Village!
7. Drury Inn & Suites Knoxville West
Location: 209 Advantage Place, Knoxville, TN 37922
Average Price per Night: $110-$180
Pet-friendly: Yes
Whether you're visiting Knoxville for business and looking for amenities like meeting rooms and fast WIFI or in town for sporting excitement from the Volunteers and want to be nearby Neyland Stadium, Drury Inn & Suites Knoxville West accommodates all. Reservations in one of its 180 guestrooms grant you access to a host of amenities, comfort, and convenience.
Drury Inn & Suites Knoxville West lets you customize your stay experience with several room options—a king-sized bed for sleep fit for royalty, a separate bedroom setup if you need the space, and in-room seating areas that make you feel at home. In addition, you'll have many of the brand's signature comforts like stylish room designs, flat-screen TV, and bathrooms with complimentary toiletries.
Guests are treated to complimentary breakfast every day of their stay and attend the manager's reception held every evening to meet some of the friendly faces behind the hotel's welcoming southern hospitality.
8. The Graduate
Location: 1706 Cumberland Ave, Knoxville, TN 37916
Average Price per Night: $130+
Pet-friendly: Yes
Hope you like the color orange because that's all you'll see when exploring Knoxville, thanks to being the hometown of the University of Tennessee Knoxville. The Graduate is one of the trendiest places to stay in Knoxville dedicated to showing the best years of the school's history while providing comforts for the next generation leaving their mark on the university.
It's time to position those tassels to the left and toss those caps in the air because you've finally stumbled across a hotel worthy of its own highlight reel on your TikTok page. It features themed décor like a white and orange lobby floor, big orange couches, and even a signed Volunteers' football helmet from Peyton Manning himself.
Take a timeout in your guestroom, where you can watch sports highlights on the flat-screen TV and dream up your next big play on the plush beds.
Located on the Strip, you'll be in the heart of campus where you'll feel the 'Big Orange' energy everywhere you look. Take a walk down Cumberland Avenue to blend in with the student crowd navigating between campus buildings, or join the crowds walking to Neyland Stadium on game day.
9. Aloft Knoxville West
Location: 364 Lovell Road, Knoxville, TN 37934
Average Price per Night: $140-$180
Pet-friendly: Yes
Reserved for the tech-savvy and trendiest of travelers, Aloft Knoxville ushers in a new age of travel. Get ready for travel in the digital age. Enter your room via keyless entry, connect your phone to the in-room Bluetooth speaker to jam out to your favorite playlist, and binge-watch the latest Stranger Things episodes on the 55-inch LCD TV provided for every room.
Aloft Knoxville comes with 107 loft-style rooms. Ceilings tower nine-feet above you and have large windows for city views. The contemporary style pairs vibrantly-colored décor with modern comforts. You'll have plenty of luxuries of premium bedding to sleep on a cloud and a rainfall shower when it's time to get dressed in the morning.
Before leaving the hotel, go for a swim in the outdoor pool or add a tint of UT orange to your skin on the outdoor sundeck. You'll be within walking distance to the shops in Turkey Creek Shopping Center and a short drive to a round on the Dead Horse Lake Golf Course.
You'll have no problem finding the hotel when returning at night, thanks to the blue and purple neon lights illuminating its exterior.
10. Cumberland House Knoxville
Location: 1109 White Avenue, Knoxville, TN 37916
Average Price per Night: $115-$250
Pet-friendly: Yes
Knoxville's history comes to life in the breathing fabric of the Cumberland House Knoxville. As part of Hilton's Tapestry Collection, you'll get a lesson in history, luxury, and comfort during your stay.
Experience the legacy of Knoxville's once-booming textile and button industries with unique hotel features like antique sewing machines on display, button-shaped hangers, and 19th-century textile patterns seen from the lobby to the 130 guestrooms.
Cozy rooms in Cumberland House Knoxville make you feel at home with décor inspired by the golden Victorian era. Enjoy views from seven-stories high if you're not too distracted by shows on the LCD TVs. Bathrooms also come stocked with complimentary toiletries for your stay.
Cumberland House Knoxville introduces its guests to a host of amenities. Stop by Tussie Mussie, the onsite restaurant, for a taste of authentic Appalachian cuisine paired with craft cocktails infused with floral elements. There is also a 24-hour business center to keep productivity high during your stay.
11. Element Knoxville West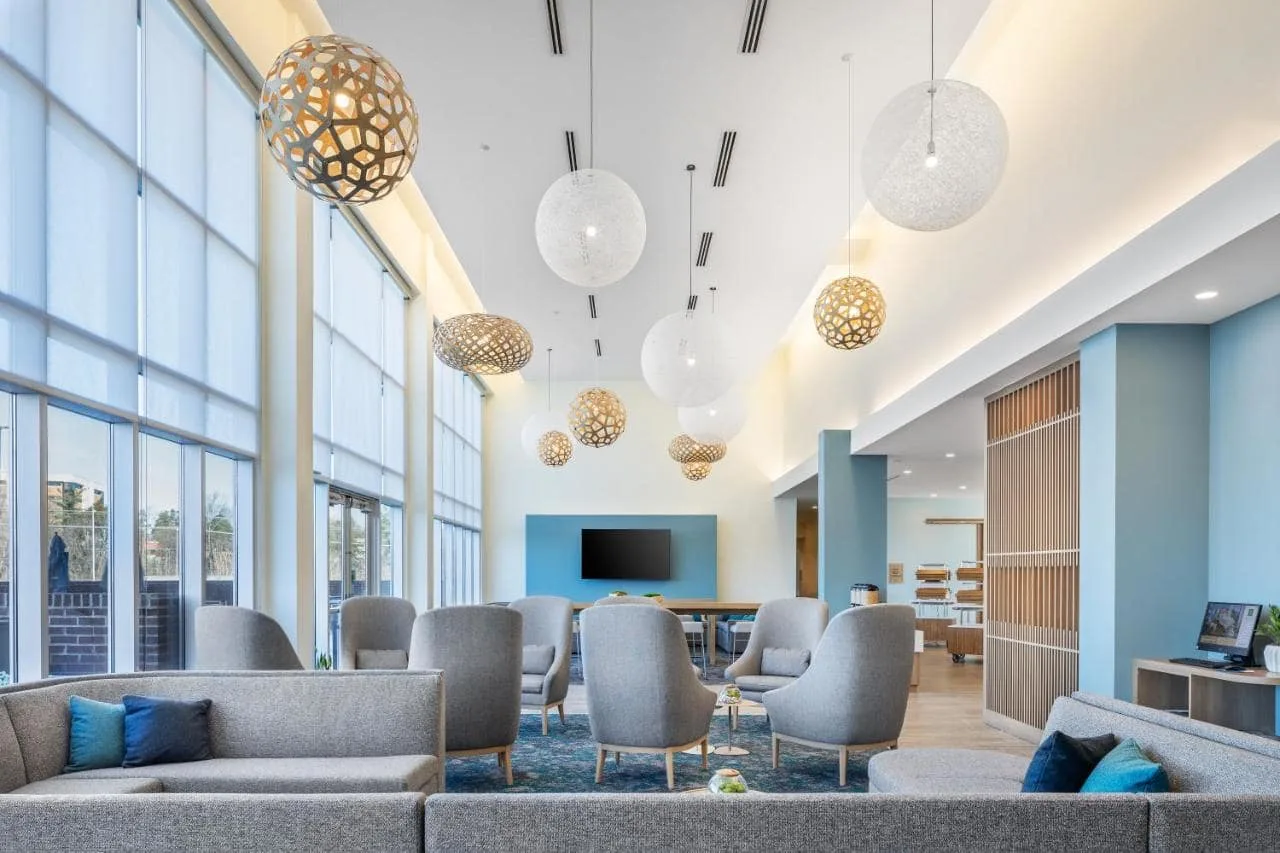 Location: 400 N Peters Rd, Knoxville, TN 37922, United States
Average Price per Night: $140-$200
Pet-friendly: Yes
West Knoxville is an upcoming neighborhood in the city where you'll find trendy places to stay, like Element Knoxville West. The stylish hotel design attracts trendy travelers seeking a modern stay near shopping, eateries, and entertainment venues.
There's always plenty of natural light to brighten your day, from the floor-to-ceiling windows in the lobby to the wall-to-wall windows in the accommodations. Its 105 guestrooms cover the hotel's five floors, where guests can enjoy private and shared spaces.
You'll get lots of quality R&R in the modern rooms designed with everyday comforts like air-conditioning, TV, well-appointed bathrooms, and an in-room workspace. However, if you prefer the company of others, you can get a workout at the fitness center or relax in the shared lounge space.
Located just off I-75, you can get anywhere your heart desires. Shop at the West Town Mall, tee off on the 18-hole Dead Horse Lake Golf Course, or set off on the Ten Mile creek Greenway from Walker Springs Park.
You may also like: 15 Best Things to Do in Morristown, TN
Convinced yet that Knoxville should be on your bucket list? Let us know in the comments which of these hotels you like the most and when you're planning to visit!