Are you looking for the best cabins for rent to spend the weekend in Knoxville? You're in the right place!
Whether you're planning a cozy, romantic Tennessee getaway, visiting Knoxville for a Vols game, or want to go on a spur-of-the-moment "staycation," these Knoxville cabins have a little something for everyone.
We've rounded up 11 of the best rental cabins available, with a wide range of options to suit every preference on size, amenities, and price point.
Enjoy your stay!
The 11 Best Knoxville Cabin Rentals
1. "Little Joe" Secluded Log Cabin on 16 Acres
When you're enjoying the privacy of Little Joe's 16 wooded acres, it feels like you're hours away from civilization. Yet, the UT campus and Knoxville airport are less than 15 minutes away!
That's just one of many things that makes Little Joe one of the best cabins for rent in Knoxville.
This two-bedroom, two-bathroom cabin comes with a private hot tub, horseshoe pits, corn hole, tetherball, private walking trails, and a catch-and-release bass fishing pond.
There's also a seasonal creek and a couple of hammocks hidden in the woods.
Inside, you can whip up fancy meals in the fully-equipped kitchen, then relax in front of the fireplace or enjoy movie night on one of two smart TVs.
You may find that it's hard to convince yourself to leave this Knoxville cabin, but when you do, Great Smoky Mountains National Park plus all the attractions and things to do in Pigeon Forge and things to do in Gatlinburg are just 45 minutes away.
2. "Big Hoss" Cabin With Hot Tub and Game Room
Owned by the same folks as "Little Joe," Big Hoss is another top-notch vacation cabin rental in Knoxville.
Big Hoss sits on the same 16-acre lot as Little Joe, but is still extremely private.
You'll feel like you have the whole property all to yourself, but if you have a large group, you can also rent both homes.
Also, just like Little Joe, Big Hoss has unique amenities including a horseshoe pit, bass fishing pond, tetherball, and cornhole games.
Of course, the 1,600-foot, 3-bedroom, 3-bathroom also has a private hot tub on the deck. There's a grill right next to it, so you can have dinner, then enjoy a relaxing soak!
With all of those impressive features, there's something perhaps even better at this Knoxville cabin: a finished walk-out basement that's been converted to an awesome game room!
In this room, which you'll never want to leave, you'll find a pool table, dart board, arcade and board games, Connect 4, and plenty of comfy seating. The basement also has an additional bedroom, bathroom, and laundry room.
➡️ Book the "Big Hoss" cabin here
3. Log Cabin Near Downtown Knoxville With Hot Tub
Another cabin that's super close to Knoxville proper, this beautiful cozy cabin option makes the perfect quick getaway!
With amenities like a huge screened porch, hot tub, outdoor fire pit, and wood-burning fireplace in the living room, you'll be able to enjoy the best of both worlds.
Head out into town to enjoy some of of the best things to do in Knoxville or try one of Knoxville's best restaurants, then head back to the cabin to unwind and cozy up with your crew.
It's tough to point to just one thing that makes this one of the best cabins for rent in Knoxville, but its outdoor spaces are top-notch.
The hot tub and a scenic swing overlook the fire pit on the bottom level, while the screen room up top has beautiful views.
This is also an excellent cabin for families, with lots of little touches for kiddos including child-sized patio furniture.
➡️ Book this cozy cabin on VRBO
4. 3-Bedroom Cabin Near the Tennessee River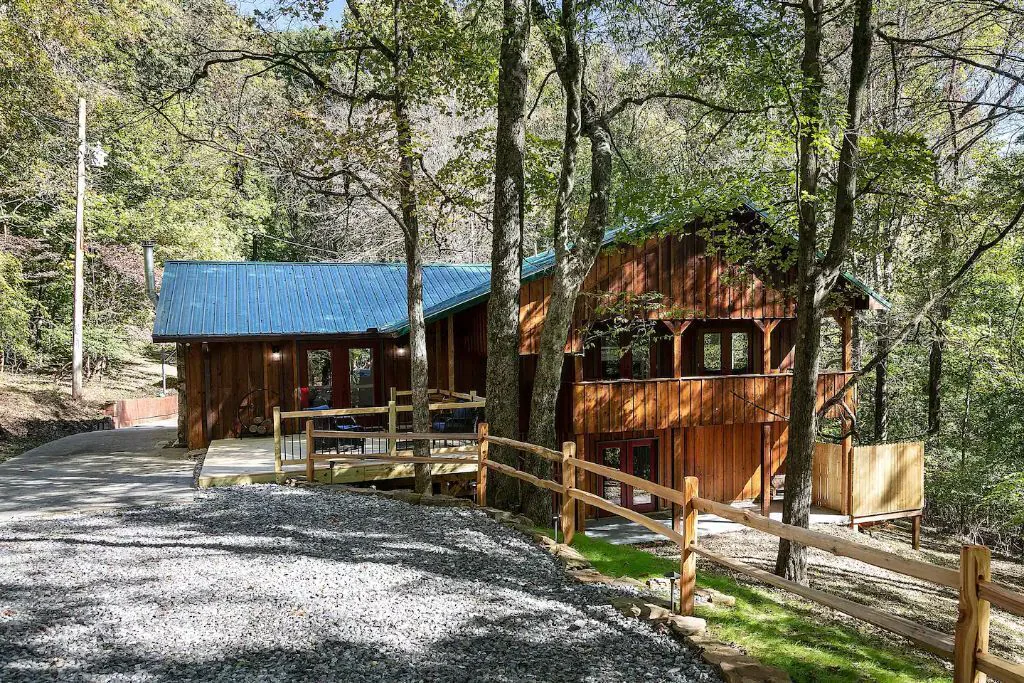 No matter what type of traveler you are, this secluded beauty sets the bar high for the best cabins for rent in Knoxville.
It's close to everything in the city, secluded on 10 acres, and overlooks the Tennessee River. In fact, it's close enough to watch boats go by!
The three-bedroom, three-bath cabin's spaces were thoughtfully inside and out. It has a bright, airy modern farmhouse feel inside, with stone accents and a wood-burning fireplace.
There's also a secondary TV lounge area and arcade games, making this cabin ideal for multi-generational and couples' trips. If you have a longer stay planned, there's even a washer and dryer.
The property is heavily wooded, and multiple outdoor spaces make the most of it. Several rooms also have direct deck access!
Enjoy meals at the outdoor picnic table or drinks around the fire pit, or challenge each other to a game of basketball.
➡️ Book this spacious cabin on VRBO
5. Lil' Swiss Cabin
This gorgeous Swiss cabin in Knoxville is full of pleasantly surprising contrasts. It feels like it's nestled in the middle of the woods, but the university is just 10 minutes away.
It's also modern, yet full of Old World touches like rustic exposed wood beams and hammered copper fixtures.
The cozy 2-bedroom "Lil' Swiss" is one of the best cabins for rent in Knoxville for couples and families.
It has a wraparound deck plus a screened porch for relaxing outside, and inside, there are fun details like a foosball coffee table and gas fireplace.
While the kitchenette doesn't have a stove, there is a gas grill outside (which is where you'll want to spend most of your time anyway!).
If you like to travel with your pup, you're in luck, because Lil' Swiss has a fully fenced yard. There are also walking paths all around the cabin!
➡️ Book the "Lil Swiss" cabin now
6. Chic West Knoxville Cabin
This rustic yet chic cabin looks rustic and unassuming from the outside, but inside, it's chic, modern, and upscale.
It has all the features the best cabins for rent in Knoxville share, but it also retains some of its original historic fixtures.
For example, the cabin has its original flooring and stone fireplace (in immaculate shape!), but it also has ultra-modern lighting and chic granite counters. The stunning carved stone sinks are definite highlights!
Outdoors, the heavily wooded property feels like your own private slice of paradise. There's even a babbling creek running right through the 2-acre lot!
Best of all, this cabin is convenient to everything! The West Knox location means downtown and several lakes are within a 10-15 minute drive, and you have amenities like restaurants and a Target just down the street.
7. Hilltop Hideaway Cabin With a Hot Tub
Nestled in Karns, just northwest of Knoxville and about 20 minutes from downtown, this stunning cabin is a true slice of paradise.
The 9-acre lot is heavily forested, perched on top of a hill, and the driveway alone is 1/4 mile, so you'll truly feel like you're "getting away from it all."
The main attraction at the 3-bedroom, 2-bath cabin affectionately called "Hilltop Hideaway" is the 6-person hot tub on the screen porch outside, but that's only one of many fantastic features.
There are also multiple decks and a fire pit with plenty of seating. Inside, enjoy a soaking tub, modern farmhouse features, and luxurious bedding.
The property even has well-marked private hiking trails, so if you want to get some fresh air but don't necessarily want to head out on an adventure, you don't have to! While you're out, keep your eyes open for wild deer and turkeys.
➡️ Book the "Hilltop Hideaway" here
8. Beary Cozy
Located in the fun town of Sevierville just east of Knoxville, Beary Cozy is a 3-bedroom, 2-bath cabin in the Eagle Springs Resort community.
There's a very well-stocked kitchen and dining room, plus comfy living room with smart TV and wi-fi, so this is one of the best cabins for rent in Knoxville for groups.
Up on the second floor loft, there's another sleeping area and the cabin's star attraction, a game room. After enjoying the town, plan a fun night in and play pool or air hockey, or set up a competitive board game night.
The cabin's outdoor spaces are perhaps even better, if that's possible, with a wraparound deck on the lower level and a private balcony on the second floor.
There's also a 6-person hot tub on the deck, and if you're visiting in the summer, the resort also has a community pool.
➡️ Book the Beary Cozy cabin here
9. Historic 200-year-old Log Cabin
Situated on the grounds of a gorgeous 55-acre wedding venue in the Strawberry Plains area about 20 minutes east of Knoxville, this Civil War era cabin is unforgettable!
The cabin has been immaculately preserved, with many original features including a built-in winding staircase and standalone fireplace.
What makes it one of the best cabins for rent in Knoxville, however, are some of the modern updates. Highlights include a giant copper soaking tub, brand new deck, and super comfy Tempur-pedic beds.
The grounds themselves are just as impressive.
There are horse stables, a one-mile private hiking trail, and spring-fed Strawberry Creek, which runs right alongside the cabin.
If you have a large group or a special event, there's also another (brand new!) home for rent on the opposite side of the property.
➡️ Book this historic cabin here
10. Large Mountain Cabin With Game Room
This mountain cabin is one of the best cabins for rent in Knoxville, particularly if you're traveling with a larger group such as multiple couples or families.
The spacious cabin features over 2,300 square feet, three bedrooms, and 2.5 bathrooms spread throughout multiple floors. Outside, there's a large covered deck with a BBQ and stunning views, as well as a fire pit.
As far as location, it doesn't get much more central than this Knoxville cabin.
It sits 21 miles east of the city, 22 miles from Pigeon Forge, just over 30 miles to Gatlinburg and GSMNP, and in the center of several lakes, including Douglas Lake and Cherokee Lake.
Of course, the cabin's crown jewel is its game room.
Guests will have a blast playing pool, electronic basketball, life-size Connect 4, darts, foosball, or a nice selection of classic board games.
➡️ Book this mountain cabin on VRBO
11. The Willox Cabin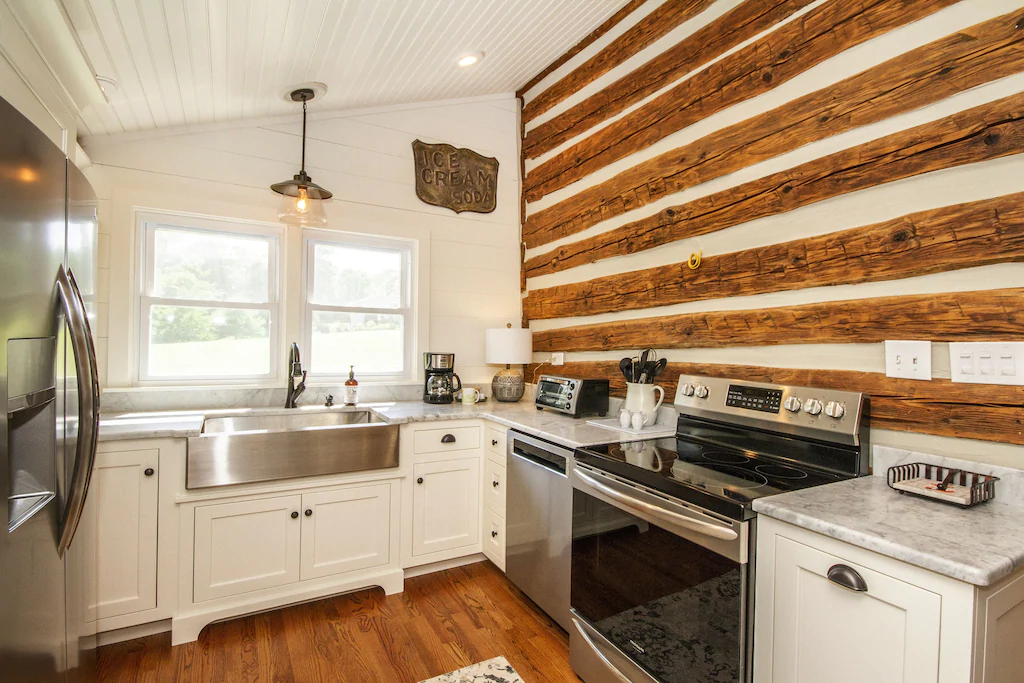 Situated on an ultra-private 72-acre farm in the historic Neubert Springs community, it's hard to imagine many better cabins for rent in Knoxville!
This farmhouse cabin has something for everyone, including beautifully restored original details from when it was built in 1898.
Original features include exposed logs throughout, a stone fireplace, and a cast-iron clawfoot tub.
The decor is chic vintage modern, and top-tier upgrades include the entire kitchen, a gorgeous walk-in spa shower, and fast wi-fi.
There are also screened front and back porches, along with private walking trails and wildlife galore, so you may truly never want to leave!
If you do opt to venture out, the cabin is ideally located less than 10 miles from UT, 13 miles from the airport, and 20 miles from Sevierville, GSMNP, and Townsend.