Pigeon Forge, Tennessee is a family-friendly destination year-round providing fun things to do for family vacations, weekend getaways, weddings, bachelor/bachelorette parties, date nights, and more.
This mountain town is found in the foothills of the Smoky Mountains surrounded by unique activities and beautiful views and is located just 5 minutes from the quaint town of Gatlinburg.
Enjoy fun things to do such as Zorbing, riding rollercoasters at Dollywood theme park, going skydiving indoors, cooling off at Soaky Mountain Water Park, visiting the Pigeon Forge Rod Run, and much more!
If you're visiting Pigeon Forge for the first time, try as many things to do on this list as you can.
And if you've lost count of how many times you've been to Pigeon Forge, we bet you haven't tried everything on this list!
Enjoy this list of the best things to do in Pigeon Forge, Tennessee below! ⤵️
16+ Best Things to do in Pigeon Forge, TN
1. Visit the Great Smoky Mountains National Park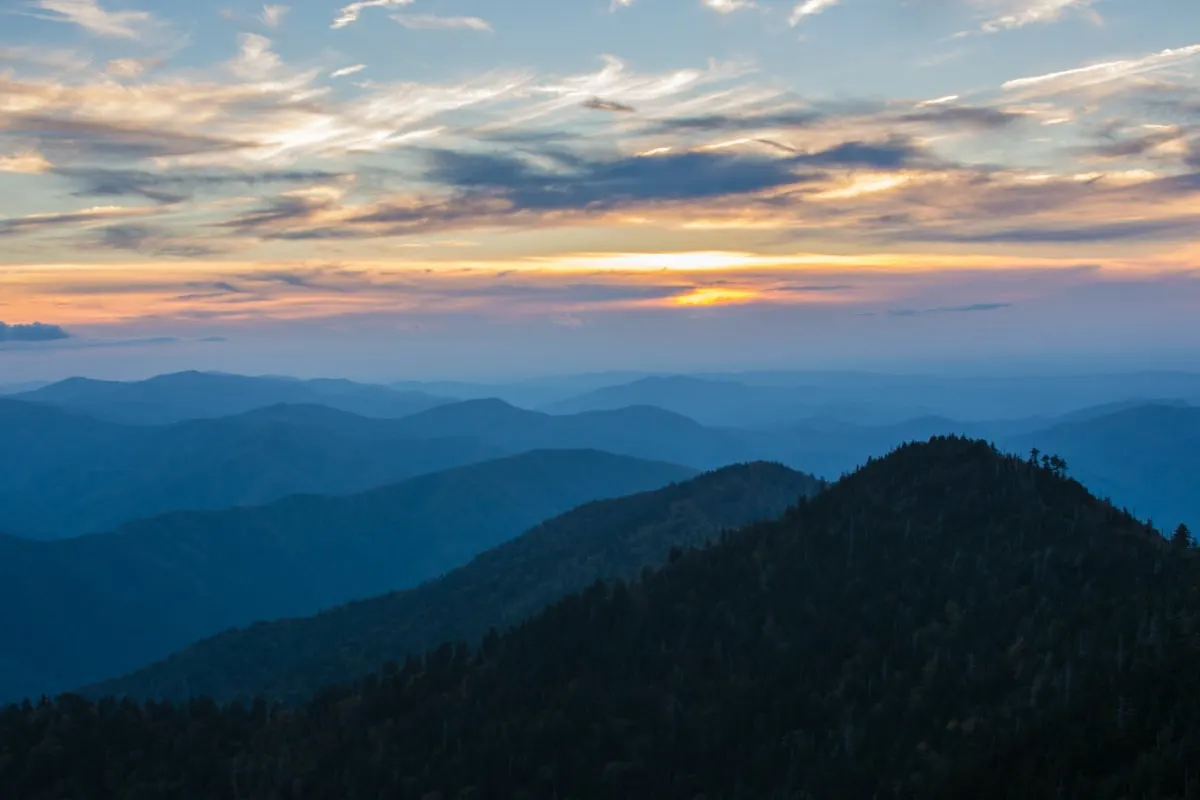 As the most visited national park in the United States, the Great Smoky Mountains National Park is a must-do activity when visiting Pigeon Forge.
This national park is popular for its diverse population of plants and wildlife, as well as the jaw-dropping beauty of the rolling hills and landscape of the Smoky Mountains.
Spend the day or weekend exploring the outdoors with plenty of hiking trails and viewing points, biking paths, waterfalls, and camping spots.
If you're wanting to spend the day spotting wildlife, visit Cade's Cove. This 11-mile loop (great for driving or biking) is the most popular destination in the park. Spot wildlife from black bears to coyotes, and more!
Another thing to do is soak in the scenic views of the Smoky Mountains from Tennessee's highest point at Clingman's Dome.
From 6,643 feet, you'll experience a 360-degree view of the Smoky Mountains with visibility expanding over 100 miles on clear days.
2. Spend the Day at Dollywood Theme Park
Voted as the #1 theme park in the United States by Trip Advisor in 2022, you cant visit Pigeon Forge without going to Dollywood!
Spend the day at Dollywood exploring all the park has to offer such as thrilling roller coasters, water rides, entertainment shows, music award-winning food, and more.
Dollywood is fun all year long providing different festivals and attractions each season.
But our favorite time of year to visit Dollywood is in both spring (for the Flower & Food Festival) and fall for Dollywood's Harvest Festival.
If you have a day to spare in your Pigeon Forge itinerary, we also suggest checking out Dollywood's Splash Country — great for cooling off during those hot summer days in Pigeon Forge.
3. Explore the Island in Pigeon Forge
The Island in Pigeon Forge is a 23-acre entertainment destination combining something for everyone including lodging, shops, dining, and fun entertainment.
Admission and parking are both free, making this a cheap thing to do in Pigeon Forge.
The Island was voted as the #1 top attraction in Tennessee by Musement as it includes everything you'll want and need for a fun vacation.
Stay at the Margaritaville Island Hotel or if you're looking for a more budget-friendly stay, try the Margaritaville Island Inn — both are great options.
Shop at one of the 40+ retail stores on the property and then spend the day playing with fun and affordable activities for the entire family. For dinner, eat at well-known restaurants such as Dick's Last Resort or Margaritaville.
Different events are held here throughout the year, such as the St. Patrick's Day Celebration, where the entire island and fountains light up green.
You could also ring in the New Year with a bang with a free concert and fireworks held annually! View more events at The Island on their website.
4. Cool Down at Soaky Mountain Water Park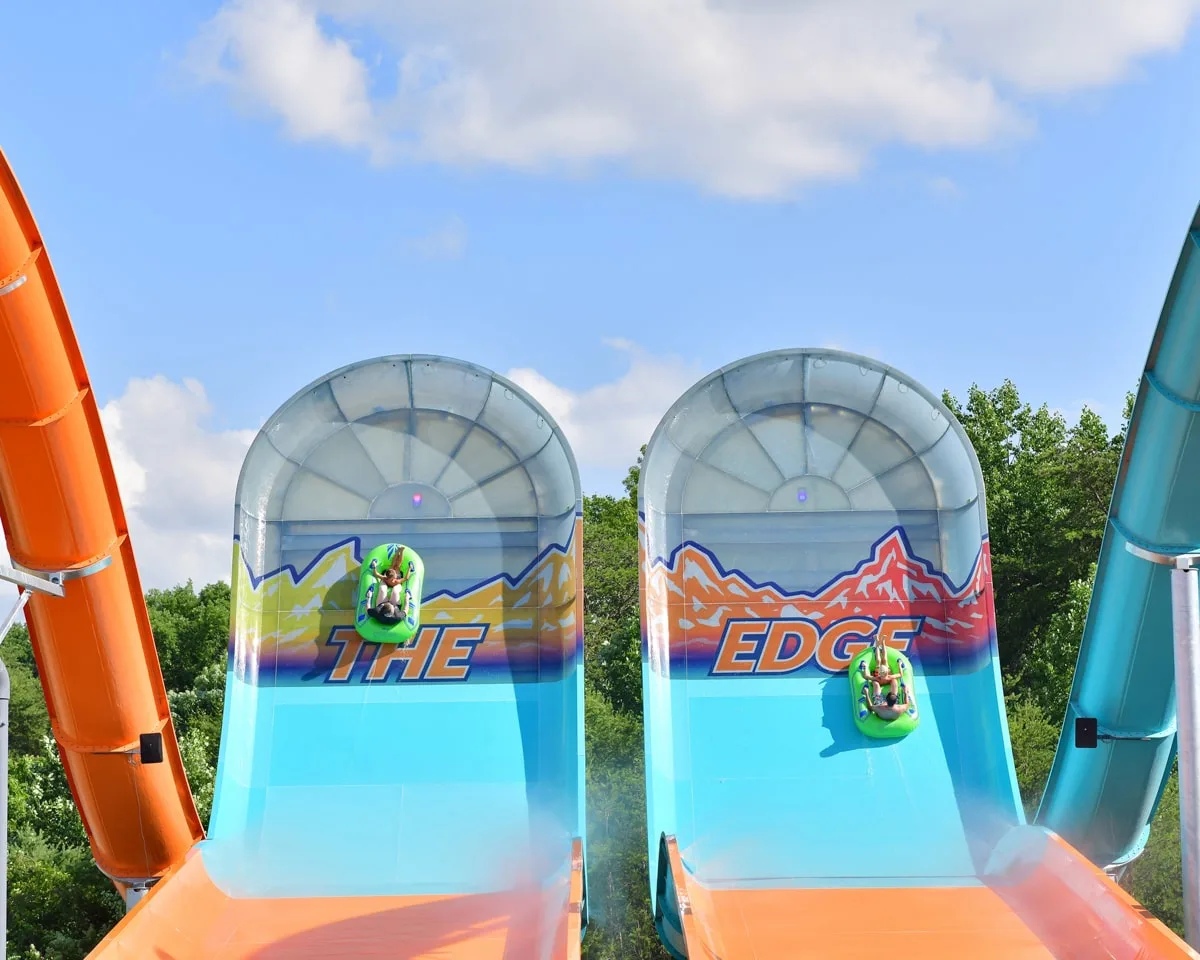 Looking for something to do this summer in Pigeon Forge? We suggest that you check out Soaky Mountain Water Park.
Try out the thrilling watercoasters, racing waterslides, wave pools, surf pools, a (not so lazy) lazy river, and more!
There are plenty of food options inside including a taco truck and a Philly cheesesteak truck, along with snack shops. And for the adults of the group, you'll find two bars inside serving classic cocktails and beer.
If you happen to forget your sunscreen, towel, or other summer necessities, such items can be purchased at the onsite gift shop.
5. Tour Downtown Gatlinburg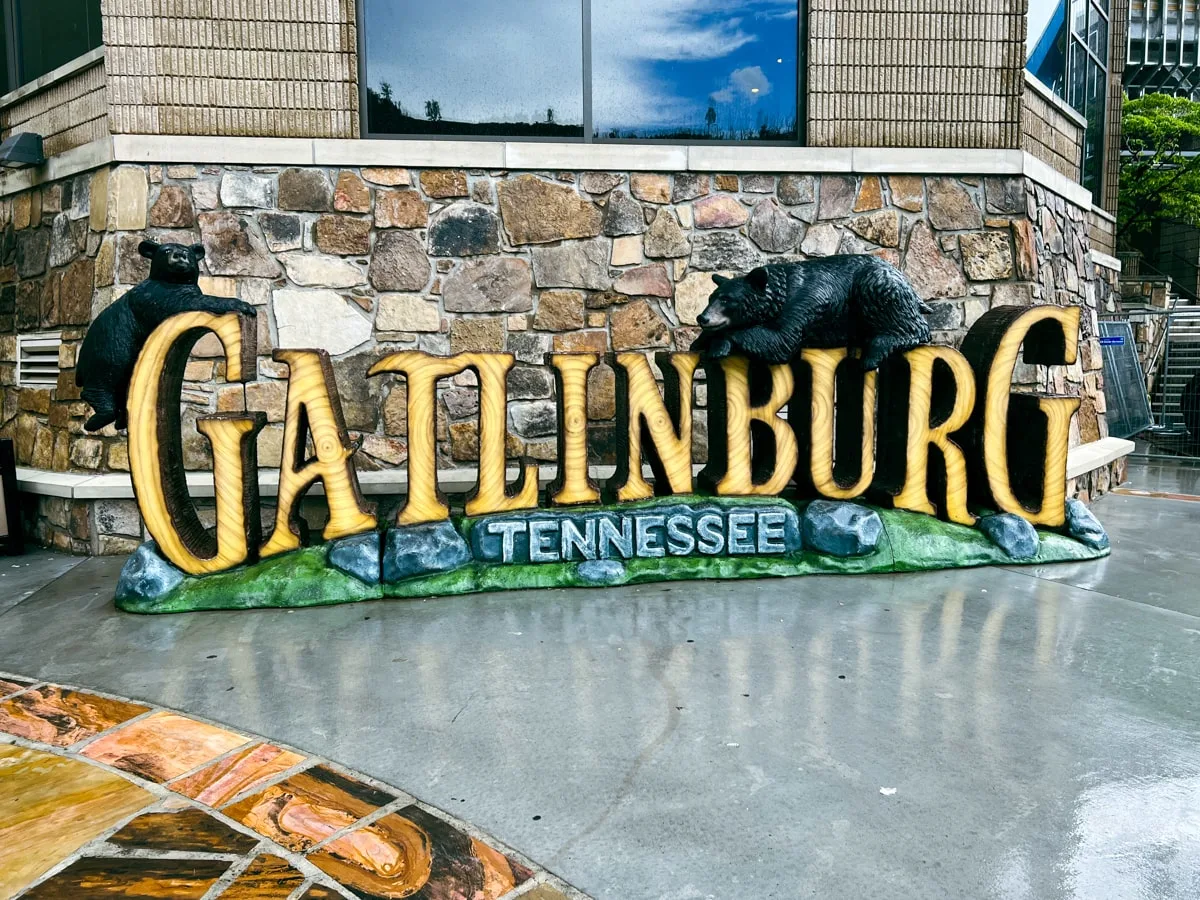 Thanks to its proximity to Pigeon Forge, the town of Gatlinburg is great for both adult and family-friendly activities such as wine and moonshine tastings, shopping, dining, mountain coasters, and more.
Just like in Pigeon Forge, there are plenty of things to do in Gatlinburg.
A few examples are walking along the longest pedestrian bridge in North America on the Gatlinburg Skybridge, seeing all the colorful fish and sharks at Ripley's Aquarium, going to a local brewery, and much more.
Even more activities await if you find yourself in Gatlinburg in the fall!
A must-do is get a glimpse of all the beautiful foliage across the Smoky Mountains in autumn as the leaves change colors.
The best way to do that is ride the aerial tram to the top of Ober Gatlinburg or Anakeesta for panoramic mountain views and fun entertainment.
🏠 Need a place to stay? Here are the best cozy cabin rentals in Gatlinburg!
6. Experience the Fun of Zorbing
Are you feeling a little adventurous? If so, you can enjoy a fun and unique experience only in Pigeon Forge at Outdoor Gravity Park.
What's the activity, you ask? This adventure park features the only zorbing park found in the USA.
Zorbing is a fun thing to do in Pigeon Forge, if you're brave enough to do it!
For this activity, you essentially roll down a hill in a giant 11-foot inflatable ball with 3 fun courses:
Extreme Zig Zag — An extreme course full of bumps and turns. For solo riders only.
Fast Tracks — The fastest track that you can ride with family and friends (up to 3 people per ball).
Funnel — A combination of Zig Zag and Fast Tracks (up to 3 people per ball).
You can also have water added to your ball (cold water in the summer and hot water in the winter) to make your experience even more thrilling!
7. Visit Parrot Mountain & Gardens
Visiting Parrot Mountain & Gardens is a great thing to do with friends or family.
Perched on top of a mountain with four acres of landscaped gardens, Parrot Mountain features hundreds of exotic birds and parrots.
During your visit, you can walk through the gardens and view the parrots perching along the pathway, visit the nursery and see the newly hatched parrots being hand-fed, or visit the bird garden where you yourself can hand-feed some of the parrots.
You'll see parrots of all varieties from Macaws to Cockatoos, Amazons, Conures, Toucans, Hornbills, and many more.
8. Get Competitive with Go Karts and Mini Golf
Go Karts
As you drive down the strip of Pigeon Forge, you're guaranteed to notice the abundance of go-kart tracks, mini golf courses, and arcades — all waiting for you to join in on the fun!
You'll see many places claiming to have the "fastest go-karts in town". It's hard to determine which place has the fastest karts as it depends on the driver as well as weight.
We've raced go-karts at Xtreme Racing and had a great time and believed the karts to go pretty fast. The track was a little bumpy in places but it just added to the fun!
Putt Putt
Who doesn't love a game of Putt Putt? We sure do!
Pigeon Forge has an endless amount of places to play the classic game of Mini Golf.
9. Attend a Dinner Show
There are many dinner shows found in Pigeon Forge where you can (you guessed it) catch dinner and a show!
Here are a few popular Dinner Shows in Pigeon Forge:
A dinner show is a quintessential thing to do in Pigeon Forge! If you're not sure which one to pick, we'd recommend the classic Dolly Parton's Stampede.
Looking for the best tours in Pigeon Forge? Book now on Viator ⬇️
10. Ride a Mountain Coaster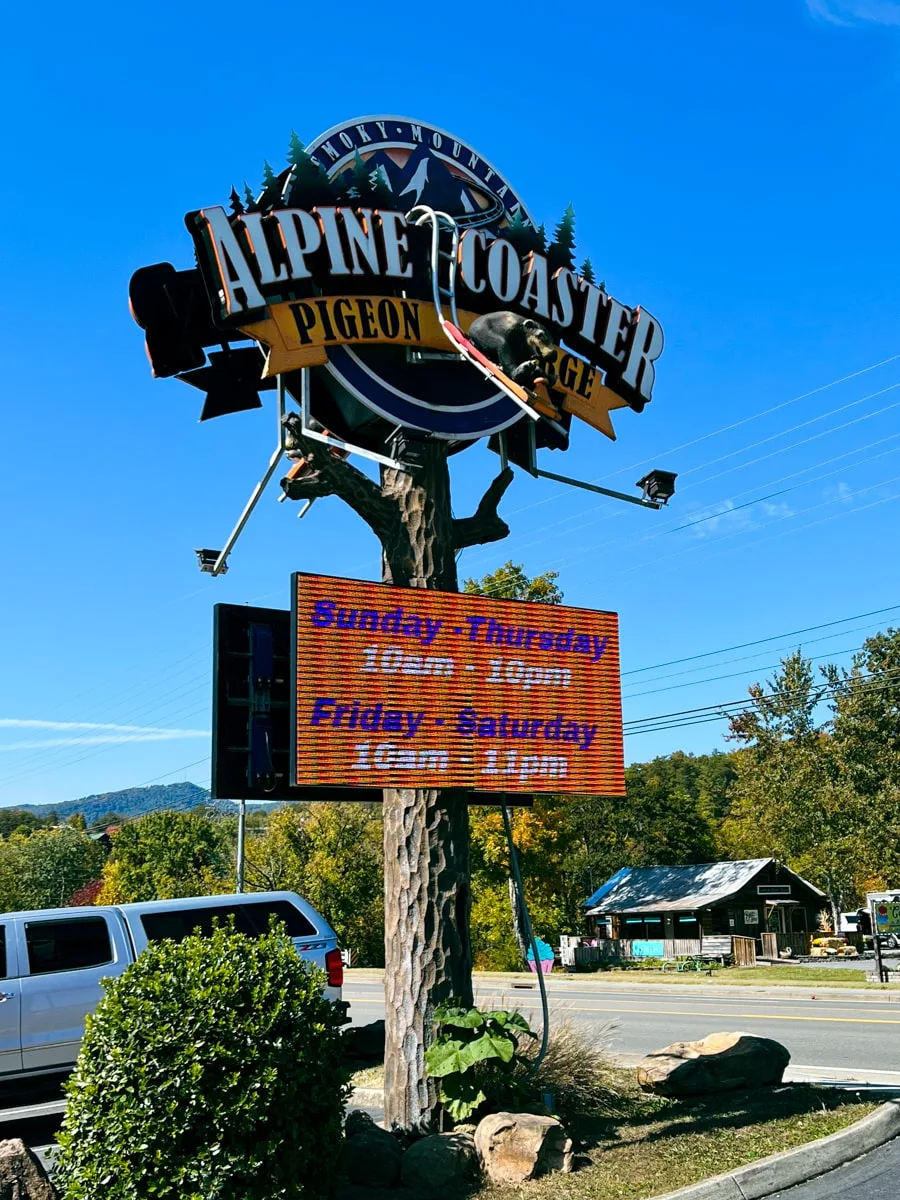 Zipping down a track on a mountain coaster is a popular activity in Pigeon Forge and Gatlinburg.
Unlike a normal coaster, you'll be able to control your own speed on one of these fun mountain coasters as you fly down a mountain.
11. Explore the Forbidden Caverns
Explore the Smokies from a different perspective in one of the 8,350 registered caves in the state of Tennessee — the Forbidden Caverns.
Once used as a shelter for the Eastern Woodland Indians, the Forbidden Caverns has been open to the public since 1967.
See "sparkling formations, towering natural chimneys, numerous grottos, and a crystal clear stream."
The temperature in the caverns stays a consistent 58 degrees year-round and the tour is approximately 1 hour long.
12. Eat Pancakes at the Historic Old Mill
The Old Mill is one of the few operating gristmills left in the country grinding over 700,000 pounds of grain each year.
The restaurant then uses these freshly-milled grains in many of its recipes, transforming the term handmade into "mill made".
Make reservations for breakfast at the Old Mill Restaurant for some delicious pancakes or homemade biscuits. Or visit for lunch or dinner for southern-style comfort food.
The Old Mill Pottery House Cafe serves sandwiches and hearty entrees, or brunch is served every Saturday and Sunday until 2:00 pm.
Visit the Old Forge Distillery for some tasty spirits produced from the ground grains from the Old Mill.
Other restaurants and shops found at the Old Mill include a creamery, general store, candy kitchen, pottery, and more.
13. Attend a Pigeon Forge Rod Run
If you or someone you know likes cars, classic cars, antique cars, muscle cars — you name it — then you may want to visit The Pigeon Forge Rod Run.
This 3-day automotive event lines the full length of the strip in Pigeon Forge with cars parked in almost every parking lot and is the biggest automotive event in the region.
The Spring Rod Run is usually held in the month of April while the Fall Rod Run is held in the month of September.
If you aren't wanting to participate in the rod run but still looking to visit Pigeon Forge, we highly recommend picking a weekend when this event is not taking place.
14. Go Skydiving — Indoors!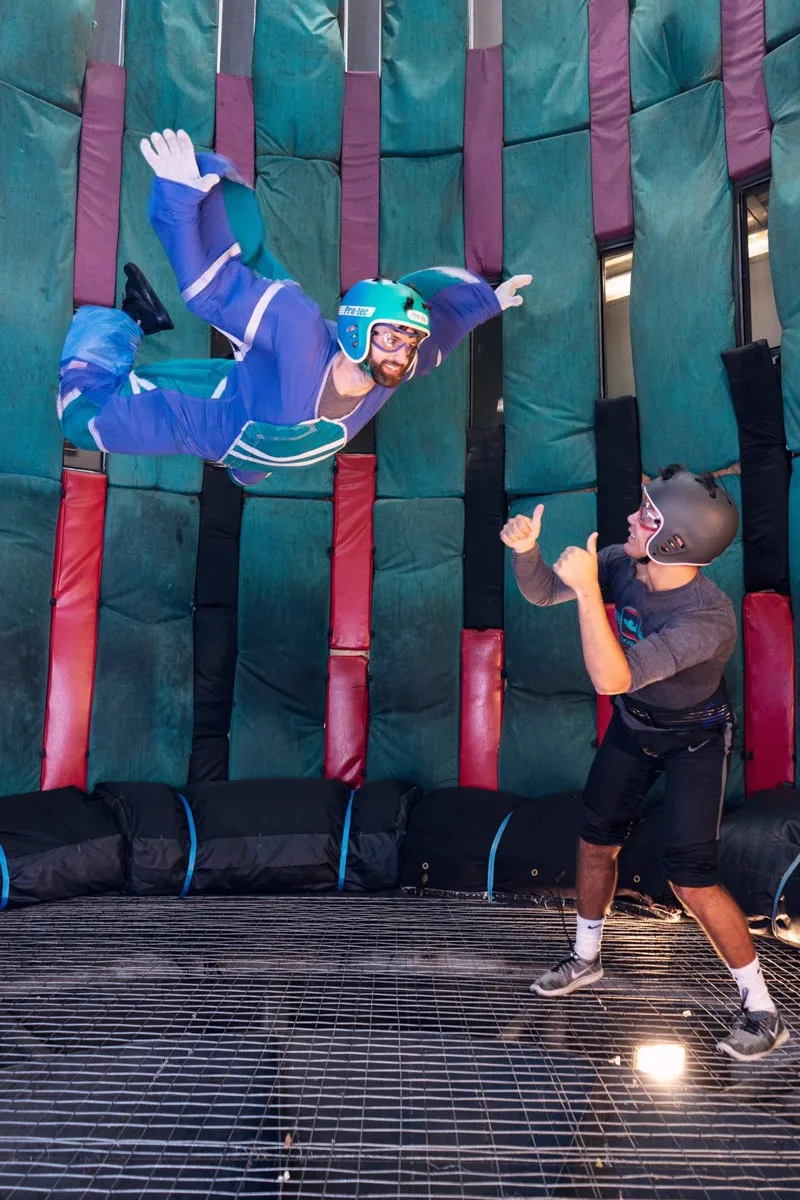 Experience skydiving without the fear of heights or jumping out of a plane at Flyaway's Indoor Skydiving.
You'll experience the sensation of falling through the sky in America's first vertical wind tunnel. The wind tunnel can hold 5 guests at a time which would make this a fun activity for groups in Pigeon Forge!
Reservations are highly encouraged and no experience is necessary.
15. Take a Helicopter Tour
See the Smoky Mountains and surrounding towns from above with one of these helicopter tours.
A helicopter tour would be great for couples as a romantic thing to do in Pigeon Forge. Or it would make a fun experience for the kids.
Fly over the mountains and valleys of the Great Smoky Mountains, the French Broad River, Douglas Lake, and more.
16. Visit a Funky Museum
You've probably seen them, funky buildings lining the road in Pigeon Forge just waiting for you to explore them. From buildings built upside down to the famous Titanic ship — what museum should you visit?
The list goes on and on with fun things to do in Pigeon Forge, but we think these activities are some of the best!
Are you planning a weekend getaway in Pigeon Forge? Let us know in the comments below! 👇
More Pigeon Forge guides:
SAVE FOR YOUR NEXT PIGEON FORGE VACATION 🎡