Wondering about the best hikes in Gatlinburg, Tennessee? You're in the right place!
Well-known as the gateway to the Great Smoky Mountains (and the uber-popular national park with the same name!), Gatlinburg has a huge variety of hiking trails. The park alone has 150+ named trails, with options for every length, difficulty, and terrain.
With the country's most-visited national park in its backyard, there are tons of outdoor attractions and things to do in Gatlinburg. Heading out on a hike is one of the best, very literally giving you the lay of the land!
Before you go hiking in Gatlinburg, remember to heed the principles of Leave No Trace. That means take only pictures, leave only footprints, respect the resident wildlife, and plan ahead. 🥾
Now, grab some snacks and water and let's take a look at the best hikes near Gatlinburg!
9 of the Best Hikes in Gatlinburg & GSMNP
1. Twin Creeks Trail
Length: 4.5 miles out and back
Elevation gain: 790 feet
Difficulty: Easy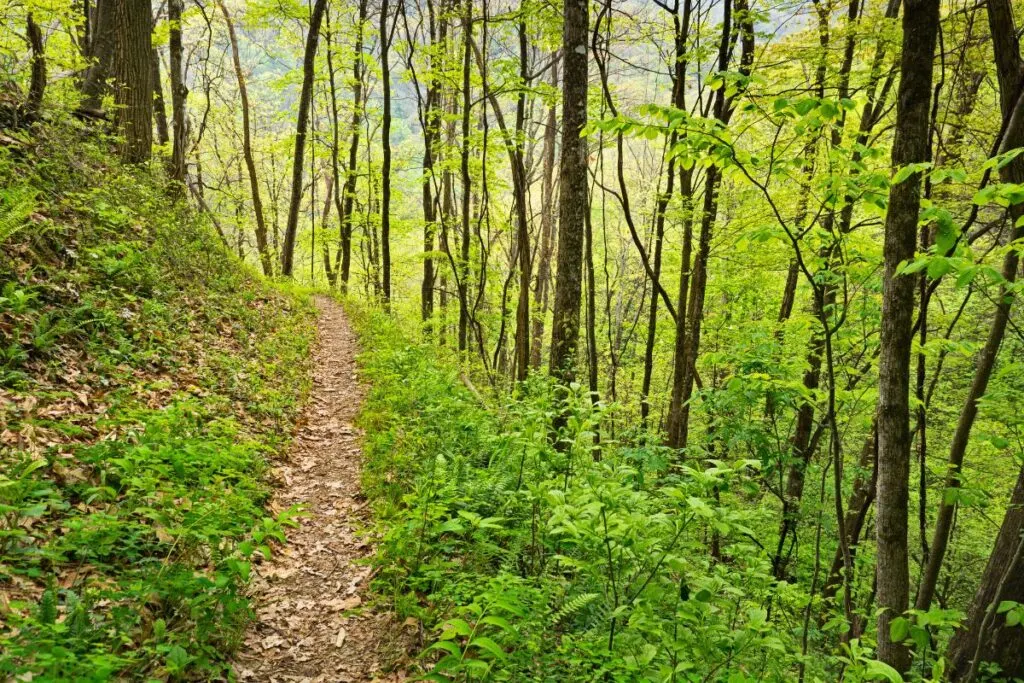 The easy and charmingly rugged Twin Creeks Trail is another of the best hikes in Gatlinburg for all seasons.
This trail, which runs along the outer edge of the national park, meanders alongside LeConte Creek in a dense area of old-growth forest.
Any time of year, you should anticipate mud, stray roots, and boulders – making this an exciting (but still easy!) adventure surrounded by verdant greenery.
One of the highlights of Twin Creeks Trail is the Fairy House, which is nestled in the woods just off the main trail. Although it isn't marked by any signs, the Fairy House is easy to find. Look for the fairly well-beaten spur trail just after the Resource Center.
Due to this hike's proximity to Gatlinburg and relative easiness, trailhead parking is almost always extremely limited. If you have time, consider walking from town or your Gatlinburg hotel.
Note that mosquitoes and other bugs are notoriously bad on this trail during the spring and summer.
2. Gatlinburg Trail
Length: 3.9 miles out and back
Elevation gain: 164 feet
Difficulty: Easy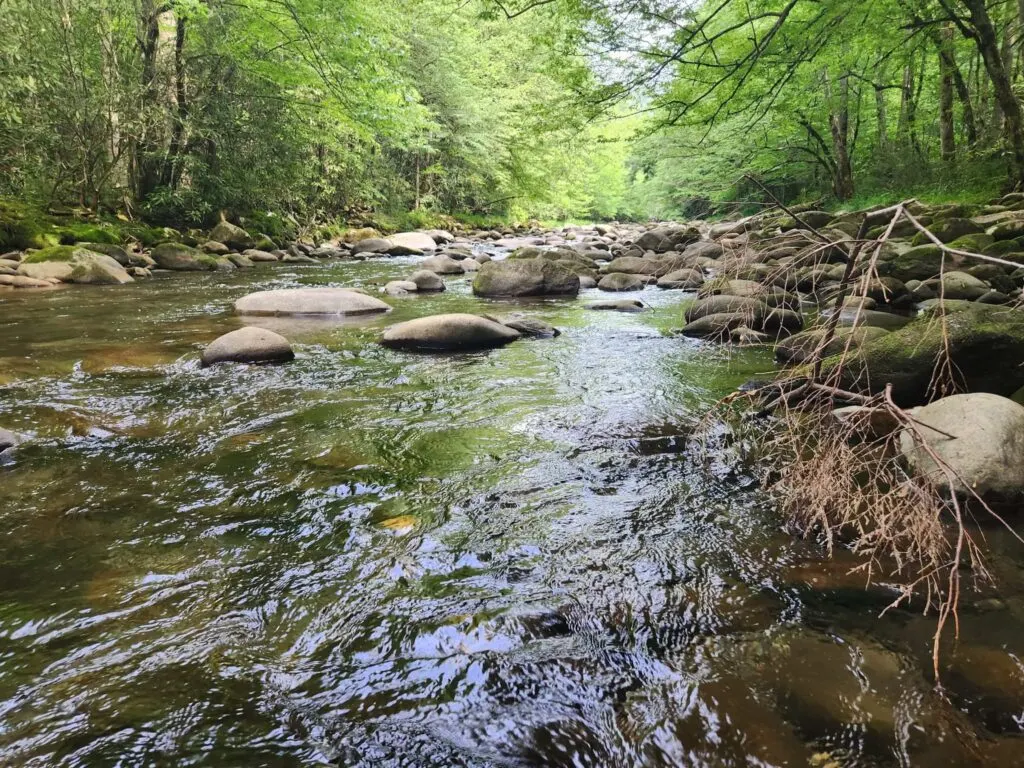 Scenic and easy with minimal elevation gain, the Gatlinburg Trail is a fantastic hike right on the outskirts of town.
The out-and-back trail follows the Little Pigeon River and links downtown Gatlinburg with the Sugarlands Visitor Center.
Highlighting a bit of everything the Smokies are known for, including dense forest, the river, a footbridge, and wildflowers, this is easily one of the best hikes in Gatlinburg!
As a bonus, this is one of only two dog-friendly trails in the national park. Note that Fido must remain on a leash the whole time.
This hiking trail is also perfectly suitable for younger children or strollers. As a multi-use path, you may even want to rent a bicycle in town and explore this popular route on two wheels.
Insider tip: Cataract Falls is just half a mile from the visitor center, so you can easily extend your hike!
3. Grotto Falls via Trillium Gap Trail
Length: 2.6 miles out and back
Elevation gain: 544 feet
Difficulty: Easy to moderate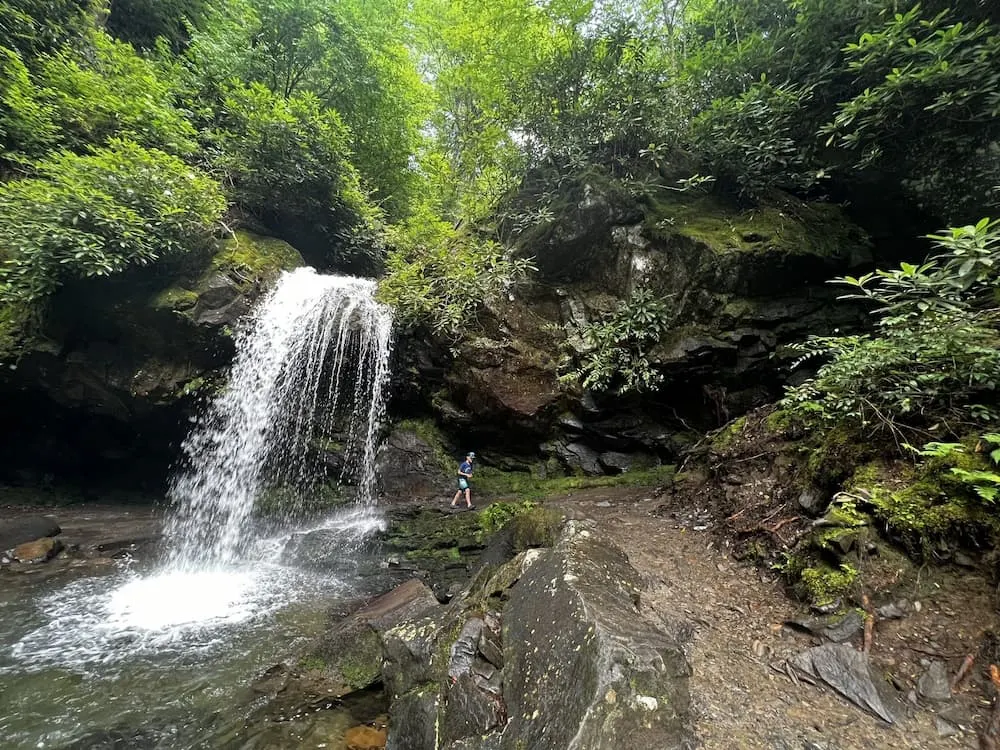 Manageable for people of all ages and abilities, plus with a particularly unique feature, Grotto Falls is one of the best waterfall hikes in the Smokies. 💦
Start from the Trillium Gap trailhead on the Roaring Fork Motor Nature Trail. From there, you'll go through dense forest and, as the name suggests, finish at the beautiful Grotto Falls cascading 25 feet over a rock face.
While it's far from the tallest waterfall in the park, Grotto Falls one of the most unique and popular because you actually walk behind it!
That alone makes this one of the best hikes near Gatlinburg — especially on hot summer days!
There are also several boulders just off the trail, but note that climbing them is not permitted.
Another notable feature of this hike is actually the drive to the trailhead. The road twists through the forest and has several lookouts along the way. In fact, many visitors come to GSMNP just to drive the Roaring Fork Motor Nature Trail!
The trail is technically rated moderate, but we honestly think it lands much closer to the easy end of the scale. There's a bit of up and down, but those sections are short and sweet. The major "obstacles" on the Grotto Falls trail are mud and uneven terrain (which is true of just about every hike in the Smokies).
If the parking lot is full, as it often is on weekends and beautiful summer days, you can park a bit further up the road, but this will add about one mile to your hike each way.
4. Baskins Creek Falls
Length: 3.1 miles out and back
Elevation gain: 912 feet
Difficulty: Moderate
Despite being right along the Roaring Fork Motor Nature Trail, Baskins Creek Falls is one of the quietest hikes near Gatlinburg.
This is likely because the trail is somewhat difficult — it's downhill going in, and almost straight up coming out, gaining nearly 1,000 feet. The trail is also notoriously muddy, largely because it's well shaded and some sections don't get much sun.
It's well worth the effort, leading to a 40-foot waterfall that has two tiers in the spring and after a good rain. In the winter months, when the trees are bare, you'll also enjoy awesome mountain views along the way.
You'll want to wear proper hiking shoes for this adventure in any season. The final descent down to the waterfall itself is steep and requires some scrambling, plus there are two water crossings. The first one, in particular, will likely get your feet soaking wet!
The road leading to Baskins Creek sometimes closes in the winter, but you can still access the trailhead from Cherokee Orchard Road.
5. Clingmans Dome Observation Tower Trail
Length: 1.3 miles out and back
Elevation gain: 331 feet
Difficulty: Moderate
Situated at 6,643 feet, Clingmans Dome is the highest point in the Great Smoky Mountains…and the entire state of Tennessee!
It's also one of the most iconic sites and popular hikes in the park, without question. It's particularly beautiful to visit during fall in Gatlinburg with all the leaves changing color.
That's not at all surprising: on clear days, you can see up to 100 miles in any direction from the observation tower!
Also, interestingly, Clingmans Dome sits in both Tennessee and North Carolina.
At first glance, Clingmans Dome seems like a cake walk. It's short and the entire trail is paved from the parking lot.
However, it's STEEP, with grades reaching over 12%!
Bicycles aren't allowed on the trail, and it's too steep for strollers or wheelchairs, so you can only experience this one on foot.
Clingmans Dome also has Appalachian Trail access, as well as the trailhead for the popular Forney Ridge Trail to Andrews Bald.
While it's not your typical backcountry hike, Clingmans Dome is worthy of your time, purely for the unique vantage point of the Smokies. One thing to be aware of, however, is that it's often cloudy at the summit.
The road to Clingmans Dome also closes from December until early March, so be sure to plan ahead!
6. Chimney Tops Trail
Length: 3.6 miles out and back
Elevation gain: 1,286 feet
Difficulty: Hard
One of the best hikes in Gatlinburg for incredible views and frequent bear sightings, the Chimney Tops Trail is a demanding trail.
Don't let the short distance mislead you. The hike is quite the cardio workout, with 1,300 feet of elevation gain. Fortunately, this is gradual, with short but intense bursts. In terms of terrain, you're looking at multiple stream crossings, overgrown tree roots, dirt, and a few flights of stairs.
While going up is heavy on the lungs, the descent down the mountain is tough on the knees. We highly recommend hiking poles for this hike!
While it isn't for the faint of heart, it is an exciting trail! It also doesn't take long for the hard work to pay off, with sweeping vistas across the valleys.
As one of the few rock summits in the Smokies, Chimney Tops is recognizable from the ground. You'll hike along Sugarland Mountain and enjoy views of Mount LeConte from a ridge.
Unfortunately, a 2016 fire changed the Chimney Tops trail forever and the summit and iconic rocky pinnacles are no longer accessible to hikers. Instead, there's now an overlook about a quarter-mile from the true summit.
7. Laurel Falls Trail
Length: 2.4 miles out and back
Elevation gain: 396 feet
Difficulty: Easy to moderate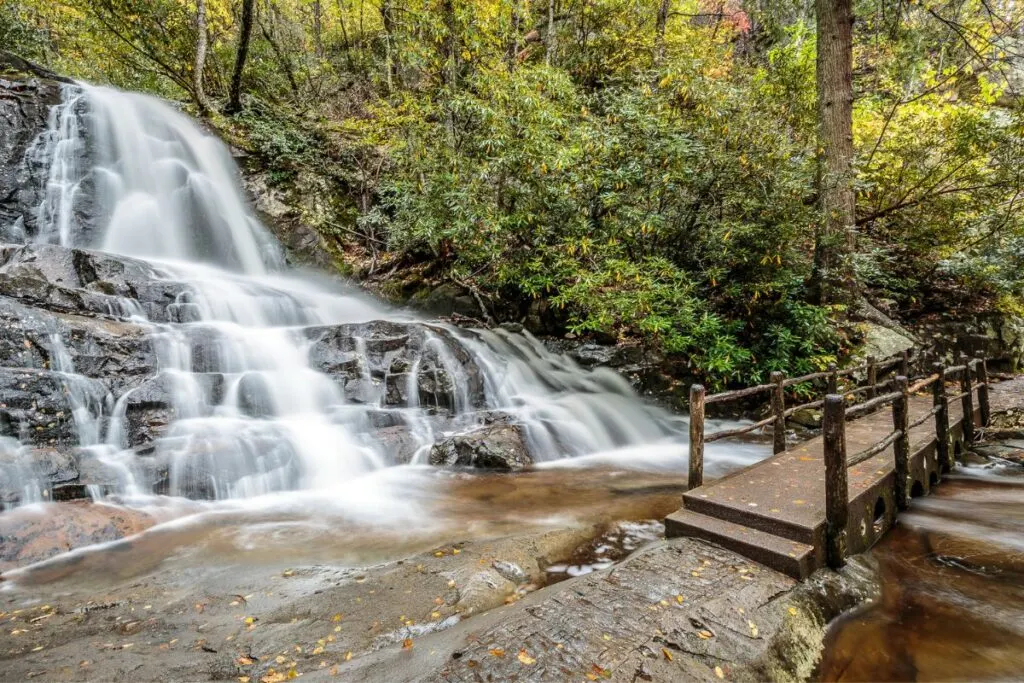 One of the most popular destinations in the Great Smokies, Laurel Falls is one of the best hikes near Gatlinburg — in spring, in particular.
The 80-foot-tall waterfall is named for the evergreen shrub that blooms in this area in May and June, adding a lovely element to the already-gorgeous scenery.
The trail is partially paved, but unfortunately, it's also extremely rough and uneven. This isn't a good trail option for wheelchairs or those with mobility concerns, and parents will want to keep a close eye on young kiddos.
Located on a high ridge with several exposed drop-offs, the Laurel Falls hike offers panoramic views of the national park and its signature "smoky" valleys and layers. Like many other water trails in the park, bears are sometimes spotted close to the path. 🐻
As one of the more easily accessible waterfalls in the Smokies, Laurel Falls gets BUSY at peak times. Head there first thing in the morning for the best experience (and best odds of scoring a parking space!), and for a greater chance of encountering wildlife.
8. Alum Cave Trail to Mount LeConte
Length: 11 miles out and back
Elevation gain: 3,061 feet
Difficulty: Hard
As the third tallest peak in the Smokies, catching a glimpse of Mount LeConte is a must for any Gatlinburg itinerary!
Summiting it, or at the very least hiking up part of it, is the only thing that tops seeing it.
Hikers have a choice of multiple trails, each of varying difficulty and length. If you're up for a challenge, the Alum Cave Trail is one of the best choices. Note the "if" — this is an 11-mile round trip hike with over 3,000 feet of elevation gain. It's certainly not for the faint of heart!
Start by climbing alongside Alum Cave Creek and the Styx Branch. After about a mile, you'll see some of the park's more unique geological features, such as Arch Rock, the Eye of the Needle, and Alum Cave Bluff.
Once you get to LeConte Lodge (more on that in a minute!), you can summit Mount LeConte via the Bull Head Trail, continue even further to Myrtle Point, or turn back. The trail to the lodge and back is a serious endeavor in itself, so many hikers choose this option.
If you can bear an early start, this is one of the best sunrise spots in the Smokies.
For hikers planning to stop at LeConte Lodge or hoping to break their hike into two days, be aware that reservations must be made FAR in advance…as in, up to one year in advance! A waitlist is typically made available to the public at the end of one calendar year for the following season.
9. Cades Cove Hiking Trails
Finally, a postcard-perfect, lush green valley nestled deep into the heart of the park, Cades Cove is where you'll find some of the best hikes near Gatlinburg for all abilities.
So technically, this last one lists several trails!
Cades Cove Nature Trail: a short and sweet 2-mile loop teeming with wildflowers and native plants, excellent for children


Abrams Falls: a moderate 5-mile round trip trail to an impressive 20-foot waterfall cascading into a perfect swimming hole in the summer months


Thunderhead Mountain: At 13.9 miles and 3,665 feet of elevation gain, Thunderhead Mountain is one of the most strenuous hikes in Cades Cove.

In addition to hiking, Cades Cove is a wildly popular scenic drive. During the peak summer season (early May to late September), the park makes each Wednesday a vehicle-free day in Cades Cove, allowing hikers and cyclists to explore without traffic.
While there are many, many more hiking trails in and around Gatlinburg to discover, these ones are our favorites!
Do you have any other hikes near Gatlinburg you'd recommend us to try? Let us know in the comments!