Knoxville is a city that truly has it all, but there is even more discover beyond on a day trip.
We get it! From outdoor recreation to excellent dining and nightlife scenes and a healthy dose of support for the hometown teams, there aren't too many reasons to leave Knoxville.
Some things are definitely worth hopping in the car for, however.
Part of what makes Knoxville such a wonderful city is its proximity to other destinations in East Tennessee.
Even more world-class outdoor adventures, museums, restaurants, theme parks, and more are within easy driving distance, meaning the possibilities for day trips from Knoxville are endless.
We rounded up 10 of the best within a 3-hour drive, with everything from lakes and waterfalls to major cities and a national park.
It's amazing what can be found within just a few hours of your own backyard!
10 Best Day Trips From Knoxville, Tennessee
1. Great Smoky Mountains National Park
Distance from Knoxville: 45 minutes (36.7 miles) to the Townsend entrance, closest to Cades Cove / just over one hour (45.3 miles) to the Gatlinburg entrance.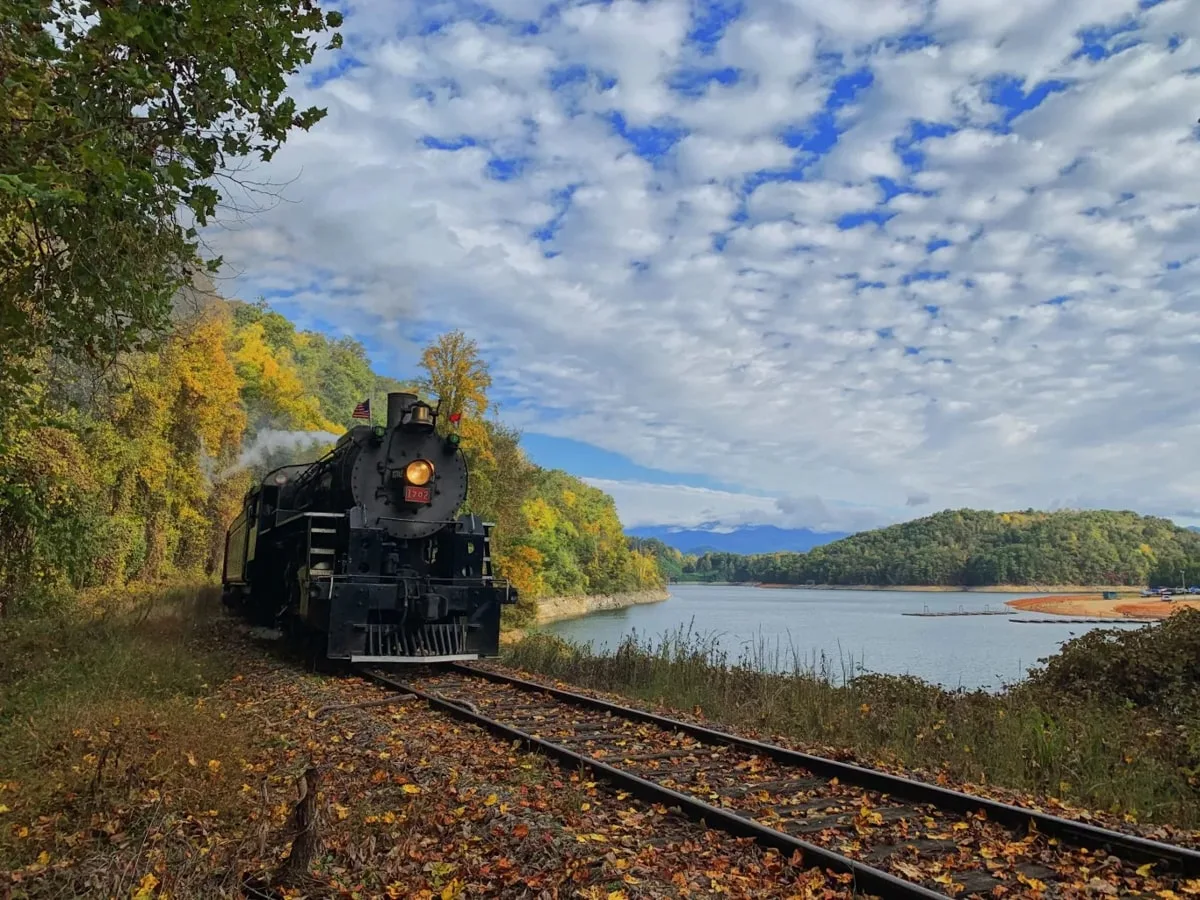 The Smokies are calling, and you must go — especially since they're one of the closest day trips from Knoxville, just an hour away.
Great Smoky Mountains National Park reigns (far) supreme as the country's most visited national park, drawing over 14 million visitors in 2021. The next-most-visited was the Grand Canyon in Arizona, with 6 million!
It's understandable why so many people flock to GSMNP; this park has it all!
Gently sloping mountains, waterfalls galore, fantastic hiking trails, endless opportunities to spot wildlife including black bears, gorgeous scenery in all four seasons, and of course, that iconic misty "smoke" that rolls through the park, settling into its valleys.
Highlights include walking behind Grotto Falls, diving into the pool beneath Abrams Falls, exploring historic mills, and ascending Clingman's Dome, the highest point in the park.
Read more:
Best of all, it's FREE to visit Great Smoky Mountains National Park (you can't say that about many day trips from Knoxville!)!
2. Gatlinburg & Pigeon Forge
Distance from Knoxville: 45 minutes (about 35 miles)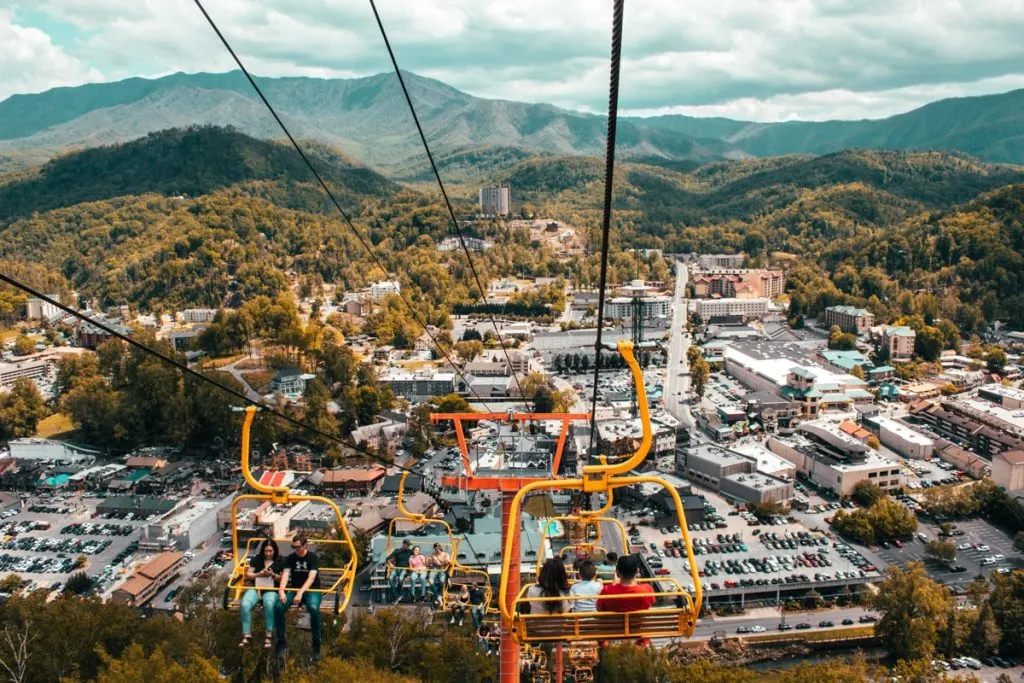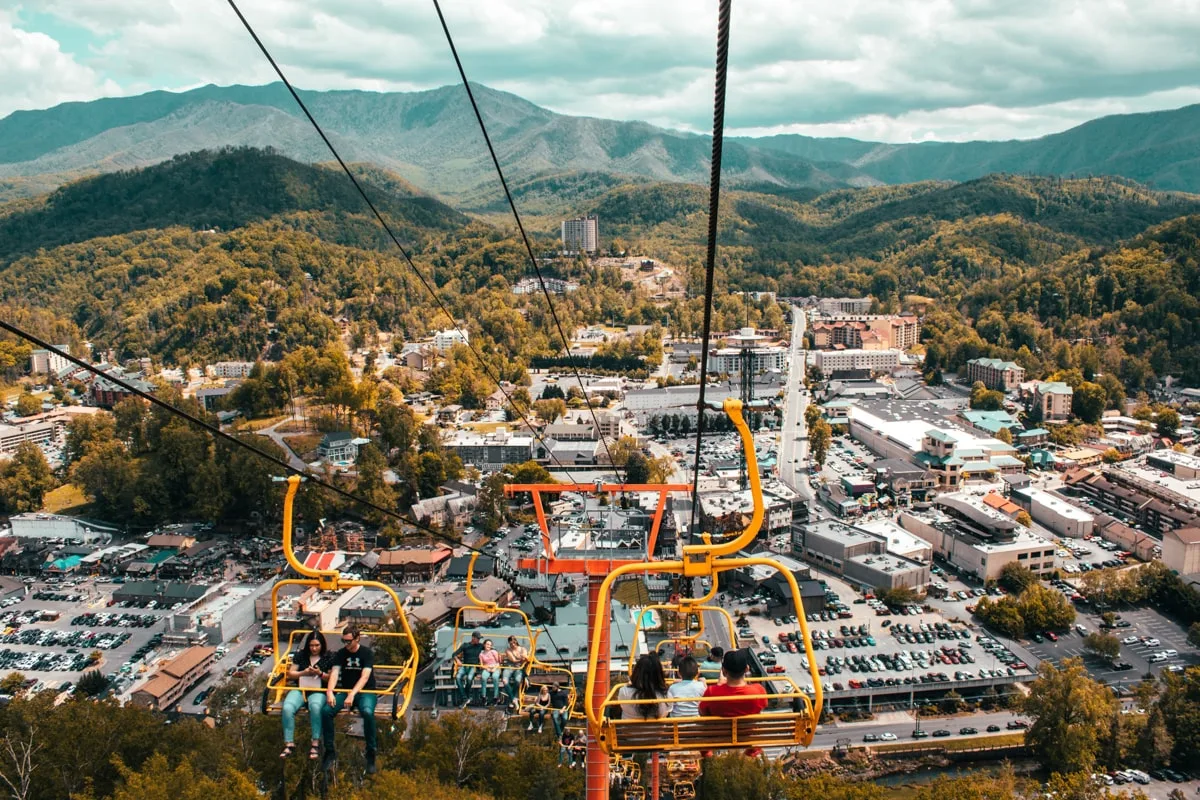 Whether you tack it onto your GSMNP trip or it's your primary destination, visiting Gatlinburg and/or Pigeon Forge makes one of the best day trips from Knoxville. They're right next to each other, just outside the park!
Plan a family-friendly, adventure-packed day by visiting Dollywood, Soaky Mountain Water Park, or The Island in Pigeon Forge, a bustling entertainment district. Riding one of the area's thrilling mountain coasters is also a popular activity.
For adults, there are plenty of distilleries, wineries, and breweries in Pigeon Forge and Gatlinburg, most of which offer free tours and/or tastings.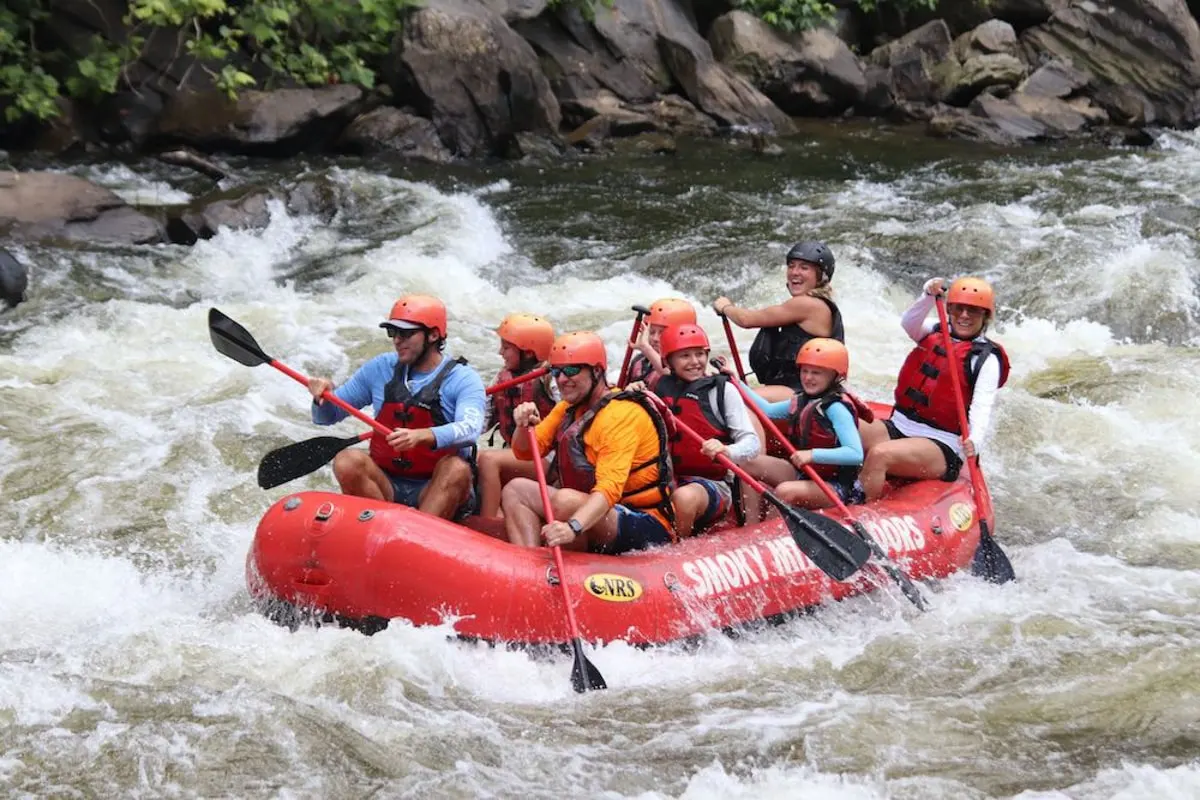 The views from this area are amazing and luckily, there are several ways to really appreciate them.
Check out the zipline at Anakeesta theme park, walk across the SkyBridge, or ride the aerial tram at Ober Mountain Adventure Park, one of the best things to do in Gatlinburg.
No matter how you spend your time here, save some room for pancakes. Gatlinburg is well-known as the Pancake Capital of the South (and many would say the US!)!
All in all, these top destinations are unmissable day trips from Knoxville. Gatlinburg in the fall is a specially good time to visit!
3. Douglas Lake
Distance from Knoxville: 42 minutes (38.5 miles)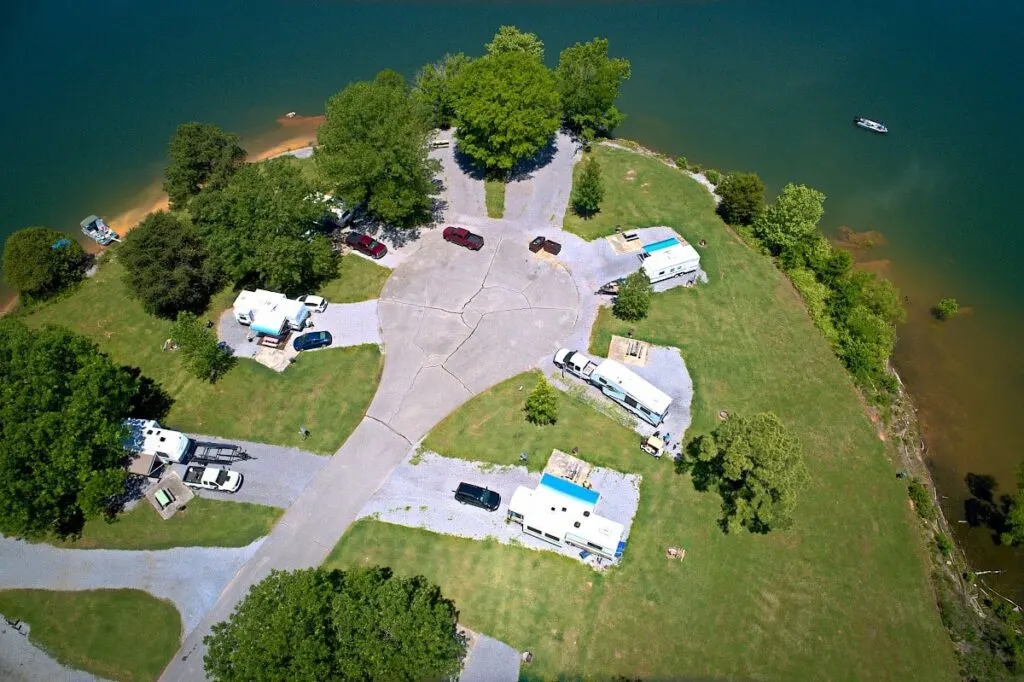 As a state renowned for its rolling hills, lush green forests, and its mountains, Tennessee's waterways can easily be overlooked. However, they shouldn't be, as they really showcase the state's natural beauty and rugged spirit.
Douglas Lake sits at the base of the Smokies just under an hour from Knoxville, making it an ideal day trip.
Anglers will be in heaven, as it's known for some of the best crappie fishing in East Tennessee. There are also largemouth bass and catfish. Boating enthusiasts flock here as well — even those without their own. Kayak and paddle boat rentals are available onsite.
This is also a great option for a low-key day trip from Knoxville, as it has countless gorgeous picnic spots, including several beaches. The lake has over 550 miles of shoreline!
Also Read:
4. Cumberland Falls State Resort Park – Corbin, KY
Distance from Knoxville: 1 hour, 25 minutes (86 miles)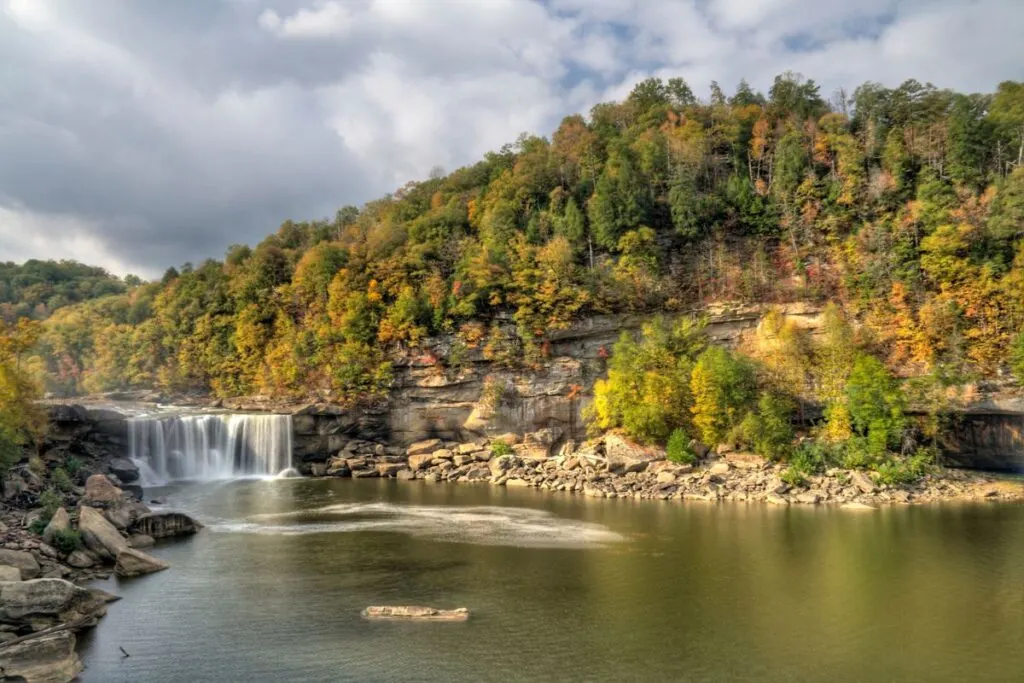 This stunning Kentucky state park is home to Cumberland Falls, known as "Niagara of the South." At 68 feet tall and 125 feet wide, it's the largest waterfall in the state.
Cumberland Falls is also one of only two places on Earth where you can consistently see the rare phenomenon known as a moonbow.
Much like a rainbow, this amazing sight occurs when moonlight reflects off water droplets. 🌈
The moonbow alone makes this one of the best day trips from Knoxville (make sure to check the moon cycle beforehand; a full moon is necessary)!
Hiking, horseback riding, gem mining, and staying in the historic DuPont Lodge are also popular activities. Cumberland Falls has 12 multi-use trails with features like caves and historic bridges, but one of the best is Pinnacle Knob Fire Tower. Keep your eyes on the park's Facebook page for guided hikes and tours of it!
Visitors can also go whitewater rafting and take guided trail rides from Memorial Day through Labor Day, and there's even a full-scale restaurant in the park. The Riverview serves Southern classics like fried green tomatoes and fresh biscuits.
5. Chattanooga
Distance from Knoxville: 1 hour, 45 minutes (112 miles)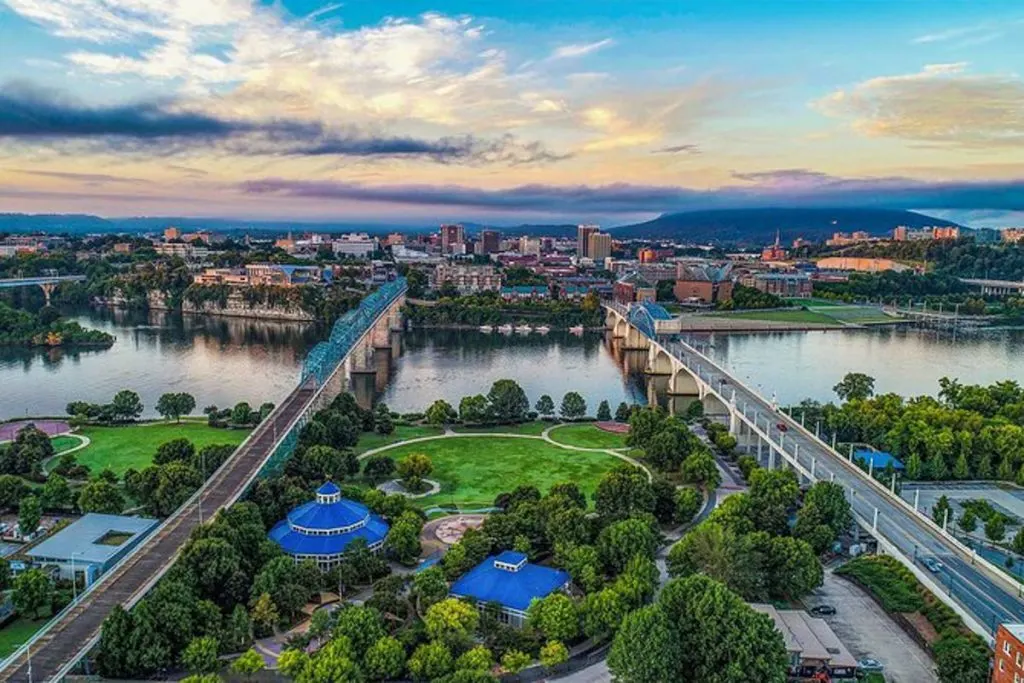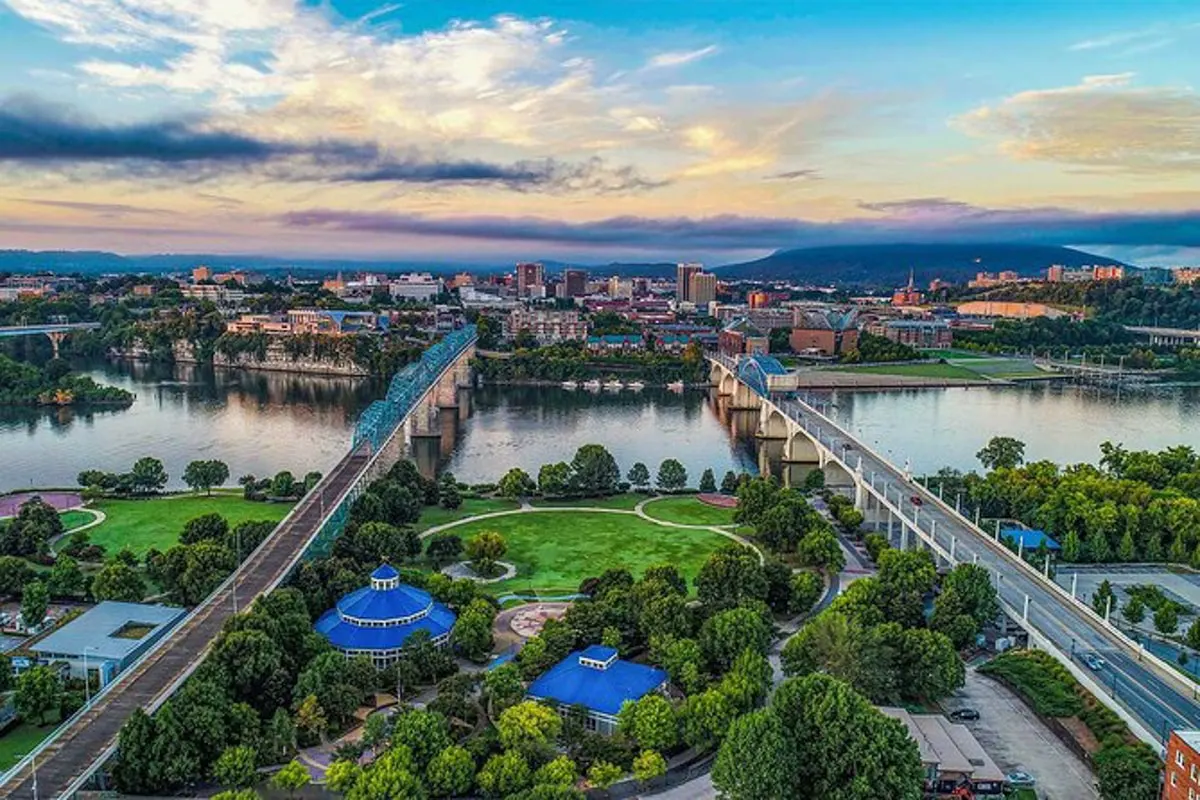 Another dreamy mountain town that's an easy day trip from Knoxville, Chattanooga is less than two hours away.
Aptly dubbed "the Scenic City," Chattanooga is nestled at the foothills of Appalachia and has established itself as a hip city with something for everyone.
The music, bar, and food scenes are routinely lauded as some of the best in the South, and it's paradise for outdoor enthusiasts. Chattanooga is also well-known as an especially pet-friendly destination.
One of the best ways to cover as much ground as possible is on a guided tour.
Sample some of the best food east of the Mississippi on a food tour, learn about Chattanooga's otherworldly history on a ghost tour, or explore the city from a historic trolley.
Outdoorsy folks shouldn't miss paddling the Tennessee River or visiting Ruby Falls, an amazing underground waterfall. And for adventurous travelers wanting to splurge a bit, tour Lookout Mountain in a helicopter!
6. Blue Ridge, Georgia
Distance from Knoxville: 2 hours, 15 minutes (105 miles)
Tucked into the Chattahoochee National Forest in far north Georgia (i.e.; land of waterfalls, hiking, and trout fishing!), Blue Ridge is the perfect day trip from Knoxville for outdoor lovers.
Hundreds of miles of trails surround the town, begging to be explored on foot, two wheels, or horseback.
Favorites include the Toccoa River Swinging Bridge trail and Emery Creek Falls, where you'll cross a whopping 20 creeks!
After exploring Blue Ridge's stunning wilderness, window shop in the adorable downtown and sample the local food scene.
Harvest on Main never disappoints, with its unique menu featuring a mashup of Southern comfort food and elevated European dishes. Think baked brie with peaches and locally-caught rainbow trout served alongside lima beans.
Before heading back, stop at Mercier Orchards. It's open year-round for cider, jams, and fresh baked goodies, but between May and October, you can grab some seasonal u-pick produce. 🍎
7. Biltmore Estate – Asheville, NC
Distance from Knoxville: 1 hour, 55 minutes (116 miles)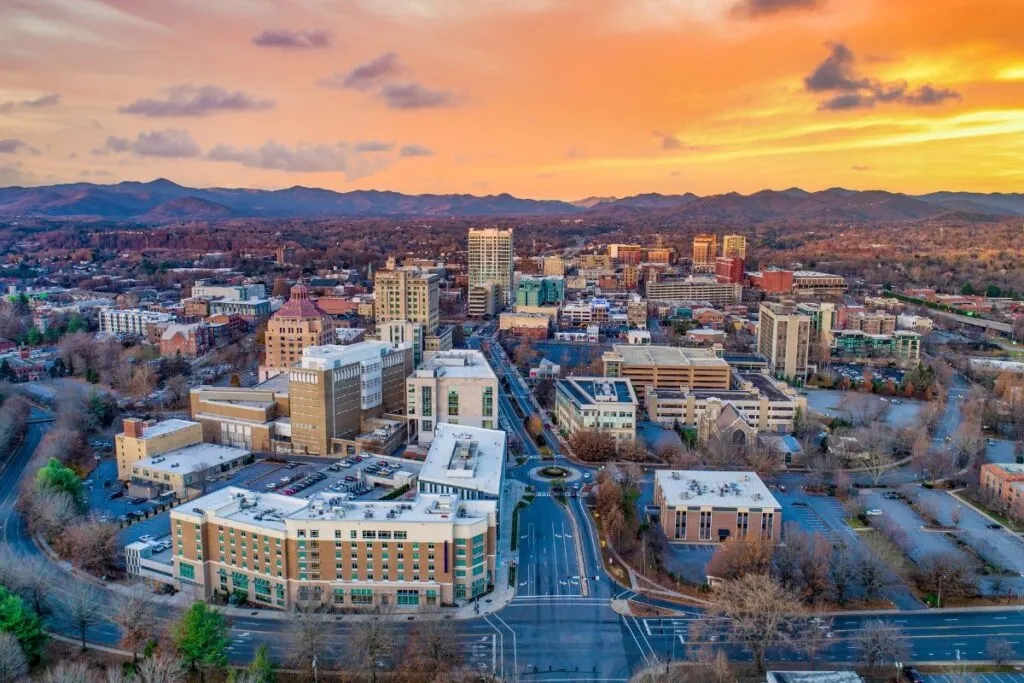 See how the other 1% lives on a day trip from Knoxville to the grand Biltmore Estate in Asheville, North Carolina.
George Vanderbilt commissioned the sprawling 250-room mansion in 1895, and today it's still one of the most stunning pieces of architecture in the country. It's also the largest privately-owned home in the US!
Take a self-guided tour of the estate and wander through the grounds' lush gardens, ponds, and stables, all impeccably constructed and maintained by renowned architects and landscapers.
Another tour option is to go kayaking on the French Broad River, where you'll get a totally different view of the estate! 🛶
There are even shops and restaurants onsite, but a trip to the Biltmore Estate simply isn't complete without visiting the in-house winery.
The hospitality the Vanderbilts were known for is still on display today, as staff members share some of their favorite varietals made from grapes grown on the property. Visitors 21 and up can sample the wine, and there's complimentary grape juice for the younger crowd.
8. Roan Mountain State Park
Distance from Knoxville: 2 hours, 5 minutes (131 miles)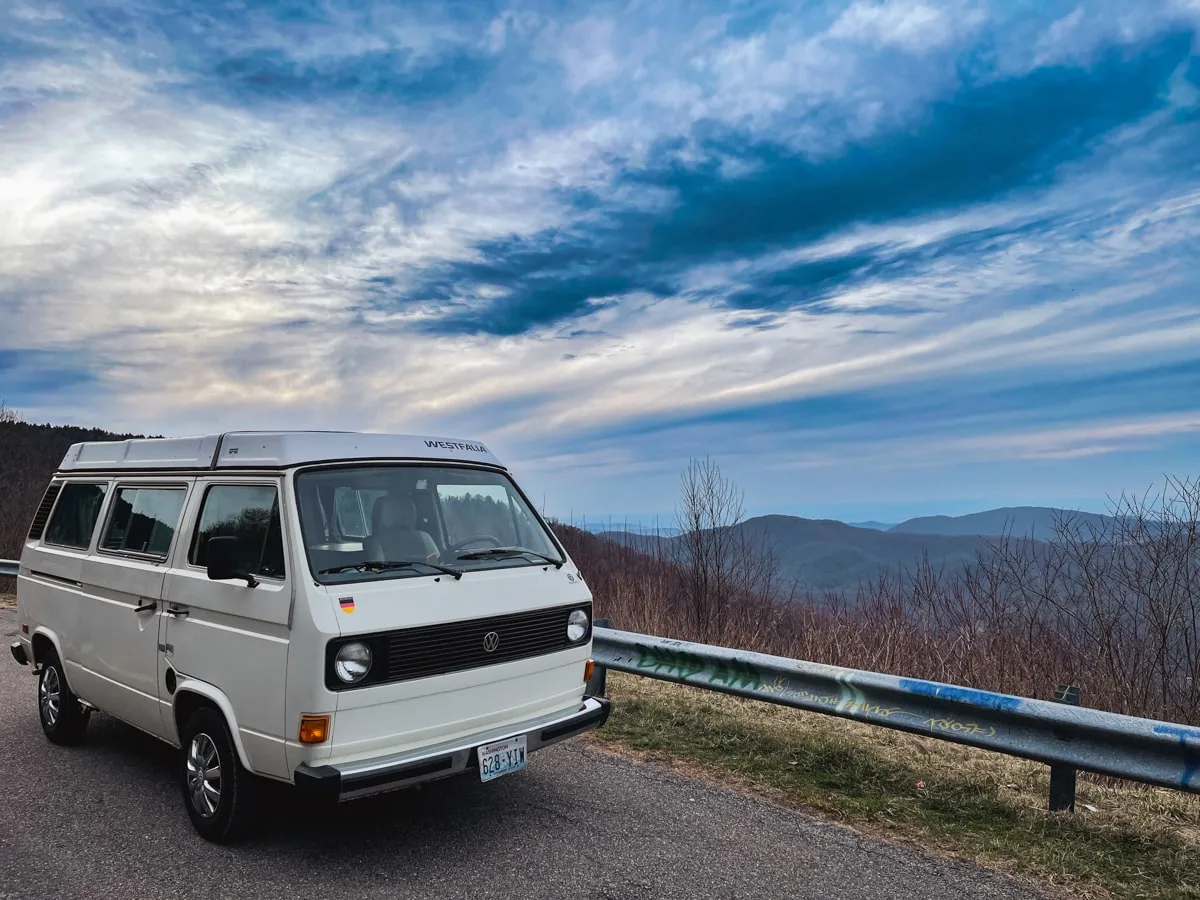 One of the most popular hiking, camping, and waterfall-chasing destinations in Tennessee, Roan Mountain State Park is one of the best day trips from Knoxville.
At 6,258 feet in elevation, Roan Mountain itself is also one of the highest points along the Appalachian Trail (access is just eight miles up the road at Carver's Gap).
The park is near the TN-NC border in the far northeastern part of the state, and has over 2,000 acres of dense forest with 12 miles of multi-use trails, as well as clear streams, rivers, and waterfalls.
Fishing is excellent here, with fly fishermen chasing rainbow and brown trout and traditional anglers going after catfish, walleye, and bass.
Visitors can also tour some of the park's historic structures, like the Miller Farmstead, built in 1908.
Check the park's calendar to register, as well as for info on other events including a guided "GeoVenture" hike that ends with participants cracking open their own geodes.
If you can, visit Roan Mountain during June when the rhododendrons are in full bloom, blanketing the hillsides.
Also Read:
9. Nashville
Distance from Knoxville: 2 hours, 45 minutes (180 miles)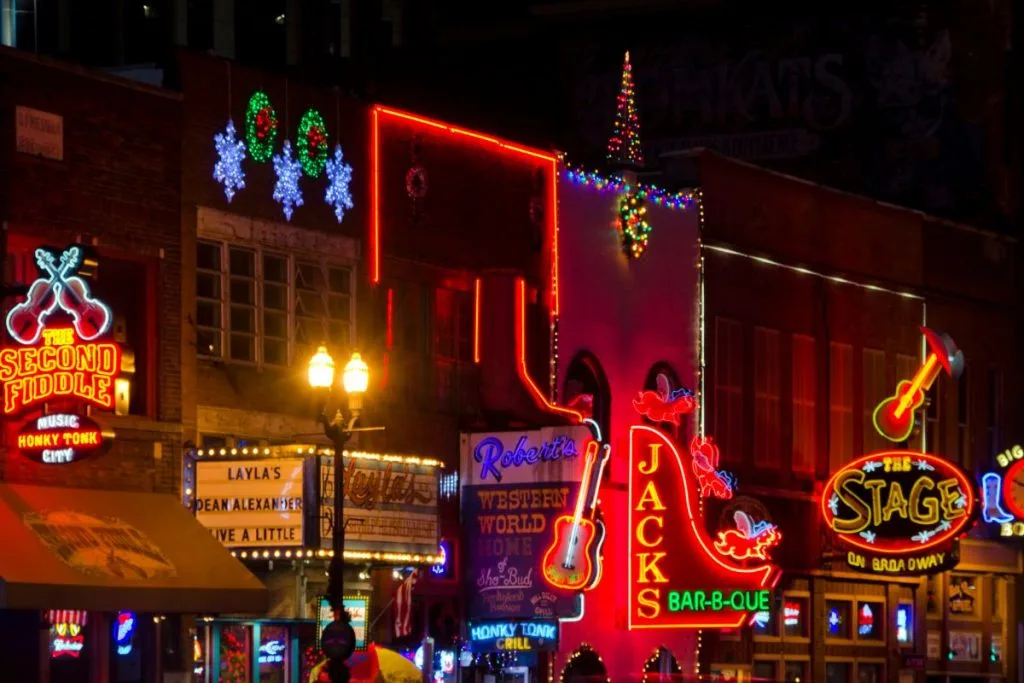 It may be best known for its live music and nightlife scenes and summer crowds, but Nashville has plenty to do in winter too.
Start your day at the Country Music Hall of Fame, then walk over to Ryman Auditorium, AKA the "Mother Church of Country Music."
This beautiful building housed the original Grand Ole Opry, and you can book a self-guided tour and stand on the iconic stage.
Those who can't get enough music nostalgia can stroll Music Row, dotted with music studios and record labels.
Of course, you can also check out the live music scene! Visit Music City and Now Playing Nashville keep updated calendars of all the city's concerts and performances.
Music City could also easily be called Food City, so be sure to set aside plenty of time to eat!
Nashville hot chicken is a must, but you'll also find literally every other cuisine.
Hop around downtown or head to The Gulch or East Nashville, both fantastic food and entertainment hubs. East Nash, in particular, is just slightly removed from the hustle and bustle, if you're looking for something a little lower-key.
Be sure to walk across the pedestrian bridge for epic views of the city skyline (and great photo-ops!), and check out Centennial Park and the impressive replica Greek Parthenon.
10. Atlanta, Georgia
Distance from Knoxville: Just over 3 hours (214 miles)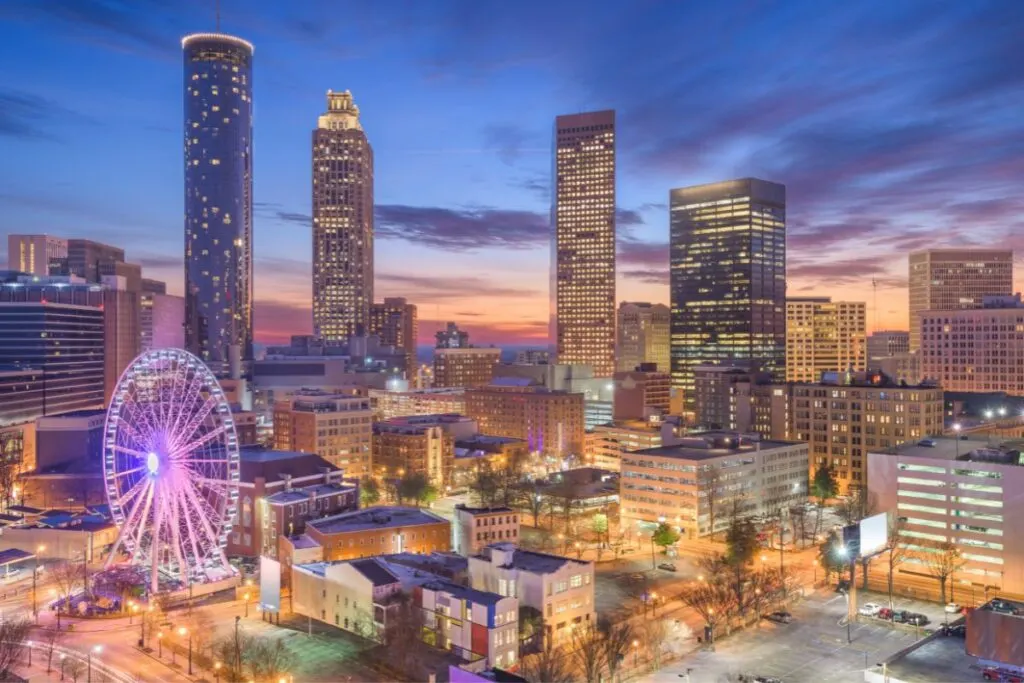 It's hot, it's happening, and it just so happens to be within easy driving distance.
At three hours, Atlanta is the furthest day trip from Knoxville on our list, but it's well worth it to explore one of the hippest, most historic places in the South.
Atlanta has long been a top tourist destination, and it's only gotten better in recent years.
The city's energy is unmatched, with incredible food, nightlife, and live music scenes, large amounts of open green space, a passionate base of hometown sports fans, a rich arts culture, and plenty of family-friendly activities.
Spend a day in the city exploring its parks or hopping from one historic place to another.
Start at the Martin Luther King, Jr. National Historic Park, then make your way to the Atlanta History Center, with a stop in between at the National Center for Civil and Human Rights. Throw something more lighthearted in there with a visit to the original Chick-fil-A restaurant!
Animal lovers will want to pay a visit to the Georgia Aquarium, the largest in the country, and everyone can appreciate the nostalgia at the World of Coca-Cola Museum.