If you're on the hunt for the best rides at Dollywood, check out our rankings below!
Dollywood, located in Pigeon Forge of the Smoky Mountains, is a beautiful park that everyone needs to visit at least once in their lifetime.
This popular theme park offers plenty of entertainment for the entire family; including coasters and rides, a county fair, food, and handmade goods from local artisans and craftsmen.
Dollywood is fun to visit any time of year, but one of our favorite times to visit is during Dollywood's Harvest Festival.
When we visited Dollywood for the first time, we were pleasantly surprised as the ride wait times weren't as long as other popular theme parks — which allowed us to ride our favorite rides multiple times!
So what are the best rides at Dollywood? Read more about the best rides below!
10 Best Rides at Dollywood
1. Lightning Rod
Location: JukeBox Junction
Min Height: 48″
Type: Thrill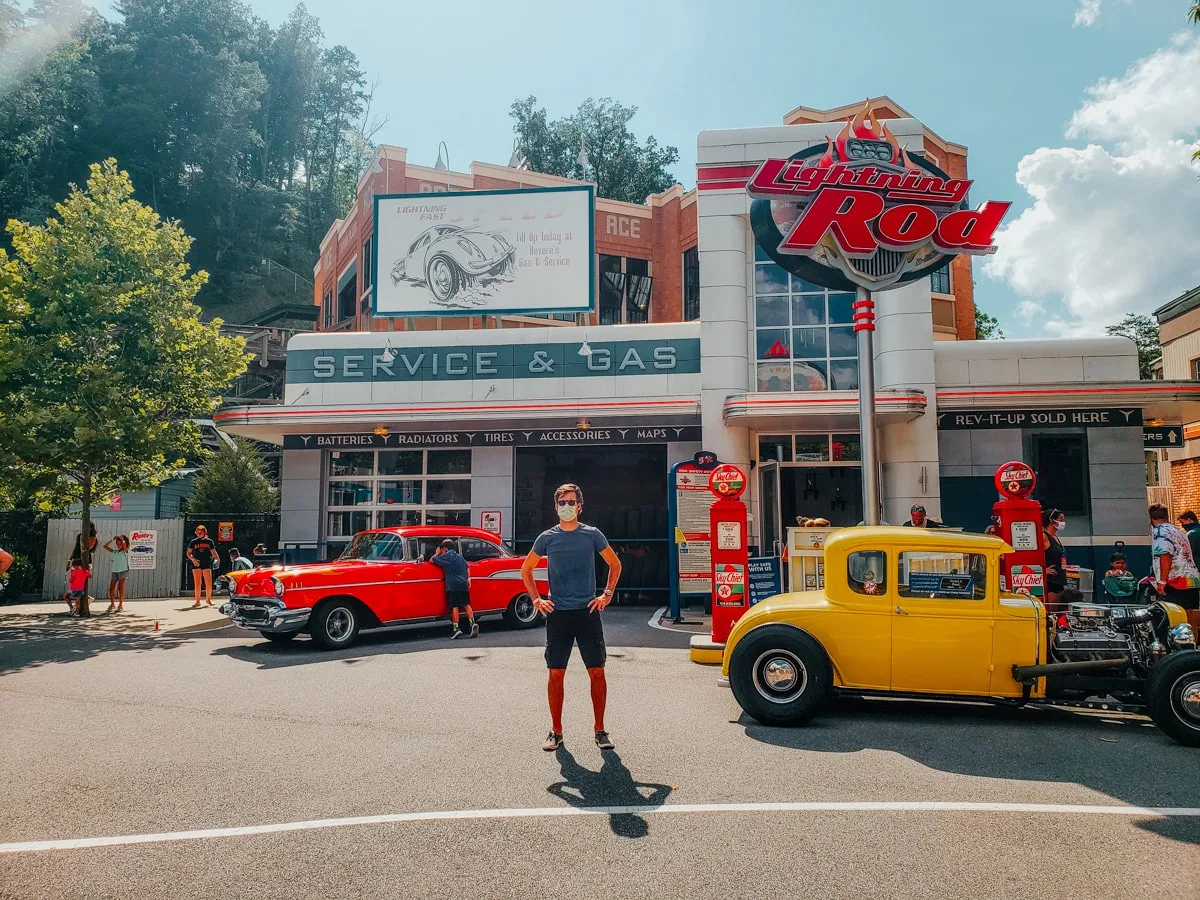 Lightning Rod is by far the best roller coaster in Dollywood.
If you won't take my word for it, USA Today has consistently ranked it as the top-10 best roller coaster in the country! Did I mention this coaster also gets "airtime?" Meaning it actually comes off the tracks!
First off, Lightning Rod launches riders from 0-45 mph more than 20 stories up a hill before it reaches its first drop and airtime! This coaster drops 165 feet and races at a top speed of 73 mph.
This coaster is considered a "hybrid coaster" as it is made with both wood and steel. It does not go upside down, but don't let that make you think this isn't a thrilling ride!
Lightning Rod provides riders approximately 20 seconds of airtime – and believe me when I say that it feels like you are coming off of the tracks! Hold on tight and enjoy the ride!
What makes this ride even more thrilling is riding it at night when it's dark — trust us! 👀
2. Big Bear Mountain
Location: Wildwood Grove
Min Height: 39″
Type: Thrill
The newest roller coaster at Dollywood is Big Bear Mountain in Wildwood Grove.
You won't be able to miss this one, as it's the longest coaster at Dollywood at over 3,990 feet! (For comparison, Wild Eagle is 3,127 feet).
This ride will have you leaping over the hills for around 100 seconds with speeds of 48mph. Audio will also be playing while you are riding this coaster including sound effects such as bear growls.
We think the best parts of this coaster are the drops through the waterfall and cave.
Also Read: Places to Eat at Dollywood Theme Park (& Where to Find Them)
3. Wild Eagle
Location: Wilderness Pass
Min Height: 50″ – Max Height: 78″
Type: Thrill
Wild Eagle was America's FIRST wing roller coaster (meaning that riders sit on the outside of the tracks) so there is nothing below or above you.
You really will feel like an Eagle as you are soaring high above the Smoky Mountains.
This coaster's highest point is 21 stories above Dollywood, has a 135-foot drop, and soars at a top speed of 61 mph.
My favorite way to ride this ride is barefoot! You'll be able to feel the breeze through your toes and it really feels like you are flying. Also, this ride is one of the "smoother" rides in the park.
Tip: If you can, try and get a seat in the very front as you will have unobstructed views and be the first to soar!
4. Mystery Mine
Location: Timber Canyon
Min Height: 48″
Type: Thrill
Ready to take off into an abandoned coal mine dating back to the 19th century? Then you should ride Mystery Mine!
This ride is full of surprises, especially when you ride it at night, which we HIGHLY recommend!
I absolutely love this ride and I think you will too!
A 95-degree, 85-foot drop awaits you somewhere on this track, so be ready! Will you make it out of the mine alive?
5. Tennessee Tornado
Location: Craftsmen's Valley
Min Height: 48″
Type: Thrill
There's a tornado warning issued for Dollywood, and it's known as the Tennessee Tornado Roller Coaster!
This coaster was one of the first coaster expansions of the park and debuted in 1999.
Tennessee Tornado consists of a triple-spiral loop making you feel like you are caught in an actual tornado. It consists of a 128-foot drop and it will reach a top speed of 70 mph.
Don't mark this one off your list!
6. Daredevil Falls
Location: Craftsmen's Valley
Min Height: 42″
Seasonal Dates: March 13th – September 22nd
Type: Thrill, Water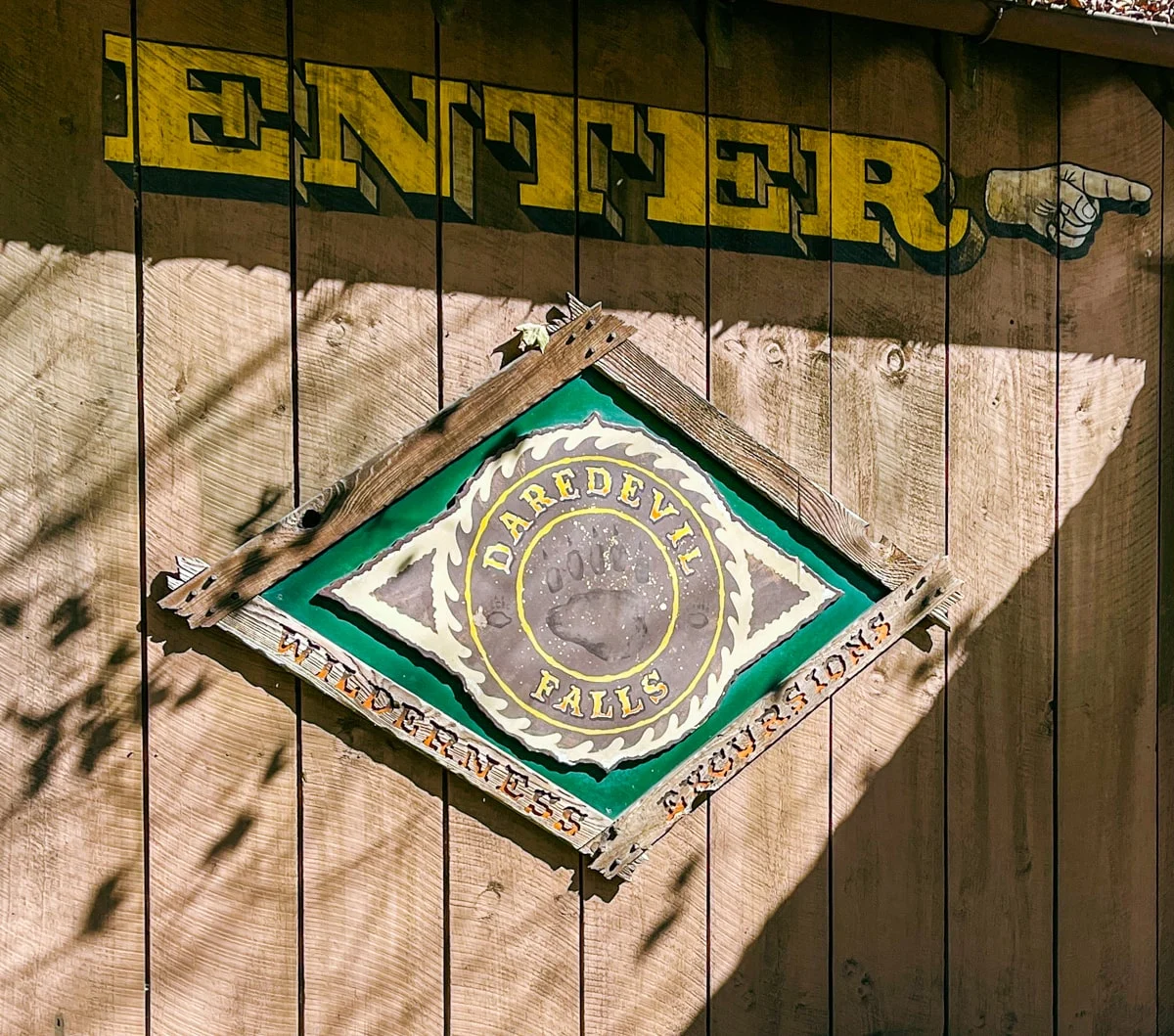 Who doesn't love a water ride?
Daredevils Falls is a thrilling water ride for the whole family to enjoy! BEWARE – YOU WILL GET WET!
Float along the river in an abandoned logging camp before you careen over a 60-foot waterfall at 50 mph!
Tip: Riders in the front usually get the most soaked! 💦
7. Drop Line
Location: Timber Canyon
Min Height: 48″
Type: Thrill, Family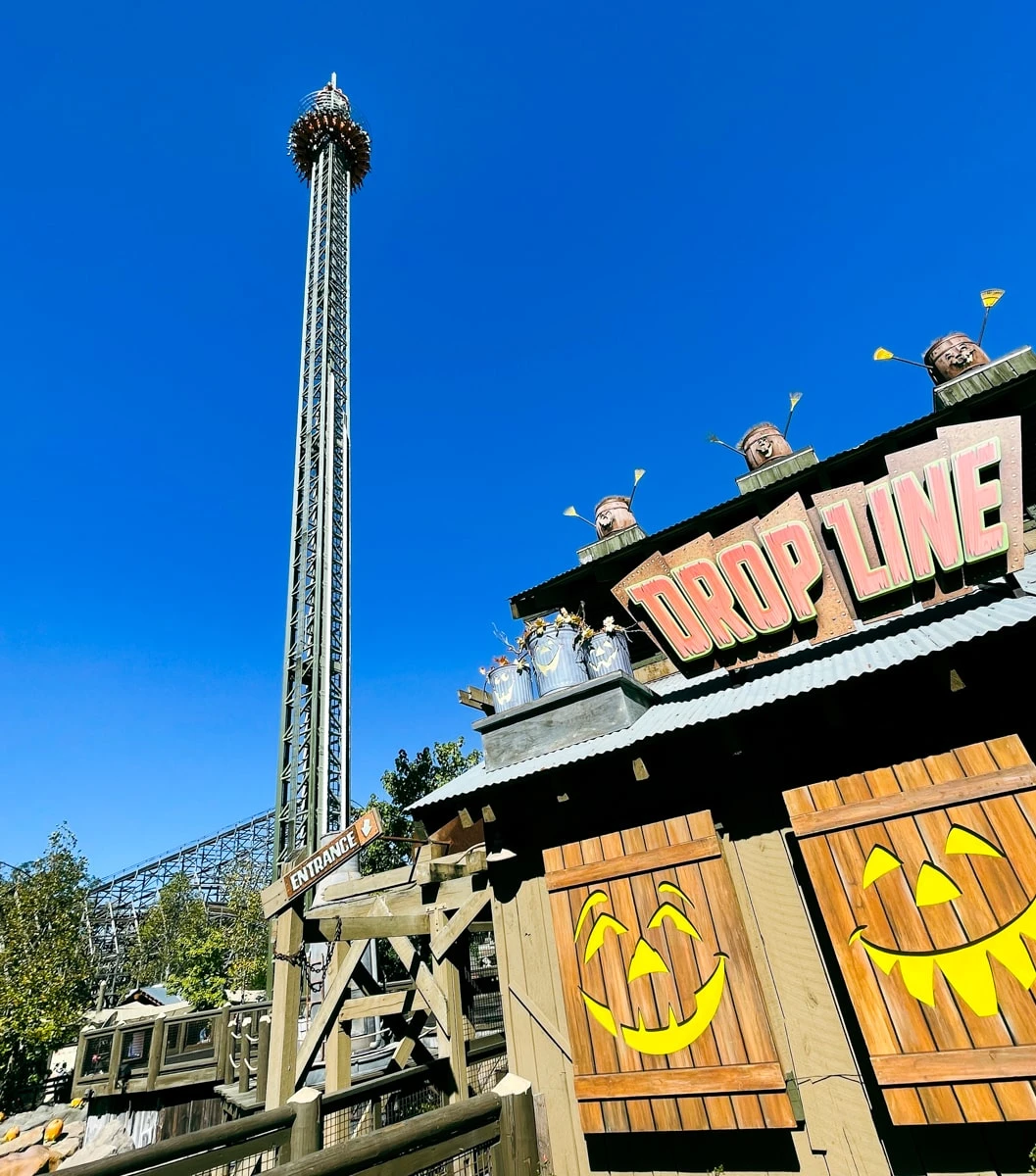 The name explains this ride, so be prepared to drop! Riders will slowly be lifted up 20 stories into the air providing a fantastic view of Dollywood and the Smoky Mountains.
You won't be able to take in that beautiful scene for too long, as within seconds of reaching the top you will be dropped 230 feet back down to the ground!
8. Thunderhead
Location: Timber Canyon
Min Height: 48″
Type: Thrill
Thunderhead is a wooden roller coaster and is named the "wildest ride in the woods!" This coaster will take you back in time and give you that feeling of nostalgia.
Situated between two mountains, Thunderhead overlaps itself over 30 times! This ride features a 100-foot drop and reaches its top speed at 55 mph.
9. Barnstormer
Location: Owens Farm
Min Height: 48″
Type: Thrill
This ride is a giant pendulum swing that surprises you the higher and higher it goes!
Riders sit back-to-back and are swung back and forth reaching a top speed of 45 mph, rotating 230 degrees, and swinging as high as 81 feet in the air!
If you want a ride that will make your stomach drop, try this one!
10. Dragonflier
Location: Wildwood Grove
Min Height: 39″
Max Height: 81″
Type: Family, Thrill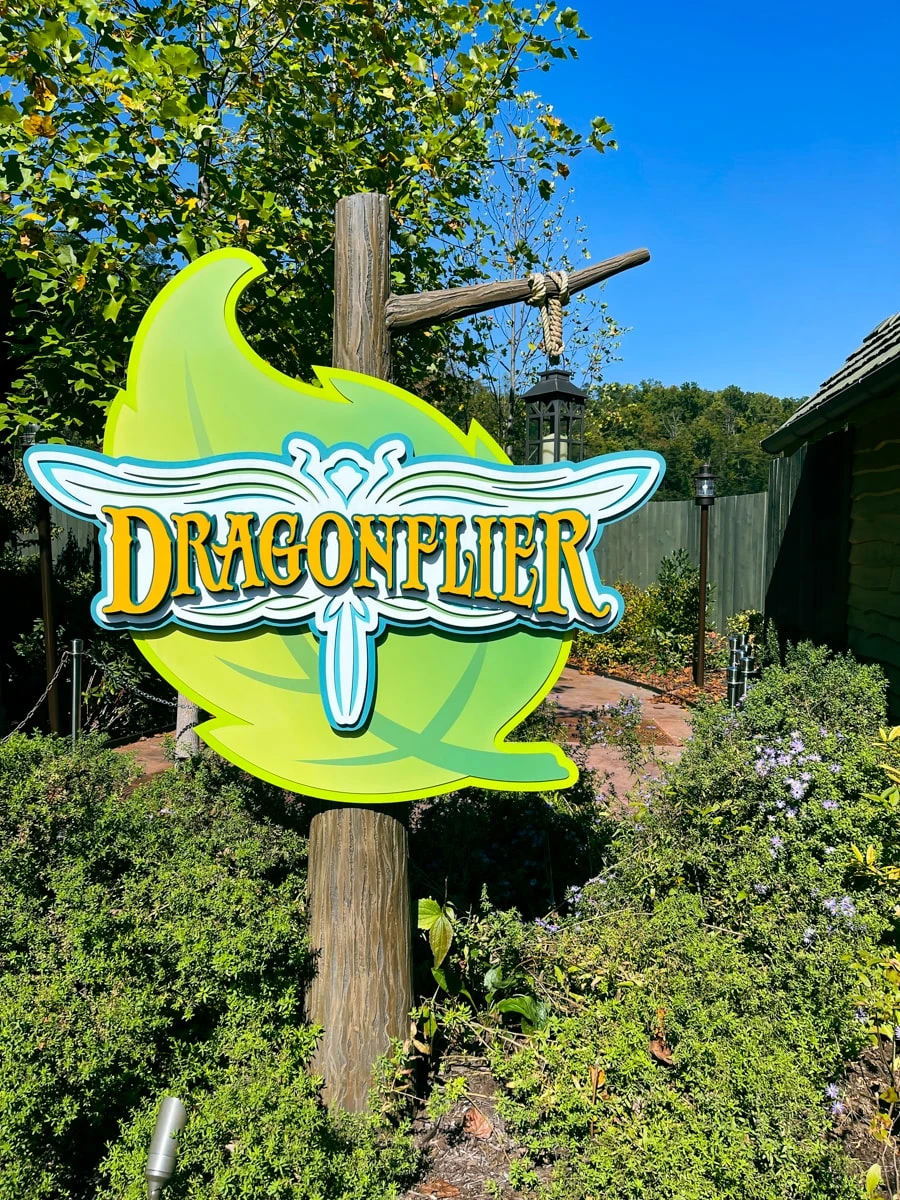 This ride is one that the entire family will enjoy as it is smooth and is great for kids.
The seats on this ride are very comfortable and you don't get off of this ride with any neck or back pain (you can't say that for a lot of roller coasters 😅).
You will feel like a Dragonfly zipping through the mountains on this ride so don't miss out!
Final thoughts
So what do you think about this list of best rides at Dollywood?
Anytime you are traveling to Dollywood (or any theme park), we recommend packing a few essentials in a small backpack.
Dollywood provides cubbies that are located at every ride (minus the water rides) to place your belongings before boarding your ride or coaster. There are also lockers if you would prefer to store your belongings in a more secure location.
Packing List:
Water Bottle — Dollywood has water-bottle filling stations at some bathroom entrances. Don't forget to stay hydrated!
Sunscreen
Sunglasses
Jacket, Taboggin — Pack these essentials if you are visiting in the months when it can get chilly ❄️
Extra Shorts/Pants — Pack extra shorts or pants if you plan on riding water rides and you don't want to stay wet
Also Read: 15 Cute & Cozy Cabin Rentals in Pigeon Forge