Planning on spending Halloween in Gatlinburg, TN, and looking for fun and spooky things to do?
Nestled in the very heart of the Great Smoky Mountains, Gatlinburg is a place of endless natural beauty and adventure year-round full of fun activities.
But when spooky season rolls around, this charming mountain town transforms into a bewitching destination filled with spooky and exciting activities for all ages.
Spine-tingling haunted houses? Check. Family-friendly pumpkin patches? Check. Outdoor recreation galore, plus fall foliage? Double check!
Gatlinburg truly offers something everyone can enjoy during Halloween!
In this guide, we're sharing 15 thrilling seasonal activities and events that make Halloween in Gatlinburg unforgettable.
Looking for Somewhere to Stay? Best Hotels in Gatlinburg for Your Smoky Mountain Getaway
The Best Things to Do for Halloween in Gatlinburg
Looking for a scream at a haunted house or sip on a Halloween-themed cocktail? Or maybe spend some time making memories with your family?
Gatlinburg offers both adult and family-friendly Halloween activities.
Halloween Activities in Gatlinburg for Adults
1. Korn Maze at Kyker Farms
Location: 938 Alder Branch Rd, Sevierville, TN
In nearby Sevierville, the Kyker Farms Korn Maze is one of the best things to do for Halloween in Gatlinburg.
Open Thursday – Sunday from late September through October, the sprawling 5-acre maze offers a challenge to even the most corn maze enthusiasts. Actually, it has four individual mazes!
Visitors can explore the rest of the farm, too. There are hay rides, a u-pick pumpkin patch, a kritter barn, concessions, bonfire sites, and more.
Plus, there's a children's zone with attractions including a straw crawl, tunnel slides, and corn cob swing.
2. Brave a Haunted House
Location: 424 River Road, Gatlinburg, TN
Gatlinburg has some of the most spine-chilling haunted houses in Tennessee. In particular, check out Mysterious Mansion. The same family has operated it for over 40 years!
Explore the 1900s Victorian-era estate, filled with all sorts of supernatural encounters…if you dare.
The owners take great pride in being Gatlinburg's "Oldest and Scariest Haunted House." They genuinely love to hear people scream in fright. So, with that being said, be prepared to be SCARED!
Best of all, you can walk to Mysterious Mansion from just about anywhere in town. You can go straight from there to downtown, to experience multiple aspects of Halloween in Gatlinburg.
Mysterious Mansion is actually open year-round, but offers a special, beefed-up Halloween version on October weekends. And, fun fact, it even hosts a spooky Christmas-themed haunted house come winter time!
3. Learn About Gatlinburg's Spooky History on a Haunted Walking Tour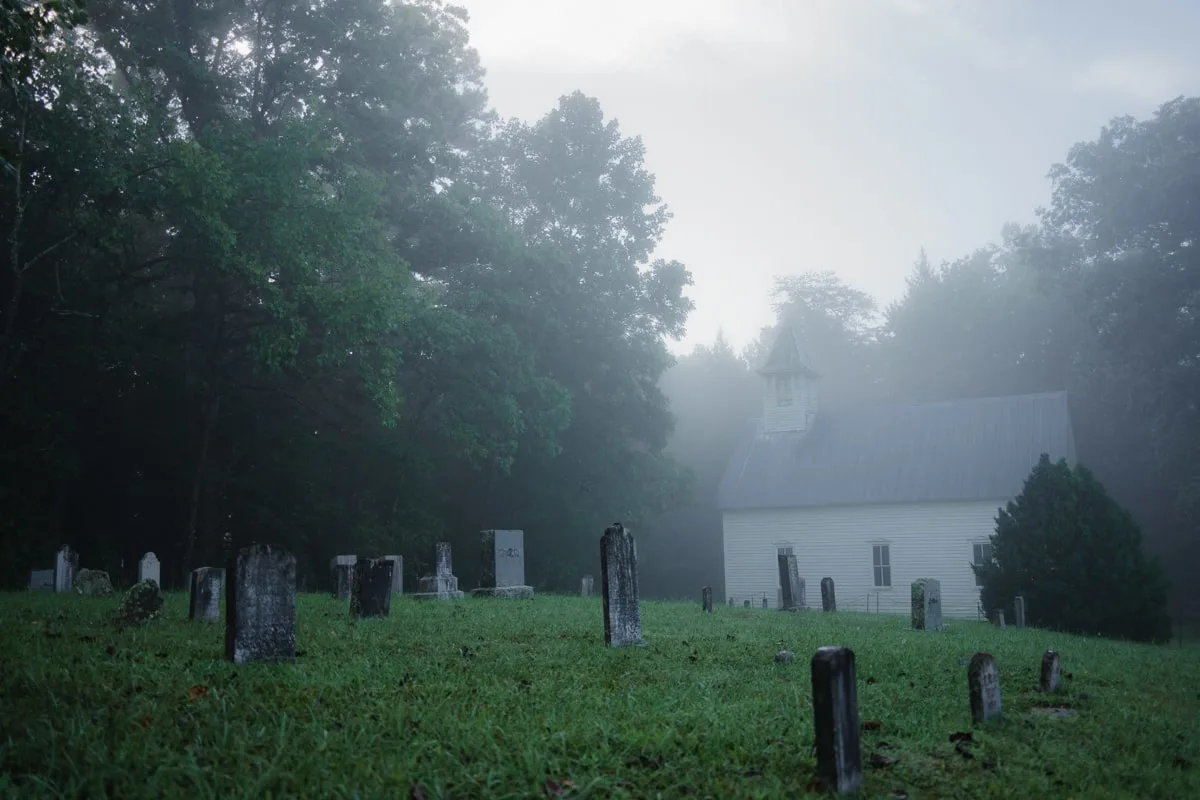 Embark on a supernatural adventure with the Gatlinburg Ghosts of the Smokies Haunted Walking Tour.
Between the area's controversy with bootlegging moonshine, the original Cherokee settlers, and later pioneers, Gatlinburg's history is indeed haunted.
On this walking tour, led by knowledgeable guides, you'll explore the town's eerie history and hear spine-tingling tales of restless spirits.
Specifically, you'll learn about possible bodies buried under Mountain Mall, find out what happened in the 1990s at the Gatlinburg Space Needle, and even hunt a cemetery for the famed Gatlinburg witch!
15 Cozy Cabin Rentals in Gatlinburg for Your Smoky Mountain Getaway
4. Sip on Halloween-Themed Beer & Cocktails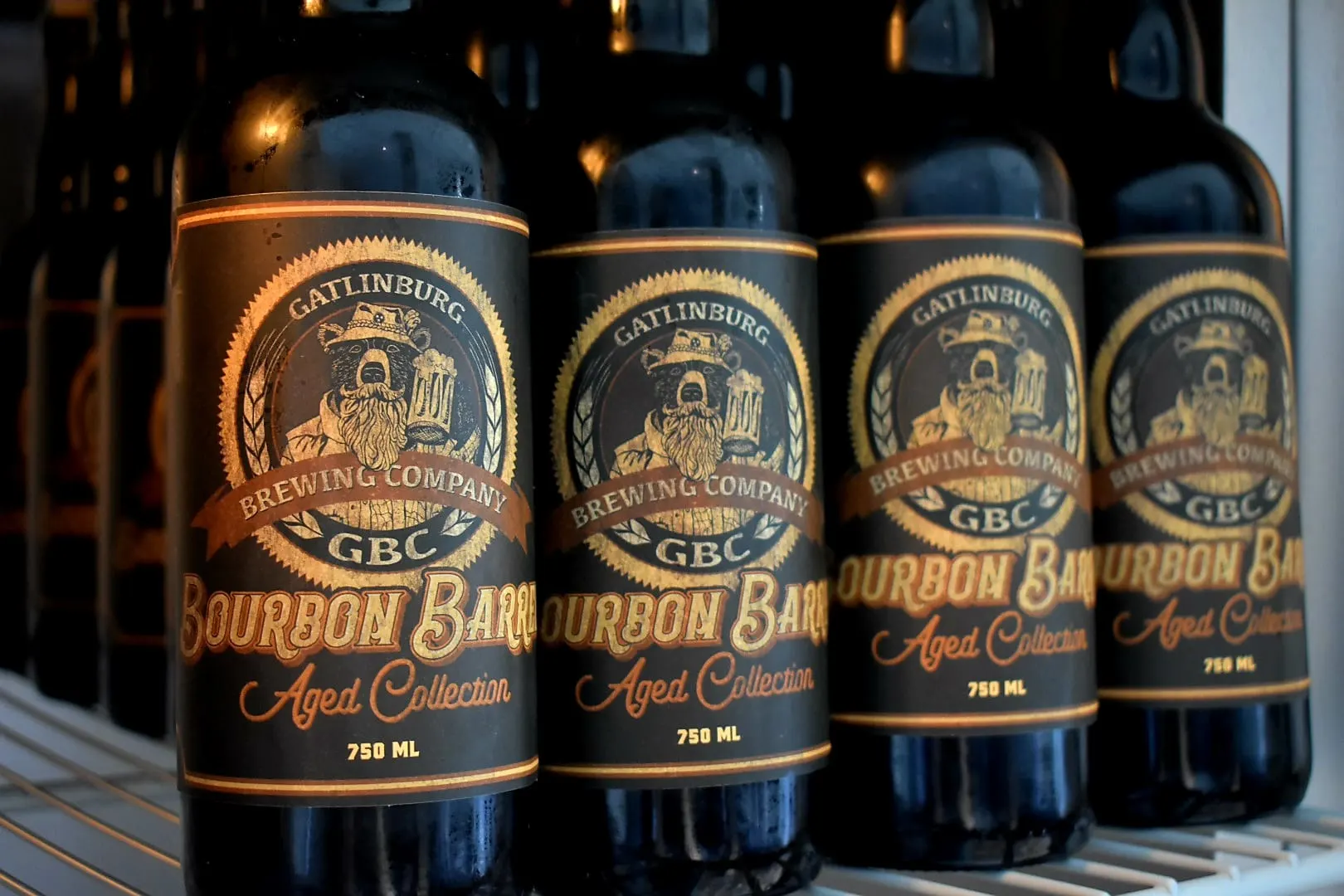 For a small town, Gatlinburg's nightlife packs an impressive punch — especially in October.
Hop around to some of the downtown bars and restaurants throughout the month to try limited-time special offerings.
For example, Gatlinburg Brewing Company makes annual versions of its Ghost of Greenbrier White Stout. Also, the brewery brings in several pumpkin-themed guest beers and several other BOO-zy offerings.
They also frequently host live music, and you can count on a costume party.
Other local bars, including Shamrock Pub and Ole Red Gatlinburg, also really come alive with Halloween spirit during this season. Expect to find elaborately decorated establishments, themed drinks, and lots of fun costumes.
5. Test Your Skills at a Haunted Cabin Escape Room
Location: 2530 Parkway, Suite 22, Pigeon Forge, TN
It's a good idea to have an indoor option, too, in case the weather is a bit chilly on Halloween in Gatlinburg.
Our pick? The Haunted Cabin Escape Room in Pigeon Forge.
This particular escape room has a chilling theme: an old man's spirit comes back to his cabin several times a night, trying to protect his generations-old moonshine recipe. Plus, rumor has it he left a literal fortune somewhere in the cabin.
The goal is to loot the cabin and make off with the recipe, all while having to solve puzzles and escape the ghost! And, of course, you only have a limited amount of time to do it!
Trapped Escape Games also offers other escape rooms perfect for Halloween!
Halloween in Gatlinburg for Kids & Families
6. 'Halloween in The Holler' at Moonshine Mountain Coaster
Location: 306 Parkway, Gatlinburg, TN
If shrieking your lungs out on a thrilling, fast-paced ride in the mountains doesn't scream Halloween in Gatlinburg, we don't know what does!
On October weekends, Moonshine Mountain Coaster hosts 'Halloween in The Holler: Thrills & Shrills in The Smokies.'
For this special spooky event, the mountain coaster itself gets a spine-tingling makeover! Also, the mountains around it transform into a colorful, enchanting world.
Ride the coaster at night, but beware of the creatures that may be lurking in the darkness. The ride has "intense special effects," along with live actors whose sole purpose is to make you scream.
Also, Moonshine Mountain Coaster encourages visitors to come in costume.
Note that because of the nature of this attraction, it isn't recommended for young children who scare easily.
7. Go Trick or Treating at The Island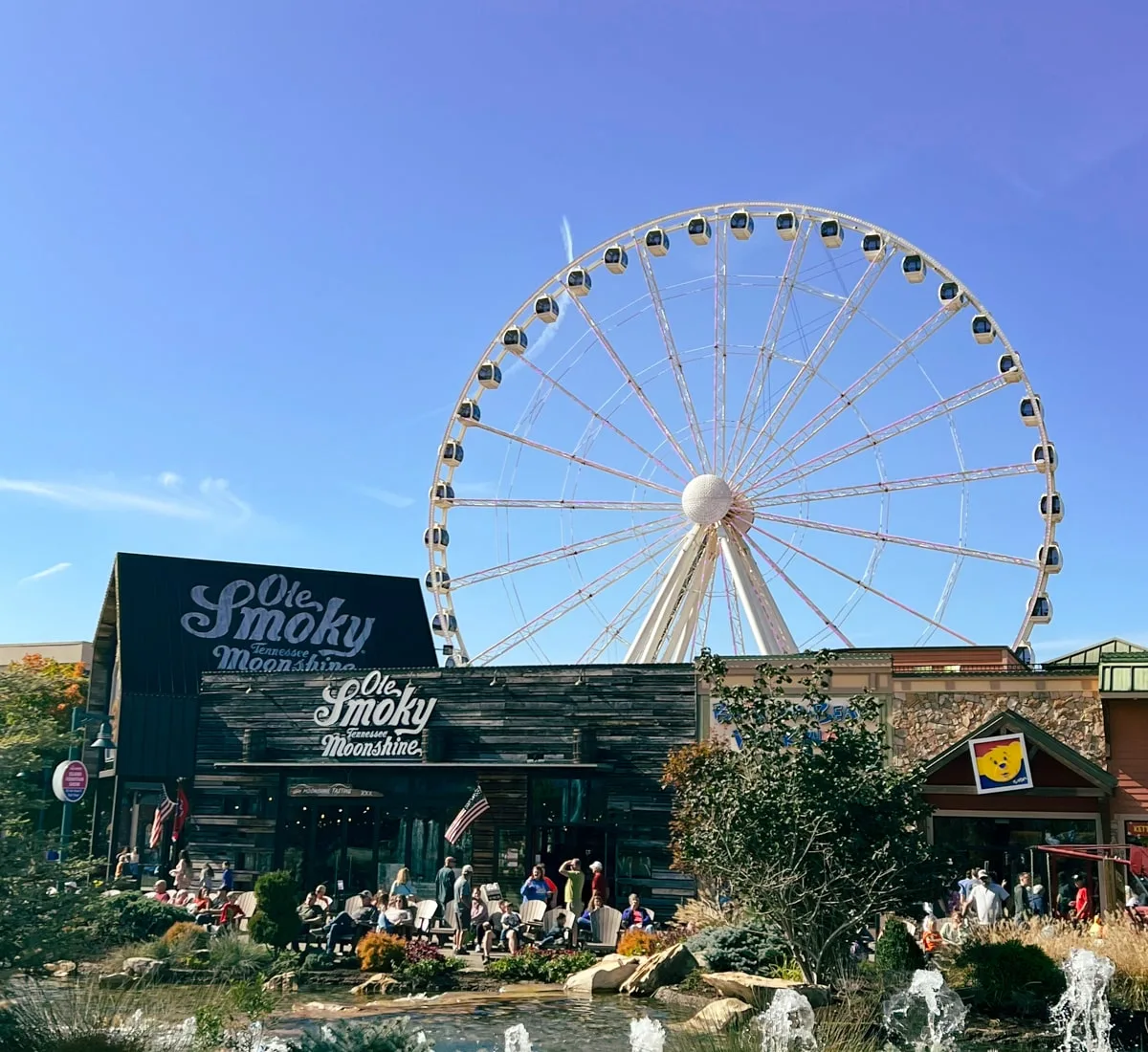 On Halloween night, bring the kiddos over to The Island in Pigeon Forge for a safe and festive trick-or-treat experience.
Almost all The Island's businesses participate, offering candy, crafts, and other not-so-scary surprises to trick-or-treaters.
Participants will also enjoy spooky music, colorful coordinated fountain and light shows, and craft stations.
Several local restaurants and food vendors typically also offer themed food and drink specials, so come hungry!
Best of all, this event is totally FREE!
Plus, the event is early enough in the evening (5-7:00 PM) that afterward, you can still go check out some other events for Halloween in Gatlinburg.
8. Fright Nights at Ripley's Haunted Adventure
Location: 800 Parkway Gatlinburg, TN
Ripley's Believe it or Not! always has bizarre and interesting things to explore, but especially in October.
During Halloween season, the year-round Haunted Adventure attraction goes all out with Fright Nights. This annual event, which celebrates its 25th year of Halloween in Gatlinburg in 2023, always has a spooky theme and extra-scary special effects.
This year, the theme is G&S 'Dead' & Breakfast, "The place where everyone is dying to stay!" Don't let your guard down for a moment — you never know who or what lurks around the corner.
You can visit Fright Nights on October weekends, including Halloween night.
Note that Ripley's doesn't admit children under 6, and requires guardians to accompany children under 12.
9. Day Trip to Dollywood for Great Pumpkin LumiNights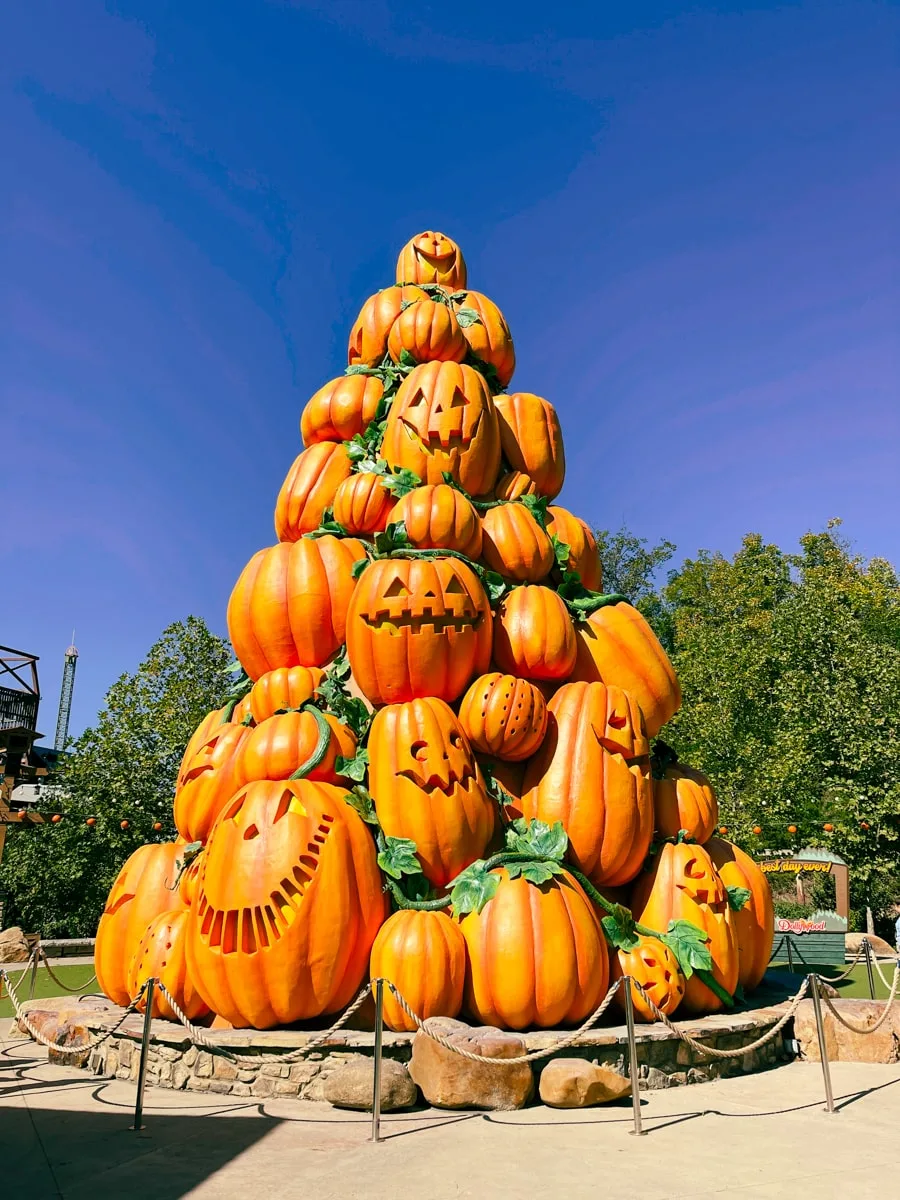 Part of Dollywood's Harvest Festival (one of our FAVORITE fall events in Tennessee!), Great Pumpkin LumiNights is a Halloween extravaganza.
The tens of thousands of lit-up jack o' lanterns are the main attraction, but they're just the beginning.
Enjoy all sorts of glow-in-the-dark fun, including a glow corn maze and glow-in-the-dark face paint.
In addition, Hoot Owl Hollow is a family favorite! The attraction features a not-scary immersive woodland experience with giant glowing owls, pumpkins, and more.
And don't miss out on the fall food at Dollywood. In particular, you'll want to sample pumpkin-everything, including funnel cake, sausage, churros, and punch. You can even buy a tasting pass.
Also, fall foliage is typically close to peak at the end of October, and Dollywood happens to be a fantastic place to see it. For this reason, the rides themselves are one of the best ways to experience Halloween in Gatlinburg. Get a heart-pounding thrill AND a gorgeous view!
More Fall Festive Activities in Gatlinburg
If you ask us, we think spending Halloween in Gatlinburg is the perfect excuse to visit. However, the entire fall season offers tons of non-Halloween-themed activities to enjoy!
10. Take a Scenic Leaf-Peeping Drive
By now, you've probably figured out that fall foliage in the Smokies is top-tier. Especially in October! So, why not take advantage of that by taking a scenic drive?
From Gatlinburg, head right into the national park and check out the Roaring Fork Motor Nature Trail or Cades Cove Loop. On both drives, you'll witness the stunning fall foliage. Stop at various overlooks to see waterfalls, as well as that iconic "smokiness" that settles into valleys.
Cades Cove, in particular, typically has some interesting wildlife to watch. Keep your eyes open for black bears, deer, and wild turkeys.
Oh, and don't forget your camera! The Smokies' vibrant colors make it a photographer's dream.
Nearby, on the other side of the park, you also have the iconic Blue Ridge Parkway. Dubbed "America's Favorite Drive," the BRP has nearly 500 miles of stunning views.
11. Fall Festival at Ober Gatlinburg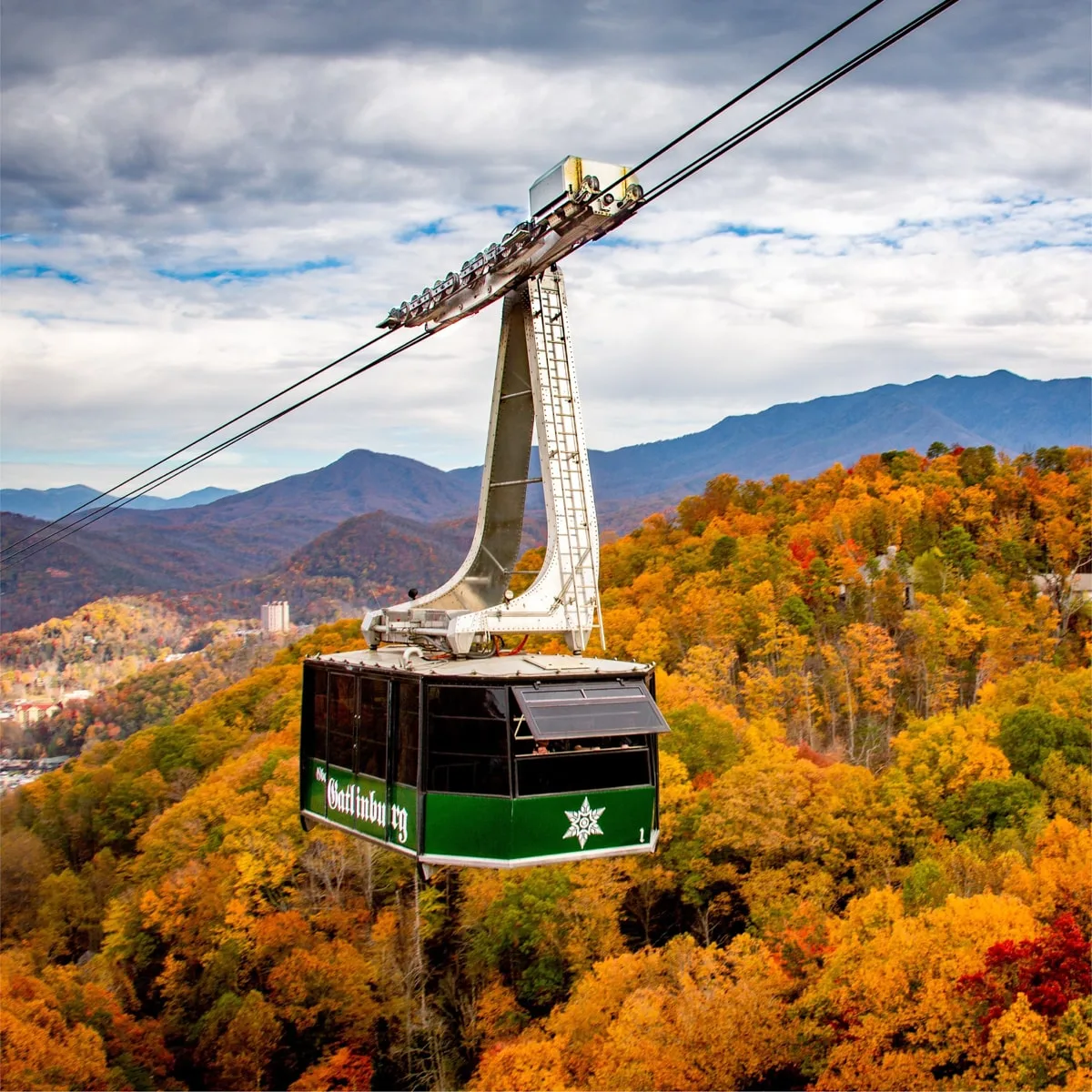 Ober Gatlinburg's popular Fall Festival offers equal parts fall scenery, Halloween fun, and Oktoberfest flavors.
Start by riding the aerial tram, which takes you soaring above Gatlinburg and up to the mountain top. Once here, you'll find a whole treasure trove of rides and activities to explore! For example, expect a mountain coaster, alpine slides, a hay maze, and an ice skating rink.
The annual Oktoberfest at Ober Gatlinburg is another highlight. During this tasty event, visitors can experience authentic flavors of Bavaria, right in the Smokies! Enjoy traditional German cuisine (and beer!), live music, plus games and contests.
Ober hosts its Fall Festival all October long, and also offers special Halloween programming closer to the end of the month, as well.
During the weekend of October 21-22, stop by for the Giant Pumpkin Festival. Watch as people carve truly GIANT pumpkins, with some up to 1,000 pounds!
Finally, the festival shows Friday Night Movies outdoors on a giant 22-foot screen. Closer to Halloween in Gatlinburg, the movies take on a notably spookier theme.
12. Walk Across the Gatlinburg SkyBridge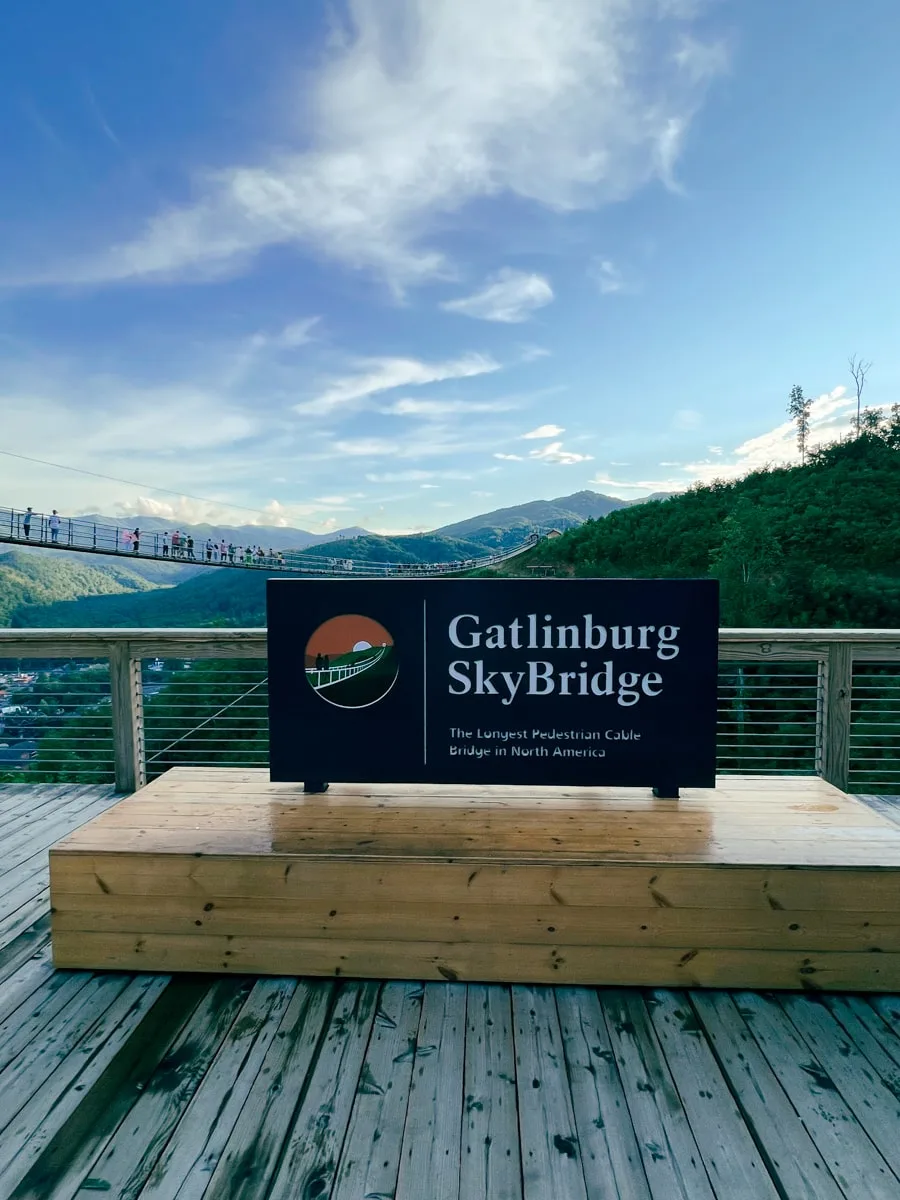 The Gatlinburg SkyBridge has several claims to fame. For one, it's the longest pedestrian suspension bridge in North America (nearly 700 feet across!). It's also repeatedly named one of the country's most scenic spots!
That means it's an excellent spot to take in the views and perfect fall weather. Walk across at your own pace, enjoying views of both Gatlinburg and the mountains.
Right in the middle, there's a 30-foot section of glass, so you can look straight down!
Also at the SkyPark, you can enjoy a scenic chair lift and the SkyTrail hiking trail, which connects both ends of the bridge.
13. Fall Hiking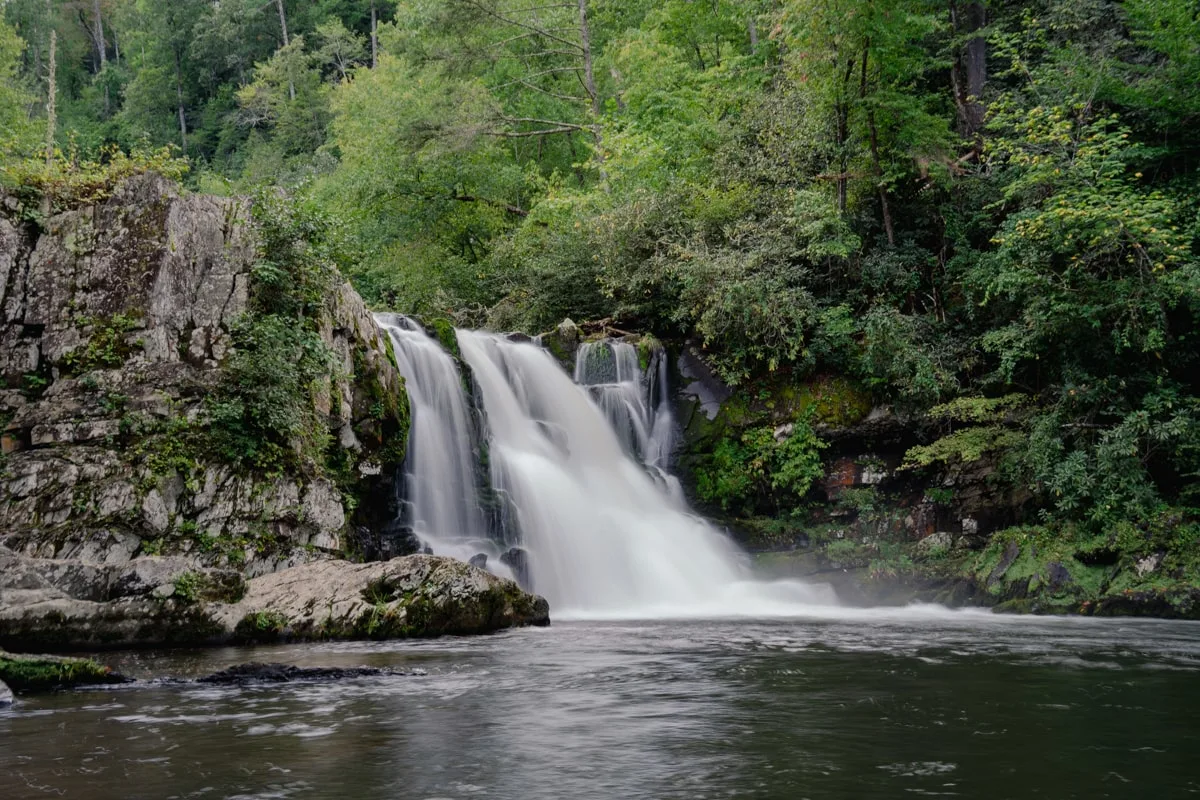 Walk off some of that candy you ate over Halloween in Gatlinburg and lace up your hiking boots!
Practically in Gatlinburg's backyard, Great Smoky Mountains National Park has dozens of amazing trails.
You could argue that hiking is always fantastic here, but fall especially brings crisp air and breathtaking views. Here are some of our favorite fall hikes in the park:
Abrams Falls
Baskins Creek Falls
Oconaluftee River Trail
Porters Creek Trail
Alum Cave
14. Harvest Fest at Anakeesta
Nature-focused Anakeesta offers a ton of fun activities for everyone, especially in the fall. Start with a scenic ride in the "Chondola," where you can choose between an open-air chairlift or an enclosed gondola.
Check out the views from AnaVista observation tower, the highest point in Gatlinburg.
You can also stroll across North America's longest tree-based skywalk (880 feet). Go ziplining, mine for gems, ride a mountain coaster, or try the obstacle courses. The fun never ends!
In September and October, Anakeesta also hosts its Bear-Varian Fall Festival. Enjoy Halloween decor, special pumpkin carvings, and Bavarian beer and food specials.
15. Sample Apple Cider and Doughnuts
To cap off your Halloween in Gatlinburg itinerary, you need to squeeze in some more fall flavors.
Several local Cideries offer freshly made apple cider (both kid-friendly and spiked versions!) and doughnuts.
Head to the Apple Barn & Cider Mill, arguably the most popular cider destination near Gatlinburg.
If you're into specifically hard ciders, you can't go wrong at Tennessee Cider Co. This shop has two locations, Gatlinburg and Sevierville, and offers over 30 varieties of cider.
Finally, another option is The Fox & The Apple at Foxfire Adventure Park, also in Sevierville.
More Things to Do in Gatlinburg in the Fall >> 16 Best Things to Do in Gatlinburg in the Fall
🕷SAVE THIS SPOOKY LIST FOR LATER 🕷