Dollywood, located in Pigeon Forge of the Smoky Mountains, has a lot of FOOD to offer!
From sweet to savory and everything in between — Dollywood offers many food options for all members of the family to enjoy.
We have visited Dollywood many times and we still manage to stumble upon a new place we haven't eaten before!
Below we will list out the different restaurants at Dollywood that are available for you and your family — including where to find them!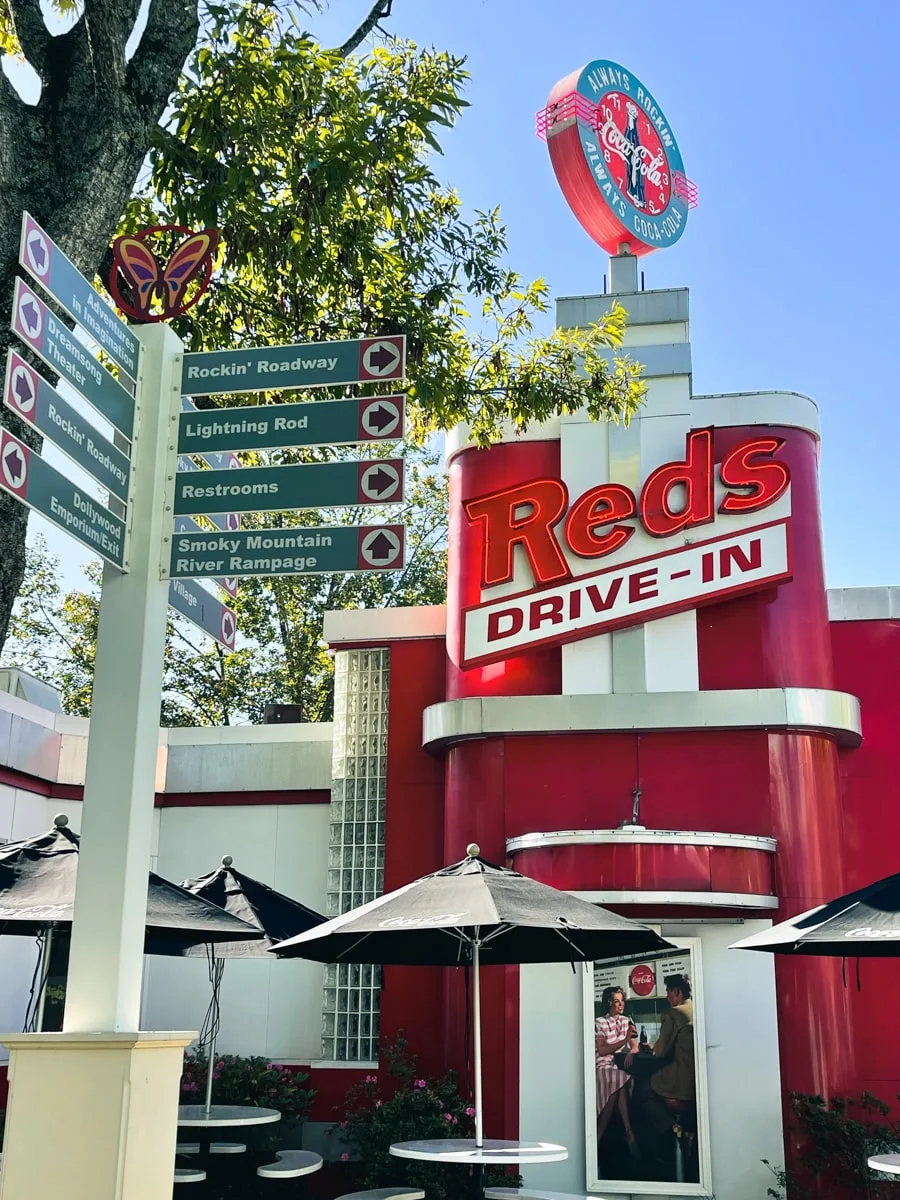 The Ultimate Guide: Where to Eat in Dollywood
Types of Restaurants in Dollywood:
Buffet – You choose from a variety of food and sit down at a table
Concession – A cart or concession stand usually only selling one type of food (funnel cakes, ice cream, etc.)
Quick Service – You will place your order and take your food to a table of your choice.
Full Service – You will usually be seated by a hostess and will be served by a waiter or waitress.
Family Style – Buffet style at your own table
We will be grouping food and restaurants by location, starting with ShowStreet.
ShowStreet
ShowStreet is the first location you will come across if you turn right once entering Dollywood. There are some shops and theaters located here as well as a few dining options.
Dining options available in Showstreet are:
Front Porch Café 🥗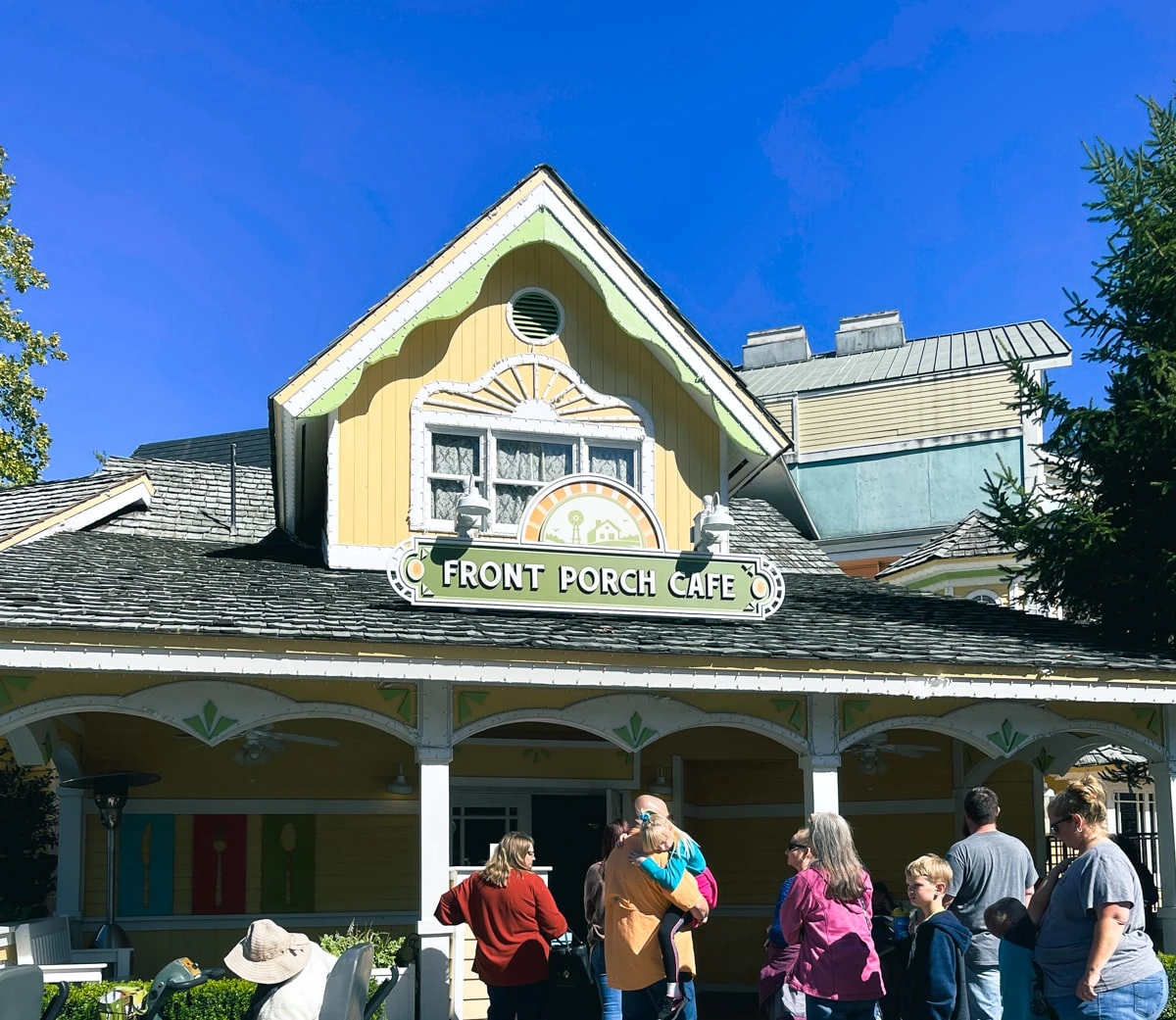 Front Porch Café is usually the first restaurant people pass as they enter the park.
Of course, if you don't want to eat as soon as you get to the park you can come back to this location, it's just a good idea to know what is available for when you do start to get hungry.
A full-service menu is offered here including appetizers, soups, salads, sandwiches, and entrees.
Popular choices among visitors:
Meatloaf
Fried Green Tomatoes
Pimento Cheese
Garlic Biscuits
Spotlight Bakery 🥧
Spotlight's pastry chef creates delicious desserts such as their signature cinnamon rolls, cupcakes, muffins, pastries, cookies, and more.
This bakery is mostly known for their…. 25-pound Apple Pie!
Made from scratch and baked in a GIANT cast-iron skillet, this apple pie will melt in your mouth.
This pie is massive, both in size as well as price, as it costs $189.00. Don't fret though, if you still want to try this pie, you can buy it by the slice (which weighs 3 pounds per slice) for $18.99.
Also located in Showstreet:
Frozen Lemonade Stand🥤
Ice Cream Stand 🍦
Snack Stand 🥜
JukeBox Junction
Jukebox Junction will be the next location you will pass through. Here you will find the famous roller coaster Lightning Rod. However, you should probably eat AFTER you ride this coaster to save yourself from feeling a little sick.
Below are the restaurants you can expect to see while walking through JukeBox Junction.
Red's Drive-In 🍔
Do you want to eat at a 1950s-themed diner? Here you will find classics such as the Jukebox Special (1/3 lb. bacon cheeseburger served with fries, $10.99) and Signature Milkshakes.
Milkshake flavors (depending on the season):
Fruity Pebble
Salted Caramel
Vanilla, Chocolate, Strawberry
Fun Fact: Dolly had her very first Hamburger at Red's Café when she was a child, inspiring her to open Red's Drive-In to help preserve the memory of Paul "Red" Clevenger.
Jukebox Junction Dippin' Dots 🍨
For those who don't know, Dippin' Dots are beads of cryogenically frozen ice cream, and they are fantastic! Also, who can resist when it's served out of this cute little camper?
Rivertown Junction
Rivertown Junction is located on the other side of Jukebox Junction and is also the location of the Back Porch Theatre, Dolly's Tennessee Mountain Home, and Smoky Mountain River Rampage.
Restaurants and food located here are:
Aunt Granny's Restaurant 🍗
Style: Buffet Family Style
Is everyone in your family craving something different? Then eat at Aunt Granny's Restaurant, where there is something for the whole family.
Granny's Restaurant is one of the best places to eat in Dollywood. It is a family-style restaurant, meaning you choose a type of meat and sides for your table and everyone at your table has a "family-style, home-cooked meal."
Some menu items:
Fried Chicken
Fried Fish
Baked Chicken
Corn Bread
Green Beans
Aunt Granny's was also rated a top-10 best theme park restaurant in the country by USA Today.
Dogs N Taters 🌭
Are you craving a hot dog? What about a footlong hot dog?
Located beside the Back Porch Theater, you will find your hot dog, corn dog, and chili cheese tater twirls.
Footlong Hot dog and Tater Twirls – $9.99
Market Square BIG SKILLETS 🥪
There's no mistaking the smell of grilled onions and peppers and as you get closer to the BIG SKILLET, you are almost guaranteed to get hungry.
Peek inside and you'll see steak, sausage, onions, and peppers grilling on a giant skillet waiting to be topped on bread and smothered in cheese.
Keep in mind that Big Skillet's Menu is subject to change depending on the season.
Also located in Rivertown Junction:
Crossroads Funnel Cakes
Country Cookers – Kettle Korn 🍿
Country Fair
Country Fair boasts all of your favorite fair rides and games!
There are also a lot of kids' rides located here such as the Busy Bees, The Amazing Flying Elephants, Lucky Ducky, and more.
Below are the following restaurants and stands you can expect to see while visiting Country Fair.
Grandstand Café 🍟
Grandstand Café includes food that you would expect at any fair, some of their food has even won blue-ribbon awards. This is the only restaurant in the Country Fair that serves food besides sweets.
Some examples of food they serve are:
Hot Dogs
Chicken Tenders
Nachos
Chicken Sandwich
Chili-Cheese Fires
Kids' meals are also available here.
Also located in Country Fair:
Country Fair Dippin' Dots
Midway Market
Blue Ribbon Cones
The Village
The Village is the location of the Dollywood Express which I definitely recommend riding as you can view most of the park and the Smoky Mountains from the train.
Departure times run at the top of each hour after the park opens; the last train departs one hour before the park closes.
Here you will find:
Victoria's Pizza 🍕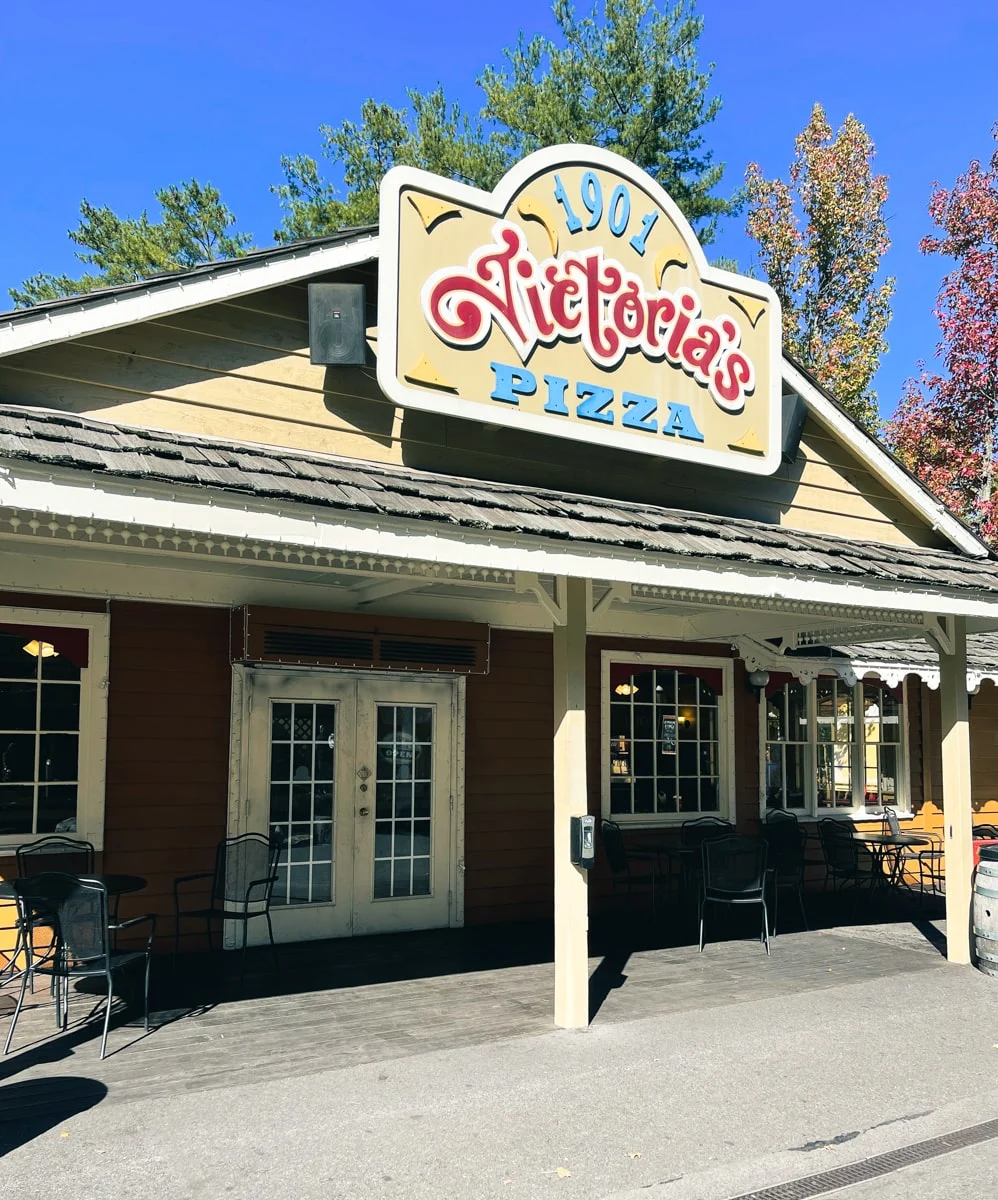 If you're craving pizza and in the area, then eat at Victoria's. Located right in front of the Dollywood Express, pick up a slice of pizza before you head out on the train.
Victoria's pizza includes your classic pizzas such as the Cheese and Pepperoni, as well as salads, calzones, and sandwiches.
Also located in The Village:
Craftsman's Valley
Craftsman's Valley offers lots of shopping, attractions, and dining. Some attractions located here are Blazing Fury, Daredevil Falls, Tennessee Tornado, and Eagle Mountain Sanctuary.
If you are planning on taking home a souvenir from Dollywood you will find lots of handmade goods here from skilled craftsmen.
There are quite a few food options here so bring your appetite!
Granny Ogle's Ham 'n' Beans 🍖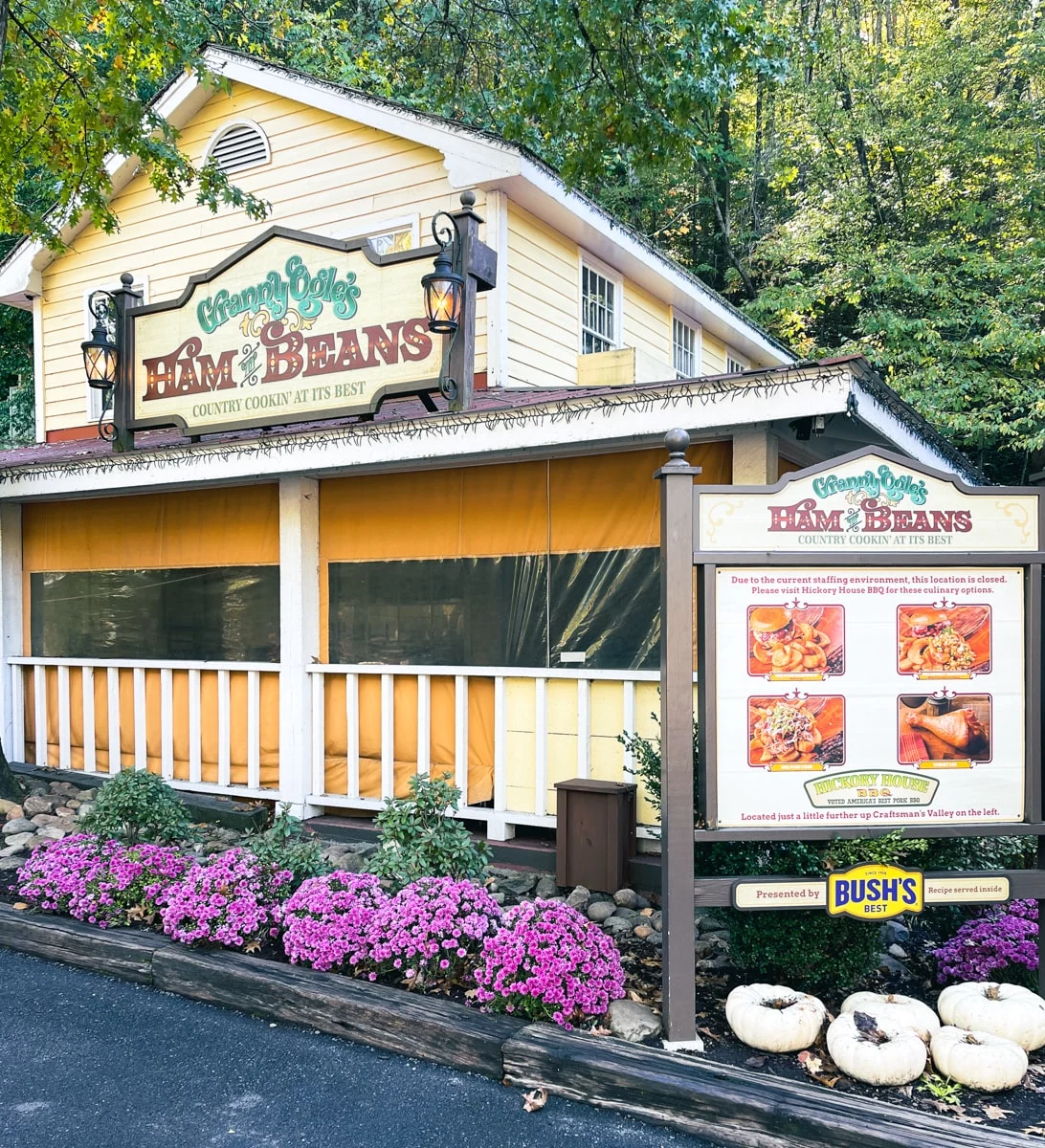 Eat at Granny Ogle's Ham 'N' Beans if you are wanting some good old-fashioned country cooking.
Classic foods such as Pot Roast, Ham and Pinto Beans, Turnip Greens, etc, are sure to satisfy your craving for southern food!
Other menu items:
Meatloaf Stacker
Coleslaw
Mashed Potatoes
Fresh-Baked Cobbler
Hickory House BBQ🍗
Hickory House BBQ was named the best pork barbeque of any theme park in the country by Amusement Business Magazine.
Menu Items:
Smoked Turkey Legs
Loaded BBQ Pork Fries
Pork Sandwich
Chicken Tenders
The loaded BBQ Pork Fries are fantastic! We've also had the smoked Turkey Leg but it was a little dry. I still encourage you to try one if you are one who likes a big turkey leg! 🍗
Miss Lillian's Smokehouse 🍖
Miss Lillian's Smokehouse is an all-you-care-to-eat buffet-style restaurant.
Menu Items:
Fried Chicken
Roast Beef
Carved Ham
Smoked Chicken
Green Beans
Mashed Potatoes
Salads
Desserts
It is also rumored that Miss Lillian usually entertains guests by playing a few songs.
Miss Lillian's BBQ Corner 🥓
If you are craving Miss Lillian's food but you don't have time for a sit-down meal, then grab some food from Miss Lillian's BBQ Corner.
Here you will find some BBQ favorites such as the BBQ pork sandwich platter or the hickory-smoked turkey leg. Sides include roasted potatoes or hickory pit beans.
Grist Mill & Cinnamon Bread 🍞
People RAVE about Dollywood's Cinnamon Bread.. and for good reason! This stuff is delicious!
The cinnamon bread is pull-apart style and is served hot with icing or apple butter. YUM. 🤤
Also located in Crafstman's Valley:
Mr. Jerry's Sit-N-Sip Refreshments
Pork Rinds
Tennessee Tornado Dippin' Dots
Wilderness Pass
You will find the rides FireChaser Express and Wild Eagle here along with a couple of food options.
The Dog House 🌭
Here you will find specialty hot dogs such as ones smothered in chili-cheese or bacon!
Also located in Wilderness Pass:
SkyView Snacks
Splinter's Funnel Cakes
Wildwood Grove
Wildwood Grove is one of the newest additions to Dollywood where you can go see The Wildwood Tree saturated with decorative butterflies or choose to ride the Dragonflier coaster and zip through hills.
There are also more rides for small children here, including the Black Bear Trail and the Great Tree Swing.
Till & Harvest Food Hall 🌮
Did someone say Mexican food? At Till & Harvest Food Hall you can load up a giant burrito bowl and eat on the open-air patio.
Similar to Chipotle, you have options to build a burrito, burrito bowl, nachos, or tacos.
Proteins:
Fire Grilled Chicken
Carnitas
Chili Rubbed Steak
Plant-Based Option
Also located in WildWood Grove:
Sweets and Treats
Wildwood Grove Dippin' Dots
Timber Canyon
Timber Canyon is the last area in the park to grab a bite to eat before you reach the entrance/exit to the park. Of course, you can always make another loop around the park for round two!
Timber Canyon is where you will find attractions such as Mystery Mine, Thunderhead, and Drop Line.
Lumber Jack's Pizza 🍕
Here at Lumber Jack's Pizza you and the family can enjoy personal size 8″ pizzas or pre-packaged salads.
🍕Pizza Flavors:
Cheese Pizza
Pepperoni Pizza
Margharita Pizza
The Southern Jack Pizza
Also located in Timber Canyon: