If you're looking for info about the best waterfalls in Tennessee, you're in the right place!
It's no secret that the Volunteer State is literally full of natural beauty and attractions.
From the world famous Appalachian and Great Smoky Mountain falls to endless hiking, biking, fishing, and paddling opportunities, this is truly paradise for outdoor enthusiasts.
Above all else, though, are Tennessee's incredible waterfalls. The state has nearly 900 cascades (that we know of!), including over 80 in state parks alone!
With so many to choose from, it can be tough deciding where to spend your precious days off.
Luckily, we did some of the legwork for you and put together this guide on the best waterfalls across Tennessee.
You'll find a nice mix here, with popular falls in the GSM national park, little-known hidden gems, waterfalls requiring a hike, and some you can drive right up to.
Grab a snack and your favorite waterproof hiking shoes, and let's get into it!
9 Epic Waterfalls in Tennessee
Fall Creek Falls
Closest town: Spencer (1 hr 20 mins from Chattanooga)
Height: 256 feet
Hike required? Yes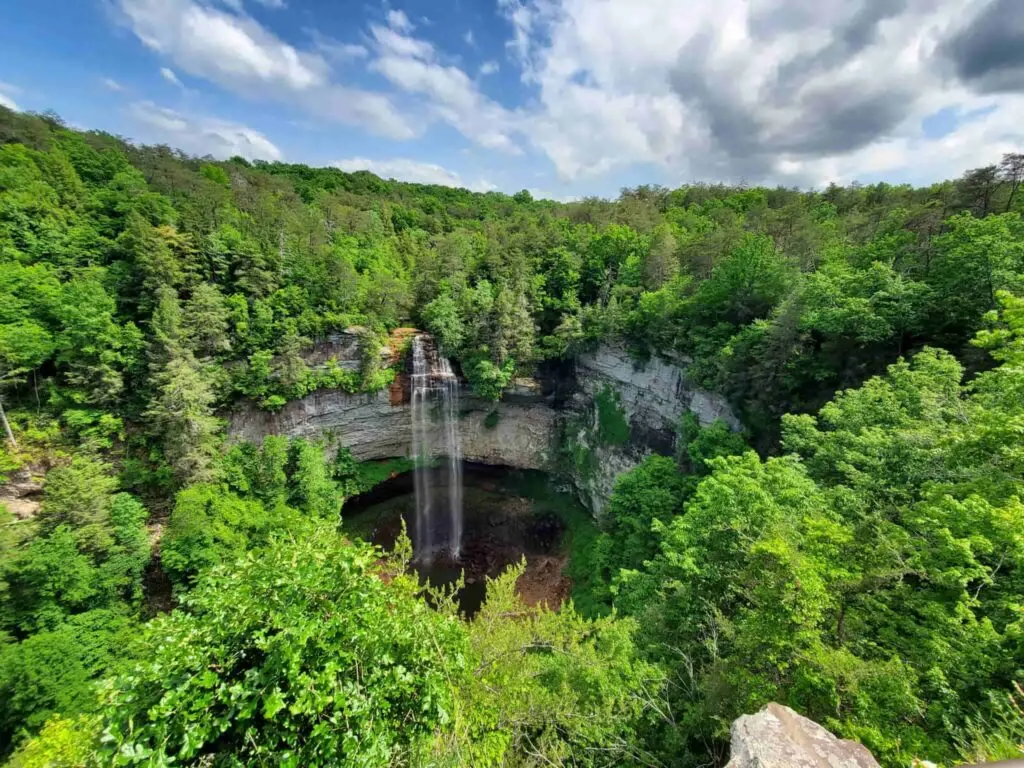 We can't talk about the best waterfalls in Tennessee without featuring Fall Creek Falls, the tallest in the state!
The crown jewel of Fall Creek Falls State Park, the cascade tumbles 256 feet down into a pristine, perfectly round natural pool.
Depending on water flow levels, you may be able to swim here, but note that it's at your own risk — there are no lifeguards on duty.
Hiking enthusiasts can explore multiple trails that wind through lush forest, leading to various viewpoints of majestic Fall Creek Falls.
Some of the most popular include Base of Falls Trail (0.4 miles, moderate to challenging), Gorge Overlook (1.2 miles, moderate), and Cable Trail (0.3 miles, challenging).
There are several other waterfalls in the state park, as well as excellent hiking and biking trails, rock climbing, a golf course, camping, and even a canopy challenge course.
Burgess Falls
Closest town: Sparta (1 hr, 20 mins from Nashville)
Height: 250 feet (tallest single waterfall is 130 feet)
Hike required? Yes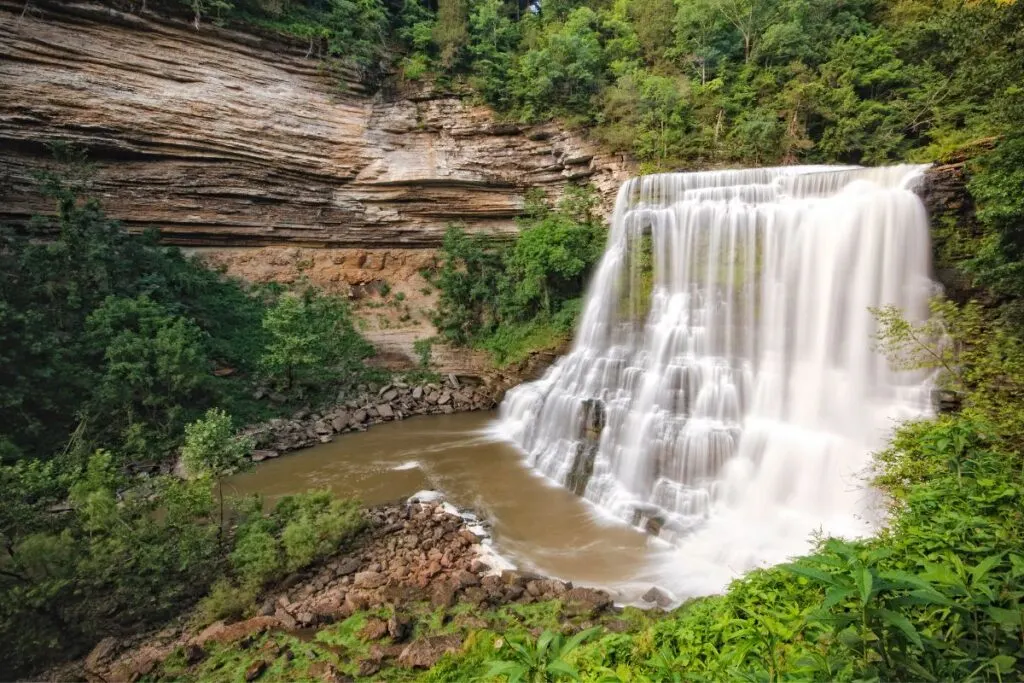 Burgess Falls boasts not just one, but four magnificent cascades.
The main attraction is Burgess Fall itself, a single waterfall that plunges a staggering 136 feet into the gorge below, creating a mesmerizing spectacle of foamy water and mist. This waterfall is also called Lower Falls.
The other three waterfalls include 20′ Falling Water Cascades, 30′ Upper Falls ("Little Falls"), and 80′ Middle Falls.
To fully experience Burgess Falls, you'll need to lace up your hiking boots and hit the trail. There are several trails to choose from, with the most popular being the 0.8-mile (one-way) River Trail and the 0.3-mile Base of the Falls Trail.
The River Trail takes you past all four cascades, so it's a worthwhile trek even if you have limited time in the park. It's a moderate hike suitable for just about everyone and as a bonus, there are several overlooks and excellent photo spots along the way.
The Base of the Falls Trail starts at the end of the River Trail, and as its name implies, takes you to the base of Burgess Falls. However, note that as of July 2023, some damage and construction prevent you from going all the way.
Also, unique among the best waterfalls in Tennessee, you can fish just below the main cascade here! Right along the river bank leading up to the base of Burgess Falls, you'll often see hopeful fishermen trying to land bass or bream.
Cummins Falls
Closest town: Cookeville (1.5 hrs from Nashville)
Height: 75 feet
Hike required? Viewable from an overlook, but hiking is required to reach the waterfall itself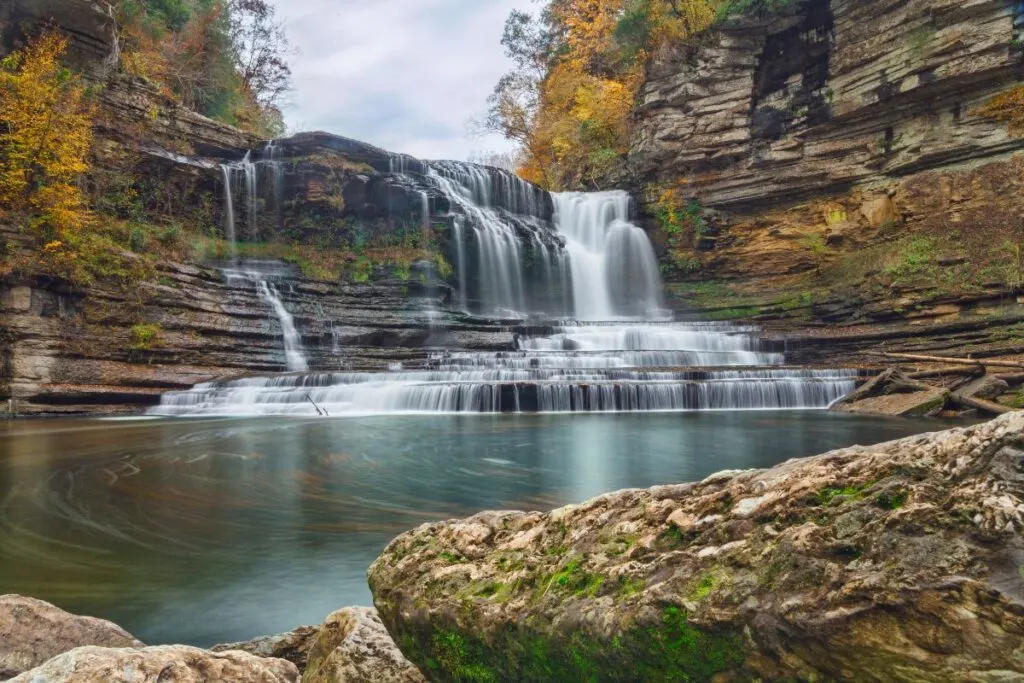 The 1.5-mile hike to Cummins Falls requires wading through the river, making it an exciting and refreshing experience during the warmer months.
Not only is Cummins Falls one of the prettiest and best waterfalls in Tennessee, but it's also one of the state's most popular swimming holes.
Cummins Falls has two levels, a 75-foot-tall upper cascade and a lower cascade that falls over a series of tiered stones into the pool below.
The popular, accessible 0.4-mile Waterfall Overlook Trail offers beautiful views of the waterfall from above. If you want to swim in the pool formed by Cummins Falls, though, you'll have to hike through the gorge.
There are two options, the challenging 1.5-mile Downstream Trail or the 1-mile, moderately difficult Shortcut to Downstream. Both require a Gorge Access Permit. Permits cost $6.59 per person, and the park issues 200 per day.
Hiking to the waterfall on either trail involves steep, uneven, rugged terrain. Depending on the season, you may also have to cross through water in the gorge multiple times.
If you're up for even more waterfall chasing, combine a visit to Cummins Falls with nearby Burgess Falls!
Cane Creek Falls
Closest town: Spencer (1 hr 20 mins from Chattanooga)
Height: 85 feet
Hike required? Viewable from an overlook, but a hike is required to actually reach the falls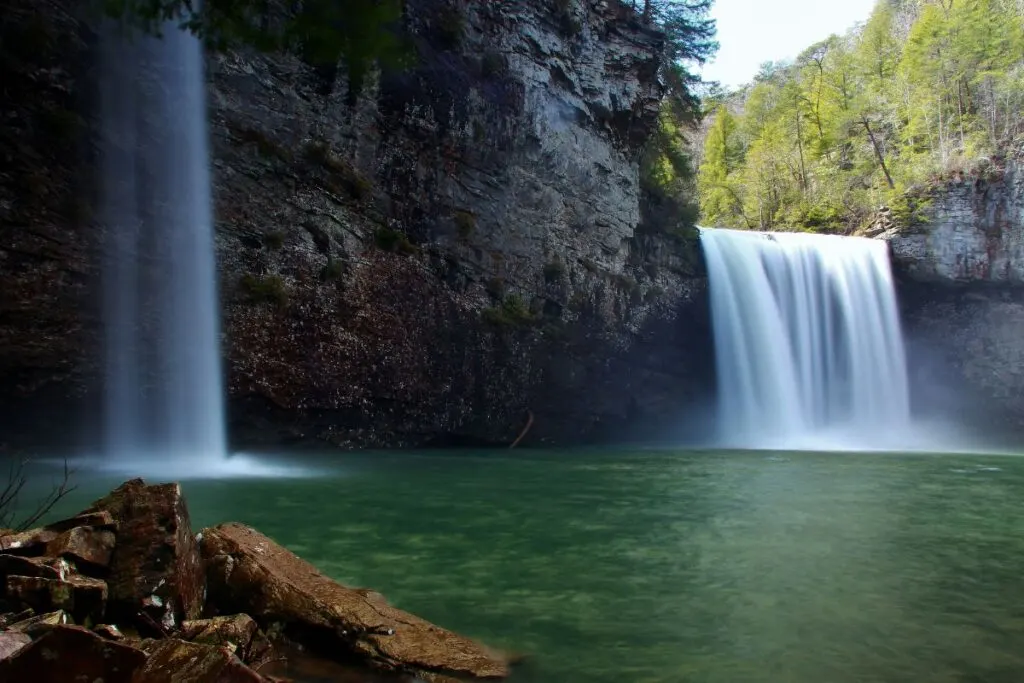 Another gem within Fall Creek Falls State Park, picturesque Cane Creek Falls plunges into a tranquil (and popular!) swimming hole.
While Cane Creek isn't even close to the tallest of the best waterfalls in Tennessee, it's one of the largest by volume. Experiencing the powerful rush of water is well worth the effort it requires, and as a major bonus, it's usually much less crowded than Fall Creek Falls.
You can get great views of Cane Creek Falls from a couple of viewpoints in the state park, including one just right of the visitor center. However, the best view is from the base, which requires a moderately challenging hike.
From the overlook near the visitor center, head down the Suspension Bridge Trail, a short and easy 0.4 miles. From there, adventurous waterfall chasers can continue down the short but treacherous Cable Trail. As the name suggests, this steep trail has a cable in place to guide hikers.
Ruby Falls
Closest town: Chattanooga
Height: 145 feet
Hike required? Yes, via guided tour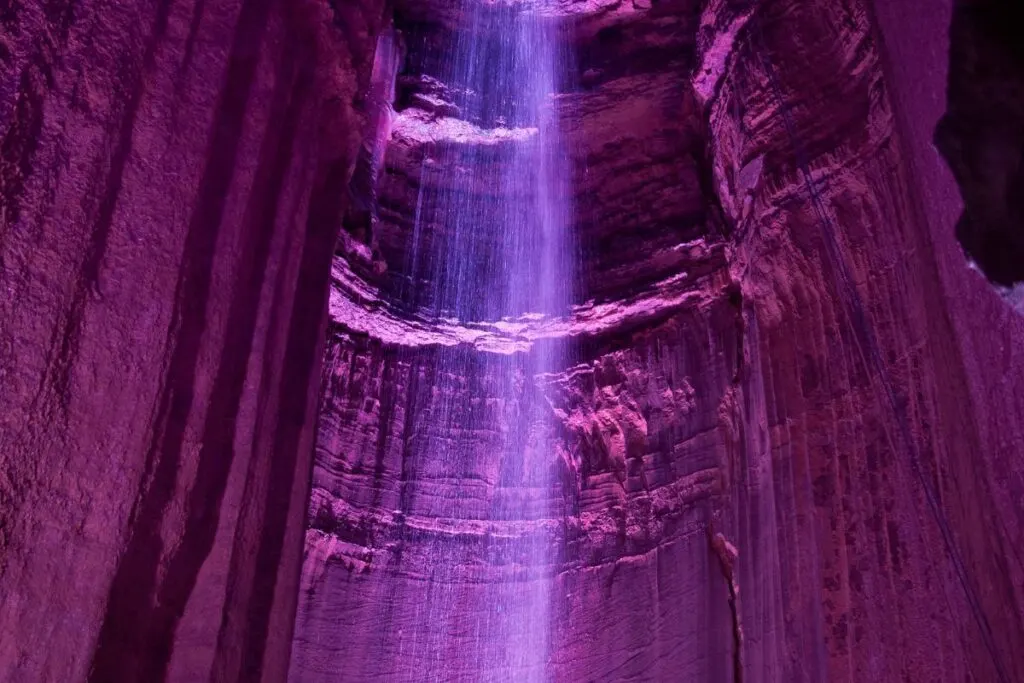 Ruby Falls is the tallest, deepest underground waterfall open to the public in the entire US.
Thankfully, it's relatively easy to visit this special place, as it's just minutes from downtown Chattanooga.
Located deep within Lookout Mountain Cave, visitors take an elevator 26 stories underground to reach the 145-foot cascade.
Before even laying eyes on it, this unique experience makes it one of the best waterfalls in Tennessee!
Once inside the cave, 1-hour guided tours take you through the narrow passageways. Follow the path past unique rock formations until you spot the shimmering curtain of water in front of you, illuminated by colorful lighting. It's nothing short of magical!
Note that tickets are required. The Cave Walk is offered daily, while the Gentle Walking Tour and Lantern Tour are seasonal, offered from March through December.
Laurel Falls
Closest town: Gatlinburg (GSMNP)
Height: 80 feet
Hike required? Yes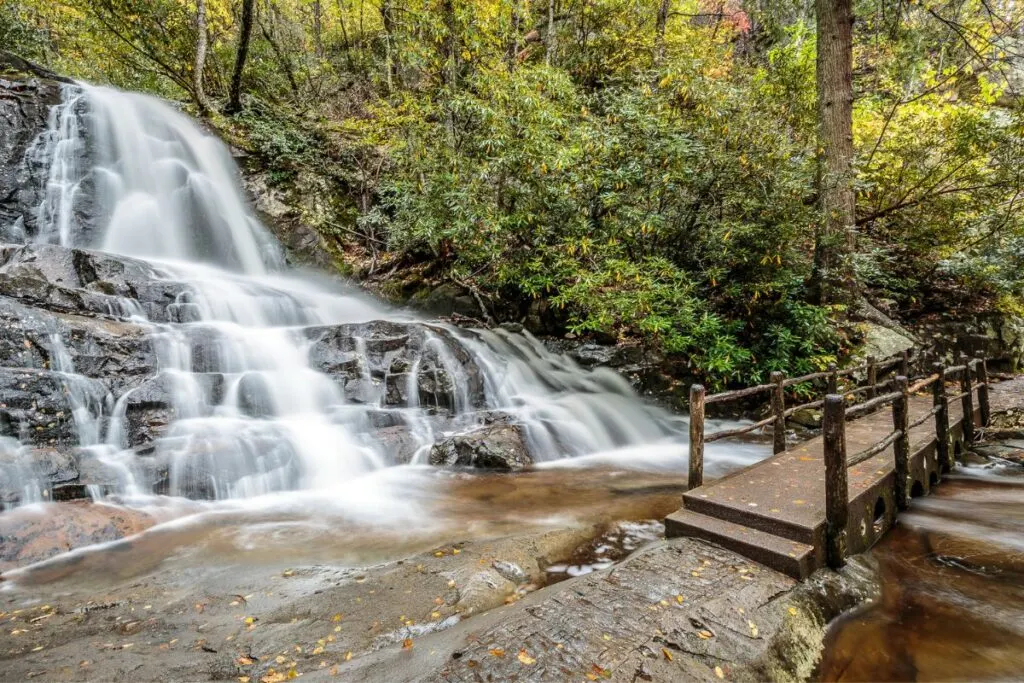 One of the most popular hikes in Great Smoky Mountains National Park, Laurel Falls is a favorite for its accessibility and beauty.
The waterfall is between the Sugarlands Visitor Center and Cades Cove, just off the main road.
To reach the 80-foot cascade, park and embark on a moderate 2.6-mile round-trip hike. Most of the trail is paved, but take that with a grain of salt — at best, the pavement is rough, and it also doesn't extend all the way to Laurel Falls itself. It's definitely family-friendly, but not suitable for wheelchairs or strollers.
At the end of the trail, enjoy what many consider to be one of the most picturesque waterfalls in Tennessee. Laurel Falls is split into upper and lower sections, and there's a walkway at the base of the upper falls, which acts as a photo-worthy divider.
This is one of the busiest areas in the park, and it gets extremely busy. Don't park anywhere other than in a designated spot, or your vehicle will be towed! There is no other place to park for Laurel Falls, so arrive VERY early and have a backup plan.
The national park recommends Baskins Creek Falls as an alternative on especially days when you can't find parking.
Ramsey Cascades
Closest town: Gatlinburg (GSMNP)
Height: 100 feet
Hike required? Yes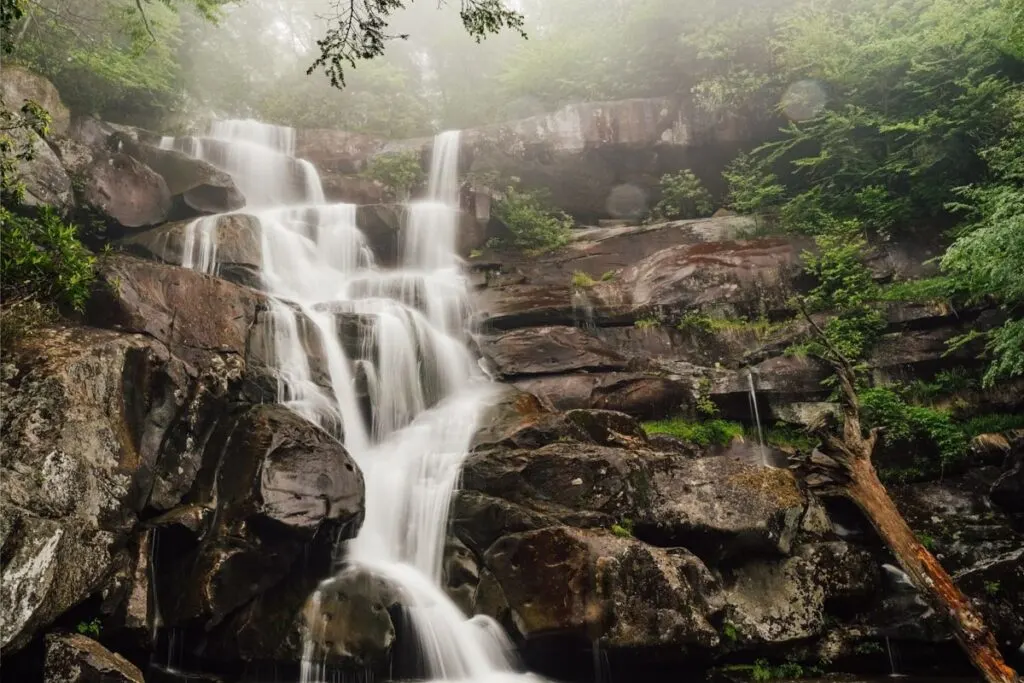 At 100 feet tall, Ramsey Cascades is the tallest waterfall in the national park. Seeing it with your own eyes, however, requires some effort.
Park visitors have to hike eight miles round-trip on a challenging trail to get to this gorgeous cascade. The trail gains over 2,100 feet of elevation in just shy of four miles, so prepare for a mostly uphill climb…and a steep downhill ascent on the way out, too!
The final half-mile is the most strenuous section, climbing over 400 miles.
Ramsey Cascades freezes in the winter, so this is one of the best waterfalls in Tennessee to check out year-round!
Note: if you've hiked to Ramsey Cascades before but it's been awhile, it may be worth going again. The park is installing a series of steps, set to be complete at the end of 2023.
Ozone Falls
Closest town: Crossville (1 hr 5 mins from Knoxville)
Height: 110 feet
Hike required? Yes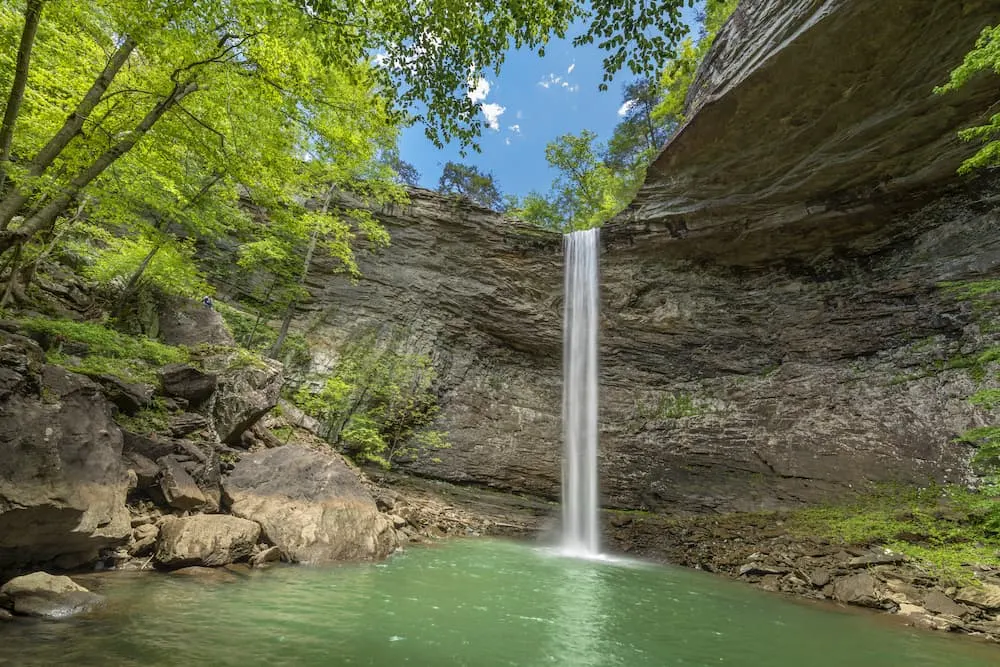 If bright blue-green Ozone Falls looks familiar, well, it probably is. This stunning waterfalls served as the backdrop for several scenes in The Jungle Book movie!
The 110-foot single-drop waterfall flows straight over a cap rock into the pool below, then seems to disappear underground. It doesn't; rather, it re-emerges several feet downstream, but this is just one more feature that makes Ozone Falls one of the best waterfalls in Tennessee.
An easy, flat 0.3-mile trail takes you from the parking lot to the top of Ozone Falls. The view is excellent, but if you want to go down to the base of the falls and its swimming hole, you'll need to go a bit further.
Follow the short, rocky trail from the bluff at the top of the waterfall down to its base, passing Gamblers Den on the way. This unofficial trail is steep, but should be manageable for most people.
At the base of the falls, check out the unique rock "amphitheater" behind it. This spot is perfect for enjoying a snack or snapping some photos from a unique perspective.
Swimming is allowed in the natural pool, but do so at your own risk, and we don't recommend it for children. The water here is extremely cold and the roaring waterfall creates a powerful current. A much better swimming hole is downstream just a bit, where the waterfall rejoins Fall Creek.
Upper Piney Falls
Closest town: Grandview (1 hr, 15 mins from Knoxville)
Height: 80 feet
Hike required? Yes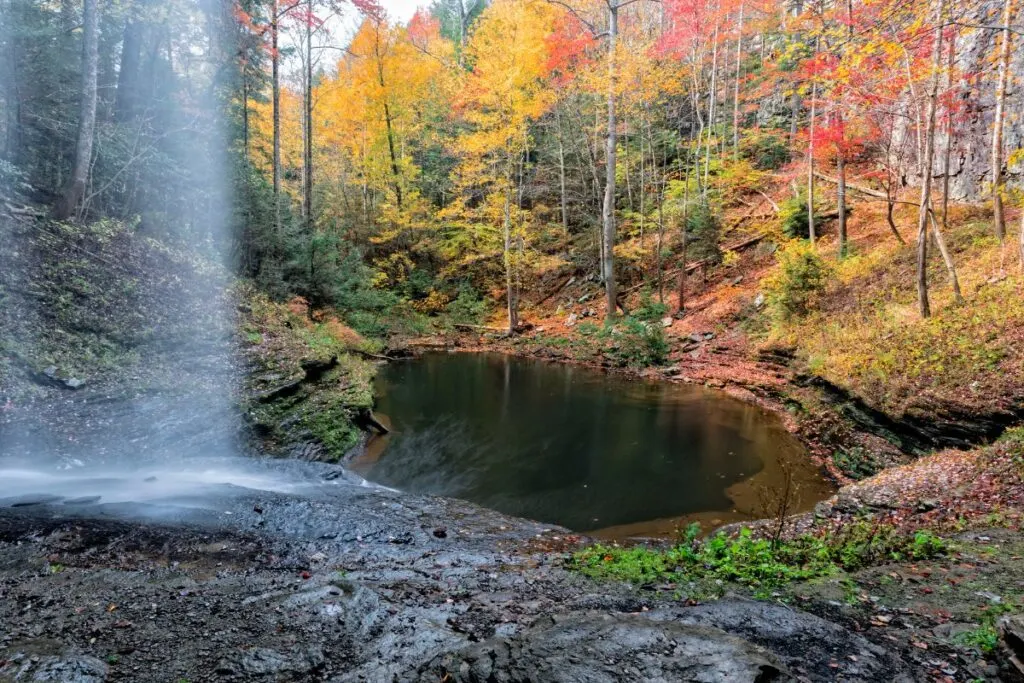 Upper Piney Falls is one of the most unique waterfalls in Tennessee, offering visitors the opportunity to go behind it!
To get to the waterfall, hike a moderately challenging 1.8-mile loop. Although the trails in this area aren't particularly popular, they're well marked and easy to follow.
Choose your own adventure with the hike, which means decide if you prefer to climb up or down. If you go left at the split in the trail, you'll start at the base of the falls, then climb up and over to the viewpoint from the top.
Going right has you start at the top of the falls, then climb down to the base. While this may initially sound like the better option, keep in mind that the ascent can be tricky, especially if the trail is wet and/or muddy.
If you're wondering about the "Upper" in the waterfall's name, yes, there is indeed also a Lower Piney Falls. However, it's not really accessible.
Taking a very steep detour from the Upper Piney Falls trail, you may be able to get a decent view of it from above, but we don't recommend it. Not only is the trail down more than a bit sketchy, but the 40-foot waterfall and obstructed views don't come close to Upper Piney Falls.
What other waterfalls in Tennessee deserve a special mention on this list? 💦 (There are so many, so bookmark this guide for safekeeping!)