Looking to grab a pint in Music City and something to do, maybe off-Broadway? Check out the best breweries in Nashville!
Many people don't realize it, but Nashville is so much more than neon lights, boot-scootin', and line dancin'.
Looking for Things to Do in Nashville? Tours in Nashville: 12 Best Music City Tours
Here, the vibrant sounds of country music and the clink of beer glasses come together in perfect harmony. The craft beer scene is definitely unique!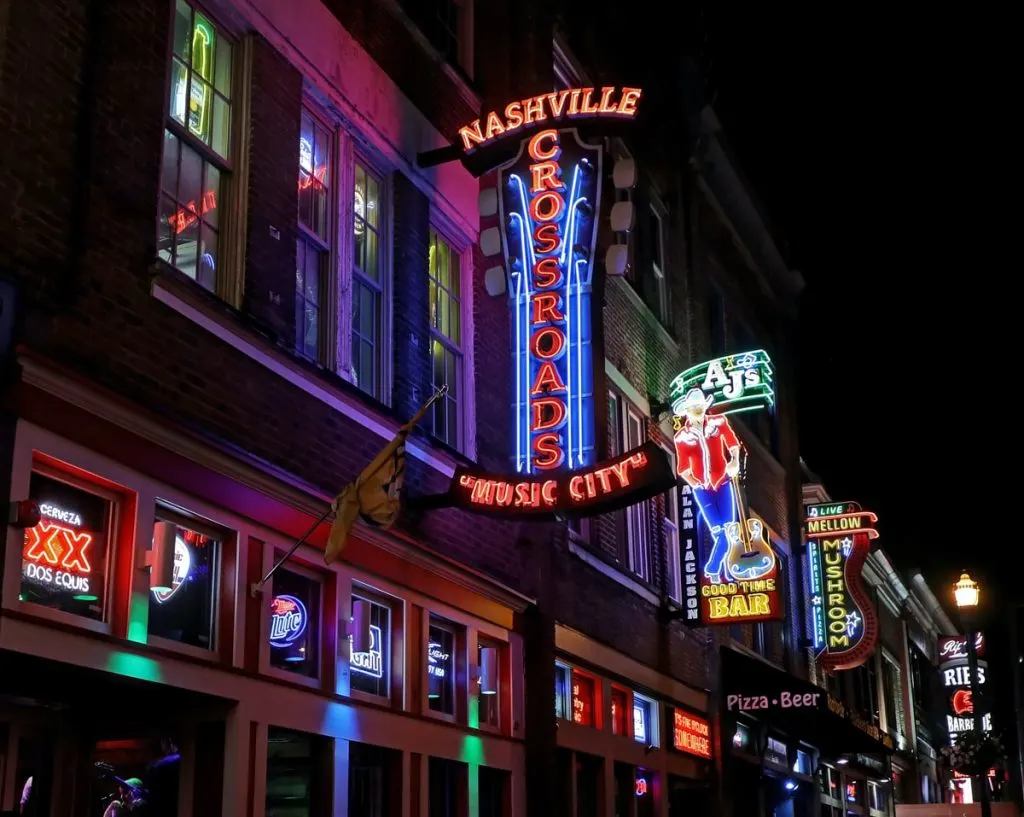 Whether you're visiting during the summer of during a festive Nashville winter, or are a serious beer enthusiast or a visitor wanting to (literally!) sample the local flavors, exploring Nashville breweries is one of the best things to do in this vibrant city.
Join us as we explore some of the best spots to raise a pint and enjoy some delicious food. As a bonus, many of these breweries allow patrons to bring their pup along! 🍻
Breweries in Nashville You Have to Check Out
Before we dive in here, please remember to sip responsibly. We want you to make your Nashville adventure one for the books, but only for good reasons! Cheers to good times and great beers!
1. Yazoo Brewing Company
Location: 910 Division St, Madison
Hours: Sun-Thurs 3-9pm, Fri 2-10pm, Sat 11am-10pm
Food: Yes – Small bites and rotating food trucks on weekends
Dog-friendly: Welcome on the patio
Yazoo Brewing Company, the literal OG of Nashville breweries, boasts a rich history of crafting exceptional brews that celebrate the spirit of the city.
In 2003, it became Nashville's first production brewery since Prohibition, 80+ years prior.
Then, it made history again in 2009, when it produced Sue, the state's first EVER legal high-gravity ale.
It's safe to say Yazoo knows a thing or two about the Nashville breweries scene.
The brewery, which today resides in the northeastern Nashville suburb of Madison, offers a diverse range of beers that cater to every palate.
One of the must-try concoctions is Dos Perros, a smooth and malty brown ale with hints of maize and chocolate. Of course, that smoky Sue is also a must…there's a reason BeerAdvocate called it "epic."
2. Bearded Iris Brewing
Locations: 101 Van Buren St (Germantown) & 4101 Charlotte Ave, Ste 40 in Sylvan Supply (West Nash)
Hours: Germantown Mon-Thurs 12-10pm, Fri & Sat 12-11pm, Sun 12-8pm | Sylvan Mon-Thurs 12-10pm, Fri 12-11pm, Sat 11am-11pm, Sun 11am-10pm
Food: Patrons can BYOFood at Germantown, plus the Cabin Attic food truck makes frequent appearances. Sylvan Supply has an onsite ramen shop.
Dog-friendly: Yes, on both patios
Pale ale fans, meet your new favorite Nashville brewery: Bearded Iris Brewing, affectionately known as BibCo. While BibCo offers a variety of beer styles, it's best known for its hazy and juicy IPAs.
In fact, one of their flagship beers, fruit (and Frosted Flakes!)-forward American IPA "Homestyle," has an almost cult-like following among Nashvillians.
Without a doubt, these folks have mastered the art of creating mouthwatering, hop-forward beers.
Beyond the beers themselves, both Bearded Iris taphouses are sought-out destinations in the city.
The Germantown location is BibCo's main production facility, right on the popular Nashville Greenway. The large, open taproom lets patrons watch the brewing and bottling processes and the vibe on the patio is upbeat and energetic, with people constantly coming and going.
In contrast, the Sylvan location is "more intimate and vibey." This taproom serves as Bearded Iris' research & developement hub, so the menu features primarily experimental and small-batch brews.
One especially unique thing about Sylvan is that it also shares a space with Black Dynasty Secret Ramen House. During the week, it opens at 5pm and it's open most of the weekend, serving a variety of ramen bowls plus bar snacks.
Because of Black Dynasty, BibCo at Sylvan Supply has slightly different food rules. When it's open, no outside food is permitted. BYO between 12-5pm during the week.
Note that both of these Nashville breweries are cashless, so be sure that you bring a card!
3. Southern Grist Brewing Co.
Locations: 754 Douglas Ave (East Nash) & 5012 Centennial Blvd (The Nations)
Hours: Both locations Mon-Thurs 12-10pm, Fri & Sat 11am-11pm, Sun 11am-8pm
Food: Onsite restaurants in both Nashville breweries
Dog-friendly: Yes – both locations welcome pups on the patio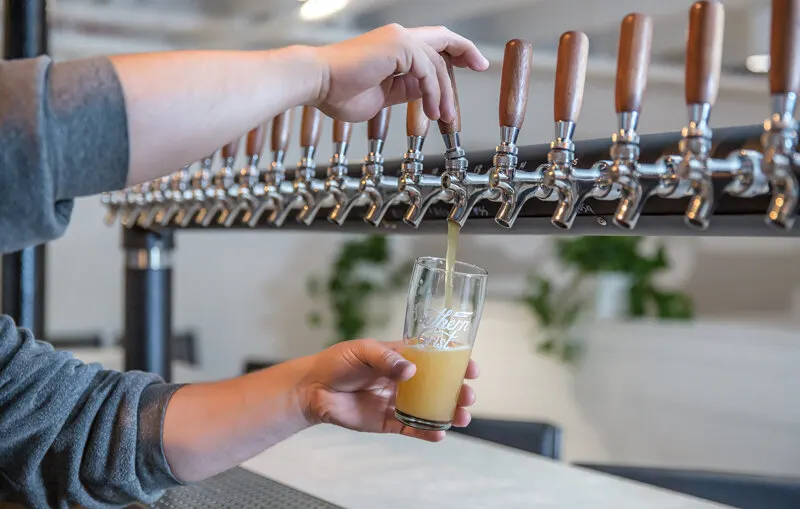 Southern Grist takes pride in its creativity, offering a diverse and ever-changing lineup of innovative beers that push the boundaries of traditional brewing.
With a focus on experimentation and small-batch brews, you'll find beers here that you won't encounter anywhere else.
For example, "Hill" is a base lactose sour (the closest thing Southern Grist will ever have to a flagship beer). However, depending on the season, you'll find one of many iterations.
There's the Imperial double-fruited vanilla with black currant and boysenberry, for one. Another great example is Imperial Grape Ice Cream Slush Hill.
Southern Grist has earned its reputation as one of the best breweries in Nashville with similar "series" in milk stouts and fruited sours.
As far as the physical taprooms, well, they're just as good as the beers.
The East Nash location, where the brewery got its start, has a full-service restaurant onsite, Lauter. It serves lunch, dinner, late-night bites, and Sunday brunch.
Over on the west side of town in The Nations, the second taproom sits in front of Southern Grist's production facility. That one features L by Lauter, a fast-casual take on the original restaurant. L by Lauter focuses on "creative experimentation" and has a constantly-changing seasonal menu.
4. Jackalope Brewing Company
Location: 429B Houston St, Wedgewood-Houston
Hours: Closed Mon, Tues & Wed 2-10pm, Thurs-Sat 12-11pm, Sun 12-8pm
Food: Limited small bites menu, plus regular food trucks
Dog-friendly: Welcome on the patio
As the first brewery in Nashville to can its own beer, Jackalope Brewing Company holds a special place in the hearts of locals and visitors alike.
Its brewery does, as well, known locally as "The Ranch." Here, Jackalope brews and cans its four permanent beers, two seasonals, and an ever-changing lineup of limited releases.
When you visit, make sure to try a Bearwalker, an American brown ale infused with 100% Vermont maple syrup. Thunder Ann is another great choice, a hoppy, citrusy pale ale with notes of honey.
Interested in learning more about the brewery? Take a 45-minute tour, which includes a souvenir pint glass and exclusive beer tasting. Three tours are offered every Saturday afternoon, and advance reservations are highly recommended.
Not only is Jackalope dog-friendly, but it's also one of the most family-friendly breweries in Nashville. There's a nice selection of board games inside and outside, you can play shuffleboard. They even offer kiddos Jackalope antlers!
In terms of food, Jackalope offers small bites, including charcuterie and a soft pub pretzel. Local food trucks also frequently park outside, and guests are always welcome to bring their own food.
Bonus: Rent The Loft, the brewery's second floor, for private events.
Double bonus: Every month, Jackalope donates 20% of sales from one beer to a local non-profit.
5. TailGate Brewery
Locations: 7300 Charlotte Pike, West Nash (HQ) + 4 other locations throughout Nashville
Hours: Sun-Thurs 11am-9pm, Fri & Sat 11am-10pm
Food: Extensive menu focused on craft pizza
Dog-friendly: Dogs welcome on all the breweries' patios
TailGate Brewery is all about creating a friendly, inviting atmosphere for beer lovers of all kinds. Beer lovers and pizza lovers, that is!
With a vast selection of beers (and ciders, and seltzers, and non-alcoholic options…) on tap, everyone will find something to love here. The craft pizza offerings are equally varied, with a nice mix of classics and you-gotta-try-it-to-believe-it combos.
The Goat Cheese, Prosciutto, and Fig Jam pizza comes to mind, as does the Whipped Ricotta pizza, which features honey-whipped ricotta with sausage and pepperoni. Whichever route you go, beer and pizza are basically the perfect combination!
Aside from its impressive 20,000 square-foot West Nash headquarters, complete with a huge outdoor beer garden and bar, TailGate runs four other taprooms in Music City.
Music Row (also home to TailGate Cider Co., the city's first craft cidery!)
East Nashville
Germantown
Nashville Airport, C Terminal
In addition to its Nashville breweries, TailGate also has two others, in different Tennessee cities. One occupies an amazing historic building in Chattanooga, while the other overlooks Old Hickory Lake in Hendersonville.
Hungry? 18 Best Restaurants in Nashville (Delectable Places to Eat)
6. Tennessee Brew Works
Location: 809 Ewing Ave, Pie Town
Hours: Mon-Sat 11am-10pm, Sun 11am-8pm
Food: Yes – Small but well-curated food menu
Dog-friendly: Leashed dogs always welcome on the patio
Beer, a "beer centric food menu," and live music…what more could you ask for from a Nashville brewery?! Tennessee Brew Works offers all that and more, including being able to watch part of the onsite brewing process.
Combining the essence of Tennessee's natural beauty with craft brewing, the brewery offers a nice range of high-quality beers. Its commitment to sourcing local ingredients makes the brews even more appealing!
Don't leave without trying the State Park Blonde, a light, smooth ale that pays homage to the state's stunning outdoor destinations. Not only is it highly drinkable in any season, but a portion of proceeds goes to Tennessee State Parks Conservancy. Also, it's the official beer of TN's state parks!
🍔 Grab lunch at one of these Food Trucks in Nashville!
Don't miss Happy Hour Monday through Friday from 3-6pm, as well as themed daily specials most days. These include Monday Open Mic Night, writers' round performances on Tuesdays, and Bluegrass Wednesdays, plus 2-for-1 brews.
You can usually count on solid food offerings at most breweries in Nashville, but the menu here really stands out. Just about everything is made in-house and better yet, incorporates beer! For example, the Southern Grilled Cheese uses Southern Wit beer bread and the falafel uses spent grains.
Finally, Tennessee Brew Works also offers brewery tours on Saturday afternoons. The 1-hour tours have small groups of 10, and include samples and a souvenir pint glass. We recommend reserving your tour in advance.
Local tip: Tennessee Brew Works is near Nashville staples Peg Leg Porker and The Listening Room.
7. Smith & Lentz Brewing
Location: 903 Main St, East Nashville
Hours: Mon-Thurs 3-10pm, Fri & Sat 12-10pm, Sun 3-9pm
Food: Full menu centered around artisan pizza and salads
Dog-friendly: Welcome outside on the patio
Nestled in East Nash, Smith & Lentz Brewing is a hidden gem known for its friendly staff, welcoming vibe, and delicious food.
We already touched on what a winning combo beer and pizza is, but Smith & Lentz takes it to the next level. The craft brewery makes incredible rustic sourdough pizzas, as well as farm-fresh salads and…drum roll…their own ice cream!
The food here is so good that Nashville Scene even named the pizza the best in the city in 2022. Believe it or not, the simple, classic pies are the best, but you also can't go wrong with the Corn Pie. This standout includes golden tomatoes, sweet corn, and jalapenos.
Okay, so you know you'll eat well at Smith & Lentz, but what about the beer? The selection focuses on lighter styles such as IPAs and pilsners, and they're especially well-known for their Czech pils. This isn't a common style among breweries in Nashville!
Smith & Lentz also offers guest drafts and cans to round out its selection. Options change frequently, but you're likely to find sours, ciders, seltzers, and kombucha.
Note that parking is limited to the front of the building and on the street, so if possible, carpool, walk, or take rideshare.
8. Black Abbey Brewery
Location: 2952 Sidco Dr, Radnor
Hours: Sun-Fri 2-8pm, Sat 12-8pm
Food: No in-house menu, but they often have food trucks
Dog-friendly: Yes – the patio allows dogs
Stepping into Black Abbey Brewery feels like entering a beer lovers' sanctuary. And we mean that literally, because it has a monastery theme!
The motto is, "Baptizing new believers 12 ounces at a time."
Keeping with the monastic theme, Black Abbey takes inspiration from the rich traditions of Belgian brewing.
One of its standout brews is The Rose, a blonde ale with a touch of banana and clove.
The physical space, known as Fellowship Hall, sets itself apart from other breweries in Nashville. It's designed to look like a monastery, of course, but it's also casual and very inviting. You'll find seven large communal-style wooden tables, along with tons of board games.
While Black Abbey doesn't have a kitchen, they do bring in food trucks regularly. And don't miss the popular fun events, including trivia nights, Books and Brews, and live music.
>>Also Read: Music City Bucket List: 25+ Best Things to Do in Nashville <<