Whether you're visiting Erwin, Tennessee for hiking to a waterfall, rafting the Nolichuky River, or simply passing through from a road trip to Asheville, you may want to know where you can find the best food Erwin has to offer.
Erwin offers plenty of things to do, including an array of outdoor activities. Are you looking to grab breakfast before a morning hike? Or perhaps something light for lunch before tubing down the Nolichuky River.
We've compiled a list of the best restaurants in Erwin, TN, with a few restaurants in Unicoi to add to the mix.
So, if you're looking for the best places to eat in Erwin, then keep reading to see who made the list! 👇
10 Best Restaurants in Erwin, TN
1. Clinchfield Sub Station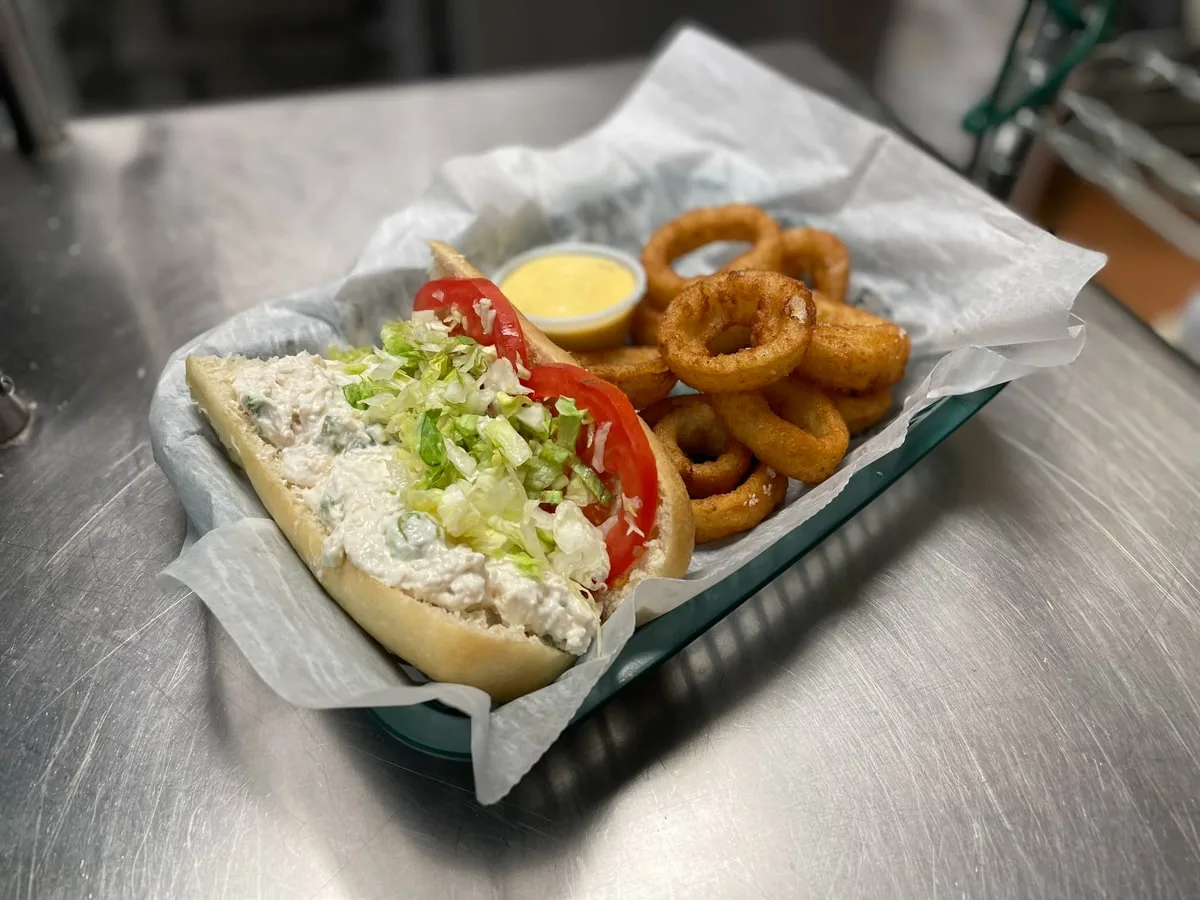 Sandwich Shop
Hours: Monday-Friday 11am – 7pm
Voted as 'Tri-Cities Best Deli' by WJHL, Clinchfield Sub Station is a must-stop when visiting Erwin, TN!
Clinchfield serves hot and cold sub sandwiches with freshly baked bread as well as delicious hamburgers that were nominated as 'Tri-Cities Best Burger' in 2022.
Try the California Chicken Sub or the Philly Chicken, they won't disappoint! But really, anything on the menu is delicious. We haven't tried it ourselves, but we've also heard their sweet tea was pretty great, let us know if you try it!
2. Noli Truck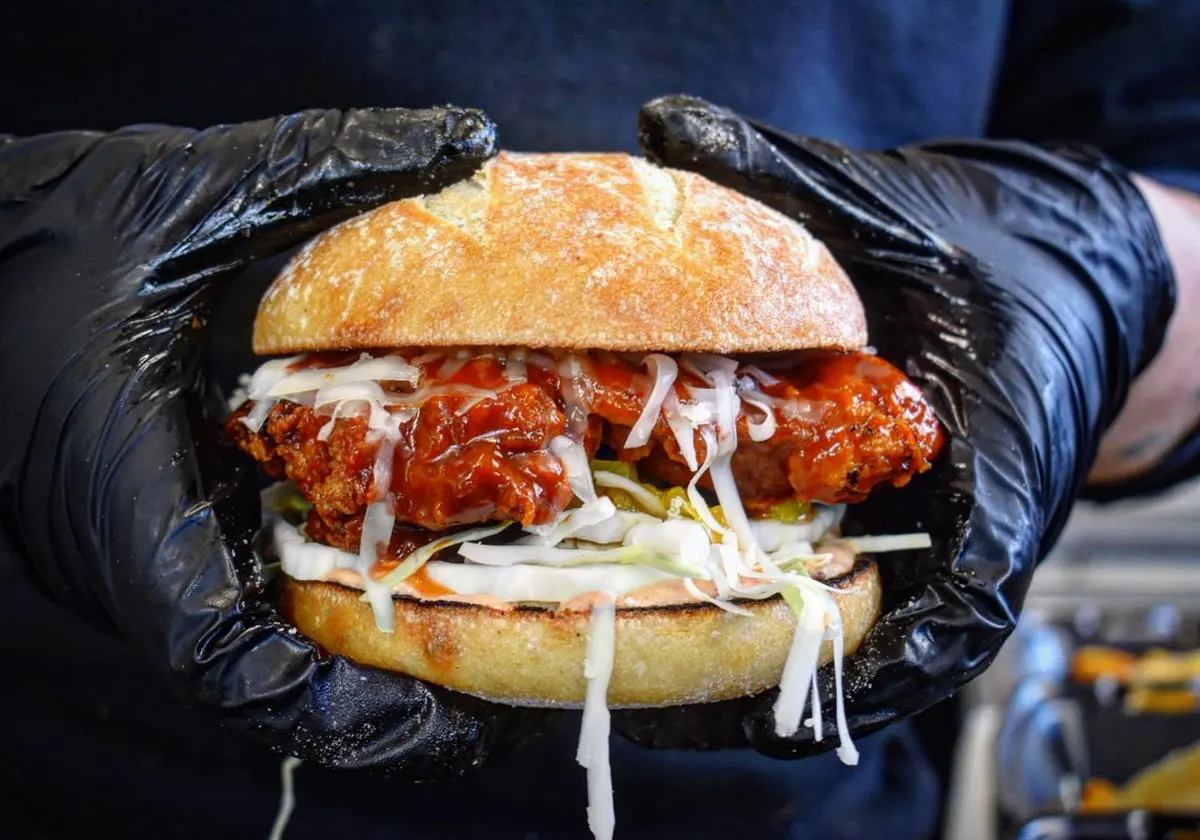 Food Truck
Hours: Varies
Location: 202 N Main Avenue, Erwin TN (Permanent Location)
Noli Truck is one of the best places to eat in Erwin. Noli is a food truck, permanently parked outside of Scott's Farm Market.
This food truck serves scrumptious tacos and sandwiches made with farm-fresh ingredients from their neighbors at Scott's Farm.
We recommend the Hot Chicken Sandwich or the Carolina Blonde Tacos (smoked pork shoulder tossed in Carolina blonde mustard, honey poppy-seed slaw, topped with sprouts).
After lunch, stop by Scott's Market for some delicious homemade ice cream!
Check Noli's Instagram page for daily updates & menu options.
3. Clarence's Drive-In
Diner
Hours: Tues-Saturday 6am-9pm / Closed Sun & Monday
Clarence's Drive-In is a "mom & pop" style restaurant in Erwin where the locals come for breakfast, lunch, or dinner.
For home-cooked southern-style food, you can't get much better. Breakfast is served all day, and you'll find guest favorites from hamburger steak to biscuits and gravy.
If you're coming from Asheville or Johnson City, Clarence's is conveniently located right off the interstate at exit 36.
Menu prices are reasonable, expect to pay $10-$20 per person.
4. The Dogwood Cafe at 27
Breakfast & Lunch
Hours: Mon-Friday 6am-2pm / Closed Sat & Sunday
Right off of exit 27 (hence the name), and 10 minutes from downtown Erwin, you'll find Dogwood Café — a great place to eat near Erwin for breakfast and lunch.
Breakfast is served all day, with favorites such as eggs, pancakes, and biscuits & gravy. Lunch includes burgers, hot dogs, and chicken salad, with rotating specials such as pulled pork sandwiches.
Dogwood Café was once open for dinner but unfortunately had to change their hours to breakfast and lunch only. As they are open so early (6am), they make it easy to grab breakfast before beginning your day.
5. Whistle Stop Deli & Catering (Unicoi)
Deli
Hours: Tues-Saturday 9am-5pm / Closed Sun & Monday
Whistle Stop Deli & Catering is a great place to eat in Erwin as they provide a large menu and daily specials.
From hot sandwiches such as Philly cheesesteaks to delicious Reuben sandwiches, wraps, hoagies, and daily specials such as pan-fried chicken Tuesdays and BBQ Pork on Saturdays.
Not only do they make good food, but they also make made-to-order desserts, including cakes, pies, and cupcakes.
6. The Groovy Smoothie
Healthy Options
Hours: Tues & Thurs 8am-5:30pm / Wed & Fri 8am-5:00pm / Sat 10am-3pm/ Closed Sun & Monday
If you're looking for healthier meal options in Erwin, head over to The Groovy Smoothie.
Grab a smoothie for something light, or a wrap if you're more hungry. They also have bowls, protein shakes, power oats, and salads.
Opt for the grilled chicken wrap and the purple haze smoothie — both delicious!
This would be a great option for lunch after a morning hike to refuel all those calories you burned.
7. Dari Ace
Diner
Hours: Mon-Friday 8am-7pm / Closed Sat & Sunday
Dari Ace is a 50's themed diner in Erwin, TN with retro chairs & decor serving breakfast, lunch, and dinner throughout the week.
Expect your usual diner food options from chicken biscuits to burgers and sandwiches.
And for something sweet, you can choose from many different milkshake options like malt milkshakes and rootbeer floats, as well as delicious desserts such as the strawberry shortcake pictured above.
The atmosphere is the cherry on top, with a unique 50s-themed setting.
8. Tacos & Grill
Mexican
Hours: Mon-Saturday 10am-9pm / Closed Sunday
If you're looking for delicious & authentic Mexican cuisine in Erwin, we recommend trying Tacos & Grill.
With freshly made tortillas and salsas, you can't go wrong with most options on the menu.
Breakfast is served all day with favorites like huevos rancheros and chilaquiles. The guacamole is fresh and the tacos will transport you right to Mexico.
And for dessert, try the flan.
9. Maple Grove Restaurant (Unicoi)
Southern
Hours: Closed Monday, check website for hours
For your southern home cooking fix, try out Maple Grove Restaurant in Unicoi.
Breakfast is served all day with options such as blueberry biscuits, omelets, french toast, pancakes, and breakfast sandwiches, to name a few.
Hamburger steak, fried fish, ribeyes, and sandwiches are a few options you can find on the dinner menu.
10. Hibachi House
Japanese
Hours: Mon-Thurs 11-8pm / Fri & Saturday 11-9pm / Closed Sunday
Head over to the Hibachi House if you're looking for Japanese food in Erwin.
It may not look like much from the outside, but the reviews of this place helps prove that the food is good.
Try the egg rolls and the Hibachi chicken with a side of sweet carrots.
Other Places to Eat In Erwin:
Burnout BBQ & Grille (Currently closed for renovations)
Looking for more food options near Erwin, TN?

Read more here: 25+ Best Restaurants in Johnson City
Featured Image Credit: The Groovy Smoothie