While the small town of Bristol, Tennessee-Virginia isn't overflowing with breweries left and right, it does have several awesome craft breweries and taprooms that will satisfy your craving for a cold pint!
Listed below are the breweries and taprooms in Bristol TN-VA and what they are best known for.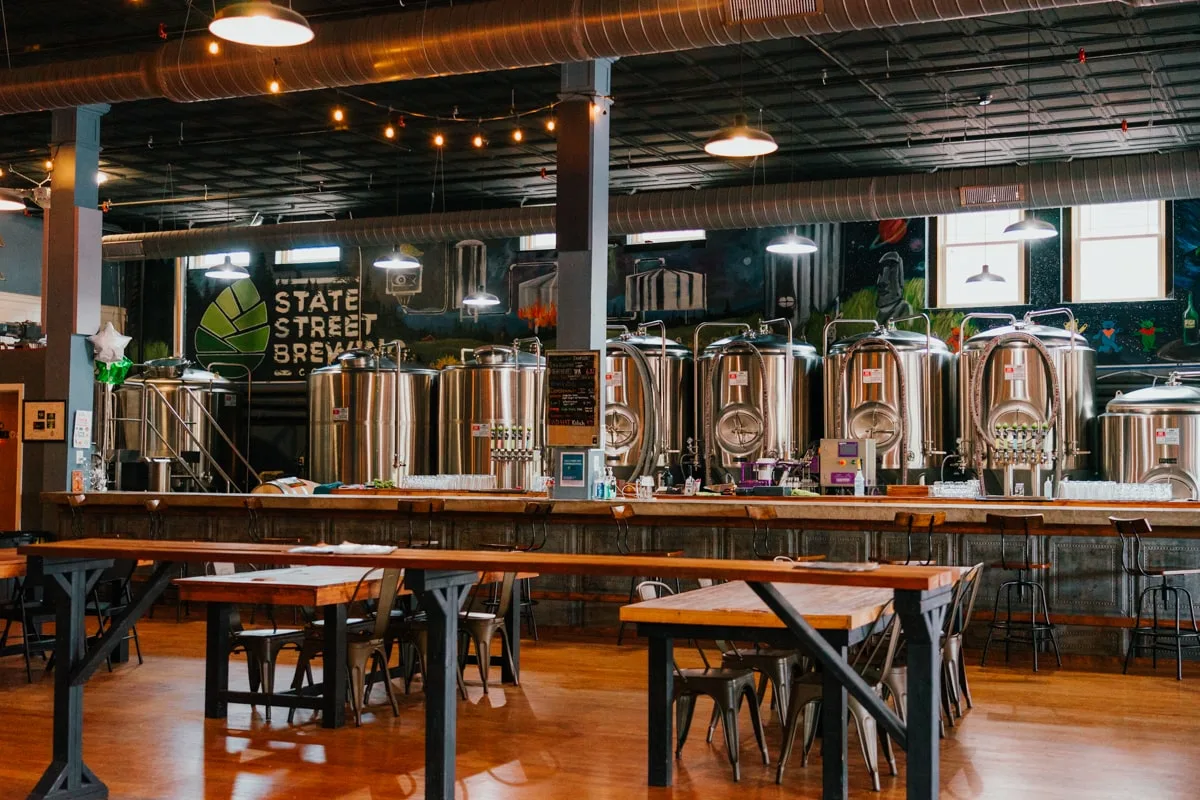 As you'll see, each place offers a unique atmosphere and a wide range of flavors—from classic brews to seasonal favorites to fun sours and more.
Note on breweries in Bristol: Bristol Station Brews & Taproom is permanently closed. Find our top recommendations below!
The Ultimate Boozy Guide to Bristol's Breweries & Taprooms
1. State Street Brewing
📍Location: 801 State St, Bristol VA
⏰ Hours: Wed/Thurs 4–10pm, Fri/Sat 10am–12pm, Sun 12–6pm, Mon/Tues closed
🍺 Menu: Craft Signatures, Seasonal, Small-Batch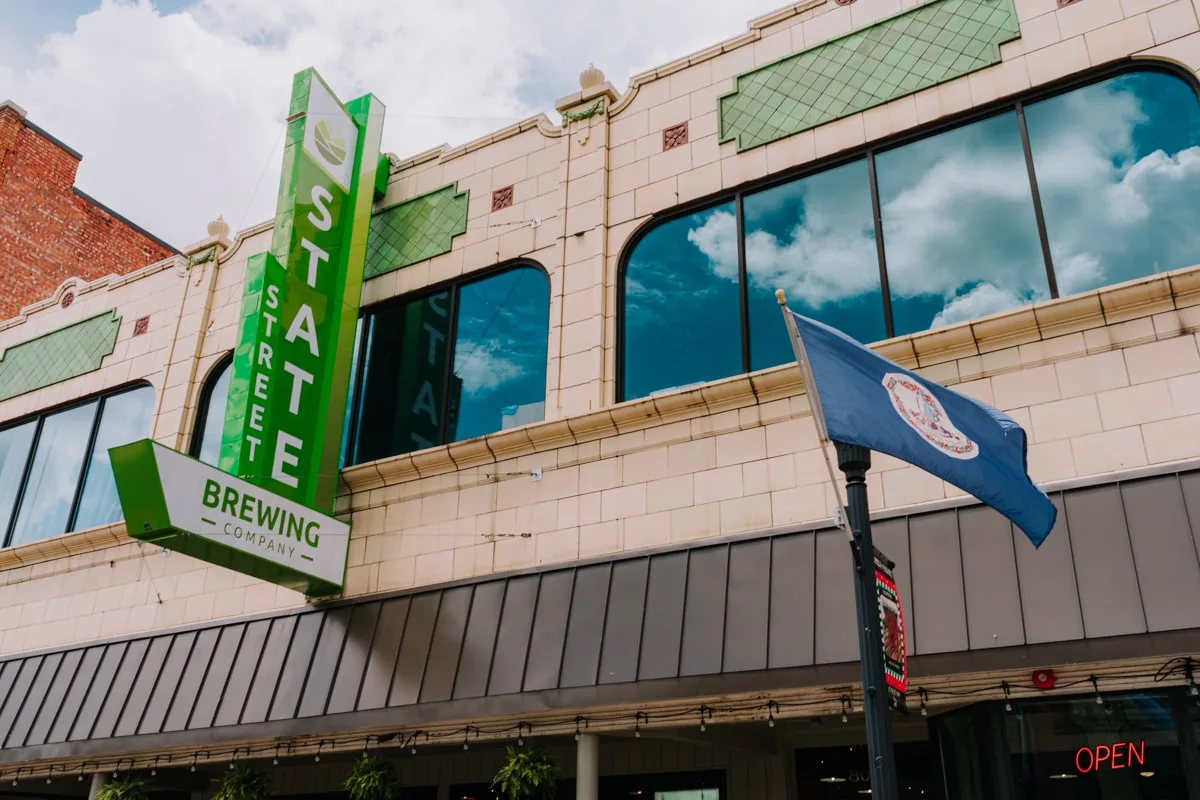 One of our favorite breweries to stop at when we visit Bristol is none other than State Street Brewing.
This funky and spacious craft brewery is located right in the heart of downtown Bristol, on the Virginia side of State Street (sorry, Tennessee!).
Step inside State Street Brewing and you'll find a large open layout with a sprawling bar and rotating drafts on tap, plus arcade games, a ping pong table, and lounge area.
Year-round, you can enjoy their signature brews: Trail Runner (Light Lager), High Hopes (IPA), Long Tom (Peanut Butter Porter), and Steele Creeke (Amber Lager).
"State Street Brewing Company has one mission — to brew enjoyable, flavorful, and unique beers. We are inspired to help Bristol crown itself as a brewer's destination while giving the Bristol community a place to enjoy quality craft beer."

State Street Brewing Co.
They also serve up small-batch series and fun seasonal flavors. For example, during winter, you might find a Red Velvet (Chocolate Cherry Stout) while in summer you could try a citrusy cilantro ale with habanero.
We visited during the summer with family and enjoyed the breeze through the open windows, games, and laid-back atmosphere!
Beyond its brews and vibes, SSB also hosts weekly "Taproom Trivia Thursdays" and themed events like Disney, Star Wars, or Harry Potter. Stay in the loop on their Instagram or Facebook page.
2. Elderbrew
📍Location: 24 6th Street, Bristol TN
⏰ Hours: Mon–Tues closed, Wed–Fri 5–10pm, Sat 3–10pm, Sun 1–6pm
🍺 Menu: Small Batch
Elderbrew is Bristol's first and only nano brewery, offering small-batch, hand-crafted ales that you can sample in their cozy tasting room.
True to their mission, they brew only one barrel at a time to ensure you get the consistently great-tasting beer that you came for.
The Black Lodge, Elderbrew's flagship, is a bold, dark, yet smooth Imperial porter (ABV: 7%, IBU: 55).
Their signature dark, edgy theme continues with their English dark mild brew "Bring Out Your Dead" and their "Take the Black" seasoned with chocolate bitters.
Another unruly flavor you've likely never tried in any brewery is their Thai Fighter—a pad-thai inspired Pale Ale flavored with locally-grown Thai chiles, toasted coconut, and peanuts.
This crisp yet fiery brew will transport you right back to Southeast Asia. (Wouldn't that be epic!)
The takeaway? At Elderbrew, you will find unique flavors and creations made with quality and craftsmanship in mind. Check them out and follow along on Facebook.
3. Cascade Draft House
📍Location: 828 State St, Bristol TN
⏰ Hours: Mon–Thurs 2pm–10pm, Fri/Sat 2pm–12am, Sun 2pm–9pm
🍺 Menu: Rotating tap; see below
The popular Cascade Draft House has been serving craft beer sourced from Tennessee and beyond in historic downtown Bristol since 2019.
With over 40 rotating taps, they are the tap house in Bristol with the most variety. They are constantly (and carefully) choosing the best craft ciders, brews, seltzers, and—my favorite—sours, for rotation.
That means each week you could stop by and try a new flavor!
Throughout the week after 5pm, Cascade Draft House features local live music and some of the best food trucks in the Tri-Cities.
What's more, CDH serves not only local brews from Johnson City's best breweries or Knoxville's breweries, but also award-winning favorites from breweries in neighboring states like Kentucky or North Carolina.
For that reason, the Cascade Draft House is a great place in Bristol to buy craft beer and booze to go.
4. Michael Waltrip Brewing Co.
📍Location: 221 Moore St, Bristol VA
⏰ Hours: Sun–Thurs 11am–10pm, closed Tuesday, Fri/Sat 11am–11pm,
🍺 Menu: N/A, website coming soon
Michael Waltrip Brewing Co. is relatively new to Bristol's brew scene, but it's quickly becoming a local's favorite place for a pint paired with some pub grub.
If you don't know who Michael Waltrip is, he is a two-time Daytona 500 NASCAR champion.
Catching a race at the famous Bristol Motor Speedway is one of the best things to do in Bristol, so it's fitting that Michael would open his own brewery and taproom here.
According to an article published by WJHL, the shiny new brewery took up residence inside the 10,000 sq. ft former Studio Brew on 221 Moore St.
Stop by the beer garden to taste "Mikey's beers"—from signature American Lagers to seasonal creations—and chow down on burgers and wings from the kitchen; the best combo for watching the NFL game! Open every day except Tuesdays.
More Places to Grab a Drink in Bristol
If you're looking for even more places in and around Bristol for responsible drinking, there are several restaurants and grills in Bristol serving drafts on tap (from the breweries) such as:
Stateline Bar & Grille
Drake's Bristol
Cootie Brown's
O'Mainnin's Pub & Grill
The Bristol Pour House
And even though it's not a brewery, you should also swing by Bristol's Lost State Distilling—voted America's "Best New Craft Distillery."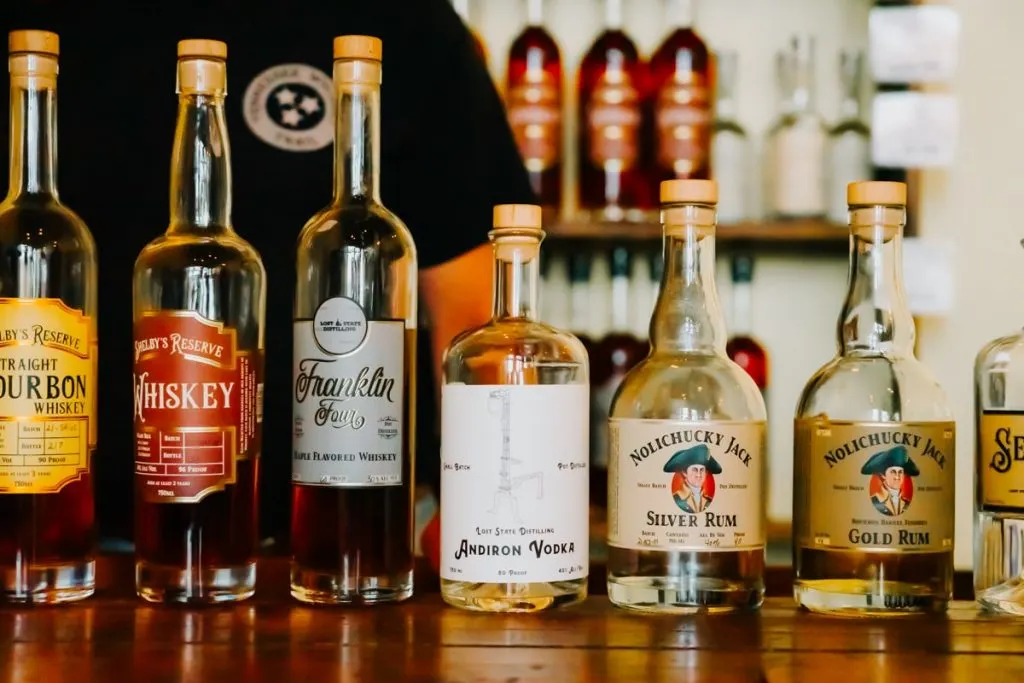 This family-owned craft distillery produces small batch spirits such as Tennessee Whiskey, Rum, Gin, and more. Stop by for a sampling and take home a bottle!
Again, our favorite brewery in Bristol goes to State Street Brewing Co. 🍻
But we love how diverse the brew flavors and styles of establishments are between just the above-mentioned four breweries in town!
No doubt, the Tri-Cities are definitely upping their game when it comes to the beer scene.
Do you have a favorite brewery in Bristol or nearby? Drop your favorite brews in the comments!
Pin it!