In need of caffeine while in town? From breakfast joints to funky cafes to even an airstream trailer, here are the best places to grab a coffee in Johnson City!
While Johnson City is better known for its food trucks and breweries, its cute café scene isn't too far behind. A couple of years ago, you wouldn't have found a coffee shop in Johnson City that offered more than a simple cup of to-go Joe before hitting the road again.
But now you can find a handful of coffee shops where you can take your time; savor the food and drinks, work on your laptop, and enjoy a sweet treat or two. And more cafes are popping up every year!
As a blogger and freelance writer, I get to call many of these coffee shops my "office" for the morning or afternoon, so I'm always on the search for decent coffee shops wherever I go. Johnson City doesn't have dozens to switch between, but there are a couple I find myself going back to again and again.
Whether you're looking for the best coffee in town or the best coffee shop with wifi to get some work done or write that paper, you'll find what you're looking for in this guide to Johnson City's best cafes!
The 7 Best Coffee Shops in Johnson City
1. Open Doors Coffeehouse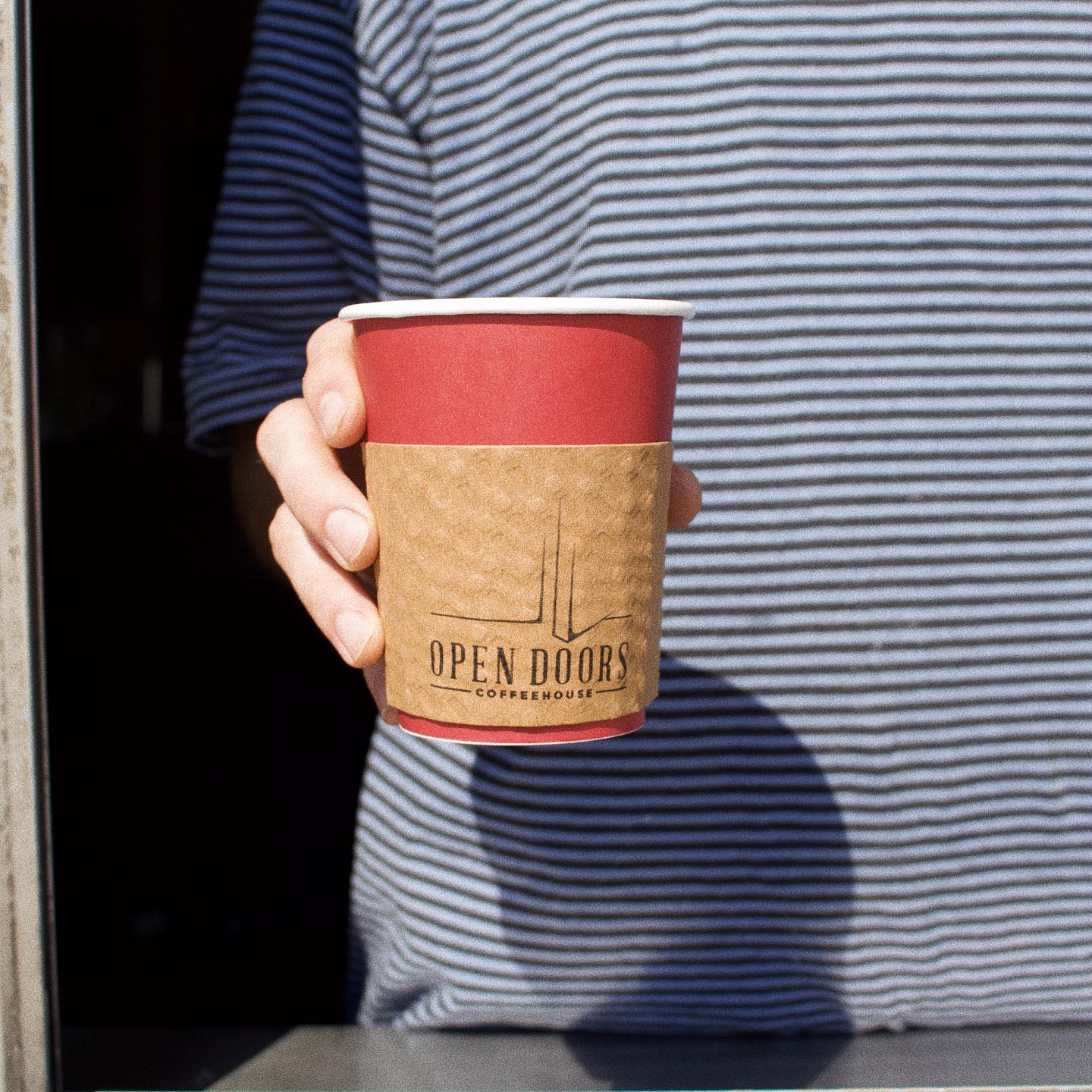 Hours: M–F 7am–5pm, S-S 8am–5pm
Prices: $2.50–$5, food $5–11
Location: 101 E 8th Ave
Specialty: Creative drinks, seasonal flavors, Belgian waffles
Open Doors Coffeehouse has been awarded the "Best Coffee Shop in Johnson City" four years in a row. Locals love the coffee, the food, the staff — all of it! Not only do they whip up great breakfast and lunch, but their Crimson Cup coffee and tea, creative drinks, and sweet service are also what add to their renowned reputation.
From the shop to the friendly service to the seasonal drinks (not to mention their all-day Belgian Liège waffles and special cinnamon roll waffle!!), there's a lot to love about this locally owned coffeehouse.
You can stop by Open Doors for breakfast until 11am and lunch until 3pm. On the go? They have a convenient drive-thru for that! When the weather is nice, their wooden terrace is a quaint spot to enjoy your coffee or meal outside.
2. Dos Gatos Coffee Bar
Hours: 8am–5pm every day
Prices: $2.50 – $5.00
Location: Downtown Johnson City (238 E Main St)
Specialty: House crafted syrups, creative blends
One of my favorite coffee shops in Johnson City is actually the same one I discovered several years ago (although, now it's gotten a glow up!). The Dos Gatos Coffee Bar is located in the heart of downtown Johnson City, right across from the Johnson City Brewing Company.
Before you jump ahead of me, this isn't a cat café filled with cats. There are only coffee vibes here, but that's plenty enough to sit back and relax with a cozy drink and book in hand.
As for their menu, you can expect classic yet creative coffee blends, housemade syrups, and delicious teas (chai latte, golden milk, matcha). They also have a simple brunch-style food menu with toasts, quiche, and healthy plates.
Thanks to their convenient location, there's no excuse not to drop in for a mid-day treat!
3. Blue's Brews Airstream Cafe
Hours: M–F 6–6pm, Sat 8–5pm, Sun 10–2pm
Prices: $$
Location: 525 West Market St (parked outside The Cookie Crate)
Specialty: Coffee blends, homemade syrups, treats
We love Blue's Brews, owned by Sarah and her partner and their pup, Blue! If you haven't noticed, Blue's Brews (and crew) serve specialty coffee and treats from a vintage airstream trailer that's parked right outside The Cookie Crate (another local fave).
You'll find pretty much every type of coffee you could wish for at Blue's Brews, with homemade syrups and seasonal drinks to celebrate the holidays (red velvet white mocha, anyone? ❤️). Not only that, but these guys support local initiatives and try to give back with community resources and pay it forward.
You can order their coffee online on DoorDash and Odeko, or sign up to their coffee bag subscription program to receive Cooperative Coffee Roasters (from Asheville, NC) right at your door.
You can't come to Johnson City and not stop by Blue's Brews when the caffeine craving hits. Did I mention they have a signature Butterbeer Latte?!⚡️
In sum, run here when the weather is pleasant and feel free to bring your leashed pup, too! (Oh, and grab some cookies next door while you're at it.)
4. Colombian Coffee Exchange
Hours: M–F 7–5pm, Sat 10–5pm, closed Sundays
Prices: $
Location: 1701 West Market St
Specialty: Colombian coffee and snacks, fruit smoothies, & salsa dancing lessons
Craving real coffee from Colombia? If so, head to the Colombian Coffee Exchange in Johnson City for awesome Colombian-style coffee, snacks like tamales and pandebonos (Colombian cheese bread), and fresh fruit smoothies!
In fact, this place always gives me major nostalgia from my time living in Colombia! The coffee there is the best we've had, and the Colombian Coffee Exchange does a great job at bringing that experience all the way to east Tennessee.
Next, their interior is cozy and inviting with friendly faces. There's a designated student work area, bar, tables, and sofa lounge seating. You will find these guys right to Amigos in JC. Look out for their rotating food truck partners, such as their partnership with L'Churros (what goes better with coffee than churros?!).
💃 Moreover, if you've ever wanted to try your hand (or feet?) at salsa dancing, then stop by for salsa nights at Colombian Coffee Exchange ($12/individual or $20/couple). They close down the dining room (drive-thru stays open, though) and offer salsa dancing lessons!
5. Bebettes
Hours: 7am–5pm, every day
Prices: $4 – $5, menu
Location: 811 W. Walnut St
Specialty: Funky drink flavors, sweet/savory beignets
Bebettes is a magical and funky coffeehouse in Johnson City serving up fresh, made-to-order coffee and lattes in New Orleans style (and yes, that does mean they have delicious beignets!).
Admittedly, Bebettes isn't much to look at on the outside. However, it's what's on the inside that matters—right, folks? And on the inside is great coffee, specialty drinks, and friendly service!
In addition to the classics, they also whip up seasonal drinks, like their popular Peppermint Mocha and Cookie Butter Latte. Also, their beignets are also to die for if you have a particularly sweet tooth (or even salty tooth—they serve savory beignet sammies, too!).
ETSU students get 10% off with an ID!
6. Pike House Coffee Company
Hours: M–F 7am–6pm, Sat 8–5pm, Sun 9–2pm
Prices: $
Location: Burlington Park, 2203 McKinley Rd
Specialty: Fresh coffee, breakfast/brunch bites, events
Pike House Coffee Co. is a relatively new coffee shop in western Johnson City oozing welcoming, mysterious vibes with gothic and antique decor. Spacious yet cozy, it invites all to swing by and enjoy a fresh cup of coffee by the fire with a book in hand.
Their coffee menu covers all the classics and lattes, with a few specialties (peep that Lucky Charms Latte!). They also serve nitro brews, cold brews, smoothies, and food like toasts, oatmeal, and bagels (from Wheeler's Bagels).
What's more, if you have a book club, you can host your group at Pike House! These guys also refurbish old furniture and resell, so follow their Facebook page for updates.
Additionally, if you're a student or remote worker, Pike House is a great option to whip out your laptop with fast wifi, outlets, tables and bar window seating, and an overall quiet atmosphere.
7. The Nutty Java
Hours: Mon–Sat 11–8pm, Sun 12–6pm
Prices: $$
Location: Inside the Johnson City Mall food court (2011 N Roan St)
Specialty: Frappes, Lattes, sweet and savory snacks
The Nutty Java is a local coffee shop located inside the Johnson City Mall. Whether you're out doing a bit of shopping or are in the area, this sweet little shop is a great place to stop by and enjoy coffee with a treat.
Plus, not only do they serve up delicious coffee blends (customer fave: dirty chai latte with almond milk!), but they also make pastries, sandwiches, hot chocolate, smoothies, and other savory bites.
You'll find The Nutty Java located in the food court of the Johnson City Mall!
Final Thoughts
The above cafes, breakfast joints, and coffee shops are all equally wonderful spots to grab a coffee with friends, work on your laptop, or get a bit of studying done. Still, keep an eye on this list as we'll be adding more coffee shops to visit in Johnson City as they pop up!
Which one of the above cafes caught your eye the most?
In brief, all of these are great choices for different reasons, but if we were to choose some faves from this list, we'd have to say that we love Blue's Brews for their style and joy to serve and Dos Gatos for their location and conviviality!
Finally, let us know if you have any other coffee shops in Johnson City to recommend us, and we'll check 'em out!
SAVE TO PINTEREST!
Featured image credit: Blue's Brews Airstream Cafe