When better to visit the famous Music City than during the holiday season? Nashville in the winter is full of twinkling holiday lights, live music, sports events, Christmas plays, and more!
Don't think for a second that you'll run out of things to do, as there is an abundance of fun activities both indoor and outdoor to keep you busy during the winter season in Nashville.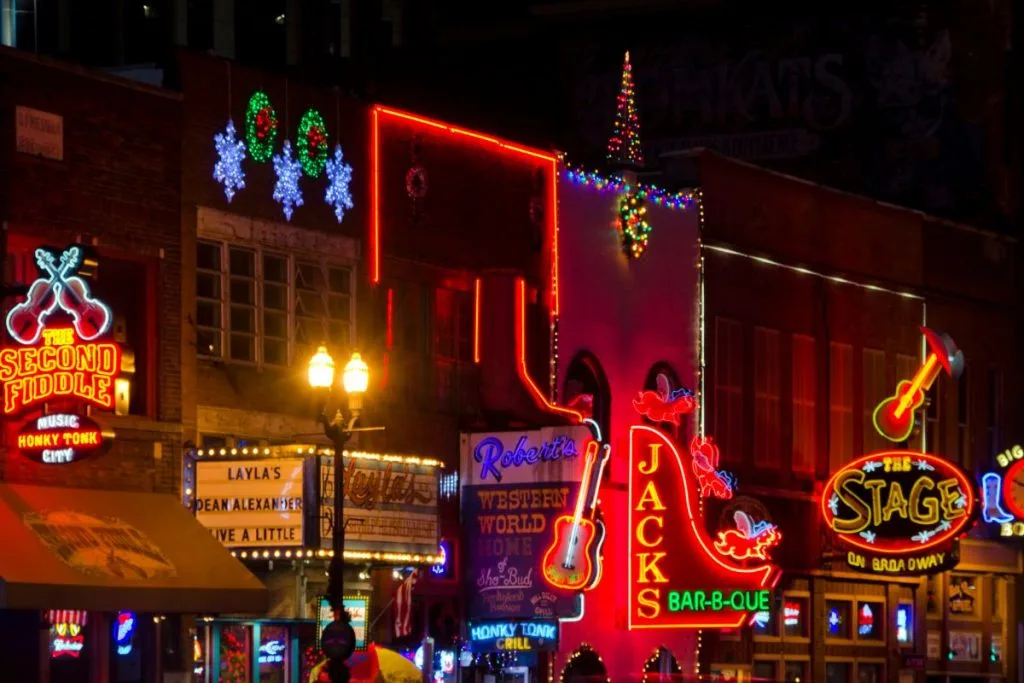 Spend those extra cold days inside with plenty of indoor activities from visiting the Country Music Hall of Fame & Museum to seeing the Country Christmas lights at the Gaylord Opryland Resort.
Or brave the winter chill with a few outdoor activities such as the Zoolumination at the Nashville Zoo or cheering on your favorite team at the Music City Bowl.
Whether you're spending the Holidays in Nashville for Christmas, Hanukkah, New Year's, etc., or simply just visiting for pleasure during the Winter months, visiting Nashville during the winter will not disappoint!
Keep reading to see our extensive list of things to do while visiting Nashville in the winter! ❄️
Best Things to Do in Nashville for the Holidays
1. Country Christmas at the Gaylord Opryland Resort
The Gaylord Opryland Resort & Convention Center is a must-visit throughout the winter and holiday season in Nashville. This resort is jaw-dropping on an average day but is even better during the holidays.
Walk through the resort as you'll be surrounded by over 3 million twinkling lights and holiday decor.
Find activities such as snow tubing, ice skating, or seeing ICE! — an immersive walk-through experience featuring over 2 million pounds of impressive carved ice sculptures. Blue parkas are provided upon entry as the temperature is set at 9 degrees Fahrenheit inside to prevent the sculptures from melting.
This is a great experience that we highly recommend for all age groups.
➡️ Book a room at the Gaylord Opryland Resort and be fully immersed in the experience!
2. Attend a Show at the Grand Ole Opry
See the show that made country music famous at the Grand Ole Opry.
From country legends to up-and-coming artists, you can see them all! The Grand Ole Opry provides multiple shows a week. The shows are never rehearsed and you'll never see the same show twice.
So even if you've experienced it before, go again!
Every winter the Grand Ole Opry puts on the Opry Country Christmas — a holiday show series with famous country music artists and popular holiday music.
3. Zoolumination at the Nashville Zoo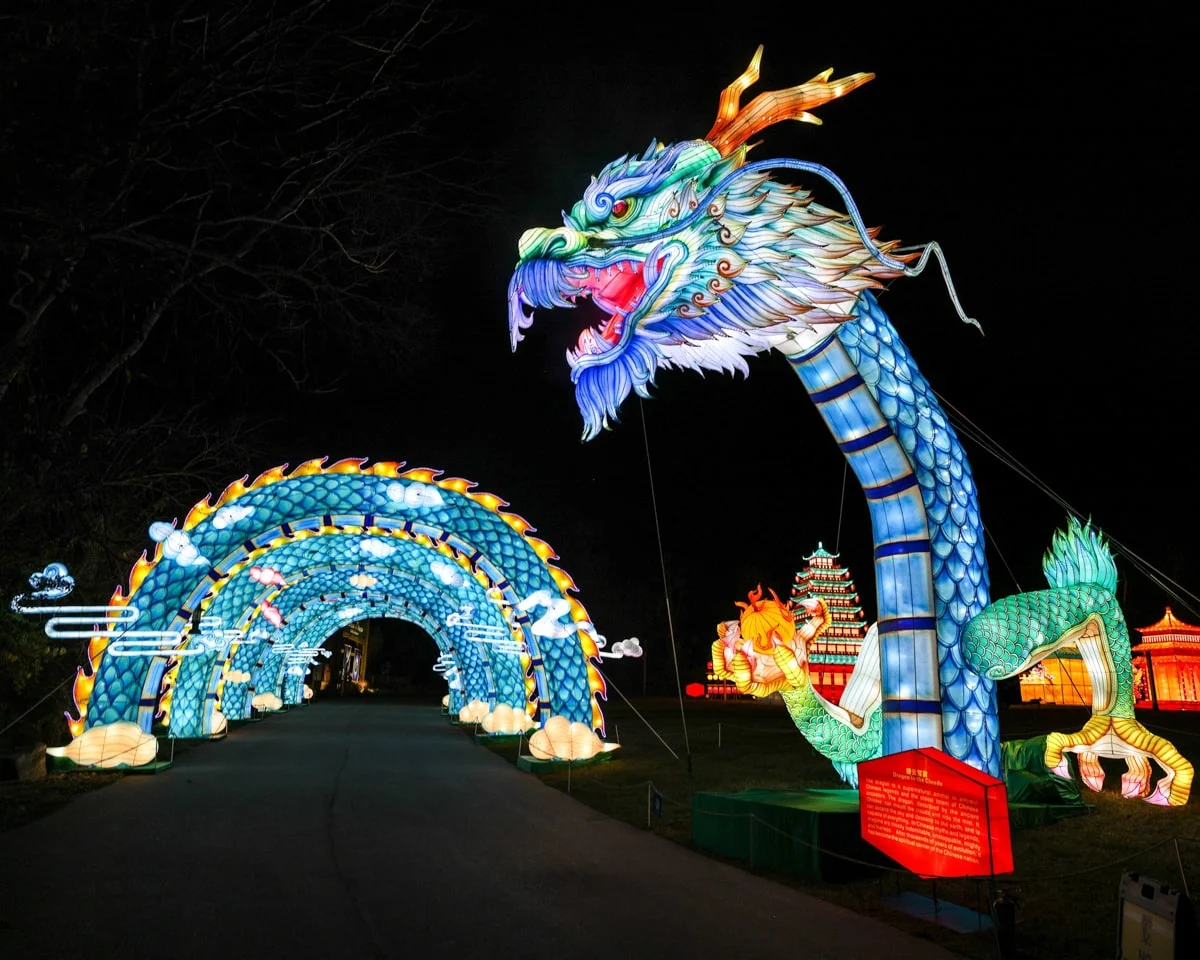 The Nashville Zoo is one of the top-visited attractions in Tennessee and is known for saving and protecting threatened species with their involvement in international conservation and research efforts.
You'll see many different animals from clouded leopards to spider monkeys.
Once you've visited the zoo animals, stay past dark and view the amazing Zoolumination.
Zoolumination is the country's largest Chinese lantern festival featuring more than 1,000 custom-made silk lanterns and brightly colored mythical creatures.
4. Stay at the Renowned Hermitage Hotel
Price Range: $400+ per night
Pet Friendly: Yes
Stay in the heart of Nashville and within walking distance of many attractions at the top-rated Hermitage Hotel.
This hotel hosts many activities during the holiday season for guests and visitors. Examples of some activities include nutcracker tea, football pre-game brunch, special holiday dinner menus, and a New Year's Eve party.
Amenities include world-class on-site dining, nanny or babysitting services, a fitness center featuring Peloton bikes, and more!
You can even choose what type of pillow you would like. Would you like memory foam, buckwheat, or down pillows?
If you are bringing a pet, they even offer a Pampered Paws Program — providing pet massages, specialty bedding, and more. Your furry friend won't want to leave! 🐶
If you're looking for a pampered or luxurious stay, this may be it!
This hotel doesn't come cheap, however. Expect to pay anywhere between $400-$600 per night (more or less depending on the date). Book your stay at the Hermitage Hotel here.
5. Visit the Holiday Lights at Cheekwood Estate & Gardens
Cheekwood is a wonderful place to visit in Nashville during the Winter as you'll find over 1 million Holiday lights, lighting up the gardens and estate.
Walk the entire mile-long walking trail full of festive lights, see the holiday trains, view the 20′ poinsettia tree, and warm up at the s'mores & hot toddies station.
This 55-acre botanical garden is beautiful during all 4-seasons of the year, especially during Spring and Winter.
Inside the 30,000-square-foot mansion, you'll find an art gallery and museum with authentic period rooms.
6. Take a Trolley Tour of Nashville
Instead of walking through the city on a cold winter day, opt instead on taking a trolley tour. See all the popular Nashville sites while learning about the history of the Music City!
7. Watch a Show at the Ryman Auditorium
See where country music legends such as Johnny Cash, Elvis Presley, June Carter, and many others all performed — at the Ryman Auditorium.
The Ryman Auditorium was home to the Opry before they moved venues in 1970 becoming the Grand Ole Opry.
Stay indoors on those cold winter days in Nashville by watching one of the Ryman Auditorium's many shows.
Tours are also available where you can have your photo taken on stage, learn the history of the Ryman, explore the exhibits, and more.
🎟 Purchase tickets for a self-guided tour at the Ryman Auditorium here
8. Ring in the New Year at Nashville's Big Bash
Celebrate the beginning of a new year at Jack Daniel's New Years' Eve Live Big Bash Event.
Party all night long with hours of live music from famous bands and artists and look to the sky for a fireworks display.
Instead of watching a big ball drop at the stroke of Midnight, you'll be watching the Music Note Drop (it is Music City after all). 🎶
9. Experience a Predator Hockey Game
If you've never experienced an Ice Hockey game, we urge you to go!
The Nashville Predators joined the National Hockey League in the year of 1998, playing at the Bridgestone Arena in downtown Nashville.
Take a jacket as it can get a little cold inside.
10. Day Trip to Jack Daniel's Distillery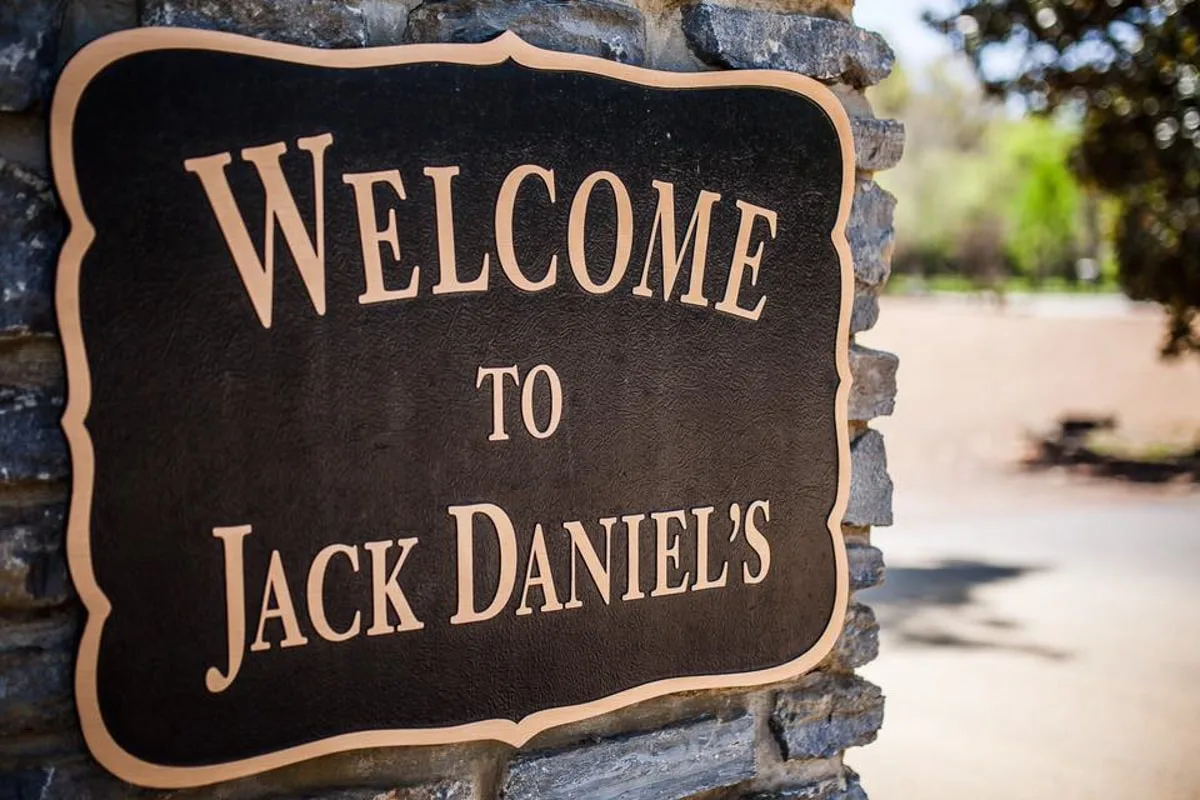 Warm up with some whiskey at Jack Daniel's Distillery. The distillery is approximately 90 miles away and would make a great day trip from Nashville.
There are tours that will take you from Nashville directly to the distillery, so you won't have to worry about finding transportation or driving yourself.
This specific tour takes approximately 7 hours (travel time included) and allows you to even BYOB and cooler. After your tour, you'll have free time so you can eat lunch, go shopping, and explore downtown Lynchburg.
>> More Tours in Nashville 🎟
11. Eat Nashville Hot Chicken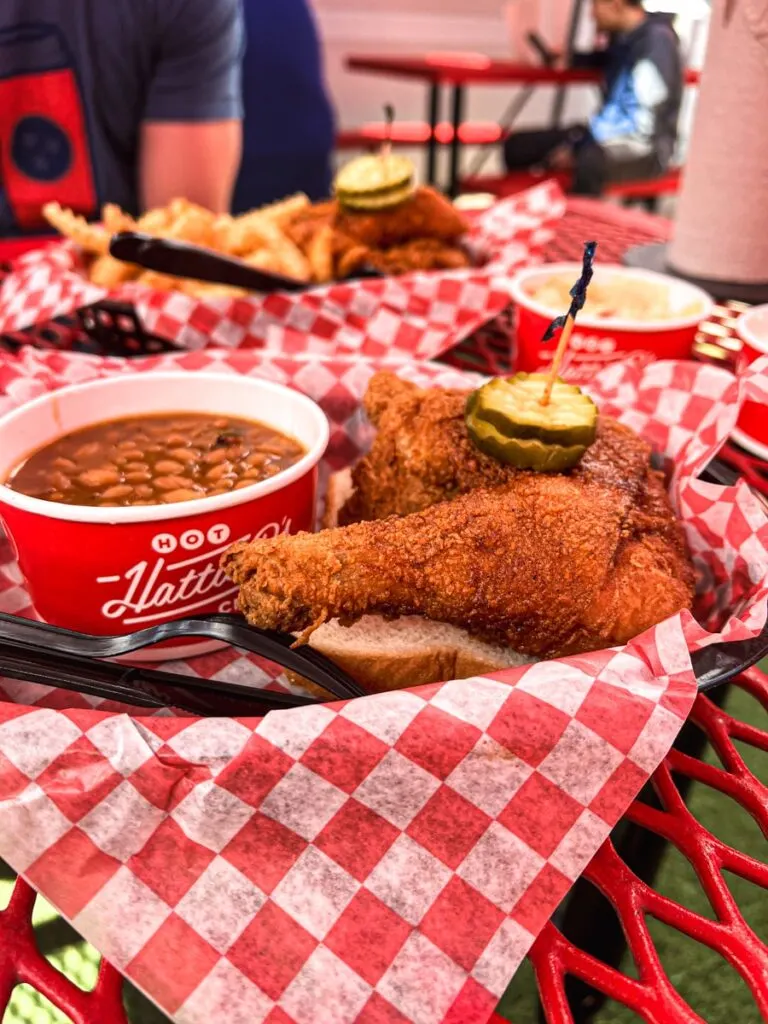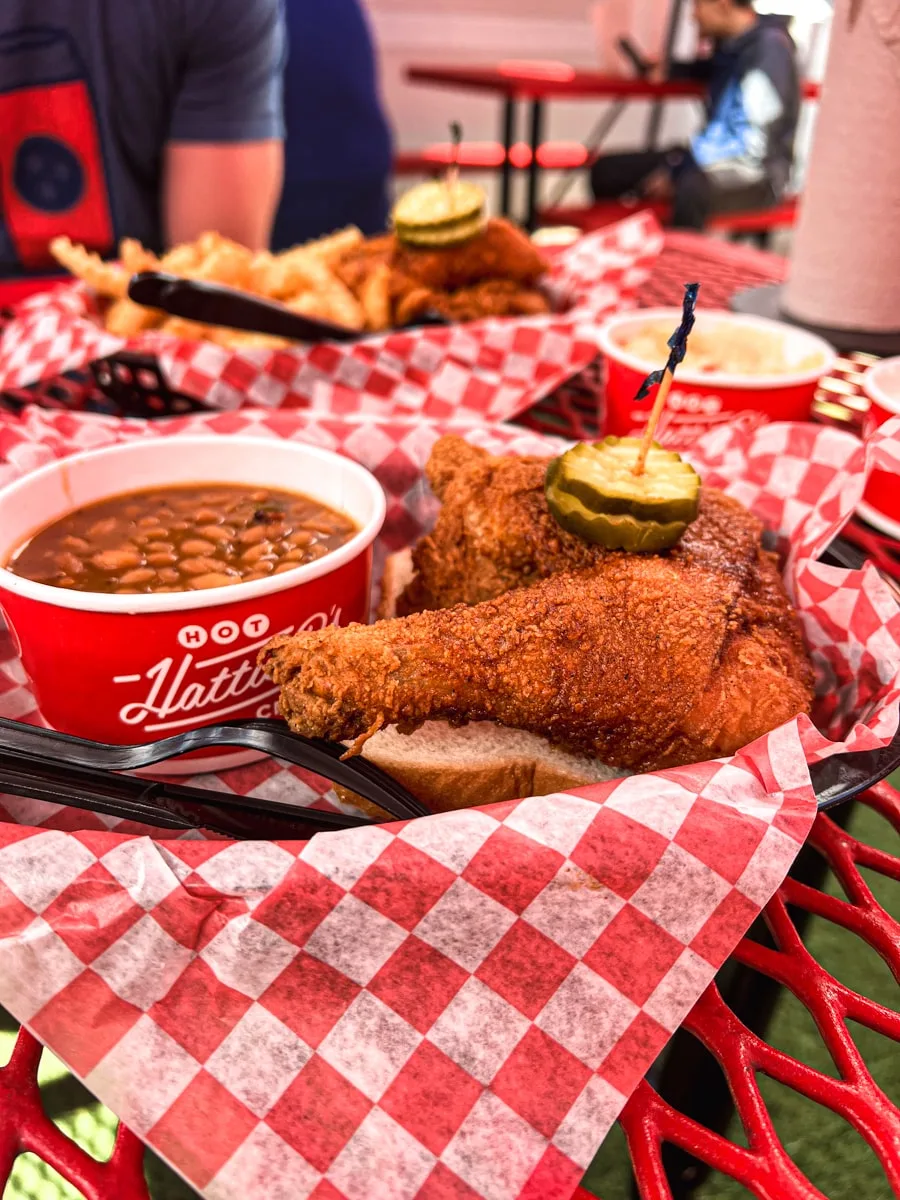 You can't visit Nashville without trying some famous Nashville Hot Chicken! Explore your taste buds and try some crispy fried chicken, topped with a variety of spices and served with white bread and pickles.
Some popular spots for great Nashville Hot Chicken include Prince's Hot Chicken Shack and Hattie B's Hot Chicken.
Let us know what you think!
12. Country Music Hall of Fame & Museum
Referred to as the "Smithsonian of Country Music", the Country Music Hall of Fame & Museum is a great indoor activity while visiting Nashville in the winter.
Learn about the history of country music, view galleries, and see historic artifacts, instruments, costumes, and more.
🎟 Purchase your tickets to the County Music Hall of Fame & Museum here
13. Attend the Wine in the Winter Tasting Event
Where: Hilton Nashville Downtown Ballroom
When: February (see next event dates here)
Warm up inside at the Wine in the Winter tasting event where you can sample over 130+ wines, beers, and spirits.
Dress up for the Winter Wonderland theme and see if you've found your new favorite wine.
Find a Place to Stay in Nashville:
14. Schermerhorn Symphony Center
Watch an amazing and captivating symphony orchestra show at the Schermerhorn Symphony Center.
The orchestra plays a lot of well-known music from popular shows and movies including Home Alone, Star Wars, Harry Potter, and more.
Throughout the holiday season, choose from many different concerts playing all your favorite holiday and Christmas songs.
15. Honky Tonk your Way on Broadway
Visit the famous street known as Honky Tonk Highway — a section of lower broadway filling the streets with live music and neon lights.
What is a Honky Tonk exactly? It's a bar that contains at least one music stage, alcoholic beverages, and plays live music 365 days per year.
From Bootleggers Inn to Tootsie's Orchard Lounge — there are plenty of bars ready for you to honky tonk all night long. The best part is that you can enter for free, making this a cheap activity in Nashville (depending on your alcoholic consumption of course 😉).
16. Cheer on the Tennessee Titans at an NFL Game
The Tennessee Titans are home to Nashville, TN where they play at the Nissan Stadium.
NFL games are from September – January, making this a great winter activity in Nashville. However, the Nissan Stadium is an open-air stadium so be prepared if you decide to go on a cold or rainy day!
View the Titan's schedule here.
17. Eat Sweets at Tempered Fine Chocolate
Satisfy your sweet tooth at Tempered Fine Chocolates, where you'll find luxurious handmade chocolates and sweets from truffles to toffees or creamy hot chocolate.
This shop provides wine & whiskey tastings paired with fine chocolates.
This chocolate shop would make a great date night or Valentine's day idea in Nashville.
They also sell chocolate gift sets — perfect for the holidays.
Tempered Fine Chocolates is one of many chocolate shops found in Nashville. Let us know which ones you have tried in the comments below!
18. Eat, Drink, and Bowl at Pinewood Social
Pinewood Social is a great place to meet up with friends or hang out as they serve food throughout the day from brunch to dinner, as well as coffee or cocktails, and games such as bocce ball and bowling.
Bowl a few rounds on one of their six reclaimed bowling lanes.
They also take reservations for large parties for bowling for up to 16 people, making it a great winter activity in Nashville with family or friends.
19. Watch a Play at the Tennessee Performing Arts Center
Another great winter activity in Nashville is to watch a show or play at the Tennessee Performing Arts Center.
Events hosted here include broadway shows, live music, comedy acts, drama plays, theatre, opera, and more.
Find a list of upcoming events here.
20. Drink Wine at Belle Meade Historic Site & Winery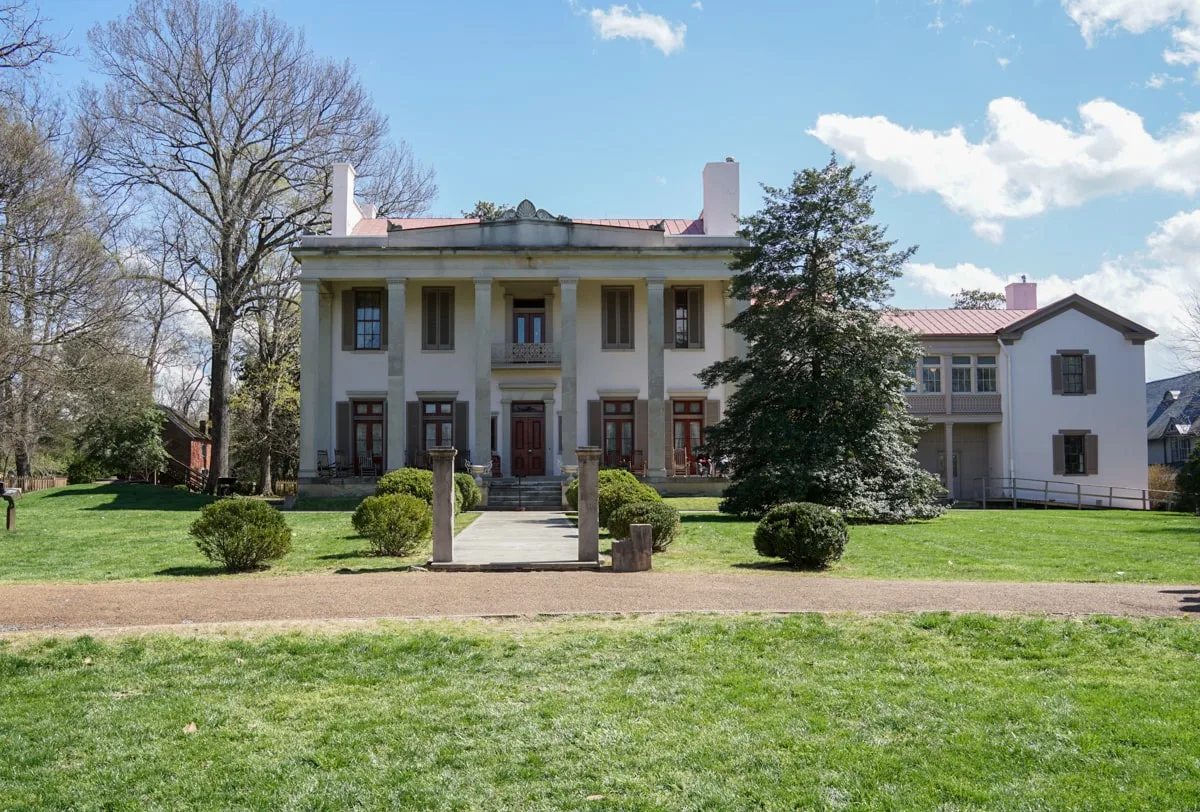 Belle Meade Historic Site & Winery is dedicated to preserving its history, architecture, and equestrian history.
Visit this historic site where you can enjoy free wine tastings, wine & food pairings, bourbon tastings, historic tours, and more.
21. Cheer on your Team at the Music City Bowl
The Music City Bowl, held in Nashville, TN every year, is a post-season Football game where an SEC team will play against a Big Ten Conference team.
This is a Nashville holiday tradition so wear your team colors and tailgate before the game starts.
The Music City Bowl is held at the very end of the year and usually falls on New Year's Eve — so once your team wins, head downtown and celebrate the start of a new year!
Will your team be playing in the Music City Bowl this year?
22. Tennessee State Museum
Learn more about the history of this great state at the Tennessee State Museum.
View over 2,000 artifacts from Tennessee's history on display and visit one (or many) of the exhibitions.
Visiting the museum is completely free, making this a cheap activity or thing to do in Nashville in the winter.
Winter in Nashville is even more magical than usual. There is so much to do and see, you won't even be worrying about the cold!
Let us know what you think of Nashville in the wintertime in the comments below!
Looking for more Things to Do in Nashville? Also Read: Music City Bucket List: 25+ Best Things to Do in Nashville
📍 SAVE FOR YOUR TRIP TO NASHVILLE DURING THE HOLIDAYS