There are countless tours in Nashville, and it can be a bit overwhelming to decide which ones are the best.
From classic double-decker sightseeing buses to bar crawls and outdoor activities, there's truly a tour for everyone.
Instead of weeding through hundreds of options, we (Tennessee natives!) put together 12 of the very best Nashville tours.
With this info, you can put together the perfect Music City itinerary.
Check out craft breweries, go hiking, and go on a tour, all before hitting Broadway at night!
Grab your dancin' shoes and let's get into Nashville Tours!
Looking for Nashville Hotels? 10 Best Boutique Hotels in Nashville: Luxe & Unique Stays
The Absolute Best Tours in Nashville, TN
1. Grand Ole Opry Guided Backstage Tour
Step behind the curtain and immerse yourself in country music's rich history on one of the most famous stages in the world.
During this one-hour tour, you'll get a behind-the-scenes look at the Opry's inner workings.
Walk through the legendary hallways, where countless music icons have walked over the years! You'll even see the Artist Entrance, where celebrities enter the venue for their performances.
All Grand Ole Opry tours start with a video introduction narrated by power country couple Garth Brooks and Trisha Yearwood. Then, a friendly guide will give you exclusive access to the Opry's hallowed dressing rooms and backstage areas.
Depending on the current performance schedule, you may even get to stand on stage.
If you ever dreamed of being a star, here's your chance to literally be in the spotlight! For that reason alone, it's no wonder this is one of the most popular tours in Nashville!
Note: This is the OFFICIAL Grand Ole Opry Daytime Backstage Tour, not a third-party contractor.
🎟 Book your Grand Ole Opry Tour Here!
2. Nashville Hop On Hop Off Trolley Tour
If you're having a hard time deciding which tours in Nashville to book, a Nashville Hop on Hop Off Trolley Tour is a great place to start!
All participants get to start and stop their tour wherever they prefer. That's unique among any type of tours, anywhere!
In total, the tour includes 14 stops, all of which are some of the city's most popular destinations.
For example, you can hop off (or on!) at the Ryman Auditorium, on Broadway, the Country Music Hall of Fame, or in The Gulch.
As the trolley loops around the city, friendly, knowledgeable local guides point out over 100 attractions. Other notable sites are also called out, highlighting hidden gems. When you hear something that intrigues you, simply hop off, explore, then hop back on!
One full loop takes about 1.5 hours. Tour participants can ride as many times as they want on the day their ticket is valid.
Unlike many other Nashville tours, alcohol is NOT permitted on the trolley tours.
🎟 Book your Nashville Hop on Hop Off Trolley Tour Here!
3. Guided Sightseeing Tour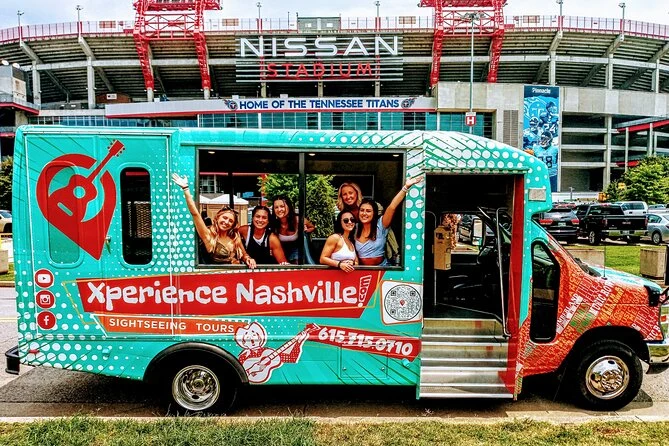 Love the idea of hitting a bunch of sights, but don't necessarily want to do the hop-on, hop-off trolley? Book this guided sightseeing tour instead!
The open-air bus highlights some of the most iconic places and things to do in Nashville.
This includes Music Row, Printer's Alley, and the Nissan Stadium (home of the NFL Titans). Many reviews mention that the tour does a great job of including lesser-known hidden gems, and not just trendy hotspots.
One of those hidden gems includes seeing the music studios where certain artists record. You'll also get to sample moonshine at Marathon Music Works.
People rave about the guide/driver, noting specifically that he's hilarious. Everyone knows a great guide makes or breaks Nashville tours!
A max of 10 participants can ride on the bus, so it's a great activity for bachelorette/bachelor or birthday parties! Book a private tour to make it even better!
We recommend going on this tour at the beginning of your trip. That way, you get a lay of the land and can identify any spots you want to go back to later.
🎟 Book this Nashville Sightseeing Tour Here!
4. Mural Photowalk Tour with Professional Photographer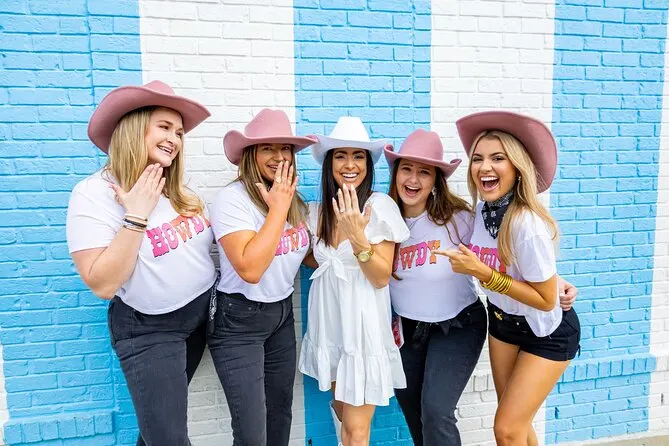 Did you know that Nashville has over 100 murals?!
Going around looking for them and snapping photos with the murals is one of the best things to do in Music City!
On this unique tour, you'll see some of the city's best murals in the vibrant 12 South neighborhood. This includes the super-popular "Nashville Looks Good on You" mural!
Best of all, though, a professional photographer will be your tour guide. Not only will you get high-quality pics, but you'll also learn about area history and where to find secret murals!
This is a 1-hour walking tour, and good weather is required.
🎟 Book this Nashville Mural Photowalk Tour Here!
5. General Jackson Showboat Lunch or Dinner Cruise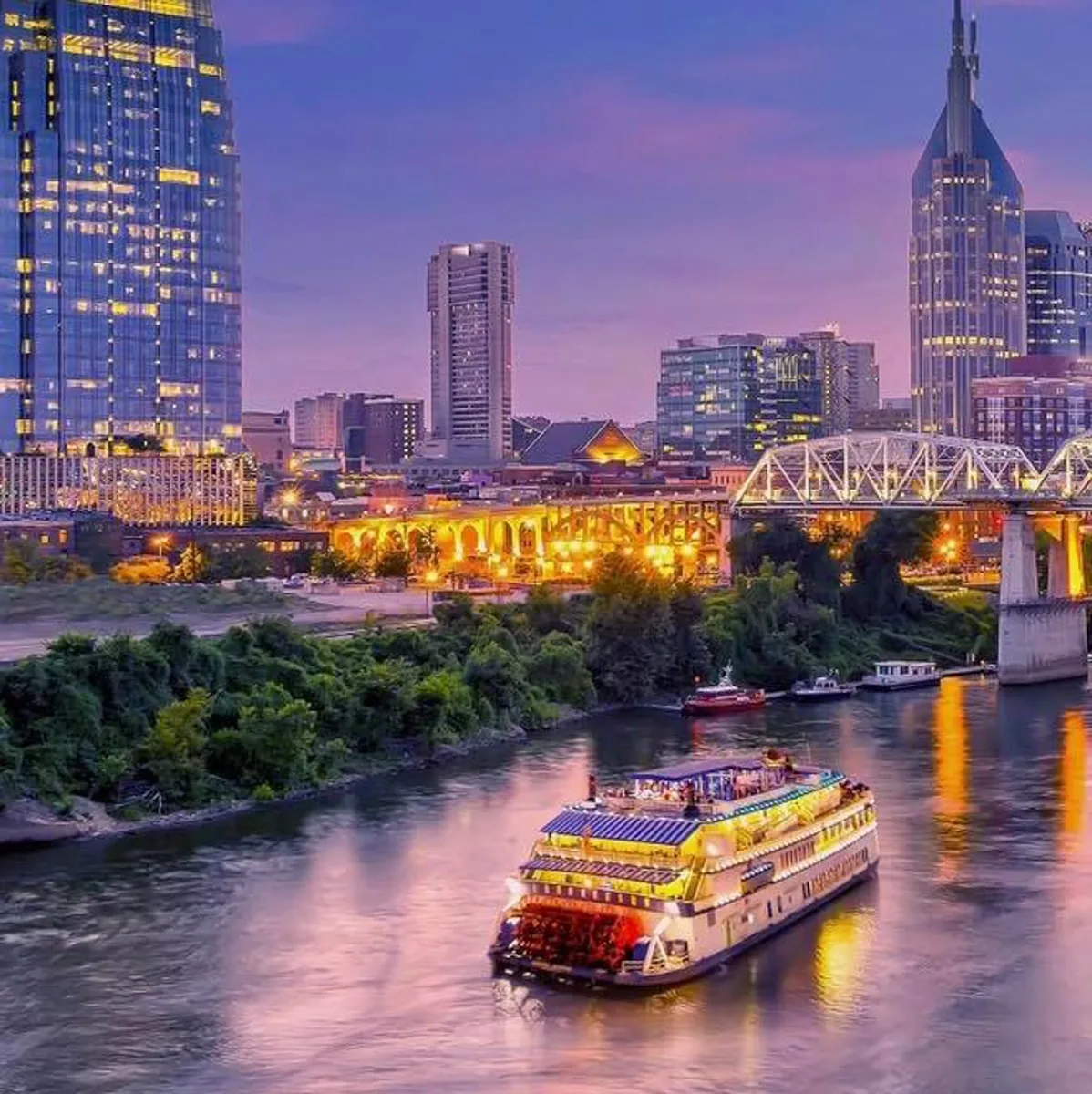 If you'd prefer to explore Nashville from the water instead of the streets, consider booking a river cruise.
The General Jackson Showboat is one of the largest ever built, and it's been taking passengers up and down the Cumberland River since 1985.
Choose from a lunch or dinner cruise for this Nashville tour, where you'll enjoy a meal and drinks in addition to a live show.
This is Music City, after all! Performances include not just music, but comedy and dancers, as well.
You'll sit inside an elaborate Victorian theatre for the show during your meal, but before and after, you're welcome to sit anywhere on the ship or wander its indoor or outdoor decks.
The paddle-wheel boat serves traditional Southern meals, but additional alcoholic beverages are at passengers' own expense. Be sure to bring money for that, as well as for tips!
Further setting itself apart from other tours in Nashville, round-trip hotel transportation is included. Note that this only applies to select Nashville hotels, but many of them are within the pickup area.
🎟 Book a River Cruise on the General Jackson Showboat Here!
6. Downtown Nashville Walking Food Tour
We're huge fans of walking food tours. It's a fantastic way to explore a new city, makes a great date night, and gives you a literal taste of the local culture.
Pro tip: try to book walking tours at the beginning of your trip. You'll get samples at each stop, so you'll know if you want to return anywhere for a full meal.
This tour focuses on the downtown core, featuring classic Nashville foods. You're practically guaranteed to try Nashville hot chicken, BBQ, Southern comfort foods, and craft beer.
The group meets at a central location, then walks from place to place for about three hours.
Alcoholic beverages are included, and the vibe is lively and casual. You might even make new friends!
🎟 Book this Nashville Food Tour Here!
7. Nashville Kayak Adventures
For people looking for more active or family-friendly tours in Nashville, this Kayaking Tour in Nashville is for you!
Paddle an easy three miles near downtown Nashville, taking in city skyline views the whole way.
You don't need any prior experience, because the guides offer some basic instructions. That makes this a rarity in Nashville tours, something everyone in your group can do!
There's no minimum age, but instead a minimum weight. Children weighing 50-90 pounds will be required to ride in a tandem kayak with an adult.
Your guide even picks you up, then takes you to the launch point. From there, you'll paddle by downtown back to your vehicle.
🎟 Book This Kayaking Tour in Nashville Here!
8. "Homes of The Stars" Narrated Bus Tour with 30+ Celebrity Homes
It's no secret that tons of A-list country music singers and other celebs live in Nashville. On this 2-hour bus tour, you'll get to see at least 30 celebrity homes, both past and present.
The celebrities included aren't random or irrelevant, either— think Trisha Yearwood and Garth Brooks, Dolly Parton, Taylor Swift, Reese Witherspoon, and many others! These homes are in the most exclusive and gorgeous parts of the city, worth seeing for the scenery along.
Passengers also drive by Ryman Auditorium, State Capitol building, and other popular sites of interest. The tour buses have air-conditioning, and the guides narrate the entire time. Be sure to bring some money for gratuity!
Local tip: this tour is best during the early spring and late fall months, when the trees shed their leaves. Many of the homes are fully lined with trees, making it difficult to see anything when they're full!
🎟 See Your Favorite Celebrity's Home in Nashville Here!
9. Nashville to Jack Daniel's Distillery Bus Tour & Whiskey Tastings
If you have some time to spare and you're willing to get out of the city, this is one of the best tours in Nashville.
Actually, we'd go so far as to say it's one of the best tours in the entire state — as Jack Daniel's is synonymous with Tennessee!
On this full-day tour, you'll travel 1.5 hours from Nashville to iconic Lynchburg. Of course, you'll get a tour and tasting at the world-famous Jack Daniel's distillery, but that's only a small part of it.
In addition to the 1.5 hours allotted for the distillery, participants also have 1.5 hours to explore Lynchburg itself. This is a perfect time to grab lunch, but know that it's at your own expense.
En route to Lynchburg, the bus also stops in historic Shelbyville, a small town known as the "Walking Horse Capital of the World."
This tour picks up and drops off at a central meeting point in downtown Nashville, and participants are welcome to BYOB to store in the onboard cooler.
🎟 Book this Jack Daniel's Distillery Tour Here!
10. All-Inclusive Pub Crawl with Moonshine, Cocktails, and Craft Beer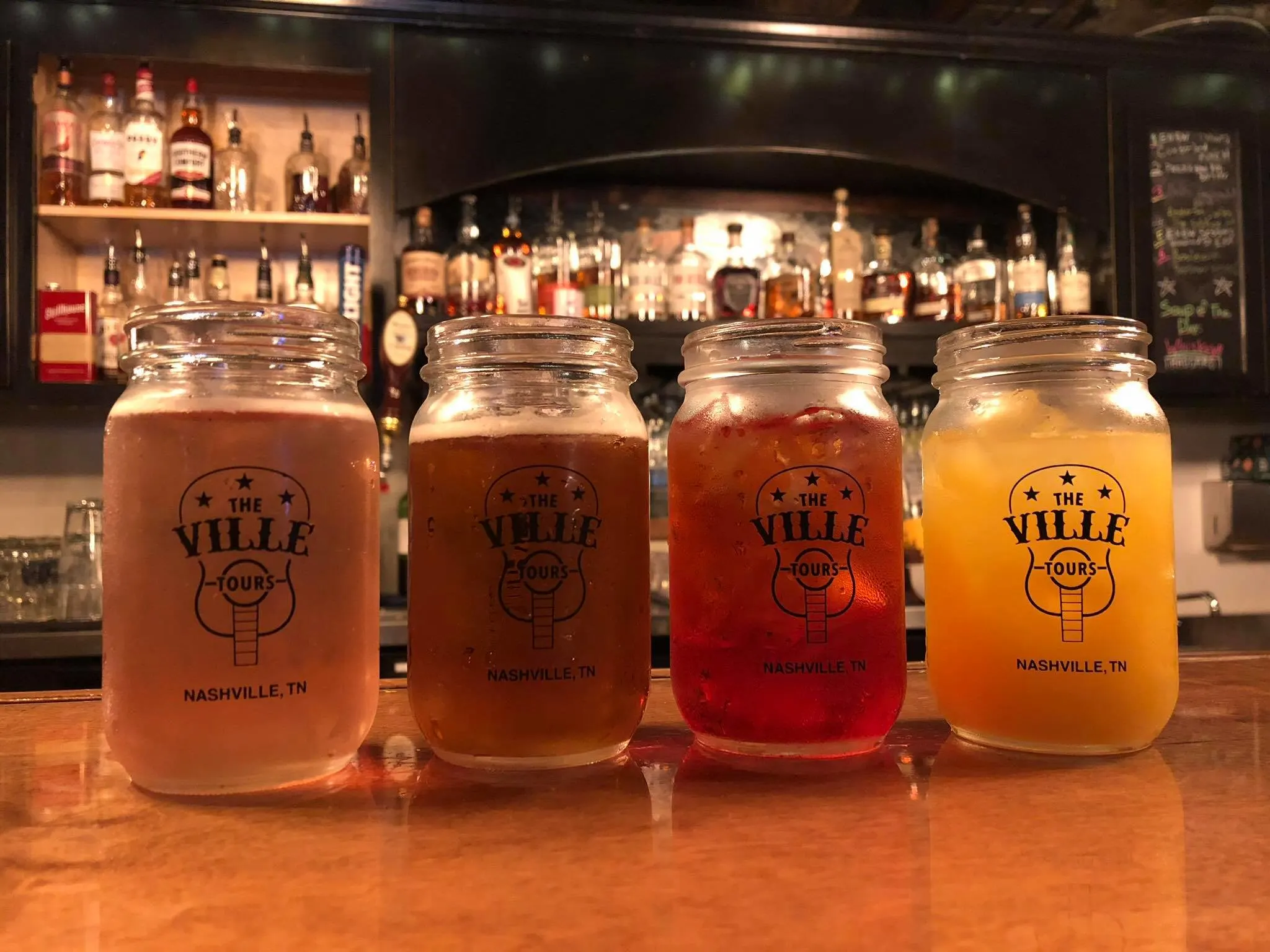 Partying and checking out the bar scene is one of the main things that draws people to Nashville.
So of course, bar crawls are popular! But how do you decide where to go?
Offering something a little different from other Nashville tours, this one is all-inclusive. It includes a little of everything, from craft beers to moonshine, so everyone can try a new favorite drink!
Keeping with that theme, the tour goes to a speakeasy in Printers Alley, instead of just Broadway honky tonks. There are plenty of those, too, though!
Easily the best thing about this tour is that it includes drinks! Your cost includes five alcoholic drinks, one at each of the stops. You're also welcome to purchase more at your own cost.
🎟 Book this Pub Crawl in Nashville Here!
11. Private Helicopter Tour of Downtown Nashville
Flying over the city in a helicopter is one of the fanciest things to do in Nashville, especially for couples as a romantic thing to do in Nashville.
No traffic or long lines up here!
See Music City from a literal birds' eye view during your 15-minute private flight.
You'll spot iconic sites including the Parthenon replica in Centennial Park, Cumberland River, the Titans' home stadium, the state Capitol, Vanderbilt University campus and stadium, and best of all, several rooftop bars on Broadway.
Because of the stadiums included, this is an especially fun tour during football season. It's also a fantastic and unique way to watch the sunset!
Plus, as a HUGE bonus, the helicopter flight is surprisingly affordable. It's $99 per person, which is especially reasonable when you consider that many other tours in Nashville have a similar cost.
Note that this tour has weight and weather restrictions. If poor weather affects your tour, you'll be offered an alternate date or a full refund.
🎟 Book a Helicopter Tour over Nashville Here!
12. Nashville Craft Cocktail and Fine Dining Tour
Speaking of fancy…get a literal taste of Nashville's fine dining and upscale craft cocktail scene on this tour. This city is so much more than rowdy country bars (although those are fun in their own right?).
The tour goes to four (possibly five!) high-end places. You'll enjoy a unique craft cocktail at each establishment, perfectly paired with small bites.
One highlight includes having a smoked Old Fashioned at Deacon's New South, made with local Nashville whiskey. To make it even better, the drink comes with a duck drumette and scratch-made cornbread.
Another thing that makes this one of the best tours in Nashville is Ellington's.
Perched above the city on the fourth floor of the Fairlane Hotel, Ellington's has a fantastic view. The real star is actually the famous pimento cheese, which you'll get to try alongside a rotating cocktail.
This fine dining tour meets in the lobby of the historic Hermitage Hotel, and involves walking about four blocks. If time and weather allow, there will be a "surprise" fifth stop at the end.
🎟 Book this Nashville Fine Dining tour Here!
Looking for more things to do in Nashville? Also Read: Music City Bucket List: 25+ Best Things to Do in Nashville
📌 SAVE FOR YOUR NEXT TRIP TO NASHVILLE
Featured Image & Pinterest Pin Credit: Xperience Nashville