Visitors to Knoxville, Tennessee, are often surprised at how stunning its waterfalls are.
With several excellent falls located within an hour's drive from downtown Knoxville, and even more distant cascades worth exploring, there is no shortage of natural beauty to enjoy in the countryside of Northeast Tennessee.
In this post, we'll spill the details about the best waterfalls near Knoxville that you will definitely want to add to your weekend in Knoxville itinerary.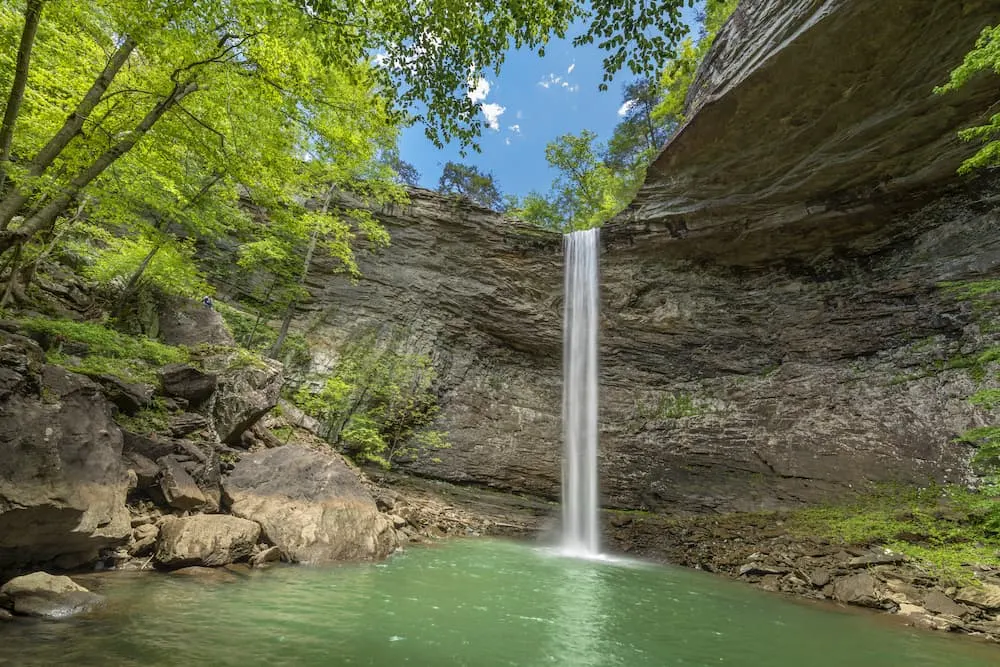 Top 10 Waterfalls Near Knoxville, TN
Whether you're looking for a short hike on a moderate trail, a strenuous journey through the woods, or you'd rather admire the beauty from the comfort of your car — the below waterfalls near Knoxville have something for everyone.
Many can be easily accessed from the highway, making them perfect for a quick day trip. So pack your sunscreen and your hiking boots and get ready to explore some of East Tennessee's most beautiful scenery!
🥾 Before you visit one of Knoxville's waterfalls, be sure to check the weather forecast. Although most falls are located in shaded woods, exposed areas can get extremely hot in the summer months. Also, keep an eye out for signs of flash flooding; it's always best to avoid hiking near waterfalls after a heavy rainstorm. Finally, always pay attention to posted signs and use caution when exploring any waterfall. As always, please Leave No Trace!
Now, without further ado, let's explore some of the best waterfalls near Knoxville starting with those inside the Great Smoky Mountains National Park.
Knoxville's proximity to the Smoky Mountains makes this an obvious place to start our tour of the best waterfalls.
The Great Smoky Mountains National Park is teeming with waterfalls, and many of them are located within a short drive of the city. While some require a bit of a hike to reach, plenty of falls can be easily accessed from the roadside.
1. Laurel Falls
Location: Great Smoky Mountains National Park
Access Trail: Laurel Falls Trail
Size: 80-foot
This first stop on our tour is one of the most popular waterfalls in the Smokies near Knoxville: Laurel Falls.
The dramatic 80-foot waterfall is beautifully divided by a walkway at the base of its upper and lower sections and can be accessed by making a 2.6-mile roundtrip hike along a paved trail.
The well-maintained trail to the falls is mostly paved, but it's very steep and not suitable for strollers or wheelchairs and it is considered a moderate-level hike.
Even so, Laurel Falls is one of the most popular trails and waterfalls in the GSMNP, so if you plan to see it, get to the trailhead early if you want to secure a parking spot!
2. Ramsey Cascades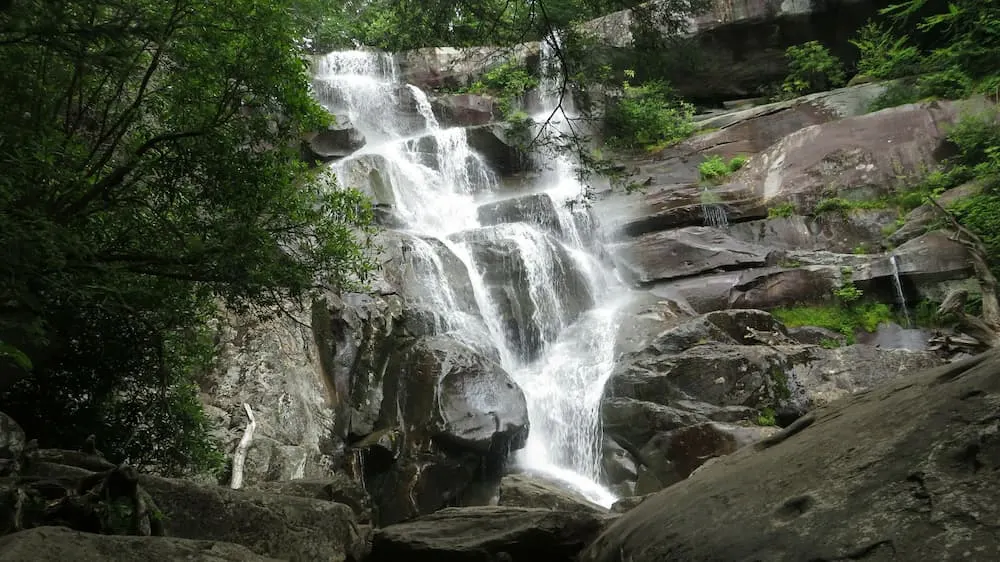 Location: Great Smoky Mountains National Park
Access Trail: Ramsey Cascades Trail in the Greenbrier area
Size: 100-foot
For those looking for a strenuous hike, Ramsey Cascades is the tallest waterfall in the park.
The 8-mile roundtrip hike is considered to be very difficult, so it's not recommended for inexperienced hikers.
The trail passes through an old-growth forest and includes several stream crossings, but the rewarding views of the waterfall at the end make it worth the effort.
The falls drop 100 feet over several tiers, and the water collected at their base is a perfect place for salamanders to thrive.
3. Cataract Falls
Location: Great Smoky Mountains National Park
Access Trail: Trailhead behind Sugarlands Visitor's Center
Size: 25-foot
If you're new to hiking but are willing to give it a go, there are a few short, easy hikes in the national park that will reward you with a wonderful waterfall to make your effort totally worth it.
Go during the gorgeous autumn months, when the weather is perfect and the leaves are vibrant red, yellow, and orange — it will feel like you're walking through a postcard.
The easiest waterfall hike near Knoxville is Cataract Falls (1.1-mile roundtrip). This beautiful 25-foot waterfall is located just minutes from downtown Gatlinburg.
You'll find the trailhead just behind the Sugarlands Visitor's Center.
Other Notable Waterfalls Close to Knoxville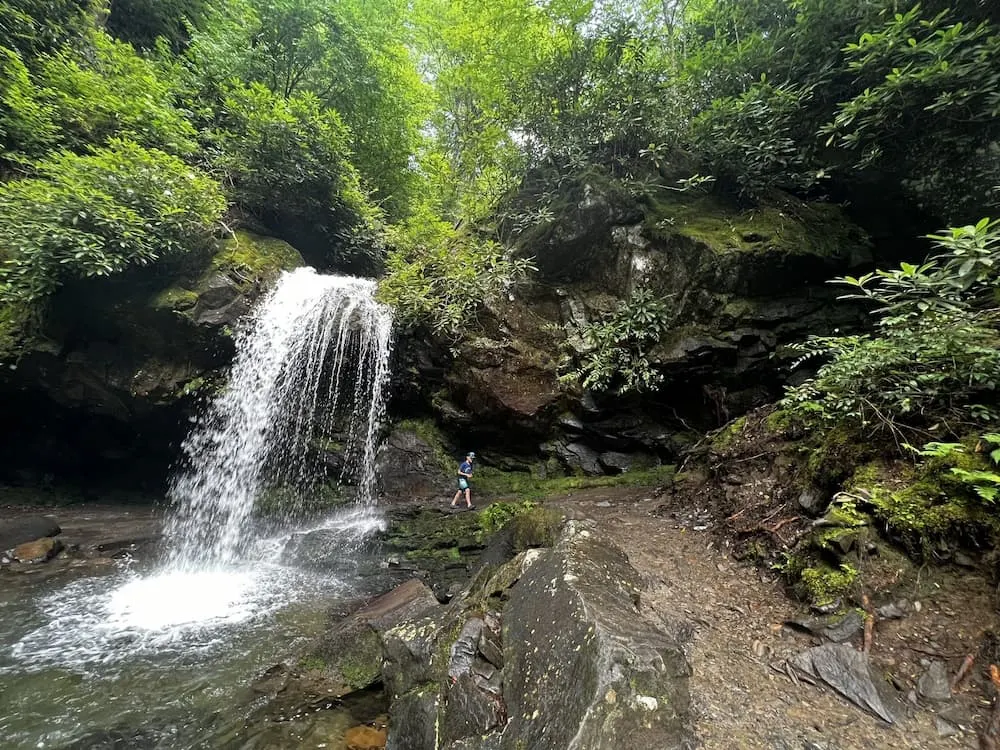 Other notable waterfalls in the GSMNP include:
Grotto Falls (an easy to moderate, 0.5-mile hike via Trillium Gap Trail to a 25-foot waterfall that you can walk behind)
Abrams Falls (a moderate 5-mile roundtrip hike to a 20-foot waterfall)
Rainbow Falls (a strenuous 5.4-mile roundtrip hike to an 80-foot waterfall)
Baskins Creek Falls (an easy, 0.4-mile hike to two tiers of 40-foot falls). And that's not even the entire list!
To find out more information about any of the waterfalls near Knoxville in the Great Smoky Mountains National Park as well as detailed directions and up-to-date trail information, visit the National Park Service website.
Waterfalls Near Knoxville You Can See From Your Car
5. The Place of a Thousand Drips
Location: Great Smoky Mountains National Park
Access: Roaring Forks Motor Nature Trail
Size: 30-foot
While you're in the national park, if you want to see a few waterfalls without getting too far away from your car, make sure to take a trip to the Roaring Fork Motor Nature Trail.
This scenic, one-way loop road takes you past several low-flow roadside waterfalls, including The Place of a Thousand Drips, named because of its lacework of lightly flowing paths of water rather than one big one.
The Roaring Forks Motor Nature Trail is closed to vehicles in winter, but it's a must-see during the rest of the year — and you're almost guaranteed to see a bear or two.
6. The Sinks
Location: Great Smoky Mountains National Park
Access: Little River Road, 12 miles west of Sugarlands Visitor Center
Size: 15-foot
And finally, don't leave the park without stopping by The Sinks.
This unique, manmade roadside waterfall was formed back when the area was used for logging and a log jam caused the water to back up and form a pool. Loggers cleared the log jam with dynamite, and The Sinks were formed.
The waterfall is only 15 feet tall, but it's more than 80 feet wide and extremely powerful, especially after rainfall, making it quite a sight to see.
It's a strange and beautiful waterfall close by Knoxville that's definitely worth a visit.
Waterfalls Near Knoxville (That Aren't in the National Park!)
The Smokies are home to some of the most beautiful waterfalls in the world.
But there are plenty of other amazing waterfalls to discover outside of the national park, too.
Just a short drive from Knoxville, you'll find several impressive falls that are very popular among tourists and locals alike.
If you're looking for an easy day trip from Knoxville, you can't go wrong with any of these cascades.
7. Ozone Falls
Location: Crossville, TN
Access: Ozone Falls Trailhead in Cumberland Mountain State Park
Size: 110-foot
Ozone Falls is one of the most popular waterfalls in Tennessee and it's only about an hour from Knoxville, in Crossville.
The 110-foot tall plunge waterfall is located in Cumberland Mountain State Park and can be reached by taking a 1-mile hike from the Ozone Falls Trailhead.
The moderate-level trail passes through a dense forest and features several stream crossings, but it's well worth the effort for the stunning views of the waterfall.
The sound of water falling over 110 feet into a deep blue pool is absolutely heart-stopping! And, the pool is so refreshing to swim in during the hot summer months, that you'll never want to leave.
Fun Fact: Thanks to its picturesque beauty and easy access, Ozone Falls was used for filming scenes for the movie Jungle Book. 🌿
8. DeBord Falls and Emory Gap Falls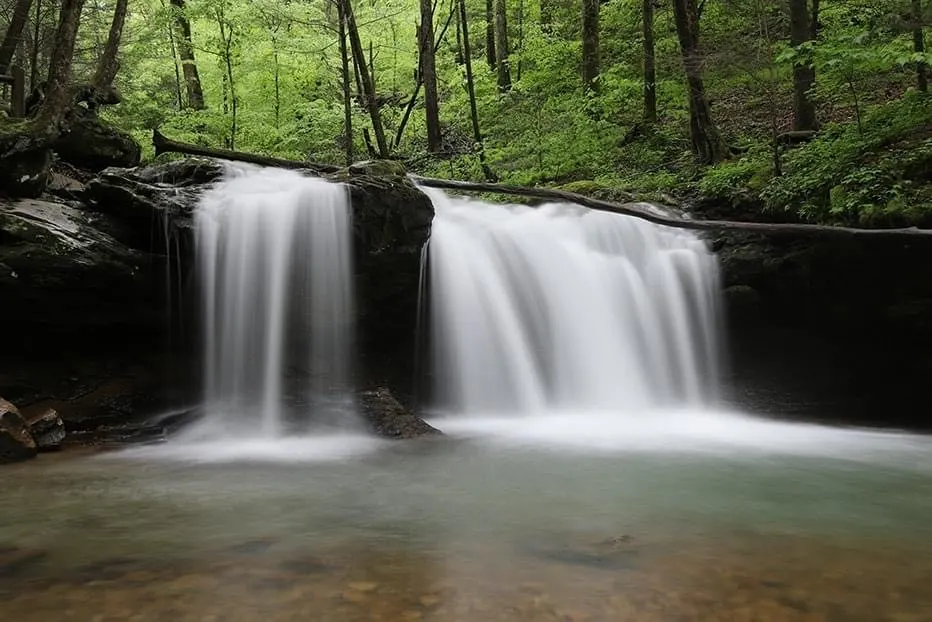 Location: Wartburg, TN
Access Trail: Panther Branch Trail in Frozen Head State Park
Size: DeBord Falls 12-foot, Emory Gap Falls 25-foot
Another popular waterfall about 35 miles from Knoxville in Wartburg, Tennessee, is Frozen Head State Park's DeBord Falls.
Frozen Head State Park itself is a beautiful place to explore, and the 1.2-mile roundtrip hike to DeBord Falls is rated as easy. Along the way, you'll walk on a wide path next to a stream, see several low-flow waterfalls, and see plenty of wildflowers & butterflies in the spring.
The 12-foot tall waterfall and the shallow pool are definitely the highlights of the hike, though, and it's a great place to have a picnic or cool off on a hot day. 💦
Depending on the season and the amount of recent rain, the falls can vary from a light trickle to a roaring cascade, so it's truly something different every time you visit.
This is a fantastic location for families and pets, which means if you like solitude, visit the falls on a weekday or early morning.
If you're up for more exploring at Frozen Head State Park, continue up the Emory Gap trail another 3/4 mile and visit the 25-foot Emory Gap Falls while you're there.
This is one of the area's most underrated waterfalls and if you take the time to hike to it, you won't be disappointed. Be aware that the trail gets a bit steeper and rockier past DeBord Falls.
This is one hike where you'll want to wear waterproof hiking shoes or bring a change of shoes for the drive home.
9. Elrod Falls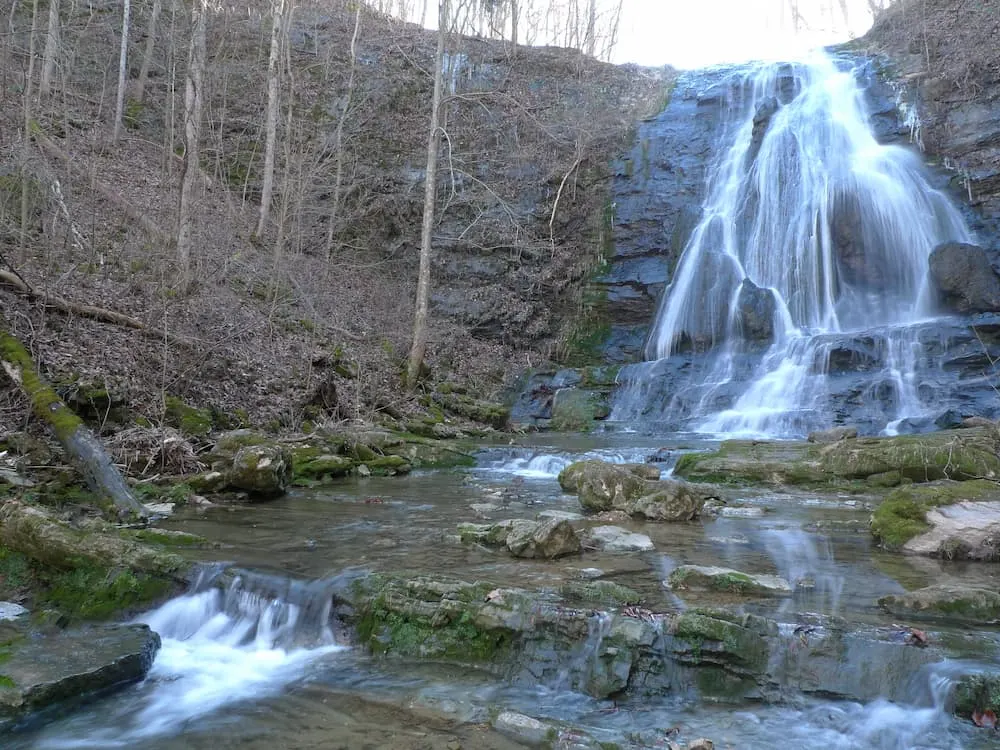 Location: Sneedville, TN
Access: Parking area Elrod Falls Rd off TN 31
Size: 100-foot
Next up is the impressive Elrod Falls. The 100-foot, three-stage cascade falls are located near Sneedville, Tennessee, about 60 miles from Knoxville.
Our friends who don't hike will be happy to know that, besides the fact that this is a beautiful waterfall, it can easily be reached with just a short walk from the parking area.
The falls feed into a natural pool with crystal clear water that you can swim in. Stay for the day and enjoy a picnic!
If you're feeling adventurous, you can hike to the top of the falls. Just be aware that the hike gets more difficult the higher you go.
10. Bald River Falls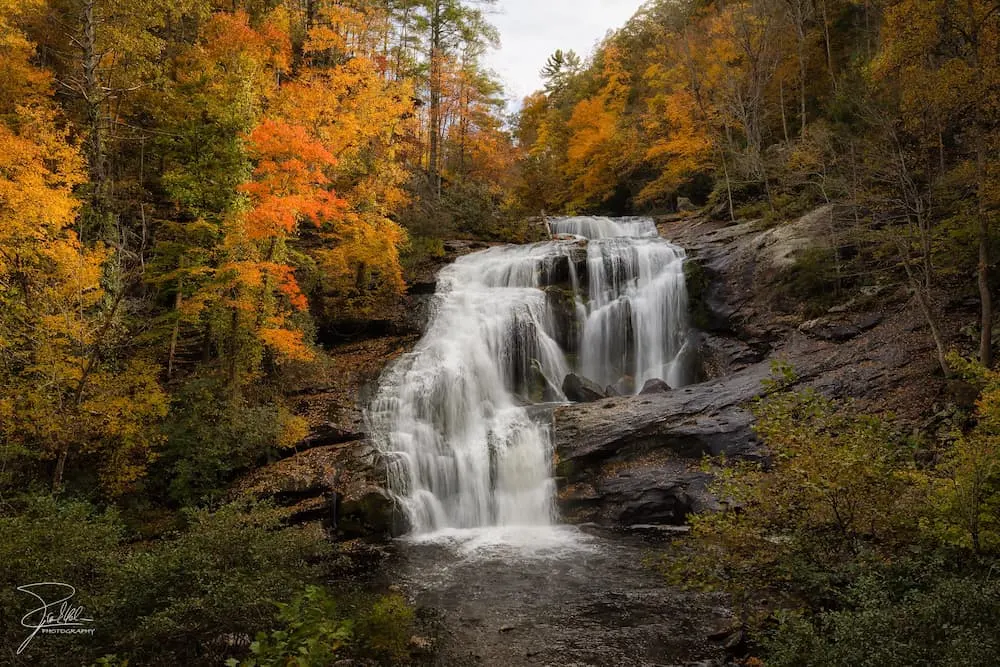 Location: Tellico Plains, TN
Access: Tellico River Road (FS210) past Ranger Station (Parking is limited!)
Size: 90-foot
And finally, no list of the best waterfalls near Knoxville would be complete without the spectacular Bald River Falls in the Cherokee National Forest.
The forest is located about an hour from Knoxville, in Tellico Plains. The Bald River empties into the Tellico River and, as it does, it cascades over about 100 feet of rocks.
You can view these falls from your car or hike to them via Bald River Falls Trail, which is a moderately-rated hike and approximately 5.6 miles.
Shutterbugs will especially enjoy visiting this waterfall during autumn when the leaves are changing color and provide a stunning backdrop.
This waterfall has also been known to ice over in the winter and is truly a sight to see!
Which Waterfall Near Knoxville Will You Visit First?
Knoxville is lucky to be surrounded by so many natural wonders, including some incredible waterfalls.
Just a short drive from the city, you can find placid cascades as well as powerful plunges. So, pack a picnic lunch and head out to explore some of these amazing falls.
The hardest part will be choosing where to go first!
If you are hoping to chase even more waterfalls in Northeast Tennessee, then you check out our guide to the best waterfalls near Johnson City.
Looking for more Knoxville travel inspiration?
Please recreate responsibly; pack out your garbage, stay on marked trails, and Leave No Trace!
Did we miss any waterfalls in or around Knoxville that deserve a spot on this list? Let us know your thoughts in the comments below!