Looking for a great hiking trail to explore in the Knoxville area? You're in luck! Knoxville is full of incredible outdoor activities including hiking trails and multi-use paths.
From easy trails that are perfect for beginners to challenging trails with beautiful views, The Scruffy City has got something for everyone.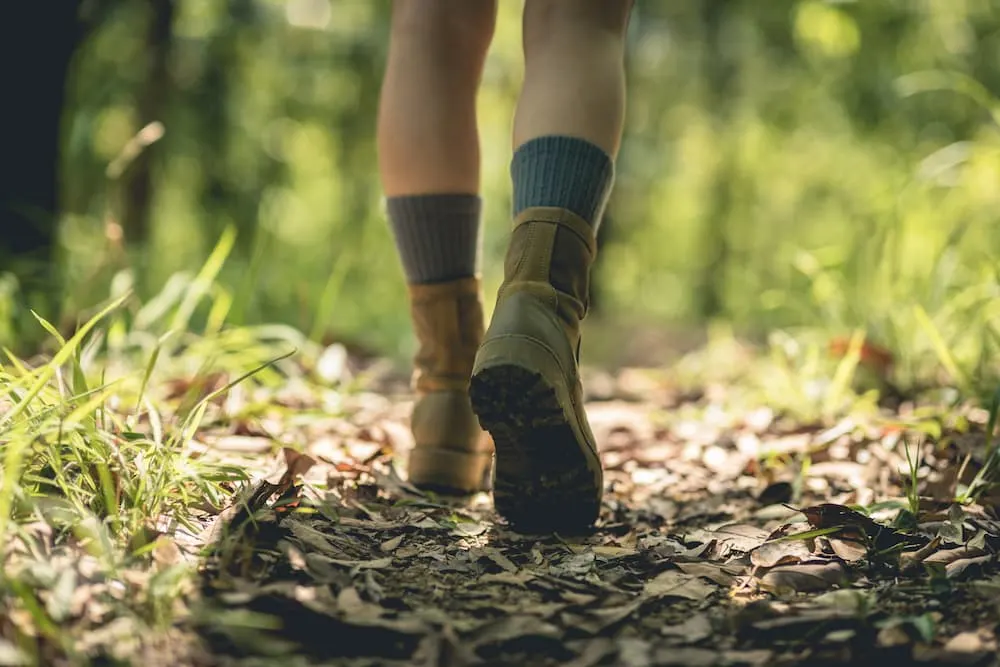 Before heading out on a hike, it's always a good idea to check the trail conditions and the weather so you can be prepared for whatever the trail throws at you.
You'll want to pack plenty of water to stay hydrated, snacks to keep your energy up, and sunscreen to protect your skin. And, of course, don't forget your camera!
Also, remember to follow the principles of Leave No Trace. That means taking only pictures and leaving only footprints. Anything you take on a trail with you, bring it back out.
With that said, let's take a look at some of the best hiking trails to include in your Knoxville itinerary!
Best Hiking Trails in Knoxville, Tennessee
1. River Trail Loop at Ijams Nature Center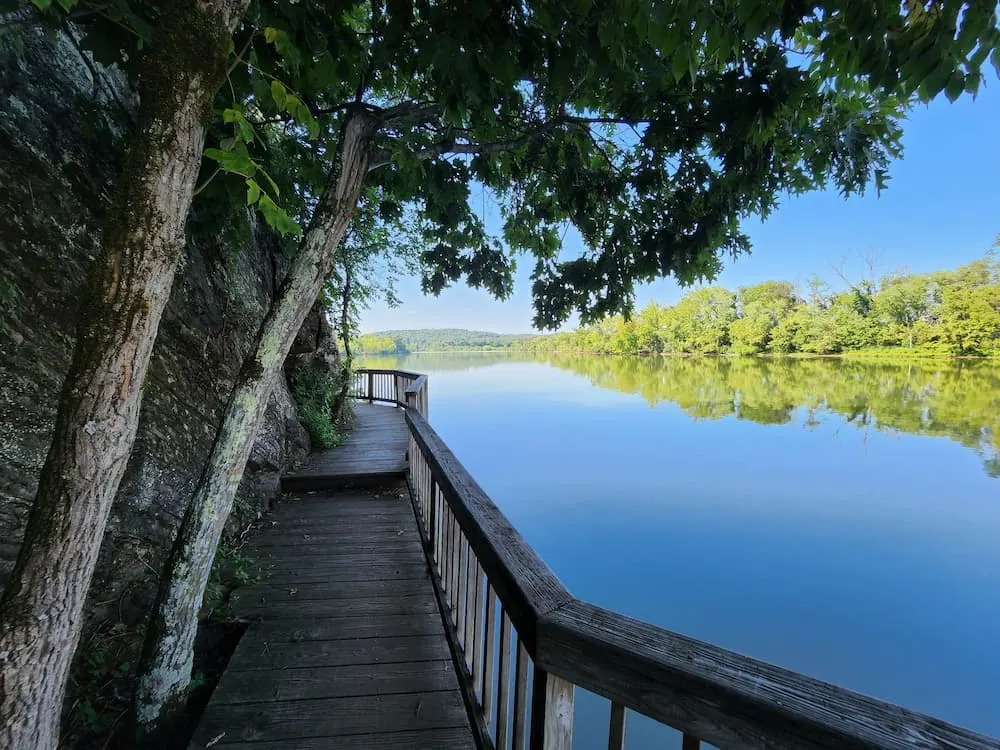 Directions: 2915 Island Home Ave., Knoxville
Hours: 8 am until dusk. The Visitors Center is open 10 am-6 pm M-F and 9 am-6 pm on weekends.
Difficulty: Easy-Moderate
Ijams Nature Center (pronounced eye-ams) is a great place to start if you're new to hiking or if you're looking for an easy trail.
The trails range from 0.1 miles to 2.1 miles and are, for the most part, well-marked and maintained.
Be sure to check out Mead's Quarry, an old abandoned limestone quarry that's now a beautiful pond that allows swimming, paddleboarding, and kayaking.
✨ One of the best things to do in Knoxville is visit the Ijams Nature Center because it offers fun for all ages!
There are a lot of trails in Ijams, but the most popular is probably the River Trail Loop.
This 1.3-mile loop starts at the Visitors Center and takes about half an hour to finish (unless you're a shutterbug — plan on taking a lot longer because this one has lots of wildlife viewing opportunities and great views of the Tennessee River). The loop consists of the Tower Trail to River Trail to North Cove and ends up back at the Visitors Center where you started.
Notable features along this hike include a set of steps with a sign that says "Geologic Fold." If you're a fan of geology and history or just want to see something "really cool," be sure to climb that staircase and take a look.
The next part of the loop takes you across the River Boardwalk — one of Ijams's key attractions.
It's a popular destination in the park that juts out over the Tennessee River with caves, shoreline birds, and lovely views of the river. This is a favorite section of the park, and it's easy to see why. Stop here for a while and recharge your soul.
At the time of writing this post, the north end of the River Boardwalk was closed for repair, so you can't complete the loop and will need to U-turn on the boardwalk instead.
2. Tharp Trace at Ijams Nature Center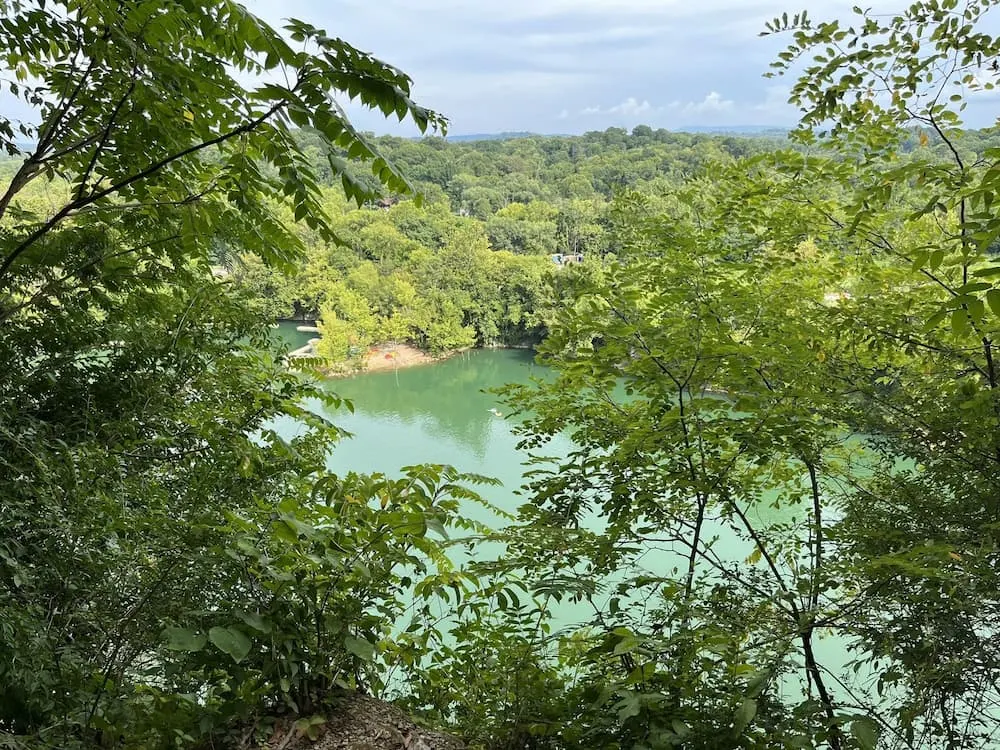 Directions: 2915 Island Home Ave., Knoxville
Hours: The grounds are open every day of the year from 8 am until dusk. The Visitors Center is open 10 am – 6 pm Monday through Friday and 9 am – 6 pm on weekends.
Difficulty: Moderate to Difficult
The River Trail Loop is easy to moderate. That said, there's no shortage of difficulty at Ijams if you're looking for a challenge.
The 1-mile Tharp Trace hike may be short but plan on breaking a sweat and taking about 40-minutes to complete it. This fan-favorite trail starts out with a steep, continuous incline, fantastic views of the quarry and the city from the top, an old cemetery for a fun, historical stop, and then a quick, steep decline. This is a short hike but is great for getting in a solid workout.
Other Attractions at Ijams include the Keyhole, an Instagram-worthy passage under a rock bridge; the Ijams Homesite, HP Ijams original homestead with birding trails, terraced gardens, and rock ponds; and Ijams Crag, an impressive cliff wall with bolted routes and anchors for rock climbers.
You can view a map of all the Ijams hiking trails here.
Tip: Ijams is a popular spot, so if you like to have the trails to yourself, go on a weekday. This park is also dog-friendly, so feel free to bring your furriest hiking buddy as long as you keep them on a leash.
3. Sharp's Ridge Loop Trail at Sharp's Ridge Veterans Memorial Park
Directions: 329 Sharp's Ridge Memorial Park Drive, Knoxville
Hours: Dawn to dusk
Difficulty: Moderate
For one of the best views of Knoxville, the distant Smoky Mountains, and a popular bird-watching spot, check out Sharp's Ridge Veterans Memorial Park — just a 10-minute drive from downtown.
The park has almost 5 miles of unpaved trails that are perfect for hiking, mountain biking, and trail running. In fact, if you're an experienced mountain biker, you'll find the Knightfall Downhill Trail here — a Black Diamond trail for expert mountain bikers.
🥾 The most popular hiking trails in the park are the Sharp's Ridge Loop Trail, a 3.6-mile, multi-use moderate hike that you can expect to finish in about an hour and a half.
Hiking this trail is pleasant all year round. In the Spring and Summer months, the lush foliage will provide a nice, shady hike. In Autumn and Winter, you'll have less obstructed views of the city and the Smoky Mountains in the distance.
Tip: The trails at Sharps Ridge have terrific drainage, so if it's been raining a lot this is a great place to go — even when all the other trails in town are too wet and muddy. Dogs are welcome here, as long as they are on a leash.
You can view a map of all the Sharp's Ridge hiking trails here.
4. The Trails at House Mountain State Natural Area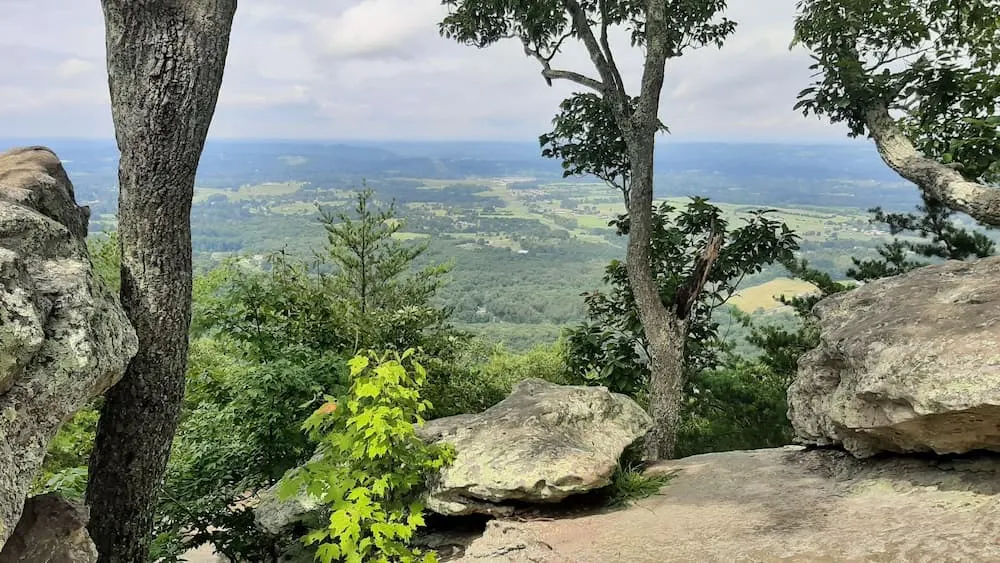 Directions: 9601 Hogskin Road, Corryton
Hours: Sunrise to sunset
Difficulty: Easy to Difficult
Recommended Hike: West Overlook Trail, Crest Trail, Mountain Trail
Just 15 miles from downtown Knoxville is House Mountain State Natural Area — a great spot for a day hike to the highest peak in Knox County.
Whether you're a beginning hiker or a seasoned pro, there's a trail here for you. There are also many opportunities for wildlife sightings and a wide variety of plant life and wildflowers.
The quickest way to a view is to take the 0.8-mile West Overlook Trail (marked with white blazes), which is rated difficult, up the west end of the mountain to the West Overlook.
From there, you'll have sweeping views of the Cumberland Mountains to the north, Knoxville and Sharp's Ridge to the west, and the Smoky Mountains to the south.
If you still have gas in the tank after your climb up, take the 1.5-mile Crest Trail (marked with red blazes). It's an easy to moderate hike that extends from the West Overlook across the ridge to the East Overlook.
You will have to scramble over and around some rocks but this trail offers some truly dramatic views, especially in winter.
When it's time to come back down to earth, give yourself some different scenery by taking the 1-mile, moderately-rated Mountain Trail (blue blazes) back to the parking lot.
This entire hike will take about 3 or 4 hours to complete and you should expect and prepare for extreme changes in weather. This mountain gets a lot of lightning strikes in thunderstorms, so if you encounter bad weather, end your hike and get off the mountain as soon as possible.
Tip: Be aware that part of House Mountain is privately owned, so it's important to stay on the trail while you're hiking here. Dogs are welcome here, as long as they're on a leash at all times.
You can view a map of all the House Mountain hiking trails here.
5. Concord Park Trail at Concord Park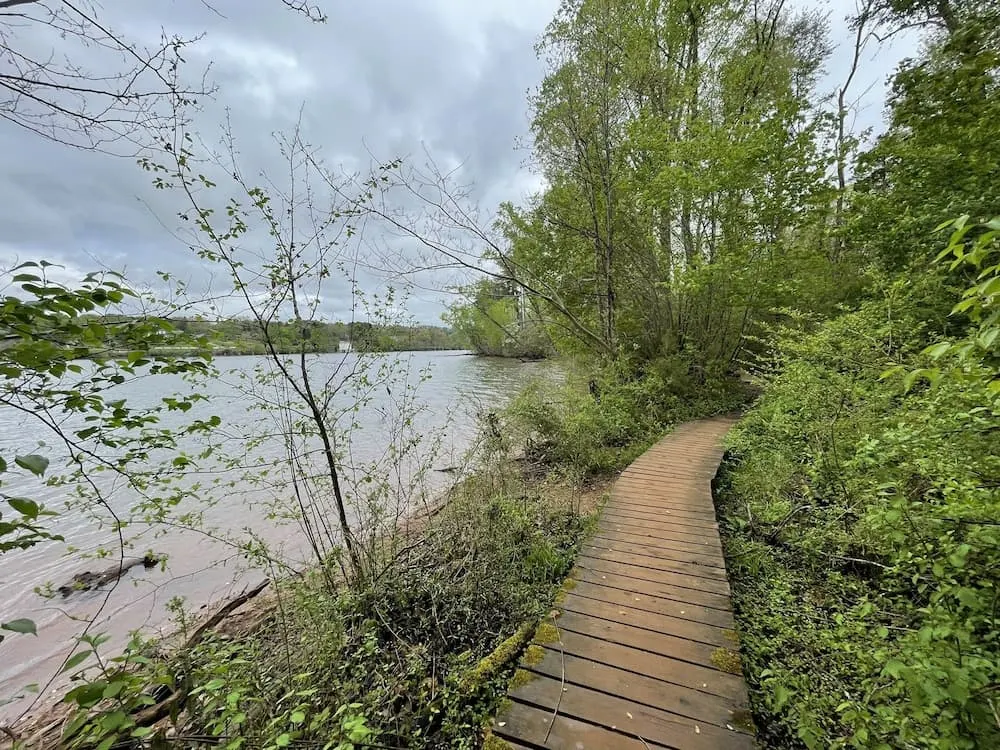 Directions: 10901 South Northshore Drive, Knoxville
Hours: Dawn til dusk
Difficulty: Moderate
Concord Park is a "mega recreational destination" in Knoxville offering everything from inline hockey, a skate park, a golf course, tennis courts, sporting fields for softball and soccer, a marina, and a dog park. There are paved trails for walkers and runners and 9.4 miles of multi-use singletrack for hiking, cross-country running, and mountain biking.
A popular hike here is the Concord Park Trail.
This one is moderately-rated and should take under two hours to finish. It combines the 2.1-mile West Loop with well-marked sections of the Mainline Loop, Middle East Loop, Orient Loop, and Lake Shore Loop to form a fun 4.3-mile loop.
The nice thing about this hike, besides the lovely lake view, is that you have lots of options to bail out early if you need to. The proximity to water makes this a great spot for bird watching and wildlife. Except for the occasional traffic sounds, it's easy to forget you're right in the middle of town.
Tip: If the weather has been wet, you may want to avoid this one. It tends to be slippery and muddy after a good rain. Dogs on leashes are welcome here and you can take them to the dog park when you're done hiking!
You can view a map of all the Concord Park hiking trails here.
6. Upland Trail Outer Loop at Seven Islands State Birding Park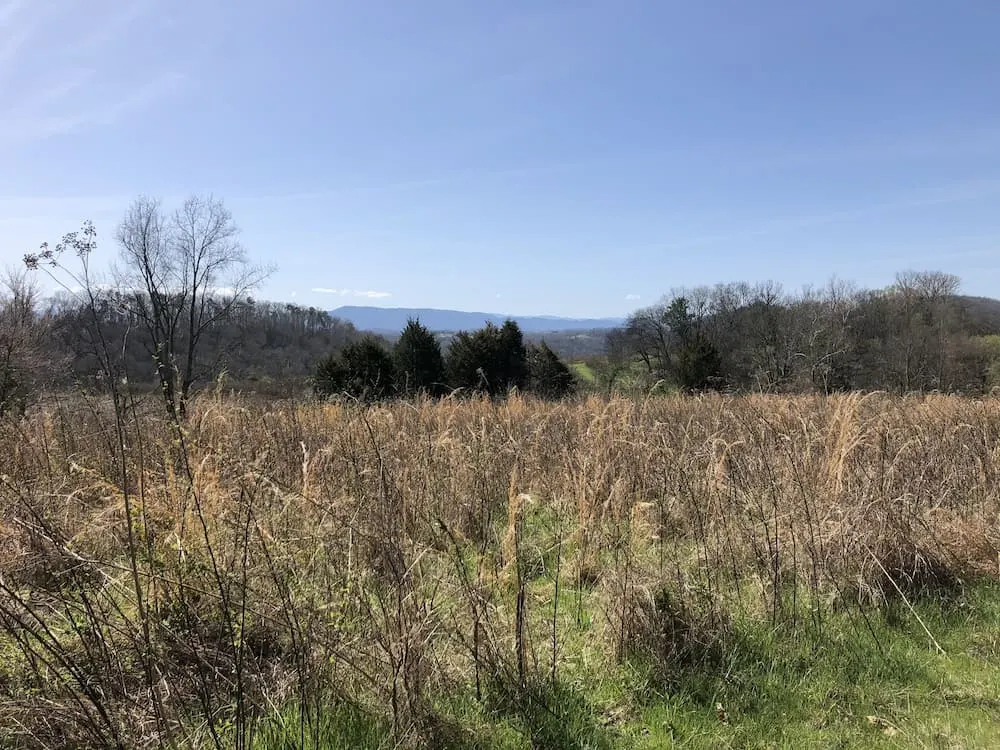 Directions: 2809 Kelly Lane, Kodak
Hours: Sunrise to sunset
Difficulty: Easy
About 19 miles east of Knoxville running along the French Broad River is Seven Islands State Birding Park. This 416-acre park serves as a wildlife refuge with plenty of recreational opportunities, including hiking, fishing, and, of course, bird watching. The park is also a popular spot for photographers, due to its sweeping fields of wildflowers, mountain views, and picturesque old barns.
There are over 8 miles of wide, mowed trails that wind their way through Seven Islands, making their way through the grass fields that run along the French Broad River, past the wetlands, and up through the woods.
Most of the hiking trails here would be considered easy, but if you're looking to get your heart pumping, you can. And the best thing about Seven Islands is that it truly feels like you've escaped the hustle and bustle of the city and made your way to nature. Plus, if you're a fan of wildlife, you're sure to see some here — furred, feathered, and scaley.
For an easy hike with a great chance of spotting deer, rabbits, and too many interesting birds to name, try the Upland Trail Outer Loop. This is a 2.2-mile loop that takes about an hour to finish. The trail is mostly mowed grass but is a dirt path in some places. At the top of the trail, you'll be rewarded with gorgeous views of the river and Mt. LeConte.
Tip: The Rangers at Seven Islands State Birding Park host tons of guided hikes and educational activities. Check their calendar to see if there are any that interest you, but sign up early — they fill up fast! Dogs are welcome on all the trails as long as they are on a leash.
You can view a map of all the Seven Islands State Birding Park here.
Where Will You Hike in Knoxville First?
Above, we've provided a list of some of our favorite trails in and around Knoxville, complete with directions and tips!
Hiking is a great way to get active and enjoy nature, and what better place to do that than right here in Knoxville?
So grab your hiking boots, and your ten hiking essentials, and hit the trail! Which trail will you hike first?
Looking for more Knoxville travel inspiration?
Are there hikes in Knoxville we forgot to mention? Let us know in the comments below!