From bacon and eggs to homemade biscuits & gravy, to buttery pancakes, avocado toast, and more — if you're looking for the best breakfast spots in Bristol TN-VA then you've found it!
Nothing beats a good breakfast or brunch to start your morning preparing you for a fresh new day.
Whether you like your coffee with a side of eggs or prefer to take your brunch to the next level with a mimosa or spicy bloody mary — keep reading to see what breakfast & brunch options are offered in Bristol TN-VA.
Looking for somewhere to eat for lunch or dinner in Bristol? See who made the list for "11 Best Places to Eat in Bristol, TN-VA".
7 Best Breakfast & Brunch Restaurants in Bristol TN-VA
1. Bloom
Style: Brunch
Brunch Hours: Wednesday – Sunday 9am – 3pm / Closed Mon & Tuesday
Bloom is hands-down one of the best brunch restaurants in Bristol.
From the fresh & modern atmosphere to the amazing food — you'll probably be planning your next visit before you leave.
As most restaurants only serve brunch on the weekends, Bloom serves brunch throughout the week as well. Meaning you can grab brunch in Bristol whether you're visiting throughout the week or wanting to grab brunch in between meetings on a work day.
Some of our favorite brunch items at Bloom include the hot chicken and waffles sandwich, their garnished bloody mary, the specialty coffees, and the mix & match soup and salad.
We highly recommend making reservations in advance as you may have to wait for a table.
Interested in eating brunch at Bloom? Check out the menu here.
2. Bristol Bagel & Bakery
Style: Breakfast
Breakfast Hours: Mon – Friday 7:30am – 3pm / Sat & Sunday 8am-3pm
If you're looking for a quick breakfast in downtown Bristol, the Bristol Bagel & Bakery will make the perfect stop.
Grab a freshly made bagel with a variety of homemade cream cheese toppings or try something a little different such as topping your bagel with peanut butter or hummus. Come back for lunch and try one of their hot or cold bagel sandwiches with a side of homemade soup.
You can also make your own bubble tea by choosing your own base and flavors. Or if you'd prefer your morning coffee, you'll have choices from drip coffees, chai lattes, cold brews, espressos, and more.
Check out these Best Hotels in Bristol TN-VA for your next stay in the Birthplace of Country Music.
3. Vivian's Table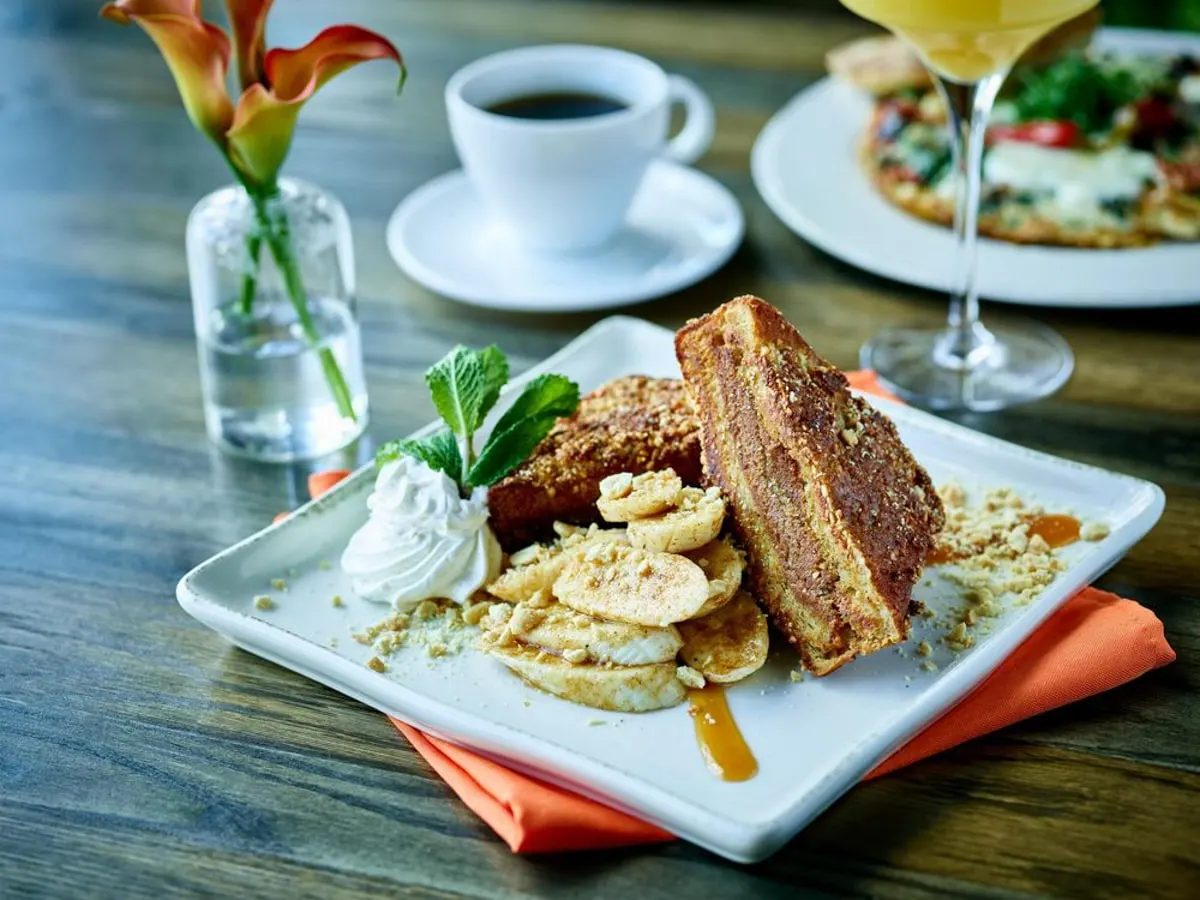 Style: Breakfast / Sunday Brunch
Breakfast Hours: Saturday – Friday 7am – 10:30am / Sunday Brunch 7am-2pm
Vivian's Table is located inside the Bristol Hotel serving breakfast, lunch, and dinner every day of the week as well as brunch on Sunday.
Sunday brunch favorites include the cajun crawfish benedict and the strawberry nutella french toast. Pair those with a bubbly mimosa with an assortment of flavors such as classic orange juice, grapefruit, pineapple, cranberry, or apple-butter.
Or if you're dining for breakfast through the week or on Saturday, try the huevos rancheros or the smoked gouda grits. However, you can't go wrong with anything on the menu!
Stay at one of these cozy cabins in Bristol!
4. J Frank Sunday Brunch
Style: Brunch
Brunch Hours: Sunday 11am – 2pm
If you're looking for a delicious Brunch, try out J Frank. This restaurant is located in the heart of Bristol inside a beautifully restored 1850s Victorian home.
From the crab cake benedict to the shrimp & grits, brunch at J Frank will leave you wanting to come back for lunch and dinner. Pair your brunch with a specialty cocktail such as J Frank's delicious bloody mary or $5 mimosas.
If it's a beautiful day, we suggest sitting outside on the covered front porch. Call (423)-764-3663 for reservations.
5. The Old Lighthouse Diner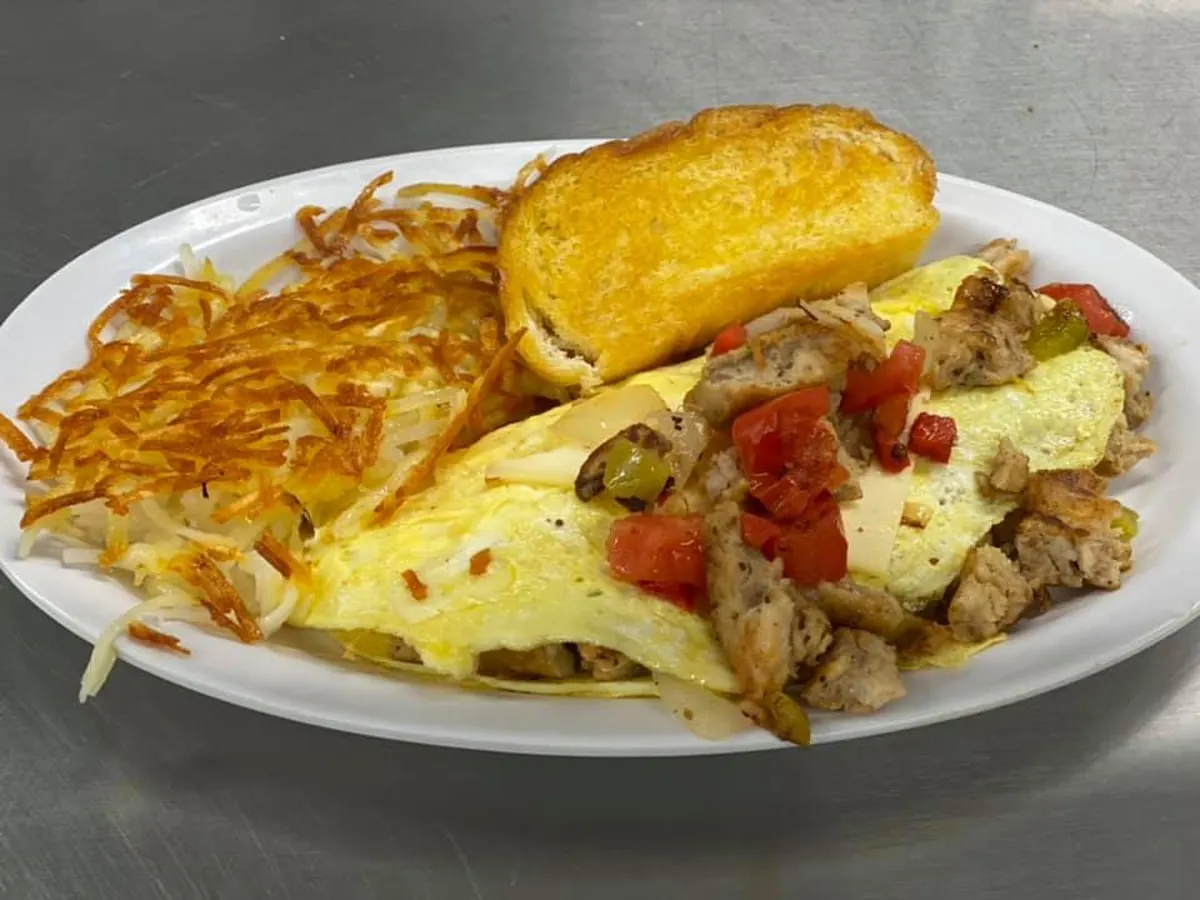 Style: Breakfast
Breakfast Hours: Mon – Saturday 7:30am – 1:30pm / Closed Sunday
The Old Lighthouse Diner is a family-owned restaurant serving breakfast in Bristol, TN for over 10 years.
Step back in time as this diner will give you that nostalgic feeling as it is covered with an assortment of memorabilia from classic movie posters to photos of antique cars.
Breakfast is served all day (until 1:30) with classic breakfast items from eggs your way to omelets, breakfast sandwiches, french toast, pancakes, and more. Also, if you're looking for a cheap breakfast in Bristol, this may be it!
6. BlackBird Bakery
Style: Breakfast
Hours: Mon-Saturday 7am – 10pm (downtown location)
For those who love a donut and coffee for breakfast and want to try something besides Krispy Kreme or Dunkin', try out BlackBird Bakery right in downtown Bristol TN-VA.
Choose from an assortment of 20+ doughnut flavors including strawberry, coconut, orange, chocolate, original glazed, raspberry-filled, bavarian-filled, and many more!
Along with doughnuts, BlackBird Bakery also serves other baked goods including quiches, cakes, pies, pastries, gooey cinnamon rolls, and specialty coffees.
In a hurry? Try BlackBird Bakery's drive-through location at 970 Commonwealth Avenue Bristol, VA 24101.
7. Pal's Sudden Service
Style: Breakfast
Breakfast Hours: Mon-Saturday 6am – 10:30am / Sunday 7am – 11am
Pal's Sudden Service is a local fast-food restaurant that provides quality and quick-service food.
Pal's was the first chain restaurant (one of only two) in the United States to receive a Malcolm Baldrige National Quality Award – which "recognizes U.S. organizations in the business, health care, education, and nonprofit sectors for performance excellence." That's pretty impressive!
Stopping at the drive-through at Pal's would be perfect for a quick breakfast in Bristol or when you're in a hurry.
We think the best breakfast item on the menu is the cheddar rounds, they are deliciously cheesy! Another breakfast favorite is the gravy biscuit (sausage gravy).
Other Places to Eat Breakfast in Bristol
Did you try any of these breakfast or brunch restaurants in Bristol TN-VA? What is your favorite? Let us know in the comments below!
Looking for things to do in Bristol? Also Read 20+ Best Things to Do in Bristol, TN-VA: The Birthplace of Country Music