Whether you're visiting Bristol for NASCAR, the new Bristol Casino, or the Bristol Rhythm & Roots Music Festival, you're probably looking for the best hotel to rest your head during your stay.
Best known for being the Birthplace of Country Music and NASCAR racing, Bristol TN-VA provides a variety of fun activities and things to do for everyone to enjoy.
After a long day of exploring, these below hotels in Bristol will provide everything you need to rest and recharge.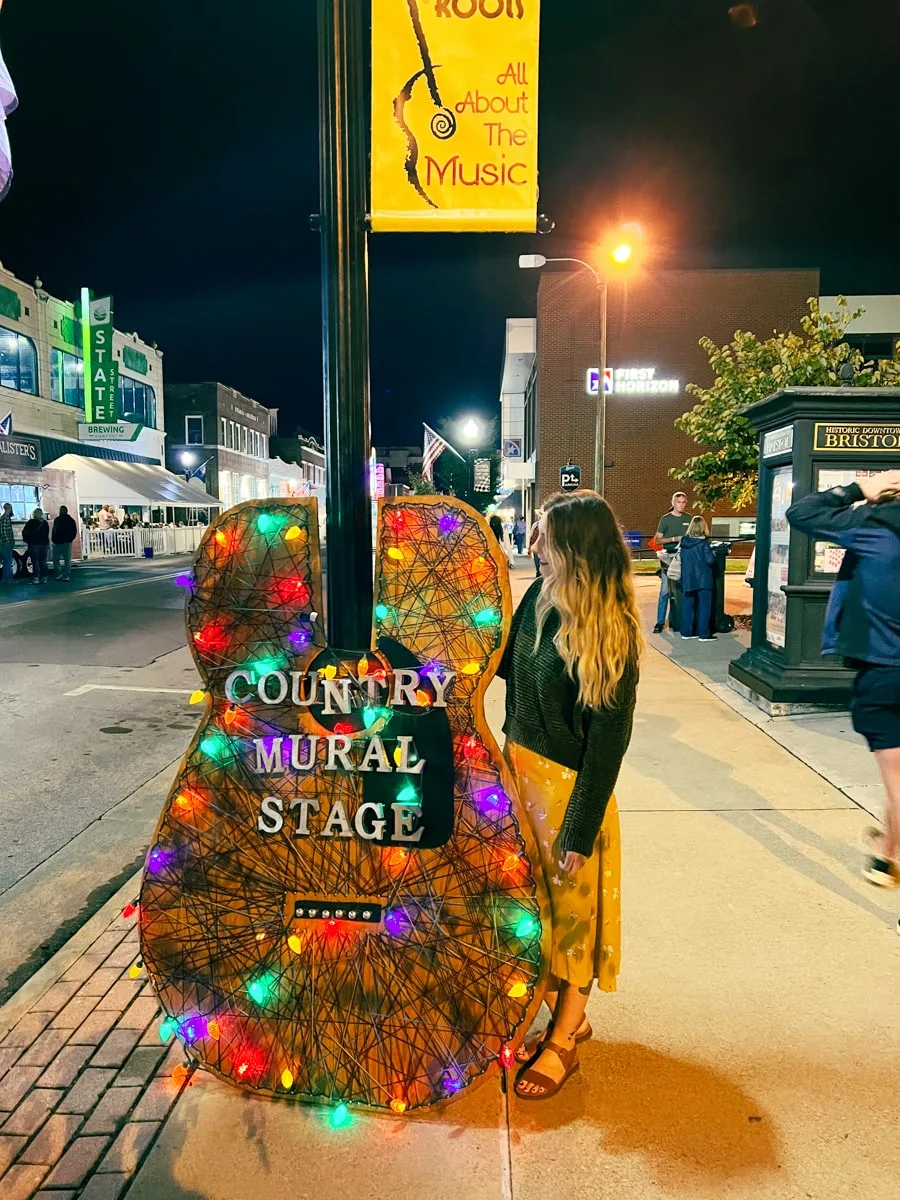 In short, the best place to stay will be in downtown Bristol as this is where all the action happens. You will be within walking distance to awesome eateries, entertainment, and breweries.
As you probably know, Bristol lies smack-dab on the border of both Tennessee and Virginia—the state line is separated by the famous "State Street" which runs right through downtown — where you'll have the opportunity to literally stand in two states at once!
Below we have listed some of the best hotels in Bristol, Tennessee-Virginia, including budget-friendly stays, pet-friendly stays, and more.
Keep reading to see what hotels Bristol has to offer for your next visit to the Birthplace of Country Music!
9 Best Hotels in Bristol Tennessee & Virginia
1. The Bristol Hotel
Average Price per Night: $175
Pet Friendly: Yes
⭐️⭐️⭐️⭐️
The Bristol Hotel is one of the best places to stay in Bristol as it was voted the #10 Hotel in the U.S. by Travel & Leisure in the year 2020.
Located right in downtown Bristol it's easy to walk to most of the top attractions in Bristol including the Birthplace of Country Music Museum.
Along with comfortable and stylish rooms, the hotel provides a cocktail bar, a full-service restaurant, a ballroom for special events, and a rooftop bar offering live music.
Lumac's Rooftop Bar is a popular spot at the Bristol Hotel providing views of the Appalachian Mountains while enjoying cocktails, barrel-aged whiskeys, frozen sangrias, and more.
The hotel restaurant, also known as Vivian's Table, offers a breakfast and dinner menu where you can find items such as beef tenderloin, rainbow trout, cajun pasta, and more.
This hotel is highly accommodating for pets as they provide pet essential items such as water bowls, pet beds, leashes, and a puppy snack at check-in. Pet fees are $75 per pet allowing up to two pets per stay.
2. The Sessions Hotel
Average Price per Night: $160
Pet Friendly: Yes
⭐️⭐️⭐️
As a member of the Marriott Tribute Portfolio, The Sessions Hotel is a great hotel found in downtown Bristol.
The Sessions Hotel entertainment complex maintains historical value in Bristol as it includes the 1915 Bristol Grocery Building, the 1920 Jobbers Candy Factory, and the 1922 Simply Grand Granary Mill.
Rooms at the Sessions hotel are warm and inviting with features of brick walls and industrial finishes. Relax in one of their standard rooms or upgrade to the Mill Suite where you can sleep inside a silo — neat!
Highlights include the popular Southern Craft BBQ restaurant, a day spa & salon, music venues, and a rooftop bar where you can listen to live music and cozy up by a firepit with your favorite cocktail.
Attend a concert or host an event with live music at one of the Sessions Hotel music venues — great for weddings, cocktail parties, and more.
The Sessions Hotel is also great for your furry best friend as they also provide dog essentials such as a dog bowl and treats. A one-time pet deposit of $50 is required.
3. Fairfield Inn & Suites Bristol
Average Price per Night: $135
Pet Friendly: No
⭐️⭐️⭐️
Conveniently located just off the Interstate, Fairfield Inn & Suites is a good hotel choice while visiting Bristol TN-VA.
This hotel is within a short drive to The Pinnacle — a shopping destination where you can find dozens of shopping, dining, and entertainment options including a movie theater. It is also only a 7-minute drive to the Bristol Casino.
Read More: Gambling at the Bristol Casino: The Ultimate Guide 🎰
The Bristol Regional Medical Center is also just across the road if you are staying to visit family or a loved one.
Fairfield Inn & Suites features include a heated indoor pool, fitness center, and complimentary breakfast.
4. Courtyard Bristol
Average Price per Night: $149
Pet Friendly: No
⭐️⭐️⭐️
We're sure you've heard of (or even stayed at) a Courtyard by Marriott at some point, so we'll just cover the highlights.
The Courtyard Bristol is in a great location within close proximity to many restaurants and shops.
The rooms are spacious and the beds are comfortable with thick mattresses and fluffy pillows. Amenities include a fitness center, indoor pool, and hot tub.
Courtyard is approximately a 10-minute drive to downtown Bristol but is just minutes from popular shopping including Target and T.J. Maxx, as well as many restaurants like Osaka Japanese Steakhouse and Red Lobster.
It's also just a 5-minute drive to Sugar Hollow Park — a 400-acre park featuring bike trails, picnic areas, a playground, a pool, and recreational fields.
5. Hilton Garden Inn Bristol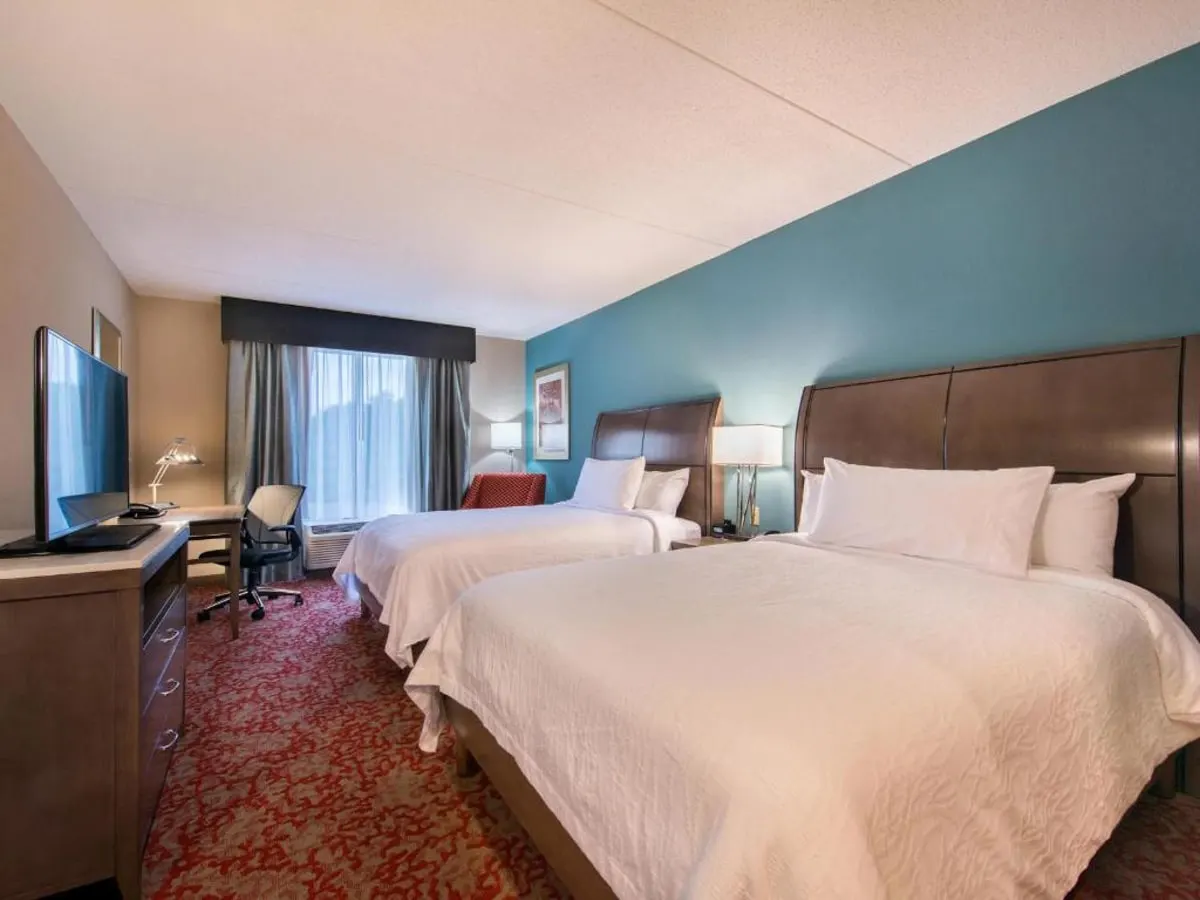 Average Price per Night: $130
Pet Friendly: No
⭐️⭐️⭐️
The Hilton Garden Inn can be found right off the interstate adjacent to Cracker Barrel Old Country Store— making it a great hotel in Bristol where you can wake up and walk straight to breakfast.
This hotel is in the same vicinity as Courtyard and is close to many restaurants, shops, a park, and a couple of golf courses.
The rooms are comfortable making it easy to wind down after a long day.
If you're looking to head downtown, it's approximately a 10-minute drive from this location.
Also Read: 20+ Best Things to Do in Bristol, TN-VA
6. Hampton Inn
Average Price per Night: $142
Pet Friendly: Yes
⭐️⭐️⭐️
Hampton Inn is located right off the interstate and is close to many popular shops and restaurants in Bristol.
Close to the Pinnacle Shopping like Fairfield Inn & Suites mentioned above — you'll be minutes to popular shops such as Belk, Aerie, Bass Pro Shop, and more.
Enjoy dinner at one of the restaurants nearby such as Aubreys and finish the night off with a movie at the Marquee Cinema.
This hotel features an outdoor pool and fitness room.
The location makes it easy to hop onto the interstate to travel south toward Johnson City or head north and explore Abingdon, Virginia which is just 12 miles away.
7. Days Inn by Wyndham Bristol Parkway
Average Price per Night: $70
Pet Friendly: Yes
⭐️⭐️
Days Inn on the Bristol Parkway is a budget-friendly hotel that is located between the Bristol Motor Speedway and downtown Bristol.
Head downtown to grab some dinner, we suggest trying Bloom — it's fantastic! Later grab some delicious dessert at the Blackbird Bakery.
Amenities include an outdoor pool and complimentary breakfast. Grab breakfast and head out to the speedway for a fun-filled day!
This is a good hotel in a great location for those looking for a budget-friendly stay in Bristol TN-VA.
8. Travel Inn
Average Price per Night: $60
Pet Friendly: Yes
⭐️⭐️
The Travel Inn is another budget-friendly option, but its best perk is its close proximity to the Hard Rock Hotel & Casino.
The casino is just a 3-minute drive from the hotel or you can walk for approximately 15-minutes.
You can have a fun night gambling at the casino without the worries of how you're going to make it back home safely.
This hotel is a little outdated but for those looking for something cheap and with a great location, this may be it!
9. Speedway Inn
Average Price per Night: $75
Pet Friendly: Yes
⭐️⭐️
Speedway Inn is one of the closest stays to the Bristol Motor Speedway you can get. If you're looking for something closer, you'll need to bring the RV and camp. Or check out these listings close to the racetrack on VRBO.
The Bristol Motor Speedway is approximately a 9-minute drive from this motel.
This motel does not have the best reviews but if you're someone just looking for somewhere to stay in Bristol that is cheap and budget-friendly AND is close to the speedway, you may want to consider it.
Coming Soon: Hard Rock Hotel — summer 2024!
📌 PIN THIS BRISTOL HOTEL GUIDE FOR LATER