Planning a trip to the mountains and searching for the best cabins in Bristol TN/VA? We've got you covered!
This beautiful mountain town, which is a "sister city" on both the Tennessee and Virginia sides of the border, has tons of gorgeous cabin rentals.
And that's a great thing, because you'll want to spend as much time as possible in the area, exploring Bristol's waterfalls and sampling the local restaurant scene.
Whether you're a couple wanting to sneak away for a romantic getaway, you're planning a large group trip for a birthday or reunion, or it's something else entirely, we're confident you'll find the perfect Bristol cabin rental for the occasion.
Without further ado, here are 10 of the best cabin rentals in Bristol TN-VA!
The Best Cabin Rentals Around Bristol TN/VA
1. The Bristol Tree House
You may not expect a cabin with "tree house" in the name to be close to, well, much of anything, but The Bristol Tree House is just minutes from downtown.
True to the cabin's name, it's completely surrounded by trees.
The large windows all around, 360-degree views, and exposed beam lofted ceilings truly do make you feel as if you're perched up high in the trees.
Further, multiple decks and seating areas on both levels also add to this feel (and offer several places to watch all the local deer that make frequent appearances!).
Inside, the "treehouse" is light and bright. There's a fully outfitted kitchen, comfy living room, and wood stove upstairs.
A spiral staircase leads to the bedrooms downstairs, as well as a huge, unique plunge-style soaking tub.
In our opinion, that tub alone makes this one of the best cabins in Bristol TN/VA!
Equally important, though, are the larger-than-life views of the forest outside that really do make you feel like you're sleeping in a treehouse!
Click here to book this cabin in Bristol 🏡
2. Abrams Falls Cabin
On the Virginia side of Bristol, this remote cabin is an absolute dream.
It's nestled on a hillside in the Blue Ridge Mountains, and there isn't a single structure within eyesight — including farms or lakes. Nothing but nature, plus Abrams Falls Creek flowing down the hill.
Amazingly, though, Downtown Bristol itself is just 10-15 minutes away by car.
That ability to truly enjoy the best of both worlds is precisely what makes this one of the best cabin rentals in Bristol TN/VA.
As the cabin's name suggests, guests can hike to Abrams Falls right from the property. And no, we're not referring to the Abrams Falls in Great Smoky Mountains National Park; this is a different waterfall!
Equally important, because Virginia is a renowned mountain biking destination, there's also a bike path, Mendota Trail.
Abrams Falls Cabin offers an ideal interior layout for a large group, including families or multiple couples. Each of the three bedrooms has its own full bathroom, which is a rarity among most cabins!
Finally, there is one important thing to be aware of: Depending on your group size, you'll rent either the upstairs or the entire cabin (upstairs and downstairs). Four or fewer guests get the top (two bedrooms and two bathrooms), while groups of five or more get the additional third bedroom and bathroom.
Click here to book the Abrams Falls Cabin 🌲
3. Pheasant Tail at Tailwaters Lodge
Calling all anglers! The Pheasant Tail cabin has 540 feet of private river frontage on the South Holston River.
You can very literally be fishing within minutes of waking up. How many other best cabins in Bristol TN-VA can say that?!
What's more, nearby Tennessee-Virginia public lands offer 1.5 miles of wade fishing, easily accessible from the cabin. This is absolute paradise for fishermen!
After those active days spent on the river, the interior of this cozy, 150-year-old cabin will be a welcome retreat. The Pheasant Tail comfortably sleeps eight, including six in twin beds to help maximize the space. Besides being the ideal setup for fishermen, it's also great for families.
Crank up the propane gas fireplace and curl up with a good book or settle in for movie night!
In addition, the cabin's exterior surroundings are peaceful and secluded. It's surrounded on three sides by public land, and sits at the end of a dead-end street. There's a lovely, well-maintained garden and a large fire pit for swapping stories and tips at the end of the day.
The thoughtful owners have truly thought of everything at the Pheasant Tail, including a spacious turnaround in the driveway for trucks and trailers.
Click here to reserve this cabin 🎣
4. Osprey at Tailwaters Lodge
Another cabin at Tailwaters Lodge, Osprey Cabin overlooks the river from its perch on a hill 75 feet above. Thanks to the elevated location, you'll also enjoy views out over the forest and surrounding mountains.
The views make the cabin feel particularly secluded, but it's not just a feeling. Like the Pheasant Tail cabin, public lands and national forest surround Osprey on three sides.
The privacy and scenery combined make this one of the best cabin rentals in Bristol TN-VA!
Taking things to the next level, and also like Pheasant Tail, this cabin is a haven for anglers. Namely, the back deck was even made into a dedicated angler station, with plenty of benches and hooks for waders and rods.
Follow the wraparound deck up front for river views, a grill (to cook your day's catch, maybe?!), and a gorgeous outdoor stone fireplace.
Don't worry if the weather turns, because the cabin's picture windows and loft let you enjoy the view even if you're hanging out inside.
When you're ready to unwind indoors or turn in for the night, the cabin's layout allows for plenty of flexibility. The open-concept downstairs lets everyone gather around a fire, while the two bedrooms and one bathroom upstairs offer four beds: two queens and two twin XL Murphy beds.
Please note that the cabin sits on a fairly steep hill and therefore may not be suitable for young children or folks with mobility issues.
5. Newly Renovated Cabin Near Downtown Bristol
This cozy Bristol cabin is in the heart of a residential neighborhood, yet it sits on a wooded lot.
Enjoy a mountain getaway whether you're a local or from out of town, and take advantage of bring just a short two miles from downtown!
Inside, the entire cabin has been recently renovated. Spend your days out exploring the surrounding nature, then retreat to this contemporary, super comfy cabin. When you want to be outside but still "home," the patio off the kitchen leads directly to the well-manicured yard with a fire pit.
The modern farmhouse-style kitchen invites you to gather and whip up all your meals, while the open layout lets everyone be together while also providing space to spread out.
Comfortably sleeping up to four and providing a Smart TV, wi-fi, and a washer and dryer, this is one of the best cabin rentals near Downtown Bristol for couples and small families.
Check rates & reserve it today!
6. Whistling Timbers Cabin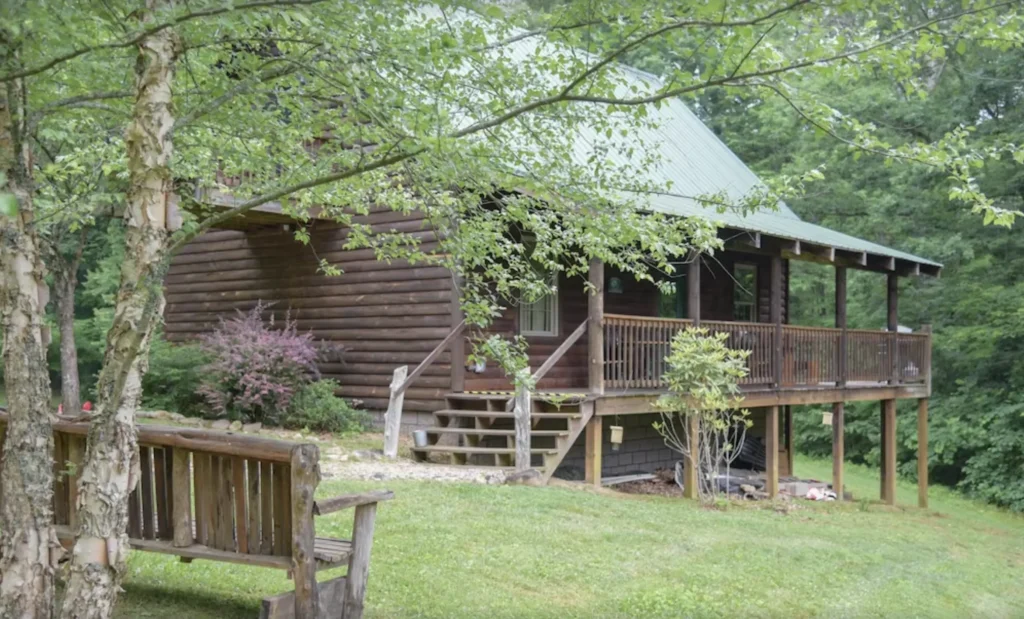 Whistling Timbers is the log cabin of our dreams! Nestled on 38 acres bordering the Cherokee National Forest and perched high on a ridge, the 3-bedroom, 2-bath cabin is truly secluded.
First, the enormous wraparound deck offers outstanding views, making the perfect spot for wildlife watching while you enjoy dinner or morning coffee. There's also a fire pit in the backyard with plenty of seating.
Due to the proximity of the national forest, there are tons of hiking and biking trails nearby. The cabin is also right across from the South Holston River, and the owners even installed wader hooks on the porch for angling enthusiasts.
Inside, Whistling Timbers continues to highlight why it's one of the best cabin rentals in Bristol TN/VA.
The open floorplan with a loft shows off the cabin's amazing views while also giving everyone room to spread out. Next, there's a gas fireplace for rainy days, a well-equipped kitchen, and even a laundry room.
Finally, this Bristol cabin is also exceptionally dog-friendly, with no restrictions whatsoever! Book now.
7. Secluded Cabin Near the South Holston River
This cozy cabin is ideal for two couples, a family, or other small groups, with two bedrooms and one bathroom.
You'll never run out of things to do in Bristol when staying at this cabin!
Bristol Motor Speedway, the outlet shops, and the river are all within a few minutes' drive. Right on the property, enjoy one acre of open green space and beautiful views. Furthermore, the cabin sits slightly up on a hill, which gives you your own slice of paradise.
Start your day watching deer as you sip your coffee from the wooden Adirondack chairs on the open front porch. Similarly, grill up dinner on the large back deck or soak up some sunshine in the lounge chair.
When you head inside, you'll enjoy an updated kitchen, super comfy furniture, and lots of natural light through several windows. Downstairs, the finished basement has workout equipment and a washer and dryer.
Fly fishermen will be especially happy here, because the South Holston River Fly Shop is literally right next door!
8. South Holston River Cabin Rentals
In case you haven't picked up on the local theme just yet, fly fishing is kind of a big deal (okay, a really big deal!) in Bristol, on both sides of the state line.
Specifically, many of the best cabins in Bristol TN/VA cater to fly fishermen and other sportsmen. These SoHo River cabins are a prime example, although they're so thoughtfully set up, you'll probably want to stay even if you don't fish!
However, one of the prime attractions of the this South Holston cabin rental is that it's uber pet-friendly! 🐾
Somewhere between a traditional cabin and an upscale glamping stay, this cabin maximizes indoor-outdoor living. There are separate buildings for the bunkhouse, bathhouse, and kitchen, as well as a large outdoor kitchen area.
You'll be spoiled for choice with multiple places to cook and hang out indoors and out. For example, the dining and living areas are primarily outside, and you can even watch TV outside!
Just know that if you do, you may not be totally alone — wild deer and turkeys make frequent appearances!
Fly fishing enthusiasts can also book a guided wading trip, and river float trips are offered for more relaxed adventures.
Book this pet-friendly cabin rental in Bristol here!
9. Creekside Retreat
Enjoy views from every room at one of the best cabin rentals in Bristol Virginia! The creek runs right out front, helping you feel like you're miles from civilization.
Creekside Retreat is just a few minutes from downtown Bristol and the Bristol Casino, but you won't feel that way when you're sitting on the expansive deck overlooking the creek or lounging in an Adirondack chair just feet from it!
The 2-bedroom cabin is simple yet modern and well-stocked. Rustic mountain- and bear-themed decor and comfy leather furniture begs you to settle in, while the wooded surroundings simultaneously encourage you to go out and explore.
You'll find one large deck and a smaller one of the main bedroom, a fully-equipped kitchen, living room with large streaming TV, wi-fi, and even a washer and dryer. Book it here