Although it's wildly popular for its colorful fall foliage, Gatlinburg in winter is just as magical.
We think Gatlinburg is a dreamy cold weather destination and the perfect place to spend the holiday season or kick off the new year.
This East Tennessee town caters to a wide range of groups, such as couples, families, friends, or even solo travelers.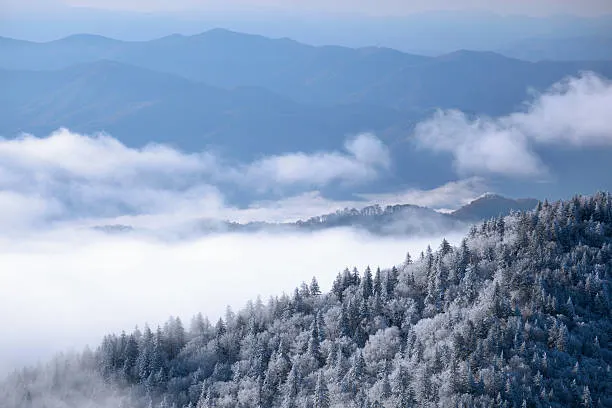 Gatlinburg squeezes a TON of fun & things to do into a compact area.
And with the elaborate holiday decorations on the streets (beginning in November), this small Tennessee town also offers a healthy dose of festive cheer.
To make your Gatlinburg adventure even better, stay at one of these cozy cabins for cuddling up in the evenings warming up around the fire with a cup of hot cocoa in hand.
So, let's get into it — without further ado, here are several incredible activities Gatlinburg in winter has to offer.
12 Gatlinburg in Winter Activities
1. Ober Gatlinburg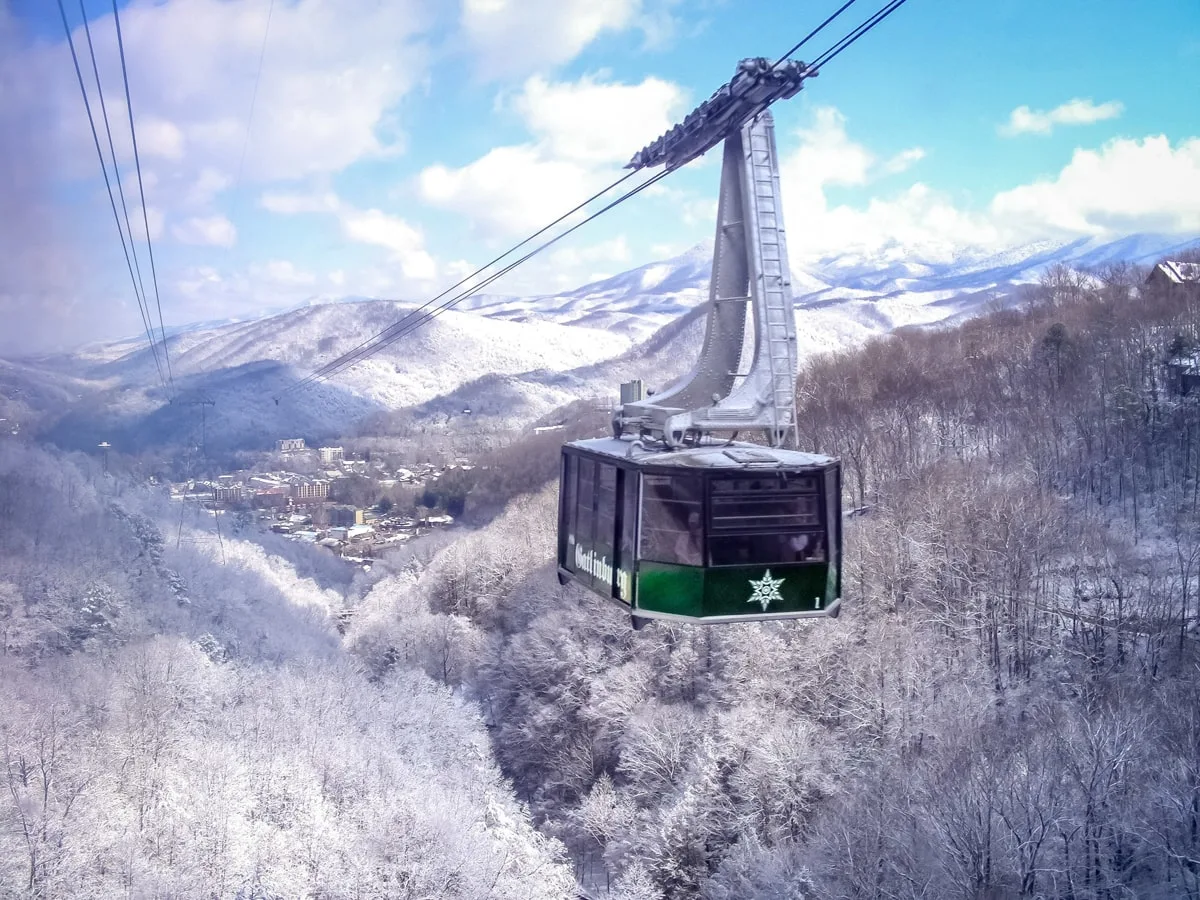 One of the biggest draws to Gatlinburg in winter is the Ober recreation area!
Ober Gatlinburg is the only skiing area in the entire state of Tennessee and offers an impressive lineup of snow activities.
You can get to Ober by driving a winding road for 17 miles, or if you'd prefer, ride the aerial tram right from downtown Gatlinburg. It will get you into that skiing mindset since it's reminiscent of a traditional gondola.
Once you arrive at Ober, the winter wonderland comes to life thanks to the fact that the resort works for weeks to pile up real snow!
You can ski or snowboard, and there are several runs to choose from, which all have varying degrees of difficulty. Also, you can participate in several other fun, family-friendly activities.
Tube down the specially-constructed sled zone or lace up a pair of ice skates for a spin around the rink. Or, enjoy a truly unique version of bumper cars — set on ice!
And if you want a lower-key way to enjoy the powder, take the kids to the snow zone. This kid-centric play zone has snowy obstacle courses, small sledding hills, and more.
Ober is always brimming with holiday cheer all season long, with music, carousels, festive decorations, and friendly staff all creating a wonderland experience!
Note that Ober Gatlinburg has a tentative opening date for snow season every year, depending on conditions. Check the website before heading out for the most up-to-date status.
2. Winter Magic Trolley Ride of Lights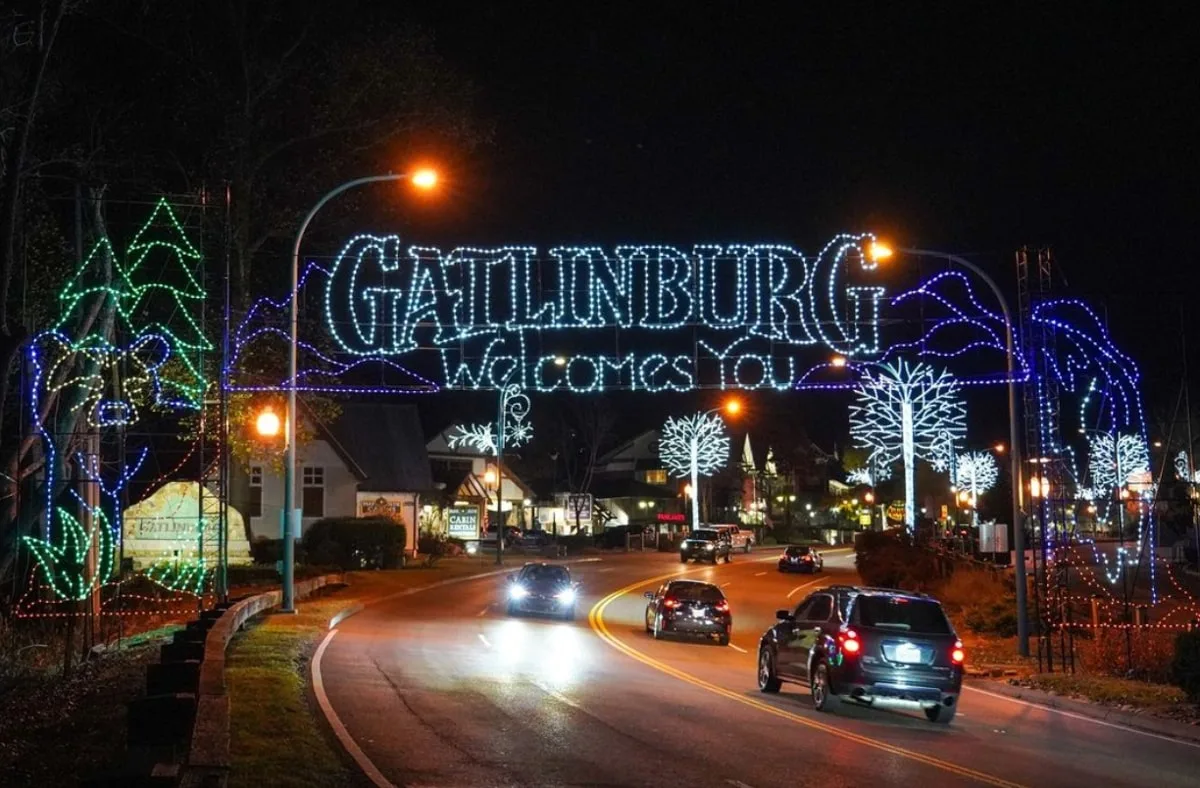 Don't miss out on a trolley tour through town, showcasing Gatlinburg's incredible Christmas Lights.
What better way to get into the holiday cheer than bundling up and cruising through downtown?
This tour lasts 45 minutes and shows off the brightest displays in town, as well as the lit-up fountains and Christmas scenes in outlying areas. (Local residents seriously know how to go above and beyond when it comes to holiday decor).
There's one specific section of the tour that cruises part of the main parkway. Because of the way it lets the mountain town shine (literally!), this in itself is one of the best things to do in Gatlinburg in winter.
Trolley rides cost $5 per person, and depart from the aquarium several times each evening.
Best of all, the tours operate well into January, which means it's possible to enjoy the festivities off-season, too.
Just remember to bring a jacket and a blanket. Not only will they keep you toasty, but it's also essential to the whole historic vehicle experience!
3. Ski Clingman's Dome Road
In addition to Ober Gatlinburg, there's another skiing opportunity in the area, too (DIY cross-country skiing that is!).
In case you aren't familiar, Clingman's Dome marks the highest point in all of Tennessee.
Sitting at an elevation of 6,643 feet, you get 360-degree views from the Clingman's Dome observation tower. Plus (fun fact!), it sits half in Tennessee and half in North Carolina.
The road to Clingman's Dome closes once December rolls around, but only for those driving.
Cross-country skiing and snowshoeing enthusiasts can still make their way to the top!
The observation tower stays open year-round, making this one of the best things to do in Gatlinburg in winter.
Somehow, the views are even more spectacular when the peaks are sprinkled with snow!
From the point where the road closes, the route to the tower is an ambitious 14-mile round-trip. However, you can turn back whenever you like.
Notably, this area gets more snowfall than elsewhere in the Smokies. (Plan your trip in January or February for the highest chances of fresh, deep powder).
4. Fantasy of Christmas Lights Parade
Add Gatlinburg's famous Christmas parade to your list of things to do in winter!
More than 60,000 spectators show up to watch the all-out affair of lights, floats, and holiday fun.
You'll see that parade participants go all out with a dazzling procession featuring ornate floats, horses, fireworks, and more. Bands march through the streets performing Christmas tunes, while dancers engage the crowd.
The parade itself only lasts 1.5 hours, but people start gathering in the streets in the early afternoon. This is well-known as one of the best events during Gatlinburg in winter.
Arrive (very) early to guarantee a spot with a great view. Honestly, though, even if you don't snag a great spot, the festive atmosphere is a can't-miss.
5. Sample Gatlinburg Distilleries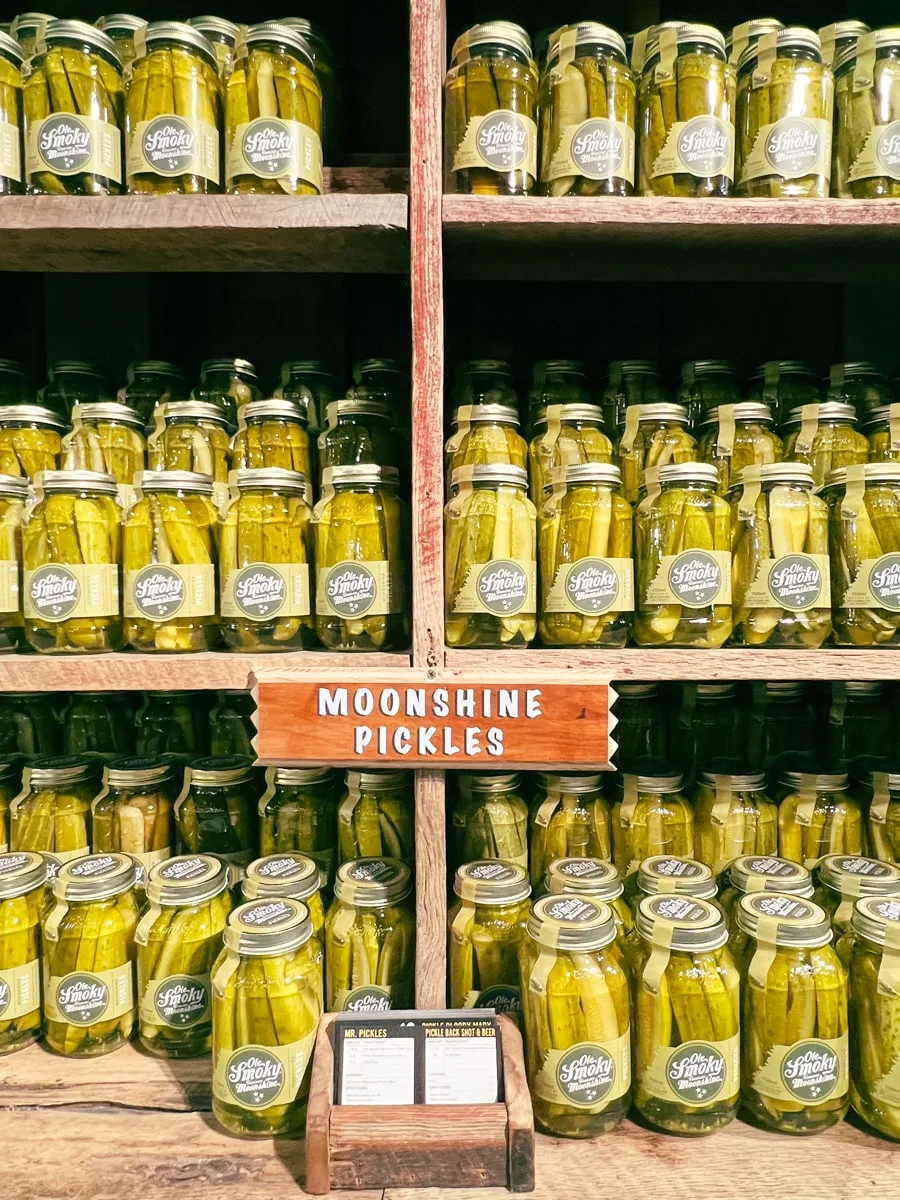 It's no secret that Gatlinburg in winter gets chilly. So, warm up by sampling some spirits!
The city (like much of the Appalachian region) has a deep distilling culture, and there are dozens of spots to try.
In Gatlinburg, it's all about moonshine, which means liquor comes in a surprisingly broad range of flavors.
Always bustling Ole Smokey offers everything from mango margarita to coffee and even pickle-flavored shine (one of our favorites).
Meanwhile, next-door neighbor Sugar Lands Distilling also has an extensive selection of fruit-flavored shine, plus maple-filtered vodka and whiskey.
Finish your own walking distillery hop at old-fashioned Tennessee Shine Co. It offers a huge selection of flavored bourbons and whiskey, in addition to moonshine, to round out the night.
6. Explore Great Smoky Mountains National Park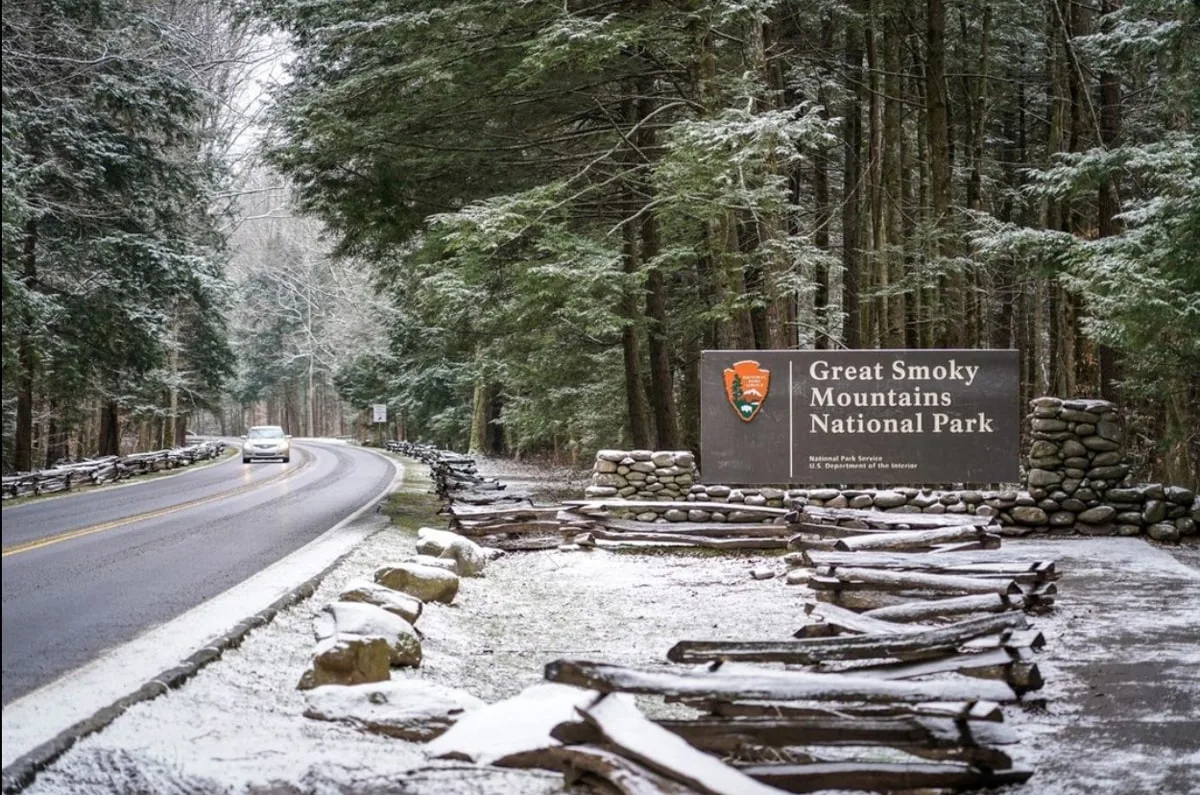 Although the temperatures drop, you still may be interested in exploring the outdoors. The neighboring national park is open year-round, and it offers a unique winter wonderland charm.
Some of the park's most popular waterfalls are accessible even in the dead of winter — including Laurel Falls, Rainbow Falls, and the Ramsey Cascades.
Seeing the falls frozen over, and with impressive ice formations, is unforgettable!
If you're more into mountain views, simply drive the park roads and hop out at some of the overlooks.
While visiting GSMNP is a special Gatlinburg in winter experience, don't forget to bundle up. It can get extremely cold, plus windy and icy.
Also, note that not all areas of the park remain open year-round, so double-check with rangers about what's open. Due to its high elevation, the park receives far more snow than the town of Gatlinburg.
7. Christmas in the Smokies Bluegrass Festival
If you like music then check out the tunes of local musicians at the annual Bluegrass Festival.
Held at the Stone Hill Lodge over a 3-day weekend, the roster includes over a dozen local bands.
From solo acoustic performances to boot-stompin band jams, the festival showcases the full range of the bluegrass genre. With such variety and depth, you'll want to go several days in a row.
Purchase tickets in advance or the day of, if space remains open. And if you like to enjoy a few drinks before or during the show, a complimentary shuttle operates between town and the venue.
8. Shop Downtown Gatlinburg
Whether it's before or after the holiday season, retail therapy is always a good idea! And great news, Gatlinburg has a charming array of cute shops to fill your bags.
There's no better place to shop than the Village, filled with nearly 30 charming stores in a German-themed setting.
Browse for cute clothing, toys, outdoor gear, and more; there's something for every taste. Even if you're not really shopping, the Village is one of the best places to hang out in Gatlinburg in winter.
The Village has countless opportunities to fuel up in between stores, too. For a cup of coffee or tea, or a sweet treat, the cafes are just as lovely as the boutiques.
Draped in Christmas lights until well after the holiday, the festive vibe is always an instant mood booster.
9. Enchanted Winter at Anakeesta
Gatlinburg's award-winning theme park, Anakeesta, keeps the festivities rolling into the winter! The lights and decor go all out, with holiday-themed attractions around every corner.
Stop by Arctic Alley for a seriously impressive display of several thousand lights programmed to music. Then, continue to Firefly and Black Bear Village for shopping to a soundtrack of Christmas carols.
Ride the gondola up the mountain to discover a whimsical world of Christmas-themed fun. Even the celebrated TreeTop SkyWalk gets into the holiday spirit!
Finally, to cap off the holiday season, celebrate New Year's Eve at Anakeesta. In addition to a wow-inducing fireworks display, there's live music, an incredible dinner, and live shows.
And don't miss the animation projected onto a 40-foot-tall Christmas tree! It's the perfect backdrop to say good-bye to Gatlinburg in winter and close out the year surrounded by friends and family.
10. Gatlinburg New Year's Eve Celebrations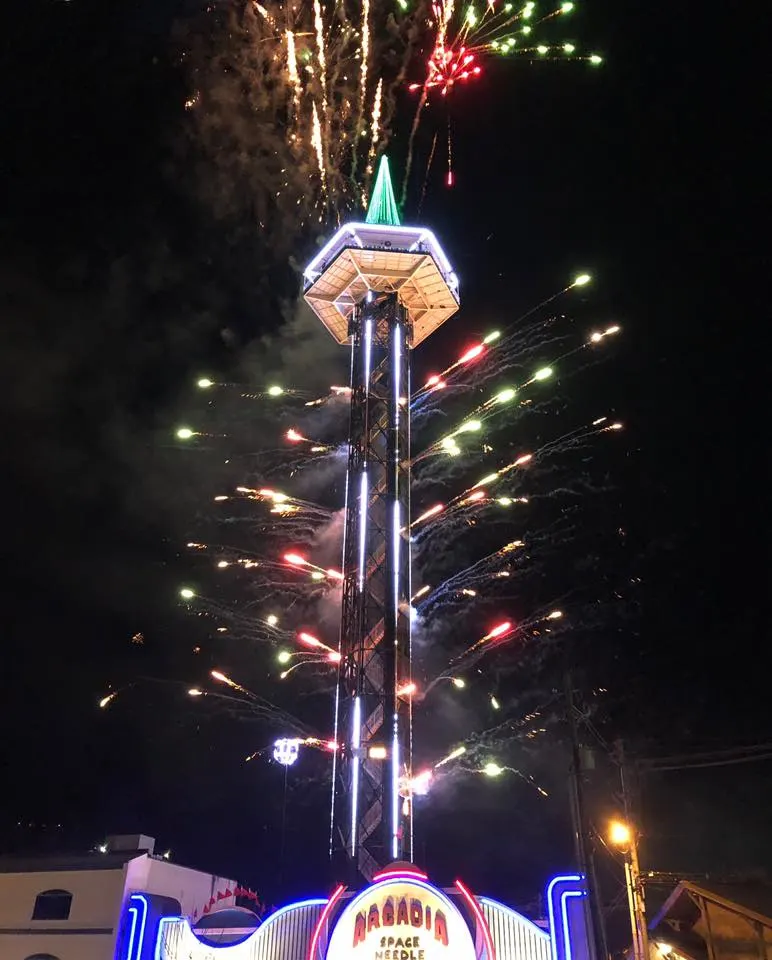 Anakeesta certainly isn't the only place to celebrate New Year's Eve. Gatlinburg throws several other unforgettable festivities, too!
The city's space needle turns into its very own ball drop, with a countdown just like the world-famous one in Times Square. Expect a family-friendly atmosphere. Thick crowds keep the event lively, but it's still fairly easy to navigate.
And, of course, there's an incredible fireworks display…as well as other pyrotechnic surprises.
Arrive early so you don't have to stress over parking, and remember, restaurants and bars will have longer wait times. Be thoughtful about reservation times, so you don't miss the star attraction!
11. Warm up in a Gatlinburg Cafe
With so much holiday hustle and bustle, sometimes you just need a low-key cafe.
Thankfully, this small city has an incredible selection for a cup o' Joe. Plus, hanging out in one is one of the best ways to enjoy Gatlinburg in winter during bad weather.
Festive Coffee and Company is a great place to start. The cafe has a tasty selection of beverages, house-roasted beans, and gifts. Non-coffee drinkers, there's plenty for you, too.
For a coffee with a sweeter touch, head to neighboring Maddi Mae's Café & Creamery. This sweet spot offers a fun combination of ice cream and a hot drink.
And for coffee with a boho vibe, make your way over to Smoky Mountain Coffee Co. Spinning a perfectly crafted cappuccino on their bar is the perfect activity during a winter afternoon.
12. Festival of Christmas Past
Step back in time and enjoy East Tennessee's beautiful nature at the Festival of Christmas Past.
This memorable event is one of the most culturally immersive things to do in winter.
Held at Great Smoky Mountains National Park's Sugarlands Visitor Center, the festival is dedicated to traditional folkloric celebrations. Festivities go from 9:00 AM to 3:00 in the afternoon, with a huge variety of events and activities.
The stars of the show are music and storytelling where you can listen to talented harpists and full bands performing with antique instruments. Engaging storytellers deliver memorable Christmas tales, which are, of course, best enjoyed over cups of hot cider.
And don't miss the main event, which is the Christmas Memories Walk — where a ranger will take you on a guided stroll through the woods, recounting how festivities were held in centuries past.
There's hands-on fun, too.
Workshops showcase how to make toys, rugs, quilts, and other arts and crafts, all the old-fashioned way. Best of all, the event is totally free to the public!
📍 SAVE FOR WINTER IN GATLINBURG
Featured Image and Pinterest Pin Credits: Anakeesta and Ober Gatlinburg.