If you're looking for things to do in the old town of Rogersville — then check out this list!
Rogersville, TN is the second oldest town in Tennessee (Jonesborough being the 1st) and was named after its founder, Joseph Rogers, who was the grandfather of Davey Crockett.
This town is also in the center of Morristown and Kingsport, so we think it's a great day trip option from many of Tennessee's small towns.
Although Rogersville isn't packed with things to do like some of our favorite neighboring cities like Knoxville and Johnson City, there are still many fun things to do in this historic town!
So, here is our list of the best things to do in Rogersville, Tennessee!
---
Best Things to Do in Rogersville, TN
1. Visit the Thomas Amis Estate
Address: 127 W Bear Hollow Road, Rogersville, TN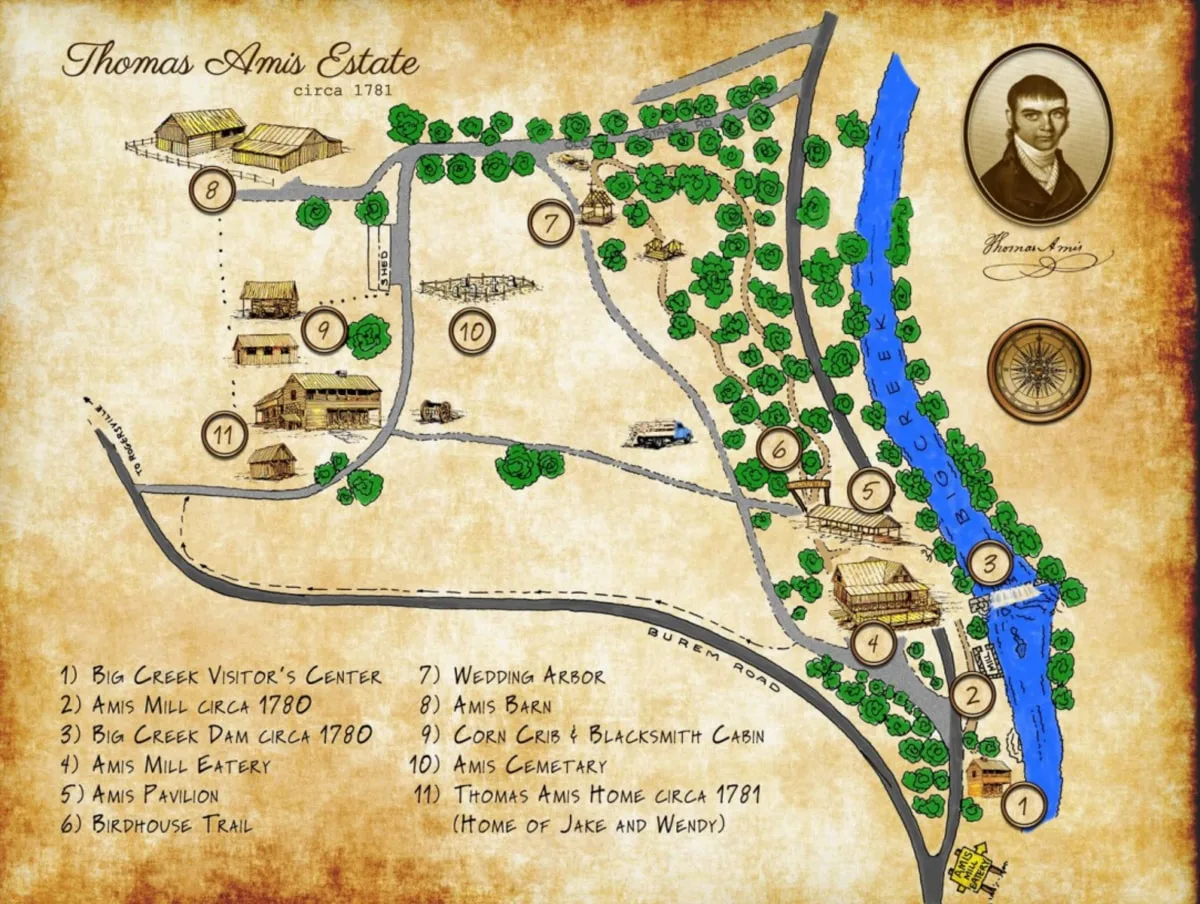 Before Rogersville was officially established, Thomas Amis built his home and estate in the county of Hawkins.
Interestingly enough, Thomas Amis's daughter married Joseph Rogers and gave them a part of his land, which is now known as Rogersville.
If you visit the Amis grounds you can view these buildings built by Thomas Amis back in the 18th Century such as the Amis home and the blacksmith cabin.
We suggest checking out the Amis Mill Eatery for lunch or dinner Tuesdays-Sunday from 11 am-9 pm. The menu features a variety of options from seafood to salads to pasta.
Best of all, the restaurant overlooks Big Creek Falls & Dam giving off a great dinner with a view vibes.
Guided house tours cost $10 for adults and $5 for students.
2. Stay at Hale Springs Inn
Address: 110 W Main St, Rogersville
Average Price Per Night: $130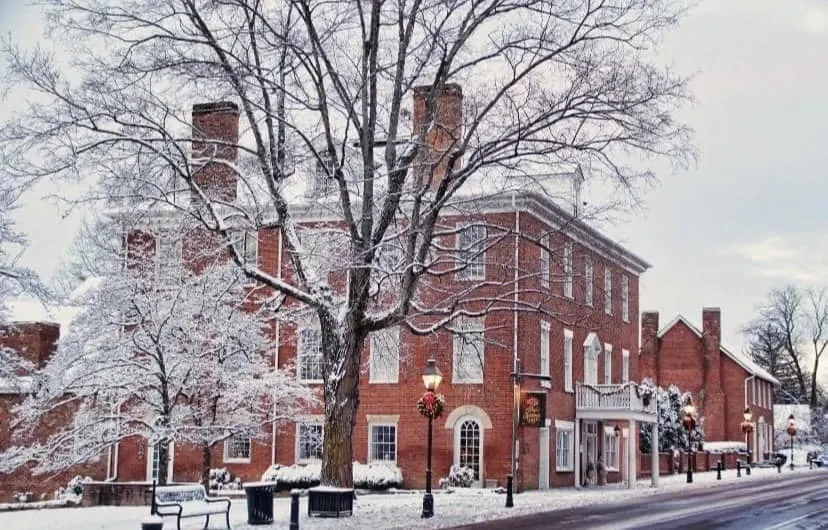 If you love historic charm, then consider staying in downtown Rogersville at Hale Springs Inn.
The Hale Springs Inn was built in 1824 but has recently undergone modern renovations – so expect a comfortable stay with an added historic charm.
There are 9 spacious guest rooms with private baths including 3 presidential suites, named after the presidents who themselves have stayed at Hale Springs Inn — Andrew Jackson, Andrew Johnson, and James K. Polk.
If you get hungry, McKinney's Restaurant is onsite serving lunch and dinner, see the full menu here. And there is a continental breakfast included with your stay.
The Hale Springs Inn is also a popular spot for event rentals including weddings, galas, birthday parties, and more.
🏨 Book a Night at Hale Springs Inn Here
3. Attend the Cruise in on the Square
Location: Main Street, Rogersville
When: Varies – check next date here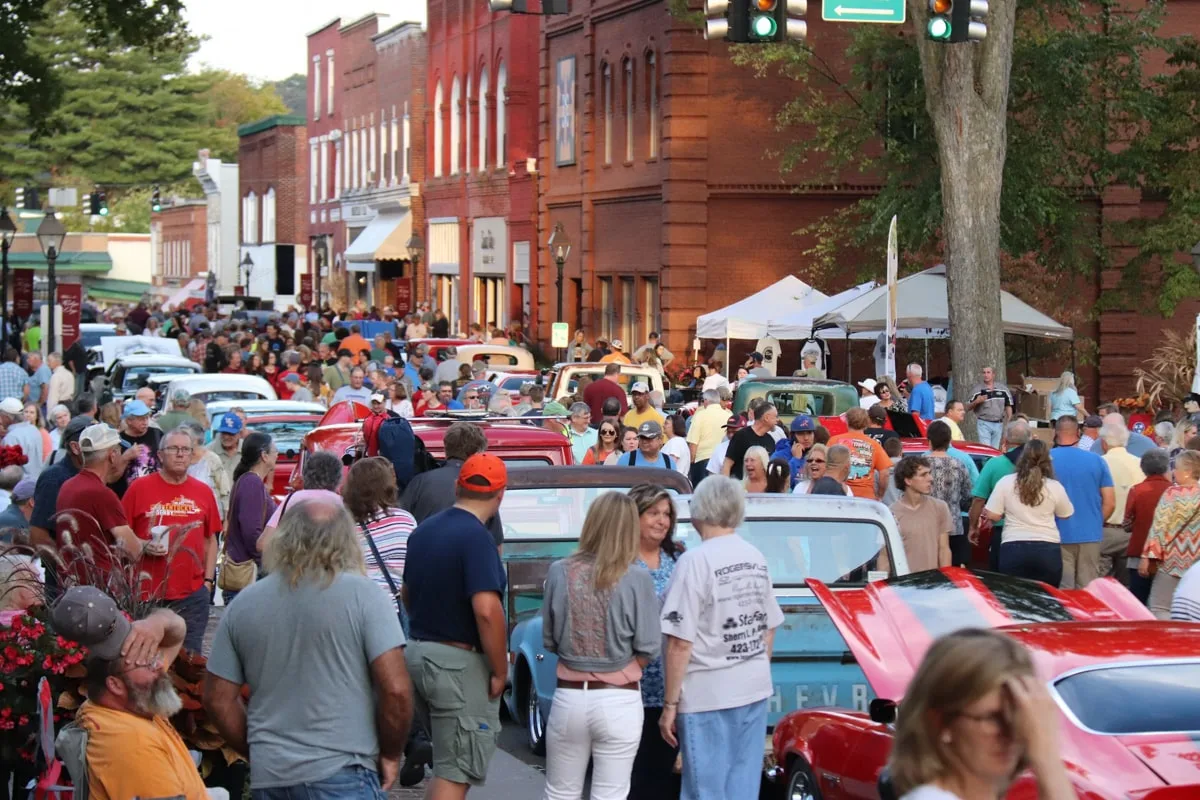 Cruise in on the Square is a monthly event beginning in May and ending in October.
The square of Rogersville closes off to through traffic after 4 pm where you'll see MANY vintage and classic cars dating back before 1989.
Or if you have a classic or vintage car you'd like to show off — bring it! This event is free to attend and to exhibit vehicles.
Many people bring their lawn chairs and like to hang out during the event along with shopping and dining at the local stores and restaurants.
4. Explore the Outdoors at Laurel Run Park
Address: 364 Laurel Run Park Rd, Church Hill,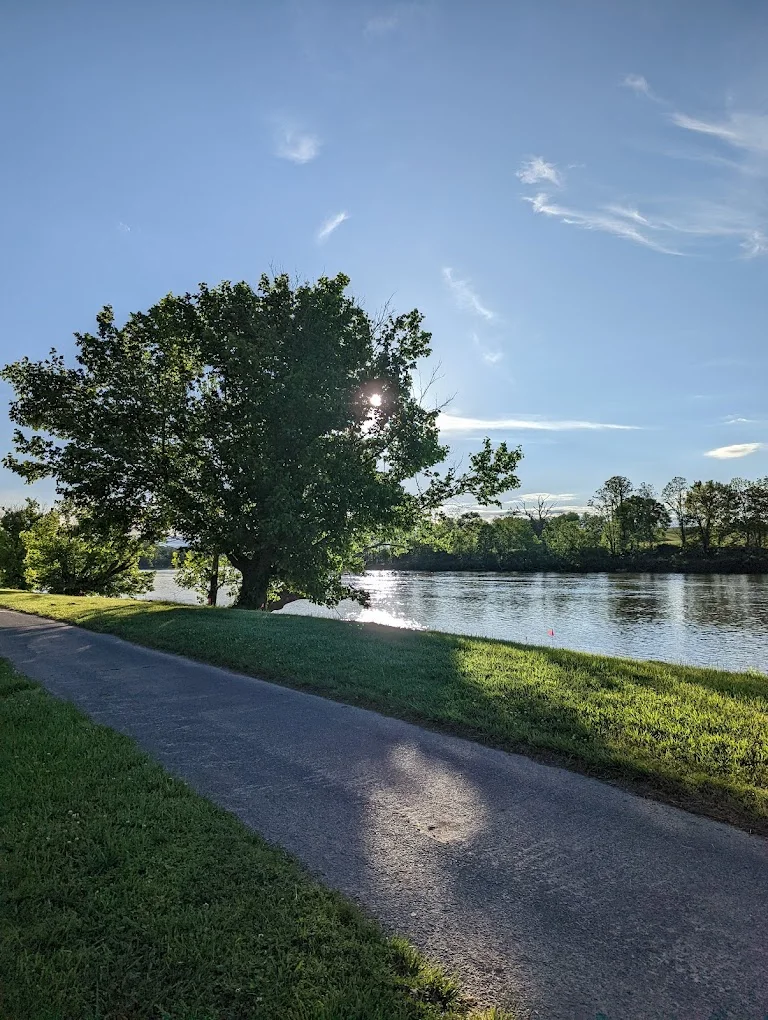 Laurel Run Park is just a 30-minute drive from Rogersville (near Churchill) and is a great outdoor activity near Rogersville.
This is a great spot to explore the outdoors for hiking, fishing, and spotting wildlife as it has over 400 acres and 37 miles of hiking trails, (in conjunction with Bays Mountain Park in Kingsport) including trails along the Holston River.
Also, the area has two beautiful waterfalls — Kiner Creek Falls and Laurel Run Falls (not to be confused with the other two popular Laurel Falls near Elizabethton & the Smoky Mountains).
*Fun Fact — The movie 'The River' starring Mel Gibson was filmed at Laurel Run Park.
5. Golf at McDonald Hills
Address: 352 Guntown Rd, Rogersville
If you're looking to play a round of golf near Rogersville, then look towards McDonald Hills.
This par-72 golf course has 18 holes with a course rating of 68.9 and a slope rating of 119.
Unfortunately, Mcdonald Hills is the only golf course in Rogersville, so your choices are slim.
However, there is also Graysburg Hills and Clinchview Golf & Country Club both under 45 minutes away from Rogersville.
6. Go Racing at Cherokee Race Park
Address: 154 Race Track Rd, Rogersville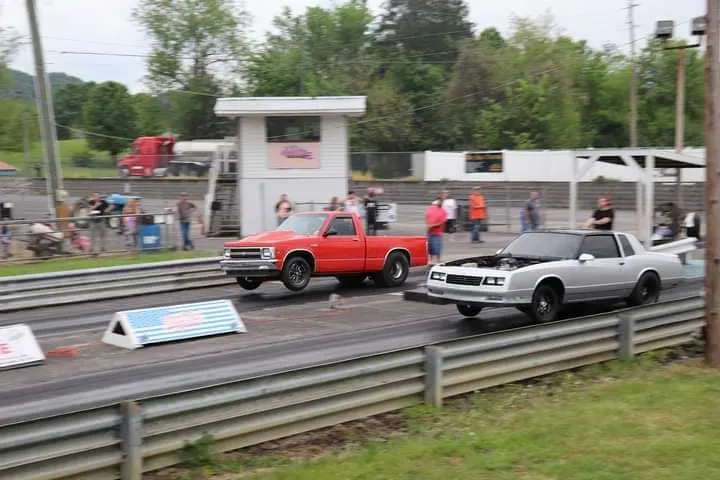 If you think you have what it takes, try out drag racing at Cherokee Race Park.
This is a 1/8 mile drag strip with both pro and no-box entries. Pro entries are $55 while no-box entries are $45.
If you finish in 1st or 2nd place, you can win some great cash!
Rules are that riders MUST wear a helmet when racing, regardless of car speed.
7. Go Camping at Windy Rivers Campground
Address: 422 Richards Rd, Rogersville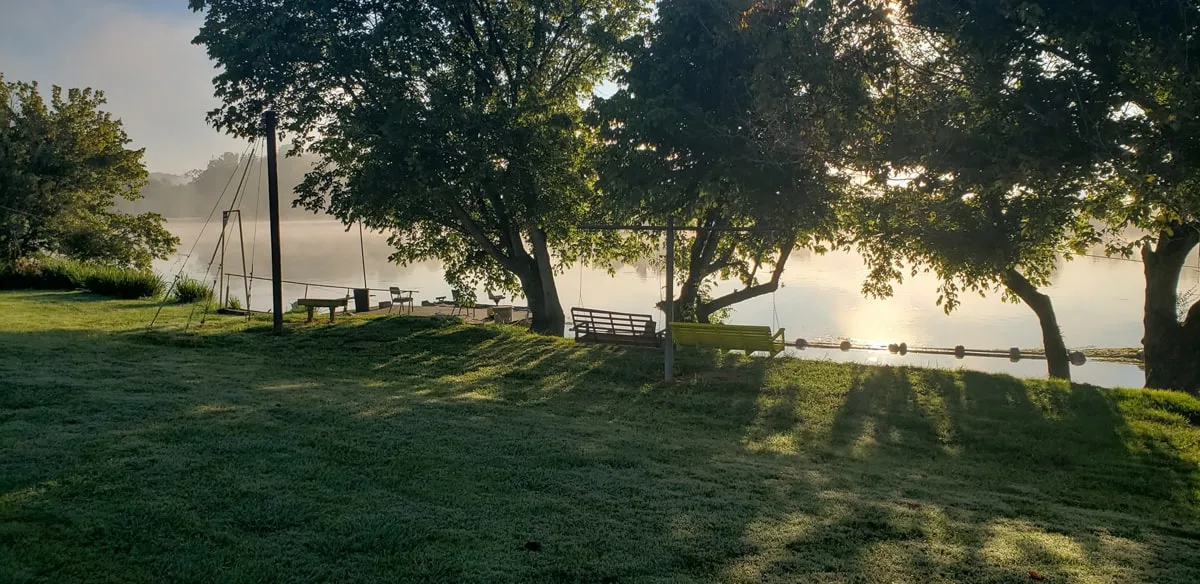 If spending the evening sitting around a campfire sounds good then you should go camping at Windy Rivers Campground!
This campground is located right along the river and is great for both RVs and tent campers. Many campers bring their fishing poles, kayaks, or tubes and have fun spending the day on the river.
Amenities include electrical hookups, shared charcoal grills, picnic tables, a covered pavilion, and a floating dock.
However, keep in mind there is no bathhouse or showers, but we just recommend jumping in the river! 😃
8. Spend the Day at Cherokee Lake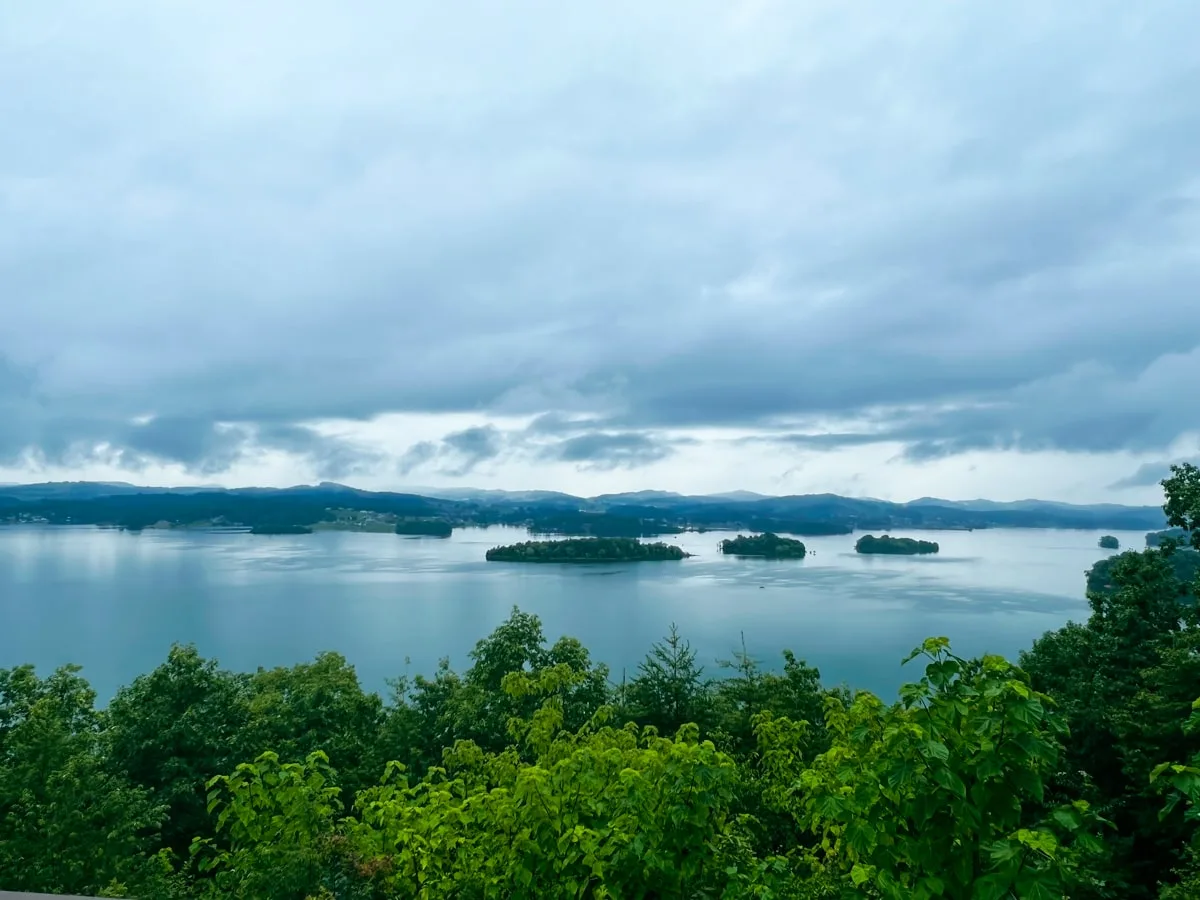 We love to spend the day on the lake going fishing, kayaking, and especially soaking up the sun.
Cherokee Lake has made many "Best Lakes in Tennessee" lists including from U.S. News Travel. It is also one of the biggest lakes in Tennessee, as it's over 45,000 square miles.
The lake sits along Panther Creek State Park in Morristown and is just 30 minutes from Knoxville and Rogersville.
You'll also find plenty of outdoor activities at this lake such as camping, mountain biking, fishing, and hiking, to name a few.
If you're looking for a campground on Cherokee Lake closest to Rogersville, we suggest Cherokee Lake Campground as it's just 15 minutes from Rogersville.
Other great campgrounds on Cherokee Lake include Panther Creek Campground and Cherokee Dam Campground.
9. Get Your Caffeine Fix at Coffee At The Kyle
Address: 111 W Main St, Rogersville
Hours: Monday – Friday 7am-2pm / Saturday 8am-3pm / Closed Sunday
Coffee At The Kyle is a highly-rated coffee shop in downtown Rogersville that is frequented by many locals and visitors.
This coffee shop takes pride in serving high-quality coffee beans sourced from ethical and sustainable farms.
Among delicious coffee, Coffee At The Kyle also serves different styles of drinks such as teas, smoothies, shakes, and iced drinks — you name it, they probably serve it.
If you're hungry, try one of their breakfast sandwiches or freshly baked pastries and muffins.
10. Grab Food & Drinks at Red Dog on Main
Address: 120 E Main St, Rogersville
Hours: Closed Mon & Tues / Wed 4:30-8:30 / Thur 11:30-8:30 / Fri & Sat 11:30-8 / Sun 11:30-9
Red Dog on Main is a great option for dinner and drinks providing a great atmosphere with seating options both inside and outside.
We especially love the variety of the menu from the wood-fired pizzas to sandwiches to ribeye steaks and weekly specials.
It's also a great spot to try one of their craft beer selections and cocktails.
Check out Red Dog's Facebook page for upcoming events, such as live music!
11. Visit Heritage Days
If you happen to be visiting Rogersville during the month of October, check out the Heritage Days Festival.
This festival is in downtown Rogersville lining the streets with craft vendors, live music, storytellers, antiques, classic cars, food, and much more.
See when the next Heritage Days Festival is here.
Other things to do in Rogersville:
Picnic at Crockett Springs Park
Visit the Local Artists Gallery
Grab Brunch at Bull Babies
Visit the Tennessee Newspaper and Printing Museum
*Featured Image Obtained from Historic Rogersville / Hawkins County Chamber of Commerce