At first glance, you might not think Johnson City is a great city for hiking. But as you'll soon come to see, there are incredible hiking trails located just a ten-minute drive away from downtown, and plenty more just 15–30 minutes away.
Whether you are looking for waterfall hikes, easy hikes near town to do with family and kids, or hikes lost in the wilderness that will make you break a sweat, here are the best hiking trails near Johnson City!
Ultimate Hiking Guide to Johnson City, TN
Follow the Leave No Trace principles and recreate responsibly! 🥾 For extra brownie points, take a bag with you to pick up trash on the trails. 🌿
Hikes in Buffalo Mountain Park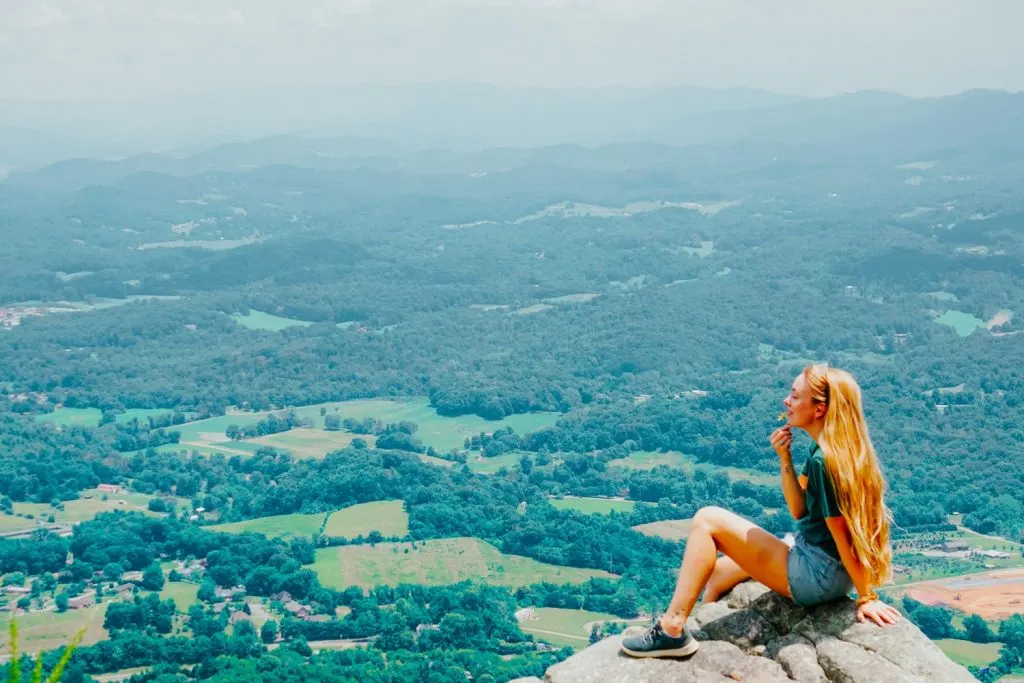 Buffalo Mountain Park is Johnson City's most beloved nature preserve, with over 725 acres of hilly, forested land donning panoramic views of Unicoi County and the Tennessee Valley.
Here, numerous easy–moderate hiking trails lead to scenic vistas — ideal for families, kids, and dogs on-leash. No matter your skill level, there's a trail at Buffalo Mountain Park just waiting to be explored!
For a quick jaunt to a scenic overlook, check out the Hartsell Hollow trail.
For those wanting a bit of a challenge, White Rock Loop will take you on a challenging yet rewarding tour around Buffalo Mountain to a panoramic overlook. Open the park map to see all the hiking trails in Buffalo Mountain Park.
Seeing as Buffalo Mountain Park is only a 10-minute drive from downtown Johnson City, it's definitely one of the best parks near the city to go hiking, biking, picnicking, or walking.
Laurel Falls Trail
Laurel Falls is one of our favorite waterfall hikes near Johnson City. The trail is beautiful, shady, and well worth the scramble toward the end to reach the 40-ft tumbling waterfall.
The hike is 4.6 miles out-and-back which will take roughly 3+ hours depending on which route you take (one is about 5 miles, the other is 2.6 roundtrip from Dennis Cove). White blazes indicate the Laurel Falls Trail, and blue blazes are for the AT.
The only downside to this hike is that it can get crowded in the summertime. As long as you start out early, though, you'll have the trail mostly to yourself.
Best of all, Laurel Falls is an easy 25-minute drive from town. It's definitely a fun day trip from Johnson City to do if you don't mind working up a slight sweat in order to chase a gorgeous waterfall!
Please remember to wear proper shoes and pack plenty of water (and an earth-friendly snack or two).
Sections of the Appalachian Trail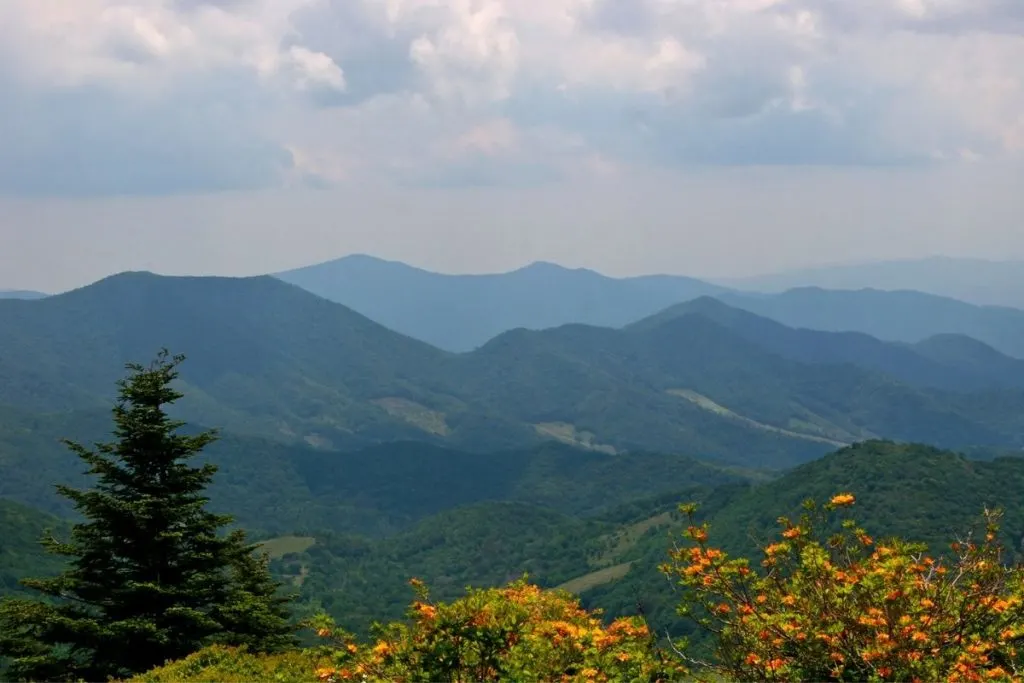 Directions: Varies, most trailheads are near the TN/NC border
Trail Notes: Parking may be limited, pet-friendly, pack water
Speaking of the 2200-mile-long Appalachian Trail, there are several trail sections you can hike that are not too far away from Johnson City.
One of the sections is, of course, the Laurel Falls trail, but there are other worthwhile ones in northeast Tennessee you can't miss out on.
🥾 Carver's Gap to Roan High Knob (4.5 mi out-and-back): High-altitude trail leads to the grassy balds of Roan Mountain and to Roan High Knob shelter (the highest shelter on the AT).
🥾 Nolichucky River to Temple Ridge Hill (5 mi out-and-back): A scenic and challenging trail full of switchbacks and views of the Nolichucky River Gorge. Want to float the river? If so, read our guide to tubing the Nolichucky River.
🥾 Indian Grave Gap to Beauty Spot (4 mi out-and-back): This gorgeous trail section takes you for a ride through the wilderness of the beautiful Unaka Mountains on the Tennessee/North Carolina border.
Hikes in Roan Mountain State Park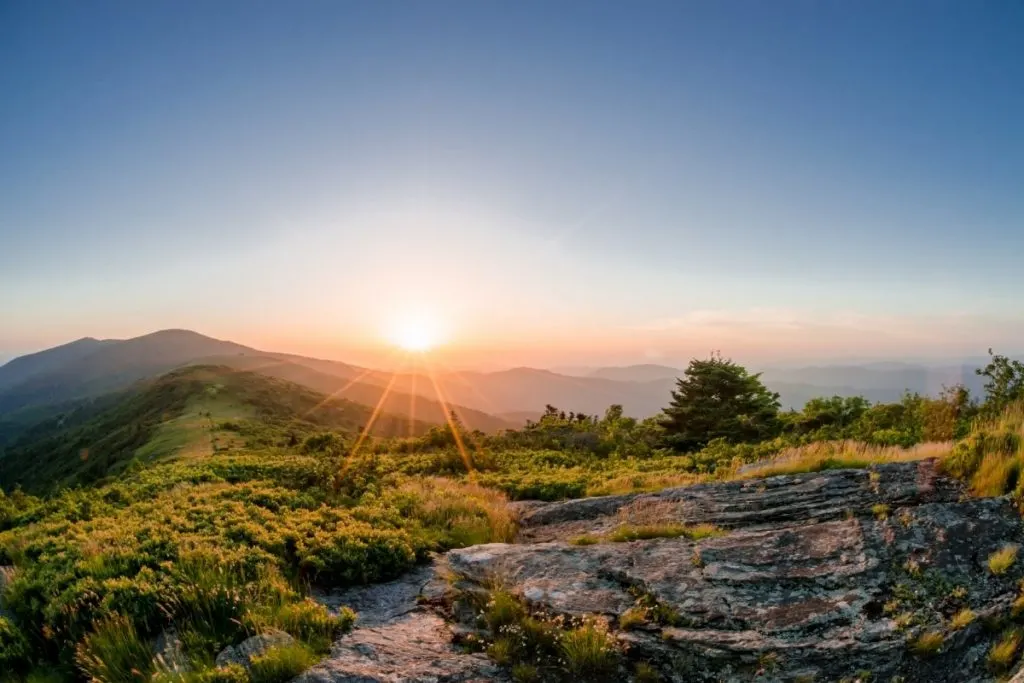 Directions: 35-minute drive southeast of JC, 527 TN-143
Roan Mountain is boots-down one of the best places to go hiking near Johnson City.
This area, spread out across 2000 acres of beautiful hardwood forest and fields of rhododendron bushes in bloom, offers more than 12 miles of day-use hiking trails.
Here are eight of the best easy-moderate hiking trails in Roan Mountain State Park:
Tom Gray Trail – 0.35 mi
Peg Leg Mine Trail – 0.25 mi
Riverside Trail – 0.5 mi
Turkey Trot Trail – 0.25 mi
Fred Behrend Trail – 2.35 mi
Forest Road Trail – 2.75 mi
Chestnut Ridge Trail – 1.95 mi
Cloudland Trail – 0.5 mi
Click here for the trail system map.
The Forest Road Trail is the longest in the park and intersects with some of the smaller trails. If you are looking for a challenge, the Chestnut Ridge Trail is the most strenuous in the park which climbs steeply through dense forest and rhododendron thickets.
Tweetsie Trail
Trail Info: Family and pet-friendly, watch for bikers
Hours: Dawn to Dusk
The Tweetsie Trail is an old converted rail-trail project that once served communities traveling between East TN and Western NC. It is a beacon of rail heritage in the Appalachian Highlands.
Now, it's a popular spot to go walking, biking, and light hiking. The trail is relatively flat, with a very gradual incline so this is an easy trail in Johnson City for families and kids.
The trailhead, located right outside of downtown on Alabama St, offers free parking. Overflow parking is down the street near the baseball fields. Bring your own bikes or rent from the local shops in town, the closest of which is the Local Motion Cyclery.
Once complete, the 10-mile Tweetsie Trail will officially become the longest rail-trail in Tennessee. You can already use it to get to and from Elizabethton by bike!
Hikes in Lamar Alexander Rocky Fork State Park
Directions: 501 Rocky Fork Rd (30 minutes from Johnson City)
Trail Info: Pets on leash, watch for wildlife
Lamar Alexander Rocky Fork State Park is Tennessee's 55th and newest state park (it's also the highest at 4,400 ft).
As you can imagine, there are plenty of scenic hiking trails to discover in this park. Some are saying it's the "best ride through the Smoky Mountains" but much of the park has still yet to be explored!
In total, there are over 20 miles of hiking trails in Rocky Fork State Park ranging from easy to strenuous—ideal for hikers of any skill level.
Here are some of the parks to scope out during your visit:
White Oak Flats Trail – 1.3 mi
Rocky Fork Trail – 0.7 mi
Whitehouse Cliffs Trail – 1.0 mi
Flint Mountain Trail – 4.9 mi
Birchfield Camp Trail – 2.8 mi
Click here for the park's trail map
While you can hike on your own, ranger-led hikes are offered throughout the year and are recommended for optimizing your experience.
Not only can you go hiking in Rocky Fork, but you can also enjoy biking, rock climbing, and fishing. If you're looking for a place near Johnson City to go hiking in peace without the crowds you'll find elsewhere, then head to Rocky Fork State Park.
Pinnacle Mountain Fire Tower Hike
Directions: 106 Unicoi Village (10-minute drive from Johnson City)
Trail Info: 9.8 miles roundtrip [moderate]
For epic panoramic views of Johnson City and Unicoi County, head to the base of Buffalo Mountain. Here, a steep, winding ascent will take you through the forest of the mountain and lead you to the Pinnacle Mountain Fire Tower.
The tower, which was once used as a fire warning tower, is now a simple yet underrated overlook that gives way to breathtaking views of the Tennessee Valley.
The trail is pretty gradual the whole way, so go prepared with proper shoes and enough water. Roundtrip, the hike is about 10 miles. It's an ideal spot near Johnson City to go hiking, trail running, or mountain biking.
ETSU Heights Trail
Finally, if you are looking for a place to go hiking in Johnson City that doesn't require you to drive much outside of town, then look no further than the ESTU Heights Trail.
Even though you'll be right in the heart of downtown, just off the ETSU campus, you'll still feel like your lost in the woods.
ETSU's trail system map indicates several trailhead options with hiking trails ranging in difficulty from easy (i.e. Buc Ridge Trail and Cades Cove Trail) to very difficult (i.e. Water Tower Trail).
As you can see, there's quite a labyrinth of trails hidden right in the center of the city!
More Hiking Trails Near Johnson City, TN
Johnson City is in a prime location for hiking enthusiasts. From the Dennis Cove Recreation Area to the Unaka Mountains to the Cherokee National Forest to Roan Mountain and beyond… there is ample opportunity to get out in nature and go hiking, biking, or even camping.
While many of the trailheads require driving to get to, most are within a 10–30 minute drive from downtown, making it super easy to find a new hiking trail for the weekend.
If you have any trail recommendations for us, please do let us know in the comments below. Please remember to hike and travel responsibly!
📌 PIN THIS JOHNSON CITY HIKING GUIDE TO PINTEREST!