With gorgeous scenery and pleasant weather in all four seasons, one of the top things to do in Knoxville is visit one of Knoxville's parks! It's for sure one of the best ways to enjoy the city.
Whether you're an active outdoor enthusiast, seeking a scenic outdoor space to relax in, taking your family out for the day, or planning a fun, low-key date night, Scruffy City parks have something for everyone.
In this article, we're highlighting eight of the best parks in Knoxville, according to locals.
Some are right on the Tennessee River, some are off the beaten path, some are just for kiddos, and some have awesome hiking trails. Whichever park you choose, pack a picnic and let's go!
1. World's Fair Park
Location: 525 Henley St. (downtown)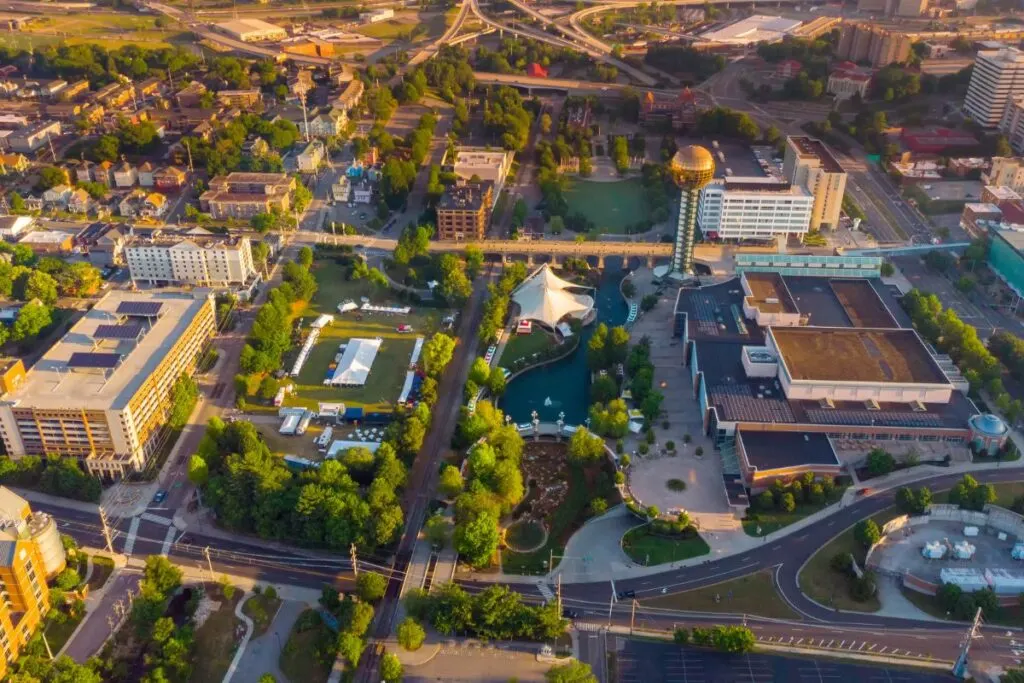 It's practically impossible to discuss Knoxville parks without mentioning World's Fair Park. Located in the very heart of downtown Knoxville, this beautiful, iconic park was created specifically for the 1982 World's Fair.
World's Fair Park features a large fountain, the Sunsphere tower (which should be at the very top of your Knoxville itinerary, even if you're only in town for a day!), and plenty of open green space. There are also seasonal splash pads, typically open between late May and mid-September.
In addition to being the perfect place for enjoying quintessential activities like picnics, walks, and bike rides, the park also often hosts concerts, festivals, and other events. It's much more lively than what you may picture when you think of Knoxville parks!
The Performance Lawn, which hosts most of the larger events, is bigger than two football fields! The Tennessee Amphitheater also hosts some events, primarily concerts. It's one of the park's two original structures, with the other being the Sunsphere!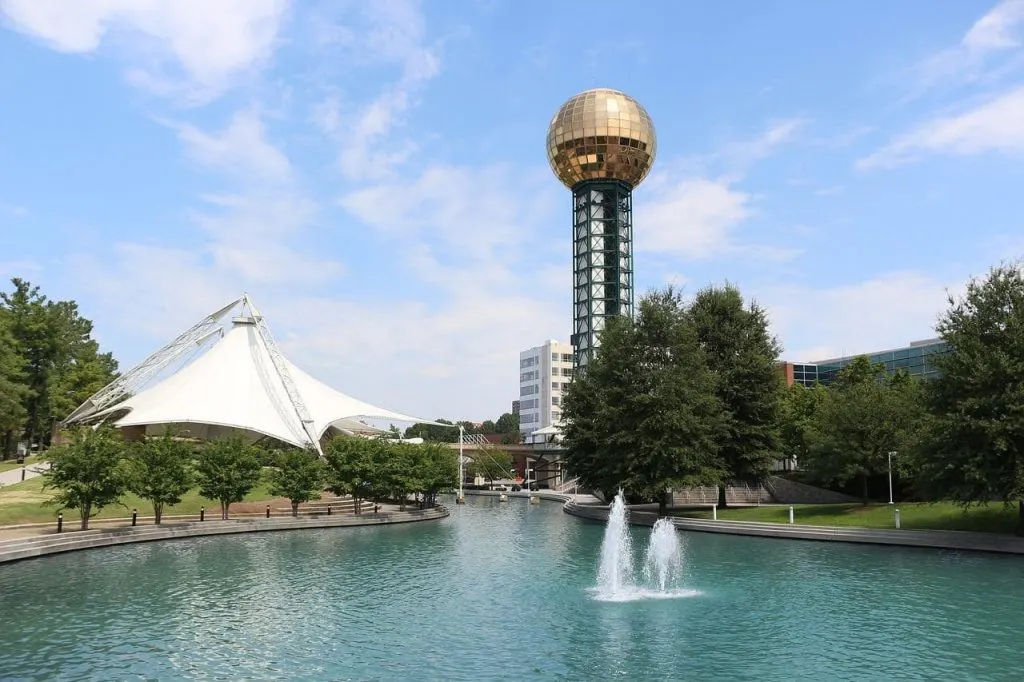 Speaking of the Sunsphere, be sure to visit when it's open so you can go up to the 4th-floor observation deck for some of the best views in Knoxville. The 360-degree view shows off the Tennessee River, Great Smoky Mountains, and UT campus!
Note that visitors need admission tickets to enter the Sunsphere, which we strongly recommend purchasing in advance.
2. Victor Ashe Park
Location: 4901 Bradshaw Rd. (Windsor Park, West Knox)
Tucked in West Knox, far from the hustle and bustle of downtown and the university, Victor Ashe Park packs a tremendous punch.
The park has a huge playground, an equally huge 2.3-mile paved walking trail around the greenway, sand volleyball courts, horseshoe pits, and even an 18-hole disc golf course.
In the middle of it all, there's a huge open greenway the size of four soccer fields. When there aren't games or tournaments going on, this is a fantastic space for flying a kite, doing outdoor workouts, or teaching a little one how to ride a bicycle.
Considered the park's crown jewel, there's also a decent-sized fishing pond. The park stocks the pond with channel catfish, bass, and bluegill several times a year, plus hosts family fishing events and tournaments.
The greenway path connects to others, providing a lovely way to get some serious steps in outdoors. Connector trails link the park directly to Northwest Greenway and Pleasant Ridge Greenway, so walkers or cyclists can create their own custom routes.
As if all of that weren't enough, Victor Ashe Park also has a popular dog park. It's the perfect spot to take your pup on a nice long walk on the park's trail, then let him or her socialize and burn off some energy. Fun fact: this was actually the very first off-leash dog park in Knoxville!
3. Ijams Nature Center
Location: 2915 Island Home Ave. (south Knoxville)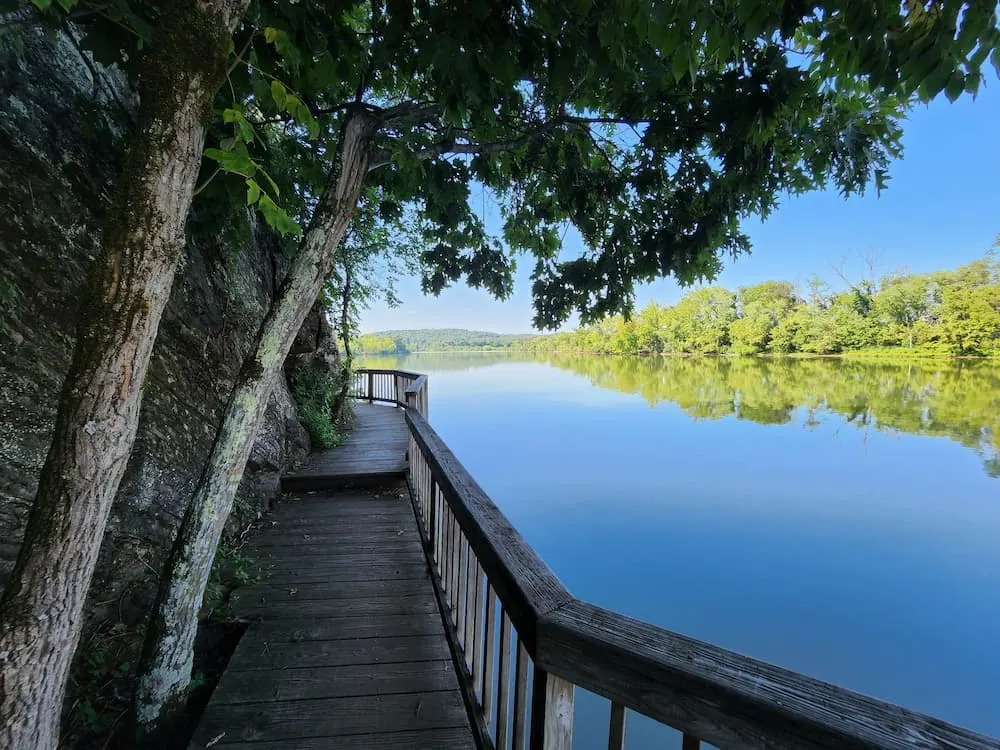 Part of the Knoxville Urban Wilderness, Ijams Nature Center is an absolute gem in the city. The beautiful park encompasses multi-use trails, historic Civil War-era sites, a quarry, and wildlife galore. And that's just scratching the surface!
The Ijams Crag offers Knoxville residents a place to rock climb, minutes from downtown. This is proper rock climbing, with 12 bolted routes, including a few rated for experts!
Navitat Knoxville also calls Ijams home. The "treetop adventure park" has ziplines, canopy obstacle courses, and more sky-high adventure.
If you're more comfortable on the ground, the park has over 15 miles of trails. On the river side, they're mostly level, perfect for families or people looking for something lower-intensity.
The trails closer to the quarry are more rugged, and suitable for hiking, trail running, and mountain biking, and you'll pass mysterious caves, surprisingly dramatic gorges, the lake, and the Stanton Cemetery.
At Mead's Quarry, visitors can swim or rent kayaks, paddleboards, or inner tubes. Private boats aren't permitted in the quarry, so you'll have to rent onsite. There's even a beer garden, open during the summer.
For folks who want to explore the Tennessee River, you can book a summer naturalist-led kayak tour or launch your own kayak or canoe from Ijams River Landing.
While many activities at Ijams Nature Center are geared toward adults and older kiddos, there's plenty for younger children, too. Jo's Grove is a unique tree-themed play area, and the 5-acre Ijams Nature Playscape encourages kids (and kids at heart!) to connect with The Great Outdoors.
We're STILL not done — Ijams also hosts a variety of events. There's a bit of everything: group hikes, full moon paddles, movies under the stars, caving trips, foraging workshops, art classes, and concerts.
4. Sequoyah Park
Location: 1400 Cherokee Blvd. (Sequoyah Hills, West Knox)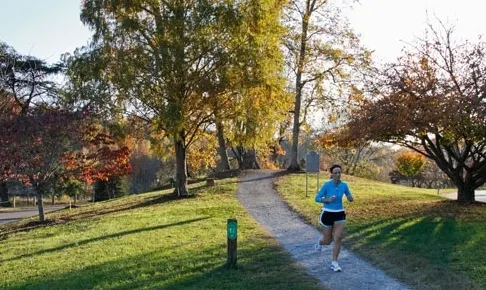 Locals often refer to Sequoyah Park as a "hidden gem."
The very definition of an urban oasis, this large park sits in the center of an upscale part of town, yet feels like you're miles from civilization.
The park is loosely divided into three main sections: the playground and exercise yard (exactly what it sounds like, almost like an open-air gym!), three sports fields, and river access, with lots of open green space and a waterfront multi-use path.
This path, the Sequoyah Greenway, is a highlight among all Knoxville parks.
The tree-lined and incredibly scenic path is a fantastic place to walk or run, especially during the fall and spring. With its convenient connection just across Kingston Pike to Third Creek Greenway, the path is also popular with cyclists.
There's also a boat launch in the middle section of the park. From here, paddlers can launch their own kayaks or stand-up paddleboards and cruise 3.8 miles up to Volunteer Landing downtown.
Insider tip: Sequoyah Park is a local go-to for some of the best sunrises and sunsets in Knoxville. Don't be surprised to see several photographers taking advantage of Golden Hour light!
5. Lakeshore Park
Location: 5930 Lyons View Pike (Westmoreland Hills, West Knox)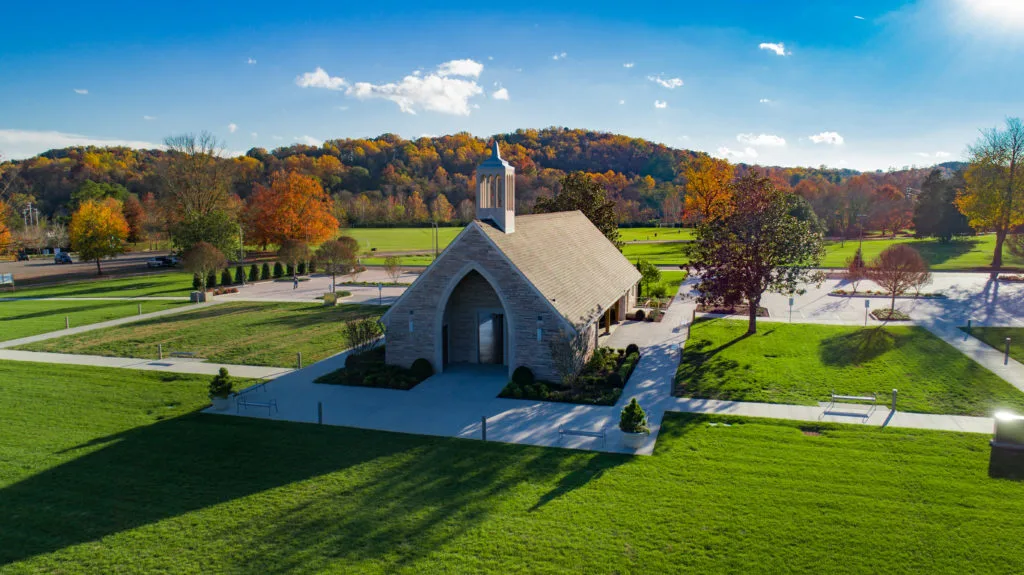 Not far from Sequoyah Park, locals consider aptly-named Lakeshore Park one of the best Knoxville parks.
It sits right along the river and has fantastic views of the Great Smokies and Fort Loudon Lake, so it's well worth a visit for the scenery alone!
The views, three miles of walking trails, and several sports fields offer plenty to do, but the park's real gem is its playground.
Named to honor a local Knoxville child who tragically passed away just two days before his first Little League game at the park, the Hank Rappé Playground is inclusive and universal.
The colorful playground, which has a soft resilient surface and lots of unique equipment, caters to children of all abilities. In addition to playground classics like slides, tunnels, and climbing towers, you'll find accessibility ramps, special seats, and braille plaques.
Lakeshore Park also hosts some of Knoxville's most popular community events throughout the year. This includes Sundays at the Shore Independence Day Celebration and the annual Lakeshore Park Picnic, when local restaurants sell curated picnic baskets for couples and groups.
6. Tyson Park
Location: 2351 Kingston Pike (University)
Boasting one of the biggest playgrounds in the city, Tyson Park is easily one of the best Knoxville parks. The playground here isn't just any ol' playground, though — it's a huge, accessible playground with a castle theme!
Although the playground is certainly a major attraction at Tyson Park, it's not the only one. Knoxville Skatepark also calls it home!
The first of its kind in the city, skate enthusiasts of all skill levels and from all over the Southeast come here year-round to hone their skills on the park's features.
Tennis and pickleball are also huge draws here. The park has 14 tennis courts, 12 of which are lit for nighttime play. Three courts are also marked for pickleball.
Formally called the Kyle C. Testerman Tennis Complex at Tyson Park, the park is a hub for tennis leagues, clinics, and tournaments.
Many people also come to Tyson Park for large events, as it has several covered picnic shelters, including three of the largest in the city.
They're reservable, making the shelters perfect for birthday parties, family reunions, and more.
Like many other Knoxville parks, Tyson Park has a paved greenway path.
The section that runs through the park is about three miles long, and it connects to several others nearby, providing direct access to downtown and the UT campus.
7. Holston River Park
Location: 3300 Holston Hills Rd. (east Knoxville)
Holston River Park is a beautiful natural playground, especially for water enthusiasts.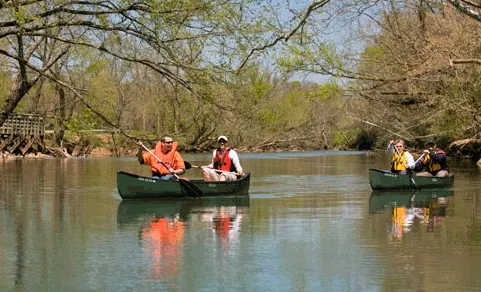 The park has a small boat launch for non-motorized boats such as kayaks, canoes, and paddleboards, as well as two fishing piers. If you're paddling, head downstream to connect with the Tennessee River!
Fishing is one of the park's more popular activities, as the Holston River is home to many bass species. From the fishing piers, most anglers catch small-mouth or rock bass, although black bass is not at all uncommon.
On land, there are traditional park staples like a playground, covered shelters, two soccer fields, and open green space for throwing a frisbee or tossing a ball back and forth. Several picnic tables with charcoal grills also dot the park's open areas.
There are also two walking paths, the paved Holston River Greenway winding through the park and the Perimeter Trail, which loops around the park through forest and has a natural surface.
Another popular destination at Holston River Park is the 2-acre PetSafe Dog Park. The off-leash area at the southern end of the park features separate sections for large and small dogs, and doggie water fountains.
8. The Cove at Concord Park
Location: 11808 S Northshore Dr. (Farragut, West Knox)
One of the only "cons" to living in Knoxville (or anywhere in Tennessee, for that matter) is that it's land-locked.
However, a trip to The Cove at Concord Park will make you forget all about that, at least temporarily, because it has a real beach!
Admittedly, it's not quite the same as going to the coast, BUT it's a heck of a lot closer and a dang good alternative! The "beach" sits on Fort Loudon Lake.
Visitors can swim in the beach area and rent kayaks, canoes, and SUPs onsite in the summer months. The concessionaire also rents bicycles most of the year. In a nearby section of the park, the large Concord Marina rents larger boats and offers other services, including boat storage.
The Cove also offers plenty of land-based activities.
Play sand volleyball, let the little ones explore the playground, or stretch your legs on the network of paved trails, including some that run right along the lakeshore. There's also a 0.9-mile paved greenway that connects to other multi-use trails in the area.
Being right on Fort Loudon Lake, fishing is also popular at The Cove.
There are two designated public fishing areas, and the park also hosts annual free fishing days throughout the summer. Expect to catch primarily bass and white crappie.
Beyond The Cove, Concord Park has several other areas to explore. There's a large off-leash dog park, skate park, sports fields, tennis courts, and even a golf course. Of all Knoxville parks, this one is definitely on the larger side and offers perhaps the most diversity!