Are you looking into cabins in Johnson City? We don't blame you one bit!
As Johnson City locals, we may be a bit biased, but we truly believe it's the best place in Tennessee for a cozy weekend getaway.
It's a charming town at the foot of the Appalachian Mountains, less than 30 minutes from the Virginia border.
With endless outdoor adventures, several great breweries, and a bustling restaurant scene, the best way to truly experience Johnson City is renting a cabin for a weekend (or a week!).
After spending your days exploring the town or chasing waterfalls near Johnson City, you'll be more than happy to snuggle up in one of these cozy cabin rentals.
We rounded up eight of the best in and around the city, with a wide range of options to suit every preference in terms of amenities, budget, and size.
Enjoy your stay in our 'neck of the woods'!
8 of the Best Cabin Rentals Near Johnson City, TN
1. One-of-a-kind "Cedar Cabin" on the Watauga River
Experience the winning combination of rustic charm and modern comfort at this 3,000 square-foot lodge. This massive cabin was built in 2015 using reclaimed wood from local tobacco barns, and is nestled right on the shores of the scenic Watauga River.
Seamlessly blending local history and luxury, the upscale Cedar Cabin has four bedrooms and four bathrooms, and can sleep up to nine. It's one of the best cabins in Johnson City for large families, several couples, or a guys'/gals' weekend!
Although the inside of the cabin is beautiful (think handmade wood cabinets, granite countertops, and whiskey barrel sinks), you may never want to leave the outside covered deck.
Here, you'll find a stone wood-burning fireplace, a complete outdoor kitchen, and teak rocking chairs, which serve as very literal front row seats to the river! Best of all, you're just steps away from trophy trout fishing or kayaking. It's truly an angler's paradise!
Despite its secluded location in the country, the lodge is convenient to essential amenities just four miles down the road.
Finally, there are no size or breed restrictions on dogs, making this one of the most pet-friendly Johnson City cabins!
2. "Laurel's Cabin" Riverfront Cabin
Owned by the same folks as the Cedar Cabin, Laurel's Cabin sits directly on the Watauga River, about halfway between Johnson City and Elizabethton. It's one of three cabins on the property, designed to be a rustic lodge on five acres.
Laurel's Cabin itself is on the upper level, with two balconies in the front and back. There's a queen bed and pull-out "cat napper" sofa, one full bathroom, and a fully-equipped kitchen, making it ideal for small families or groups.
Downstairs, there's a shared BBQ grill, fire pit, and tables and chairs for relaxing and enjoying your spectacular surroundings. Guests even have access to a laundry room, so this is a great option for a longer getaway.
Perhaps the best thing about Laurel's Cabin is its price. It's easily one of the most affordable cabins near Johnson City. Then again, the fact that it's riverfront at this price is a major bonus!
With three individual cabins available and direct access to some of the best trout fishing in the Southeast, this cabin is perfect for reunions, retreats, or other group events.
Rent all three so everyone has their own space, then spend the day together on the river and gather around the fire pit!
3. Spacious Mountain Lodge in Cherokee National Forest
This uber-spacious, secluded family lodge in the Cherokee National Forest offers beautiful mountain views on a densely wooded property. You'll likely have at least a few deer visitors during your stay!
The lodge-style house is all about spreading out, with tons of room and ample space for everyone and everything…including "toys!" Bring your boats and big trucks!
Even if you never leave the premises, there's no shortage of things to do.
The large fenced-in backyard has a fire ring, a kiddos' play structure, and a back patio with a grill. What's more, you'll find an equally impressive front porch, with tons of room to kick back and watch for wildlife.
Inside, the roomy open living space includes two bedrooms (with a set of bunk beds for little ones), two full bathrooms, and a fully-stocked kitchen upstairs, plus a huge bedroom downstairs. The garage is also upstairs, which is more like a game room with gym equipment and musical instruments.
This cabin near Johnson City is great for any group, but especially for a family getaway, with ample space for games, movie nights, or simply spreading out. Although it feels very remote, it's close to a golf course, shopping, and hiking trails.
4. Farmhouse Studio Cabin & Art Gallery
If you're looking for a unique cabin near Johnson City, one where you can truly "get away from it all," then add this studio log cabin to your bucket list immediately!
This pondside studio cabin is over 250 years old, but the owners only recently made it available for guests to enjoy.
It sits on a 73-acre working family farm, and you'll even have to drive through a charming covered bridge to reach the property.
The log cabin is connected to the family's art gallery, but has a separate private entry.
It has one bedroom and one bathroom with a small fridge and freezer, microwave, and coffee maker, plus access to a common outdoor porch area with a table and chairs.
In the gallery, you'll find watercolor prints and pencil sketches of local wildlife, as well as metalwork made in the property's working blacksmith shop. The family is usually found working in the garden or baking fresh goodies for the local farmer's market. If you have a sweet tooth, time your visit carefully! 😉
The owners have a small herd of buffalo, plus several peacocks. In addition, you'll often see wild animals such as deer and even the occasional black bear roaming around.
Note that because of this cabin's unique double-duty as an art gallery and its location on the pond, it's not suitable for children.
5. River House 52: 2-Bedroom Riverfront Cabin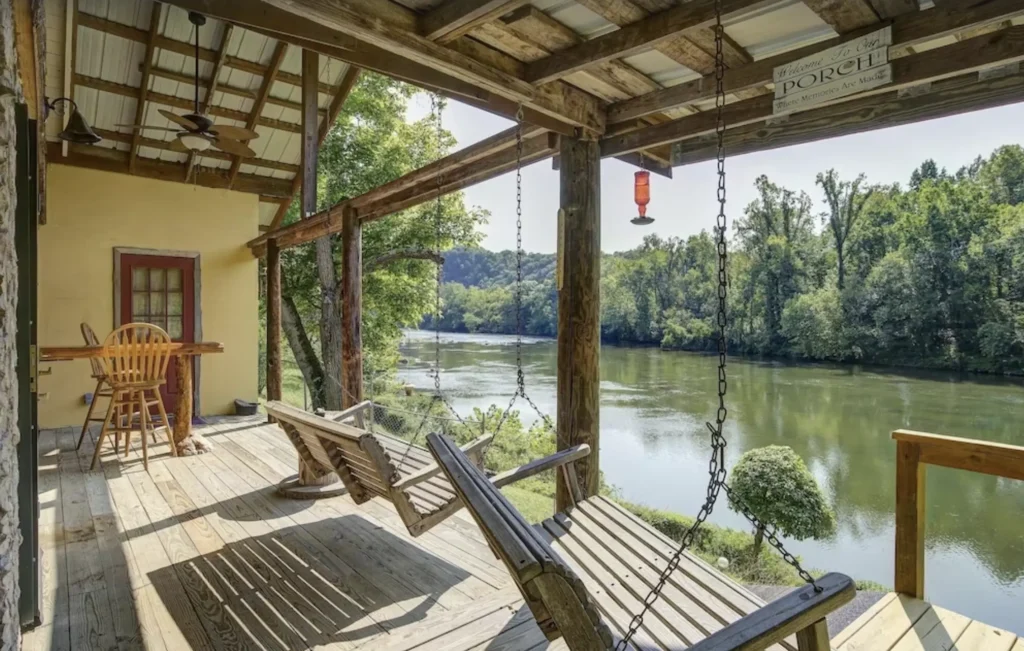 This gorgeous rustic cabin near Johnson City is nestled RIGHT on the banks of the Nolichucky River!
In fact, River House 52 has 400 feet of riverfront real estate and is located just 15 minutes southwest of town and seven minutes off I-26, which is also close if you want to road trip from Johnson City to Asheville, North Carolina.
In addition to the large porch with swings that overlook the scenic river, you'll also find multiple sun decks and several mature shade trees on the property.
There's also a fire pit, BBQ grill, quaint little rustic bar top for eating riverside, and fishing rods for guest use.
You probably won't want to go inside very often, but when you do, you'll be treated to rustic yet sleek decor and loads of amenities. There are two bedrooms (one with bunk beds for additional flexibility) and bathrooms, a full gourmet chef's kitchen, and even a washer and dryer.
Best of all, the cabin's interior crown jewel is an enormous stone fireplace that runs from the living room to the kitchen!
Additionally, guests traveling with furry best friends will appreciate the large, fully fenced yard. The owners even include doggie dishes for four-legged guests, which is truly a nice gesture!
6. Buckhorn Lodge – Large Luxurious Log Cabin
For folks seeking a luxurious cabin near Johnson City, look no further than this cabin called the Buckhorn Lodge.
As soon as you step inside, you'll be in awe of the floor-to-ceiling windows overlooking the scenic mountain view. Multiple decks offer spaces to soak up that view, while the interior decor invites you to start a fire in the stone fireplace, pick a spot, and cozy up!
The cabin has three master bedrooms, so it's a fantastic setup for multiple couples or a friend group.
Regardless of who tags along, you'll all enjoy the hot tub and game room with a pool table and massive 75″ TV.
There's also a full kitchen and even a laundry room for those staying an extended amount of time (or for when you have a little too much fun in the woods and come back covered in mud!).
Speaking of mud, the cabin is adjacent to the Cherokee National Forest, so you'll be spoiled for choice when it comes to outdoor activities. Whether you hike or prefer the water, you'll be right at home here.
Lastly, it's also minutes from Elizabethton, Bristol, and Johnson City proper. The renowned Bristol Motor Speedway is just 15 minutes away, and it's less than one hour to the Sugar Mountain ski resort in North Carolina.
7. Cozy Jonesborough 1-Bedroom Cabin With Gourmet Kitchen
This cozy one-bedroom lofted cabin nestled in the oldest town of Tennessee, Jonesborough, is perfect for those looking to take a romantic getaway near Johnson City.
Not only is a stay here easy on the wallet, but the cabin is also perfectly sized and appointed for two.
The 750-square-foot cabin features an open living space with a charming spiral staircase, which leads up to the loft bedroom. Cathedral ceilings and large windows make the cabin light and airy, and help it seem larger than it truly is.
Foodies will absolutely love the kitchen. It has tons of counter space and is fully equipped with everything you could possibly want to cook a fancy date-night meal. Don't feel up to cooking? Enjoy a cozy night in instead.
The cabin sits on a large lot surrounded by pasture and fields, and grazing wildlife is a common sight! For nature lovers and those looking for a quiet, secluded getaway, this is truly one of the best cabins to rent near Johnson City!
One of the biggest reasons to choose this adorable cabin is its proximity to Old Jonesborough. Well-known as the oldest town in the state, it was established in 1779 — 17 years before Tennessee was granted statehood!
Take a day trip into Jonesborough so you can get a first-hand taste of the area's rich history! Stroll historic Main Street to browse cute shops and try local restaurants and cafes and check out the influence pioneers like Davy Crockett and Daniel Boone had here.
8. "Water's Edge" 3,500 Square Foot Cabin on Watauga Lake
If you're up for a mini road trip and have a big group, this massive lakefront cabin is perfect!
"Water's Edge" is on sparkling Watauga Lake in the small town of Butler, which is just one hour from Johnson City.
The luxury custom log cabin has four bedrooms and three bathrooms, and comfortably sleeps 12. Spend your time soaking up the scenery (when you're not on the lake, that is!) or grilling on the multiple decks. One deck has a fire pit.
Inside, the tri-level home has a large eat-in kitchen, several seating areas with fireplaces, and a pool table for game nights.
Of course, we know the real reason for renting this Johnson City cabin is the lakefront location! Not only is the home on the water, but it includes a private dock. Bring your own boat, or rent one from nearby Fish Springs Marina.
The cabin rental also includes one canoe and three kayaks, so there are several ways to enjoy the water! There's even an outdoor shower!
One thing to note is that there are LOTS of steps down to the dock. Nothing unmanageable by any means, but worth noting for anyone with limited mobility.