One of the best times to visit Johnson City is during the fall season when the leaves are turning different shades of amber to crimson and the weather is cool and crisp.
With many fall activities such as pumpkin patches, fall festivals, beautiful fall foliage views, and even haunted houses, Johnson City offers things to do for the entire family during the months of September, October, and November.
If you're looking for those fall foliage views, find a trail to hike on Buffalo Mountain or Roan Mountain. Drive through the Cherokee National Forest and look for a waterfall.
Another autumn-time activity is to take a road trip to Asheville and check out the Blue Ridge Parkway. Or drive a couple of hours to Gatlinburg — one of Tennessee's best towns to view fall foliage!
So, are you ready to FALL in love with Johnson City? Let's begin!
Guide to Johnson City in the Fall
More About Johnson City in the Fall
Johnson City, TN during the fall season is one of the best times of the year!
The leaves are turning shades of orange, red, and brown, and the temperature is cooling down just enough to bring out those stylish flannels and boots.
Fall foliage begins peaking in Johnson City around the 2nd and 3rd weekend in October.
If you are planning a visit, check out this Fall Foliage Prediction Map (Credit: SmokyMountains).
How is the weather in Johnson City during the fall months? From September to November, Johnson City temperatures average from 40 to 80 degrees. The days are hotter while the mornings and evenings tend to cool off pretty quickly.
We suggest packing light attire as well as a jacket or flannel, and of course some boots!
Outdoor activities are still popular in Johnson City during the fall including hiking in Johnson City to view fall foliage, to biking, visiting pumpkin patches, and even chasing waterfalls.
Best Things to Do Near Johnson City in the Fall
There are many things to do in Johnson City, but what are the best things to do in Johnson City in the fall?
1. Look for Fall Foliage Near Johnson City
There are many places in and around Johnson City, perfect for viewing fall foliage!
From Bays Mountain in Kingsport to Buffalo Mountain in Johnson City, we think there are many great spots to hike and enjoy the crisp fall weather.
Or take a day trip to other places for fall foliage including visiting the Smoky Mountains in the Fall.
Here are some of the best places and hiking trails to view fall foliage near Johnson City, TN:
Buffalo Mountain Park — Buffalo Mountain Park is a beautiful nature preserve in Johnson City with over 725 acres of land with panoramic views of the Tennessee Valley and Unicoi County.
Roan Mountain State Park — Roan Mountain State Park has over 2000 acres of hardwood forests, fields, and rhododendron bushes, and over 12 miles of hiking trails.
Blue Ridge Parkway — One of the best places to view fall foliage is on the Blue Ridge Parkway as it runs for 469 miles through North Carolina and Virginia.
Smoky Mountains National Park — The Smoky Mountains is one of the most popular places in Tennessee to view fall foliage and only a couple of hours from Johnson City, TN!
Lamar Alexander Rocky Fork State Park — Approximately 30 minutes from Johnson City in Unicoi County with over 2,000 acres of mountains and trails.
More Hiking Near Johnson City >> Where to Hike Near Johnson City: 27 Best Hiking Trails
2. Go to the Unicoi County Apple Festival
The Unicoi County Apple Festival is held every year on the first weekend of October in Erwin, Tennessee.
This fall festival near Johnson City is perfect for the entire family and is one of the best things to do in Erwin.
The apple festival is very popular in Tennessee with an annual attendance of more than 110,000 people — that's a lot of people in the small town of Erwin! The festival features over 400 food and craft vendors, entertainment stages, fall activities, and much more.
Best of all, the Apple festival is FREE. Parking is available around downtown Erwin. Please leave your dogs and pets at home.
3. Visit a Corn Maze or Pumpkin Patch
4. Hike to a Waterfall Near Johnson City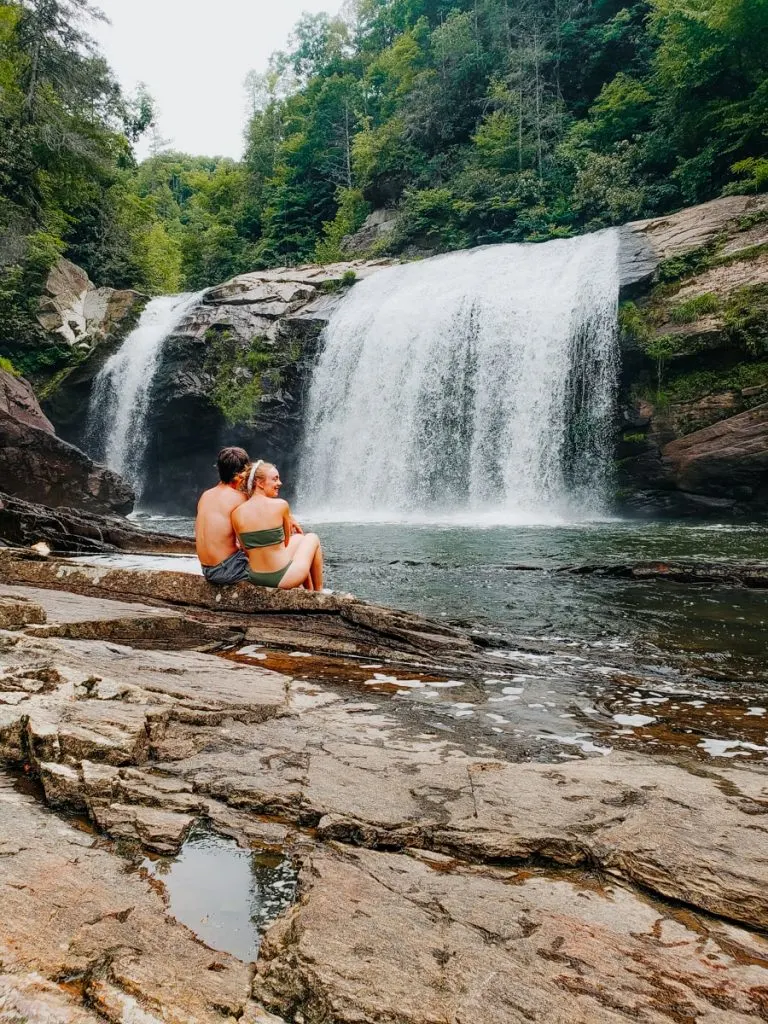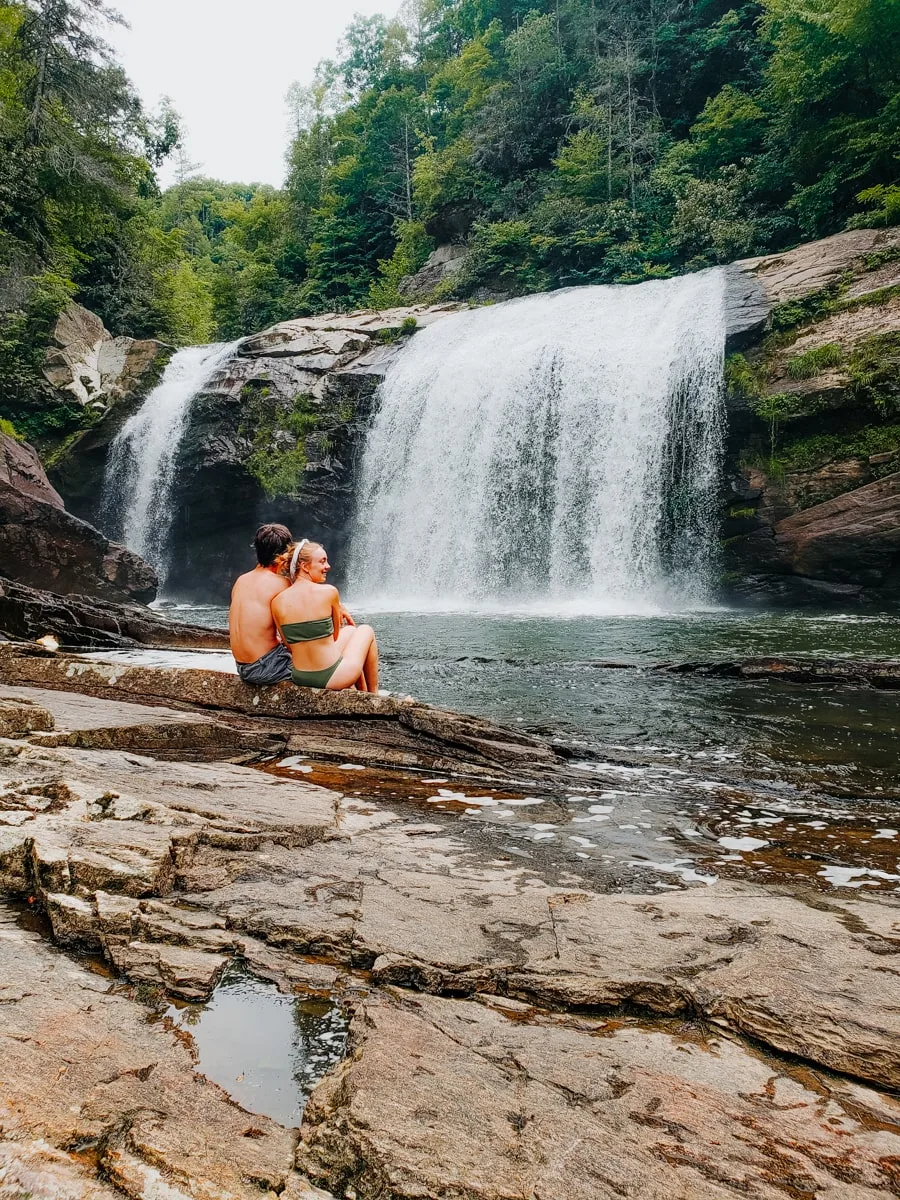 There are many waterfalls near Johnson City, perfect to hike to any time of year. Add fall foliage to that equation which creates a beautiful backdrop by the cascading water.
Some of the best waterfalls near Johnson City in the fall are:
Laurel Falls (4.6 mile hike) — One of the most beautiful waterfalls near Johnson City and trails as it crosses with the Appalachian Trail.
Compression Falls/Twisting Falls (0.8 mile hike) — A short but challenging hike in Butler, TN to Compression Falls but the falls at the end will be worth it!
Rock Creek Falls (3-mile hike) — A beautiful waterfall hike in Erwin, TN with plenty of creek crossings and moderately challenging.
5. Drink a Cider at a Local Brewery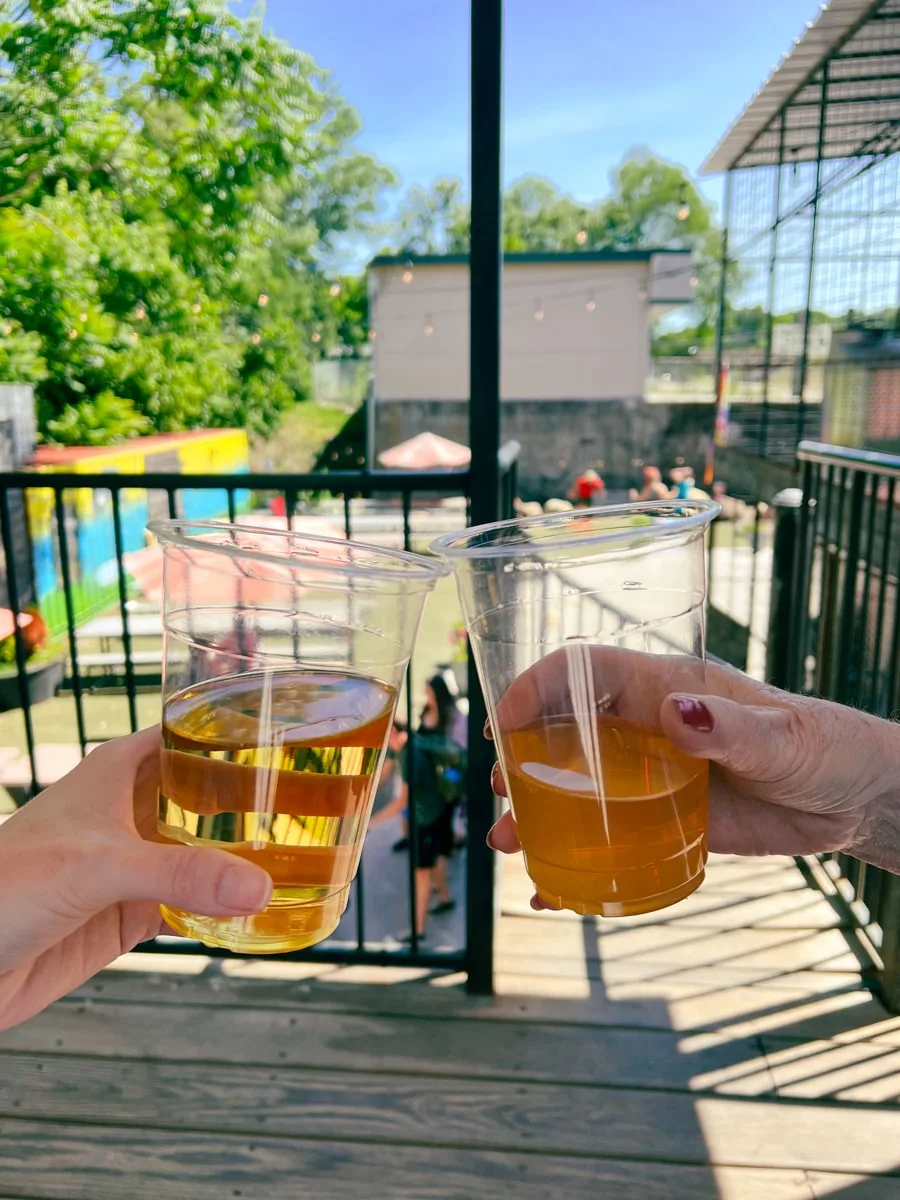 Johnson City has a handful of breweries and taphouses, great to stop and grab a cider or Oktoberfest!
One of our favorite breweries in Johnson City is Johnson City Brewing Company as they are consistently coming out with new brews and flavors!
However, if you're specifically looking for a cider, we recommend driving to Kingsport to Gypsy Circus Cider Co. for a great selection of ciders! Kingsport also offers a few other breweries you can explore while there!
6. Get a Pumpkin Spiced Coffee
We all know October brings out that favorite fall flavor — Pumpkin Spice!
There are many different coffee shops in Johnson City great for enjoying that Pumpkin Spice fix.
Some of our favorite coffee shops include Blue's Brews, Open Doors, and the Moon Coffee and Tea House.
7. Go on a DIY Oktoberfest Pub Crawl
The Downtown Johnson City Foundation and the Johnson City Development Authority have put on a DIY Oktoberfest for the past few years in downtown Johnson City.
This DIY Pub Crawl is perfect for exploring Oktoberfest and fall-inspired beers at all the participating locations in Johnson City.
Some of the businesses participating in the 2023 Oktoberfest included Mulligans Gaming Pub, Frieberg's, Little Animals Brewery, and many more!
Once you've received a stamp from at least 6 participating locations on your provided postcard, turn it in and you'll be entered into a giveaway — a win, win!
Cozy Cabins for Fall Near Johnson City, TN
Relaxing Cabin Studio
Price: $130 avg/night (check rates)
Sleeps: 3
Pet Policy: Up to 2 Dogs or Cats ($25 pet fee)
Rating: 5.0 (36 reviews)
Perks: Proximity to Bristol Motor Speedway and South Holston River
Location: Bristol, TN – 25 minutes from Johnson City
If you love animals, you may like this Relaxing Studio Cabin located in Bristol, within walking distance of the Bristol Motor Speedway.
The farm has 6 goats, 2 sheep, and a farm guard dog named Bonnie. Feel free to feed the animals with the provided snacks!
This cabin sleeps 3 people and has a unit on the 1st and 2nd floor, so if you needed to sleep more people you could rent both units at the same time.
🏡 Rent the Relaxing Studio Cabin Here
Cedar Cabin on Watauga River
Price: $375 avg/night (check rates)
Sleeps: 9
Pet Policy: Up to 2 dogs allowed with no restrictions
Rating: 4.9 (150 reviews)
Perks: Riverfront — it's a fisherman's haven!
Location: Elizabethton, TN – 15 minutes from Johnson City
The Cedar Cabin on the Watauga River would be a perfect cabin to rent in fall near Johnson City!
As this cabin is right on the river, you'll have a beautiful backdrop with colorful fall leaves and the sound of the running water.
There's also a stone wood-burning fireplace and a fire-pit allowing you to stay cozy on those chilly fall evenings.
Farmhouse Gallery & Gardens Cabin
Price: $125 avg/night (check rates)
Sleeps: 2
Pet Policy: No pets allowed
Rating: New listing
Perks: Nestled on a working family farm with buffalo, peacocks, an art gallery, and blacksmith shop
Location: Unicoi, TN – 15 minutes from Johnson City
This one-bedroom, one-bathroom cabin is over 250 years old and is located right on the pond, providing a unique cabin rental in Johnson City.
The best part of this cabin is the 73-acre farm with buffalos and peacocks! You'll also have the opportunity to see wildlife such as deer and an occasional black bear.
In the gallery, you'll find watercolor prints and pencil sketches of local wildlife. There is also metal artwork that was made on-site in the property's blacksmith shop.
*Note that this cabin is not suitable for children due to it's proximity to the pond and art gallery
🏡 Book the Farmhouse Gallery Cabin Here
Fall Festivals Near Johnson City, TN
Unicoi County Apple Festival
Location: Erwin, TN
When: First Weekend in October
The Unicoi County Apple Festival is one of the best things to do in the fall near Johnson City!
As we mentioned above, this festival is popular with over 110,000 attendees per year.
We love to go and see all the different vendors and activities. There are over 400 craft & food vendors, as well as entertainment stages, fun activities, and of course — plenty of Apples!
Also, please be aware this isn't a great festival for animals as it can get crowded and loud — we encourage you to leave all pets at home.
Rocky Mount Harvest Festival
Location: Piney Flats, TN
When: Check Rocky Mount Website
The Harvest Festival at Rocky Mount State Historic Site is a two-day festival with unique fall activities.
At this festival, you'll have the opportunity to see live demonstrations such as blacksmithing, the making of apple butter, apple cider pressing, and more.
There will also be games for the entire family, from sack racing to cornhole, as well as 18th-century games. And if you get hungry, food trucks will be parked on site.
Fall-O-Dendron Heritage Festival
Location: Roan Mountain, TN
When: October 14th /10am-5pm
The Fall-O-Dendron Festival is held in Roan Mountain State Park providing live music, food, art, and culture.
An added bonus is that you'll see tons of fall foliage when driving to Roan Mountain.
Before you go, we suggest driving to the top of Carvers Gap to see that fall foliage over the mountains!
Other Festivals Near Johnson City in the Fall
Halloween Activities Near Johnson City, TN
Barters House of Carnage in Bristol, VA
When: October 5th-November 3rd, 2023
Where: 1315 at Euclid Ave., Bristol, VA
Barters House of Carnage is a newer haunted attraction in Bristol, VA, created by the same minds from the Barter Theatre in Abingdon, VA.
We have high expectations for this haunted house as we love going to the Barter Theatre.
Tickets for Adults (12 and over) are $15. Kid-friendly nights will be held on October 10,17, and 24th at $5 per child (ages 5-11).
Take caution that this haunted attraction will use strobe light effects. Tickets can be purchased online or at the door (CASH ONLY).
The DAM Haunted Woods in Kingsport, TN
When: Beginning in October / Friday & Saturday / Opens at 7:30 pm
Where: 3460 TN-75, Kingsport, TN 37663
The first thing you need to know before going to the DAM Haunted Woods is that you must sign a waiver.
This is a contact & touchable haunt where the scarers are allowed to touch you (& the reason for the signed waiver). Are you scared yet?
Be aware that you will be walking about 1/4 mile through the woods on this haunted attraction. The theme is changed yearly, what will it be next?
Haunted Forest in Elizabethton, TN
When: Weekends from September 29th – October 28th / Open at 7:30 pm
Where: 172 Big Springs Rd, Elizabethton
Haunted Forest is one of the best-haunted attractions near Johnson City.
There are 4 haunted attractions such as the haunted forest trail which entails many scares such as Jeepers Creepers, Clown House, and Nightmare before Christmas.
There is also a Zombie Outbreak where you try to find a flag before being touched by a zombie, as well as two escape rooms.
There is a hayride led by Beetlejuice, included with any attraction. Each attraction is $15 per person.
Visit Frightmare Manor in Morristown, TN
When: September 3rd – November 4th
Where: 7588 West Andrew Johnson Highway, Morristown, TN
Frightmare Manor has been voted as the #1 must-see haunted attraction in TN by Haunted House Ratings, as well as one of the top haunted houses in America by U.S. City Traveler.
We think visiting Frightmare Manor is one of the best things to do in Morristown — and you'll see why once you visit!
This haunted house is the location of a Tennessee serial killer — Jeremiah Lexer.
Walk through one of the many haunted attractions and challenge yourself by trying the Nightmare Challenge. If you complete the challenge, you'll receive your money back! We DARE you to try it!
🎃 Also Read: Fall in Tennessee: The Ultimate Guide & Autumn Bucket List
What do you think of this Johnson City in the fall guide? Do you know of any fall festivals or Halloween activities in Johnson City that should have made the list? Let us know in the comments below!
SAVE THIS POST FOR LATER