If you're craving some outdoor fun near Music City, you're in luck! As the best hikes near Nashville prove, the city has so much more to offer than world-class entertainment, food, and country music!
Surrounded by breathtaking natural beauty and some seriously impressive state parks, there's a vast array of hiking trails just beyond the shimmering lights of Nashville.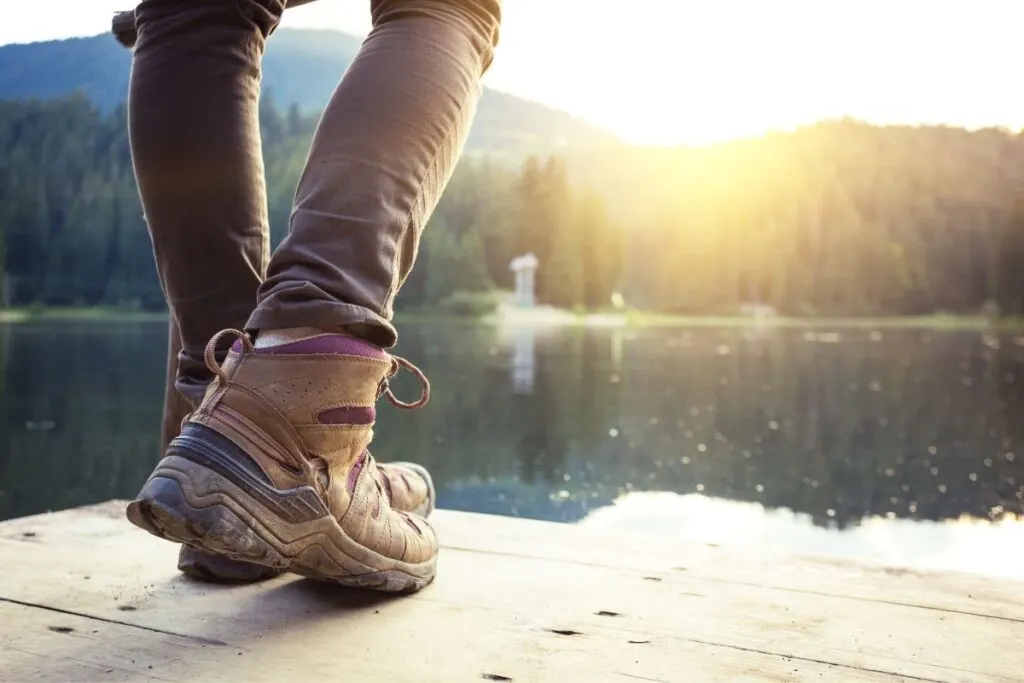 Best of all, there are options for every skill and experience level.
Whether you're a seasoned hiker or just starting your trekking journey, we've got you covered with nine of the best hikes near Nashville.
So, lace up your boots and let's get those feet moving — it's time to explore Middle Tennessee's great outdoors!
🚐 Looking for RV Parks near Nashville? Read: 11 Best Nashville RV Parks for Camping
The Best Hiking Trails Near Nashville
1. Otter Creek Road to Ganier Ridge Trail – Radnor Lake State Park
Length: 2.3-mile loop
Elevation gain: 360 feet
Difficulty level: Moderate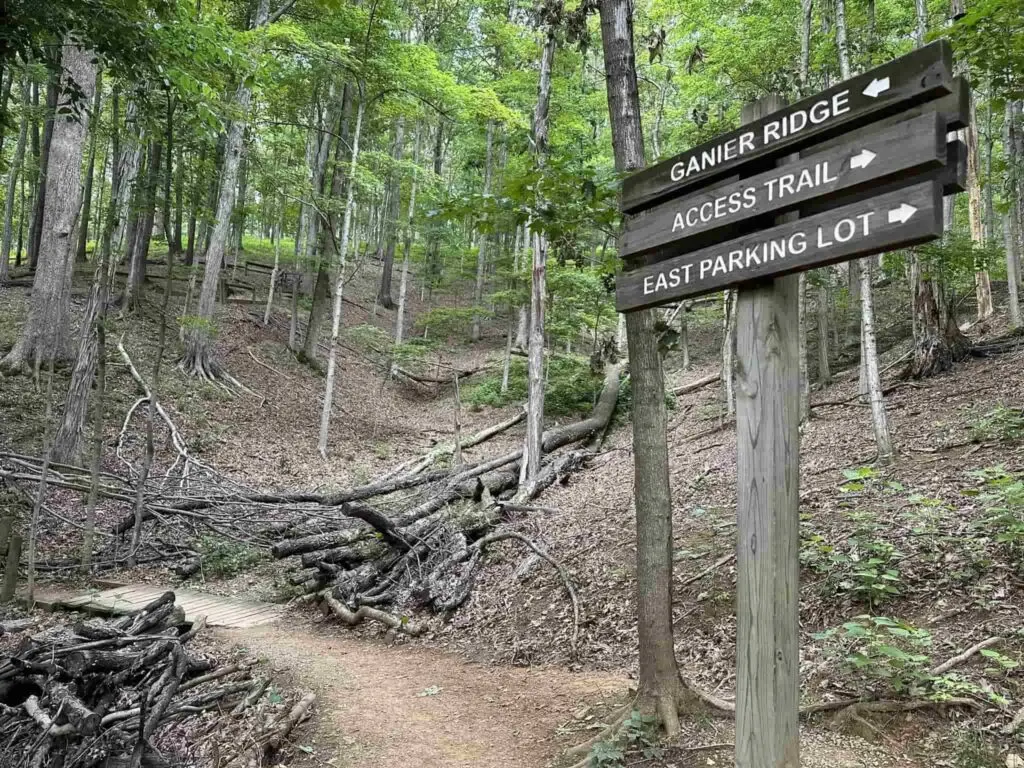 A mere eight miles from downtown Nashville, this urban oasis has a picturesque lake and some of the best hikes near Nashville.
Our personal favorite trail, Otter Creek Road to Ganier Ridge Trail, actually combines two short ones, offering hikers a nice variety of both scenery and difficulty level.
Otter Creek Road is a paved, easy trail with scenic lake views. Best of all, it's closed to motor vehicles, so hikers can go at their own pace without any worries.
By contrast, Ganier Ridge Trail has a fairly steep incline and is considered challenging. In fact, the vast majority of the elevation gain is on this portion of the hike! Fortunately, there are plenty of benches along the way where you can rest.
This trail, and the entire state park, for that matter, are especially gorgeous in the fall. However, the full trees also mean lake views are obstructed.
Note: Otter Creek Road is the ONLY trail in the park where both dogs and bicycles are permitted. They aren't allowed on Ganier Ridge, but if you're hiking with your pup, you can stick to Otter Creek. That portion of the trail is just over one mile, and as a bonus, it's also ADA-accessible (and great for families!).
2. Mossy Ridge Trail – Percy Warner Park
Length: 4.5-mile loop
Elevation gain: 830 feet
Difficulty level: Moderate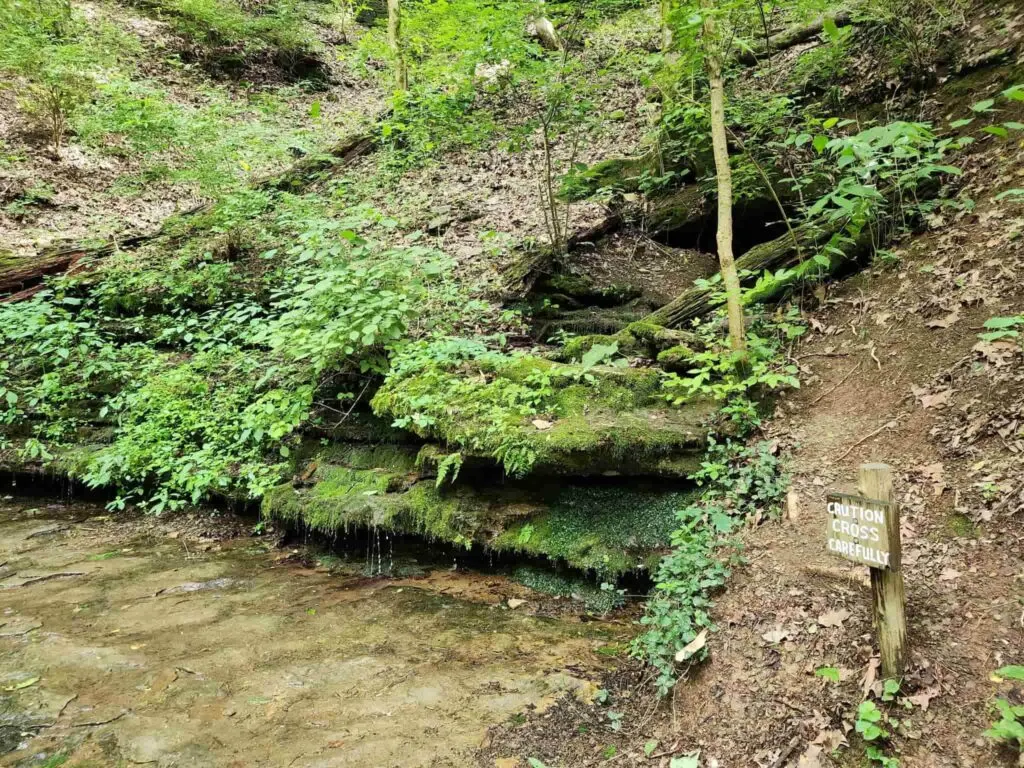 Nestled between Brentwood and Belle Meade, Percy Warner Park is home to one of the best hikes near Nashville.
Moderately difficult Mossy Ridge Trail has something for everyone: some up and down on steep hills, small seasonal streams and cascades, and beautiful views.
In addition, you can easily add 1.5 miles to your hike by hopping on the Cane Connector Trail.
The real icing on the cake, though, is that this wooded slice of tranquility is just 25 minutes from downtown. Oh, and it's also (leashed) dog-friendly! 🐾
Mossy Ridge Trail isn't technical by any means, but it is steep.
It also has a reputation for becoming quite muddy after rain. There are a few benches along the trail, plus "Quiet Point," which offers up expansive views from a ridgeline.
With several other parks in the area, this one tends to get overlooked. There are typically at least a few other hikers on the trail, though, so you won't feel too alone.
3. Henry Hollow Loop – Beaman Park
Length: 2.1-mile loop
Elevation gain: 249 feet
Difficulty level: Moderate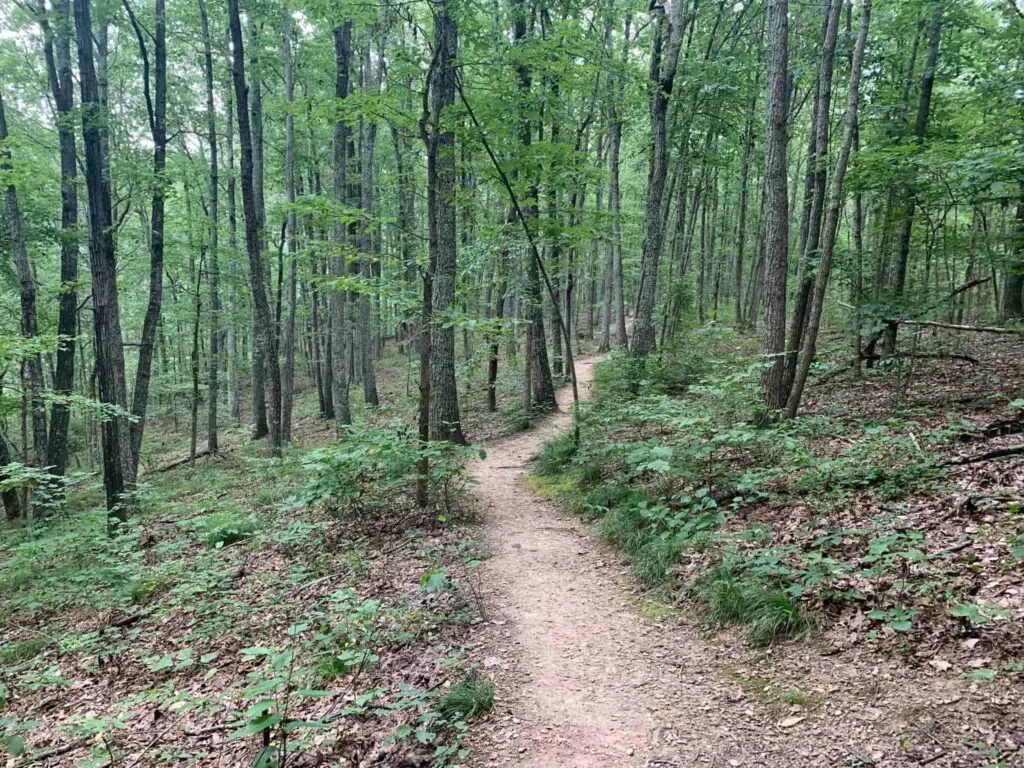 On any given day year-round, you'll find Nashville locals hiking Henry Hollow Loop.
It's a favorite because it's close to town (less than a half-hour from Broadway) but rarely crowded, plus it's well-maintained.
There's also plenty of parking at the trailhead, which is not always the case with many popular recreation areas.
Henry Hollow Loop follows Henry Creek, then ascends out of the hollow and up the ridge. This is the only challenging part of the hike, and the mix of creekside and ridgeline gives hikers interesting, varied scenery.
One thing that can be confusing is that there are three different trailheads. Creekside is the most popular starting point, but you can also access Henry Hollow Loop from the Highland trailhead. Creekside has a parking lot and bathrooms.
The well-shaded trail makes this a great option even on hot summer days — and especially during leaf-peeping season.
4. Cummins Falls Hike
Length: 2.4 miles out-and-back
Elevation Gain: 350 feet
Difficulty Level: Moderate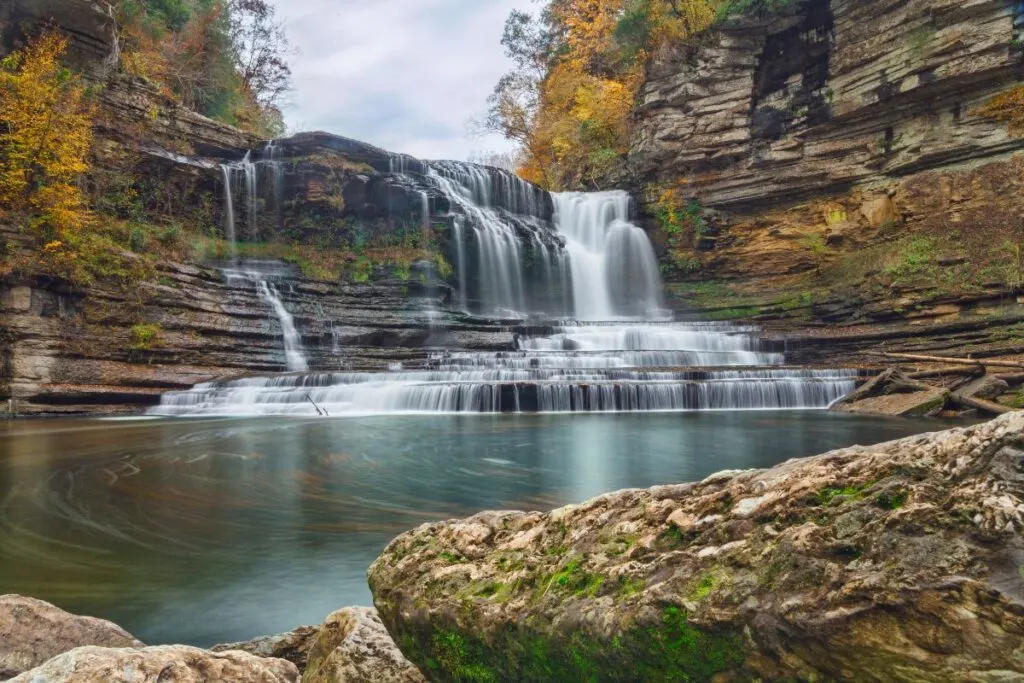 This next hike requires a mini road trip of just over an hour, but we promise — it's absolutely worth it.
Cummins Falls is a gorgeous 75-foot waterfall with multiple cascades, near the small town of Cookeville.
A unique feature among the best hikes near Nashville, you can get right up to the base of the falls! You will have to earn that privilege, though.
Before even thinking about hiking to Cummins Falls, you need to get Gorge Access Permits for everyone in your group. The park issues 200 permits per day, and you can reserve yours up to three months out, on a rolling basis.
Once you have your permit, it's time to plan your route.
Two trails go through the gorge to the base of the falls, Downstream Trail (1 miles) and Shortcut to Downstream (1.5 miles). They're both moderately challenging, with steep sections, uneven terrain, and slippery rocks.
There's an alternative for folks content with seeing the waterfalls from a slight distance (or those unable to snag a permit!): the leisurely 0.4-mile Waterfall Overlook Trail. You do NOT need a permit for the overlook trail.
The one major drawback to seeing Cummins Falls from the overlook is that you miss out on jumping in the water!
5. Volunteer Trail – Long Hunter State Park
Length: 11 miles out-and-back
Elevation gain: 620 feet
Difficulty level: Moderate
Avid hikers and people looking for a longer day hike should check out the Volunteer Trail. At 5.5 miles one way with moderate elevation gain, it's the longest trail in Hunter State Park.
The trail runs along the shore of Percy Priest Lake, then climbs the surrounding bluffs. Your reward is a panoramic view of the lake from up above.
As a bonus, the trail also takes you to two backcountry (tent-only) campsites. That's right — you have the opportunity to go backpacking just 30 minutes from Nashville!
The campsites sit right on the lakeshore, and each has a fire ring. Advance reservations are required, and cost $5 per site, per night.
While hiking, there's an excellent chance you'll spot some wildlife. Deer, armadillos, and red foxes pay regular visits to the trail and, less frequently, so do bobcats.
Volunteer Trail is accessible year-round, and leashed dogs are welcome. The trail is well-shaded, so there's plenty of cover on hot summer days, and the fall colors are beautiful. 🍂
6. Harpeth Woods Trail – Edwin Warner Park
Length: 2.5-mile loop
Elevation gain: 350 feet
Difficulty level: Moderate
You don't even have to venture out of city limits to enjoy the Harpeth Woods Trail! This moderately difficult, 2.5-mile hike delivers peace and quiet literally right in the city.
On the trail, you'll hike along a rocky ridge, next to a stream, and across a rock quarry from the 1930s and '40s.
In true Tennessee fashion, there are also several picturesque wooden bridges. Its varied scenery also makes this trail popular with trail runners.
Because it's a loop, you can access Harpeth Woods Trail from any one of the park's three trailheads: Nature Center, Natchez Trace, and Owl Hollow. As you might have guessed, part of the trail (about 3/4 mile) follows the famous Natchez Trace.
Special note: the Warner Parks are a culturally significant, fragile area. You'll likely find some fossils, but removing them from the park is illegal. Practice Leave No Trace and take only pictures and memories! 🌿
7. River Trail & Base of Falls Trail – Burgess Falls State Park
Length: 1.5 miles out-and-back
Elevation gain: 200 feet
Difficulty level: Moderate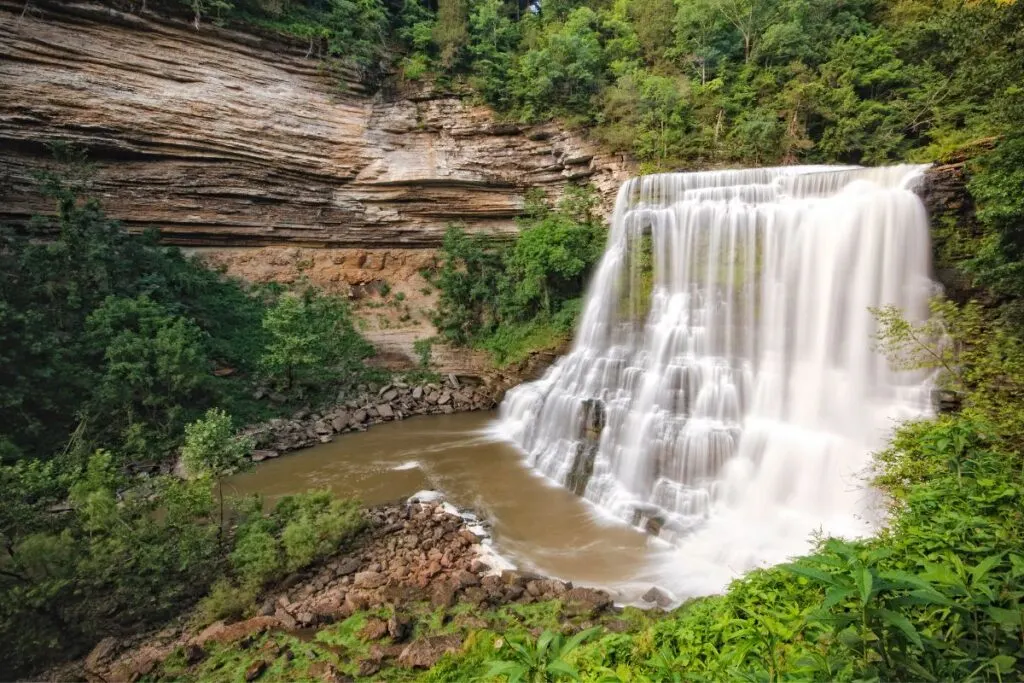 What's better than a waterfall hike? A hike that includes FOUR waterfalls, of course!
On this hike, which actually combines two short trails, you'll pass the 20-foot Falling Water Cascades, 30-foot Little Falls (also called Upper Falls), 80-foot Middle Falls, and 136-foot Burgess Falls.
AllTrails calls this trail "Burgess Falls Trail," but it's technically the 0.8-mile River Trail, plus the 0.6-mile Base of the Falls Trail.
The River Trail starts from the parking lot and gives views of the four cascades, while Burgess Falls Trail takes you down into the gorge to the falls.
After the fourth overlook on the River Trail, you can take the Burgess Falls Trail. While neither trail is particularly difficult, there are several sets of stairs to navigate.
Note that as of July 2023, there's some construction on the trail to repair stair damage, and you can't currently make it all the way to the gorge.
If you don't necessarily care to go down to the base of Burgess Falls, you can simply hike back to the parking lot along the service road. This is a 1.5-mile loop.
Fair warning: although both trails are short and sweet, they may take longer than you expect! That's because there are sooo many scenic viewpoints and overlooks, you'll want to "pull over" on the trail several times!
About one hour and 20 minutes from Nashville, between it and Chattanooga, Burgess Falls State Park makes a great day trip. With the four waterfalls and the option of going right to the base, this is definitely one of the best waterfall hikes near Nashville!
8. Base of Falls & Cane Creek Falls Trail – Fall Creek Falls State Park
Length: 2.4-mile loop
Elevation gain: 630 feet
Difficulty level: Moderate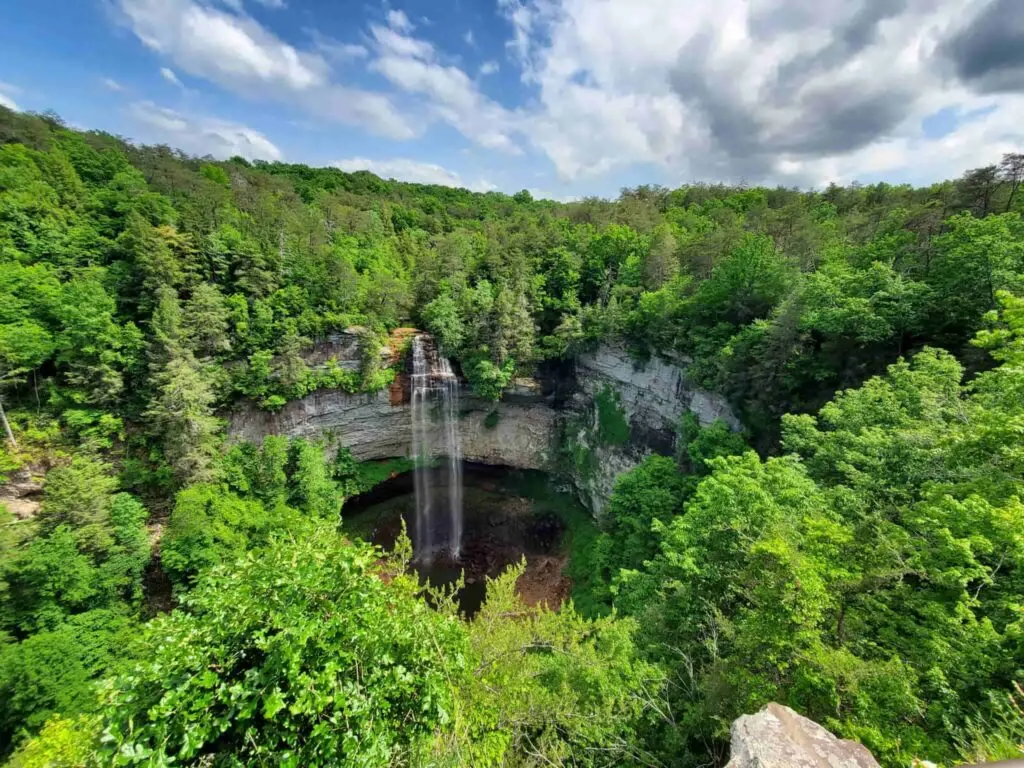 256-foot Fall Creek Falls is one of the highest waterfalls in the eastern United States, and this awesome hike lets you get close to it. You'll also see Cane Creek Falls, not as tall at 85 feet, but more voluminous.
On this trail, not only will you see the falls up close, but you'll also get various viewpoints.
The first section near the visitor center gives you a great view of Cane Creek Falls from above. Then, you'll cross a swinging bridge (yes, it does really sway!) and join the Woodland Trail for a short distance. This leads to the overlook above spectacular Fall Creek Falls.
Note that you can also drive to this overlook (something to keep in mind for days when you just don't have a whole hike in you!).
Once you're at the overlook, all that's left is to get down to the base of the falls. This short and not exactly sweet section of the trail is the most difficult, as it involves steep stairs and what many consider a technical scramble. In this case, going down is just as challenging as coming back up!
Adventurous hikers will also want to go down the short half-mile (round-trip) Paw Paw Trail, AKA the Cable Trail. There is, indeed, a cable to assist hikers, so this trail is not for the faint of heart!
However, those up for the challenge will be rewarded with unforgettable views from the base of the falls, as well as a pristine swimming hole.
Note that dogs are not permitted on the Cable Trail, although they are welcome on the other trails mentioned.
9. Creech Hollow Trail – Montgomery Bell State Park
Length: 2.9 miles out-and-back
Elevation gain: 220 feet
Difficulty level: Easy
40 minutes west of Nashville, the easy-going Creech Hollow Trail is perfect for families and low-key days. It's also a very dog-friendly trail, so bring your pup (on a leash!).
The trail mostly follows the shores of Creech Hollow Lake, although sections of it do go into the woods.
As the trail name suggests, you descend into a hollow via a set of stairs. Seasonally, you may also cross some small streams. Any time of year, this is a fantastic trail for spotting wildlife like turtles and beavers.
Interestingly, the trail serves as the "classroom" for several outdoor classes hosted by the state park, including compass courses.
Hikers looking for more of a challenge or a longer day can easily combine Creech Hollow with one of the park's other trails. The Wildcat and Montgomery Bell trails are both great options, creating a moderately challenging 7.4-mile loop all together.
These are some of the most scenic hiking trails near Nashville, but Middle Tennessee has so many more treasures to discover!
Do you know of a trail that deserves to be added to this list? Let us know in the comments!
>> Also Read: Music City Bucket List: 25+ Best Things to Do in Nashville <<