Did you know there are several waterfalls near Nashville?
It's true — East Tennessee may receive most of the attention statewide for natural beauty and outdoor pursuits, but don't discount the rest of the state (particularly Middle Tennessee)!
There are some seriously impressive trickling wonders within a stone's throw of Music City.
All perfect day trips, every waterfall on this list is less than 100 miles from Nashville, making maximum drive time around 1.5-2 hours each way.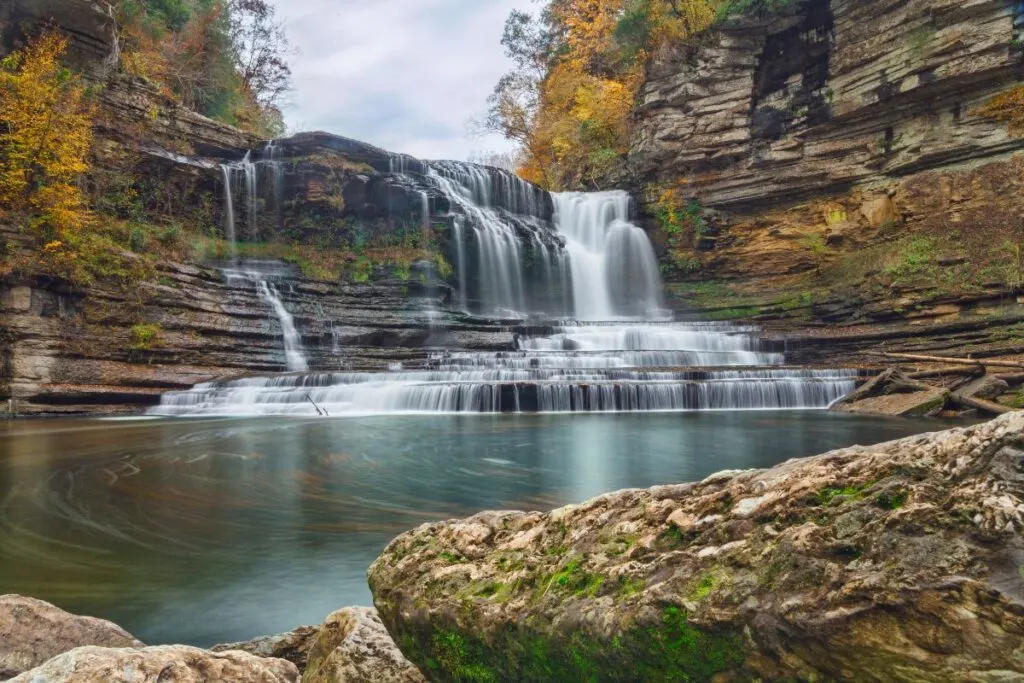 Most are inside state parks, a major bonus since all of Tennessee's government-run parks and preserves are completely FREE!
It's hard to imagine a better way to top off a weekend in Nashville than loading the car with family or friends and chasing cascades.
Whether you're looking for a long day hike, a swimming hole, or simply an awe-inspiring view, there's a perfect Nashville area waterfall for you.
Pack your hiking shoes, camera, and swimsuit, and let's dive in!

Please remember to Leave No Trace and visit responsibly! 🥾
8 Beautiful Waterfalls Near Nashville
1. Burgess Falls
Location: Burgess Falls State Park (80 miles from Nashville; 1 hr and 20 mins)
Height: Tallest waterfall is 136 feet; all four combined total 250 feet
Hike length: 0.5 mile
Difficulty: Moderate
Trailhead: River Trail
Pet-friendly? Leashed dogs welcome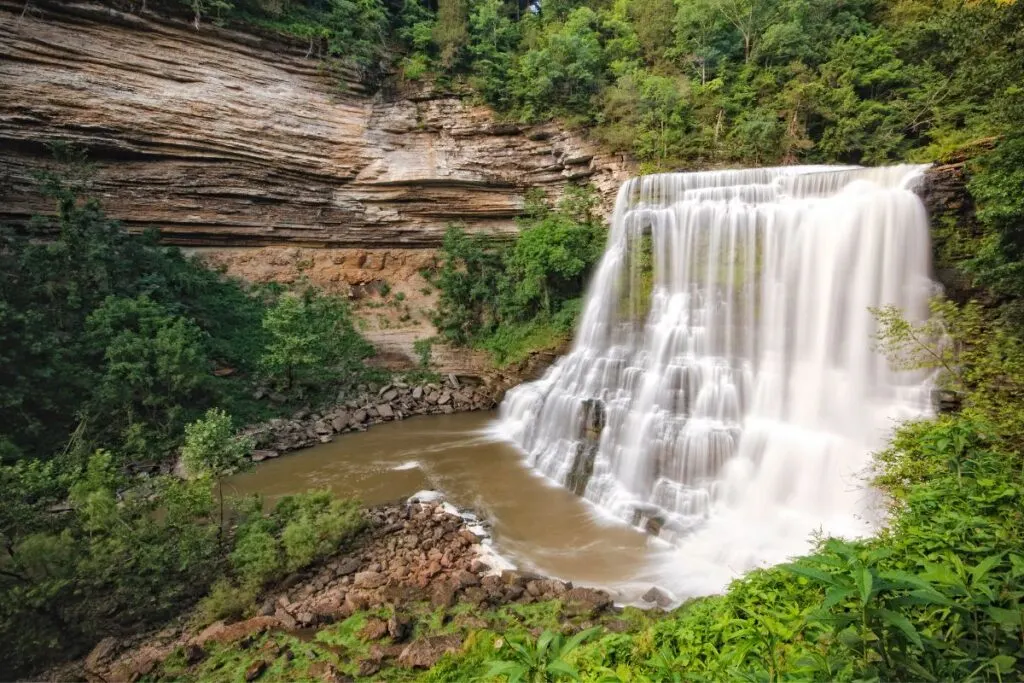 Few waterfalls near Nashville stun quite like Burgess Falls. In fact, this one is so impressive that its nickname is "Queen of The South!"
Set in a steep limestone gorge, this wide waterfall actually comprises four individual cascades.
There are 20-foot cascades at the top, 30-foot upper falls, 80-foot middle falls, and the crown jewel, 136-foot lower falls thundering over a moss-covered cliff. All together, they total 250 feet!
From the parking lot, visitors can reach bird's eye views of the falls from three short trails.
River Trail (moderate) – 0.5 mile one-way
Upper Trail (moderate) – 0.46 miles one-way
Ridgetop Trail (easy) – 0.25 miles one-way
Notably, due to steep steps, mud, and some elevation gain, make sure to wear proper footwear for this adventure.
After completing the trail, relax on the picnic tables or cast your rod in the river for bass.
If kayaking is more your jam, Burgess Falls makes an awesome paddling trip. Specifically, you can get right up to the base of the falls in the river! However, the park doesn't have any launches, so to do this, you have to book a tour through an outfitting company.
As a bonus, Burgess Falls is an hour east of Nashville, mostly following I-40, making an easy stop on a road trip to Knoxville.
2. Cummins Falls
Location: Cummins Falls State Park (83 miles from Nashville; 1 hr and 40 mins)
Height: 75 feet
Hike length: 0.4 – 3 miles
Difficulty: Easy to moderate
Trailhead: Cummins Falls Trail (Gorge Trail)
Pet-friendly? Leashed dogs welcome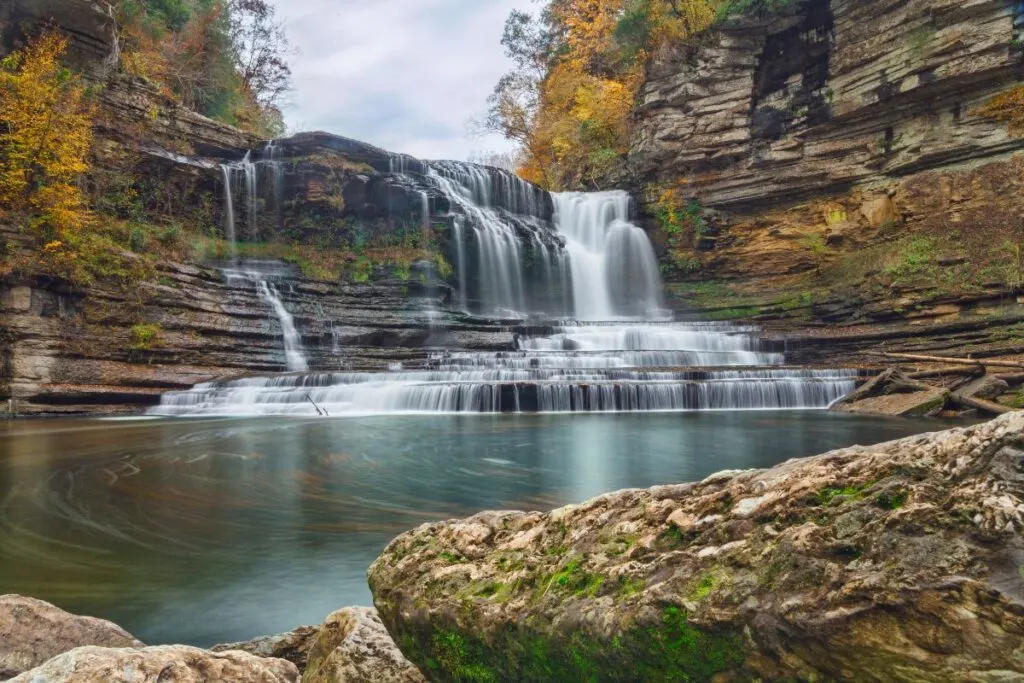 Cummins Falls is arguably the most popular swimming hole in all of Tennessee.
In fact, Travel & Leisure and Conde Nast Travel even called it one of the best swimming holes in the entire US!
Like Burgess Falls, it's conveniently just over an hour east of Nashville, mostly along the interstate.
Also like Burgess Falls, you have to hike to reach Cummins Falls.
Luckily, though, there are several routes to choose from, starting at less than half a mile. A few short trails take you to overlooks, while two trails descend one mile into the gorge and go to the base of the waterfall (the swimming hole!).
Regardless of which one you take, if you plan to hike to the waterfall itself, you WILL get wet on the way. The gorge trails both involve multiple creek crossings. You are heading straight to the waterfall, after all! Moreover, depending on how high the river is, you may have to wade all the way to your waist.
Important note: Anyone hiking TO the waterfall must get a Gorge Access Permit. Permits are $6 per person, and equally important, everyone in your group must have one. 200 permits are issued each day. Even with these permits, Cummins Falls gets extremely crowded throughout the summer.
While the gorge is the main attraction at Cummins Falls, don't skip the overlooks. The most popular (and scenic) is the 0.4-mile Waterfall Overlook Trail, but there's also the half-mile Upstream Trail.
Whichever hike you do, bring water shoes. In addition to stream crossings, the rocks in the riverbed are slippery and sharp.
3. Rutledge Falls
Location: Tullahoma, TN (70 miles from Nashville; 1.5 hrs)
Height: 40 feet
Hike length: 0.3 miles
Difficulty: Easy
Trailhead: Rutledge Falls Trail
Pet-friendly? Leashed dogs welcome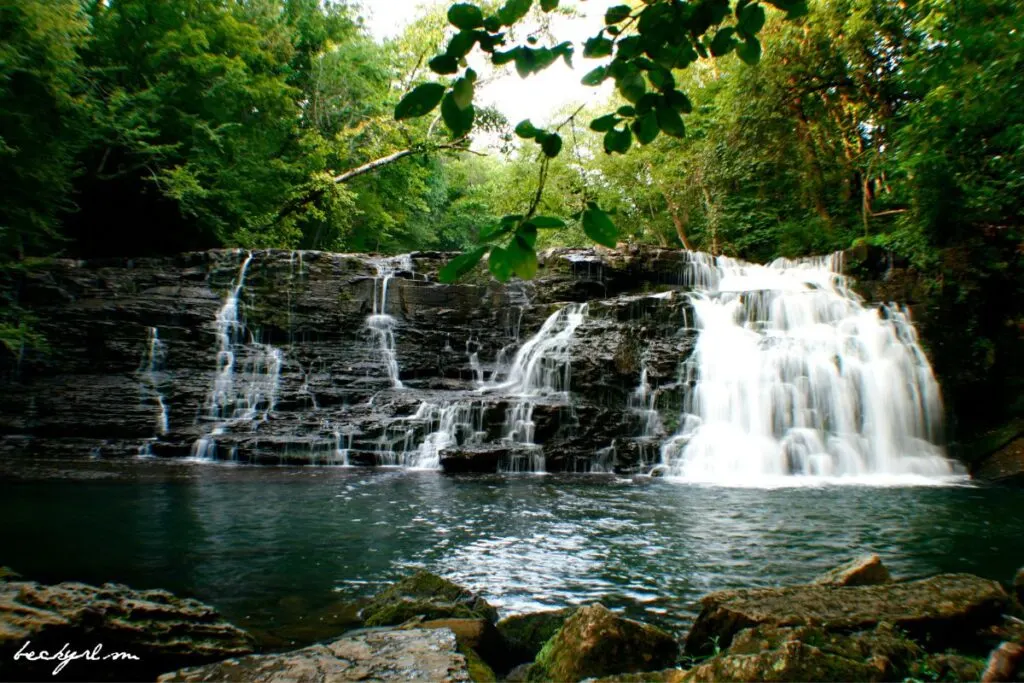 This beautiful cascade is one of the most relaxing waterfalls near Nashville.
Although only 40 feet tall, Rutledge Falls' water flow photogenically drapes across the wide cliff, curtain-like.
Reaching the waterfall requires a short and sweet 0.3-mile hike. The tricky part, however, is actually finding the trailhead. Rutledge Falls sits on private property! The trick is to find Rutledge Falls Baptist Church — once you do, park on the street nearby.
You can swim right below the waterfall, jump off boulders, and picnic along the banks. In addition, pups are welcome, but must be on a leash. Regardless of the fact that the falls are open year-round and FREE to access, pay extra respect to the owner by staying on the trail.
Local tip: While you're here, visit Machine Falls, another of the best waterfalls near Nashville, just five minutes away.
4. Machine Falls
Location: Short Springs Natural Area (73 miles from Nashville; 1.5 hrs)
Height: 60 feet
Hike length: 5-mile loop
Difficulty: Moderate
Trailhead: Machine Falls, Adams Falls, Busby Falls and Laurel Bluff Loop
Pet-friendly? Leashed dogs welcome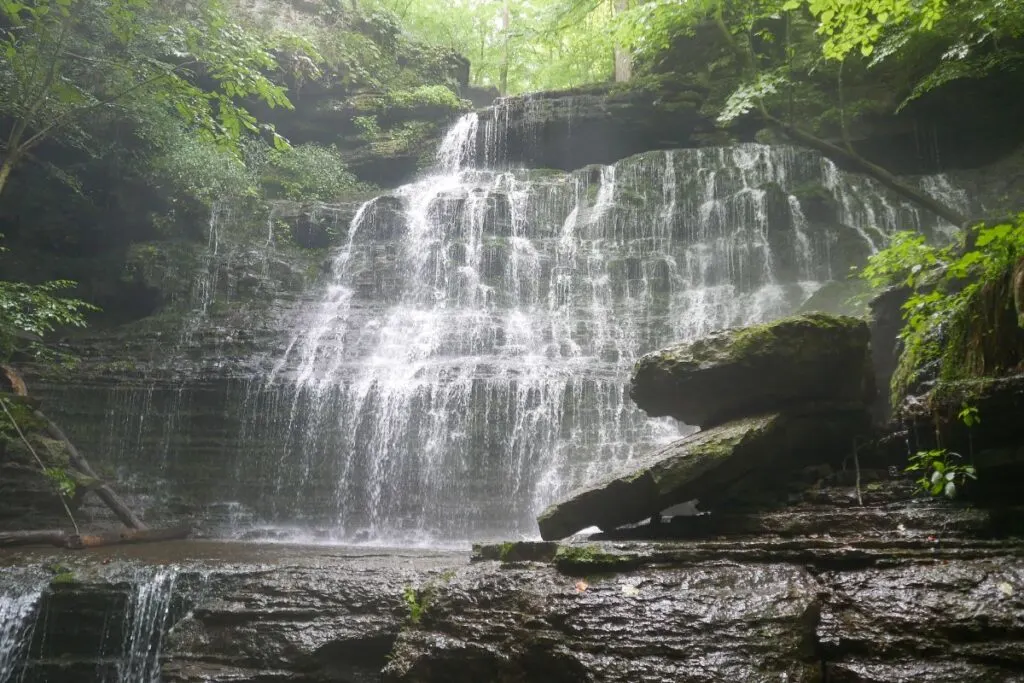 Just a few miles north of Tullahoma in the Short Springs Natural Area, you can enjoy several waterfalls near Nashville in one place. The lush preserve is full of roaring creeks and wildflowers.
A series of short trails weave through the park, each connecting to individual waterfalls. For the most bang for your buck, though, take the big loop trail.
The easy-going 5-mile hike passes three falls (Adams, Busby, and Machine), each with its own appeal. However, the star of the show is undoubtedly Machine Falls. The cascade plunges 60 feet across a wide, mossy bluff, and towering trees add to its mystical appeal.
Short Springs Natural Area is especially beautiful in late spring and summer, when wildflowers bloom. 🌸
However, the park is worth visiting in other seasons, too. Fall brings colorful changing foliage, and the trails are fairly well-shaded, making the hike tolerable even on the hottest days.
Like many other Tennessee waterfalls, leashed dogs are welcome on the trail.
5. Twin Falls
Location: Rock Island State Park (90 miles from Nashville; 1 hr and 45 mins)
Height: 80 feet
Hike length: 1.6 miles
Difficulty: Moderate
Trailhead: Twin Falls and Downstream Trail
Pet-friendly? Leashed dogs welcome
Even among the most stunning waterfalls near Nashville, Twin Falls is unique. Accidentally created when the Caney Fork River was dammed in the 1920s, the roaring cascade seemingly comes right out of the cliffside into the river below.
"Twin" Falls is a misnomer, because this impressive waterfall has dozens of individual cascades!
In order to get a great view, you don't even need to hike. Simply head to the observation point at the end of Powerhouse Road.
On the other hand, those who want to get closer to the falls can take the 1.6-mile downstream trail. Along the way, you'll spot several other cascades, especially in the spring. Be sure to check river conditions before the hike, because higher water levels in the gorge occasionally make the area impassable.
In addition to seeing Twin Falls, there are loads of other activities at Rock Island State Park. Take a dip in one of the many swimming holes, kayak in calmer waters, embark on another trail, or stay overnight in the 50-site campground.
🚐 Best RV Parks near Nashville
6. Foster Falls
Location: Foster Falls Area, South Cumberland State Park (100 miles from Nashville; 1 hr and 50 mins)
Height: 60 feet
Hike length: 0.6 miles
Difficulty: Moderate
Trailhead: Foster Falls Base Trail
Pet-friendly? Leashed dogs welcome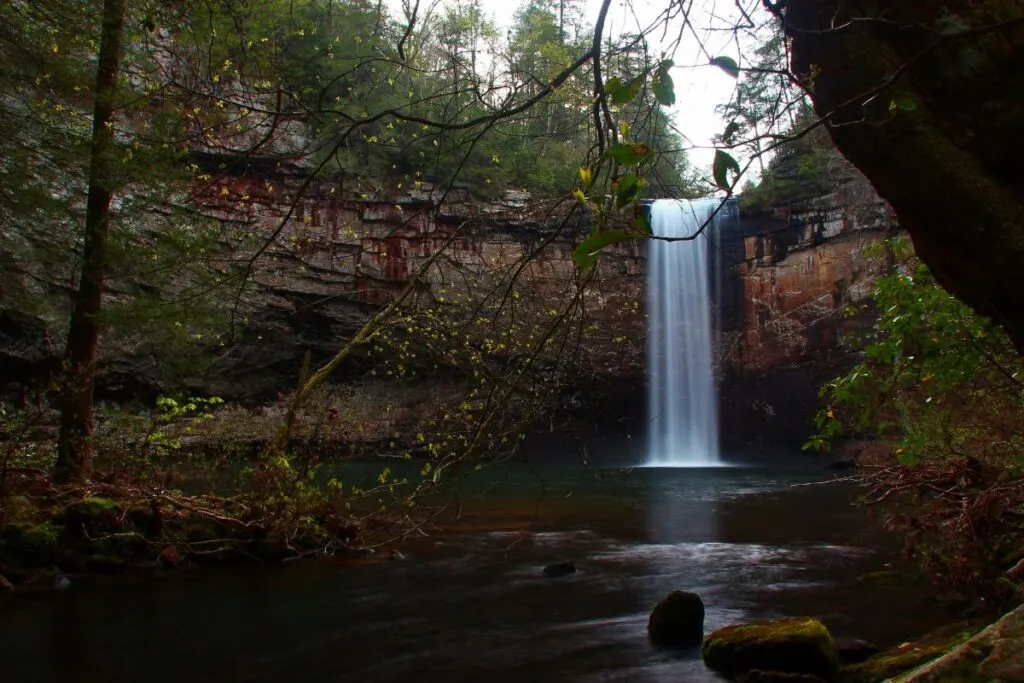 For a slice of nature reminiscent of the Smoky Mountains waterfalls, head to the Foster Falls Area in South Cumberland State Park.
The dazzling namesake waterfall plunges 60 feet out of a bowl-shaped cliff into a shimmering pool below. Coupled with the fact that swimming is allowed, it's no surprise that this spot is a beloved summertime destination.
Reaching the base of the falls requires a moderately difficult 0.6-mile hike. Although it's short, it's steep and rocky, involving many steps to reach the water. There's also an even shorter, easier 0.3-mile overlook trail, offering another vantage point over the falls.
If you have more time, there's plenty of beauty to discover elsewhere in the state park, too. Those up for a more challenging hike can take the 1.7-mile Foster Falls Climbers Loop Trail. This trail is significantly steeper, plus you have the option to continue onto Fiery Gizzard, another popular hike in the park.
It's hard to believe all this natural splendor is only an hour and a half from Nashville, and just 45 minutes from Chattanooga!
7. Greeter Falls
Location: Savage Gulf State Natural Area, South Cumberland State Park (91 miles from Nashville; 1.5 hrs)
Height: 50 feet
Hike length: 1.1-mile loop
Difficulty: Moderate
Trailhead: Greeter Falls Loop
Pet-friendly? Leashed dogs welcome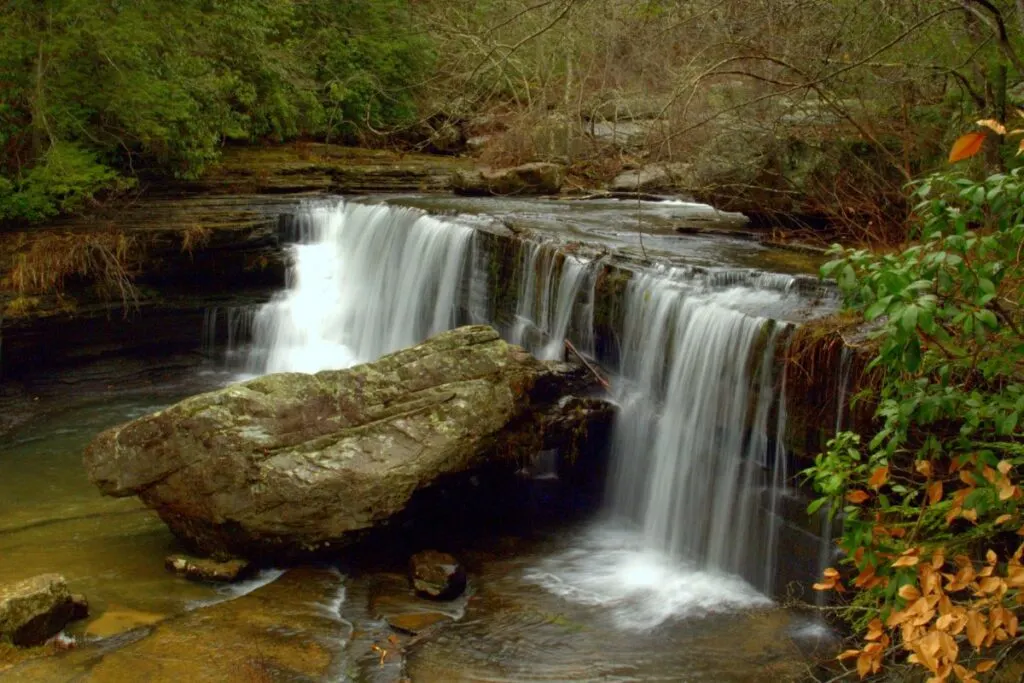 Next on our list, we have another waterfall in South Cumberland State Park. Part of the expansive 16,000-acre Savage Gulf State Natural Area, Greeter Falls offers a tremendous reward-to-effort ratio.
The 1.1-mile loop hike passes the base of the upper falls, then continues down to the lower falls via a spiral staircase. As you might imagine, many people consider the staircase the highlight of the whole hike!
Although the trail isn't particularly strenuous, it tends to get incredibly muddy after rain. Not only that, but hikers also gain a significant amount of elevation gain (over 260 feet!) in a short distance.
Visitors can swim in the deep pool, but don't dive in when the water level is high. The current gets extremely swift here! Fortunately, even from the banks, Greeter Falls is a sight to behold. 💦
Since hiking to Greeter Falls doesn't take much time, you can easily enjoy other activities in the park.
Check out smaller cascades like Savage and Laurel Falls or get some cardio in by doing a ridge hike with mesmerizing views. Likewise, if you're a rock climber, tackle one of the well-established pitches.
For waterfall chasers looking to make a day out of it, there are many places to pitch a tent nearby. A top choice is Greeter Falls Campground, also within walking distance from the waterfall.
8. Fancher Falls
Location: Center Hill Lake (70 miles from Nashville; 1 hr and 15 mins)
Height: 80 feet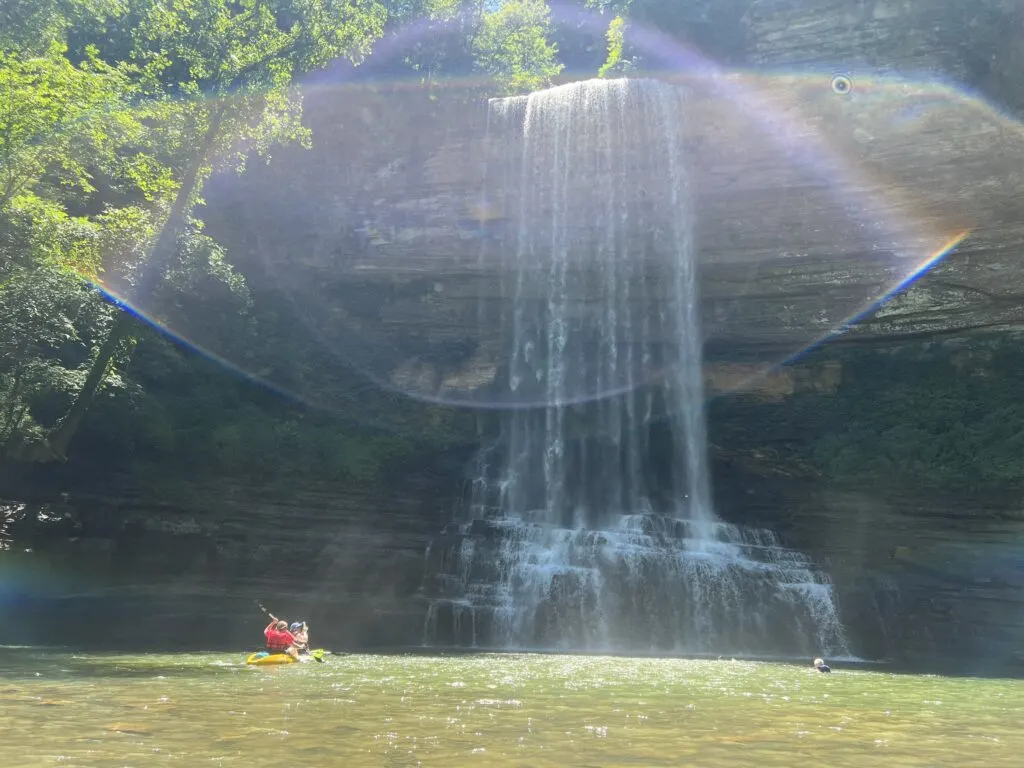 Fancher Falls may truly be the most unique of all waterfalls near Nashville. Reaching it doesn't involve a hike, but instead, requires a kayak trip!
For this memorable experience, start at the Cookeville Boat Dock. If you don't have your own kayak or canoe, several local outfitters organize guided tours throughout much of the year.
From the dock, pass the boat slips, then turn into the first cove on your right (look for the obvious fork in the river). Keep heading into the cove, and after about 1.5 miles, you'll reach dazzling Fancher Falls.
You can't miss it — the curtain-like waterfall plunges some 80 feet down the front of a cliff!
The water at the waterfall's base is shallow, so park your kayak and explore. In addition to taking in the view from the riverbank, you can even go for a swim!
Best of all, because you can't simply hike in, you'll likely have this impressive gem all to yourself.
As a bonus, you can make a stop at Burgess Falls during the same trip. It flows into the same lake, just a few miles away!
These are just a few of the gorgeous waterfalls you can reach on a day trip from Nashville! Are there any more falls near Nashville we should add to this list?? Let us know in the comments!