Interested in renting one of the best cabins in Kingsport to fully experience all this unique mountain town has to offer? You're in the right place!
One of the Tri-Cities, which also includes Bristol and Johnson City, Kingsport sits along the South Holston River in the Appalachian Highlands.
Locals and visitors alike love the city for its excellent restaurants and breweries, hosting lots of fun events throughout the year, and its quick access to stunning nature.
From hiking to fishing to floating the river, you'll find endless outdoor recreation in Kingsport!
Of course, you can also explore other small towns nearby, including Jonesborough, Tennessee's oldest town.
However you plan to spend your time here, you'll need a comfy, cozy place to rest your head at night. Without further ado, here are ten of the best Kingsport cabin rentals to do just that!
The Best Cabin Vacation Rentals Near Kingsport
1. Boone Lake Retreat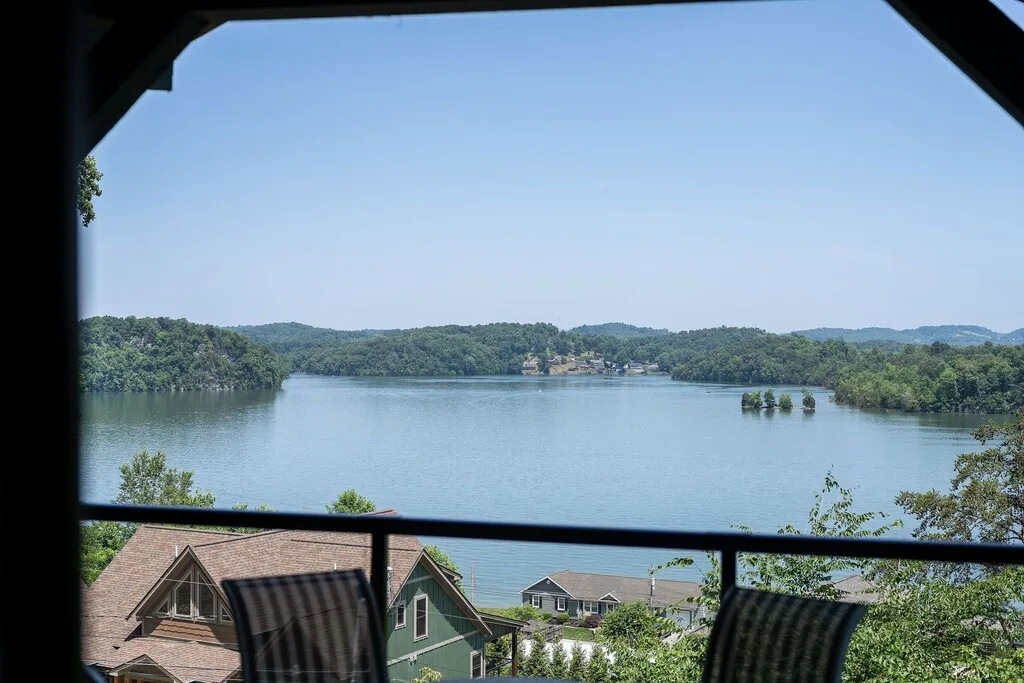 This three-story stunner is one of the best cabins near Kingsport, an upscale gem nestled on the shores of picturesque Boone Lake (one of our favorite lakes near Johnson City).
With two bedrooms, 2.5 baths, and a home office with a sofa sleeper, it offers plenty of space for a group with flexible sleeping arrangements. Also, the bonus office makes it easy to sneak in some remote work.
This lakeside retreat has an indoor hot tub for ultimate relaxation, while the gourmet chef's kitchen gives you the option of eating in.
Next, one of our favorite features is the six beer taps at the bar. Who needs to go out to a brewery when you have these in your Kingsport cabin?!
Water enthusiasts will appreciate access to the private dock, being near a boat ramp, and boat parking at the cabin. Several marinas also rent boats and water toys, so everyone in your group can enjoy lake life to the fullest, even non-boat owners. Click here to book the Boone Lake Retreat.
2. Goshen Valley Cabin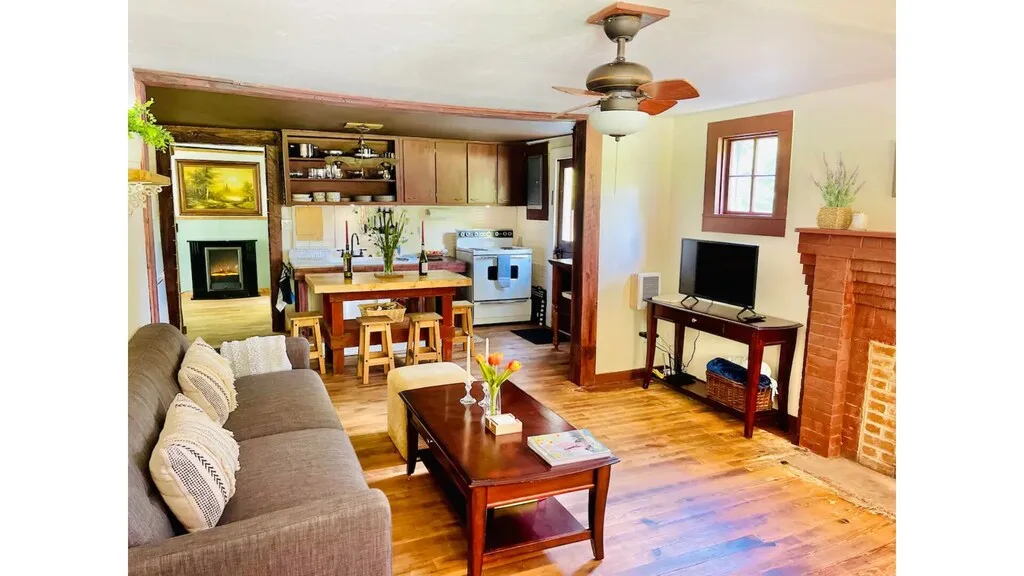 Nestled in the heart of Kingsport near the lake and several popular attractions, this charming 2-bedroom cabin offers a tranquil retreat on a sprawling 5-acre property.
The highlight of this picturesque escape is the whimsical treehouse tucked away up a ridge, accessible via hiking the forested Overlook Trail.
Although this fun feature makes you feel like you're miles away from civilization, the cabin is just off a main road.
For those wanting to get out and adventure beyond the cabin, Laurel Run Park and Bays Mountain Park—two of the top things to do in Kingsport—are both nearby.
Locals love the swimming hole at Laurel Run, while Bays Mountain Park offers unique attractions including a planetarium and resident wolf pack.
Whether you're seeking relaxation or outdoor exploration, this is one of the best cabins in Kingsport! Check rates and availability here.
3. Canoe Cabin
In the Piney Flats area bordering Boone Lake just 30 minutes from Kingsport, this quaint 4-bedroom log cabin (the cutely named "Canoe Cabin") has something for everyone.
Crafted from hand-hewn logs, the cabin has a warm, inviting ambiance with vaulted ceilings and a cozy gas fireplace.
Next, there's a unique (and very Instagrammable!) touch, a vintage 17-foot-long canoe standing proudly inside. We do mean standing — the cabin's namesake is displayed upright end-to-end, helping it stand out as one of the more unique cabin rentals in Kingsport!
Situated on one acre, Canoe Cabin provides a tranquil park-like setting for relaxation.
There are three separate outdoor seating areas, including a sprawling covered front porch, a rear screened-in porch, and a covered patio with a fire pit overlooking a beautiful water feature.
Finally, past guests rave about the owner's thoughtfulness, including little extras like a coffee bar, snacks, and even a basket of over-the-counter meds. Click here to book it!
4. Cabin Studio with Walking Distance of Bristol Motor Speedway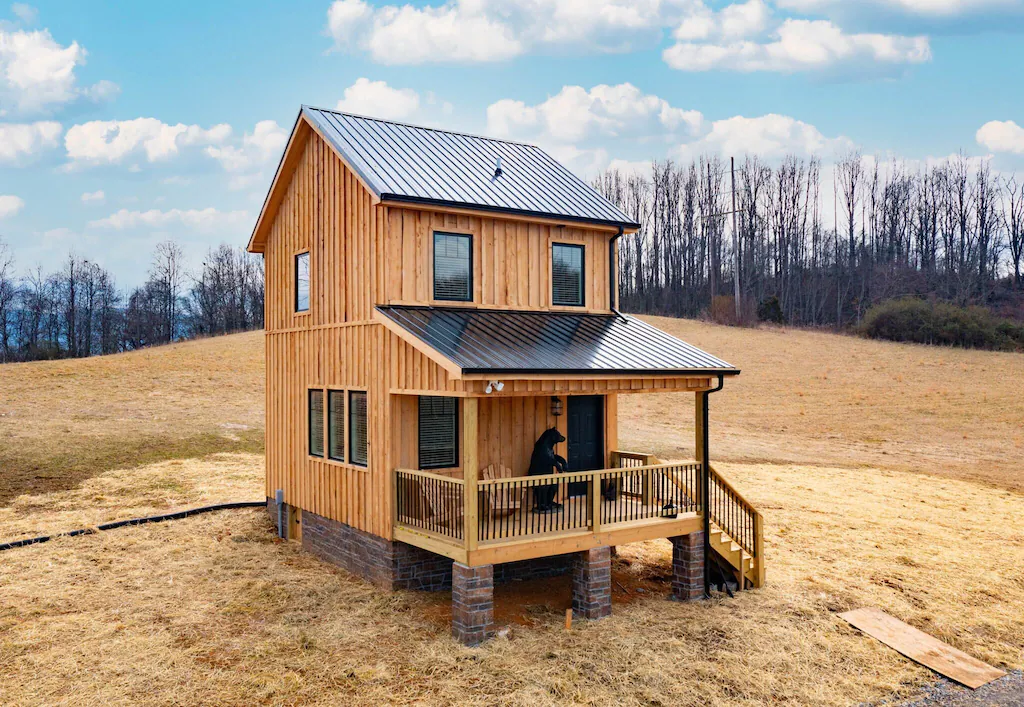 This two-story cabin is one of the best cabins near Kingsport for its unbeatable location.
While it's within easy walking distance of the South Holston River and Bristol Motor Speedway, guests can also enjoy interacting with farm animals.
Grab some treats from under the sink and go meet the goats, sheep, and friendly guard dog, Bonnie. This fun experience adds a whole new layer to your stay at this delightful (and perfectly rated!) retreat!
The loft occupies the lower level of a two-story cabin, which guests can rent separately or combine with the upstairs unit to accommodate larger groups.
Despite being a studio, the layout is smartly designed and provides ample space for everything.
For example, the cabin features a comfortable queen bed, a full bathroom, a dining table for two, a stove top for preparing meals, and even a convenient washer-dryer combo unit.
We love it for its location right in the heart of the Tri-Cities! Click here to snag this cabin on Vrbo.
5. Cozy Cabin With Wrap Around Porch
Perched above a scenic mountain valley, this one-bedroom, one-bathroom cabin near Kingsport feels much larger than it actually is.
The covered wrap-around porch goes all the way around the cabin, letting you enjoy The Great Outdoors even when the weather's less than favorable. Choose from multiple seating areas, including a porch swing and Adirondack chairs.
Additionally, there's a fire pit in the backyard, perfectly framed by cafe lights and lanterns.
Inside, cute, cozy mountain decor brings the outdoors in. Whip up meals in the complete kitchen, stay comfy thanks to a window air-conditioning unit, and even do a load of laundry.
Although this is one of the best cabins in Kingsport for couples, there's also an extra foldaway bed and a sofa for any extra guests.
6. Historic 1880s Cabin
If you're into history (or just looking for a unique, memorable stay!), this 1880 historic cabin rental is one of the best Kingsport vacation rentals that sets itself a part from any hotel you could stay in.
Nestled on a horse farm with a creek babbling nearby, the views and atmosphere are outstanding.
The cabin is rustic and old, no question about it, but that's precisely its charm.
The loft sleeping areas are accessed via a fixed wooden ladder rather than stairs, multiple wood fireplaces keep you cozy, and there's period furniture.
Best of all, there's an authentic antique clawfoot tub.
Even with retaining all those vintage features, you won't have to give up modern conveniences at this cabin. Instead, the old wood stove was converted to electric, and there's super fast wi-fi available.
Note that there's extremely limited cell service at the cabin, but the wi-fi calling works great. Click here to read more details.
7. The Haven at Beech Creek
Tucked in the rolling Tennessee hills, this gorgeous cabin near Kingsport is great for groups.
There are three bedrooms, but the thoughtful sleeping arrangements accommodate up to 12 guests. One bedroom has a king bed, one has two twin captains' beds, and the third has one queen bed, plus a set of bunk beds.
You'll also find a well-equipped gourmet kitchen, separate dining room, and tons of individual seating areas. Then, outside, enjoy complete privacy and mountain views. Especially in the spring and fall, the seasonal colors are stunning!
Although there's plenty to love about this cabin, the claw foot soaking tub in one of the bathrooms and the fire pit out back are standouts.
If you still need more convincing that this is one of the best Kingsport cabins, check out the super affordable price! And then there's the fact that it's extremely dog-friendly, too…
Finally, the cabin is divided into separate upper and lower units, and this description is for the whole upper.
If you have an even larger group, instead, you can rent the entire cabin to accommodate up to 14 guests.
8. Lincoln Log Cabin in Jonesborough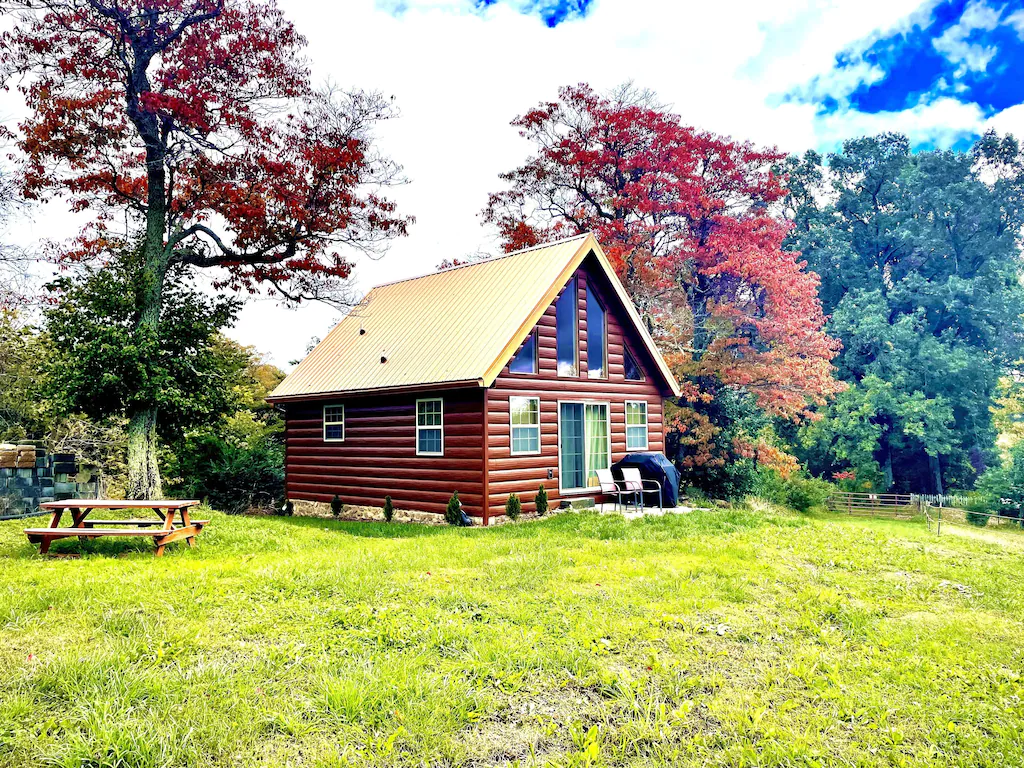 This little cabin is the perfect place to relax and unwind, situated in the heart of Jonesborough, the oldest town in Tennessee.
The super secluded lot is perfect for those who want to get away from it all, but the cabin is also close to several great restaurants in downtown Jonesborough.
Inside, the bright, airy cabin is cozy and charming, with a modern kitchen, vaulted ceilings, and a picture-perfect spiral staircase leading to the loft bedroom.
Then, outside, there's a fire pit with Adirondack chairs, perfect for watching wildlife or enjoying a night under the stars.
Pasture land and rolling fields surround the private lot, so you can sit outside knowing you have the peaceful, tranquil scene all to yourself.
Importantly, while the hosts don't charge a fee for pets, any damages will be billed directly to the guests.
Click here to rent this cabin in Jonesborough, close to Kingsport AND Johnson City!
9. Historic Stone & Log Cabin
This authentic, historic log cabin is the perfect rural getaway just 40 minutes south of Kingsport.
The cabin is a very real slice of Tennessee history, sitting on the 2.6-acre former estate of Colonel George Gillespie II.
On the property are several outbuildings, including this cabin, all built in the 1780s. In fact, the main house was actually one of the first stone homes built in the entire state. Furthermore, today, it's listed on the National Registry of Historic Houses.
That alone makes this one of the best cabins in Kingsport, but things get even better inside.
There's lots of original wood paneling, exposed beam ceilings, and a wood-burning fireplace. The crown jewel is the bathroom, which has an enormous soaking tub and stone shower. Obviously, you'll never want to get out of it!
The cabin has also been retrofitted with modern conveniences, so guests can enjoy streaming TV, Wi-Fi, and air-conditioning.
The kitchen is fully equipped with everything you need to cook a homemade meal, and there's even a cute coffee bar. But if you prefer, you can also grill out on the back porch.
Click here to read more details about this beautiful rental near Kingsport!
10. Riverfront Cabin at Iola Farms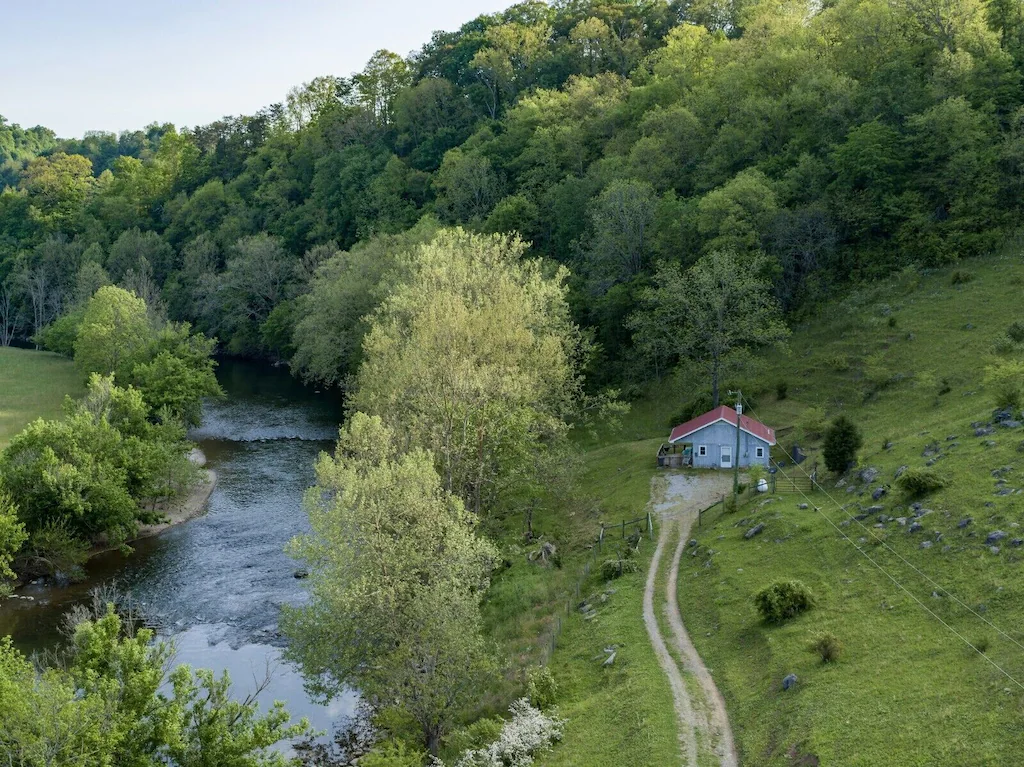 Across the Virginia border about 30 minutes, this rustic cabin is one of the more remote Kingsport cabin rentals.
To begin with, it sits on a 106-acre working cattle farm, right along the banks of the North Fork Holston River.
Go fishing, tubing, and swimming steps from the back door!
Better yet, float from one side of the property to the other (bring your own tubes!), or you can even drive to a "beach" on its eastern edge. The renowned Mendota hiking trail is also less than one mile away.
Although you'll want to spend all your time outside, the cabin is wonderful inside, too.
There are two bedrooms, one with a bunk bed, so you can comfortably accommodate up to five guests. Whip up meals in the full kitchen, then enjoy them riverside on the covered porch.
The cabin does have satellite internet and DirectTV, but it's spotty at best, so don't rely on it. Instead, rent this cabin near Kingsport to relax and unplug! To help you do that, you'll find a nice selection of board games and books, plus a fire pit.
With such a large property, the cabin is very secluded.
Unless another group is renting the other vacation home on property (which you can't see from this cabin), you won't likely encounter another soul!