Looking for the best Nashville RV parks? You're in the right place!
Whether you're looking for a quiet retreat away from Broadway, want to experience a different side of Music City, or you're a local planning a weekend trip, RV camping fits the bill.
Nashville RV parks strike the perfect balance between the city's vibrant energy and the tranquility of The Great Outdoors.
Many visitors don't realize it, but Nashville has lots of amazing lakes, hiking, waterfalls, and more…often, within minutes from downtown. This is Tennessee, after all!
Whether you're a country music fan, a history buff, or simply seeking an escape into Mother Nature, these hand-picked RV parks near Nashville make the ideal base for all your Middle Tennessee adventures.
Pack up your RV and let's go camping in Nashville!
Looking for Things to Do in Nashville? Tours in Nashville: 12 Best Music City Tours
Best RV Parks near Nashville, TN
From campgrounds in the middle of town to lakeside RV sites, to huge parks complete with water parks and ziplines, you'll surely have the best time taking in Nashville's city and nature aspects.
Which of these Nashville RV Parks do you want to stay at first?
1. Nashville RV Resort and Cabins
Location: 11 miles northeast of Nashville, near Grand Ole Opry
Campsite Types: RV, Cabins, Tents
Nightly Rates: RV sites start at around $50, tents $30, and cabins $62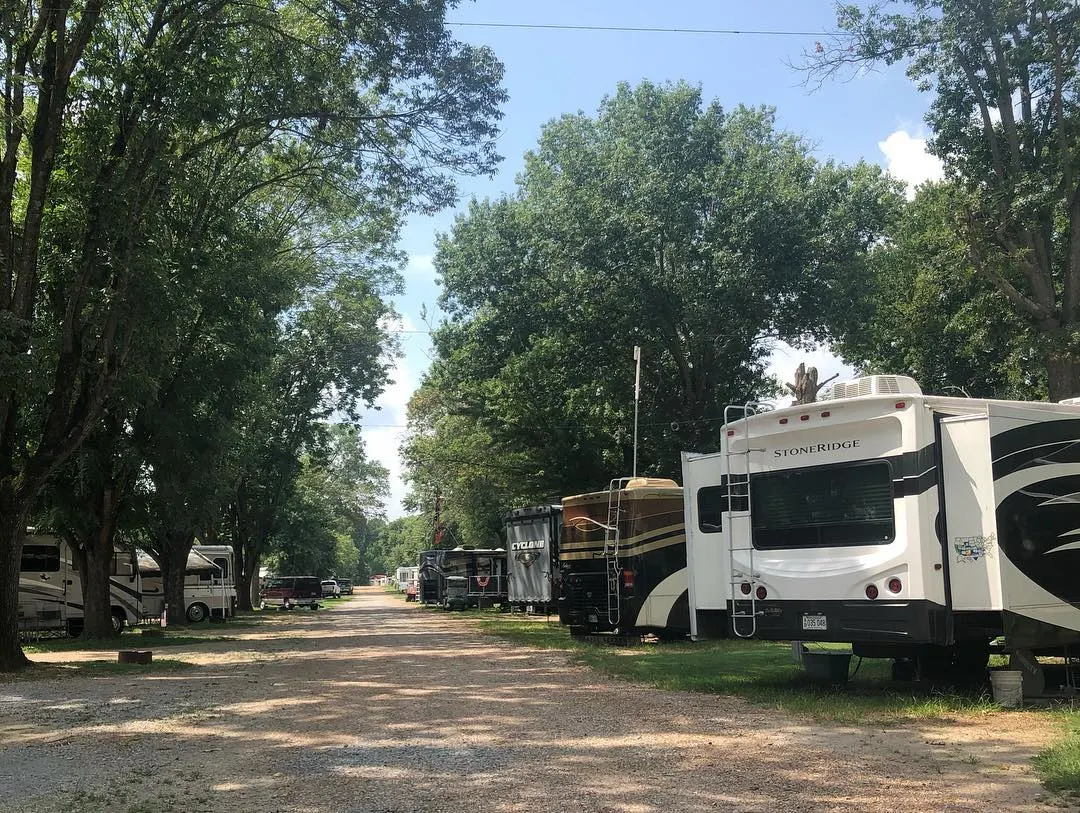 Just 20 minutes from downtown, Nashville RV Resort offers spacious RV sites with full hookups, Wi-Fi, and cable (but with so much to do and see nearby, surely you won't need TV or Wi-Fi!).
It's also less than 3 miles from the Grand Ole Opry and convention center.
This Nashville RV park is a family favorite, as it has a swimming pool, mini-golf, fitness center, playground, dog park, and even a gem mining station.
Campers can also enjoy organized activities and live entertainment during their stay (seasonal, typically in the summer and early fall).
The cost per night for RV sites ranges from $50 to $70, depending on the exact site and season. As a bonus, ALL sites are pull-through, so there's no need to worry about backing up those big rigs.
The RV park also rents a handful of cabins, ranging from studios to 2 bedrooms. Choose from camping cabins (no bathroom) starting at $62 per night, or deluxe cabins with full bathrooms starting around $140.
Best of all, this is one of the Nashville RV parks where you can camp any time of year!
2. Elm Hill RV Resort
Location: 13 miles east of Nashville
Campsite type: RV sites
Nightly rates: $99+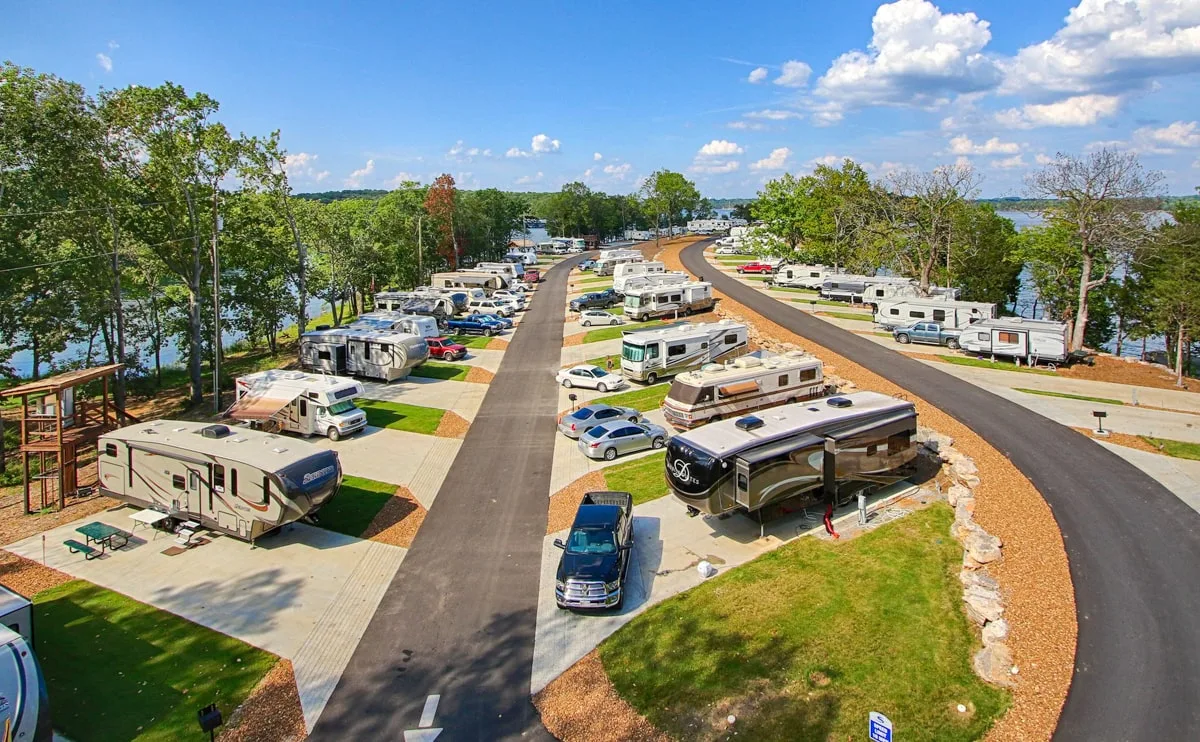 Situated on the shores of Percy Priest Lake, Elm Hill RV Resort provides a tranquil setting just 12 miles from downtown Nashville.
While several Nashville RV parks sit on lakes, this one is actually on a peninsula, with excellent views on all sides. In fact, even sites on the inner part of the loop enjoy water views!
This luxurious resort has 131 RV sites with concrete pads, full hookups, picnic tables, and fire rings. Park amenities include a playground and small sandy beach, and clubhouse. Additionally, there are yard games such as corn hole and shuffleboard.
Boating enthusiasts will also appreciate the marina and boat rental services. Campers can rent kayaks, paddle boards, or a variety of boats onsite, and enjoy easy dock access.
In full transparency, sites at Elm Hill do come at a slightly higher price point. However, this is due to its prime location. Plus, keep in mind that many of the sites are right at the water's edge!
3. Four Corners RV Resort & Marina
Location: 20 miles southeast of Nashville
Campsite type: RV sites, tiny home rentals, and floating cabins
Nightly rates: starting at $83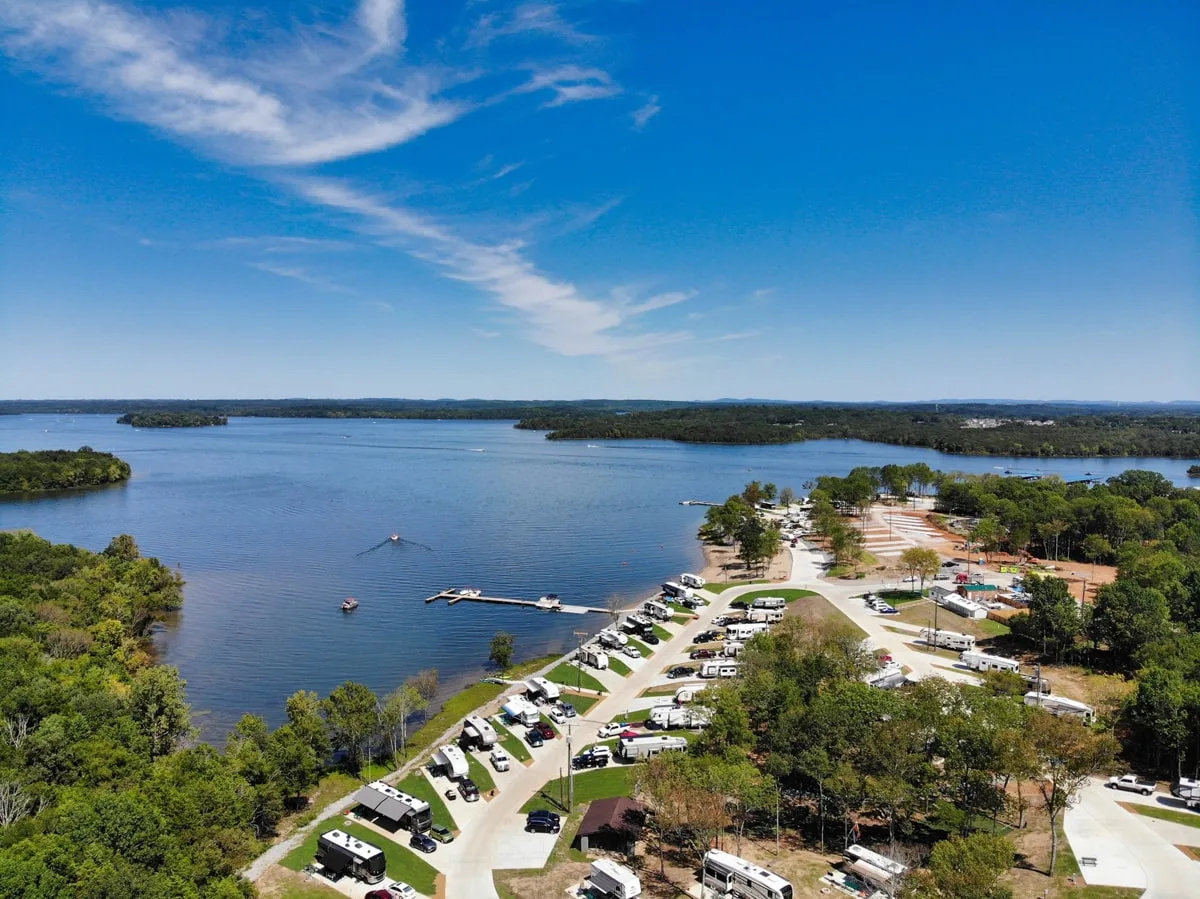 Although just 30 minutes southeast of Nashville, Four Corners RV Resort feels a world away from all the hustle and bustle of the city.
Four Corners is another RV park near Nashville located on picturesque Percy Priest Lake. As a matter of fact, it's home to the largest marina on the lake!
Clearly, water recreation is the major draw here, but the campsite has plenty of impressive amenities in its own right.
You'll find 114 full-hookup RV sites with concrete pads, private fire pits, and picnic tables. Also, the resort rents tiny homes, fifth-wheel rentals, and even floating cabins!
It's an especially great RV park near Nashville for large families or groups. There are endless activities and even the opportunity to rent large pontoons and party boats (complete with water slides!).
Kiddos can play on the playground, and there's a "bark park," outdoor pool, gym, and sandy beach.
There's even a fun waterfront sports bar and restaurant onsite opening soon that will feature regular live music.
4. Grand Ole RV Resort
Location: 18 miles north of Nashville in historic Goodlettsville
Campsite type: RV sites
Nightly rates: starting at $45.50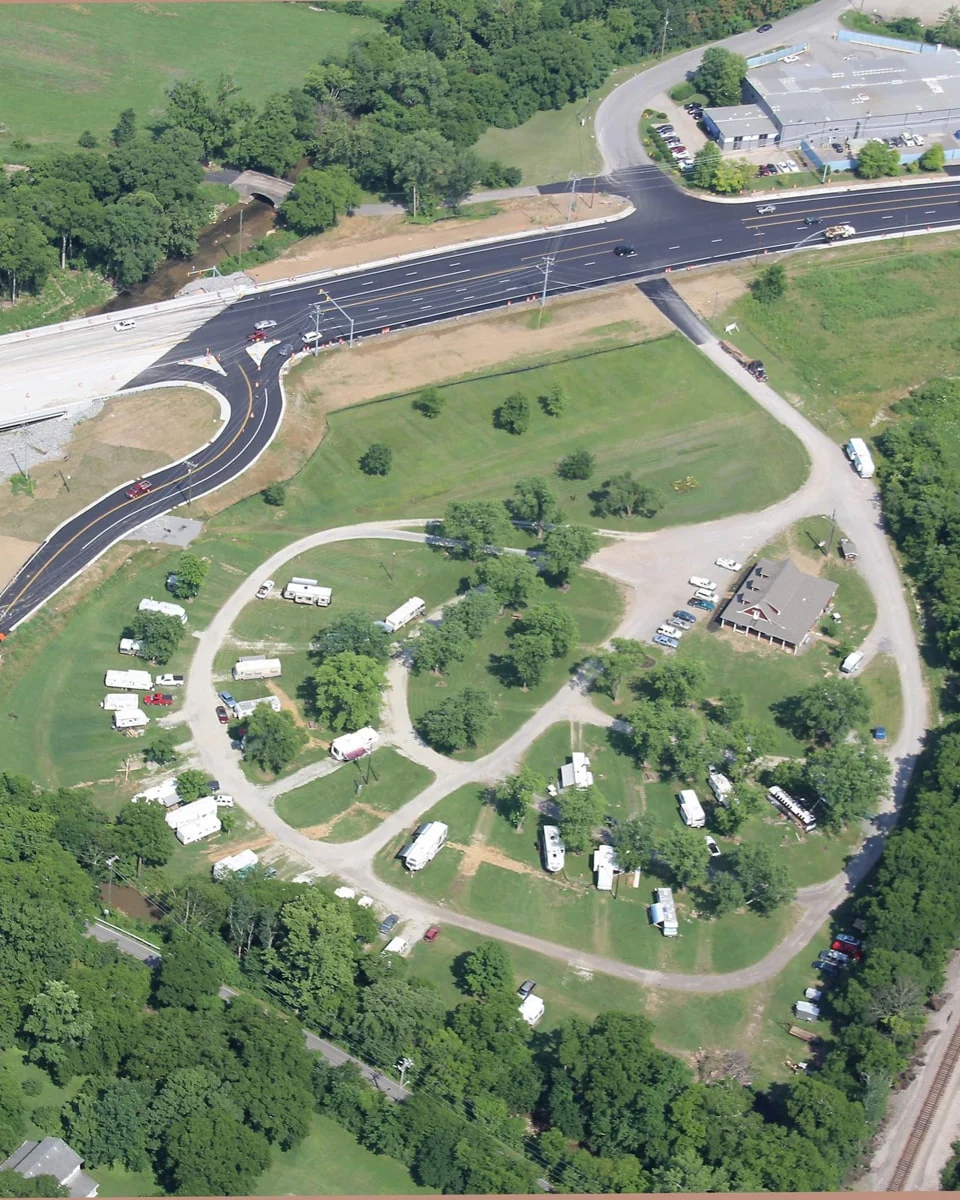 As its name suggests, Grand Ole RV Resort embraces the spirit of country music.
During peak season, the park hosts live music every night. It also happens to be just 15 minutes from downtown Nashville.
For folks outside of peak season, not to worry—in the off-season, the onsite restaurant has home-cooked breakfast and dinner daily.
The RV sites offer full hookups (both 30 and 50-amp), picnic tables, and fire rings. As far as the resort itself, amenities include a dog park, general store, on-site propane, and laundry.
Guests also rave about how this is one of the cleanest and best-maintained RV parks near Nashville.
5. Nashville KOA
Location: 12 miles northeast of Nashville
Campsite type: RV sites, cabins, and tent sites
Nightly rates: $45 to $175 per night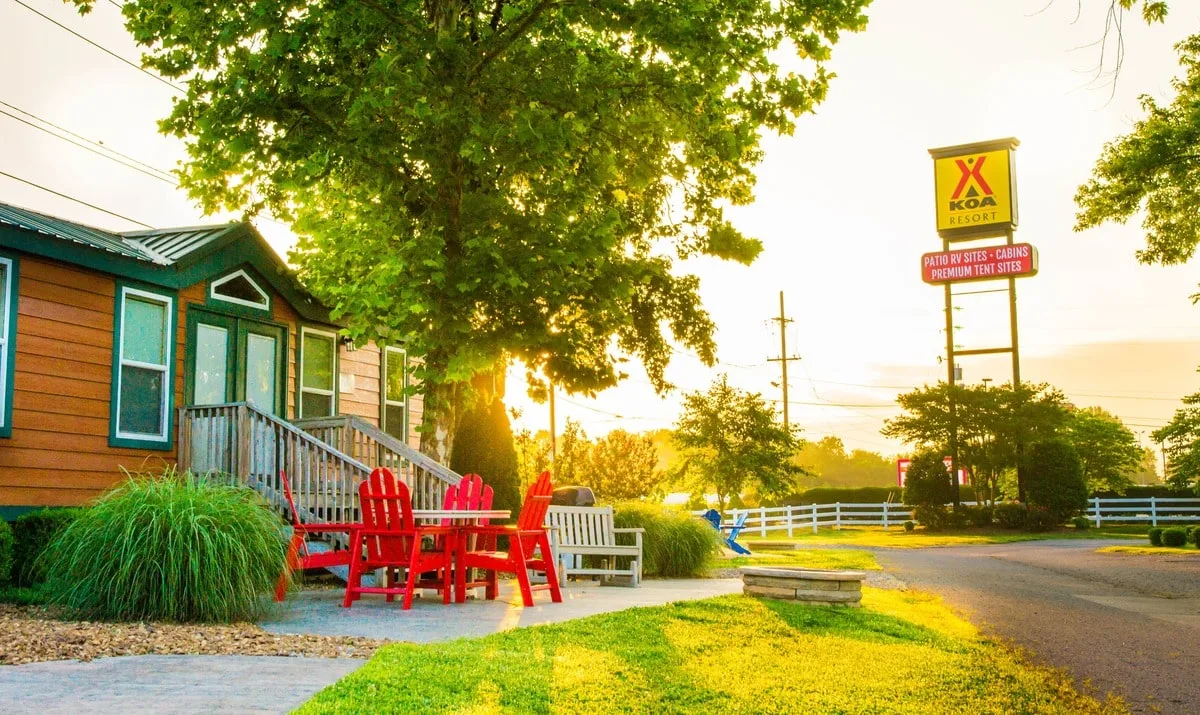 20 minutes from downtown Nashville near the Grand Ole Opry (and several other Nashville RV parks!), Nashville KOA has a range of accommodations including RV and tent sites, plus cabins.
Like most KOA sites, this is an all-inclusive camping experience with loads of amenities. First, the campground offers a shuttle to downtown, so you can enjoy the best of both worlds!
Campers can also choose from a variety of RV sites, including some with patios and others with a dedicated "Paw Pen" for pups. Of course, all sites come with full hookups, wi-fi, and cable.
The resort also has a pool and hot tub, mini-golf, dog park, and onsite cafe.
There's also an "activity park" with outdoor bowling, giant chess and checkers, and pickleball. Plus, during the summer, the park organizes fun activities for the whole family (think karaoke and outdoor movie nights).
RV sites cost $45 to $175 per night, depending on the type and season.
6. Two Rivers Campground
Location: 12 miles northeast of Nashville
Campsite type: RV sites
Nightly rates: $59-$70, with Good Sam discounts available
Two Rivers Campground is right next to the KOA and situated on the banks of the Cumberland River.
Unlike many other RV parks near Nashville that have a variety of campsite types, this one is strictly for RV's. Sites have full hookups (choose between 30 or 50-amp) , picnic tables, fire rings, wi-fi, and cable.
There's also a swimming pool, game room, camp store, dump station, and seasonal entertainment. Additionally, guests can enjoy fishing and boating on the river or take a stroll along the scenic nature trails.
Like the KOA, Two Rivers has a shuttle to popular downtown attractions, and the onsite concierge can also assist in booking tours.
7. Nashville Shores Lakeside Resort
Location: 10 miles east of Nashville
Campsite type: RV sites & cabins
Nightly rates: $70+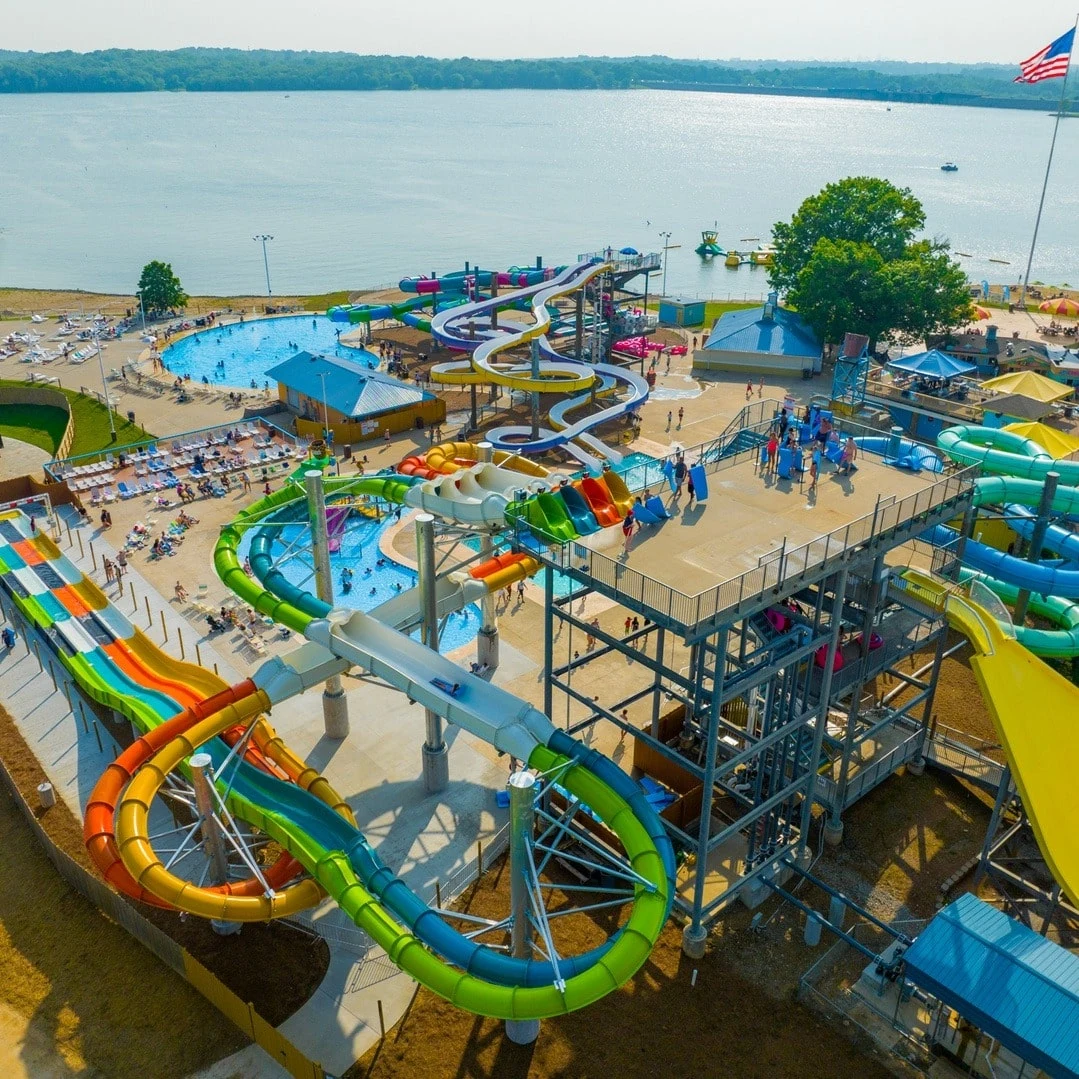 Nashville Shores should be the top pick for those looking for an exciting and family-friendly campground.
This campground stands out from other Nashville RV parks, as it's also home to a massive water park and treetop adventure park.
Highlights include 10 water slides, a large beach, lazy river, a "water tree house," a playground, and a massive wave pool.
There are 88 RV sites available, including some waterfront sites, offering full hookups, picnic tables, and fire rings. In addition to the RV sites, there are also 32 cabins (24 lakefront and 8 hillside) available for rent.
The campground features a sandy beach, marina, and hiking trails. You can even bring your own boat and rent a slip at the marina for just $10 per day. Guests also receive discounts to the water park and treetop adventure.
Note that Nashville Shores closes in December and January, and the water park is open in the summer, with limited operating hours in May and August.
8. Anderson Road Campground
Location: 17 miles northeast of Nashville
Campsite type: RV & tent sites
Nightly rates: $22-32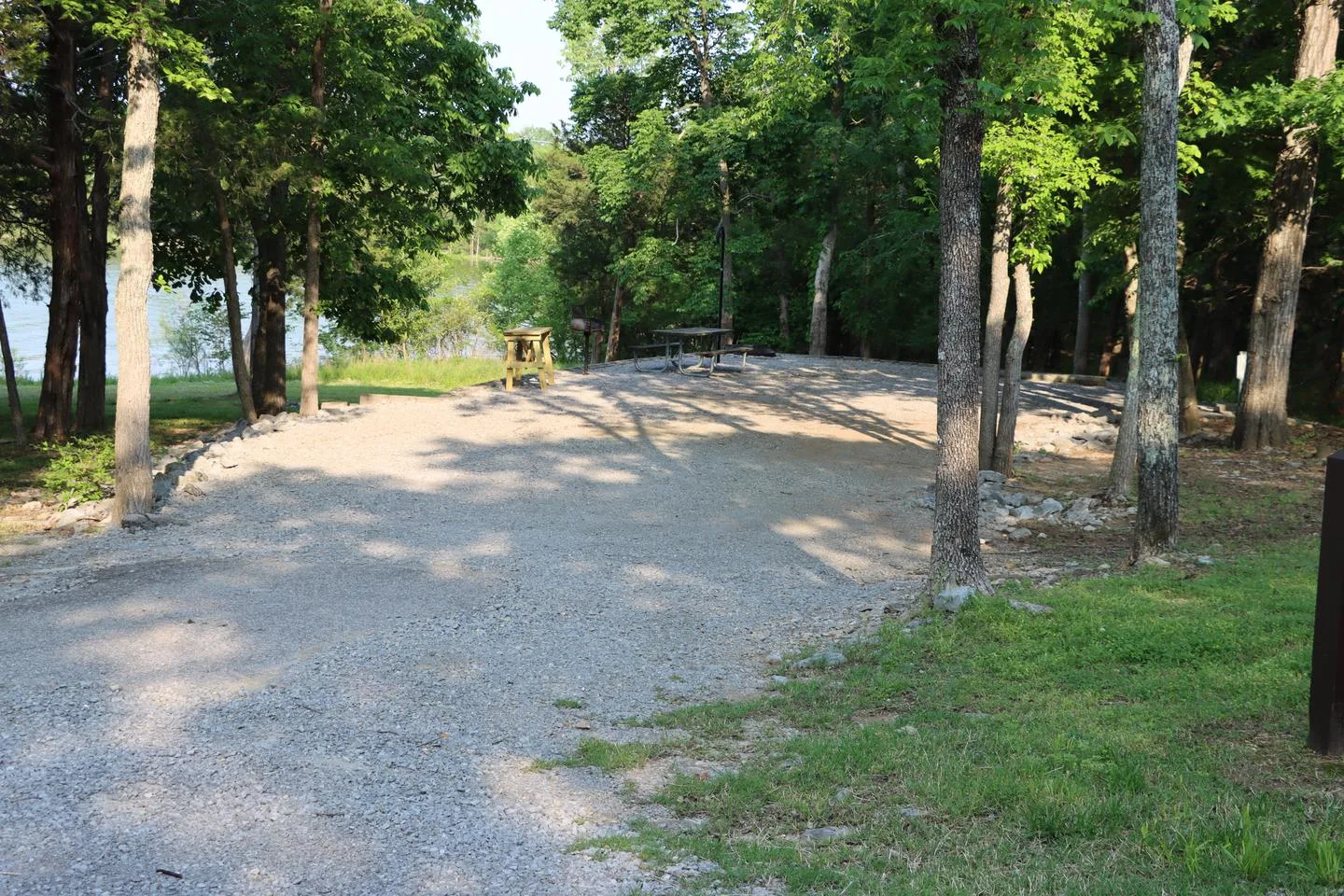 Situated about 30 minutes from downtown Nashville, Anderson Road Campground offers a rustic camping experience surrounded by trees and nature. In fact, this might be the most "real" camping experience offered at any Nashville RV parks!
The campground sits on scenic Percy Priest Lake and has 37 sites, both with hookups and without. There's a shower house and dump station onsite, and individual sites have fire rings.
Perhaps the best thing about this campground is that campers get access to the nearby Day Use area. Here, guests can enjoy a swimming beach, boat ramp, picnic and grilling areas, and multi-use trails for hiking and biking.
Note that this is one of the most popular Nashville RV parks and campgrounds, particularly because of its low cost. We recommend making reservations as far in advance as possible!
9. Owl's Roost RV Campground
Location: 22 miles north of Nashville in Goodlettsville
Campsite type: RV sites
Nightly rates: $55-65
Another Goodlettsville option just north of Nashville, Owl's Roost offers a peaceful retreat after enjoying the liveliness of downtown. It's close to the interstate for easy access, but you'll feel a world away due to the serene setting.
Owl's Roost offers full hookups, pull-through sites, a swimming pool, a laundry room, and a camp store. There's also a Shell gas station right next door for grabbing snacks and other goodies at odd hours.
Keep in mind that this isn't one of the RV parks near Nashville that's loaded with onsite amenities, like a KOA or lakeside resort. However, it's perfect for folks looking for a safe, quiet campground to relax away from the neon lights.
Local tip: on the other side of the state line in Kentucky, the popular Kentucky Downs Casino is just 20 minutes away!
10. Rural Hill Farm
Location: 23 miles east of Nashville in Mt. Juliet
Campsite type: RV sites & cabins
Nightly rates: $70-80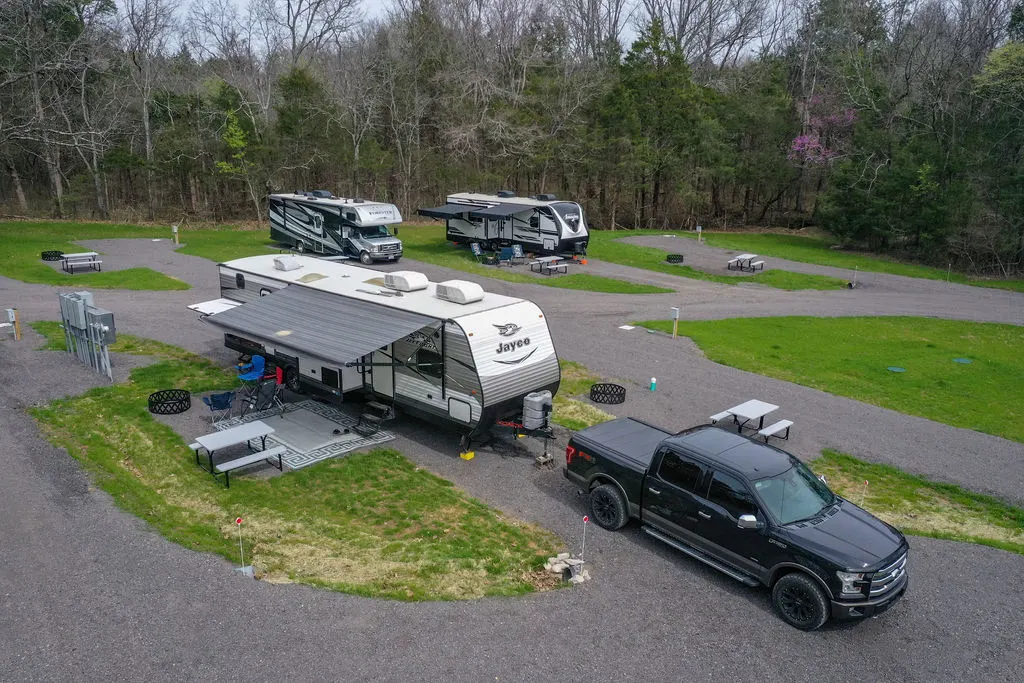 For a truly one-of-a-kind RV park near Nashville, look no further than Rural Hill Farm.
It's situated on a secluded 180-acre family farm that's home to a beautiful wedding and event venue.
Rural Hill Farm is also adjacent to the Couchville Cedar Glade State Natural Area, so the entire area feels like a private slice of (very scenic!) paradise.
The RV sites comprise 17 full hookup sites, and while that's a smaller capacity than many other Nashville RV parks on this list, the sites easily accommodate all sizes of rigs.
Thirsty? Also Read: 8 of the Best Breweries in Nashville for Craft Beer Lovers
Sites have Wi-Fi access, picnic tables, and fire pits, and there's a bathhouse and community laundry facility on site.
Other property highlights include a 2-acre pond, several nature trails, and best of all, free-roaming wildlife!
Alternatively, Rural Hill Farm also rents five cabins of varying sizes and one large bunkhouse.
Rural Hill Farm is also close to Long Hunter State Park, the popular Fall Creek Recreation Area, and the Nashville Superspeedway, so your activity options are endless.
11. Trinity RV Park
Location: 3 miles north of Nashville (directions)
Campsite type: RV sites
Nightly rates: $50-$70
If you want to enjoy downtown Nashville to the fullest without a long commute, book a site at Trinity RV Park.
It's just three miles north of downtown, so it's perfect for those wanting to stay out late or head into the city bright and early.
Best of all, the park has a wooded, park-like setting that offers privacy and makes it feel like you're miles from the city!
Importantly, Trinity is a small family-owned Nashville RV park with limited amenities. The main draw here is the proximity to downtown, and not having to deal with the hassle and expense of parking.
With that said, there's no wi-fi and while all sites have full-hook-ups, there is no bathhouse.
🏕 Looking for more Camping Spots near Nashville? Camping Near Nashville: 10 Best & Unique Campgrounds
📌 PIN FOR LATER
Featured Image & Pinterest Pin Credit: Elm Hill RV Resort