Are you thinking about moving to Johnson City (or somewhere in the Tri-Cities) and looking for information?
We've compiled a list of things you'd want to know before moving to Johnson City.
Johnson City, TN is a beautiful city surrounded by the Blue Ridge Mountains where you'll find low-cost living, minimal traffic, and plenty of outdoor activities.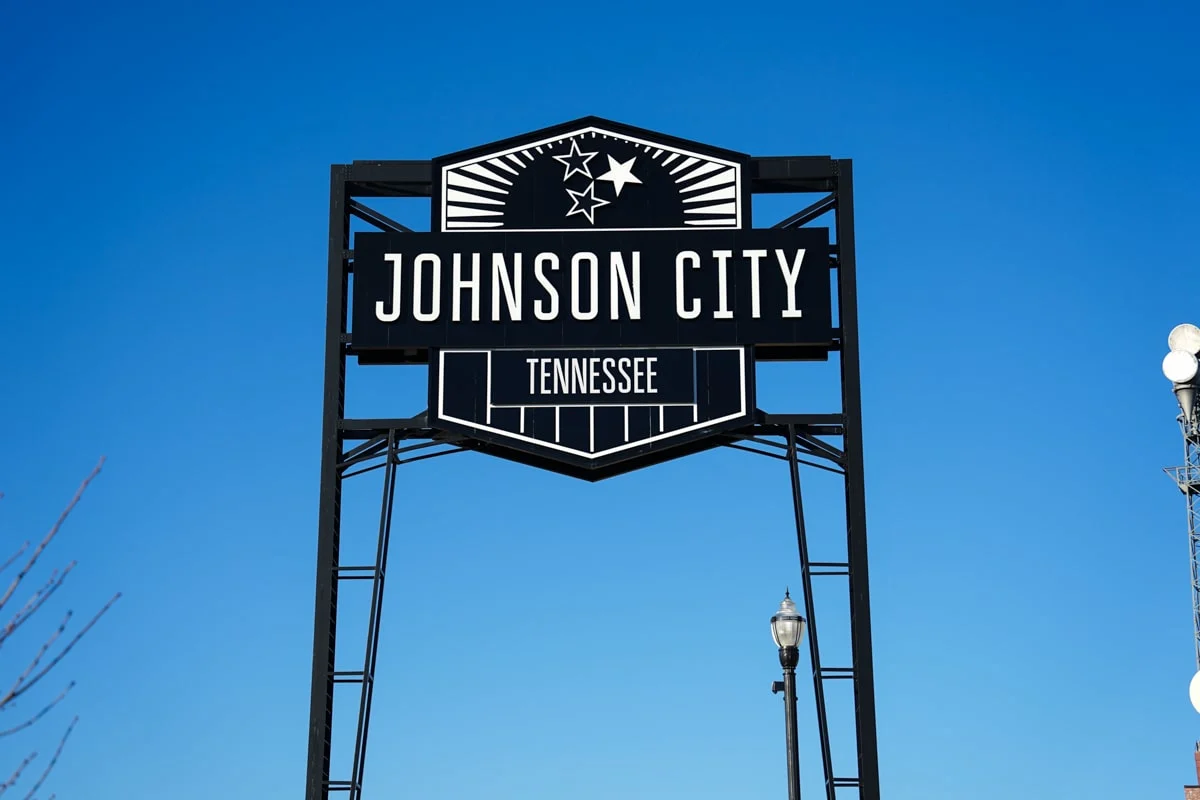 From the best schools in Johnson City to things to do, cost of living, weather, healthcare, and more — read for yourself as to why Johnson City is one of the best places to live in Tennessee!
Johnson City is home to East Tennessee State University (Go Bucs!) and is the city everyone belts out (loudly) when singing the lyrics to Wagon Wheel by Old Crow Medicine Show.
So, if you'd like to know more about living in Johnson City, then be our guest and keep reading below!
All You Need to Know about Living in Johnson City, TN
Where Is Johnson City, TN?
Nestled in the valley and hills between the Appalachian and Blue Ridge Mountains, Johnson City is one of the best places to live in East Tennessee.
Looking at a map, you'll find Johnson City in the top right corner of Northeast Tennessee, bordering both Virginia and North Carolina.
Johnson City is one of the three cities that encompasses the Tri-Cities region. The other two cities are Kingsport and Bristol, all three within 30 minutes of one another.
Surrounding those 3 bigger cities you'll find Jonesborough, Gray, Elizabethton, Piney Flats, and Erwin.
It is also in a great centralized location for popular day trips including Gatlinburg, Pigeon Forge, and Knoxville, as well as Asheville, North Carolina, and Abingdon, Virginia.
Is Johnson City a Good Place to Live?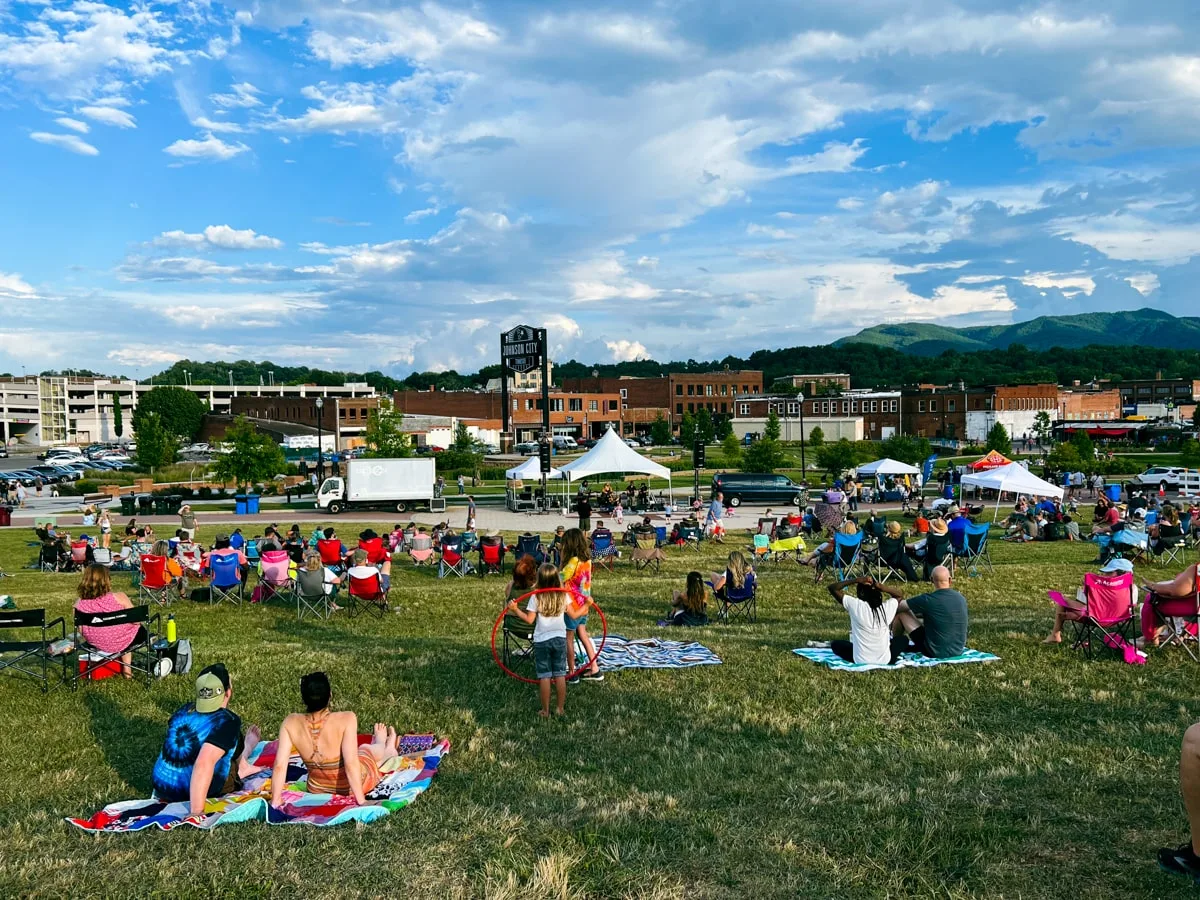 We think Johnson City, TN is one of the best places to live in Tennessee! However, as you'll find anywhere, there are both pros and cons of living in Johnson City.
| PROS | CONS |
| --- | --- |
| Affordable Housing | High Sales Tax (9.5%) |
| No State Income Tax | Higher Crime Rate (Property Crime) |
| Friendly People | Lack of Public Transit |
| Low Property Taxes | Lack of High-Speed Broadband Internet |
| Minimal Traffic | Higher than Average Rainfall |
| Top Ranked Public Schools in TN | Lack of Big City Amenities |
| Overall Good Weather | |
Pros & Cons of Living in Johnson City, TN
There are many pros of living in Johnson City from affordability to the friendly people you'll encounter daily. Also, traffic here is minimal making that commute to work a lot less frustrating than higher populated cities.
Johnson City is also ranked among the top cities in Tennessee for public schools with testing scores consistently above state & national averages.
Cons include high sales tax, some of the highest sales tax in the nation at 9.5%.
Property Crime in Johnson City is above the national average but is below the national average with violent crime.
Per 2021 Citizen Survey Results, 3,000 people in Johnson City were surveyed with 90% voting that Johnson City is a good place to live. See the results here.
Cost of Living in Johnson City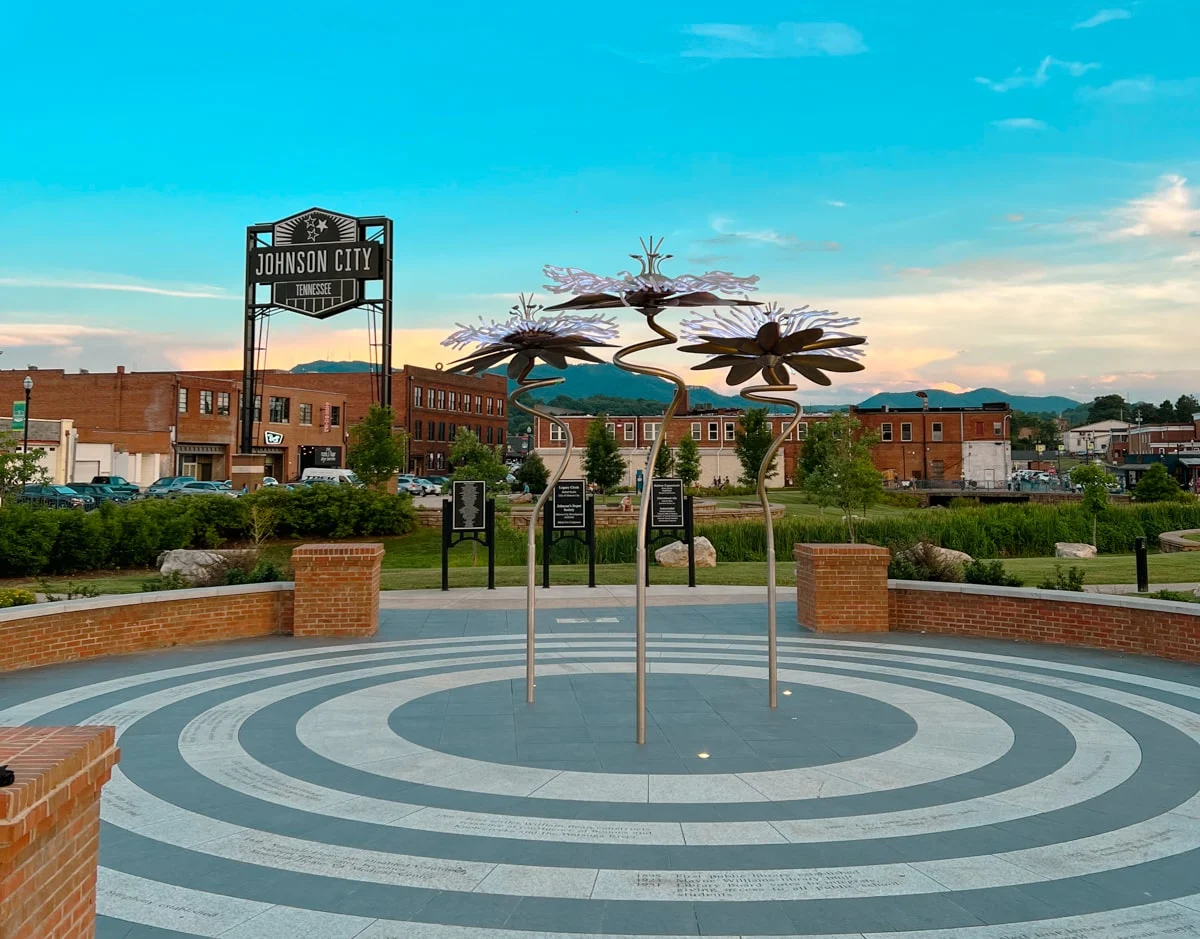 Johnson City is currently one of the most affordable places to live in Tennessee. As we mentioned above, it's one of the pros of living here.
The housing market is one of the most affordable in the country. Per the Wall Street Journal-Realtor.com 's quarterly index of October 2022, Johnson City was the No. 1 emerging market in the USA.
As of 2023, the median home price in Johnson City was at $413K, compared to the national average of $424K (per WSJ-Realtor).
If you're moving from out of state, you may also like to hear that Tennessee has some of the lowest property taxes in the U.S., with Washington County of Johnson City averaging 0.59% (national average at 1.10% per business insider).
Tennessee is also one of only nine states in the United States that does not charge state income tax. Meaning, you'll be pocketing more money from your paycheck. However, sales taxes are higher than the national average here at 9.5%.
What Is There to Do in Johnson City for Residents?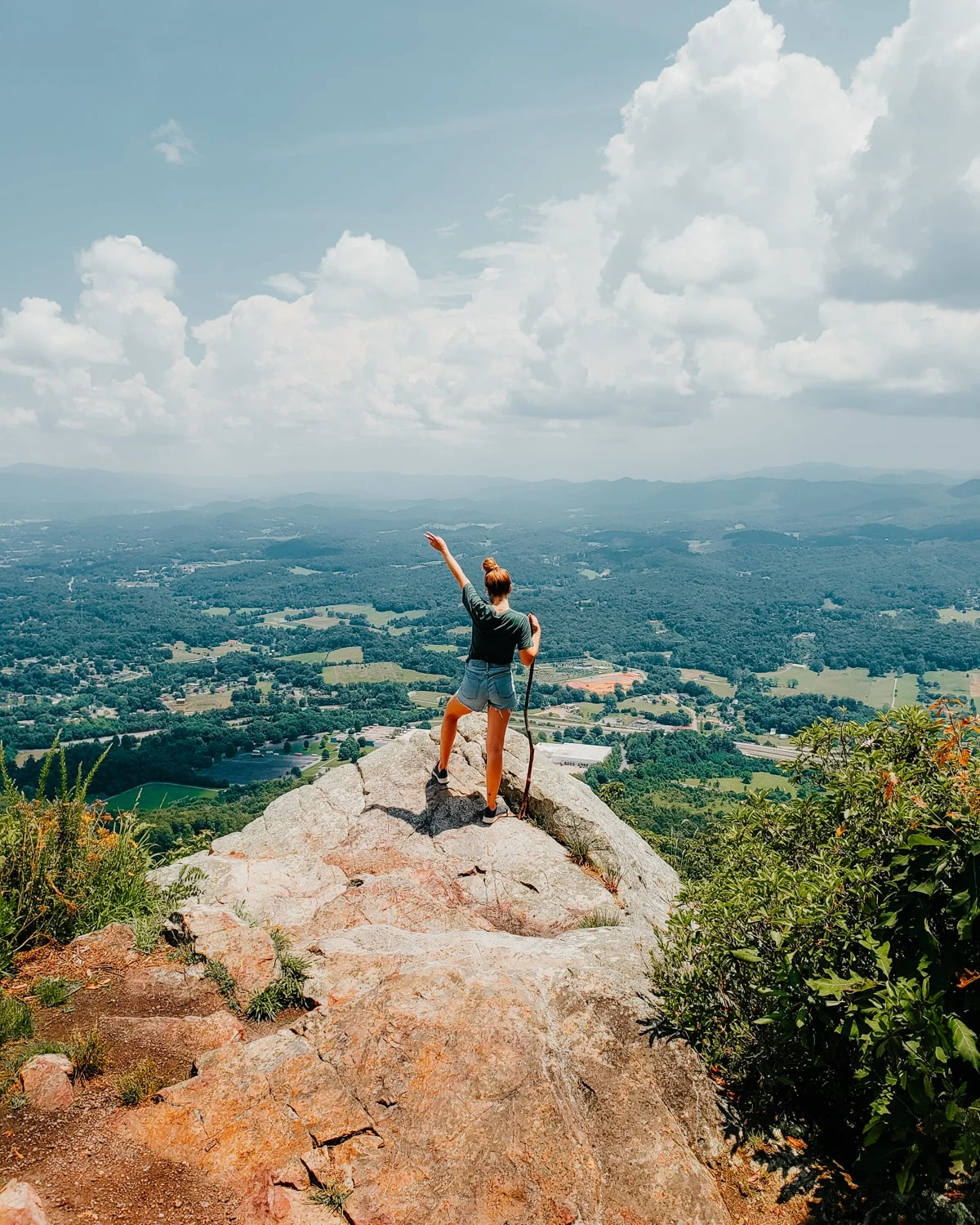 Although Johnson City, TN is a smaller city with a population of 71,000+ residents, it doesn't fall short of things to do!
With its proximity to the Appalachian Trail, lakes, rivers, and national parks including just a day trip to the No.1 rated Great Smoky Mountain National Park — Johnson City is a fantastic destination for outdoor enthusiasts.
You'll have plenty of outdoor activities to keep you busy from camping, hiking, chasing beautiful waterfalls, mountain biking, white-water rafting, golf, disc golf, fishing, and much much more!
Don't worry, if you aren't as enthused about spending time outdoors, there are PLENTY of things to do indoors.
Spend some time at a local JC brewery, get your caffeine fix from a coffee shop, go shopping at the Johnson City Mall or department stores, escape an escape room, listen to live music, hang out in a local park, and more.
The list goes on and on — and Johnson City seems to get more interesting with festivals and events every month!
For more things to do in Johnson City, also read: 50 Best Things to Do in Johnson City (The Ultimate Bucket List!)
Where to Eat in Johnson City?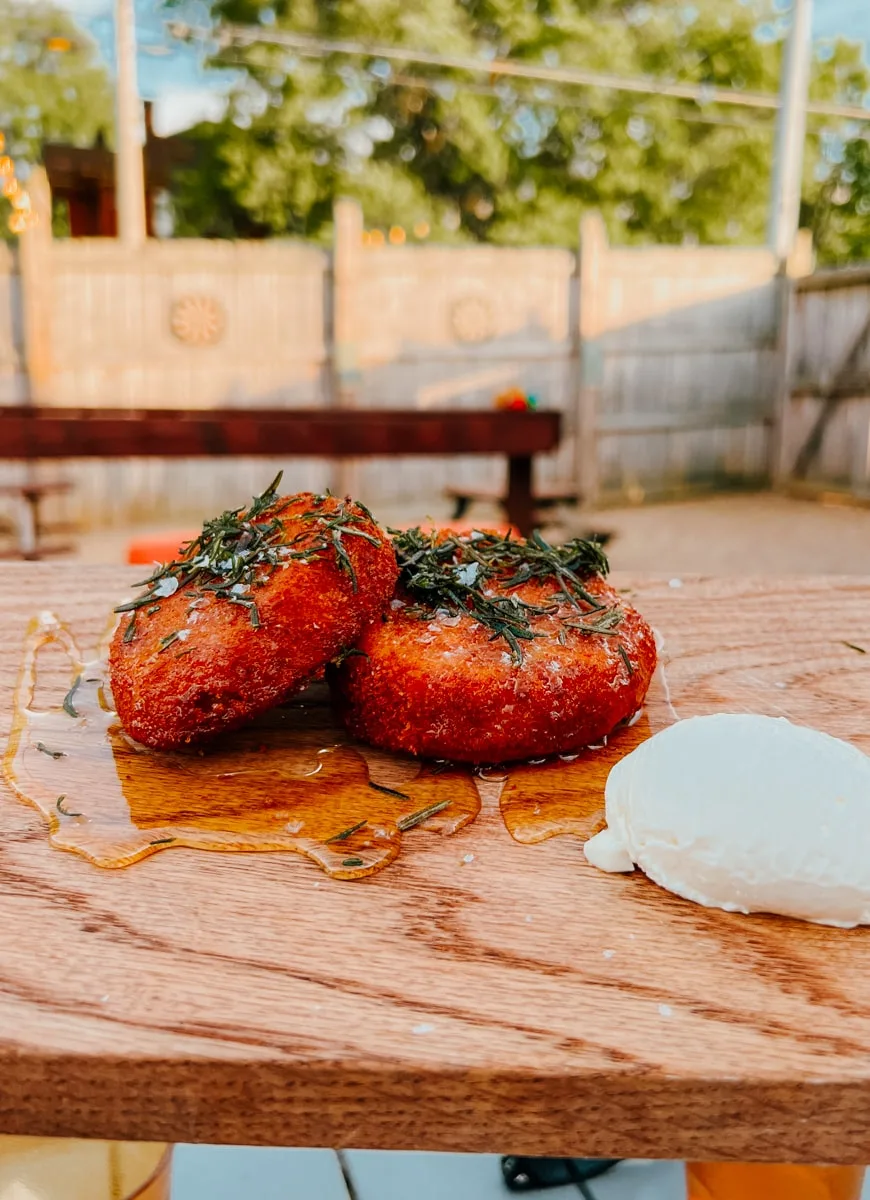 Johnson City offers various dining options from upscale and trendy restaurants to alternative cuisines and fast food.
Some of our favorite upscale restaurants include Juniper and Gourmet & Company, both with excellent reviews and a great spot for a romantic date or anniversary.
Some fantastic trendy restaurants we frequent often include Timber!, Cafe Lola, and Juan Siao.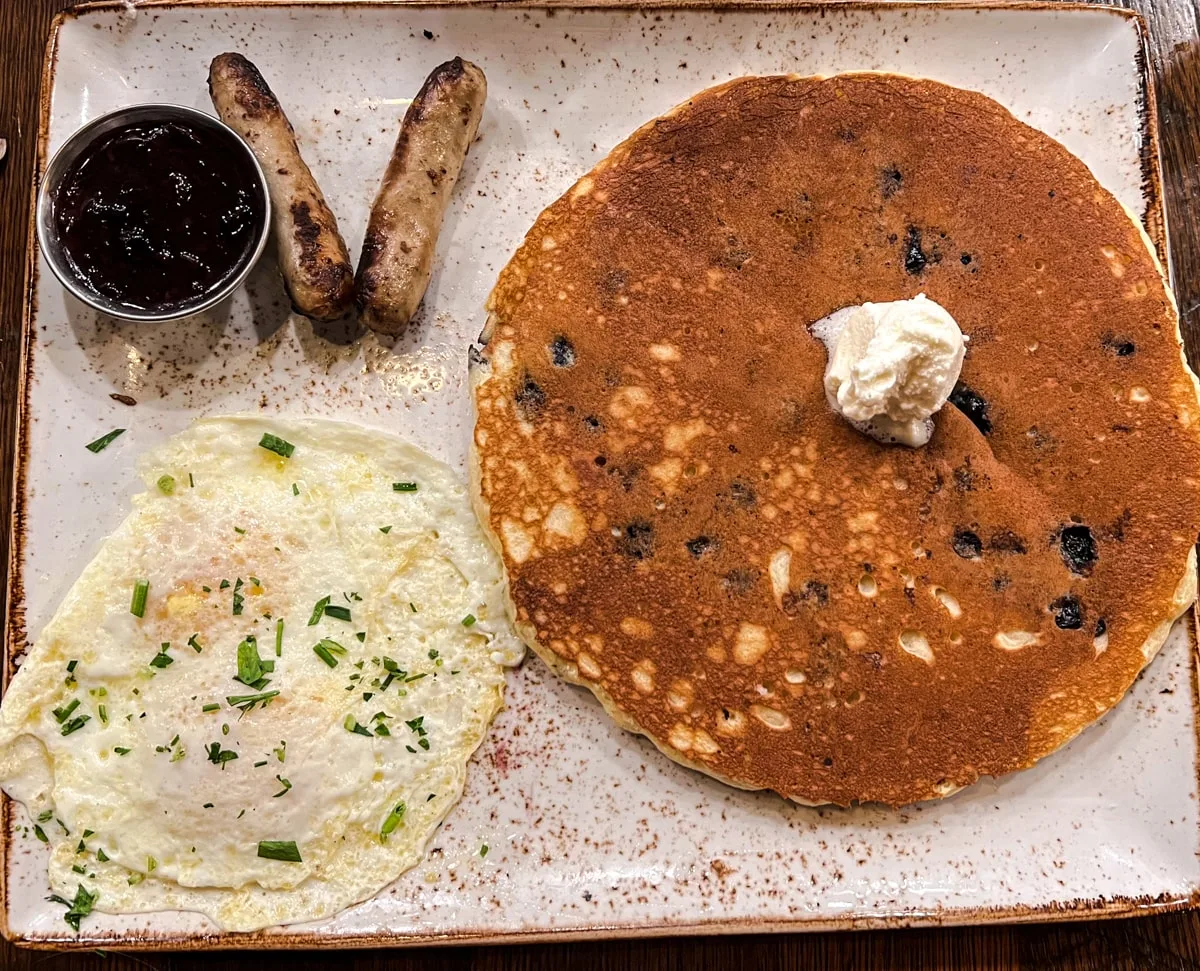 If you love brunch (like we do) there are some great brunch restaurants in Johnson City. And don't forget about places for dessert.
Check out these guides for delicious restaurants in Johnson City, TN here:
Weather in Johnson City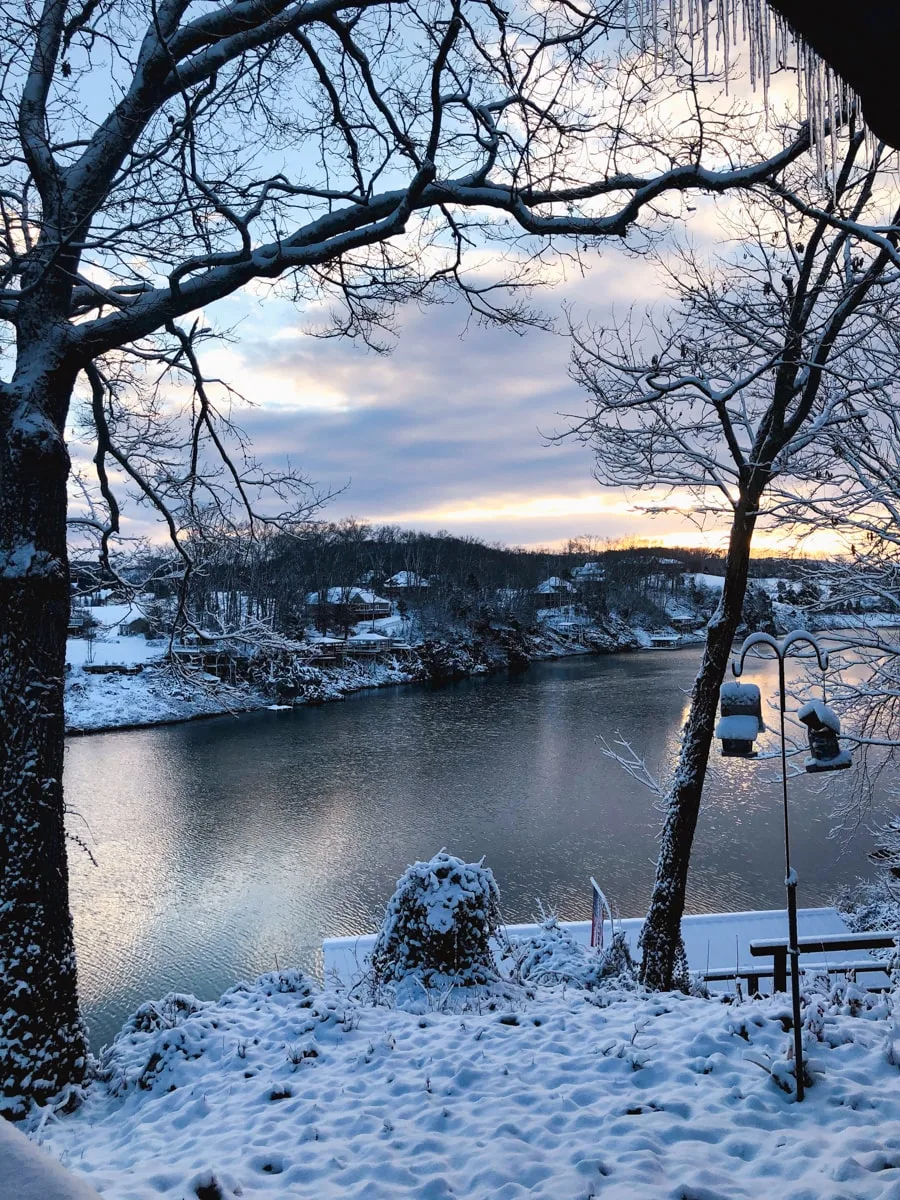 As we said above, there are both pros and cons to the weather in Johnson City.
For the majority of the time, the weather in Johnson City, TN is mild compared to other regions in the US. It has a humid subtropical climate, with warm and humid summers to mild winters.
Johnson City gets on average 44 inches of rain per year, which is higher than the national average (38 inches).
Here you'll experience all four seasons — spring, summer, fall, and winter.
Spring is beautiful in Johnson City, with blooming flowers and mild temperatures. However, those with allergies may not enjoy Spring in Johnson City as much as the pollen is abundant covering cars and houses.
The summer months of June, July, and, August reach the highest temperatures (averaging 70-90 degrees) and are the highest in humidity (60-70%).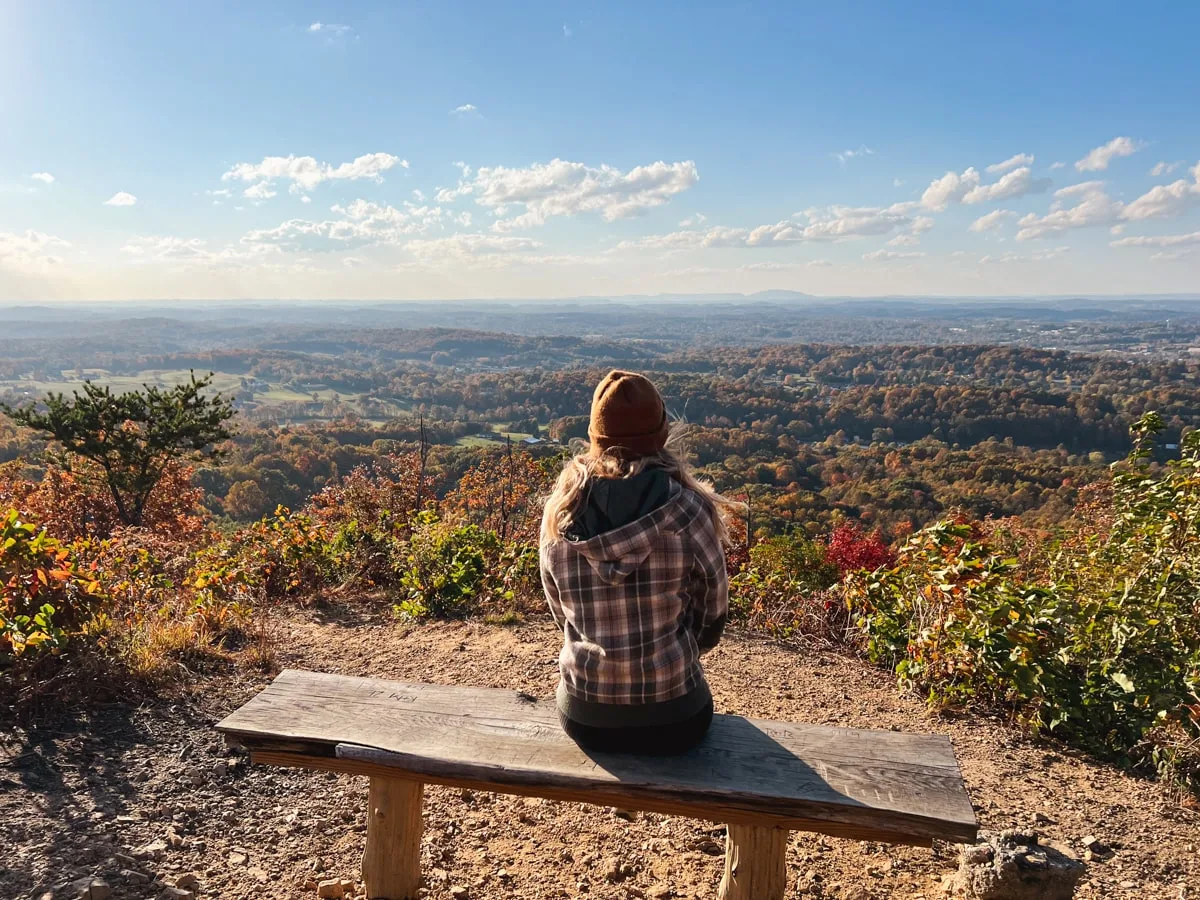 Fall is one of the most popular times in East Tennessee, as the fall foliage of the Smoky Mountains & Blue Ridge Mountains is beautiful, attracting tourists from all over the country.
Finally, the winter here is mild, with temperatures rarely dropping below 20 degrees. Johnson City receives occasional snowfall, approximately 11 inches per year while the US average is 28 inches.
Top Rated Schools in & Around Johnson City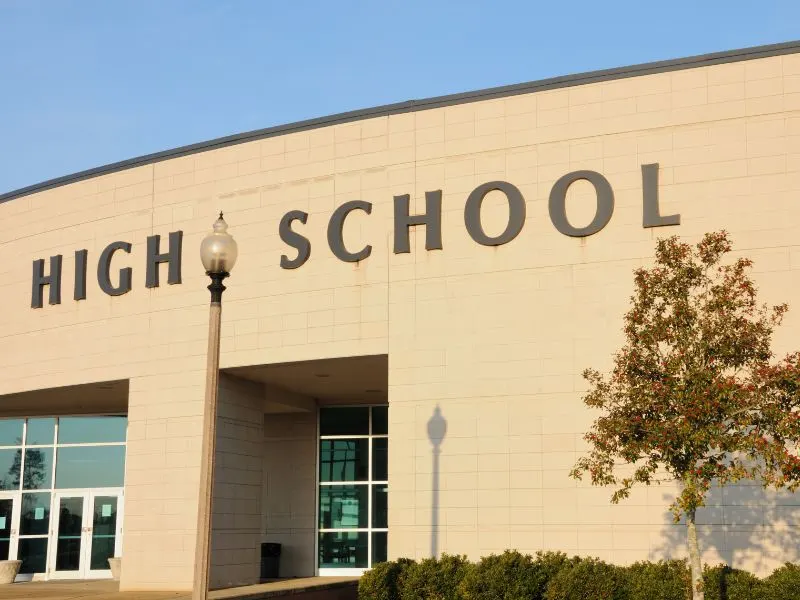 Johnson City's public schools rank among the highest in Tennessee with a total of 21 public schools and 10 private schools.
The following schools are located in the Johnson City Metropolitan area which includes 3 counties (Washington, Carter, and Unicoi).
Town Acres Elementary (PK-4)
Fairmont Elementary (PK-4)
University School (K-12)
Happy Valley (PK-4)
Lake Ridge Elementary (PK-4)
Woodland Elementary (PK-4)
University School (K-12)
Indian Trail (5-6)
Liberty Bell (7-8)
Jonesborough Middle (5-8)
Science Hill (9-12)
University School (K-12)
Daniel Boone (9-12) Gray, TN
Elizabethton High (9-12)
David Crockett (9-12) Jonesborough, TN
Unicoi County High (9-12)
Providence Academy (PK-12)
Tri-Cities Christian Academy (PK-12)
Ashley Academy (PK-8)
St. Dominic School (PK-5) Kingsport, TN
Information obtained from Niche.Com & GreatSchools.Org
Health Care in Johnson City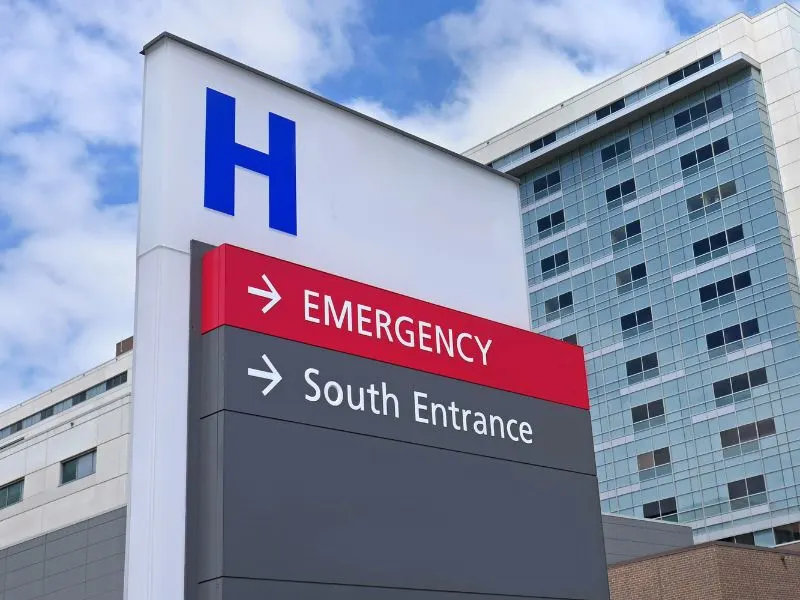 There are two major hospitals in the city of Johnson City, TN — Johnson City Medical Center and James H Quillen VA Medical Center.
Johnson City Medical Center is owned and operated by Ballad Health, which is the monopolized healthcare provider in the area of the Tri-Cities — owning 21 hospitals in East Tennessee and North Virginia.
However, the good news is that Johnson City Medical Center is a Level 1 Trauma Center, taking critically ill patients from Northeast Tennessee, Southwest Virginia, Eastern Kentucky, and Western North Carolina.
For outpatient healthcare, including internal medicine, sleep providers, pediatrics, family medicine, OB/GYN providers — we recommend checking out State of Franklin Healthcare Associates.
Also, if you or a family member is a veteran, the James H. Quillen VA Medical Center is one of the top-rated VA Medical Centers in the country.
Airports Near Johnson City, TN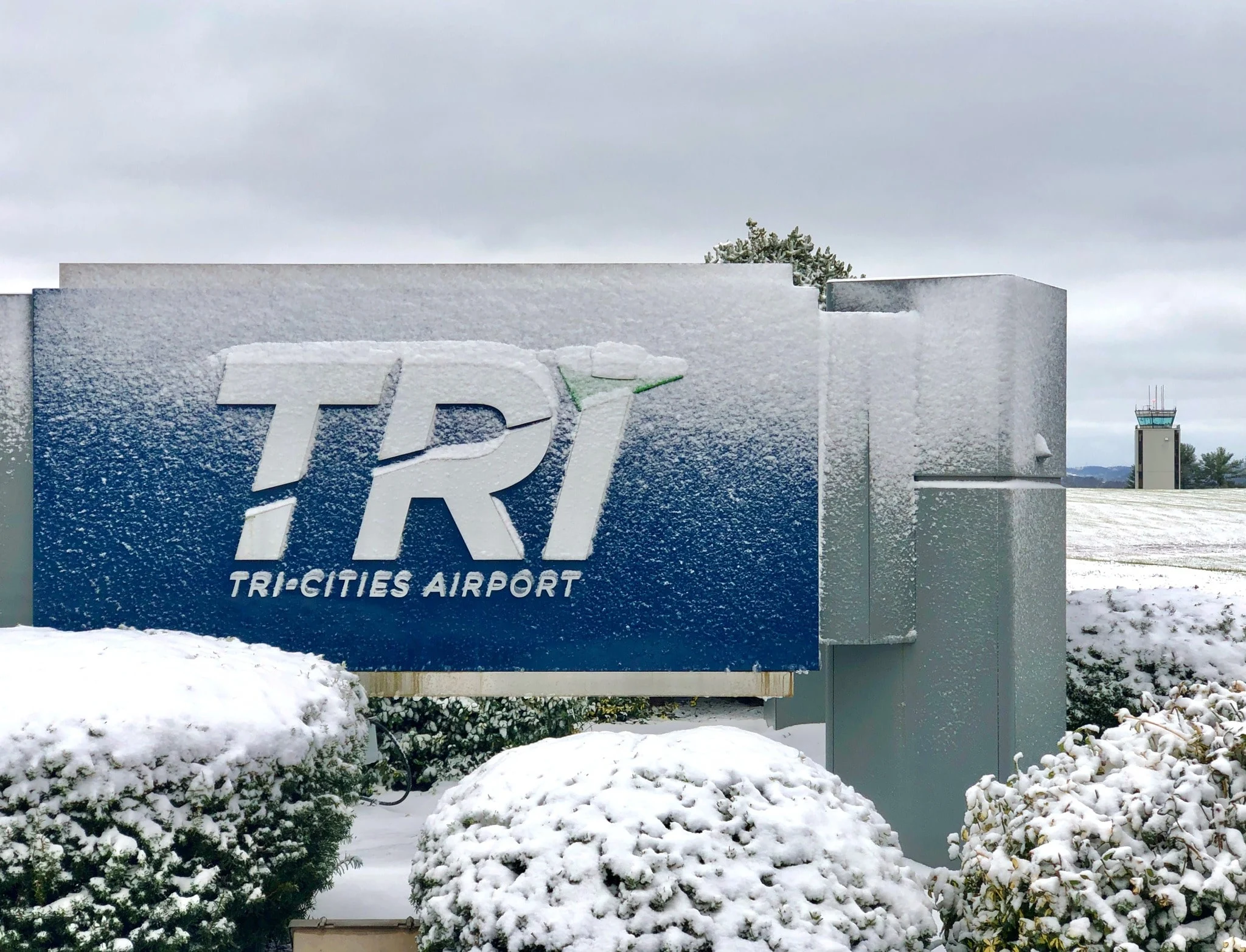 If you love to travel (like we do), then you may be wondering what are the closest airports to Johnson City, TN.
Luckily enough, Johnson City does have its own airport (Tri-Cities Airport), just 15 minutes away in Blountville, TN.
Tri-Cities Airport (TRI) is a small airport with just 5 gates, but is so simple and easy to fly out of — we love Tri-Cities Airport!
Allegiant, American Airlines, and Delta fly out of this airport with direct flights to popular cities such as Charlotte, Atlanta, Dallas, Saint Petersburg, Orlando, and more.
Other airports near Johnson City include:
Asheville Regional Airport — Asheville, NC (1 hour, 15-minute drive)
McGhee Tyson Airport — Knoxville, TN (2-hour drive)
Greenville-Spartanburg Intl Airport — Greenville, SC (2 hours, 15-minute drive)
Charlotte Douglas International Airport — Charlotte, NC (2 hours, 45-minute drive)
Chattanooga Metropolitan Airport — Chattanooga, TN (3-hour drive)
Hartsfield-Jackson Atlanta International Airport — Atlanta, GA (4 hours, 30-minute drive)
We hope these tips help with your move to Johnson City or one of the neighboring cities in Northeast Tennessee!
Needing a place to stay while visiting Johnson City? Check out these options:
Do you have any questions for us about moving to, or living in, Johson City, TN? Ask us in the comments below!